Oatmeal Peanut Butter Cookies are soft and chewy with chunks of crunchy peanuts. At only 100 calories per cookie, they are a perfect sweet and salty treat!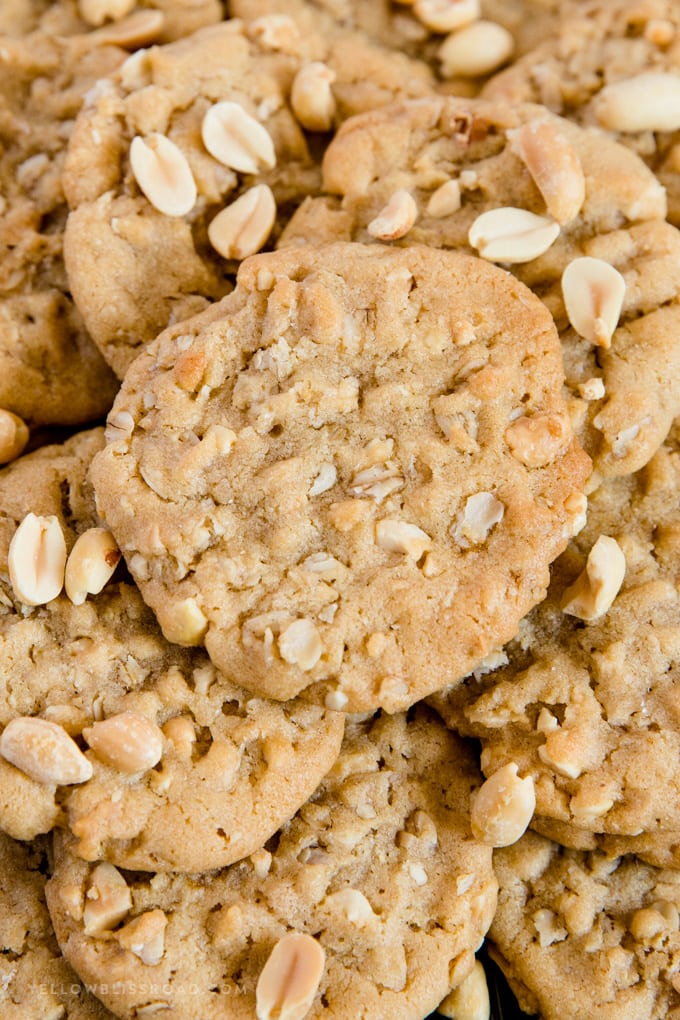 When I was a kid, peanut butter cookies were a standard of care around our house. We made them, from scratch, at least once a month. There is something so nostalgic about those thick, chewy cookies with the crosshatch pattern made with a fork before baking.
These peanut butter cookies are those classic lunchbox staple cookies you remember, with a twist – I added oats and chopped peanuts for texture, and they are so good!!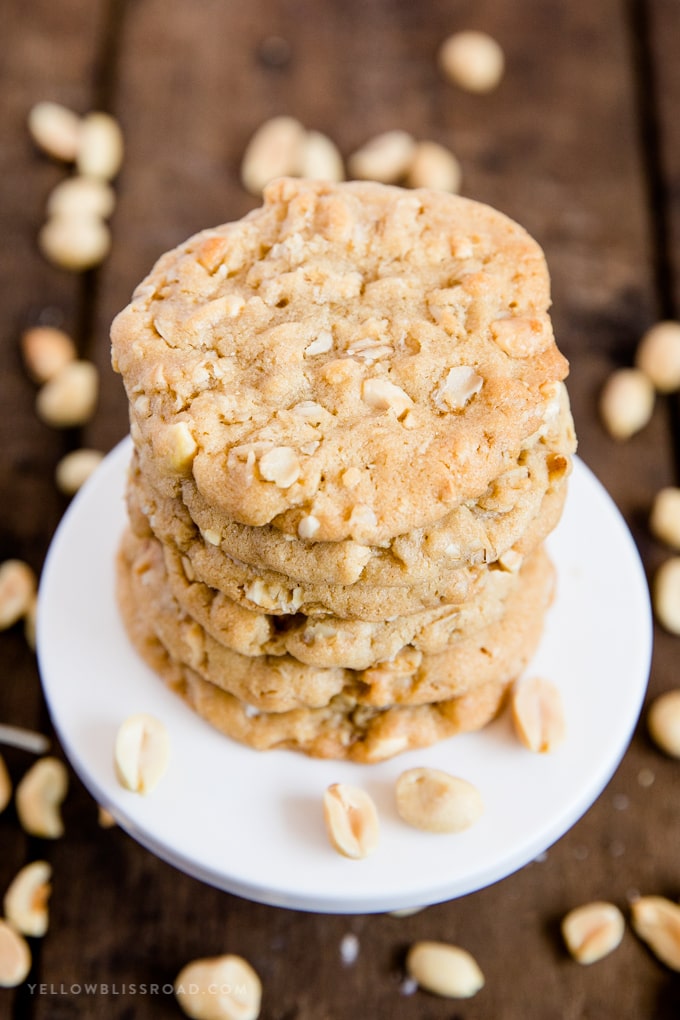 HOW TO MAKE PEANUT BUTTER COOKIES
Peanut Butter cookies are pretty simple and straightforward, and these Oatmeal Peanut Butter Cookies are no exception.
Like any good cookie recipe, they start with creaming together butter and sugar. I use a combination of brown and white sugar, but brown sugar will give a warmer flavor and you could certain go with all brown if you like. An egg and a dash of vanilla are mixed into the creamed butter and sugar.
The dry ingredients (flour, salt, baking soda, oats) are mixed separately then added to the wet ingredients and mixed together just until the dry ingredients are no longer visible.
As with sugar cookies, this dough is best when chilled, so you'll want to factor in at least 2 hours of refrigerator time before baking. Roll into balls and bake the peanut butter cookies at 350 degrees for about 10 minutes.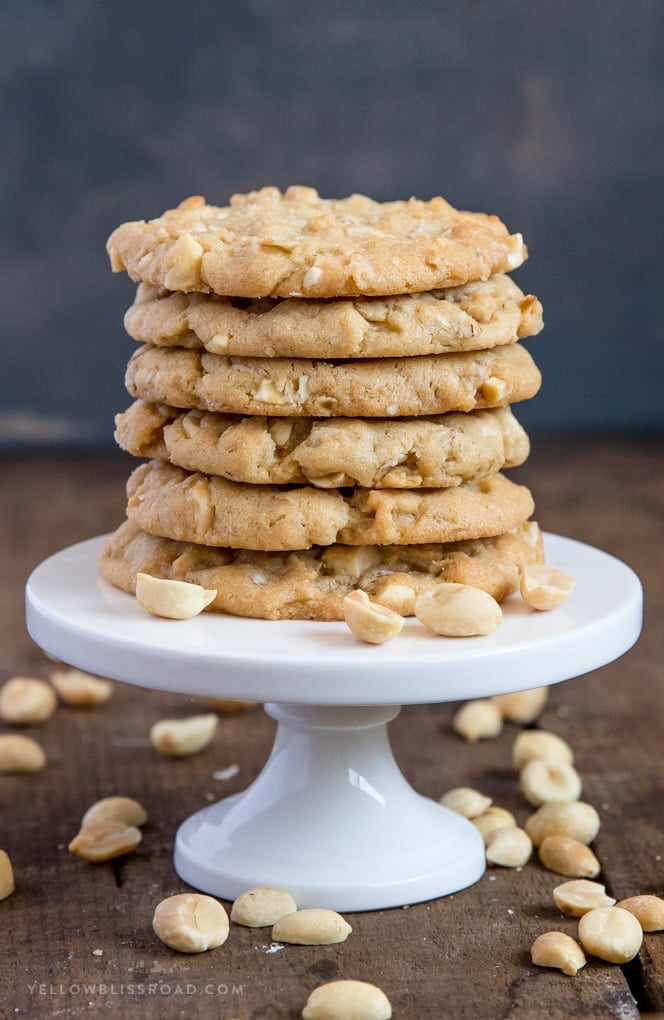 WHAT DOES IT MEAN TO CREAM BUTTER AND SUGAR?
To cream together means simply to combine butter together with sugar(s) until the mixture is light in color and fluffy in texture. It is possible to overmix – the butter will separate and you'll have to start over so pay attention to the time. Creaming can be done by beating the ingredients together with a wooden spoon by hand if you want to build some arm muscle, or with a stand or hand mixer. (aff) It takes 2-3 minutes to cream together butters and sugars.
PRO TIP: Invest in a set of cookie scoops in various sizes. (aff) They aren't very expensive and they are super handy for portioning cookies, cupcakes and muffins.
CAN I USE MARGARINE IN PLACE OF BUTTER?
For most cookies a butter substitute contains water and can actually cause a crumbly texture instead of a soft and chewy one. The lack of fat is the culprit, so be sure that you always have real butter on hand when you plan to bake.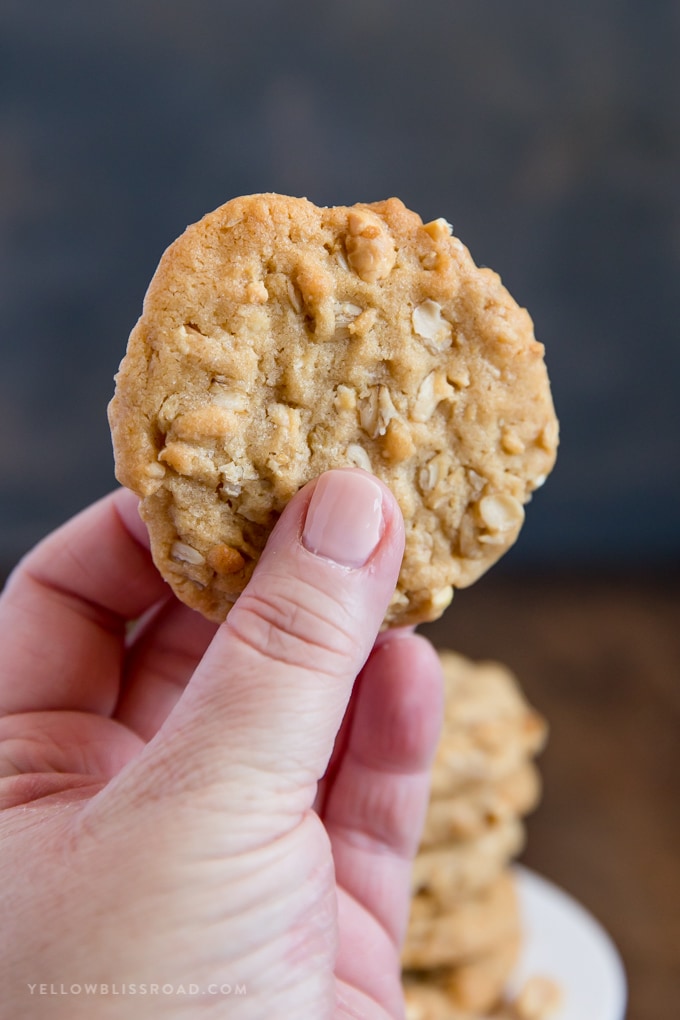 Here are some more of our favorite cookie recipes to try:
Oatmeal Peanut Butter Cookie Recipe: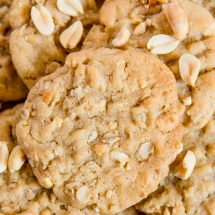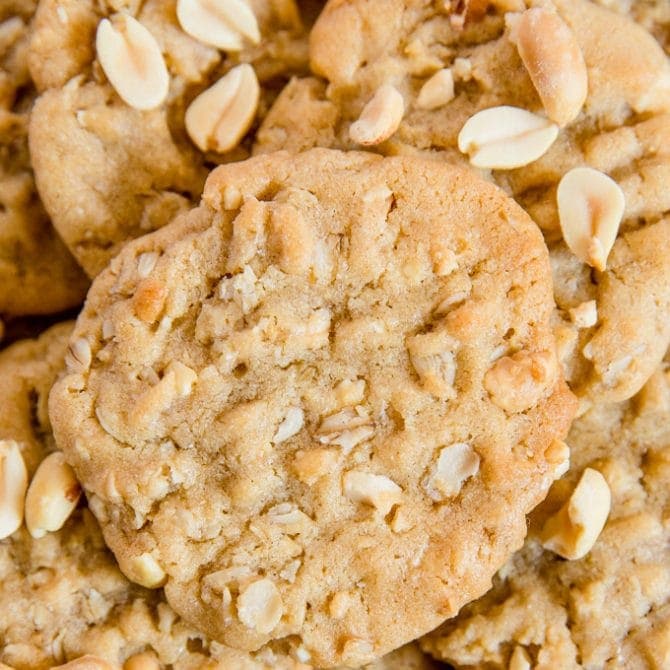 Oatmeal Peanut Butter Cookies
Print
Pin
Rate
Prep Time: 10 minutes
Cook Time: 9 minutes
Total Time: 2 hours 19 minutes
Servings: 36 cookies
Calories: 100kcal
Ingredients
½ cup granulated sugar
½ cup packed brown sugar
½ cup peanut butter
½ cup butter softened
1 large egg
1 teaspoon vanilla extract
1 ¼ cups all-purpose flour
¾ teaspoon baking soda
½ teaspoon baking powder
¼ teaspoon salt
1 cup old fashioned rolled oats
½ cup roasted salted or unsalted peanuts chopped
Instructions
Line 2 large baking sheets with parchment paper or silicone baking mats. Set aside.

In a large mixing bowl, beat together sugars, peanut butter and butter until smooth and fluffy. Beat in egg and vanilla until well combined.

In a medium mixing bowl, whisk together flour, baking soda, baking powder and salt. Stir into peanut butter mixture.

Stir in rolled oats and chopped peanuts.

Cover with plastic wrap and refrigerate for 2 hours.

Preheat oven to 375 degrees F.

Using a cookie scoop for portioning, roll dough into balls, then arrange on the baking sheets 2-3 inches apart. Flatten slightly with your hands.

Bake for 9-10 minutes or until golden. Cool for several minutes on the baking sheets, then transfer to wire racks to cool completely.
Nutrition
Serving: 1cookie | Calories: 100kcal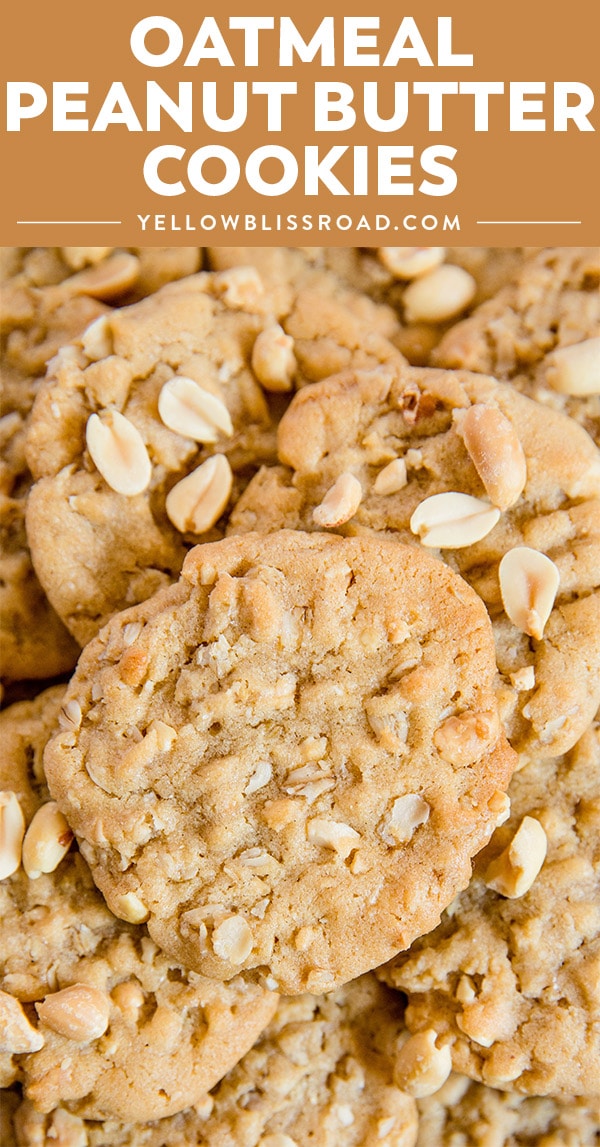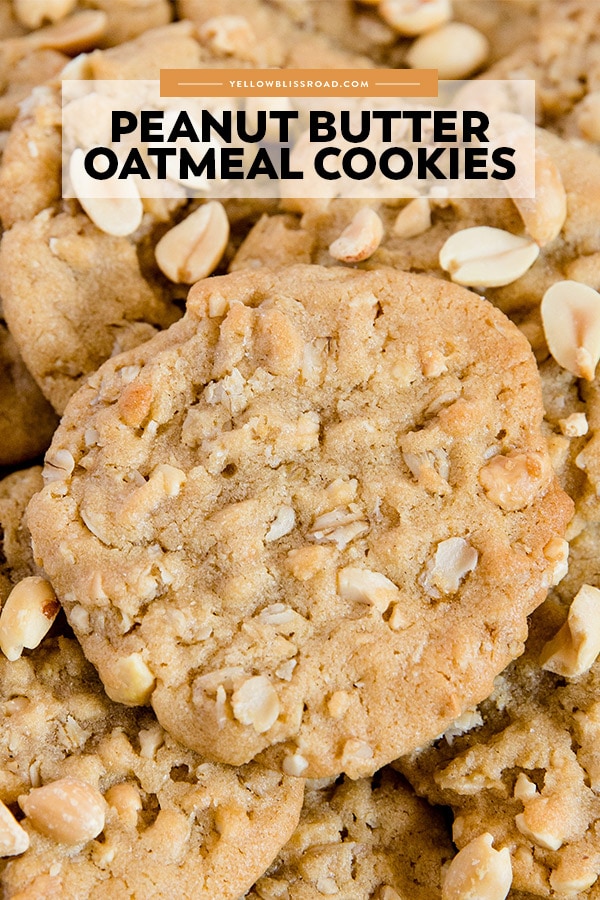 Hi! I'm Kristin, the creative mind behind Yellow Bliss Road where you will be inspired by tons of easy to follow recipes, lots of free printables, and a little sprinkling of life thrown in for good measure.