Peanut Butter Blossoms are a thick and chewy peanut butter cookie with a big chocolate kiss on top. We have perfected this recipe from years of experience and we're sharing our tips for the perfect holiday cookie!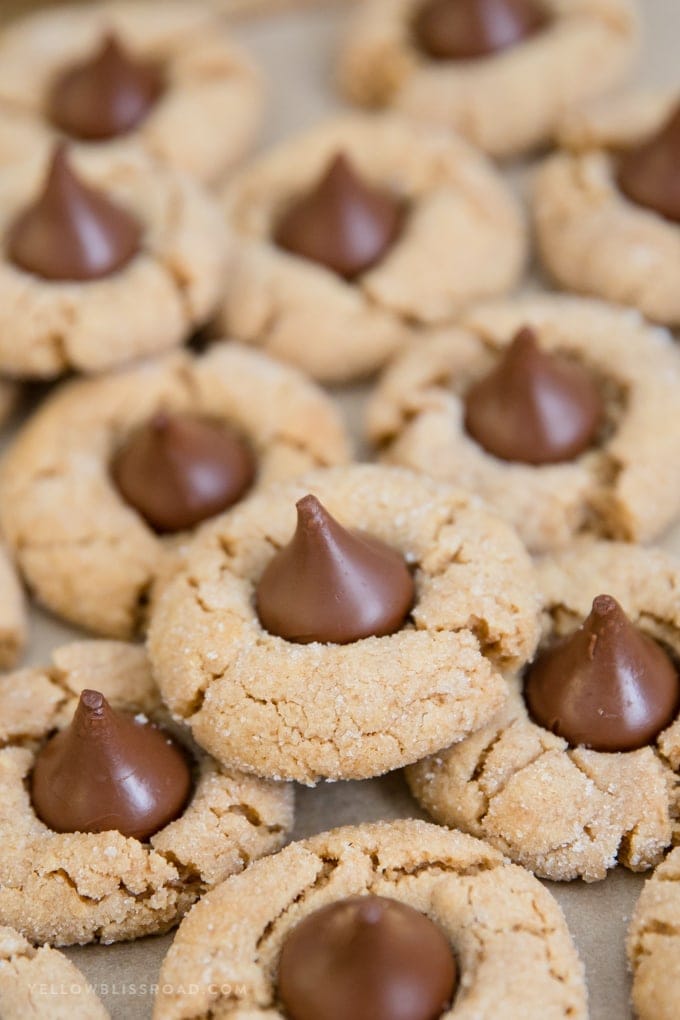 I have been making these cookies as long as I can remember. My mom has been making this recipe since high school, which means it's been in our family for 50 years! We have tried other recipes and tasted cookies that other people have made, but this recipe always tops out as the best Peanut Butter Blossom recipe!
Unlike some other recipes I've tried, this cookie comes out thick and chewy, not flat and spread out. The chocolate kiss holds it's shape but stays soft when you bite into it. It really is the perfect cookie!
HOW TO MAKE PEANUT BUTTER BLOSSOMS
Peanut Butter Blossoms have the basic ingredients of a peanut butter cookie – peanut butter, butter, sugar, flour, baking soda, egg, vanilla; the ingredients are combined to form the dough. The dough is then rolled into a ball shape (about the size of a walnut) and coated in white sugar.
Bake the cookies in a 350 degree oven for about 8 minutes, then comes the fun part! Remove the cookies from the oven and top them each with a chocolate Hershey's Kiss. You want to press the kiss into the center of each cookie just until it begins to crack around the edges. You want the cookie to stay thick and chewy but also for the kiss to be able to melt into it just slightly.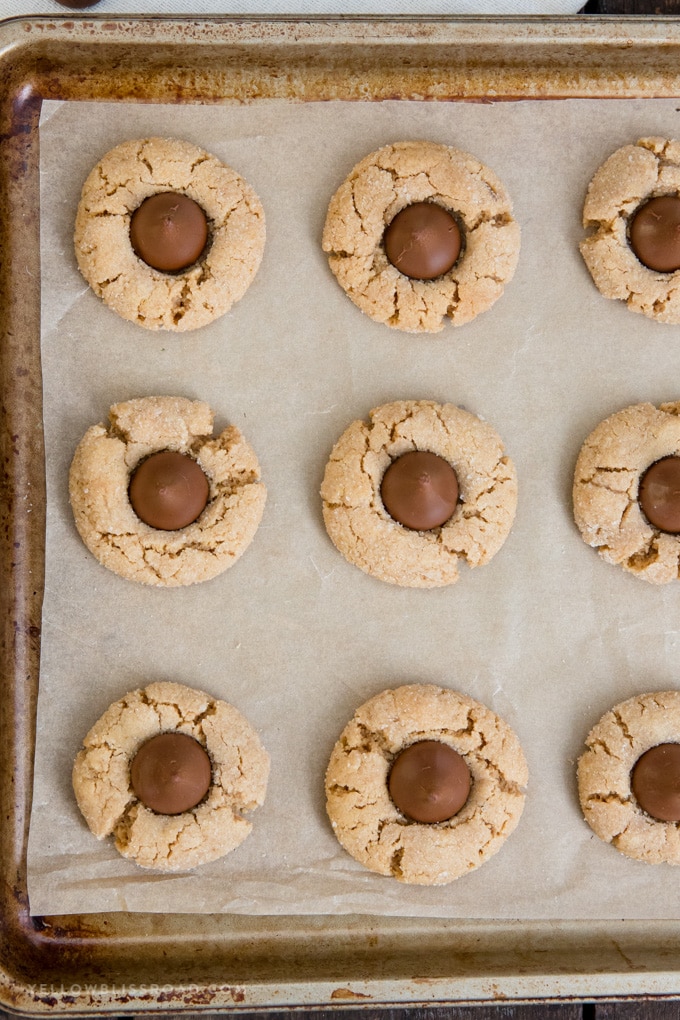 BAKING TIPS FOR MAKING PEANUT BUTTER BLOSSOMS
Prep all of your ingredients ahead of time; this helps the cookie baking process go smoothly.
While the cookies are in the oven for their initial baking, begin unwrapping the Hershey kisses so they are ready when the cookies come out of the oven.
Use real butter. We have tried swapping out for margarine or shortening and the results are just not the same.
Don't overbake. If anything you will want to slightly underbake these cookies (or at least it may look that way). Otherwise they can become hard and not soft and chewy. Once you add the chocolate, watch them closely and check them at the 2 minute mark. The chocolate should move slightly when you lightly press on the tip, but not look burnt.
Keep the balls of dough to a uniform size, using a small cookie scoop (2 teaspoons) or a medium cookie scoop (1.5 tablespoons). Keep in mind that the small the cookie, the better the cookie to chocolate ratio will be; you want to be able to get that sweet chocolate in every bite! The optimal size would be using two scoops from the small cookie scoop.
HOW TO STORE PEANUT BUTTER BLOSSOMS
To keep Peanut Butter Blossoms fresh, store them in an airtight container at room temperature for up to 3 days. Beyond that, the cookie will begin to harden. To freeze these cookies, place them in an airtight container in the freezer for up to six months.
WHAT TYPE OF PEANUT BUTTER SHOULD I USE FOR PEANUT BLOSSOMS?
You should only use creamy peanut butter for these cookies. We do not recommend using a natural or a crunchy peanut butter. I am not usually super picky about my peanut butter but I definitely prefer Jif Brand Creamy.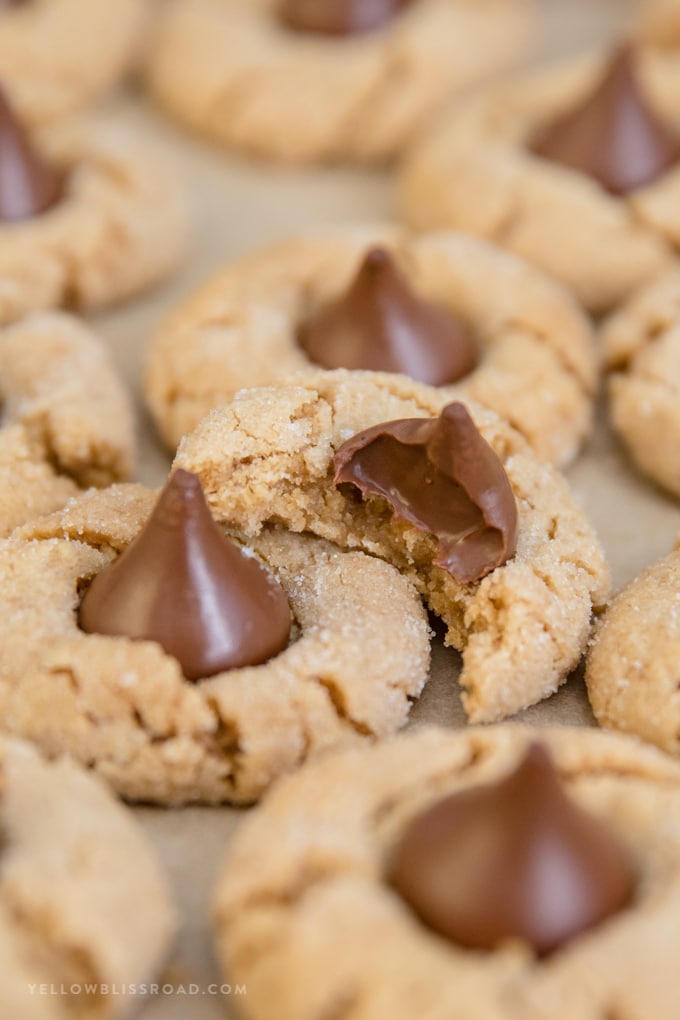 Here are some more delicious cookies to try:
We hope you enjoy our Peanut Butter Blossoms recipe! Be sure to leave us your feedback!
Recipe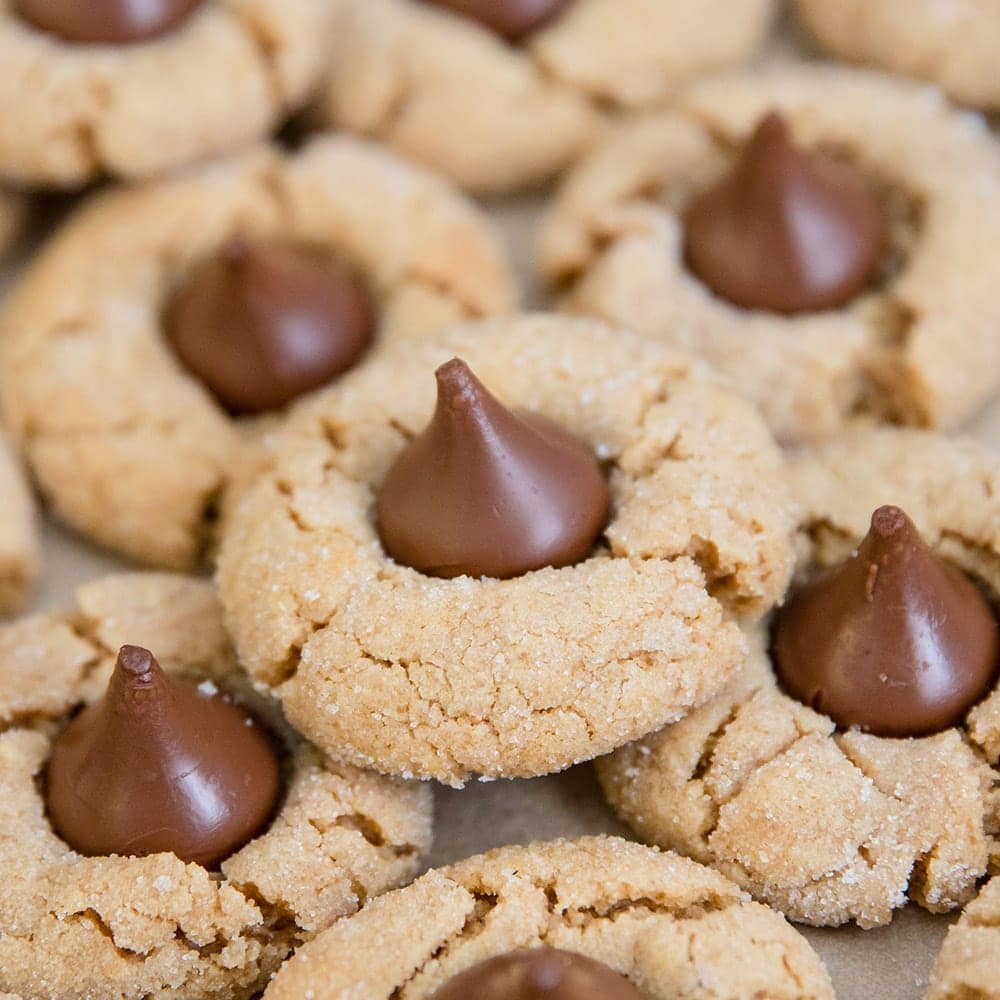 Peanut Butter Blossoms
Peanut Butter Blossoms are a classic peanut butter cookie that's thick and chewy with a big chocolate kiss on top. 
Ingredients
1 ¾

cup

all-purpose flour

1

teaspoon

baking soda

½

teaspoon

salt

½

cup

butter

¾

cup

peanut butter

½

cup

granulated sugar

¾

cup

brown sugar

1

egg

1

teaspoon

vanilla

1

cup

granulated sugar

for rolling

3

dozen milk chocolate candy kisses
Instructions
Heat oven to 350 degrees F. Line 2 large cookie sheets with parchment paper or silicone mats.

Sift together flour, soda and salt and set aside.

In a stand mixer with the paddle attachment (or by hand), beat together softened butter and peanut butter until light and fluffy.

Gradually add sugars and beat until well blended.

Beat in egg and vanilla until well blended.

Stir in flour mixture just until incorporated. Form into 1-inch balls using about a tablespoon of dough for each. Roll in granulated sugar and place on ungreased cookie sheets. Bake at 350° for 8 minutes then remove from the oven and gently place a chocolate kiss on top of each cookie until it cracks around the edges.

Bake 2-3 minutes more until golden.

Cool for several minutes on the baking sheet before transferring to a rack to cool completely. 

Store cooled cookies in an air-tight container for up to 3 days for maximum flavor and texture. Freeze in an airtight container for up to 6 months. 
Notes
When putting the cookie back into the oven with the kisses on top, watch closely. Do not let the chocolate burn, but you want it to get almost to that point. 2-3 minutes is usually perfect, but can vary by oven. 
Nutrition
Calories:
130
kcal
Carbohydrates:
19
g
Protein:
2
g
Fat:
6
g
Saturated Fat:
2
g
Polyunsaturated Fat:
1
g
Monounsaturated Fat:
2
g
Trans Fat:
1
g
Cholesterol:
11
mg
Sodium:
110
mg
Potassium:
46
mg
Fiber:
1
g
Sugar:
14
g
Vitamin A:
85
IU
Calcium:
10
mg
Iron:
1
mg