The perfect oatmeal cookie made with pumpkin and all your favorite spices for Fall! Tender and chewy without being fluffy (like traditional pumpkin cookies), these Oatmeal Pumpkin Cookies will be a hit all season long!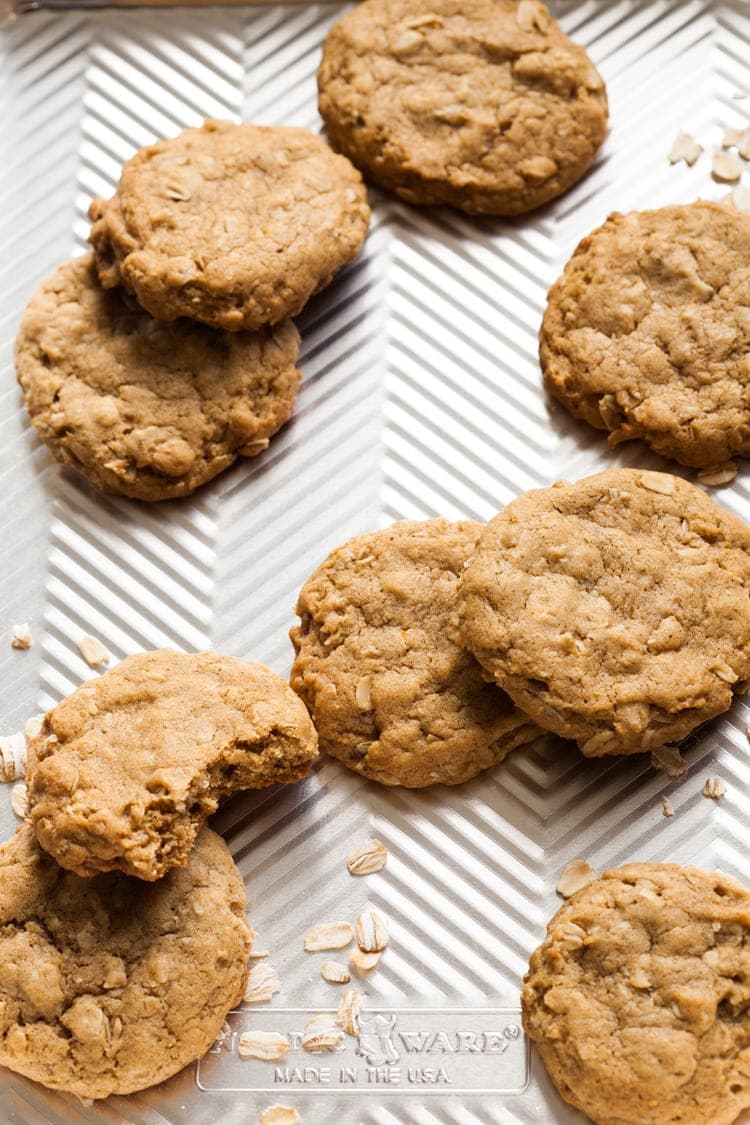 It's time for pumpkin everything! Who knew that this large squash could be made into so many wonderfully delicious foods? From savory to sweet, it truly is the wonder vegetable!
Today we're going to be making Oatmeal Pumpkin Cookies. Traditionally, pumpkin cookies are kind of puffy and cake-like in texture. These cookies have more of the classic texture of an oatmeal cookie. Chewy and tender with a little bit of crisp around the edges. You probably already have all the ingredients you need, except perhaps the pumpkin. But it's totally worth a trip to the store to get some! This recipe only calls for ⅓ cup of pumpkin, so you can use the rest for yummy things like Chocolate Swirl Pumpkin Bread or Pumpkin Doughnuts with Maple Glaze.
How to Make Oatmeal Pumpkin Cookies
These cookies start out with melted butter, which means that you will need to chill the dough before baking. This gives the butter time to solidify so that your cookies don't spread too much when baking.
There is a delicate balance of flour in this recipe. Too much, and your cookies will be puffy and cake-like. Too little, and they'll spread too much. Make sure you measure your flour properly (by spooning the flour into the measuring cup).
The dough only needs to be chilled for an hour. I press the dough against the sides of the bowl rather than leaving it in a large ball in the middle of the bowl. That way, all the dough can chill faster.
I suggest just baking two "trial cookies" to see how they spread in the oven. If they don't spread very much, then let the dough warm up and bake another couple test cookies.
The cookies should puff up and start to crack in the oven. If you take them out and they look wrinkly or wet, they didn't get baked long enough.
Slightly under-bake the cookies. The edges should be just barely brown. Let them "cook" on the baking sheets for about two minutes after removing from the oven.
You can add all kinds of things to these cookies! Try chocolate chips, butterscotch chips, raisins, craisins, nuts, coconut–the sky's the limit!
When I baked my "test" cookies for this batch, I found that they didn't spread and just stayed in little mounds. So when I filled a cookie sheet, I let the dough sit out and warm up a little bit, and I also pressed the balls of dough down with my fingers to help the cookies flatten out a little more. It worked great!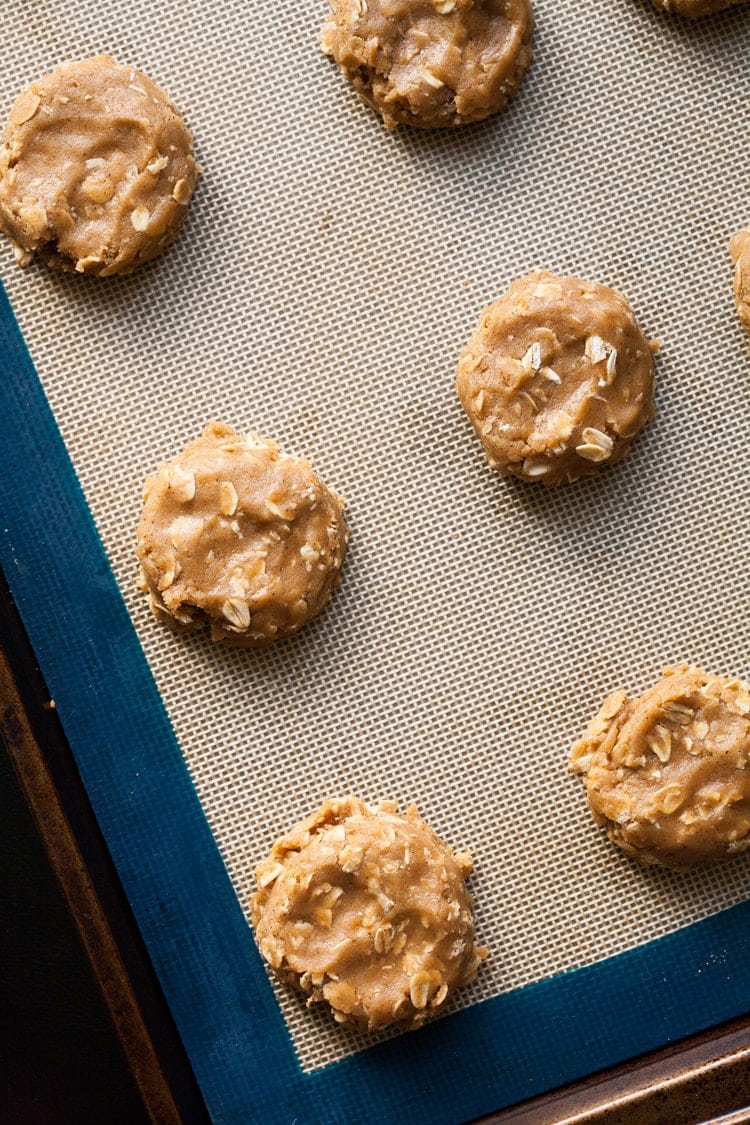 The cookies spread nicely in the oven and were soft and tender without being fluffy. They were a big hit with the kids! And that's saying a lot for a cookie with no chocolate in it!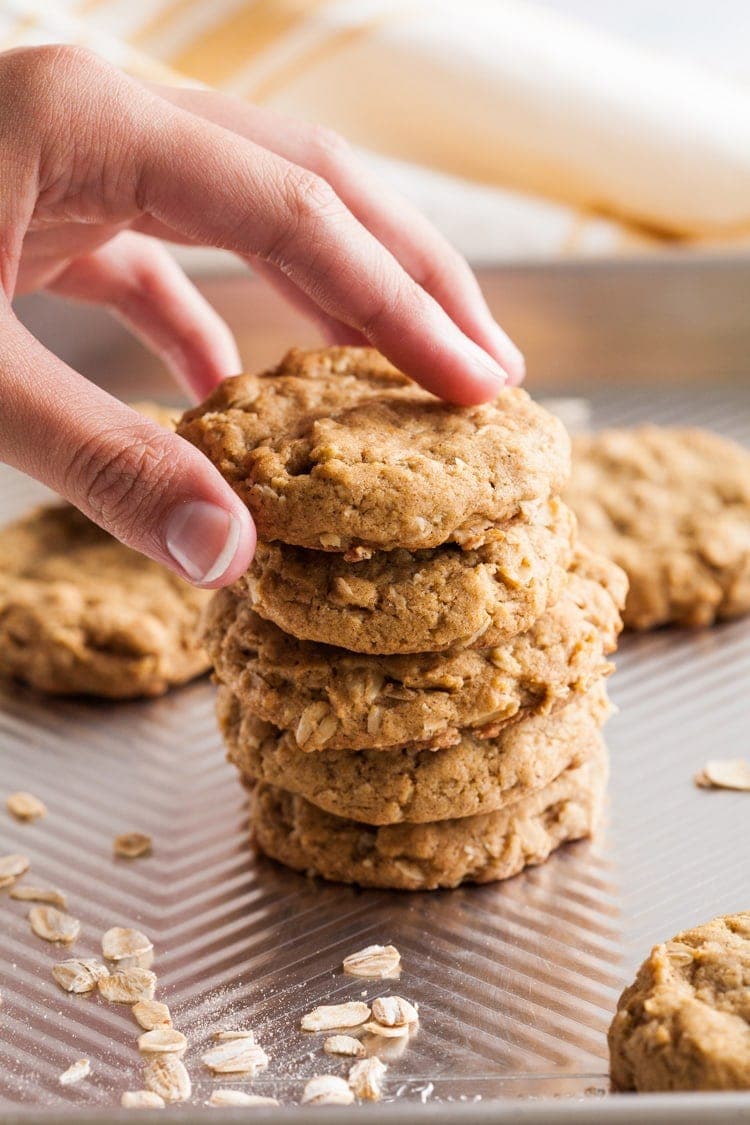 Can't get enough pumpkin?!
Try some of my other favorite cookie recipes!
Recipe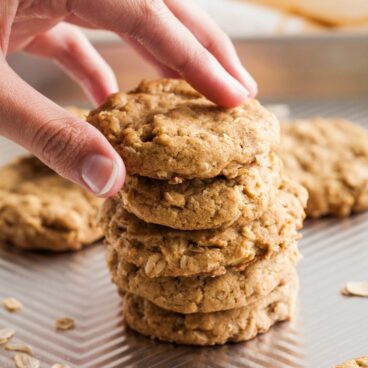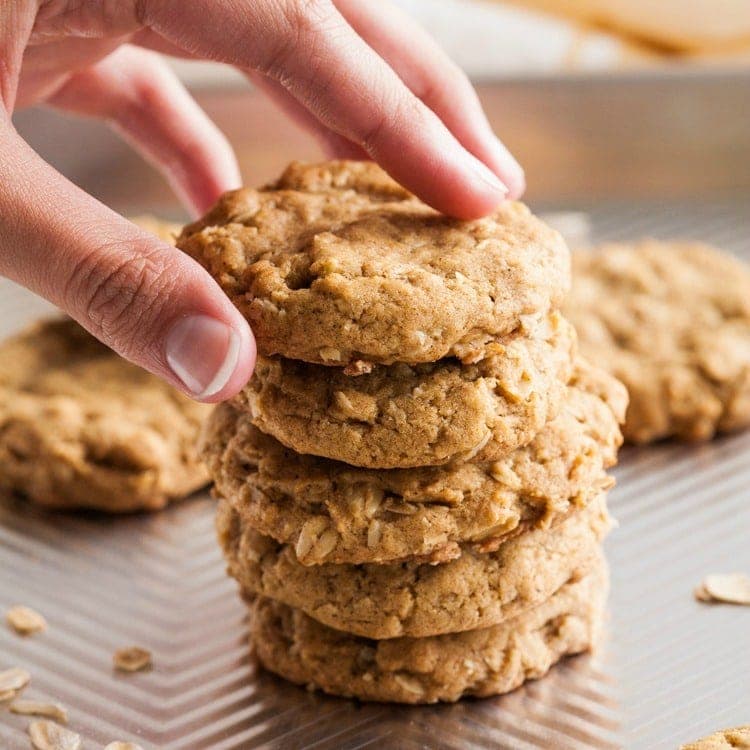 Oatmeal Pumpkin Cookies
The perfect oatmeal cookie made with pumpkin and all your favorite spices for Fall! Tender and chewy without being fluffy (like traditional pumpkin cookies), these Oatmeal Pumpkin Cookies will be a hit all season long!
Total Time
1

hour
32

minutes
Ingredients
1/2

cup

butter

1/4

cup

white sugar

3/4

cup

brown sugar

lightly packed

1

large egg yolk

1

teaspoon

vanilla

1/3

cup

canned pumpkin 

1/4

teaspoon

salt

1

teaspoon

ground cinnamon

1/2

teaspoon

ginger

1/4

teaspoon

nutmeg

1/4

teaspoon

cloves

1/2

teaspoon

allspice

3/4

teaspoon

baking soda

1 1/2

cups

all-purpose flour

1

cup

oatmeal
Instructions
Melt the butter (either in the microwave, covered, for 45 seconds, or in a saucepan on the stove over low heat for about five minutes).

Pour the melted butter into a large mixing bowl or stand mixer. Mix the white sugar and brown sugar into the melted butter. Make sure all the lumps of sugar have dissolved before continuing.

Add the egg yolk and mix well.

Add the vanilla and canned pumpkin. Mix well.

Add the salt, cinnamon, ginger, cloves, nutmeg, and allspice. Mix well.

Add ½ cup of the flour along with the ¾ teaspoon of baking soda. Mix well.

Add the remaining one cup of flour and blend just until the flour disappears. 

Add the oatmeal and mix until it is evenly distributed throughout the dough. The dough will be sticky.

Cover and refrigerate for at least an hour.

When ready to bake, heat your oven to 350 degrees F.

Line baking sheets with parchment paper or silicone baking mats. Use a large cookie scoop and place the dough two inches apart on the baking sheets. While cookies are waiting to bake, place the cookie sheet in the refrigerator to keep the dough chilled.

Bake for 9-12 minutes, until edges just begin to brown. Allow cookies to remain on cookie sheets for about two minutes once removed from the oven. Then transfer to a wire rack to cool completely.
Nutrition
Calories:
108
kcal
Carbohydrates:
16
g
Protein:
1
g
Fat:
4
g
Saturated Fat:
3
g
Polyunsaturated Fat:
1
g
Monounsaturated Fat:
1
g
Trans Fat:
1
g
Cholesterol:
18
mg
Sodium:
92
mg
Potassium:
35
mg
Fiber:
1
g
Sugar:
9
g
Vitamin A:
659
IU
Vitamin C:
1
mg
Calcium:
12
mg
Iron:
1
mg