These Oatmeal Kiss Cookies are a new version of our favorite Peanut Blossoms, without the nuts! A thick oatmeal cookie with a Hershey Kiss pressed into the top – it's a match made in heaven!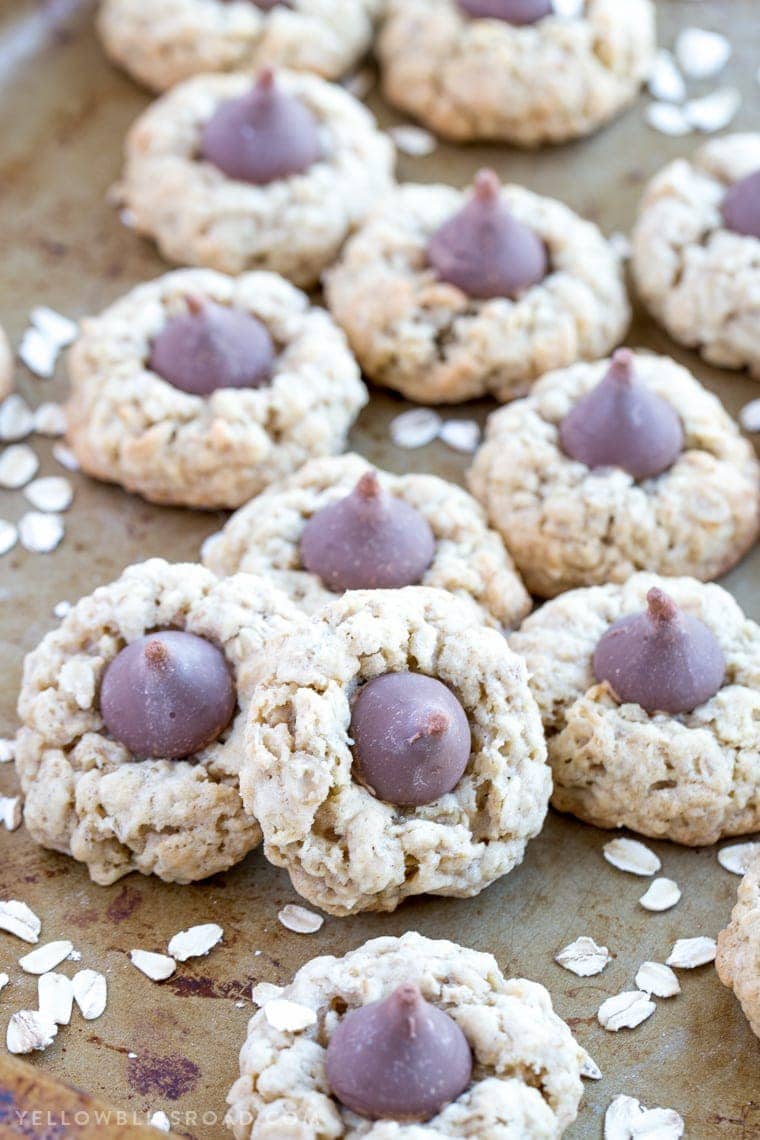 Every since my son was diagnosed with a peanut allergy, we have been trying to find a way to enjoy our favorite holiday cookie without the peanut butter. I made them with Cookie Butter a few years ago, and they were pretty good. These Oatmeal Blossoms are my second attempt. I'd say they were a smashing success!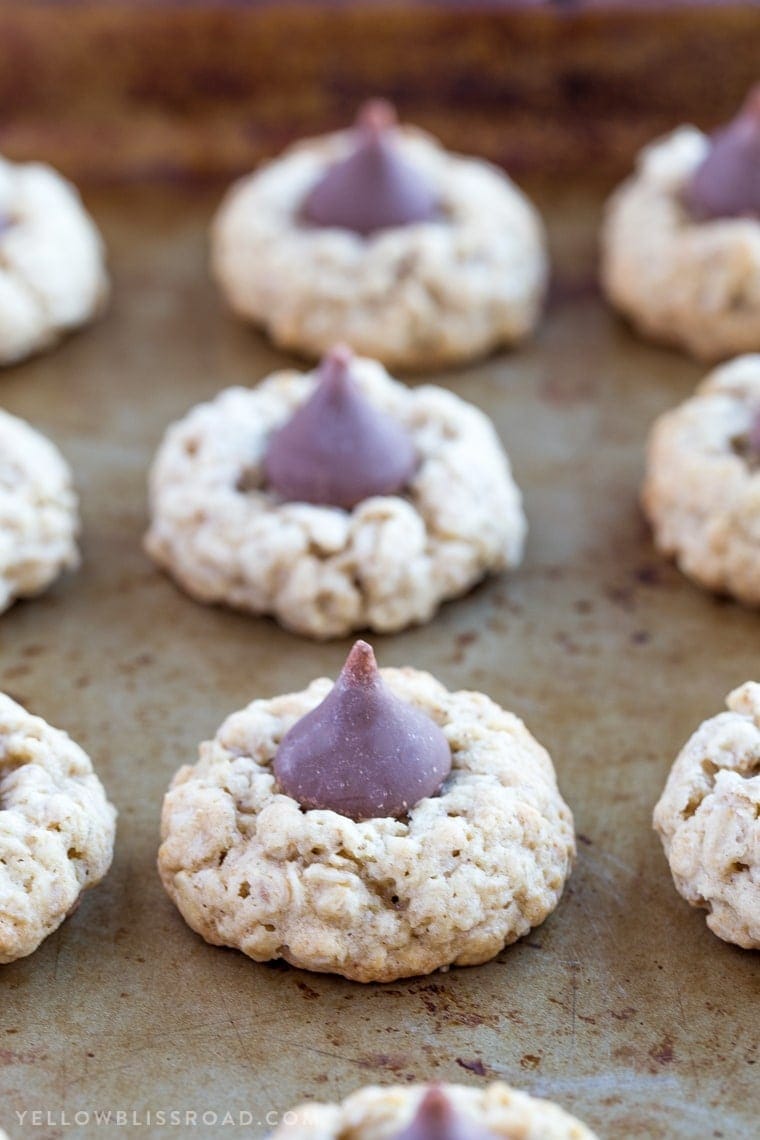 The key to these cookies, of any flavor, is how you add the kisses on top. You have to pull the cookies out as just the right time and place the kiss on top quickly, smooshing down just the center as the edges crack ever so slightly. You'll here a slight release as you press down. This is good!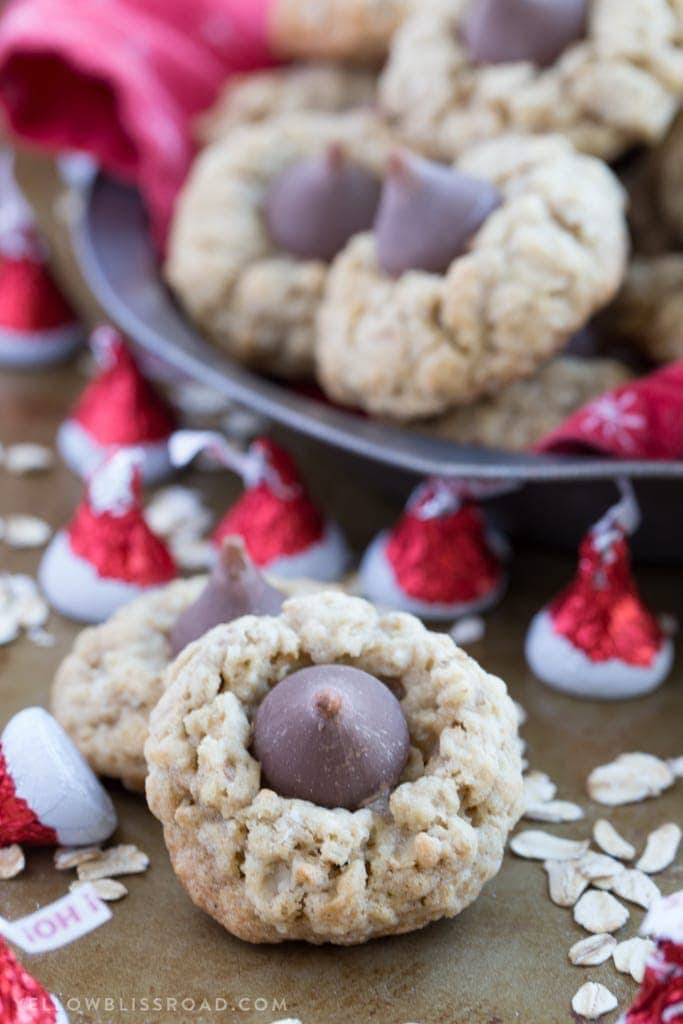 The next key (and this is a big one) is you want to put the cookies back into the over just long enough for the chocolate to get soft, not melt at all. When they come back out of the oven in a couple of minutes the chocolate will retain it's "kiss"shape. This is what you want!
As it turns out, our favorite cookie can be made with just about any cookie base as long as they are thick and chewy…I'm thinking Chocolate Chip cookie next. What do you think?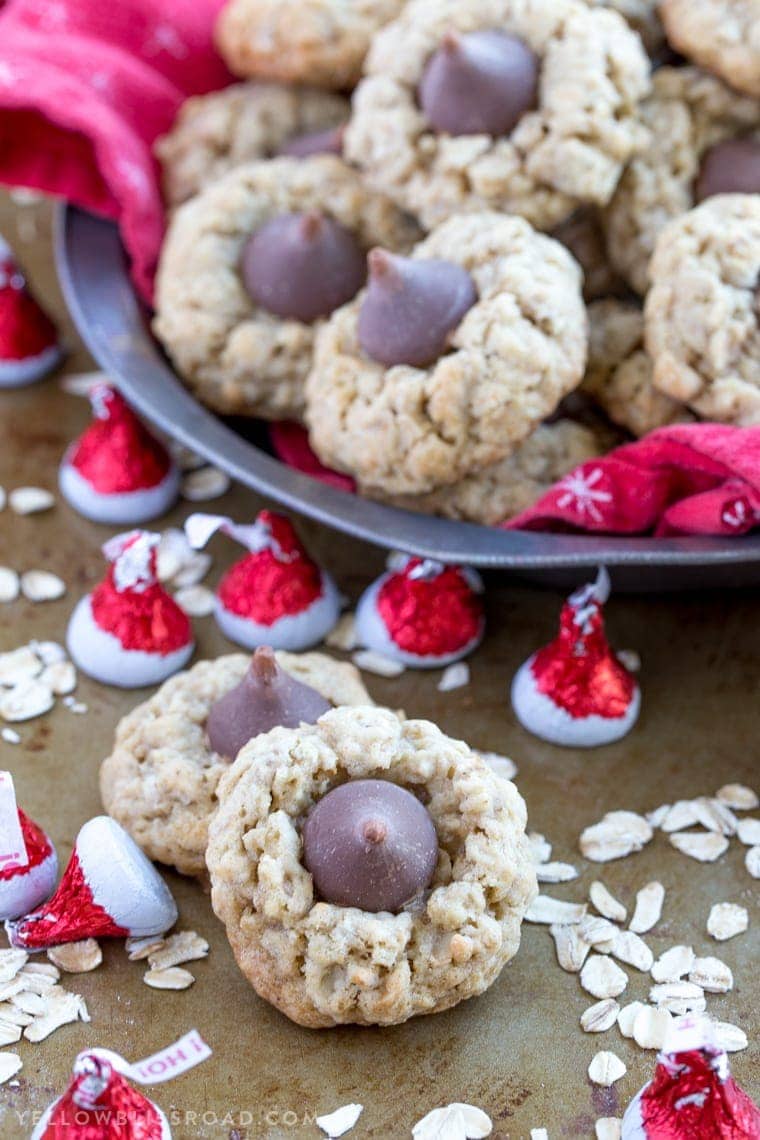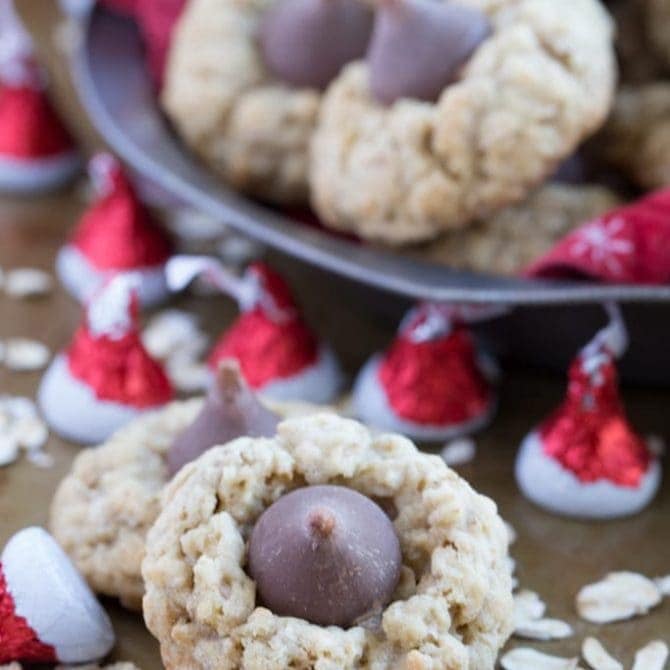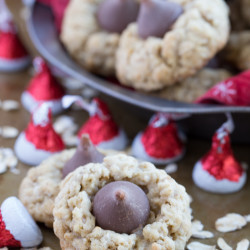 Oatmeal Kiss Cookies (Blossoms)
Ingredients
2 cups all-purpose flour
1 teaspoon baking soda
½ teaspoon salt
½ teaspoon cinnamon
3 cups rolled oats
1 cup butter or margarine softened
½ cup granulated sugar
½ cup light brown sugar
2 eggs
1 teaspoon vanilla
4 dozen milk chocolate candy kisses
Instructions
Sift together flour, oats, soda and salt and set aside.

Beat together butter and sugars until light and fluffy. Beat in egg and vanilla. Stir in dry ingredients.

Form into balls using a tablespoon of dough for each cookie. Place on ungreased cookie sheets. Bake at 350° for 8 minutes. Place a chocolate kiss on top of each cookie until it cracks around the edges. Bake 2-4 minutes more until golden brown. Watch carefully as you don't want to melt the kisses, just soften them!

Cool slightly on the baking sheets before transferring to cooling racks.
For more cookie recipes, try these (click on the image):
For all cookie recipe go HERE, for all desserts go HERE and for the recipe index go HERE.