The addition of ground beef and bacon make these Baked Beans rich and meaty, and hearty enough for dinner. They also make a great side dish for potlucks and barbecues.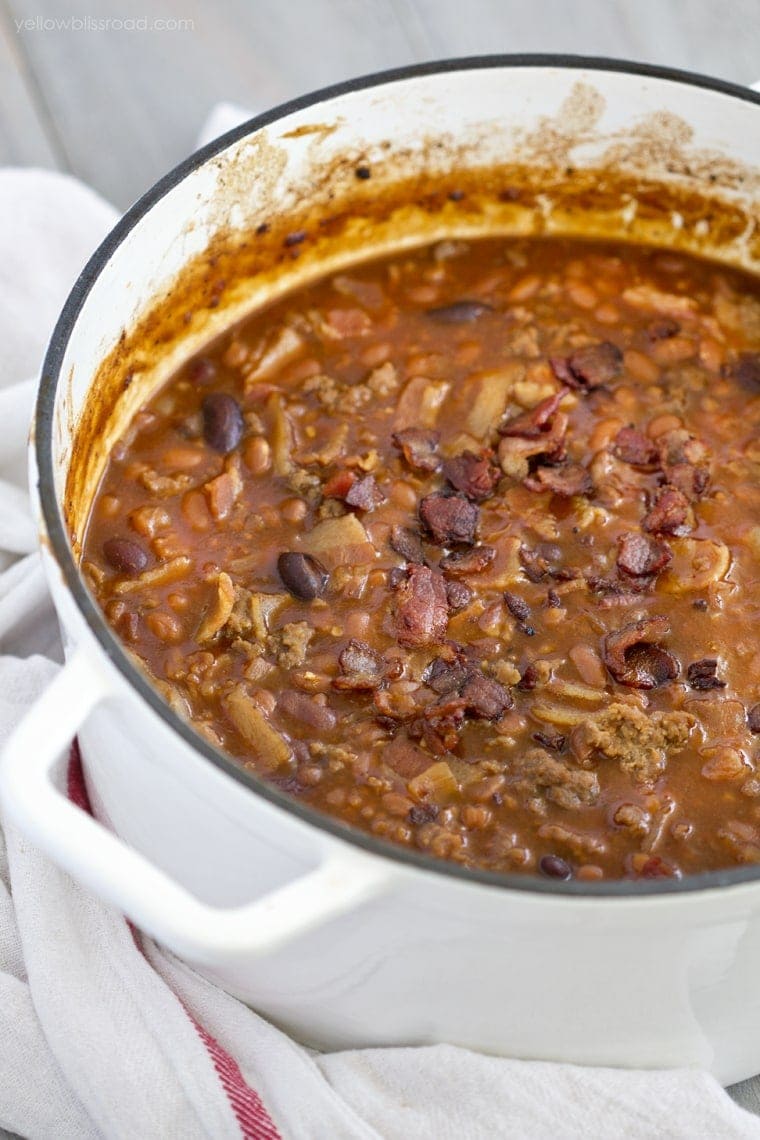 I've never been a huge fan of baked beans. Not sure what it was about them that I didn't like, probably the texture because I was used to them pretty much straight out of the can. Mushy just isn't my thing. But the first time I tried Cowboy style baked beans at a potluck several years ago, I was immediately hooked.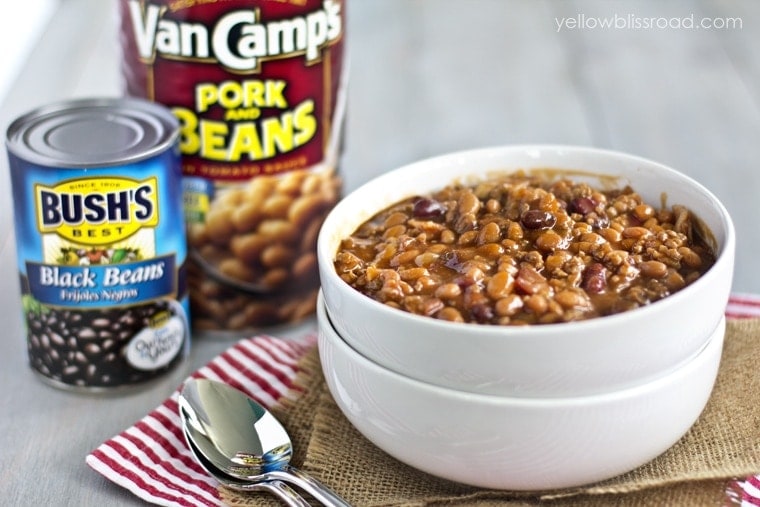 The sauce is rich an flavorful, with a slight smokey quality thanks to the bacon and one of my favorite barbecue ingredients – Liquid Smoke. The beans are tender and just melt in your mouth.
This recipe is a doctored up version of a meatless baked beans recipe I got from a friend several years ago. It's got a few types of beans, but you can use any type you like, really. It's just the amount you'll want to match – you're looking at about 43-45 oz. of beans. I use the large can of VanCamp's plus a 15 oz can of whatever beans I have on hand (and I always have several varieties). You could also use a mixture of beans, like 3, 15 oz cans.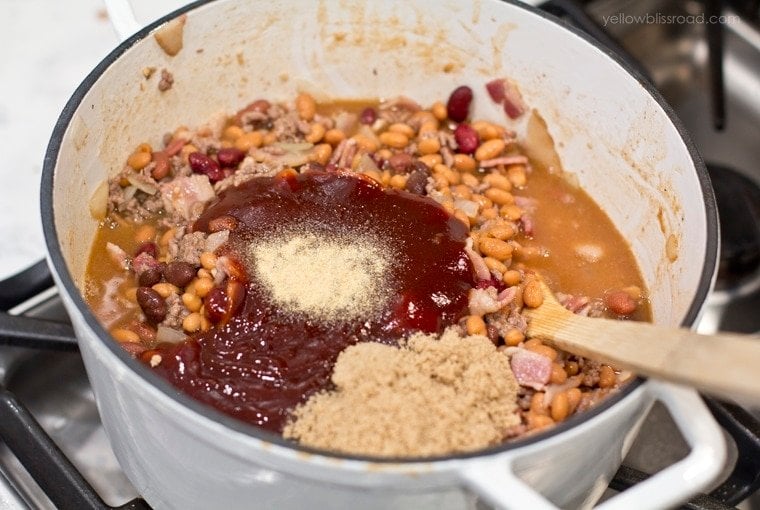 The one ingredient that's a must if the VanCamp beans. The other are just the varieties/brands that I had on hand. If you have a favorite bean, use it. Favorite barbecue sauce? Pour it on. While I haven't tried it, I'm sure this recipe could be adapted for the crock-pot. Just cook the meats according to the recipe, then pour everything into a crock-pot and cook on high for a few hours, watching closely that it doesn't burn.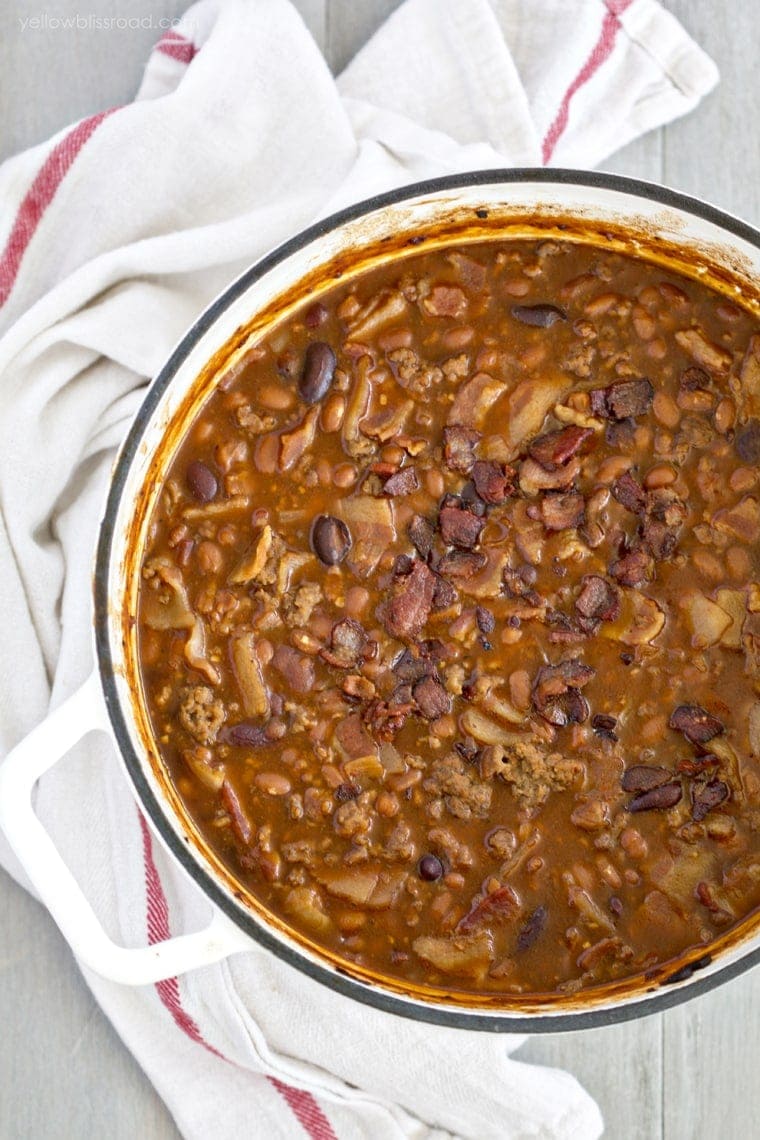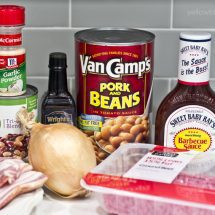 Ingredients
1 pound ground beef
1 pound bacon diced
1 medium onion diced
1 tablespoon minced garlic
1-28 ounce can Van de Kamps Pork & Beans
1-15 ounce can beans any kind, or a blend
1 tablespoon Liquid Smoke
1 tablespoon Worcestershire
1/4 cup brown sugar
1-18 ounce bottle of your favorite barbecue sauce
1 teaspoon garlic powder
Instructions
Preheat oven to 350 degrees.

Heat a 5 quart dutch oven over medium-high heat. Add a tablespoon of olive oil and heat for one minute. Add ground beef, bacon, garlic and onion. Stir, cooking until ground beef is no longer pink. Drain most of the liquid from the pan.

Add remaining ingredients and stir. Cover dutch oven and bake beans in a 350 degree oven for about 45 minutes.
For more tasty side dishes, try these: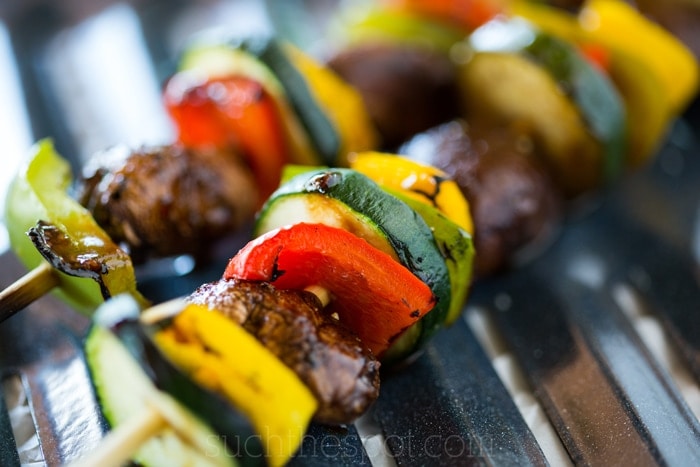 Grilled Balsamic Veggie Kabobs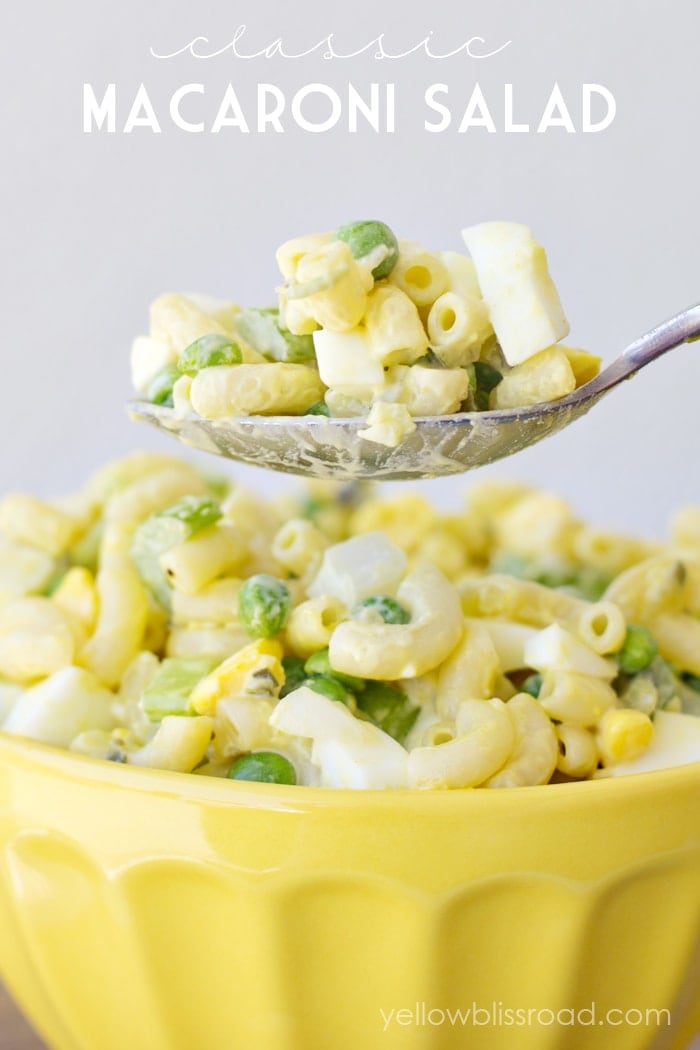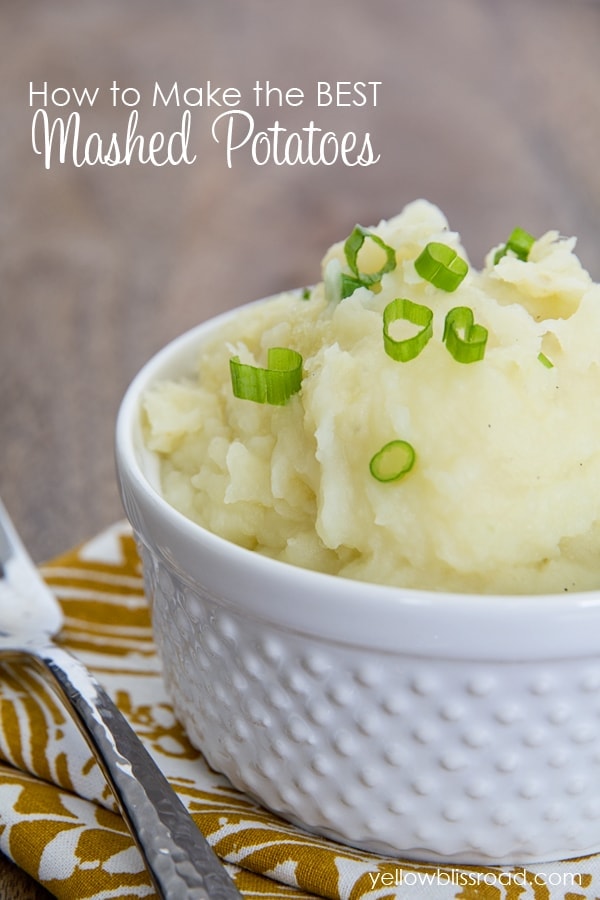 Tips for the Best Mashed Potatoes
For all side dishes go HERE and for all recipes go HERE.