Cowboy Beans are a great side dish for potlucks, parties and barbecues. The addition of ground beef and bacon make these Baked Beans rich and meaty, and hearty enough to eat for dinner! Make them the traditional way in the oven, or use our optional slow cooker method.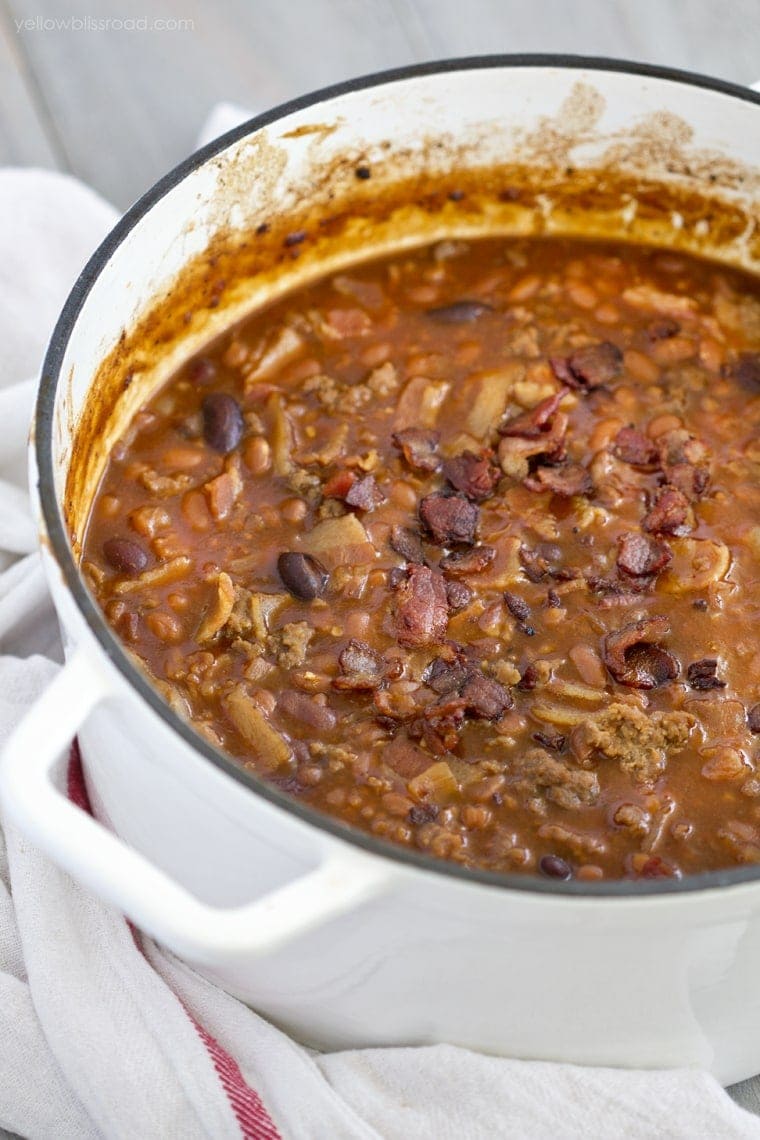 COWBOY BEANS WITH BEEF AND BACON
I've never been a huge fan of baked beans. Not sure what it was about them that I didn't like, probably the texture because I was used to them pretty much straight out of the can. Mushy just isn't my thing. But the first time I tried Cowboy style baked beans at a potluck several years ago, I was immediately hooked.
The sauce is rich and flavorful, with a slight smokey quality thanks to the bacon and one of my favorite barbecue ingredients – Liquid Smoke. The beans are tender and just melt in your mouth. The beef and bacon make this dish extra meaty and hearty.
CHOOSE YOUR BEANS WISELY
You'll need about 43-45 ounces of beans. I use the large can of VanCamp's Pork and Beans plus a 15-ounce can of whatever beans I have on hand (and I always have several varieties). You could also use a mixture of three, 5-ounce cans of beans. You can see in the photos I used a tri-blend of black beans, kidney beans and white beans.
The best beans to use for Cowboy Beans are:
Pork and Beans – this is a canned mixture of navy beans packed in tomato sauce and seasonings with small chunks of salt pork. It's the base flavor for our Cowboy Beans, so it's best not to replace these. Do not drain the liquid, just pour it all into the pot!
Black beans – I love the hearty, fiber-rich texture and flavor of black beans.They aren't as common for baked beans, but they are a favorite of mine.
Kidney beans – Commonly used for bean soups, chili and baked beans.
White beans – These tend to be very soft in texture making them an ideal ingredient for baked beans.
Butter beans – Really just mature lima beans, these can also add a great texture to this recipe. They are a larger and lighter in color than navy beans or black beans so they add visual contrast as well.
Any combination of these beans, as long as you start with the Pork and Beans, will make a delicious pot of Cowboy Beans!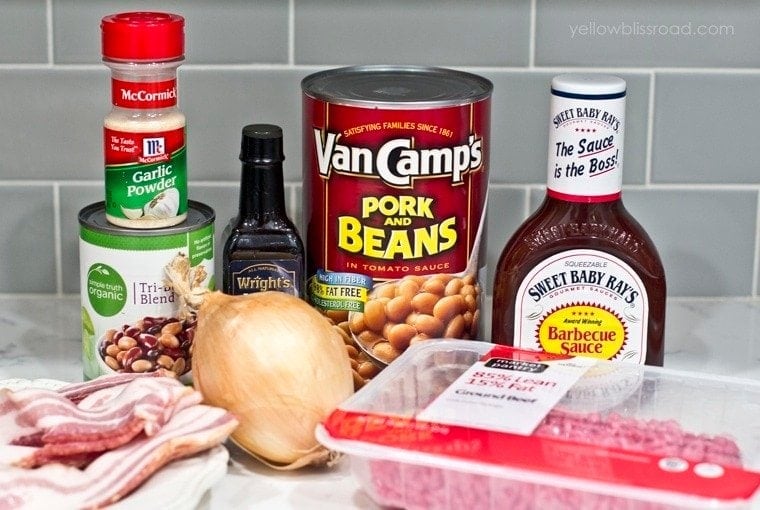 HOW TO MAKE COWBOY BEANS
The recipe is simple but the result is a masterpiece of incredible flavor! It's got a few types of beans, but you can use any type you like, really. It's just the amount you'll want to match.
Cowboy beans can be baked in the oven or cooked in your crockpot.
COOK. Start by cooking ground beef, bacon and onion together in the a large pot on the stove. You'll need to do this step whether you are baking of slow cooking.
BAKE. Add beans, barbecue sauce, brown sugar, Worcestershire sauce and liquid smoke to the cooked meat. Stir it up so everything is well combine, then slide it into a preheated oven and bake for 45 minutes.
The one ingredient that's a must is the VanCamp Pork and Beans. The others are just the varieties/brands that I had on hand. If you have a favorite bean, use it. Favorite barbecue sauce? Pour it on.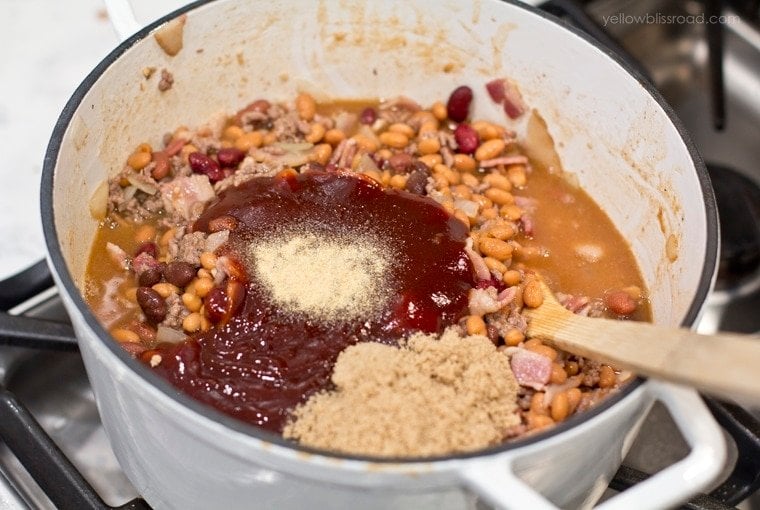 SLOW COOKER COWBOY BEANS
If you want to free up your oven, slow cooker cowboy beans are the way to go! Instead of baking in the oven, combine all of the ingredients in your slow cooker and cook on low for 4-5 hours or on high for 2-3 hours. Just be sure to cook the beef, bacon and onions on the stove first.
HOW TO SERVE
Cowboys Beans are very hearty and beefy. This is a great recipe for game day parties, dinner on a chilly night, or a hearty side dish for your holiday meal! It's so flexible and it can be served in a variety of ways.
LEFTOVERS
Leftover cowboy beans should be stored in an airtight container in the fridge for up to 4-5 days. Reheat in the microwave for individual portions or the oven for larger portions.
They can be frozen in a plastic freezer bag or storage container for up to 4 months. Be sure to squeeze out as much air as possible.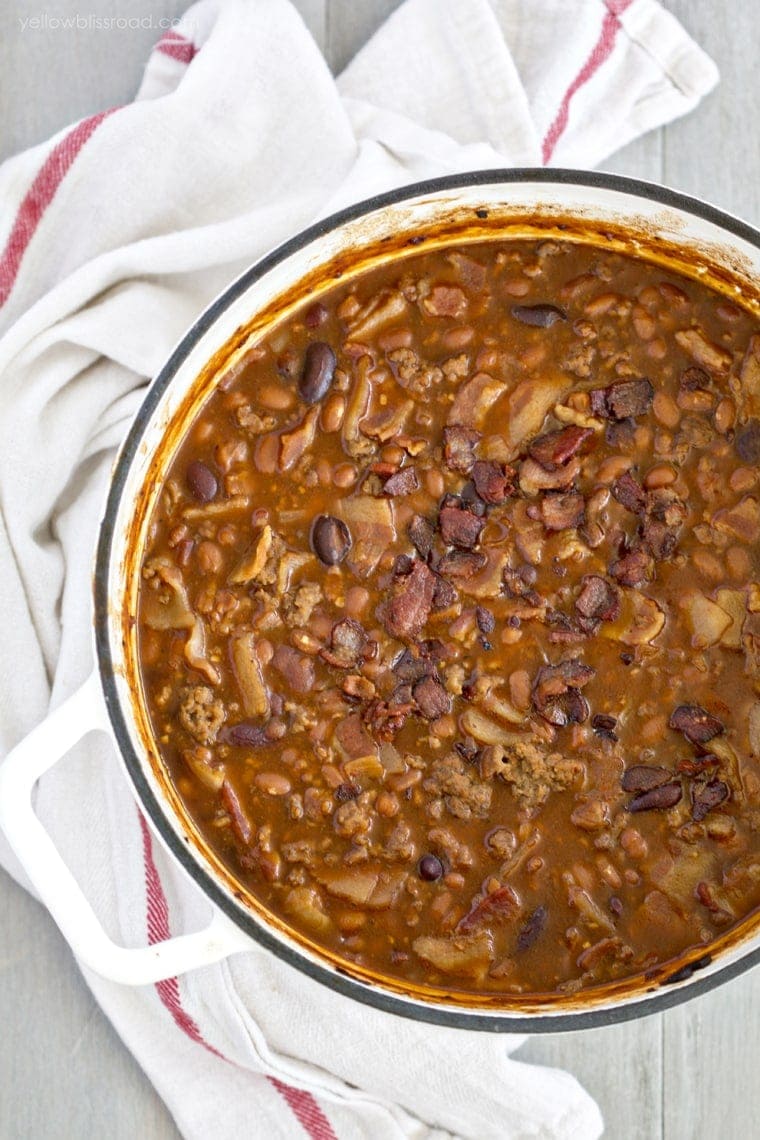 More ground beef recipes: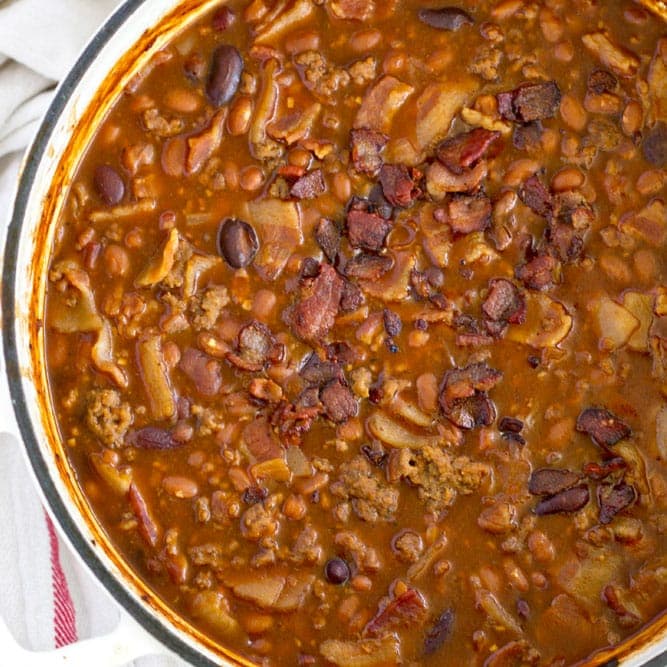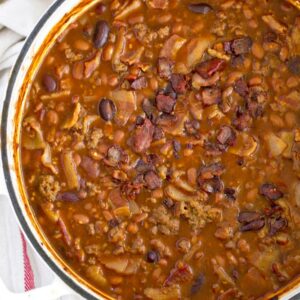 Beef & Bacon Baked Beans (aka Cowboy Beans)
Cowboy Beans are a great side, main course or even appetizer for potlucks and parties. Made with beans, ground beef, bacon in a rich and flavorful sauce.
Ingredients
1 pound ground beef
1 pound bacon diced
1 medium onion diced
1 tablespoon minced garlic
28 ounce can Van Kamps Pork & Beans
15 ounce can beans any kind, or a blend
1 tablespoon Liquid Smoke
1 tablespoon Worcestershire
1/4 cup brown sugar
18 ounce bottle of your favorite barbecue sauce
1 teaspoon garlic powder
Instructions
Preheat oven to 350 degrees.

Heat a 5 quart dutch oven or other oven safe, heavy bottomed pot over medium-high heat. Add a tablespoon of olive oil and heat for one minute. Add ground beef, bacon, garlic and onion. Stir, cooking until ground beef is no longer pink. Drain most of the liquid from the pan.

Add remaining ingredients and stir. Cover dutch oven and bake beans in a 350 degree oven for about 45 minutes.
Nutrition
Calories: 435kcalCarbohydrates: 42gProtein: 18gFat: 22gSaturated Fat: 8gCholesterol: 55mgSodium: 1095mgPotassium: 615mgFiber: 6gSugar: 20gVitamin A: 109IUVitamin C: 3mgCalcium: 76mgIron: 3mg