Roasted Red Potatoes are a simple side dish that's packed with flavor. Lightly seasoned and roasted in the oven to get those amazingly crisp edges, these crispy roasted potatoes are your new go-to side!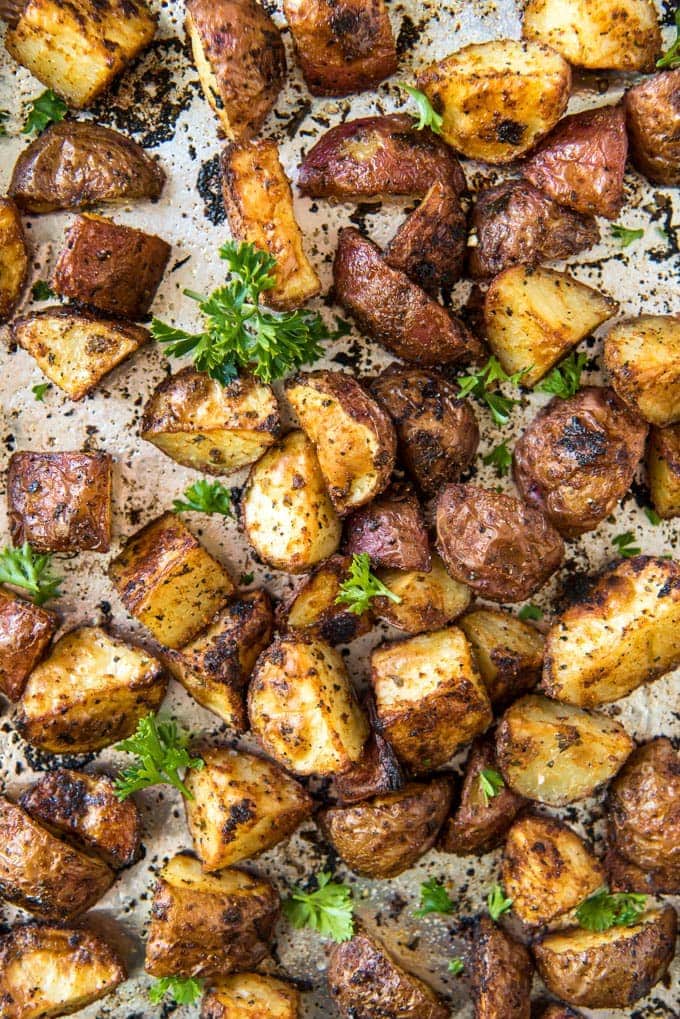 Side dishes are the star of any meal and these roasted red potatoes go with any of your favorite entrees, from Baked Chicken to Pork Chops to Crockpot Ribs!
Ingredients for Roasted Red Potatoes
Red Potatoes – you need about 2 pounds for this roasted red potatoes recipe, which is about 6-8 red potatoes. They can vary quite a bit in size, so try to pick ones that are uniform.
Garlic powder
Onion powder
Paprika
Dried parsley
Salt and pepper
How to Roast Red Potatoes
Rinse potatoes and scrub clean. Don't peel your potatoes – the peel is where all those good health benefits are.
Chop potatoes into evenly sized chunks. Get them as even as possible so they will all cook the same.
Toss potatoes in a large bowl with olive oil and seasonings. I use paprika, garlic powder, onion powder and salt and pepper as my go-to seasoning blend, and it's fantastic on these roasted potatoes. I also added some dried parsley.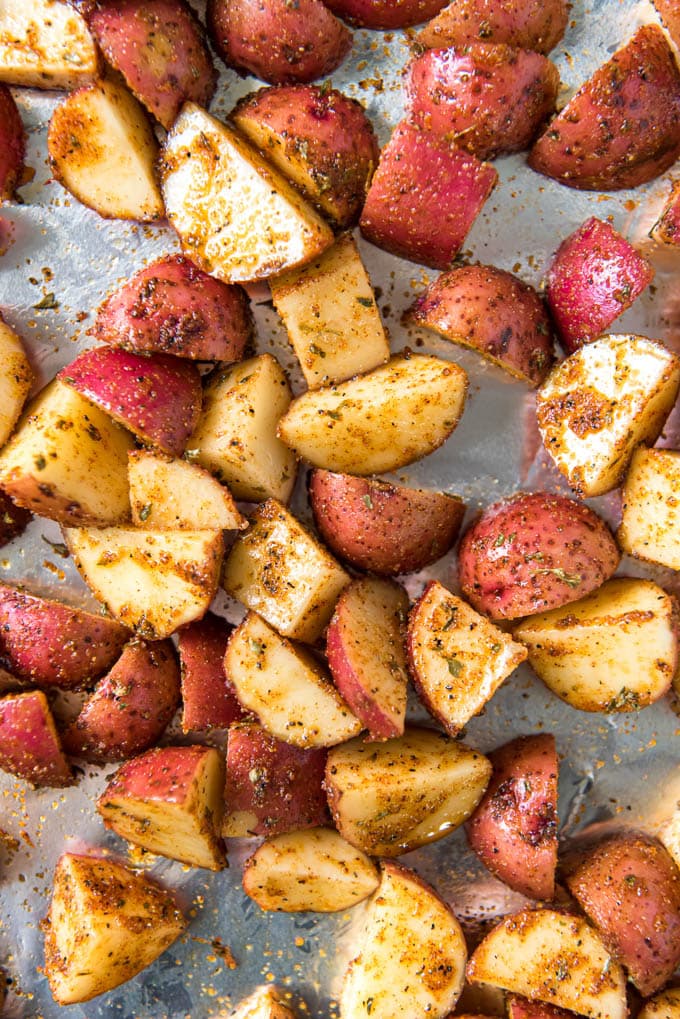 Line a large rimmed baking sheet with parchment paper or a silicone mat or just spray it with cooking spray. Spread the potatoes in a single layer and roast for 20-30 minutes. Stir and flip potatoes over and roast for another 10-20 minutes and slide the sheet pan back into the oven. They are done when the largest piece can easily be pierced with a fork.
Serve! Toss with some fresh parsley if you like and serve them hot.
Expert Tips and Tricks
Thoroughly wash and dry the potatoes. Get all the dirt off and make sure they are dry so the olive oil and seasonings will stick.
Feel free to play around with the seasonings. They are great with just salt and pepper too.
If they don't come out crispy enough once they're fully cooked, turn on the broiler and let them roast that way for a few more minutes to crisp them up.
You can use less oil if you're conscious about that, or even an oil spray like avocado or olive oil. Using too much oil, though, may have an adverse affect and keep them from crisping up.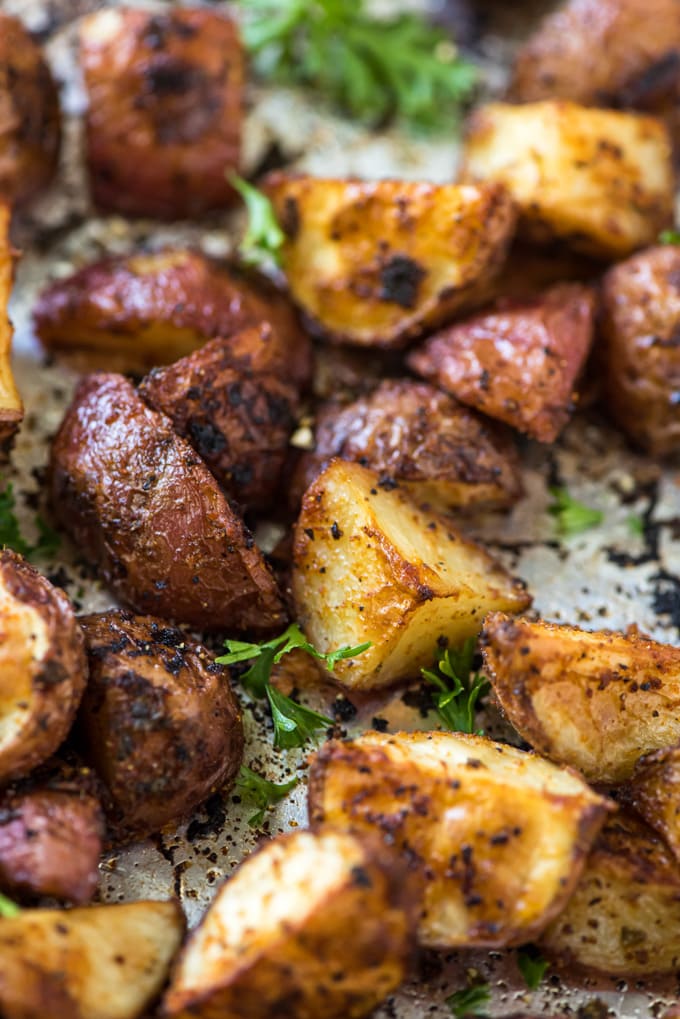 Frequently Asked Questions
Is it necessary to boil potatoes before roasting?
There is no need to boil potatoes before roasting. They will cook through completely in the high heat oven, and become soft and fluffy on the inside and crispy on the outside.
Are red potatoes good for roasting?
This roasted red potato recipe are simple to make, require just a few pantry ingredients and minimal effort. They have a thin skin (no peeling required!) and are lower in starch so they hold their shape really well. They have a rich, earthy flavor that is great in soups, boiled for potato salad or diced and roasted.
How do you make roast potatoes crispy?
The key to getting super crispy potatoes is making sure they are dry. Wet potatoes will steam and soften them instead of getting that crispy exterior you're looking for. After washing, peeling and dicing them, lay them on out a flat surface for 10-20 minutes so they can dry. Then you can toss them in the olive oil and seasonings.
Why won't my potatoes soften?
This generally happens when the cooking temperature isn't high enough to soften the potatoes, or they aren't cooked for long enough. This can happen if the boiling water isn't actually boiling, or if your oven temperature is a little off. You may want to calibrate the temperature on your oven using a super inexpensive and handy tool.

Another possibility is that you waited too long after cooking to add a sauce (or butter, cream, etc) and the chunks of potato flesh developed a starchy coating. Rule of thumb is to not let cooked potatoes sit for too long without finishing them.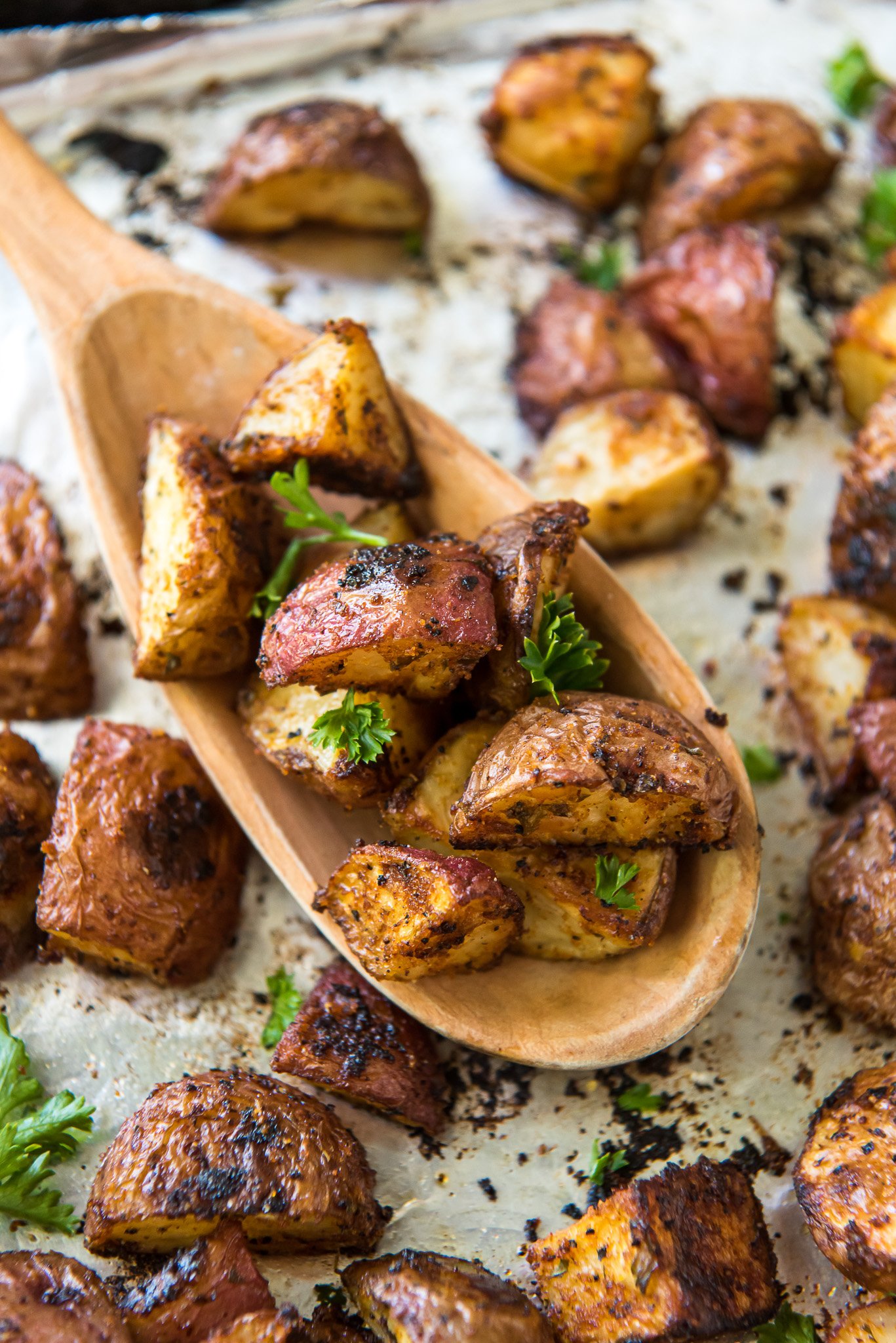 Serving suggestions
Roasted potatoes are so versatile that you can pair with with lots of different main dishes and side dishes.
Side dishes
Main dishes
Flavor Variations
If you have a favorite flavor profile that you like to cook with often, potatoes are pretty much a blank slate to try different things. I like to just use my simple all-purpose seasoning blend but you can shake things up and try:
Fajita or Taco seasoning
Marinate in a lemon pepper seasoning, maybe with some paprika.
Add lots salt of pepper for a really basic but incredibly delicious seasoning.
Use different oil like avocado or coconut oil.
Add some grated parmesan cheese.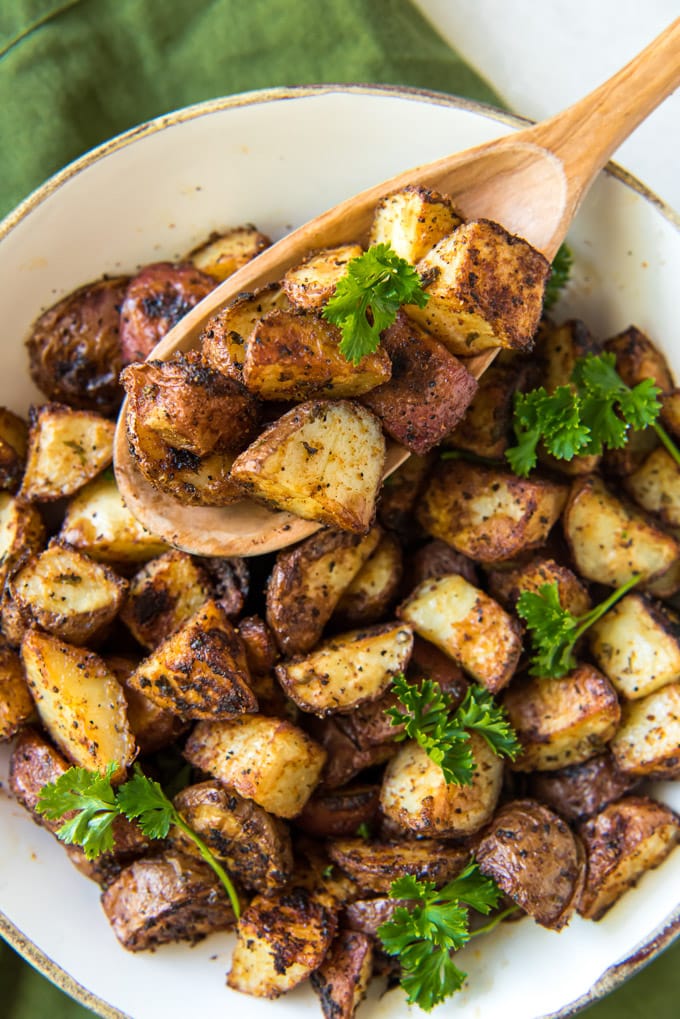 More delicious potato recipes
Recipe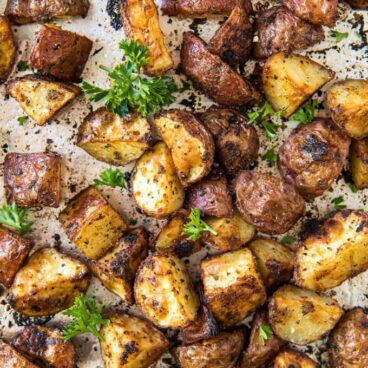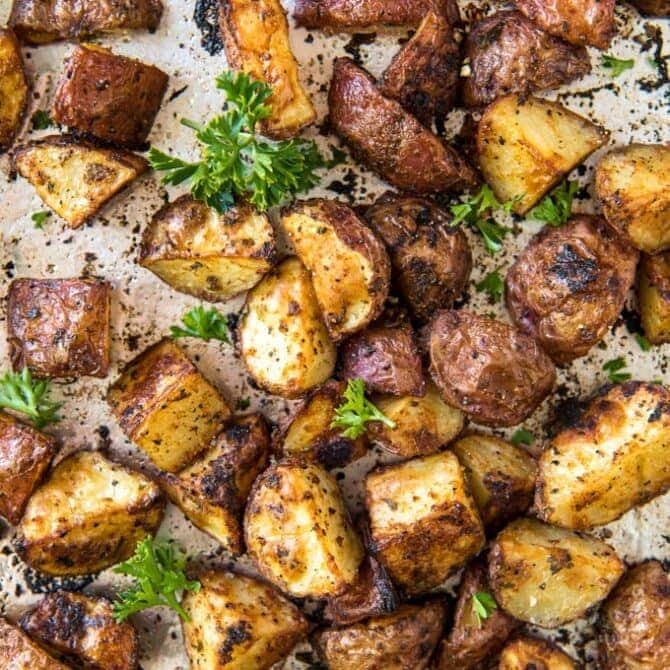 Roasted Red Potatoes
Roasted Red Potatoes are a simple side dish that's packed with flavor. Lightly seasoned and roasted in the oven to get those amazingly crisp edges.
Ingredients
2

pounds

red potatoes

scrubbed clean (6-8 medium sized red potatoes)

2

tablespoons

olive oil

1

teaspoon

garlic powder

1

teaspoon

onion powder

1

teaspoon

paprika

1

teaspoon

dried parsley

1

teaspoon

salt

1/2

teaspoon

black pepper

Fresh minced parsley for garnish
Instructions
Preheat oven to 425 degrees. Line a rimmed baking sheet with nonstick foil or parchment paper. Combine garlic, onion, paprika, dried parsley, salt and pepper in a small bowl.

Chop potatoes into 1-inch chunks, as evenly as possible. Place into a large bowl, drizzle with olive oil and toss. Sprinkle with the seasoning blend and toss until well coated. Arrange on the prepared baking sheet in a single layer.

Roast in the preheated oven for 20 minutes, toss gently with a spatula and again arrange in a single layer. Roast for an additional 20 minutes or until potatoes are fork tender and golden.

Garnish with fresh minced parsley and serve hot.
Notes
If they aren't crispy or golden enough after the 40 minute roasting time, flip on the broiler and broil for a few minutes. Watch closely so they don't burn. NOTE – only use foil with a broiler. If you plan to broil, don't use parchment paper.
Nutrition
Calories:
151
kcal
Carbohydrates:
25
g
Protein:
3
g
Fat:
5
g
Saturated Fat:
1
g
Sodium:
416
mg
Potassium:
702
mg
Fiber:
3
g
Sugar:
2
g
Vitamin A:
175
IU
Vitamin C:
13
mg
Calcium:
15
mg
Iron:
1
mg