Roasted Red Potatoes are a simple side dish that's packed with flavor. Lightly seasoned and roasted in the oven to get those amazingly crisp edges, these crispy roasted potatoes are your new go-to side!
Side dishes are the star of any meal and these potatoes go with any of your favorite entrees, from Baked Chicken to Pork Chops to Slow Cooker Barbecue Ribs!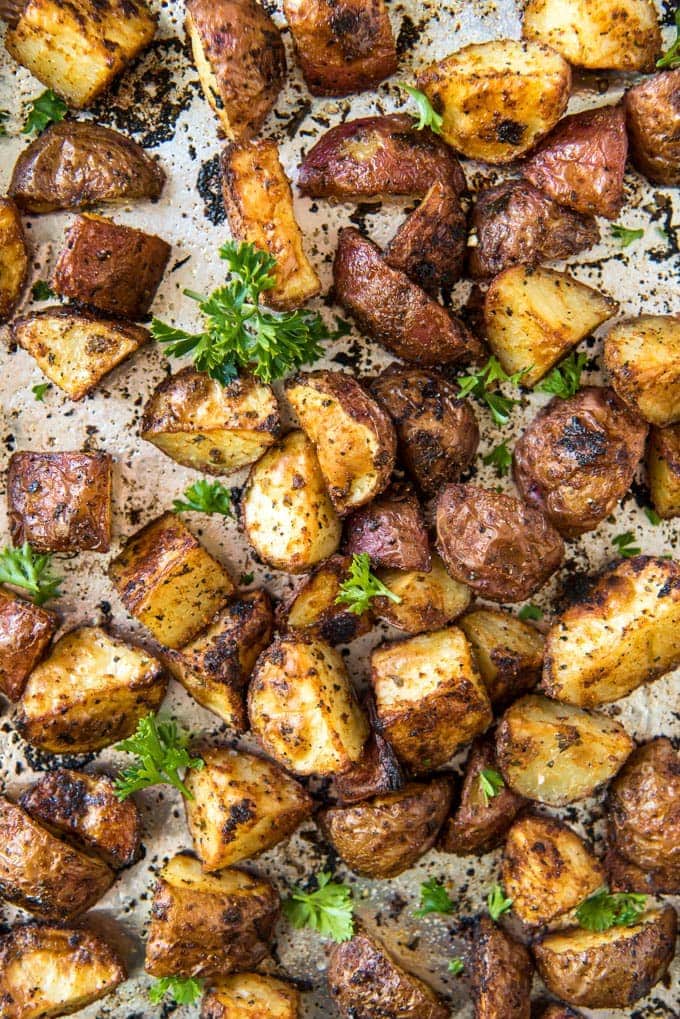 Roasted Red Potatoes Recipe
On any given night, I'm struggling to choose a side dish to go with our dinner. If you were to ask any member of my family to choose, they would undoubtedly say "Roasted Potatoes!" This crispy roasted potatoes recipe is by far their favorite, and lucky for my it's super easy to make, too.
Red potatoes are great for roasting because waxy potatoes like these hold their shape really well, whether cooked in soups, boiled for potato salad or diced and roasted. They have a thin skin (no peeling required!) and are lower in starch.
Roasted red potatoes are simple to make, require just a few pantry ingredients and minimal effort.
Red Potatoes are Good For You!
Red potatoes are not only delicious, they are actually quite healthy – just 110 calories in one potato! Here are a few of the other health benefits you can count on:
An excellent source of potassium – more than a banana!
High in Vitamin C – a 1/2 cup serving provides nearly half of your daily recommended amount.
Rich in Vitamin B6
Fat-free
Cholesterol-free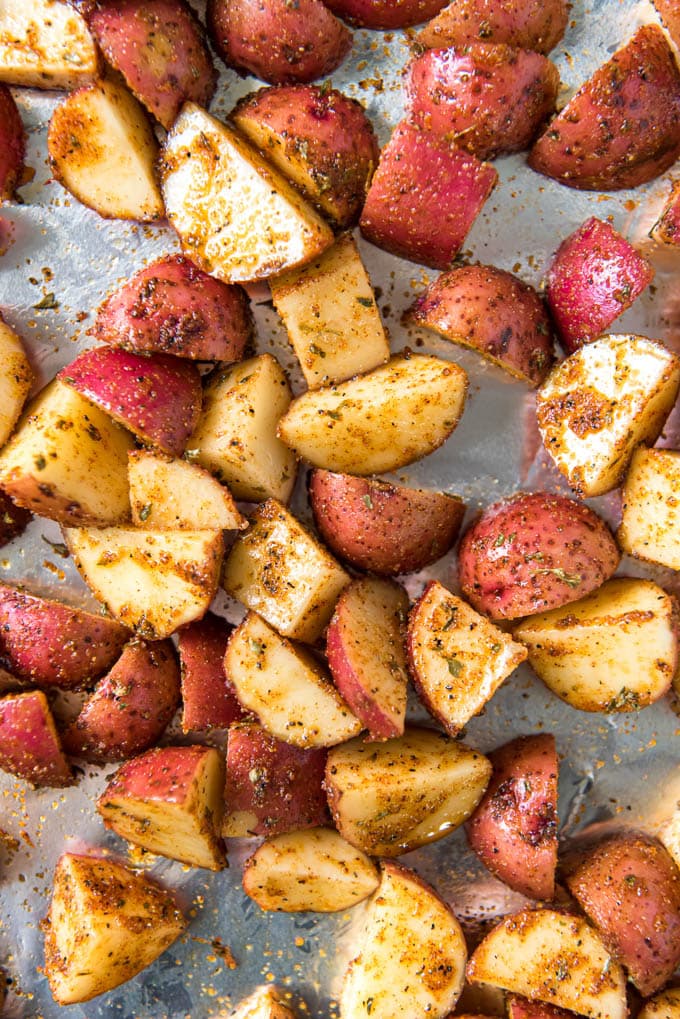 How to Roast Red Potatoes
Rinse potatoes and scrub clean. Don't peel your potatoes – the peel is where all those good health benefits are.
Chop potatoes into evenly sized chunks. Get them as even as possible so they will all cook the same.
Toss potatoes in olive oil and seasonings. I use paprika, garlic powder, onion powder and salt and pepper as my go-to seasoning blend, and it's fantastic on these roasted red potatoes. I also added some dried parsley.
Line a large rimmed baking sheet with parchment paper or a silicone mat. Spread the potatoes out in a single layer and roast for 20 minutes. Stir and flip potatoes over and roast for another 20 minutes. They are done when the largest piece can easily be pierced with a fork.
To serve, toss with some fresh parsley if you like and serve them hot.
Tips and Tricks
Thoroughly wash and dry the potatoes. Get all the dirt off and make sure they are dry so the olive oil and seasonings will stick.
Feel free to play around with the seasonings. Roasted Red Potatoes are great with just salt and pepper too.
If they don't come out crispy enough once they're fully cooked, turn on the broiler and let them roast that way for a few more minutes to crisp them up.
You can use less oil if you're conscious about that, or even an oil spray like avocado or olive oil. Using too much oil, though, may have an adverse affect and keep them from crisping up.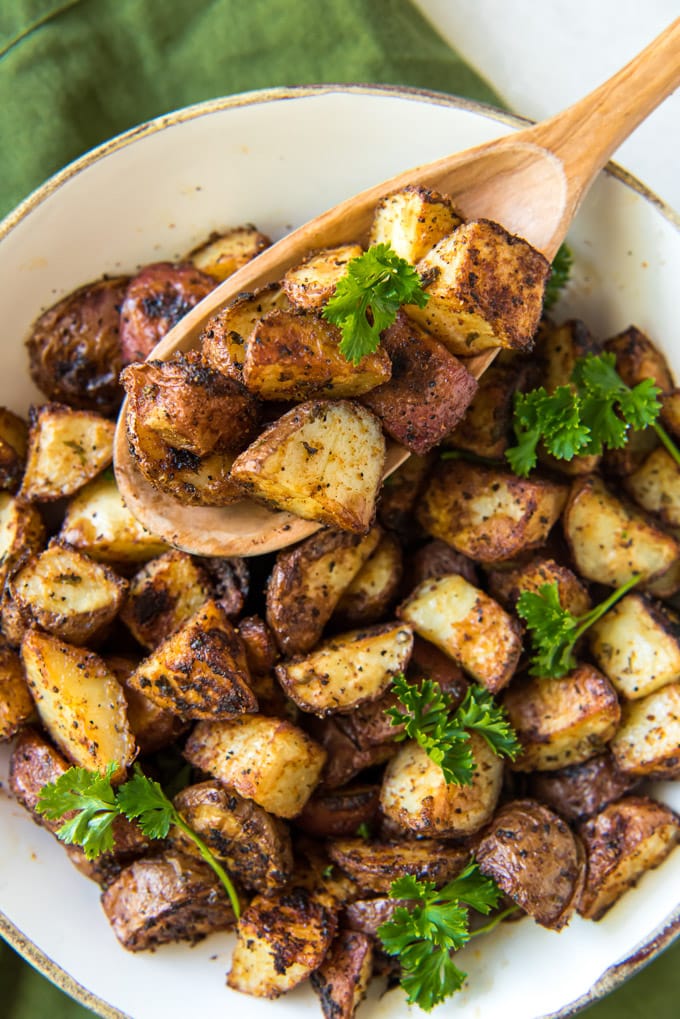 More delicious potato recipes to try: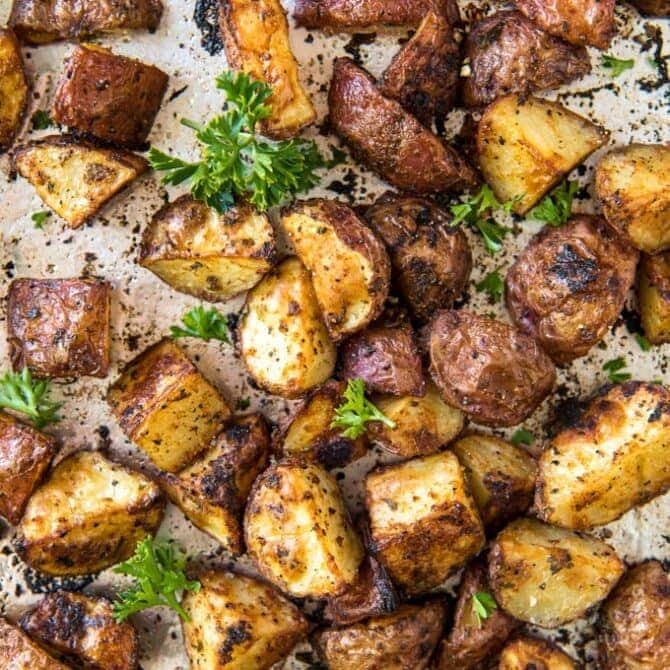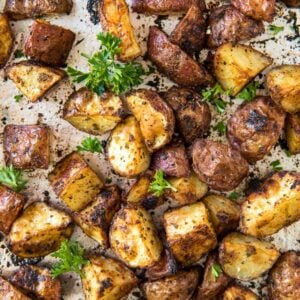 Roasted Red Potatoes
Roasted Red Potatoes are a simple side dish that's packed with flavor. Lightly seasoned and roasted in the oven to get those amazingly crisp edges.
Ingredients
2 pounds red potatoes scrubbed clean (6-8 medium sized red potatoes)
2 tablespoons olive oil
1 teaspoon garlic powder
1 teaspoon onion powder
1 teaspoon paprika
1 teaspoon dried parsley
1 teaspoon salt
1/2 teaspoon black pepper
Fresh minced parsley for garnish
Instructions
Preheat oven to 425 degrees. Line a rimmed baking sheet with nonstick foil or parchment paper. Combine garlic, onion, paprika, dried parsley, salt and pepper in a small bowl.

Chop potatoes into 1-inch chunks, as evenly as possible. Place into a large bowl, drizzle with olive oil and toss. Sprinkle with the seasoning blend and toss until well coated. Arrange on the prepared baking sheet in a single layer.

Roast in the preheated oven for 20 minutes, toss gently with a spatula and again arrange in a single layer. Roast for an additional 20 minutes or until potatoes are fork tender and golden.

Garnish with fresh minced parsley and serve hot.
Notes
If they aren't crispy or golden enough after the 40 minute roasting time, flip on the broiler and broil for a few minutes. Watch closely so they don't burn.
Nutrition
Calories: 151kcalCarbohydrates: 25gProtein: 3gFat: 5gSaturated Fat: 1gSodium: 416mgPotassium: 702mgFiber: 3gSugar: 2gVitamin A: 175IUVitamin C: 13mgCalcium: 15mgIron: 1mg