My Easy Breakfast Potatoes are crispy and flavorful on the outside, tender and fluffy on the inside. Made easily in your oven, they are a perfect side dish for any meal!
I love to go all out making breakfast for my family. We love serving these potatoes with some of our favorite breakfast foods, like Baked Egg Muffins, Asparagus, Tomato & Goat Cheese Frittata, and Make Ahead Freezer Breakfast Burritos.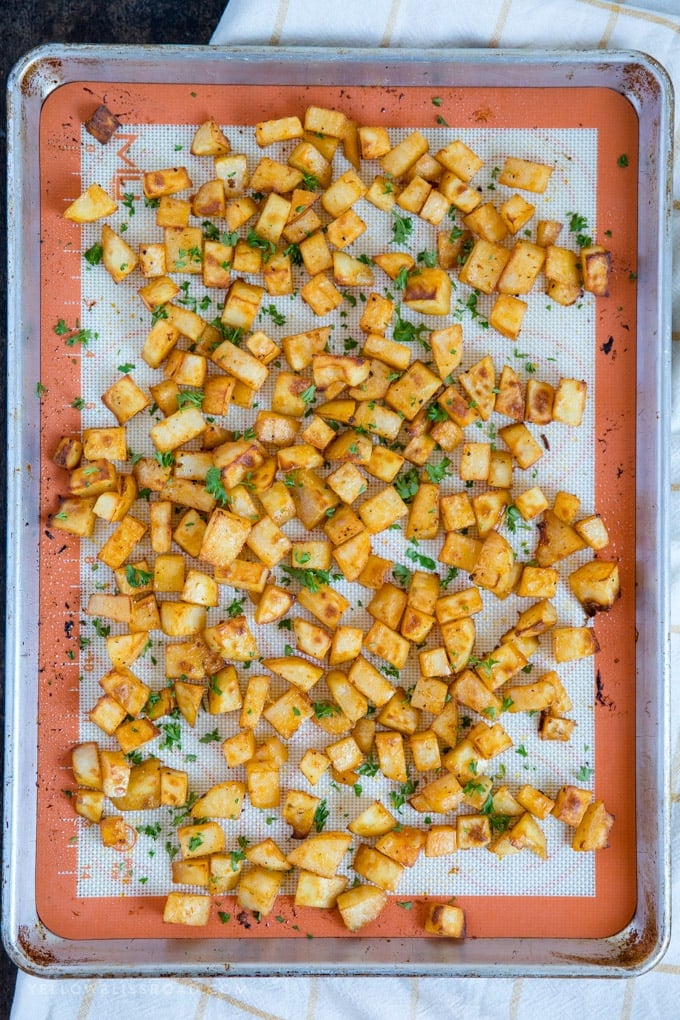 Easy Breakfast Potatoes
Eating breakfast out is probably my favorite weekend "day off" activity. There's just something gloriously sinful about indulging in a rich, hearty breakfast of pancakes or french toast, perfectly cooked eggs, bacon and sausage, and of course potatoes. This is the kind of meal that I never prepare at home because let's face it – weekdays are crazy and on the weekends I do not feel like preparing a big meal when I wake up in the morning.
As far as my family is concerned, Saturdays and Sundays are for being lazy, sleeping in, and wearing your pajamas until noon. They aren't about making a huge mess on the kitchen stove creating a huge meal. But my family loves that kind of food and it gets expensive eating out every weekend!
So instead of whipping up pancakes and french toast and all the fixings, we simplify a little with things like breakfast pizza and these easy breakfast potatoes. Both of those recipes actually pull double duty because not only do they make up a delicious and hearty weekend breakfast, but they lend themselves to easy meal planning!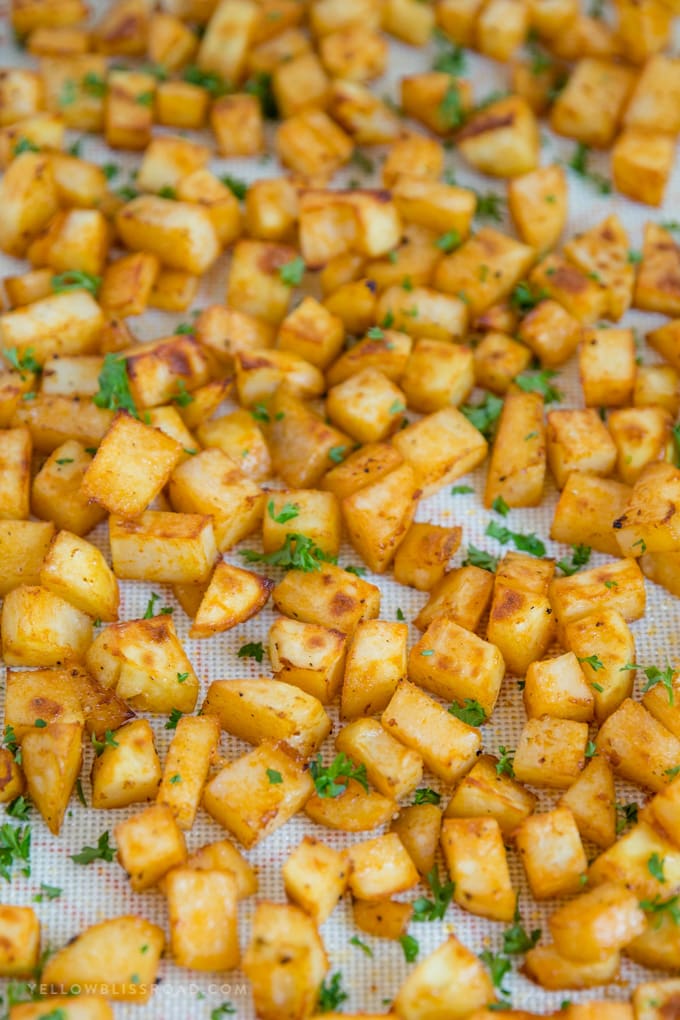 How to Make Easy Breakfast Potatoes
To make this easy potato recipe, you'll need a few things:
Potatoes – Russets are the way to go in my book because of how well they hold their shape, but this recipe will work with gold or red potatoes as well.
Oil – Olive oil, canola oil, vegetable oil…these crispy breakfast potatoes are equal opportunity when it comes to oil, so any of those will work. The oil will help the potatoes get nice and crispy.
Seasoning – Salt kind of goes without saying with potatoes of course, but you'll also want to add some garlic powder, onion powder, and paprika. Toss the potatoes with the oil and coat them in the seasoning.
Silicone Baking Mat – This isn't a necessity and regular foil will do the trick, but a silicone mat won't tear and it holds up nicely to the high temperature, making it super easy to toss the potatoes just before putting them under the broiler. You can grab them on Amazon using that affiliate link, but I've found them for much cheaper at Costco if they happen to have them in stock.
Once the potatoes are coated in the oil and seasoning and spread out on the silicone mat, it's time to slide them into the oven. A really hot oven is key to getting these potatoes a nice crispy exterior, but they are going to get some extra help in that department because we're going to broil them to finish them off. Keep in mind that the size of your potatoes cuts and the length of time in the oven will dictate just how crispy these potatoes can get. Larger cuts won't get as crispy, but they will be super tender and fluffy on the inside. If you want them crispier, leave them under the broiler a little longer than the recipe calls for. Just watch them closely as they can go from crispy and delicious to burnt pretty quickly.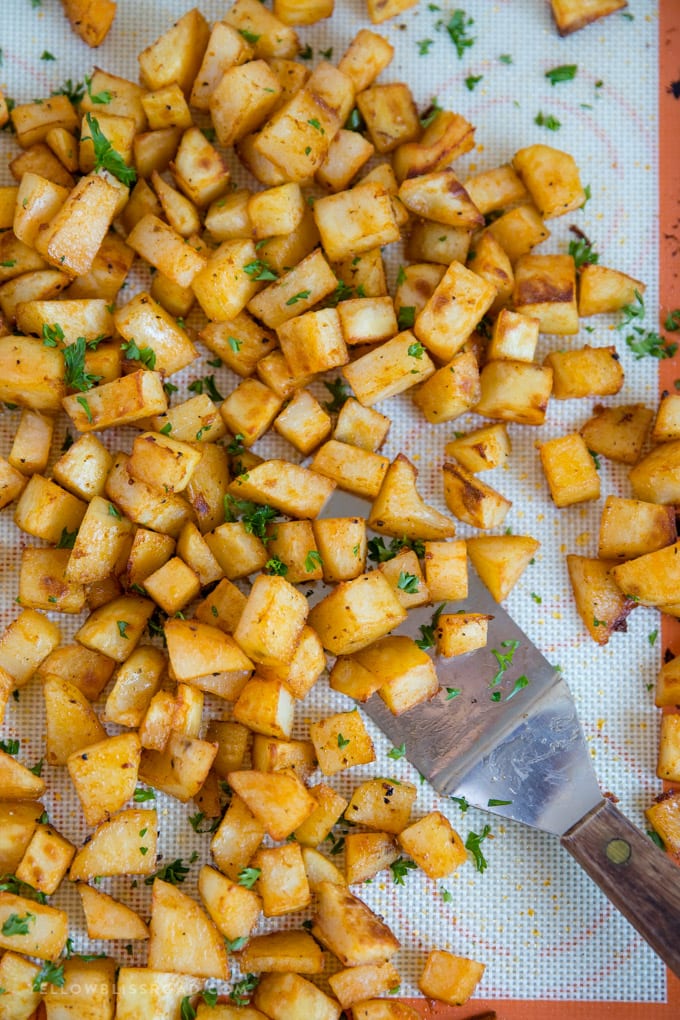 How do you reheat breakfast potatoes?
Store any leftover potatoes in an airtight container in the fridge for up to 4-5 days. You can reheat in the microwave, but you won't get those nice crispy edges. For that, you'll have to reheat the potatoes in your oven. Spread the leftover potatoes on a baking sheet and roast at 400 degrees F for about 10 minutes or until they are hot.
Can you add vegetables to these potatoes?
Yes! If you want to give your crispy breakfast potatoes an upgrade, add some diced bell peppers or chopped onion when you stir the potatoes with the seasoning. Bake them all together for the same amount of time.
Can you freeze crispy breakfast potatoes?
These potatoes will freeze really nicely. Store them in a freezer bag or airtight container in the freezer for up to 3 months. Thaw in the fridge overnight and reheat at 400 degrees F until hot.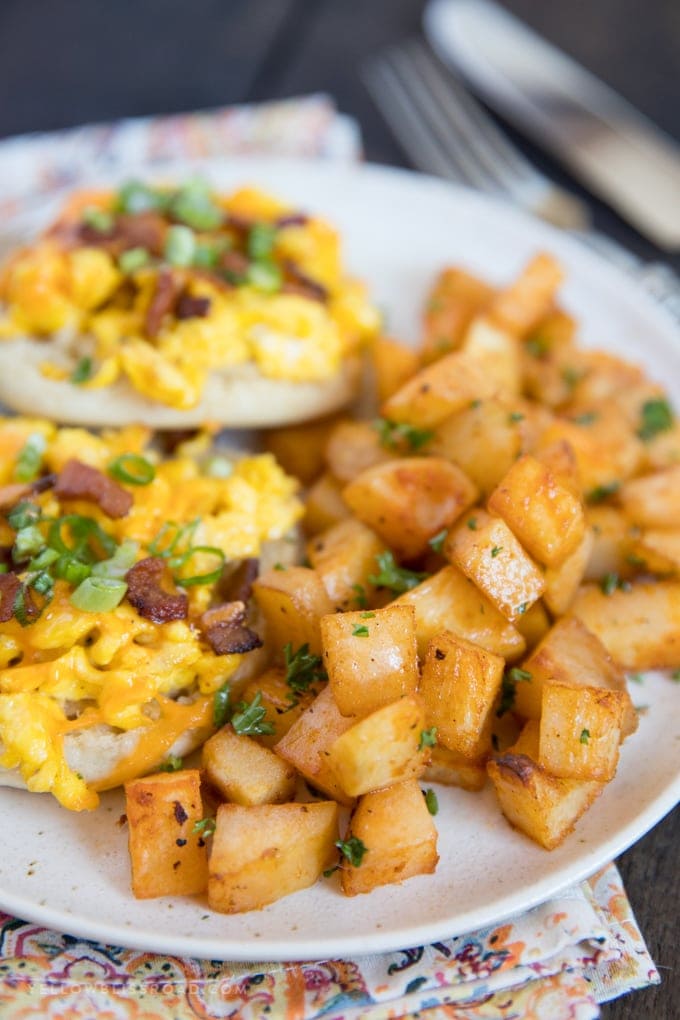 Here are some more delicious potato recipes to try:
And if you're looking to add more homemade breakfast recipes to your weekly menu plan, try these: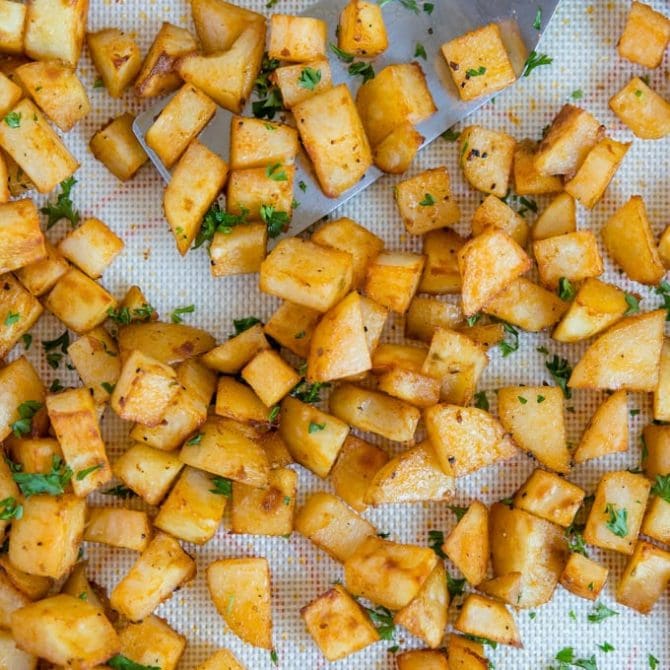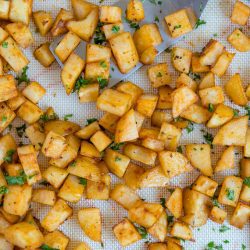 Easy Breakfast Potatoes
My Easy Breakfast Potatoes are crispy and flavorful on the outside, tender and fluffy on the inside. Made easily in your oven, these breakfast potatoes are a perfect side dish for any meal!
Ingredients
2 pounds russet potatoes
3 tablespoons olive oil
1 teaspoon kosher salt
¼ teaspoon black pepper
1/2 teaspoon garlic powder
1/2 teaspoon paprika
½ teaspoon onion powder
1 tablespoon fresh minced parsley
Instructions
Preheat oven to 400 degrees F. Line a large baking sheet with a silicone mat (preferred) or foil.

Peel potatoes and dice into ½-inch cubes.

Place potatoes into a large bowl, drizzle with olive oil and toss. Sprinkle with seasonings and toss again to coat.

Spread potatoes in an even layer on the prepared baking sheet. Bake in the preheated oven for 20-23 minutes.

Give the potatoes a quick stir, turn on the broiler and broil the potatoes for 4-5 minutes, or until golden brown and crispy.

Sprinkle with fresh minced parsley and serve immediately.
Nutrition
Calories: 184kcalCarbohydrates: 28gProtein: 3gFat: 7gSaturated Fat: 1gSodium: 396mgPotassium: 630mgFiber: 2gSugar: 1gVitamin A: 138IUVitamin C: 10mgCalcium: 20mgIron: 1mg