Everyone should know how to make French Toast! This quick and easy breakfast recipe is gorgeously browned on the outside, soft and fluffy on the inside, and is easily customized. It's got the perfect ratio of milk to eggs with a pinch of sugar and cinnamon for added sweetness and flavor.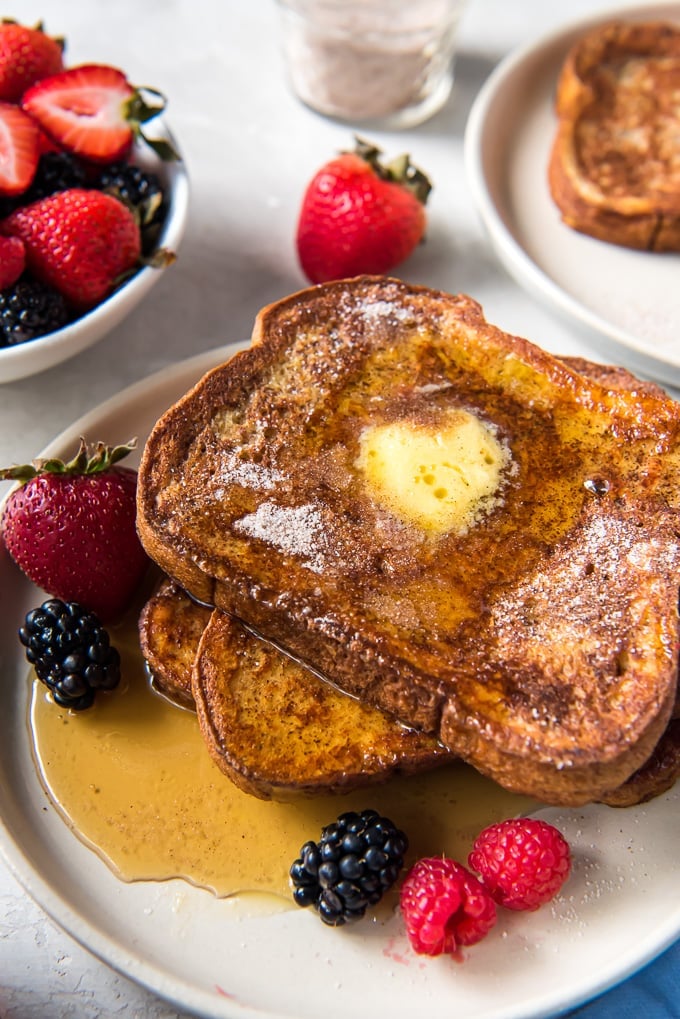 The Best French Toast
This is my ideal breakfast right here. A big stack of perfectly cooked French toast, doused in butter and syrup. Adding a few slices of bacon and some scrambled eggs completes the meal for me. How about you? Are you a maple syrup fan? Or do you prefer yours simple, with just a bit of powdered sugar?
Why is it called French toast?
Fun fact: the dish we call French toast wasn't even invented in France. Believe it or not, the earliest versions of this diner favorite date all the way back to the Roman Empire. The recipe and the name followed American settlers from 17th century England, where we turned it into a national treasure.
And for the record…the French consider this pain perdu – a dessert. We clearly one-up them in the breakfast department.
Ingredients Needed to make French Toast
Basic French toast only contains a handful of staple ingredients, making it a really convenient breakfast any day of the week!
Thickly-sliced bread – day-old bread, with its dense texture is ideal for french toast because it is able to soak up the custard without getting soggy.
Eggs – together with the milk the eggs make up the custard and they form a crust around the bread.
Milk – whole milk is preferred, but what you have on hand is ok. Even lactose-free or non-dairy alternatives are fine.
Cinnamon – adds just a hint of warmth and spice to your french toast.
Sugar – optional, but nice if you like your toast a bit sweeter.
Vanilla extract – rounds out the flavor profile.
Salt – just a pinch to enhance the flavors.
What Bread is Best?
There are two factors you should think about when shopping for French Toast bread:
Is it thickly sliced?
Will I be using it when it's at least one day old?
That's right – day-old, thick sliced bread is the ideal candidate for the best French toast of your life! The thickness and slight staleness of this combo make it the perfect consistency for soaking up all the eggy-milk mixture that turns ordinary bread into breakfast.
As for bread type, opt for a Texas toast-style loaf, sweet brioche, or challah (egg) bread. If you buy a pre-sliced loaf, leave the slices you plan to cook exposed to the open air overnight to help them dry out.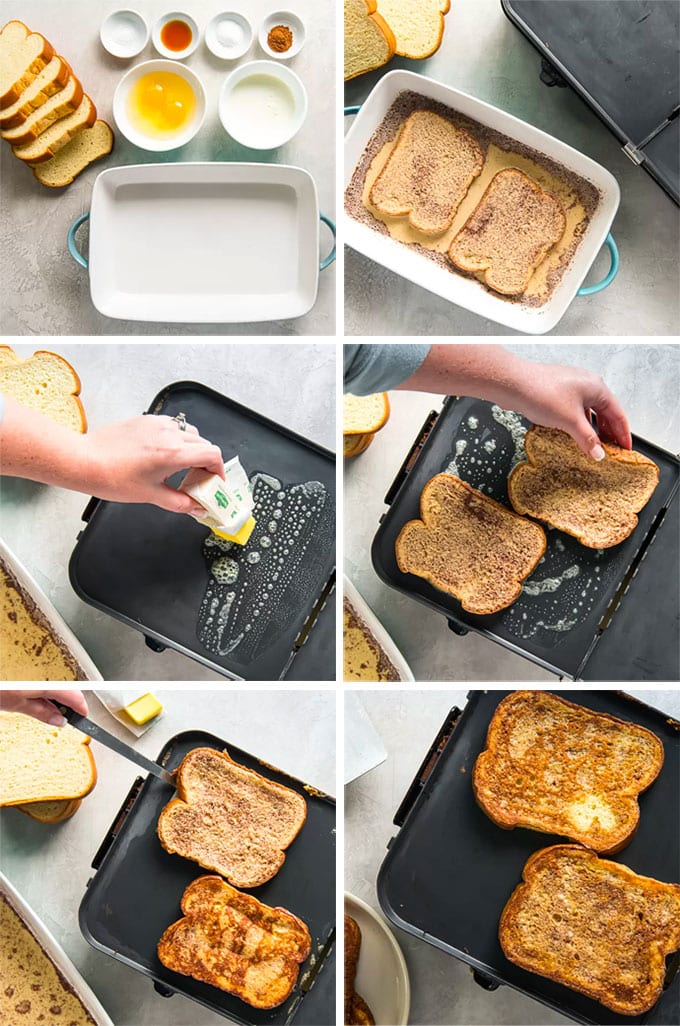 How To Make French Toast
Begin by whisking together all of the ingredients (except the bread!) in a mixing bowl. Then transfer the mixture to a shallow baking dish or large bowl.
Meanwhile, preheat an electric griddle (I swear by this one) or large non-stick skillet to medium heat (350 degrees F).
When you're ready to cook the French toast, melt some butter (or spritz with a bit of cooking spray) on the griddle/pan.
Place each slice of bread into the egg mixture, soaking each side for 20-30 seconds. Allow excess liquid to drip off into the dish. Be careful not to over-soak the bread, or it will begin to fall apart from the moisture.
Place the bread slices on the preheated griddle/ in the pan. Cook 3 to 4 minutes, then flip the slices and repeat until they are golden brown.
You may need to adjust the heat (especially in a skillet) to avoid burning the toast.
Serve hot with butter, maple syrup, or honey. You can also sprinkle the slices with powdered, granulated, or cinnamon-sugar, or go all out and add whipped cream and fresh berries or fruit compote.
Serving Suggestions
I feel like most of the time French Toast can hold its own as a meal, topped with syrup and fresh berries. But if you're looking for something to round it out for a nice, hearty breakfast, try these additions:
Can you Freeze French Toast?
Yes, slices of french toast can easily be frozen! Stack cooled french toast slices with parchment or wax paper in between to keep the slices of bread from sticking to each other. Place in an airtight container or freezer bag and store in the freezer for no more than 2 months for optimal freshness.
To reheat, pop individual slices in the toaster for a few minutes. Or, if you're reheating a big batch, lay slices out on a baking sheet, cover with foil and heat in a 350 degree oven for about 10 minutes or until hot.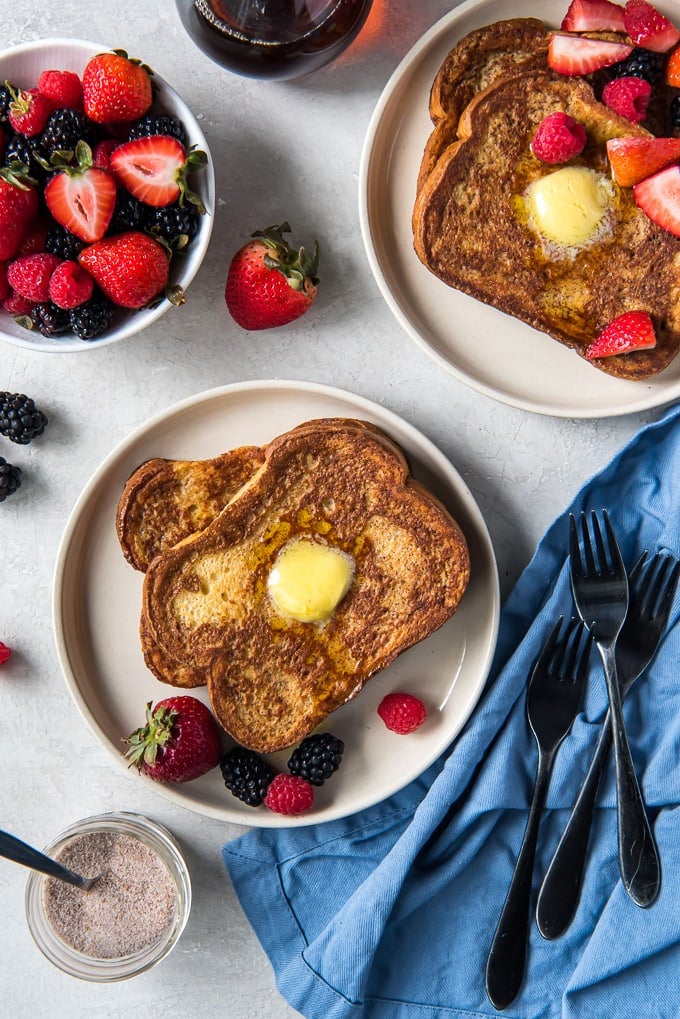 Common Mistakes when making French Toast
Too much milk. Adding too much dairy can make your french toast soggy. You need just the right ratio of egg to milk so that the egg will be able to cook, forming a crust around the sliced bread instead of the milk just soaking into it. Be sure to measure the milk so you end up with too much.
Too much heat. If your griddle is too hot it will burn the toast instead of giving it the lovely golden brown exterior. Keep it at 350 degrees, or if using the stovetop, don't heat above medium.
Using the wrong type of bread. French Toast needs a thick, hearty slice of bread in order to soak up the custard without becoming falling apart. Thin slices, like typical sandwich bread, will fall apart and become mushy.
Not enough time to soak. A thick slice of bread will take 15-30 seconds to adequately soak in the custard mixture all the way to the center. Some light pressure may be needed to aid in this process.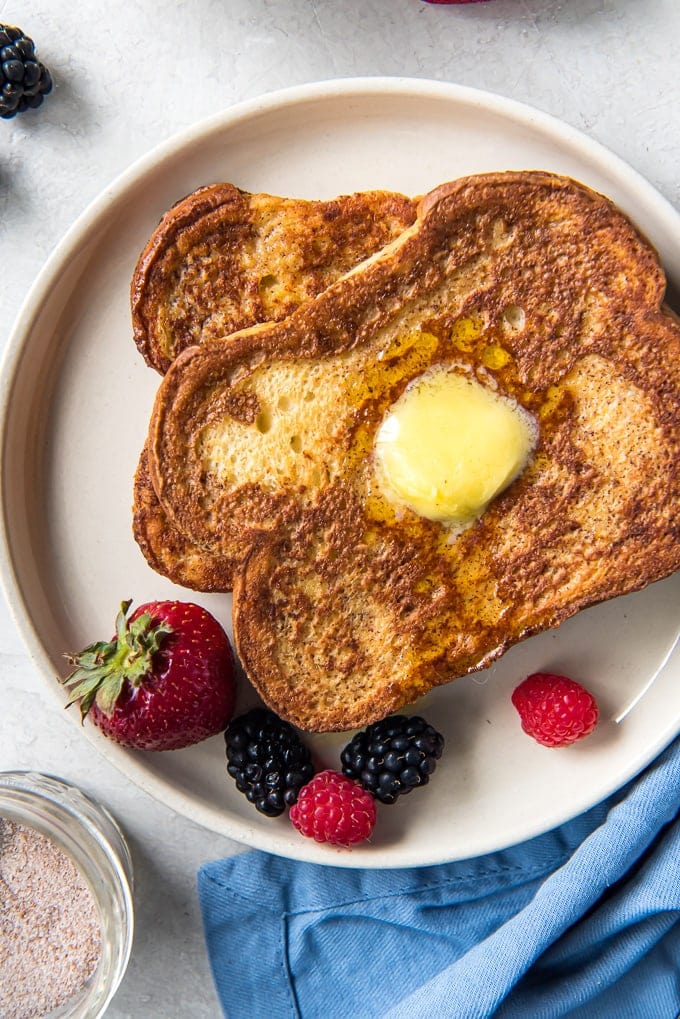 More French Toast and Breakfast Recipes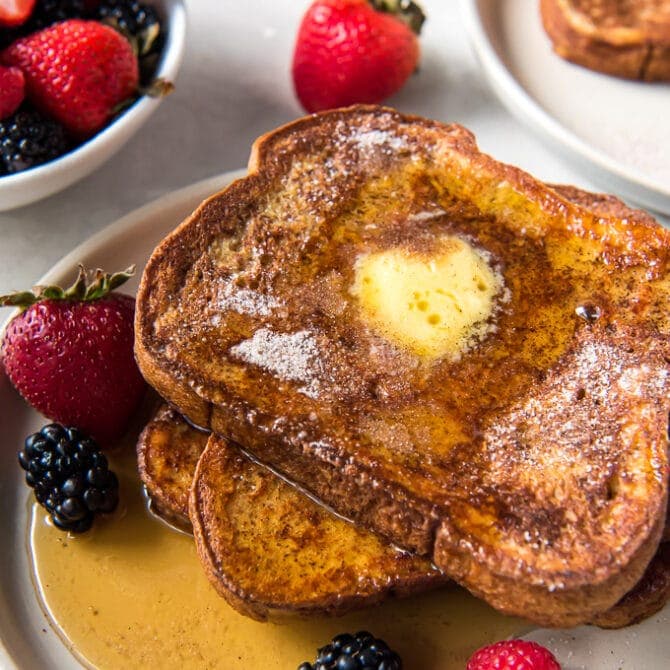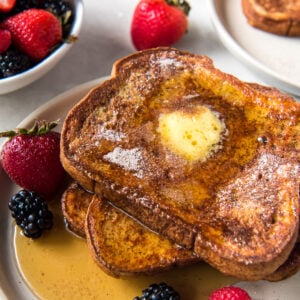 How To Make French Toast
Everyone should know how to make perfect French Toast! This quick and easy breakfast recipe is gorgeously browned on the outside, soft and fluffy on the inside, and is easily customized!
Ingredients
8 slices thickly sliced bread brioche, Texas toast, or challah bread
2 large eggs
2/3 cup milk
1 teaspoon granulated sugar optional
1 teaspoon vanilla extract
1 teaspoon ground cinnamon
Pinch salt
Instructions
Heat a griddle or skillet over medium heat (325-350˚F).

In a mixing bowl, whisk together eggs, milk, sugar (if using), vanilla, cinnamon, and salt until well combined. Transfer to a shallow baking dish.

Place each slice of bread into the egg mixture, soaking each side for 20-30 seconds. Allow excess liquid to drip off into the dish.

Lightly butter or spray the griddle/pan with cooking oil.

Place bread slices on griddle/pan and cook 3-4 minutes on both sides until golden brown, adjusting heat as necessary to avoid burning.

Serve hot with toppings of choice.
Nutrition
Calories: 334kcalCarbohydrates: 38gProtein: 10gFat: 16gSaturated Fat: 5gCholesterol: 83mgSodium: 468mgPotassium: 94mgFiber: 2gSugar: 7gVitamin A: 202IUCalcium: 67mgIron: 12mg