Fluffy buttermilk chocolate chip pancakes are perfect for your sweet cravings. Top them with whipped cream or maple syrup for a decadent breakfast treat.
There is nothing better than a pillowy stack of chocolate chip pancakes. The tangy buttermilk and the bittersweet dark chocolate are a match to be reckoned with.
Top those babies with some maple syrup, or whipped cream and you are ready for a feast that will certainly awaken your inner child. And serve them with some scrambled eggs and crispy hash browns to complete the meal!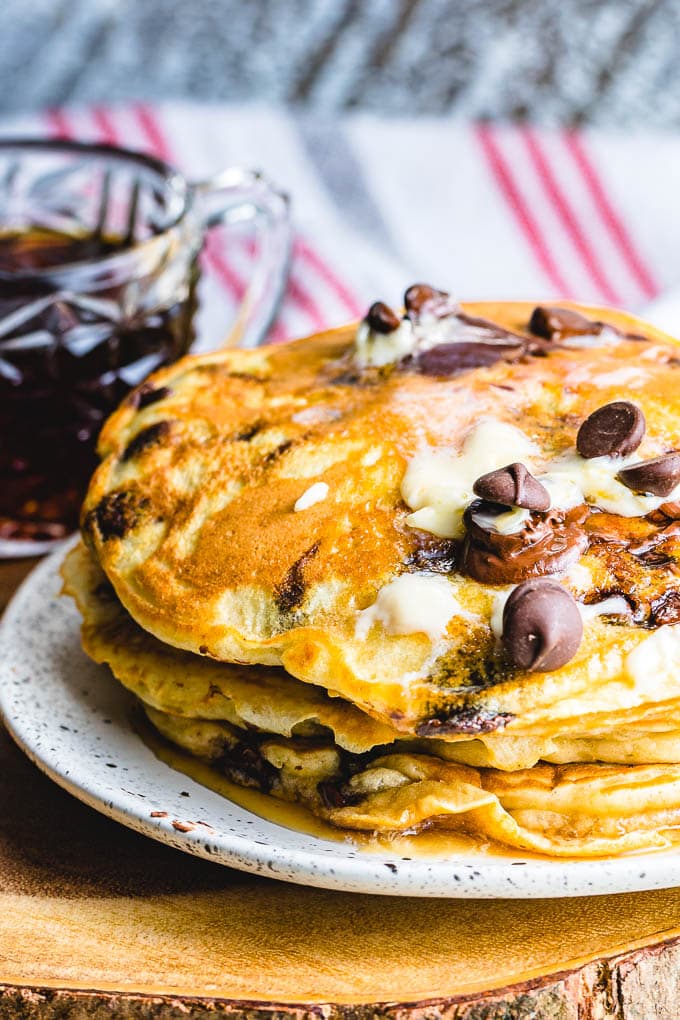 Chocolate Chip Buttermilk Pancakes
One of my favorite breakfast foods is pancakes. Especially buttermilk pancakes. The buttermilk creates a type of chemical reaction by activating the baking soda that yields incredibly fluffy pancakes – you know, the ones that you see in pictures and movies that look almost too good to be real. But I assure you – these are real and they're spectacular!
You can add all sorts of ingredients to buttermilk pancakes, but my favorite is definitely chocolate chips. They create an almost sinful experience – like you know you should have gone with the healthier buckwheat pancakes, but you just don't care because, well, chocolate chips and buttermilk.
Why You Need To Make These
These pancakes are the perfect addition to any brunch, breakfast, or dinner! Quite frankly, these are good enough to have for dessert too!

They are EASY! And you'll l

ikely have all ingredients on hand. Oh, wait – no buttermilk? That's ok – you can make your own buttermilk by combining milk with vinegar or lemon juice! It's not quite as creamy as real buttermilk, so use a ½ cup less for this recipe.

Everyone likes them. Have you ever met anyone who said: "No, I don't like chocolate chip pancakes." I haven't. These are guaranteed to be a hit with even the pickiest of eaters.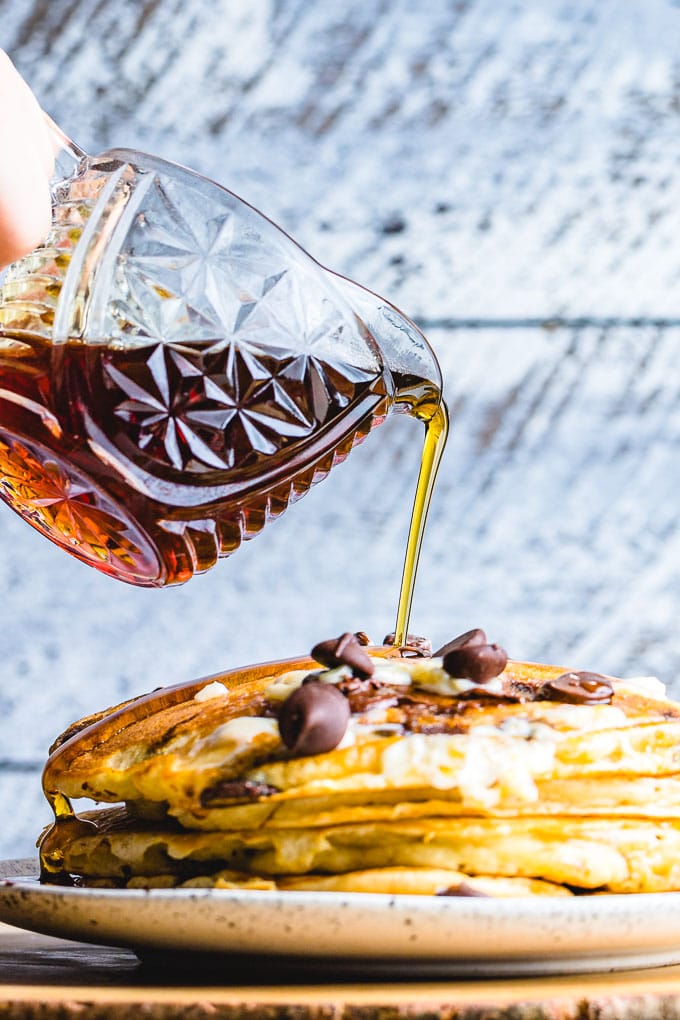 How To Make Chocolate Chip Pancakes
PREHEAT. Set oven to its lowest temperature (~170 degrees F) to keep the pancakes warm while finishing all batches.
MIX. In a large bowl combine all the dry ingredients except chocolate chips and mix together. Then, beat 2 eggs in a separate bowl. Add the buttermilk, beaten eggs, and melted butter to the dry ingredients and mix until there are no dry spots. Tip – Over-mixing can result in tough pancakes. Leaving some lumps is fine.
REST. Wait 20-30 minutes before cooking the pancakes. The buttermilk will help the baking soda release carbon dioxide. Bubbles will form in the batter and the result will be fluffier pancakes. For more info on the science behind this reaction read this article.
COOK. Add the chocolate chips to the pancake batter and gently mix. Heat a nonstick pan or flat griddle to low and add a small amount (1 teaspoon for a nonstick) of vegetable oil to the pan. Using a ladle, pour the pancakes out and let them cook for 2-4 minutes on the first side. When bubbles form flip them and cook for 1-2 more minutes or until the bottoms turn light brown.
KEEP WARM. Place finished pancakes on a wire rack or parchment paper lined sheet pan. Keep the pan in the oven on its lowest setting to guarantee all of the chocolate chip pancakes will be warm.
SERVE. Top with butter, a bit more chocolate chips, and maple syrup. You could even top with whipped cream and chocolate syrup for a truly decadent treat.
Serving Suggestions
I love to make a stack of these for my kids on the weekends. They are also great for when you're hosting a brunch. You can make a large batch of these and keep them in the oven at the lowest temperature to keep them warm until you're ready to eat.
Pairing chocolate chip pancakes with some savory dishes is a fantastic strategy! Consider serving these alongside Chorizo and Eggs or this Asparagus and Goat Cheese Frittata.
A Peach Bellini with Grapefruit Rose Vodka, a Pineapple Strawberry Mimosa, or an Aperol Spritz would also make a fantastic addition to brunch!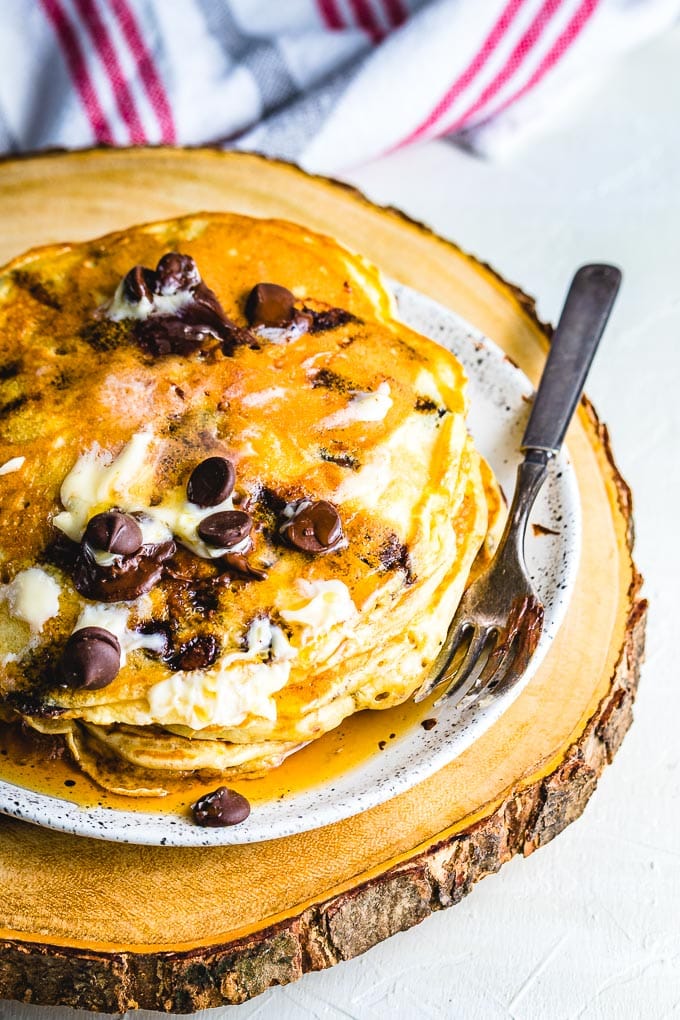 More Sweet Breakfast Recipes
If sweet breakfasts are really your thing, you've got to try some of our other popular favorites, like Semolina French Toast or Pumpkin Pancakes. Or for something equally decadent, try our Cream Cheese Stuffed French Toast with strawberries!
Recipe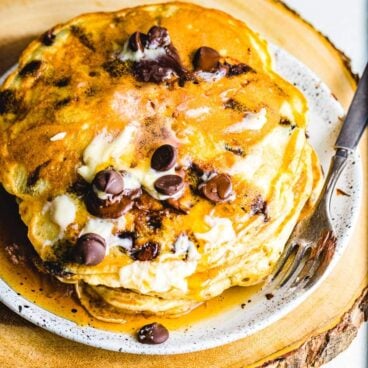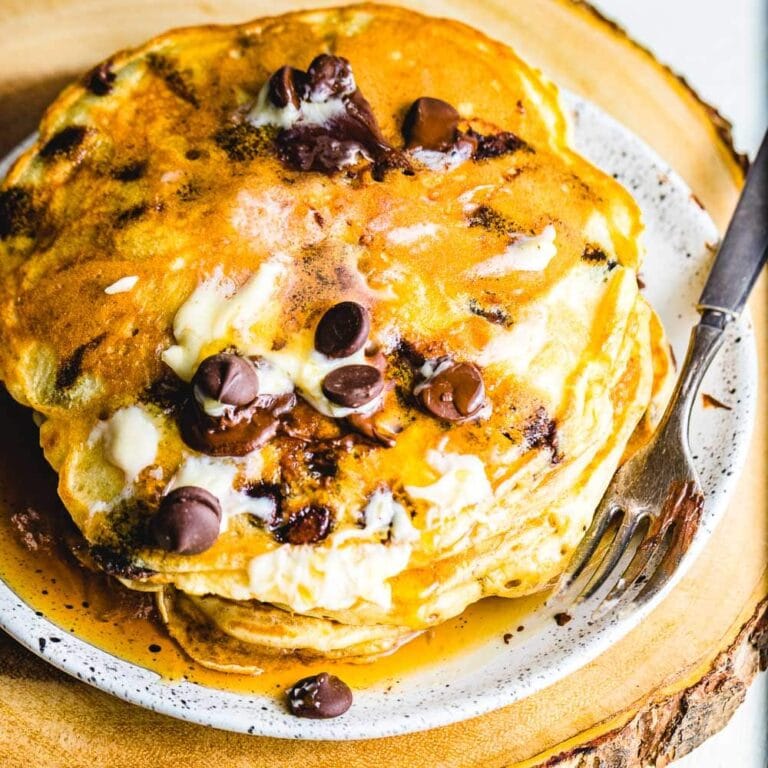 Chocolate Chip Pancakes
Chocolate chip pancakes made with buttermilk to make them fluffy and delicious.
Ingredients
2

cups

all-purpose flour

1

cup

chocolate chips

1 1/2

teaspoons

baking soda

1 1/2

teaspoons

baking powder

3

tablespoons

sugar

3/4

teaspoon

table salt

2 1/2

cups

buttermilk

3

tablespoons

butter

melted

2

large

eggs

1

tablespoon

vegetable oil
Instructions
Preheat oven to 170f or its lowest temp.

In a large mixing bowl combine flour, baking soda, baking powder, salt, and sugar. Mix well.

To the bowl add the buttermilk, melted butter, and 2 beaten eggs. Mix gently until there are no dry spots, but do not overmix. Lumps are fine. Wait 20-30 minutes before moving onto the next step.

Add the chocolate chips to batter and gently mix. Heat a griddle or nonstick pan to low. Add a touch (1 teaspoon) of vegetable oil to a nonstick pan, then ladle the pancake batter into pan. Cook pancakes for 2-4 minutes on the first side or until bubbles start to rise. Flip and cook the other side for 1-2 minutes until lightly brown.

Repeat until all pancakes are finished. Place cooked pancakes in the oven to keep warm, while finishing all batches.

Serve with more chocolate chips, butter, and maple syrup. Enjoy!
Notes
Wait at least 20 minutes before making batter to start cooking the pancakes.
Recipe makes eight 6-8″ round pancakes.
Keep pan heat low.  This will help avoid burning the pancakes, but allow the inside to cook.
Use whichever chocolate chips or chunks you like.  We used a combination of dark and semi-sweet chips.
Nutrition
Calories:
723
kcal
Carbohydrates:
94
g
Protein:
17
g
Fat:
31
g
Saturated Fat:
19
g
Cholesterol:
151
mg
Sodium:
1152
mg
Potassium:
460
mg
Fiber:
3
g
Sugar:
43
g
Vitamin A:
764
IU
Vitamin C:
1
mg
Calcium:
317
mg
Iron:
4
mg