A Frittata is a delicious and elegant addition to your spring brunch table. My Asparagus, Tomato and Goat Cheese Frittata is full of protein packed eggs and delicious veggies, and it's perfect for breakfast, lunch or even dinner!
Brunch recipes like this one are perfect for spring and summer and a great way to use fresh veggies. Add them to your recipe box and serve them alongside other brunch favorites like Homemade Cinnamon Rolls and Easy Breakfast Potatoes.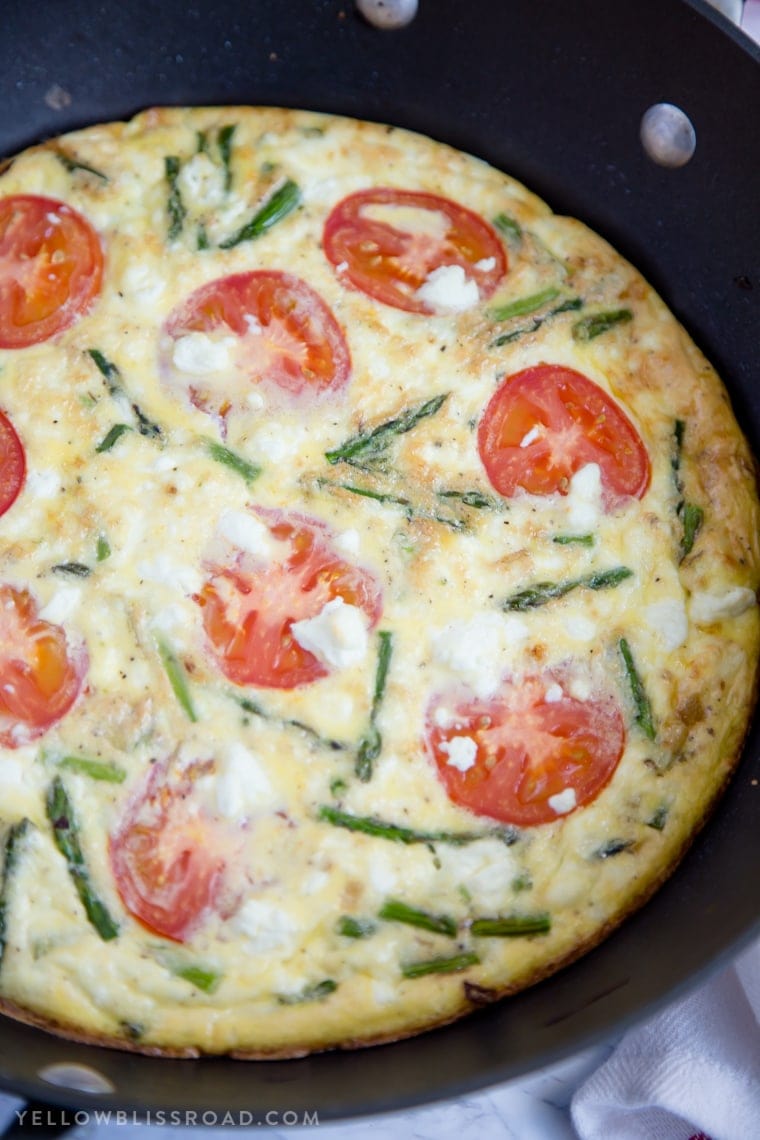 Frittata Recipe with Asparagus, Tomatoes and Goat Cheese
It's no secret one of my favorite celebrity chefs is Trisha Yearwood. I've loved her for many years, dating back to well before she was known for her cooking. It just so happened that Miss Yearwood was going to be autographing copies of her latest cookbook, Trisha's Table, at a local store a couple of years ago and my daughter and I had the chance to meet her. It was so amazing and wonderful to meet this person I'd admired for so long! We still watch her show religiously. My kids love her too, and anytime they hear her on the radio they get very excited. This recipe is one that I adapted from a frittata she made not too long ago on her show.
Frittatas are a great way to use up leftovers in your fridge because you can put just about anything in them – meats, veggies, cheeses. Miss Yearwood made an Asparagus & Feta Frittata and this is my spin on it. I added tomatoes and swapped the Feta out for some of my favorite goat cheese. It was beyond amazing! So creamy and tender and fluffy and flavorful. That's a lot of adjectives but they're all true! This Asparagus, Tomato and Goat Cheese Frittata would be wonderful for Easter or Mother's Day brunch or when you're feeling a little crazy and want breakfast for dinner. This little one pan wonder will impress even the toughest critics.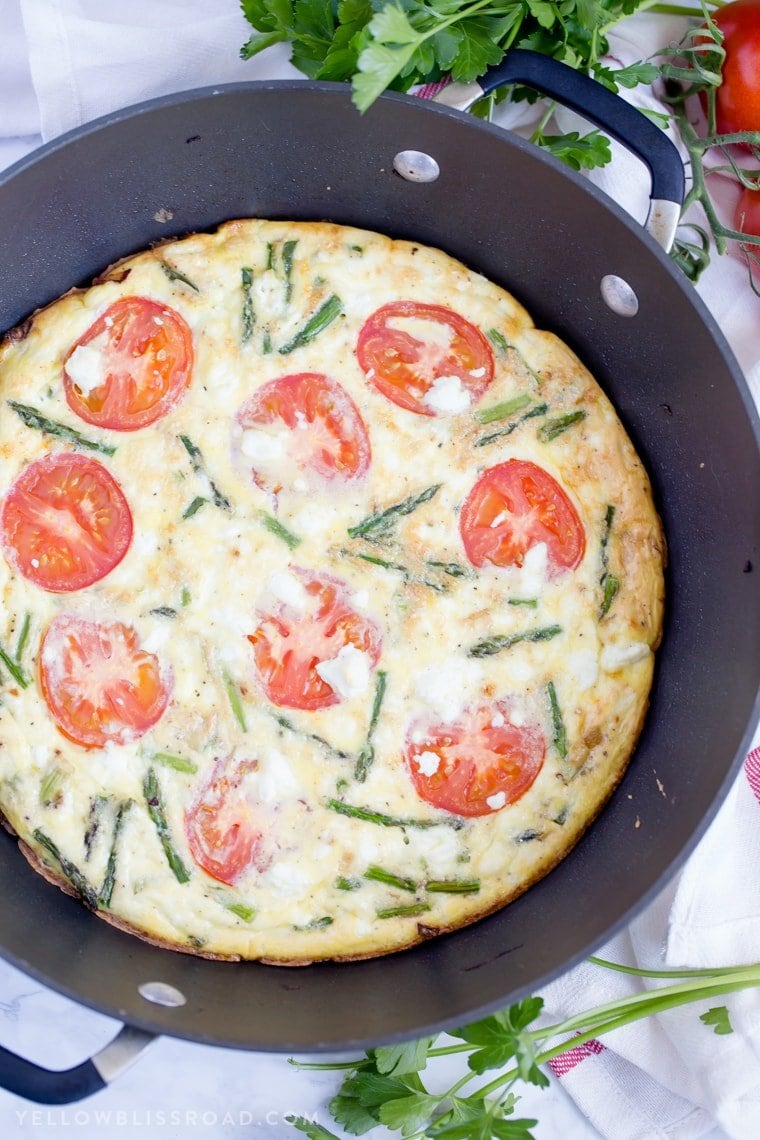 What is a Frittata?
A frittata is an Italian egg dish that is fried on the stovetop and then baked in the oven. Similar to an omelette or crustless quiche, you can add a variety of filling like meats, vegetables and cheese.
A frittata is cooked in a cast iron or other type of oven safe skillet and it is started on your stovetop then finished in the oven. The fillings are baked into the eggs. An omelette is just eggs cooked in a skillet on the stove, then folded and stuffed with fillings and served that way. A frittata is cut into slices and served like a pie or quiche.
How to Make a Frittata
Preheat oven to 350 degrees and place a 12-inch nonstick skillet on the stove over medium heat. You can use a cast iron skillet but I prefer to use my oven-safe, nonstick Calphalon skillet. I just find that eggs, no matter how hard a try are hit or miss in cast iron and can easily stick to the pan.
Add some olive oil to the pan and let it melt for a minute, then add some diced onions and cook them until they begin to soften, then add some chopped asparagus to the pan for a couple of minutes until it begins to soften as well.
While the veggies are cooking, in a medium sized bowl, whisk together eggs, milk, heavy cream, salt and pepper and most of the crumbled goat cheese. Pour this mixture over the cooked asparagus, using a spatula to evenly distribute the vegetables.
Top with tomato slices and the rest of the goat cheese and let the egg mixture cook over medium heat until it just begins to set which will take about 4-6 minutes. The center will still be loose but the edges will be set and start to pull away from the sides of the pan.
Slide the pan into the preheated oven and bake for about 15 minutes or until the eggs are completely set. Give the pan a light shake and there should very little jiggle. The internal temp should reach 160 degrees. If you want to brown the top you can switch on the broiler for the last few minutes.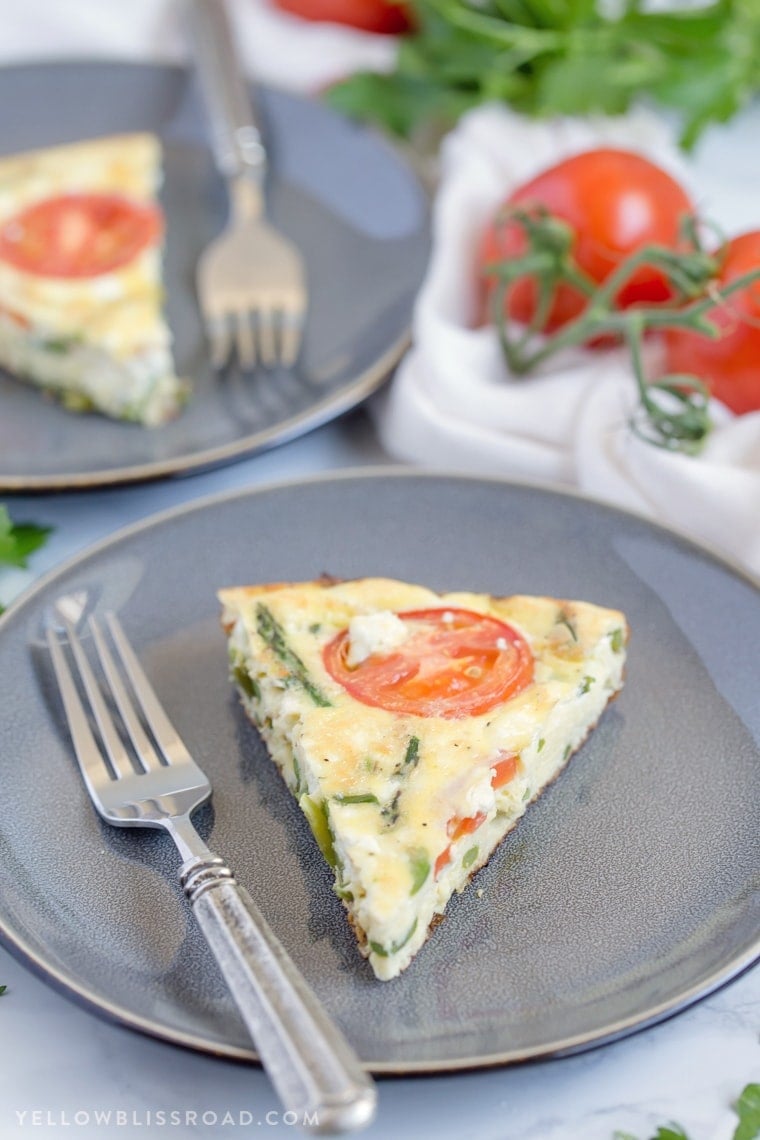 How to customize this recipe
What I love most about cooking at home is the ability to make any recipe my own. You can easily customize this frittata recipe to suit your tastes. It's also a great way to use up leftovers! Here are a few ideas:
Not a fan of goat cheese? Swap it out for Feta, cheddar, jack or whatever cheese you like.
Same goes for the asparagus. Zucchini would be a delicious swap or addition, also spinach, mushrooms, broccoli or bell peppers.
Meat lovers can add their faves like bacon or ham or even crumbled sausage. Be sure to cook the meat fully in a separate pan and add it when you add the eggs.
Roma tomatoes are my favorite, but sweet cherry or grape tomatoes would be great. Heirloom tomatoes are also really delicious.
What to do with leftovers
Store leftover frittata in a sealed container or bag and should be eaten within a day or two for the best flavor, but can be stored for up to a week. Microwave leftovers at 50% power for just about 30 seconds.
To freeze, allow the frittata to cool completely, then remove from the pan and wrap with a couple of layers of plastic wrap and place in freezer bags. It may be best to cut into individual portions first. Freeze up to 3 months.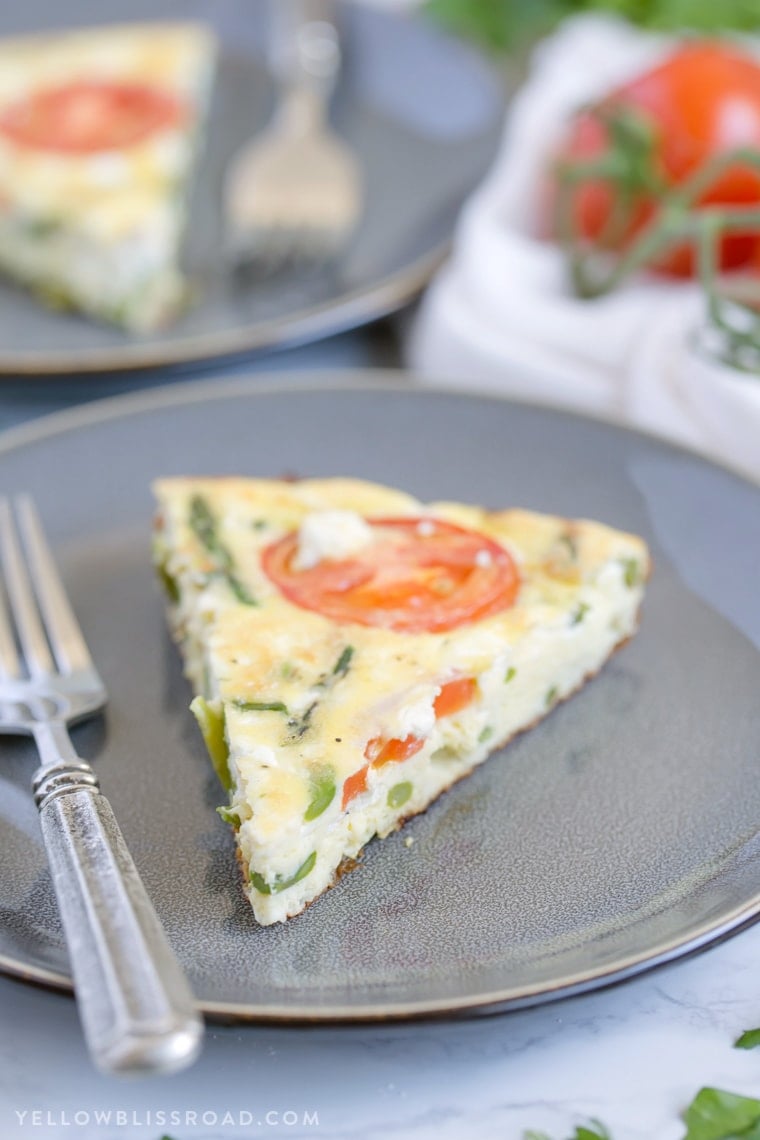 What to serve with an Asparagus and Tomato Frittata
Recipe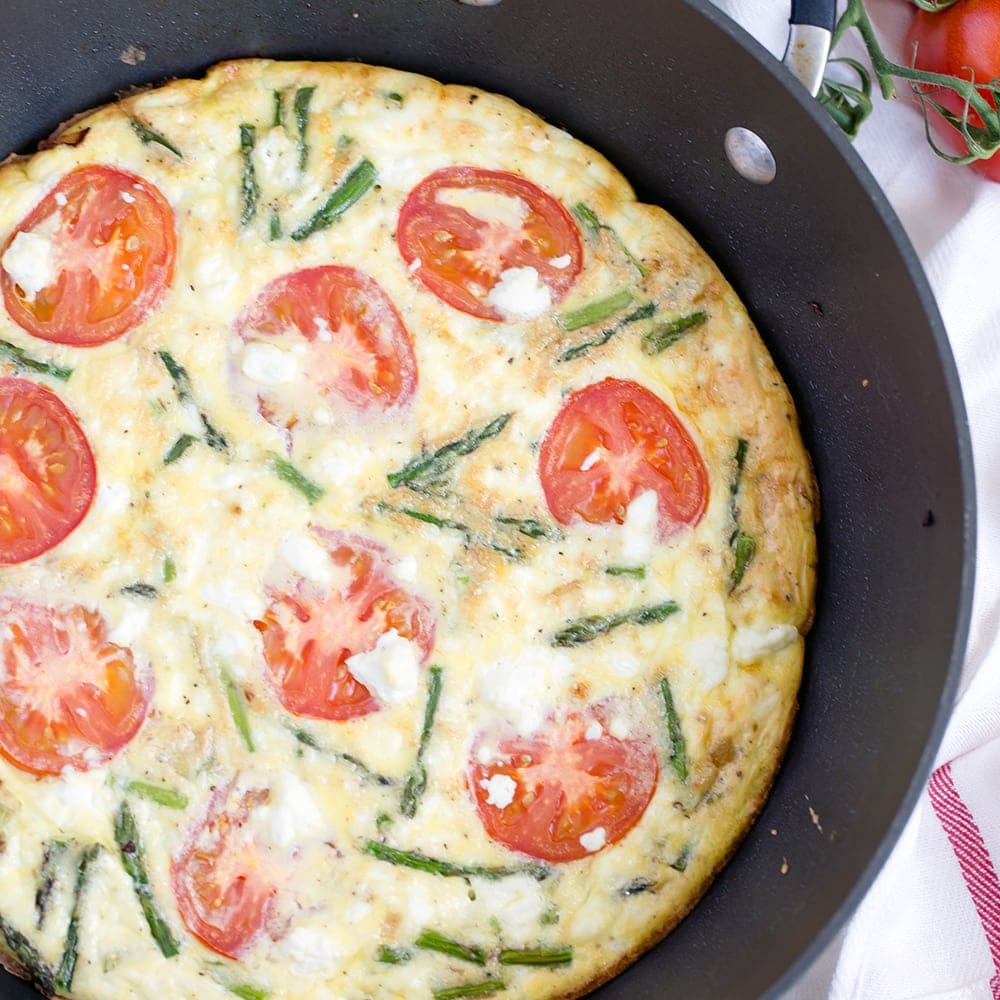 Asparagus, Tomato & Goat Cheese Fritatta
The best Frittata recipe made with asparagus, tomatoes and goat cheese. It's a healthy meal option that's full of protein packed eggs and delicious veggies.
Ingredients
2

tablespoons

olive oil

½

small onion

finely chopped (about ½ cup)

1/2

bunch thin asparagus

ends trimmed and stalks cut into 1-inch pieces (about 1 ½ cups)

2

Roma tomatoes tomatoes

sliced thin

9

large eggs

1/2

cup

whole milk or heavy cream

½

teaspoon

salt

¼

teaspoon

pepper

4

ounces

crumbled goat cheese

divided
Instructions
Preheat oven to 350 degrees F.

In a 12" oven-safe skillet (I prefer nonstick for this recipe) over medium heat, heat olive oil, then added diced onions. Cook until softened; about 3-4 minutes. Add asparagus and cook until just softened; about 2 minutes.

Meanwhile, in a medium sized bowl, whisk together eggs, milk, heavy cream, ½ teaspoon salt and ¼ teaspoon pepper. Stir in the crumbled goat cheese, reserving a handful for the top, then slowly pour the egg mixture and vegetables and top with sliced roma tomatoes. Cook until almost set (still loose in the center but the edges start to pull away from the pan); about 4-6 minutes.

Slide the pan into the oven and bake at 350 degrees F until set; about 14-16 minutes. The top should only jiggle slightly when given a little shake. *To brown the top, switch to the broiler for a few minutes (optional).
Notes
*Note - I use a combination of nonfat milk and heavy cream. The heavy cream adds creaminess to the eggs, but the nonfat milk helps to keep the calories down. You can use any combination of milk/cream that you like.
Nutrition
Calories:
205
kcal
Carbohydrates:
3
g
Protein:
12
g
Fat:
15
g
Saturated Fat:
5
g
Cholesterol:
256
mg
Sodium:
367
mg
Potassium:
180
mg
Sugar:
2
g
Vitamin A:
765
IU
Vitamin C:
3.5
mg
Calcium:
91
mg
Iron:
1.6
mg
For all breakfast recipe go HERE and for all recipes go HERE.