This Asparagus, Tomato and Goat Cheese Frittata is a healthy addition to your spring brunch table. Full of protein packed eggs and delicious veggies, this Frittata is perfect for breakfast, lunch or even dinner!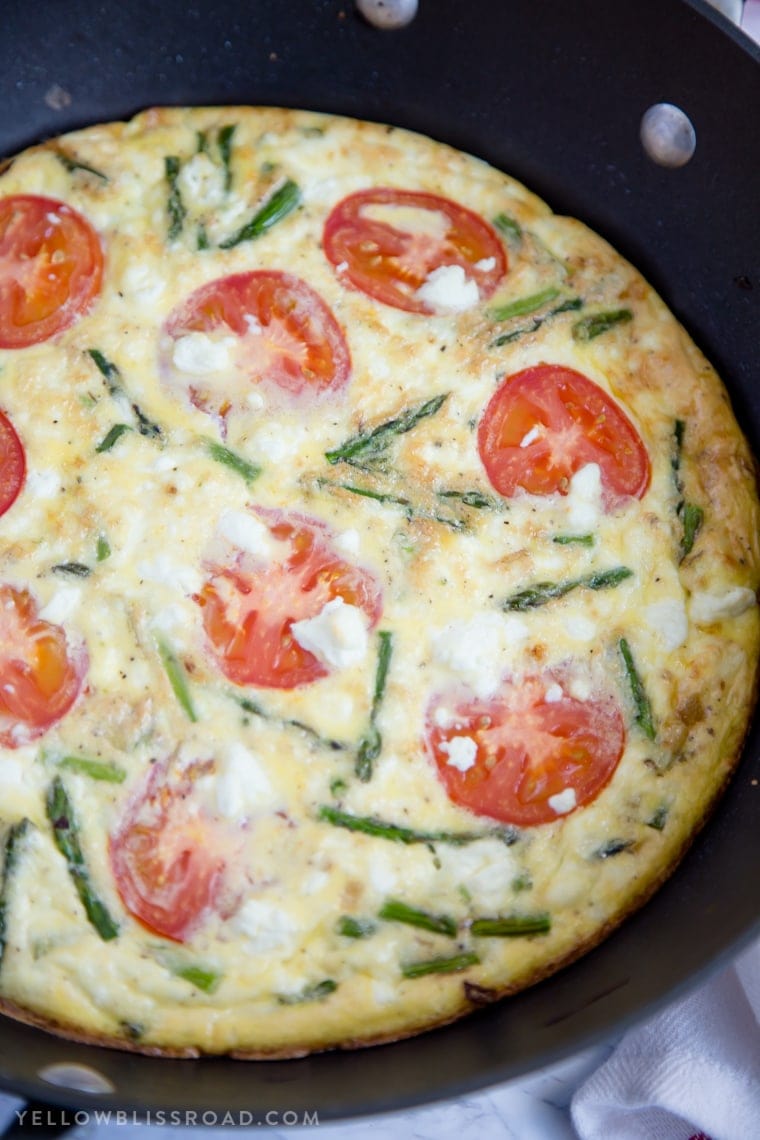 It's no secret one of my favorite celebrity chefs is Trisha Yearwood. I've loved her for many years, dating back to well before she was known for her cooking. I was recently elated to get to see her perform live with her hubby Garth Brooks (aren't they the cutest??) and a friend who came along was excited for her to. "When is Trisha coming on?" "Is she going to do a cooking demonstration??" He said these things in jest, but seriously how cool would THAT have been?!
It just so happened that Miss Yearwood was going to be autographing copies of her latest cookbook, Trisha's Table, at a local store the day after the concert. I was so excited, and then I realized that it also happened to be the same day and time as my son's 9th birthday party. Way to burst my balloon!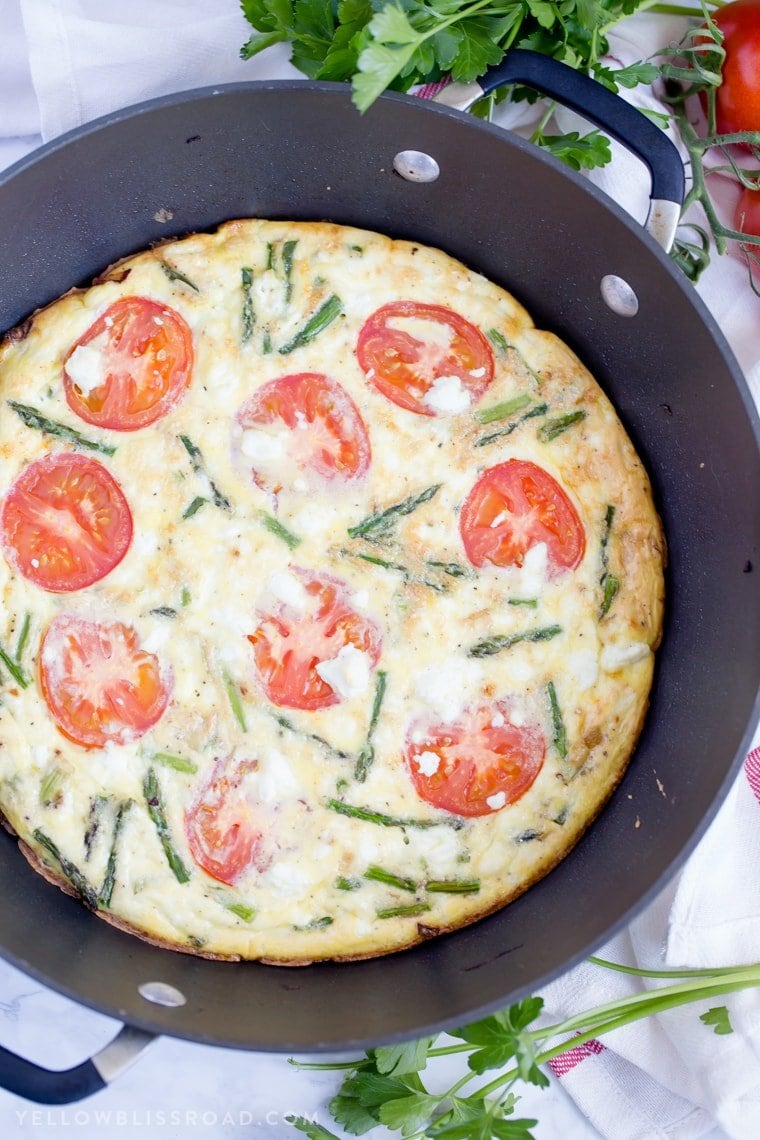 Anyway, even though I didn't get to meet her that day, I still watch her show religiously. My kids love her too, and anytime they hear her on the radio they get very excited. This recipe is one that I adapted from something she made not too long ago on her show.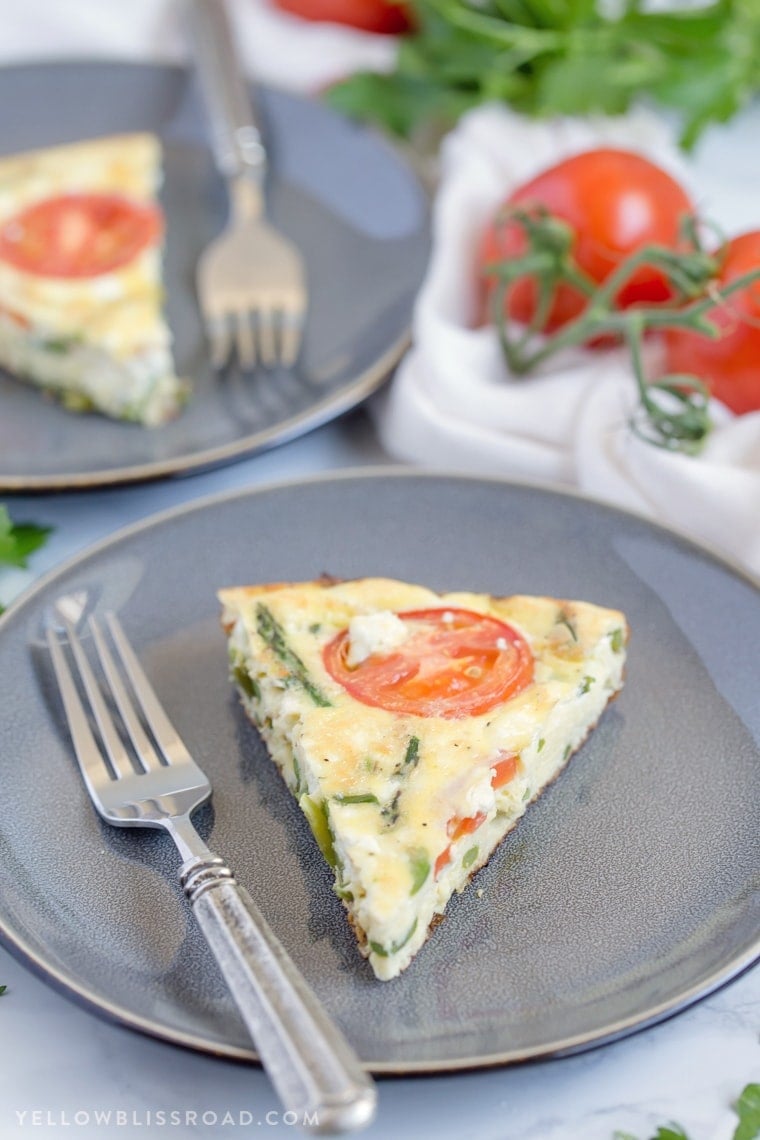 Frittatas are a great way to use up leftovers in your fridge because you can put just about anything in a frittata – meats, veggies, cheeses. Miss Yearwood made an Asparagus & Feta Frittata and this is my spin on it.
I added tomatoes and swapped the Feta out for some of my favorite goat cheese. It was beyond amazing! So creamy and tender and fluffy and flavorful. That's a lot of adjectives but they're all true! This Asparagus, Tomato and Goat Cheese Frittata would be wonderful for Easter or Mother's Day brunch or when you're feeling a little crazy and want breakfast for dinner. This little one pan wonder will impress even the toughest critics.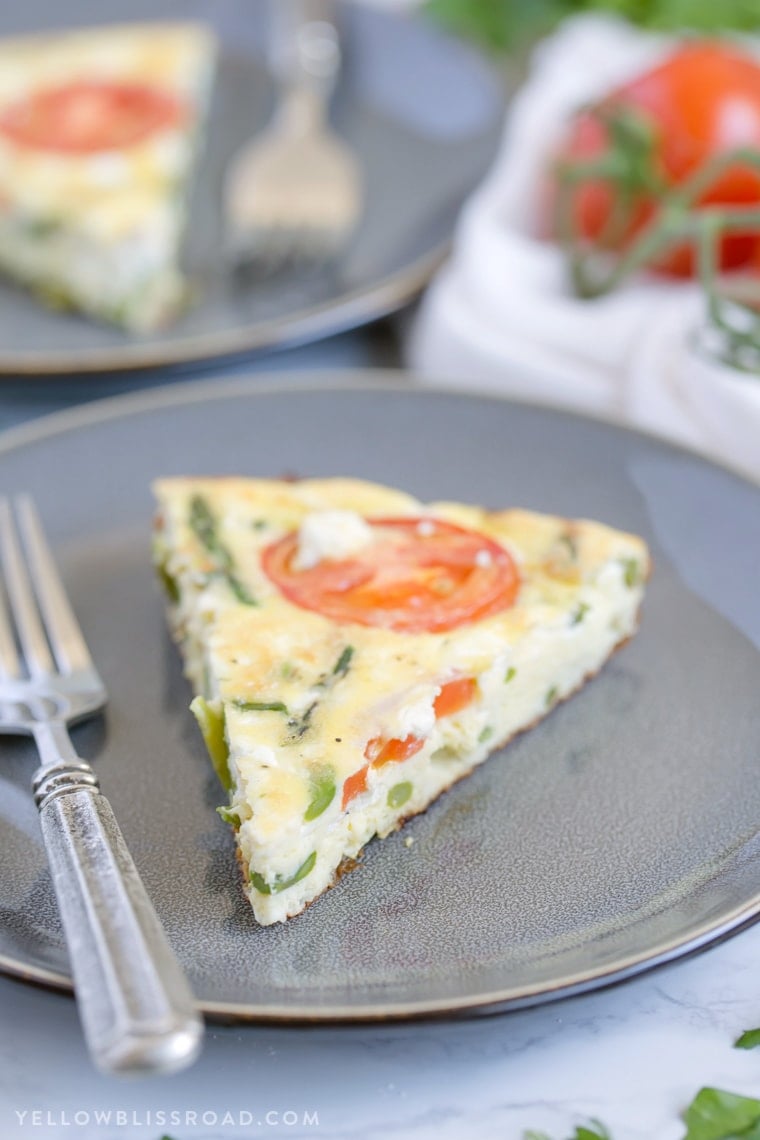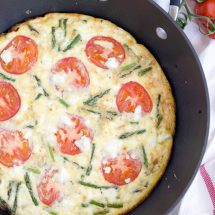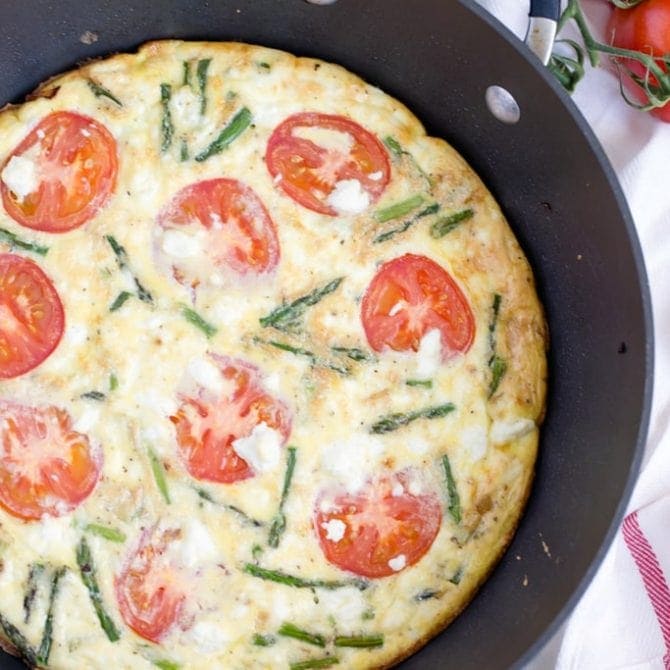 Asparagus, Tomato & Goat Cheese Fritatta
Print
Pin
Rate
Prep Time: 10 minutes
Cook Time: 25 minutes
Total Time: 35 minutes
Servings: 4 -6 servings
Ingredients
2 tablespoons olive oil
½ small onion finely chopped (about ½ cup)
1/2 bunch thin asparagus ends trimmed and stalks cut into 1-inch pieces (about 1 ½ cups)
2 Roma tomatoes tomatoes sliced thin
9 large eggs
1/4 cup nonfat milk*
1/4 cup heavy cream*
½ teaspoon salt
¼ teaspoon pepper
4 ounces crumbled goat cheese divided
Instructions
Preheat oven to 350 degrees F.

In a 12" oven-safe skillet (I prefer nonstick for this recipe) over medium heat, heat olive oil, then added diced onions. Cook until softened; about 3-4 minutes. Add asparagus and cook until just softened; about 2 minutes.

Meanwhile, in a medium sized bowl, whisk together eggs, milk, heavy cream, 1/2 teaspoon salt and 1/4 teaspoon pepper. Stir in the crumbled goat cheese, reserving a handful for the top, then slowly pour the egg mixture and vegetables and cook until almost set (still loose in the center but the edges start to pull away from the pan); about 4-6 minutes.

Slide the pan into the oven and bake at 350 degrees F until set; about 14-16 minutes. *To brown the top, switch to the broiler for a few minutes (optional).
Notes
*Note - I use a combination of nonfat milk and heavy cream. The heavy cream adds creaminess to the eggs, but the nonfat milk helps to keep the calories down. You can use any combination of milk/cream that you like.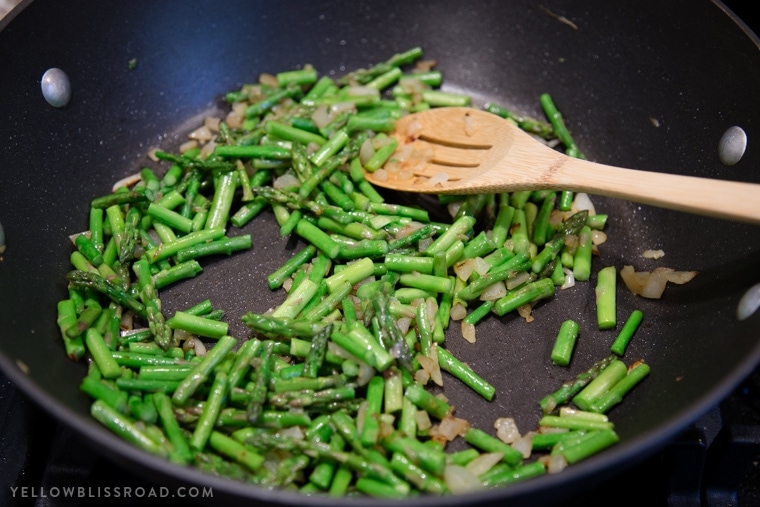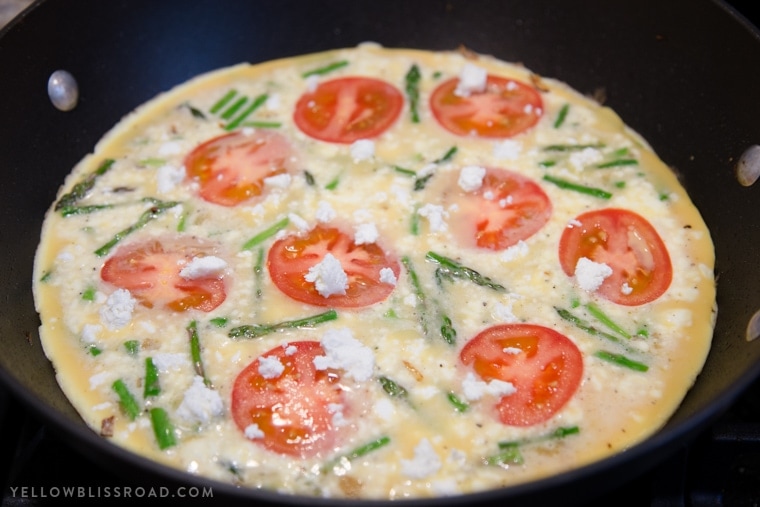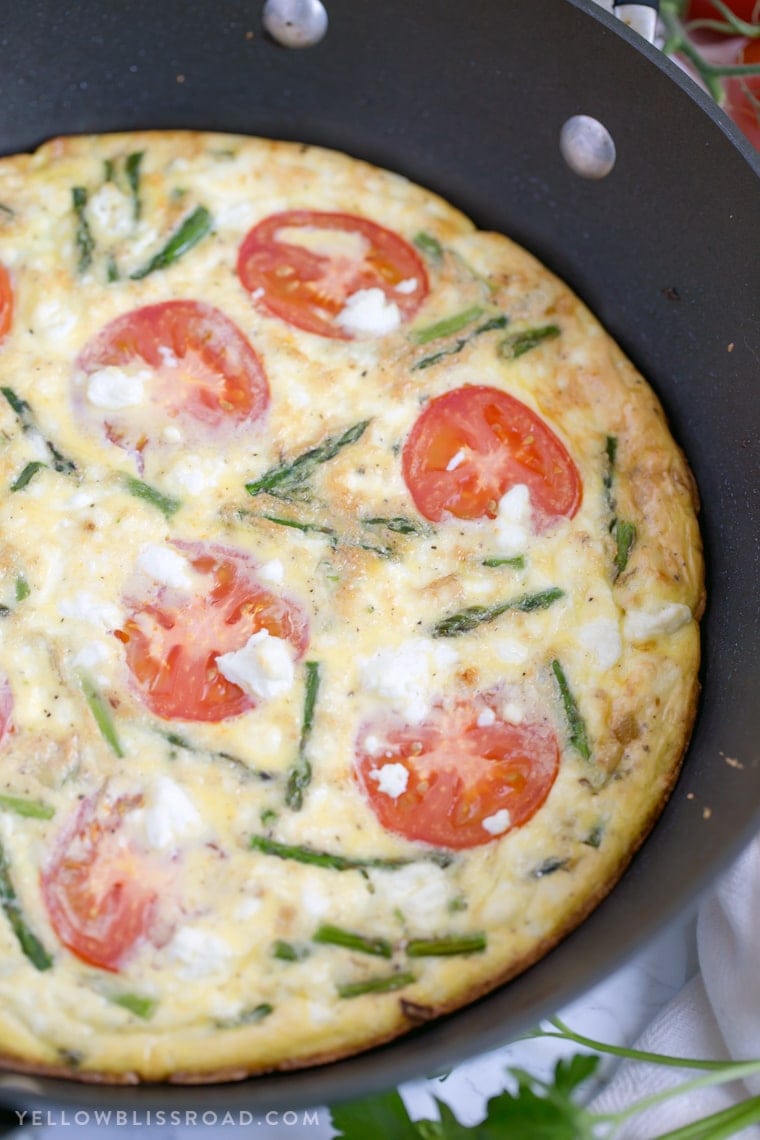 For more delicious brunch ideas, try these:
Egg & Cheese Hash Brown Waffles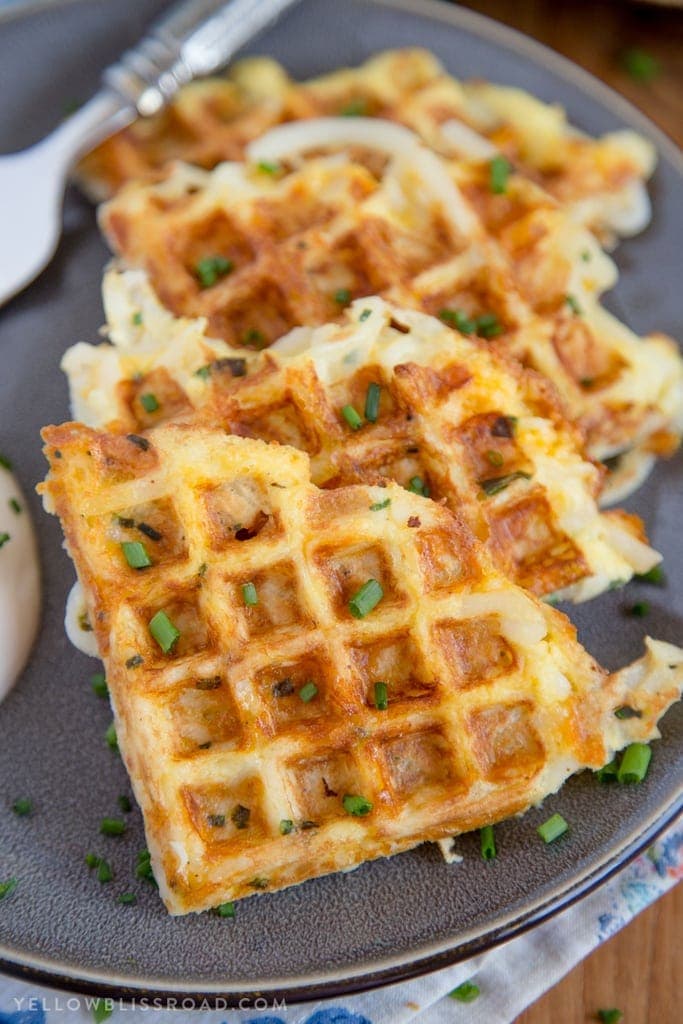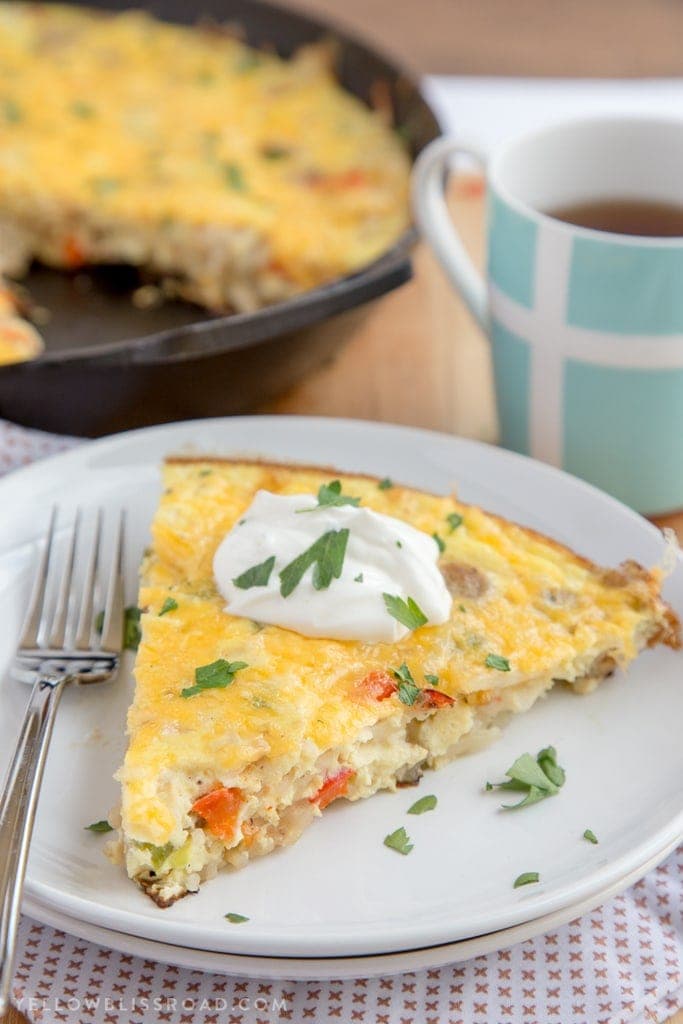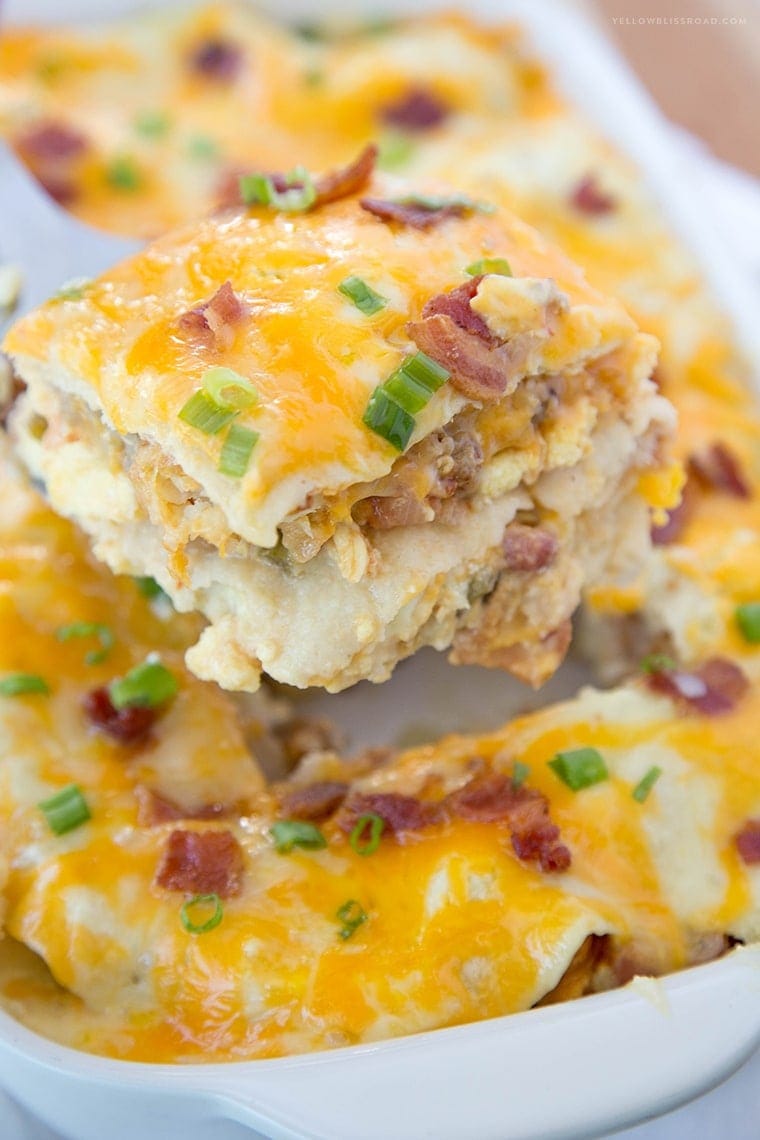 Easy Egg & Sausage Breakfast Muffins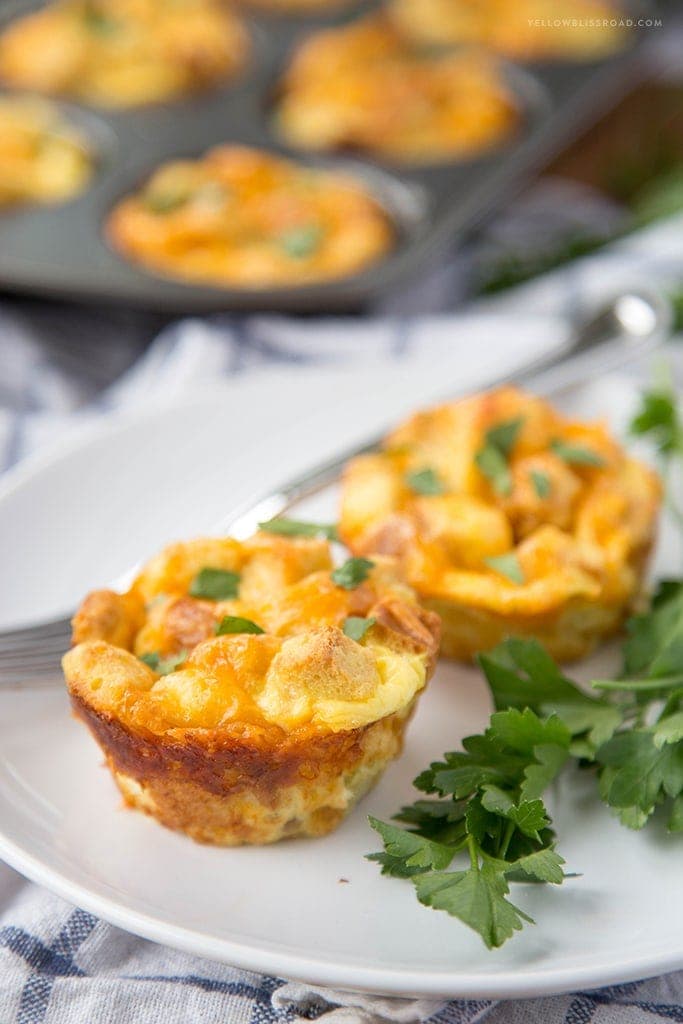 For all breakfast recipe go HERE and for all recipes go HERE.

Hi! I'm Kristin, the creative mind behind Yellow Bliss Road where you will be inspired by tons of easy to follow recipes, lots of free printables, and a little sprinkling of life thrown in for good measure.