This Hawaiian Monkey bread is a tropical treat with macadamia nuts, coconut, and pineapple. It's an easy, delicious crowd-pleasing sweet bread dessert that's also perfect for brunch!
If you're planning a brunch for Mother's Day, Easter or any other special occasion, you definitely want to serve this Hawaiian Monkey Bread! It fits in perfectly alongside other favorites, like Baked Egg Muffins and Smoked Sausage and Potatoes Hash.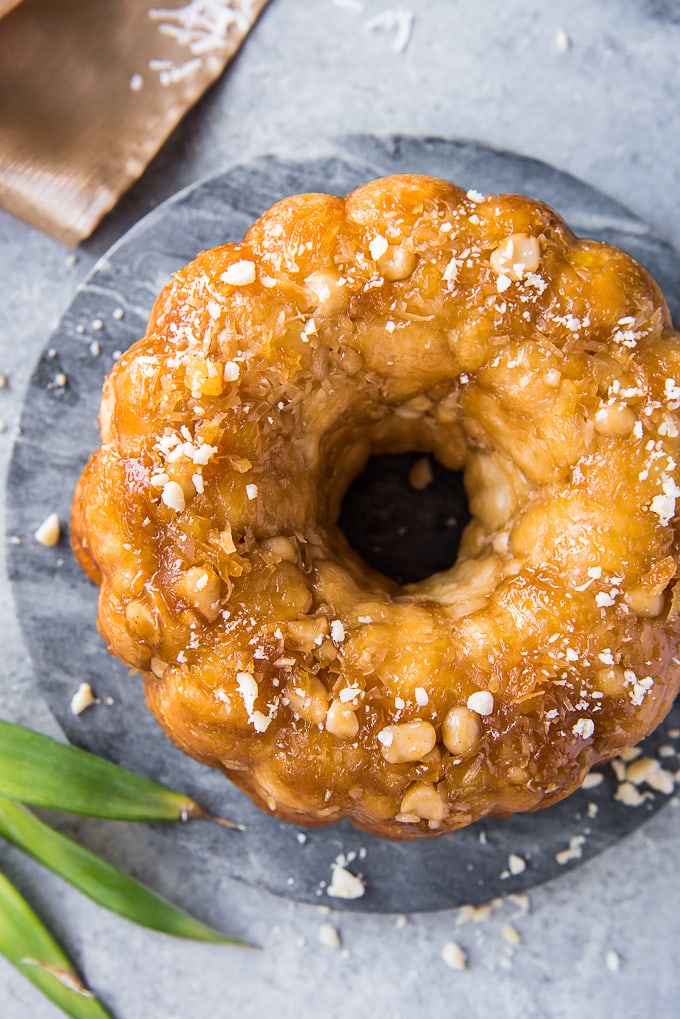 Hawaiian Monkey Bread Recipe
If you're looking for your new favorite dessert, you found it! This sweet bread baked in a bundt pan is super simple and so delicious. Soft frozen rolls are coated in a sticky sweet brown sugar glaze and topped with crunchy macadamia nuts, pineapple and coconut. You'll feel like you're sitting on a beach in Hawaii with all those amazing flavors!
What is Monkey Bread?
Have you ever wondered how it got its name? Well, just in case this has been a burning question of yours, I have done a little research for you. According to Wikipedia, Monkey Bread is actually a Hungarian dessert, and the original name means "golden dumpling." It has nothing to do with monkeys. It's just called Monkey Bread because we EAT it like monkeys–by using our hands.
Although traditional Monkey Bread uses cinnamon and pecans, I thought a Hawaiian variation using macadamia nuts, coconut, and pineapple would be amazing. I was right. I brought this to a party and everybody raved.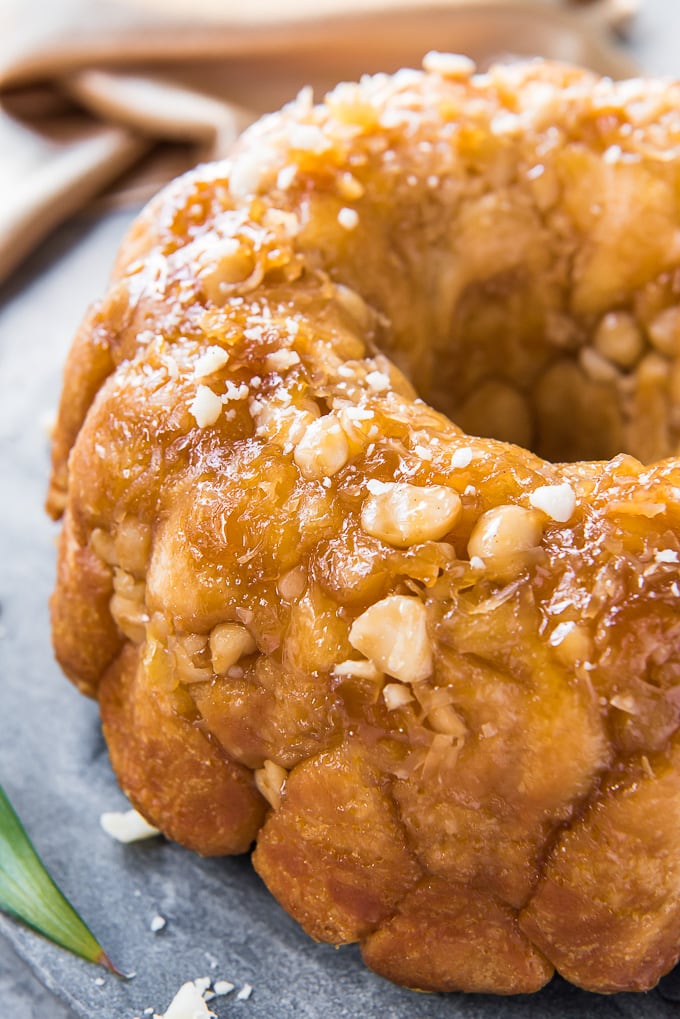 How to make Hawaiian Monkey Bread
There are two basic ways to make Monkey Bread. You can use biscuit dough, or yeast dough. I chose to use Rhodes Frozen Rolls for this recipe.
The first thing I did was get out 18 frozen rolls and set them on a lined cookie sheet. I covered them with plastic wrap and let them thaw in the refrigerator overnight. However, you can just let them thaw on the counter top for an hour or so rather than thawing them overnight. You just need them soft enough so you can cut them.
Once they are thawed sufficiently, cut them into quarters. I used kitchen scissors, because they worked so much better than a knife. If you are going to use a knife, it is easier to cut the dough if it is still slightly frozen.
Monkey Bread is traditionally made in a bundt pan, so you'll need one of those. Be sure to first grease the pan lightly with cooking spray. Then you're going to start layering your balls of dough with chopped macadamia nuts, shredded coconut, and crushed pineapple.
Then you're going to make your secret sauce. It's just butter and brown sugar, boiled together for one minute. Pour the hot mixture over the whole shebang and let everything rise for 1-2 hours, or until the rolls reach the top of the pan. (The time it takes to rise will depend on how frozen your rolls are, as well as the temperature of your kitchen).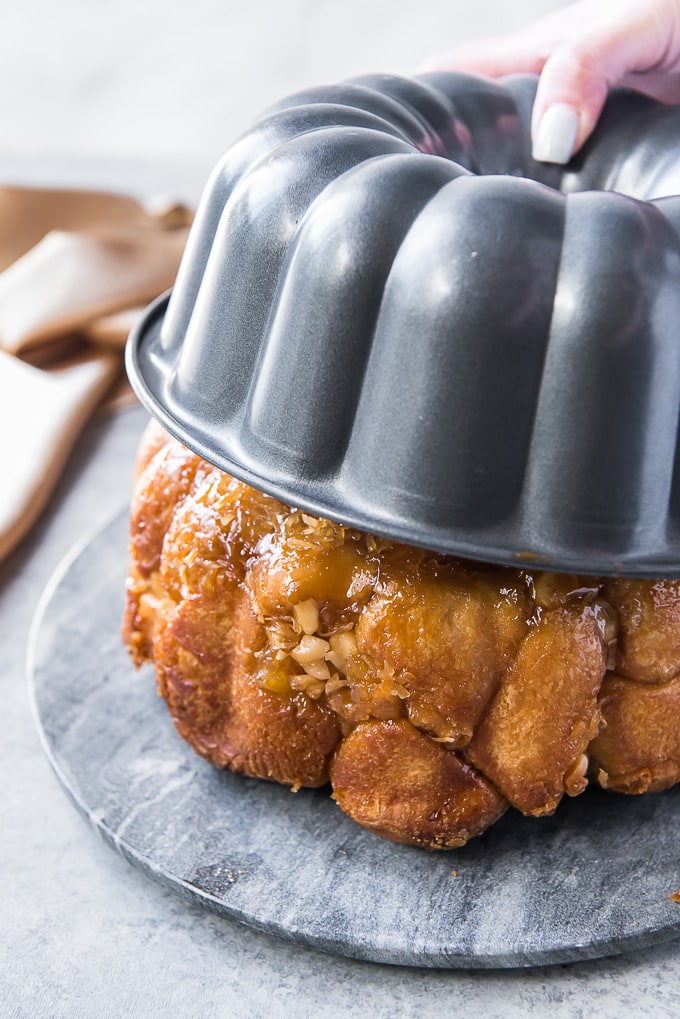 Time to bake!
When ready to bake, just pop it into a 350-degree oven for 35 minutes and watch the magic happen. I will warn you that you might need to put some foil or a tray or oven mat underneath, because it could bubble over a little and spill on your oven floor. If you are unsure it's done, just move a few pieces around to see if they still feel doughy. They should be soft but firm, like dinner rolls.
Once you remove it from your oven, just let it sit for 10 minutes. Then invert it onto a serving plate and let it sit there for a few more minutes before you lift the pan off. This will give everything time to get un-stuck from the pan and for all the gooey goodness to fall down between the cracks.
Once you lift off the pan, you will get a gorgeous, golden, tropical treat. It's almost too pretty to eat!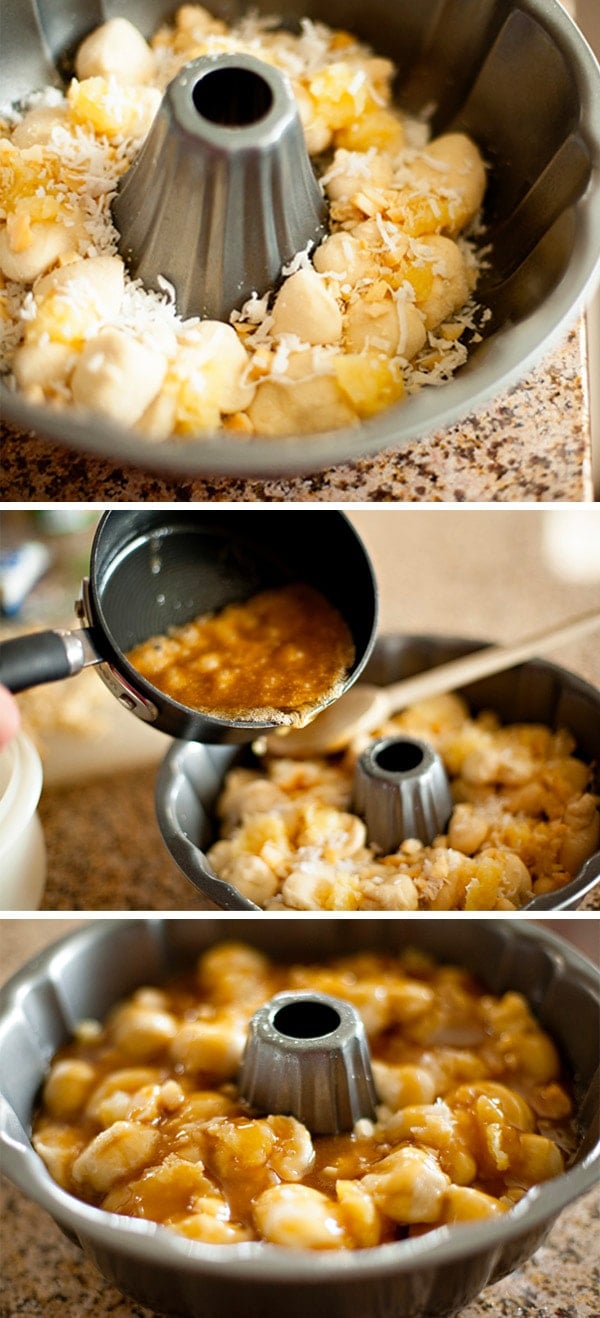 What to do with leftovers
Monkey Bread should be stored in a bag and left out on the kitchen counter. Do not store in the refrigerator as this will cause bread to become hard and stale. Enjoy leftovers within 2 days.
For freezing, cut Monkey Bread into smaller pieces and wrap each piece with plastic wrap. Store in an airtight container for up to one month. Thaw on the counter, not in the refrigerator.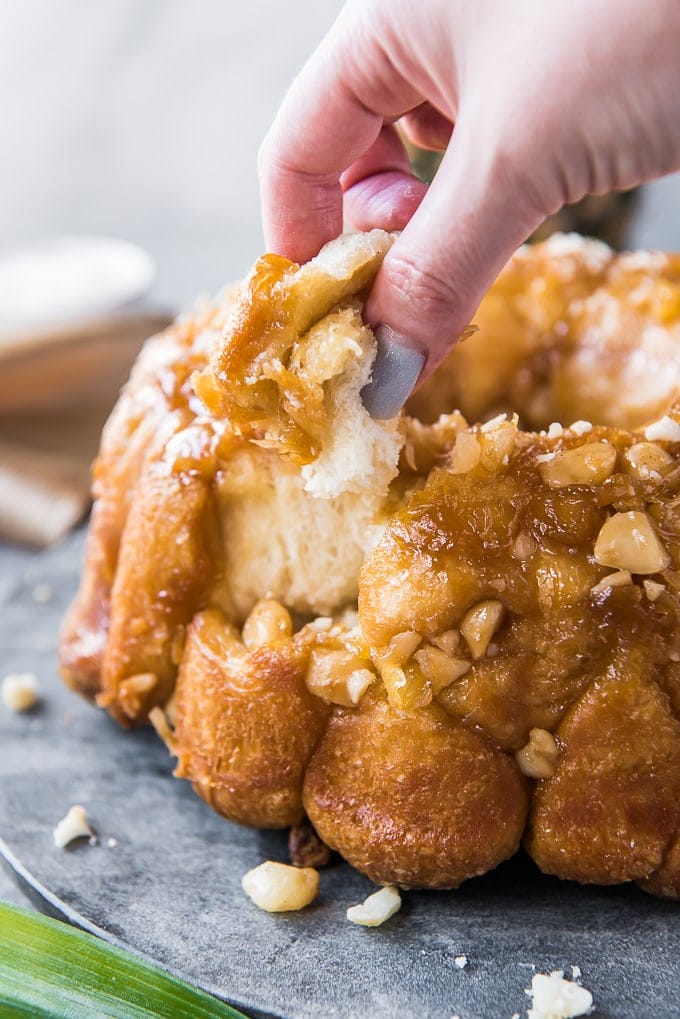 You'll love these other delicious Hawaiian inspired recipes!
Recipe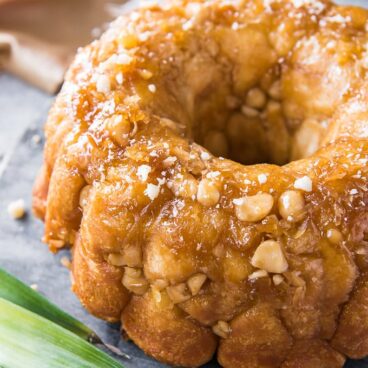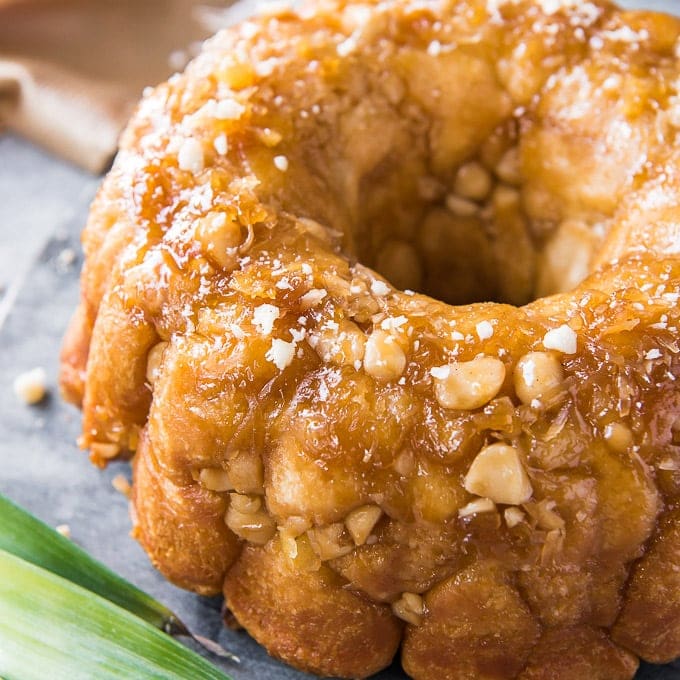 Hawaiian Monkey Bread
Hawaiian Monkey Bread is a tropical treat with macadamia nuts, coconut, and pineapple. It's an easy, delicious dessert that's also perfect for brunch!
Total Time
1

hour
45

minutes
Ingredients
18

Rhodes Frozen rolls

partially thawed and quartered

1/2

cup

chopped macadamia nuts

1/2

cup

shredded coconut

1/2

cup

crushed pineapple

drained

1/2

cup

butter

1/2

cup

brown sugar
Instructions
Lightly spray a bundt pan with cooking spray.

Begin by layering macadamia nuts, coconut, pineapple, and rolls. Repeat several times until all the ingredients (except the butter and brown sugar) have been used.

In a small saucepan, melt butter and sugar over medium-high heat. Once the mixture comes to a boil, stir and boil for one minute, and then remove from heat. Pour it over the top of your dough with nuts, coconut, and pineapple.

Let mixture rise until it reaches the top of the pan, 1-2 hours.

Bake at 350 degrees for 35 minutes.

Once removed from oven, let sit for 10 minutes. Then invert onto serving plate, and let sit another ten minutes with the pan on top. Then carefully remove the pan.
Notes
Serve warm or at room-temperature.
Nutrition
Calories:
325
kcal
Carbohydrates:
39
g
Protein:
3
g
Fat:
17
g
Saturated Fat:
8
g
Cholesterol:
24
mg
Sodium:
308
mg
Potassium:
89
mg
Fiber:
2
g
Sugar:
16
g
Vitamin A:
300
IU
Vitamin C:
2.6
mg
Calcium:
22
mg
Iron:
0.5
mg