Pumpkin Pancakes are a perfect way to celebrate the flavors of fall! Fluffy and tender and so delicious, topped with butter and warm maple syrup is the only way to enjoy them!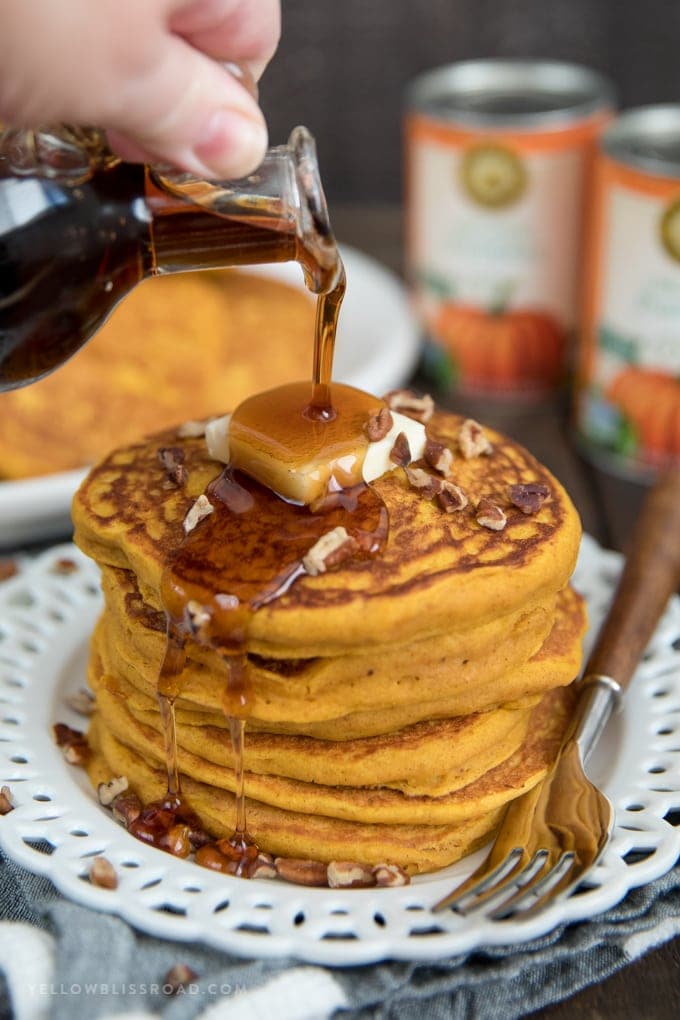 If you've never had pumpkin pancakes, you're in for a real treat. Not only are they healthier than regular traditional pancakes, they taste amazing with spicy hints of cinnamon, nutmeg, ginger and clove. They are the perfect fall breakfast to make this weekend – your family is guaranteed to love them as much as my family did!
HOW TO MAKE PUMPKIN PANCAKES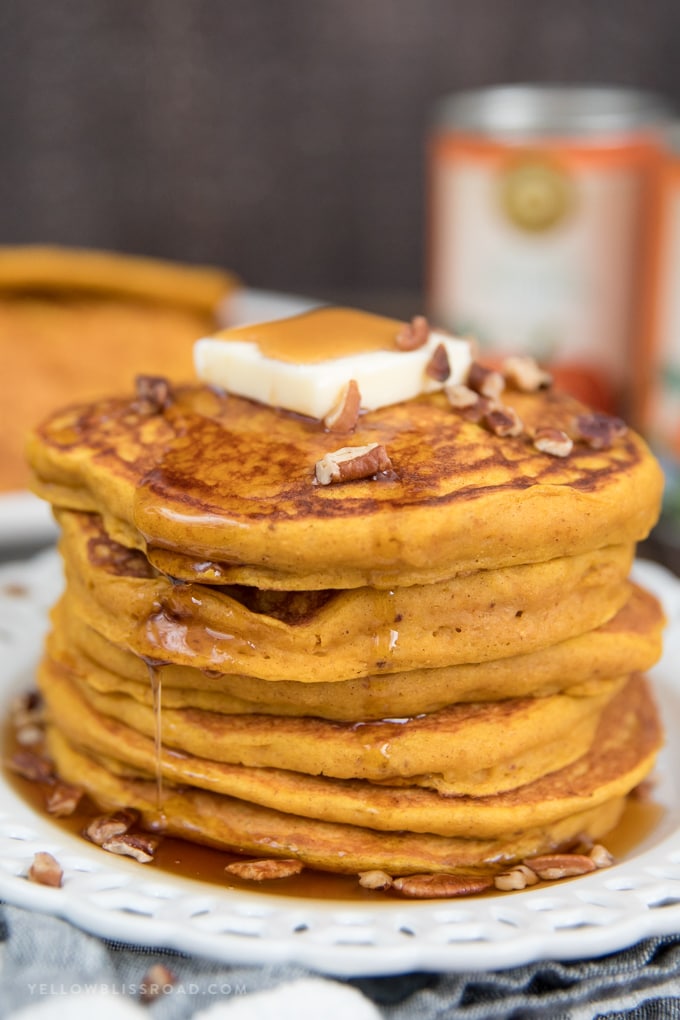 Pancakes are pretty straightforward – mix the batter, pour it on the griddle, flip, serve. If you follow those four steps you're going to have some pretty great pancakes! But how some tips to make them even better?
Tips and Tricks for Fluffy, Delicious Pumpkin Pancakes
Mix wet and dry ingredients separately. This tip goes for most any batter. You want to make sure that the wet ingredients (pumpkin puree, eggs, vanilla) are fully mixed together before adding the flour, sugar baking soda and salt. O once the flour is added, you cannot overmix or you risk having dense, chewy pancakes, not at all the texture we're going for! What does it mean to "overmix"? When adding the wet to the dry, stir just enough to make the flour disappear. The batter will not be smooth, but that's ok, it will all even out when you cook.
Butter your griddle, but don't let it burn. You don't want to have your griddle so hot that the butter sizzles and burns on the grill as it melts. It will ruin the flavor of your pancakes. If this happens, Turn down the griddle, wipe it clean, and start over.
Watch for bubbles. After you pour the pancake batter onto the griddle and it starts to cook, small bubbles will start rising to the service. As they pop, small crevices will form. When your pancake is pretty much covered with these little bubbles, it's time to flip.
Flip only once. This philosophy goes for meat just as easily as pancakes. And life really. Once you've set it down, leave it alone. Don't keep messing with it and flipping it back and forth. That's another way to make your pancake more dense chewy and less tender and fluffy.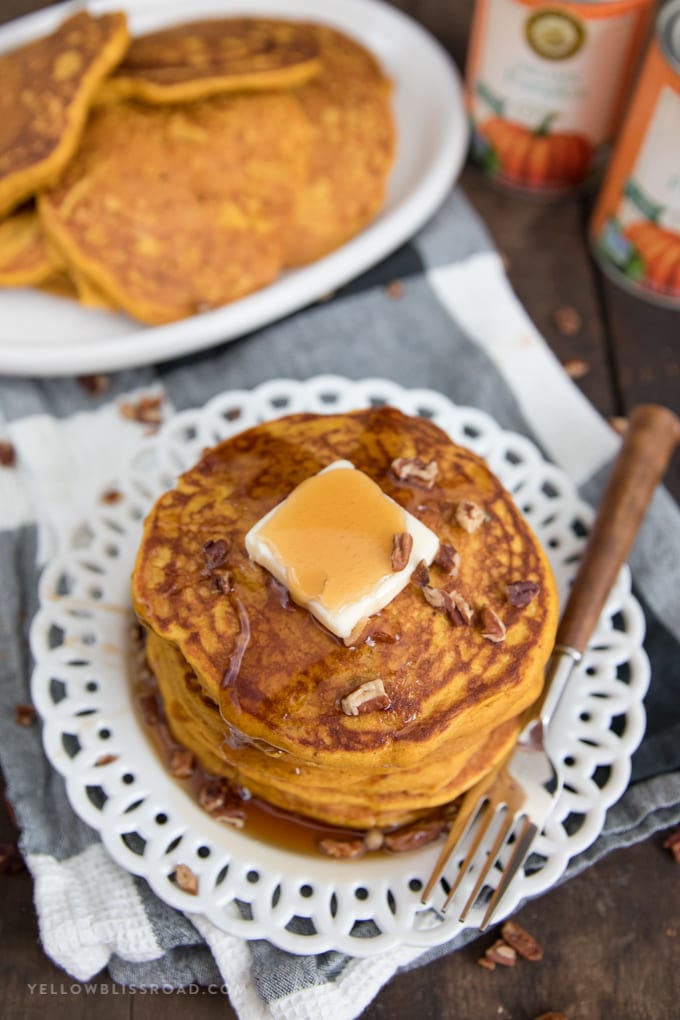 Here are some more delicious Pancake recipes and breakfast recipes to try this season: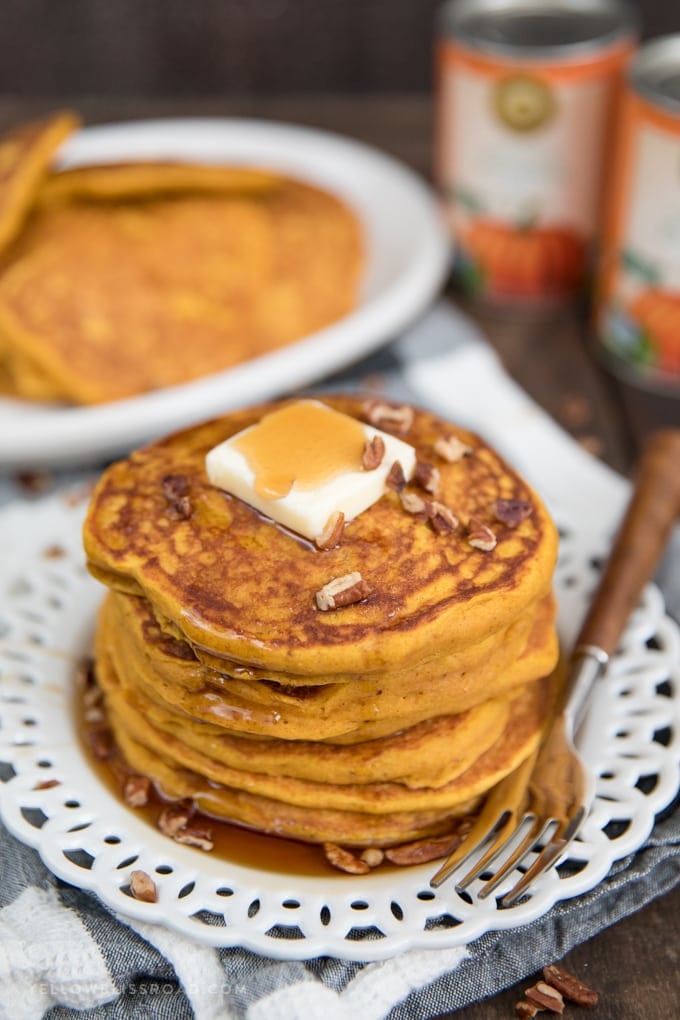 Tools used in this Pumpkin Pancakes recipe: (aff links)
Whisk – This is a kitchen staple that everyone should have in their kitchen. Easily whip up sauces and gravy, scramble eggs or sift flour mixtures.
Mixing bowls – Having a complete set of different sized mixing bowls is one of the first things I tell people to buy for their kitchen! You need two separate bowls for this recipe.
Electric Griddle or Griddle Pan – For making batches of things like pancakes or grilled cheese sandwiches, a flat griddle is essential to success. Unlike a skillet, a griddle gives you plenty of workspace to make several pancakes at once. With an electric griddle, you can set the temperature to whatever you want, so it's a little easier to control than if you place a griddle pan on your stove top.
Silicone Pancake Turner/Spatula – the larger surface helps to keep the sides of the pancake from flopping and breaking. Love this brand for all kinds of kitchen tools!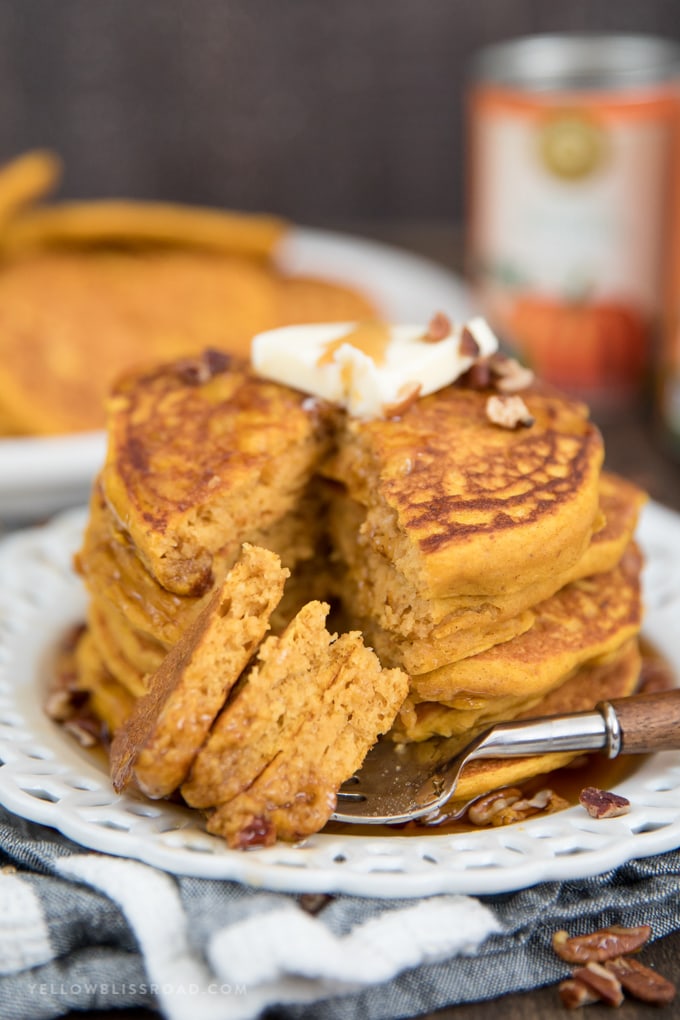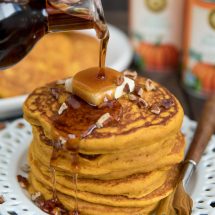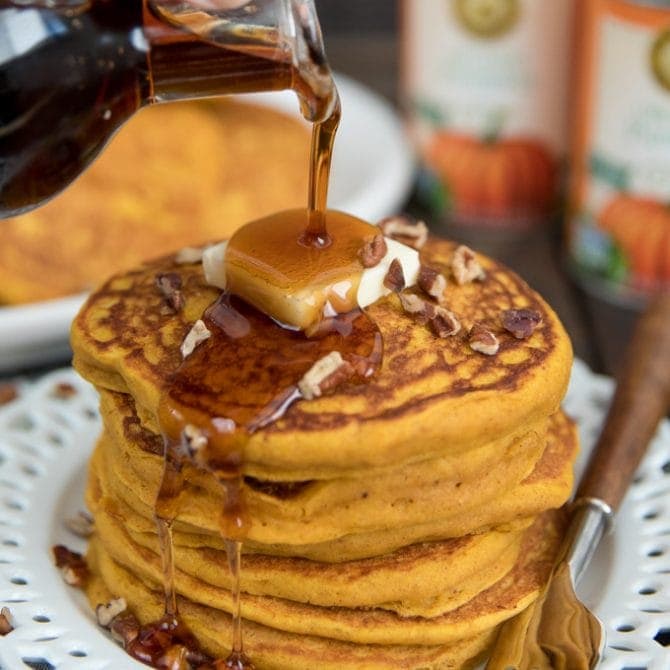 Pumpkin Pancakes
Pumpkin Pancakes are a perfect way to celebrate the flavors of fall! Fluffy and tender and so delicious, topped with butter and warm maple syrup is the only way to enjoy them!
Print
Pin
Rate
Prep Time: 5 minutes
Cook Time: 15 minutes
Total Time: 20 minutes
Ingredients
1 cup pumpkin puree
2 eggs
2 teaspoon vanilla extract pure
3 tablespoons butter melted and cooled
2 cups buttermilk
2 1/2 cups all-purpose flour
1 tablespoon baking powder
1/2 teaspoon baking soda
1/3 cup granulated sugar
2 teaspoon pumpkin pie spice blend
1/2 teaspoon salt
Butter maple syrup, whipped cream or pecans for topping
Instructions
In a large mixing bowl, whisk together pumpkin puree, eggs, buttermilk, melted butter and vanilla extract.

In a separate, medium sized bowl, whisk together flour, baking powder, baking soda, sugar, pumpkin spice and salt.

Stir the dry ingredients into the wet, gently, just until combined; do not overmix.

Let batter rest for 15 minutes.

Heat a large nonstick griddle to 325 degrees or a large skillet over medium heat. Melt a tablespoon of butter in the skillet or griddle, spread it around to coat evenly. Pour ⅓ cup scoops of batter onto the griddle or skillet. The pancakes are ready to flip when they start to look dry around the edges and little bubbles form and pop on top; about 2 minutes.

Flip the pancakes using a flat spatula, and cook for another 1-2 minutes or until golden.

Add more butter to the skillet if necessary for the next batch.

Serve hot with butter and warm maple syrup.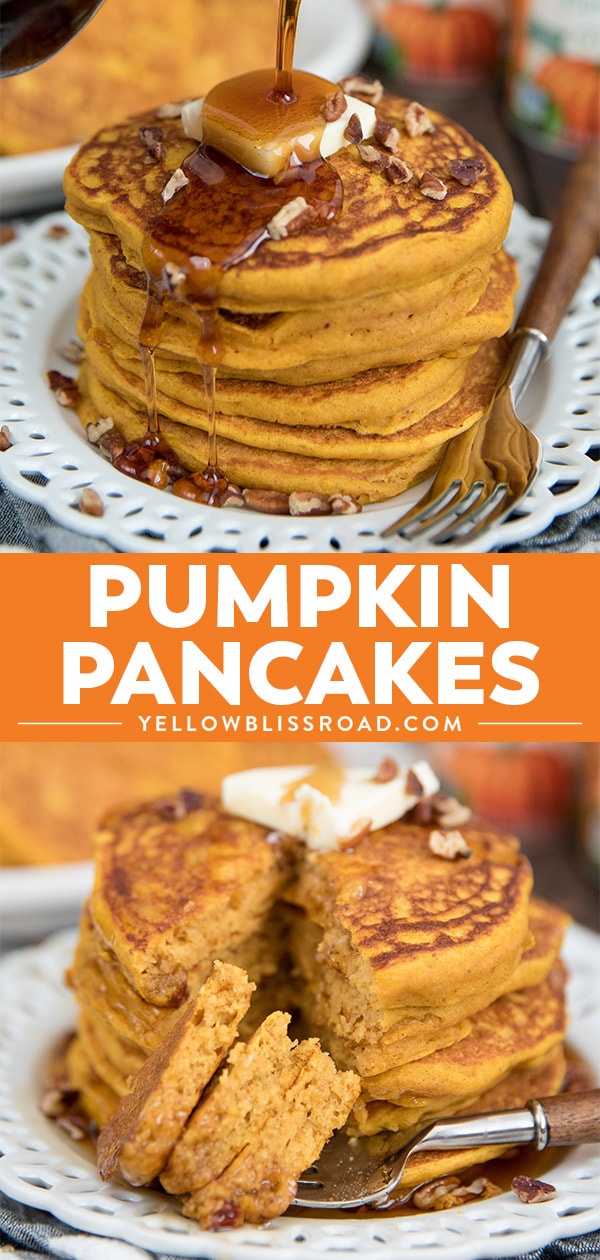 Hi! I'm Kristin, the creative mind behind Yellow Bliss Road where you will be inspired by tons of easy to follow recipes, lots of free printables, and a little sprinkling of life thrown in for good measure.