Learn how to make delicious Lemon Pancakes with this easy-to-follow recipe. These fluffy pancakes infused with zesty lemon flavor are perfect for a delightful breakfast or brunch treat.
Elevate your breakfast experience with the vibrant lemon flavor of these sweet and tangy Lemon Pancakes. Cover them in maple syrup or top with powdered sugar or whipped cream and fresh berries.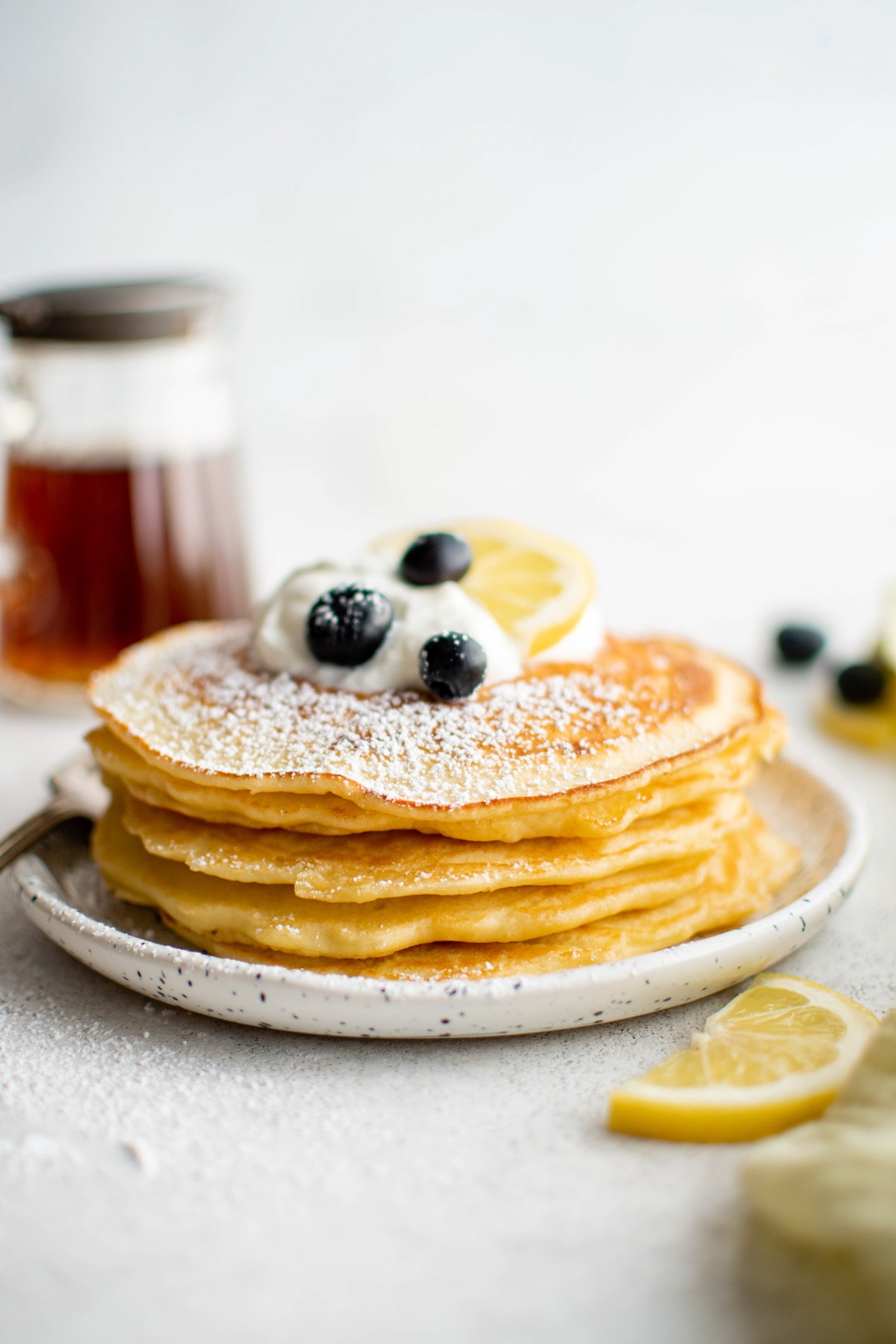 Pin this recipe for later!
Why We Love This Lemon Pancakes Recipe
Burst of Citrus: Get a delightful burst of citrus flavor that adds a refreshing twist to your breakfast.
Fluffy Texture: Pancakes are known for their fluffy and light texture, making each bite a delightful experience. The combination of the right ingredients, such as baking powder, lemon juice and milk, helps the pancakes rise and creates a soft and airy consistency.
Balance of Flavor and Texture: This pancakes recipe is a delightful combination of fluffy texture, tangy lemon, and a hint of sweetness.
How To Make Lemon Pancakes
Get a detailed list of ingredients & instructions in the recipe card below.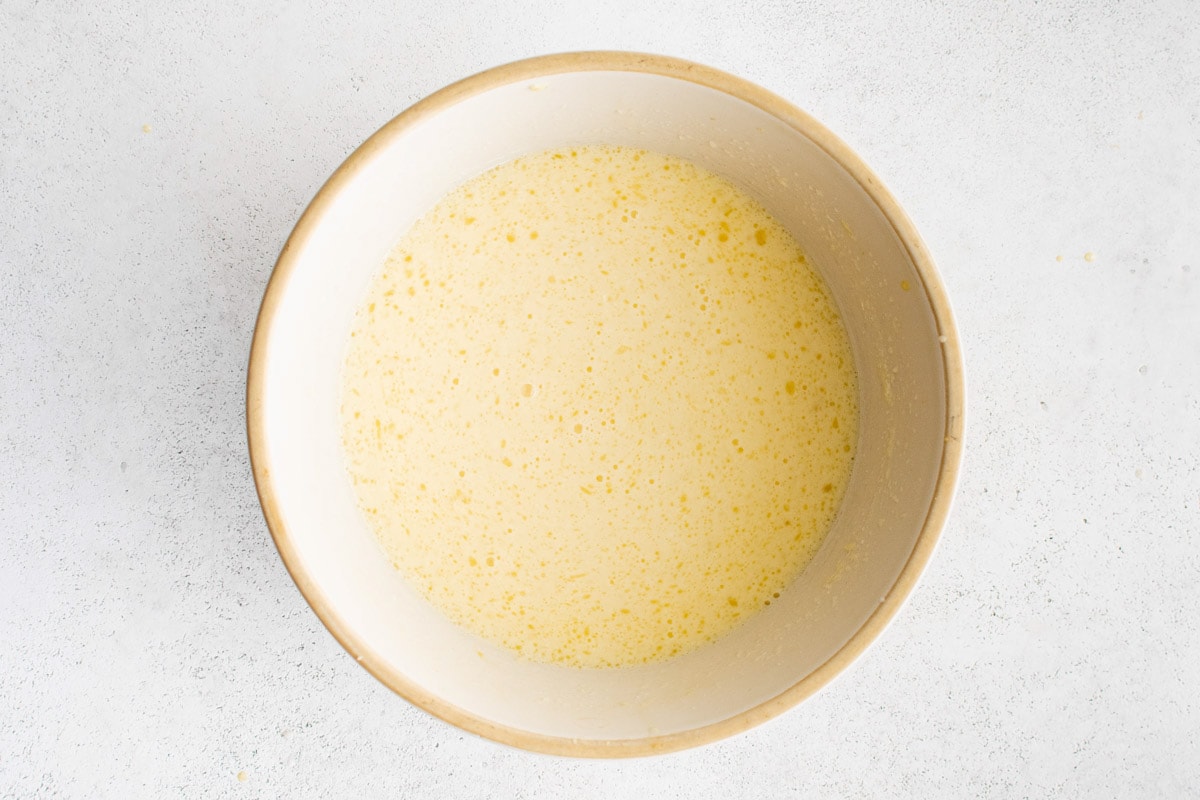 Step 1: Whisk the eggs in a medium bowl, then stir in wet ingredients.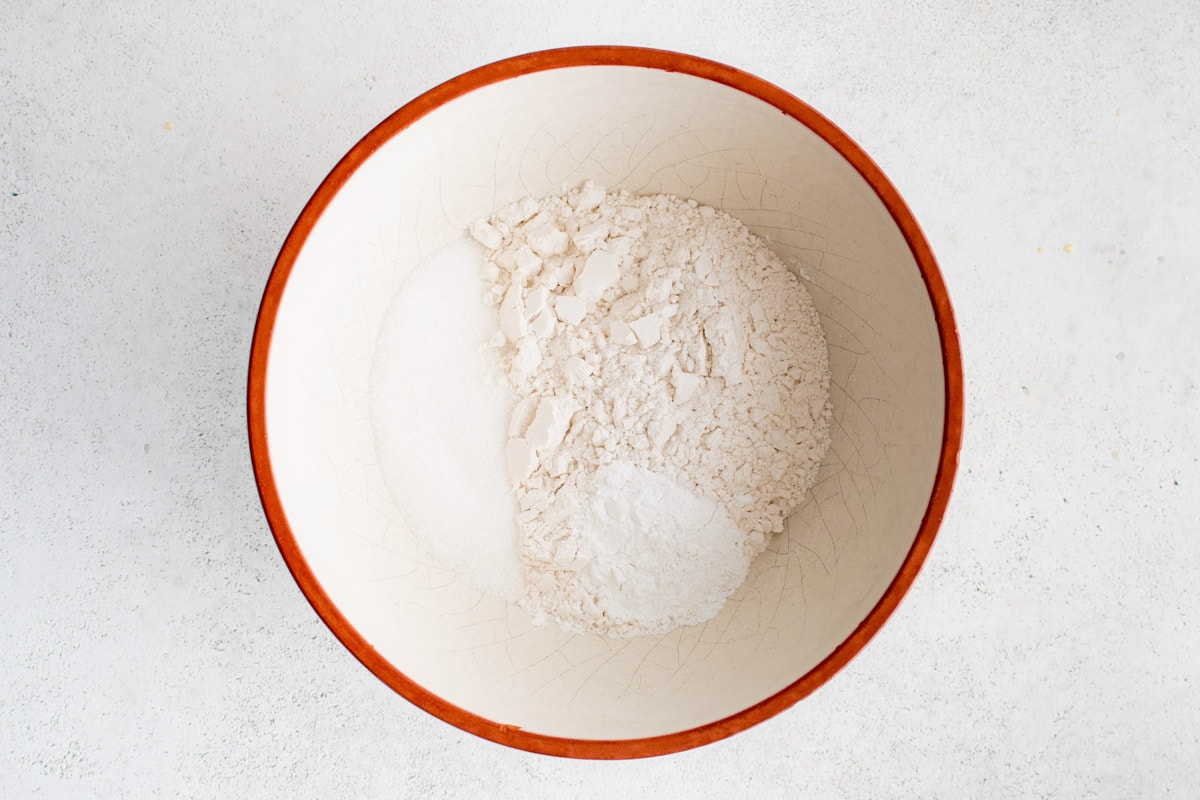 Step 2: Whisk in the dry ingredients to combine in a separate, large bowl.
Step 3: Make a well in the center of the dry ingredients and pour in the wet mixture.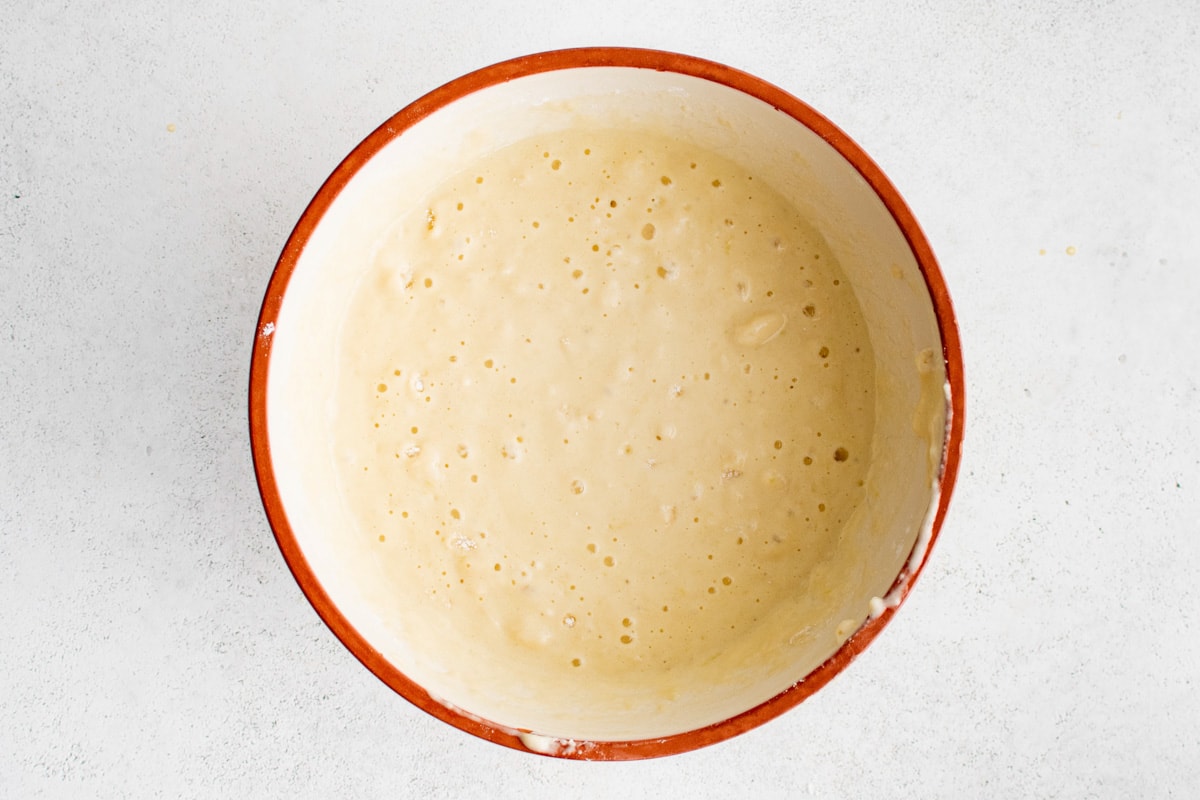 Step 4: Stir gently to combine. The batter will be a little lumpy, and that's fine.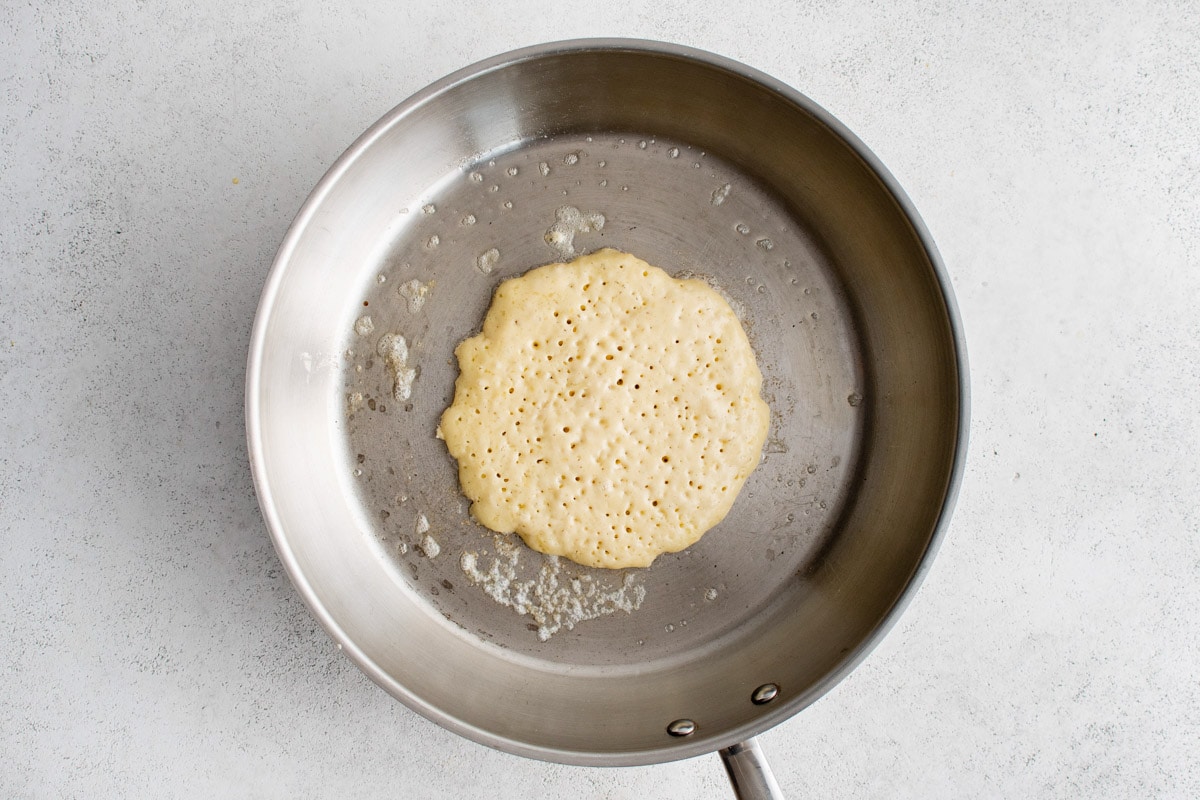 Step 5: Heat your griddle, melt some butter, and pour batter in ¼ cup portions. When small bubbles begin to form, flip the pancake over and cook for a minute, then transfer to a plate.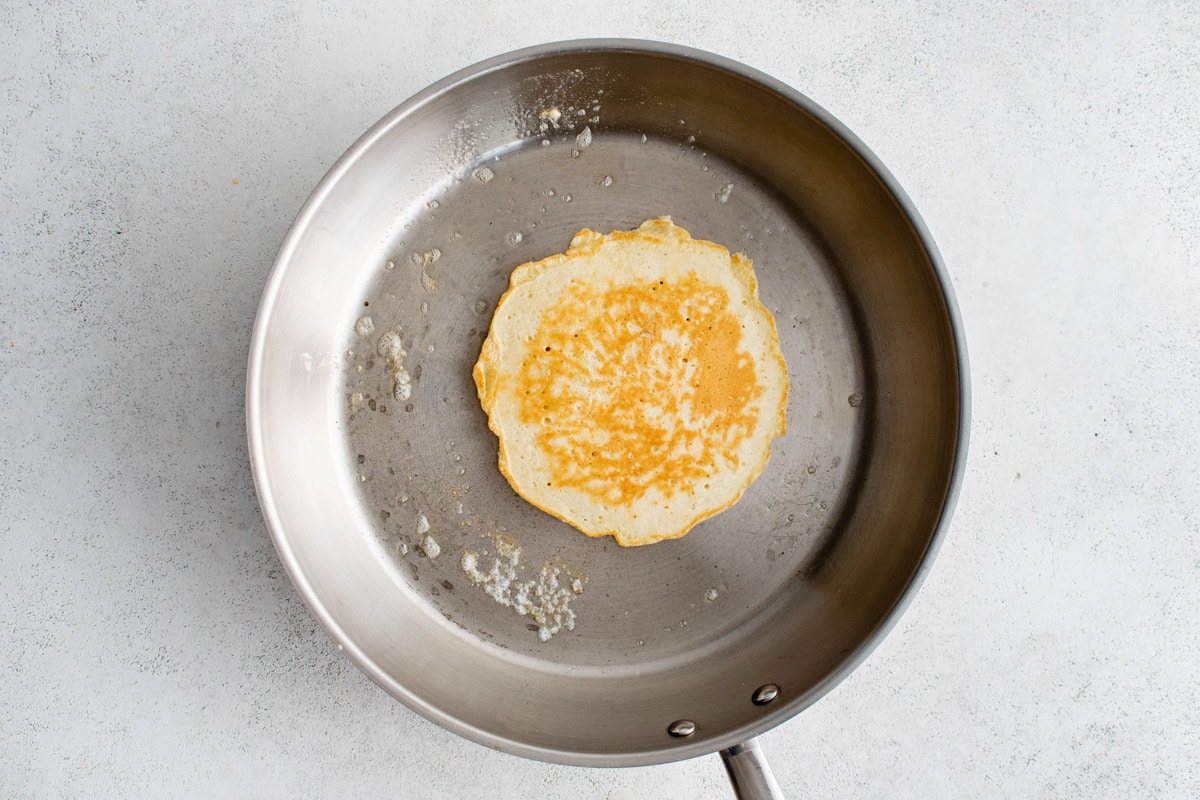 Step 6: Repeat the process until all the batter is gone and you have a nice big fluffy stack of pancakes.
FAQs
Can I use bottled lemon juice instead of fresh lemons?
Fresh lemon juice is recommended for the best flavor, but you can use bottled lemon juice as a substitute.
How do I make the pancakes fluffy?
The recipe includes baking powder, which helps the pancakes rise and gives them a fluffy texture.
Can I add other fruits to the pancakes?
Yes, you can add blueberries, raspberries, or sliced strawberries to the batter for added flavor and texture.
Can I make the batter ahead of time?
It's best to prepare the batter just before cooking the pancakes for optimal results.
What toppings go well with lemon pancakes?
Maple syrup, powdered sugar, fresh berries, whipped cream, or lemon curd are popular toppings.
Storage
Refrigerator: Store them in an airtight container in the refrigerator for up to 2 days.
Freezer: Freeze cooked pancakes in a freezer bag. Thaw and reheat them when ready to enjoy.
Reheat: Pancakes can be reheated from frozen. Place them in a toaster or oven and heat at 350℉ for several minutes or until warmed through.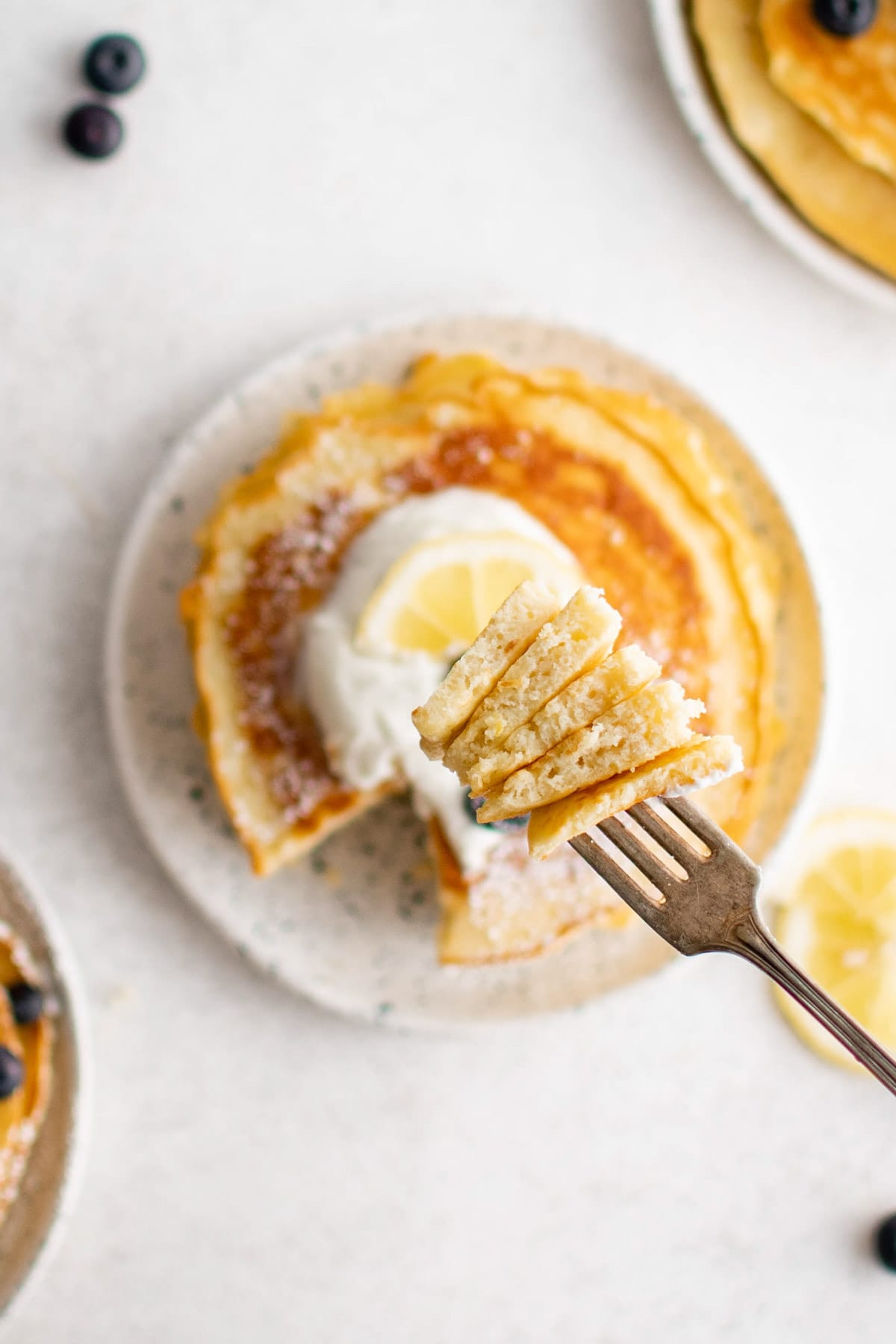 Helpful Tips
Grate the lemon zest finely for better flavor distribution.
Squeeze fresh lemon juice just before adding it to the batter for maximum freshness.
Use buttermilk instead of regular milk for tangier pancakes.
Let the batter rest for a few minutes before cooking to allow the ingredients to meld together.
Cook the pancakes on medium-low heat to ensure they cook through without burning.
Avoid turning the pancakes too early; wait until bubbles form on the surface before flipping.
Keep the cooked pancakes warm in a preheated oven while you finish cooking the remaining batter.
More Pancake Recipes
Recipe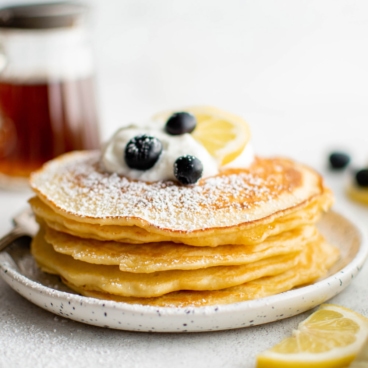 Fluffy Lemon Pancakes
Learn how to make delicious Lemon Pancakes. These fluffy pancakes infused with tangy lemon flavor are perfect as a breakfast or brunch treat.
Ingredients
Lemon Pancakes
1 1/2

cups

all-purpose flour

2

teaspoons

baking powder

Pinch

salt

1/4

cup

granulated sugar

3

eggs

1 1/2

cups

nonfat milk

3

tablespoons

melted and cooled butter

1

large lemon

zested and juiced

1/2

teaspoon

vanilla

Powdered Sugar or berries for garnish
Instructions
Crack the eggs into a medium sized bowl and whisk lightly with a fork to combine. Stir in milk, vanilla, cooled butter, lemon zest and juice.

In a separate, large bowl, whisk flour, baking powder salt and sugar together until combined. Make a well in the center and pour in wet ingredients. Stir gently just until combined. Batter will be lumpy.

Heat a large skillet or griddle on medium-low heat. Melt a ½ tablespoon of butter or vegetable oil in the skillet. Pour batter in ¼ cup portions onto the hot skillet and cook until small bubbles start to form on the surface; about 1-2 minutes. Flip pancakes and cook an additional minute.

Serve hot with powdered sugar, whipped topping, maple syrup and fresh berries.
Notes
Pancakes are the perfect make ahead breakfast so go ahead and double them and pop them in the freezer. A quick toast and they are ready to eat!
Nutrition
Calories:
383
kcal
Carbohydrates:
56
g
Protein:
13
g
Fat:
12
g
Saturated Fat:
7
g
Polyunsaturated Fat:
1
g
Monounsaturated Fat:
3
g
Trans Fat:
0.4
g
Cholesterol:
148
mg
Sodium:
366
mg
Potassium:
290
mg
Fiber:
2
g
Sugar:
18
g
Vitamin A:
634
IU
Vitamin C:
14
mg
Calcium:
274
mg
Iron:
3
mg