This is your complete guide to making the perfect mimosa, every time! I will help you navigate the wine aisles to find the perfect sparkling wine for your cocktail and share a tried and true classic recipe that will turn out perfect every time.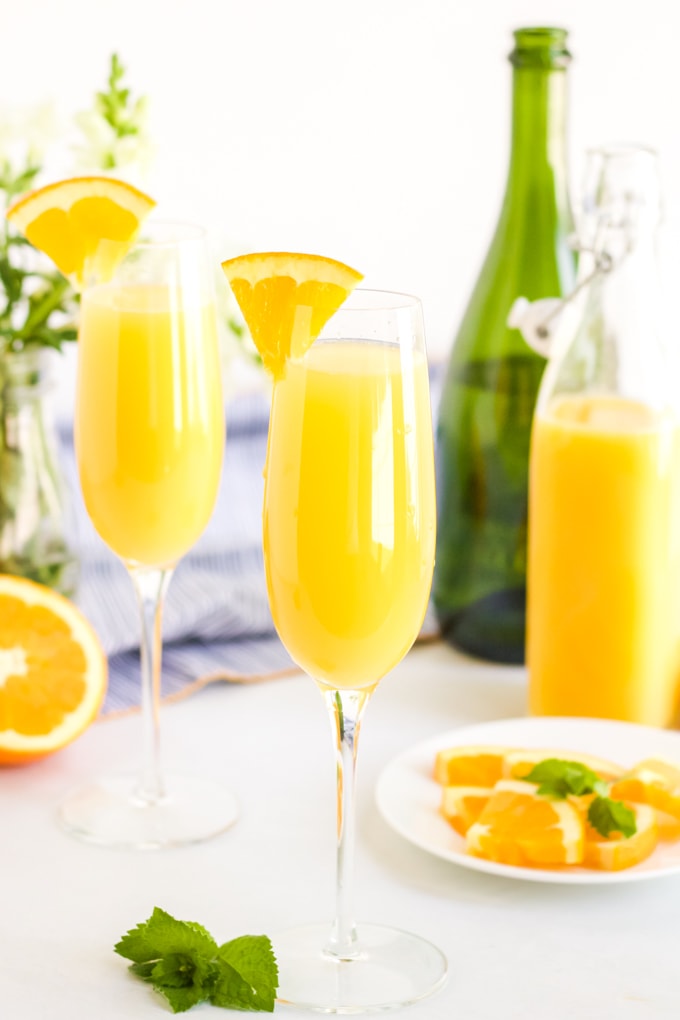 When it comes to cocktail time, mimosas are just about the simplest way to serve up elegance. It's fresh citrus flavor and refreshing bubbles are perfect for any time of day, and every occasion. They are a classic for brunch, and we love to serve them with French Toast, Bacon and a delicious  Frittata.
Ingredients Overview
With just a few ingredients in the recipe, quality counts. Take this classic recipe up a notch with quality ingredients and the perfect ratio. For a traditional mimosa you will need:
Orange Juice
Sparkling Wine
Orange Juice
When it comes to mimosas, fresh-squeezed OJ is best. One extra large orange juiced with a citrus juicer should be enough for one champagne flute. If you are using smaller oranges, you may need to use two per flute. If you don't want to juice oranges by hand, choose an orange juice that is fresh-squeezed and not from concentrate. It does make a difference!
Sparkling Wine
Most people automatically think of champagne when they hear the term "sparkling wine." But traditional champagne can be extremely pricey and since we are going to be filling a good portion of our glass with orange juice, it is OK to save a few bucks and choose a less expensive sparkling option. What kind of champagne is best for a Mimosa? Here are my top three recommendations:
Prosecco: Prosecco is vibrant, fruity, and affordable. It's also a little sweeter than its counterparts.
Cava: Cava is a little lighter with a flavor profile that is great for mimosas.
Champagne: While a pricey option, champagne has an excellent minerality to its flavor if you are looking for the wine flavor to stand out.
No matter which sparkling wine you choose, be sure to choose dry, or "brut."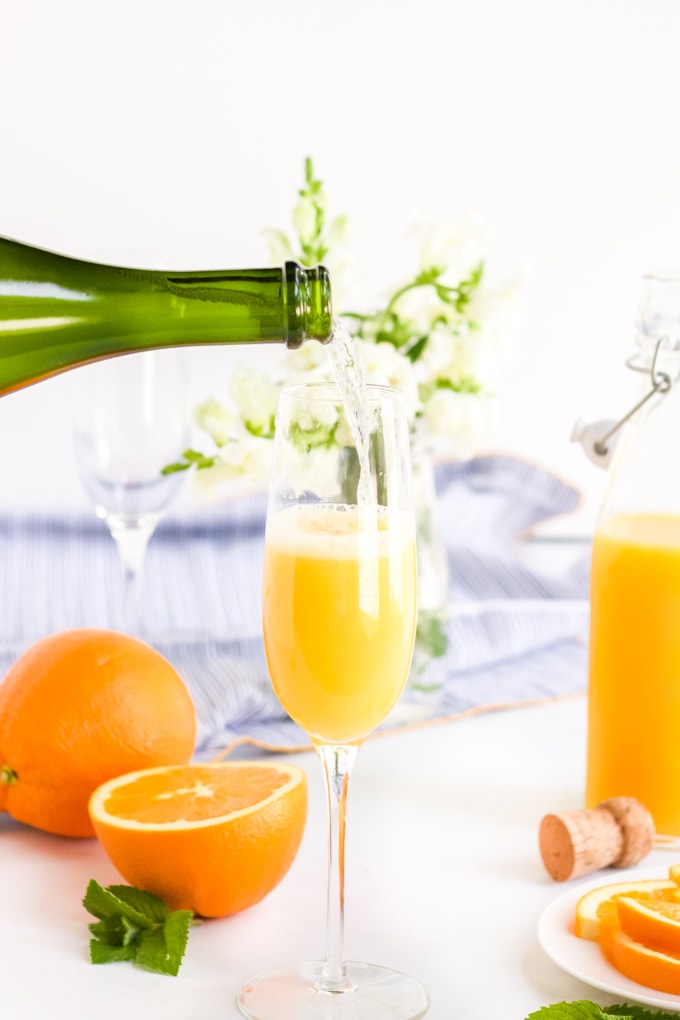 How to Make the Perfect Mimosa
Now that you know the perfect type of orange juice and sparkling wine to choose, it's time to pour a glass! The perfect ratio may change depending on who you ask, but traditionally speaking the best ratio is 50/50.
When serving to guests, I prefer to use the traditional ratio and set the bottle out in case anyone wants to add any more sparkling wine. It is much easier for your guests to add it, then take it away.
Mimosas are one of the easiest cocktails to prepare for a crowd. Keeping that 50/50 ratio in mind, you could prepare a large pitcher ahead of time or set up a mimosa bar with various juices, fruits, and sparkling wine options.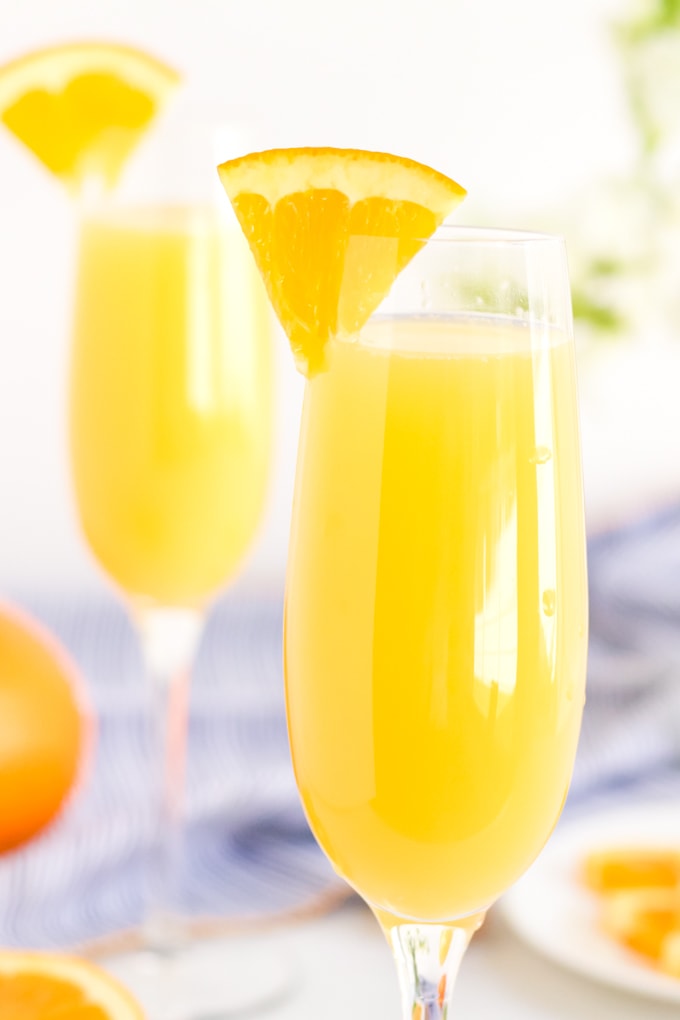 Garnishes
I love to serve my classic mimosas with a small orange wedge. You could also get creative and serve it with twisted orange peel or a sprig of mint.
Storage
If you are lucky to have any leftover mimosa ingredients, it is best to store them separated. When sparkling wine is properly sealed, it will keep its bubbles for up to 48 hours. If pre-mixed with the orange juice, it won't last that long.
I hope this complete mimosa guide takes your cocktail hour to the next level! Once you master the classic mimosa, give these recipes a try: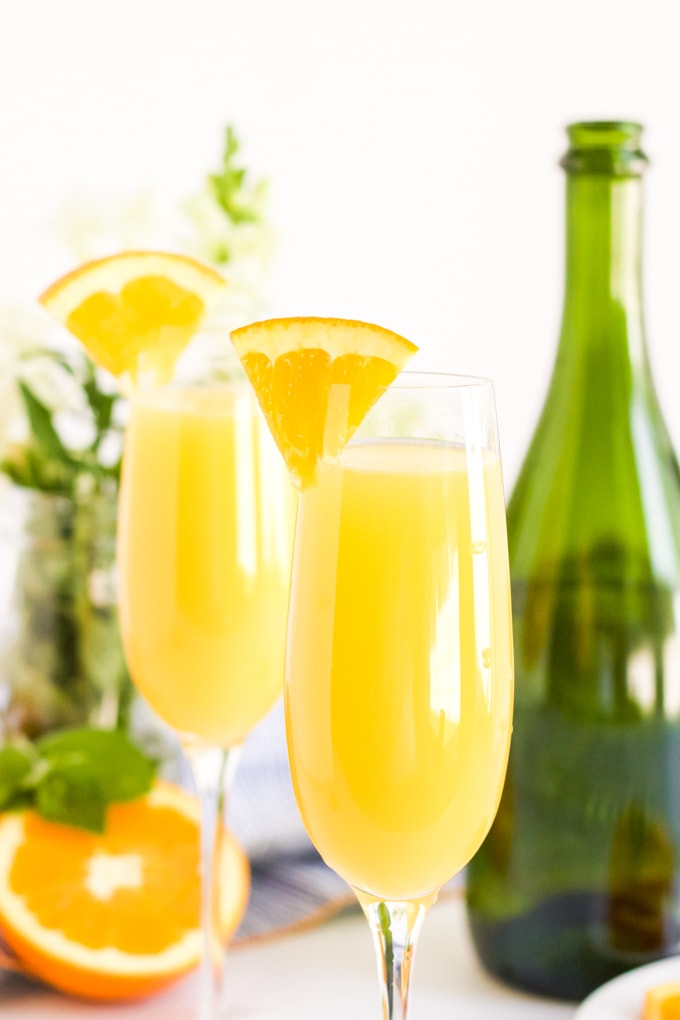 More Specialty Cocktails You'll Love
Recipe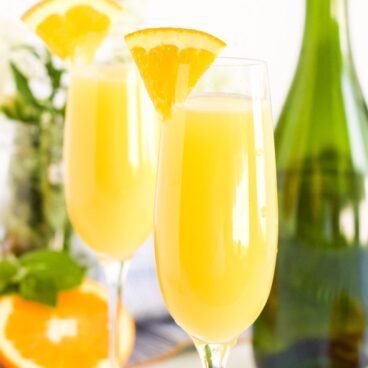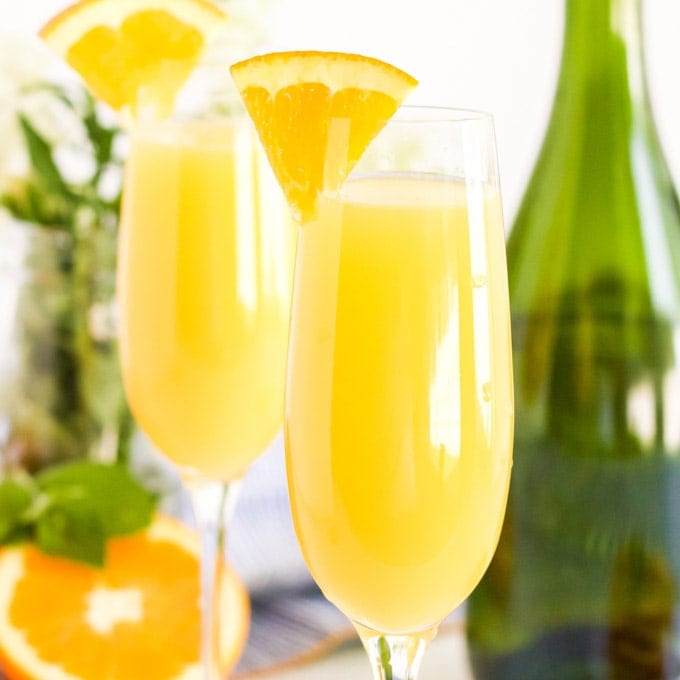 Classic Mimosa
A traditional mimosa recipe made with freshly squeezed orange juice and sparkling wine.
Ingredients
1

750ml

bottle sparkling wine

Dry and chilled

3

cups

orange juice

freshly squeezed and chilled
Instructions
Fill 8 champagne flutes halfway full of orange juice.

Fill the rest of the glasses with sparkling wine, adding more or less if desired.
Notes
Use freshly squeezed orange juice if possible. 
For the sparkling wine, always choose dry or "brut".
Champagne, Cava or Prosecco are all excellent choices. 
50/50 is the traditional ratio of sparkling wine to orange juice, but you can adjust according to your taste. 
Nutrition
Calories:
42
kcal
Carbohydrates:
10
g
Protein:
1
g
Fat:
1
g
Saturated Fat:
1
g
Sodium:
1
mg
Potassium:
186
mg
Fiber:
1
g
Sugar:
8
g
Vitamin A:
186
IU
Vitamin C:
47
mg
Calcium:
10
mg
Iron:
1
mg