My homemade chicken seasoning is a savory blend of spices to compliment your favorite cut of chicken. With just a few simple pantry ingredients, this mix is the perfect all-purpose seasoning for chicken, pork and vegetables!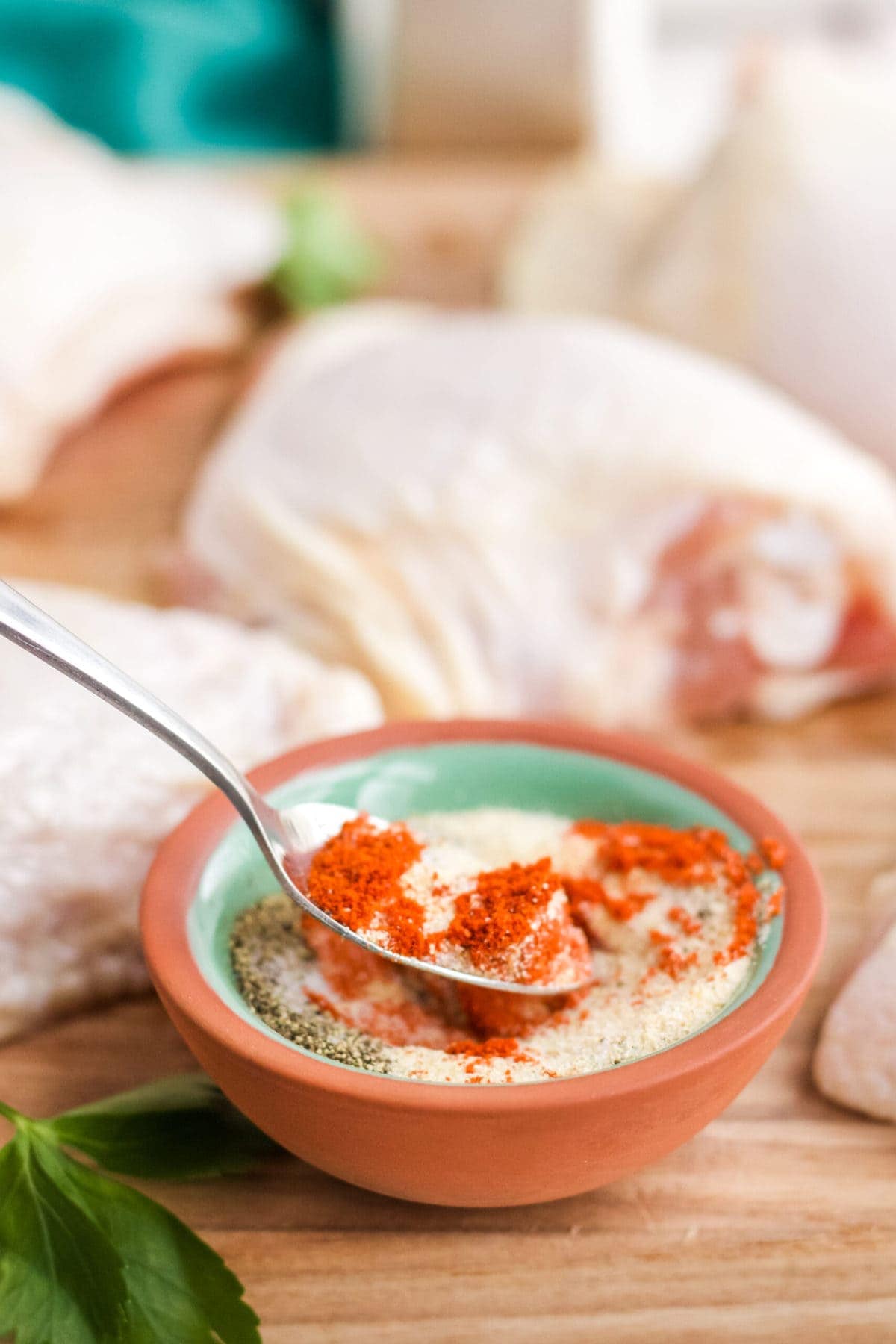 I have been using this simple chicken seasoning for at least 15 years. I put it on everything! It's the spice blend that goes on my Oven Baked Chicken Breasts, Crispy Baked Chicken Thighs and Chicken Drumsticks.
This blend is truly all-purpose – I even put it on Baked Pork Chops and steaks! It's easy to customize, too, if you want to mix it up with different flavors. For example, I love oregano with a whole roast chicken because it compliments the lemon so well, so I add some of that to my blend. Sometimes I'm looking to heighten a certain flavor, like the smoky paprika, so I'll add a little extra. It's super forgiving, and it will stay fresh for at least a year if properly stored.
How to Add Flavor to Chicken
One of the best things about cooking chicken is that it goes well with so many different flavors. You can go sweet with Orange Chicken or tangy with Chicken in Mustard Sauce. But I love having a go-to for dinner, and that's chicken seasoned with my simple, all-purpose chicken seasoning. It's the easiest way to add a ton of flavor to your chicken dinner.
I almost always have a jar of this blend on hand, but when I'm out, I can just sprinkle the spices onto the meat and eyeball the amounts. There is no hard and fast rule to the measurements. I do add salt, but if you're watching your intake, you can omit it and just add it to the meat before cooking for better control.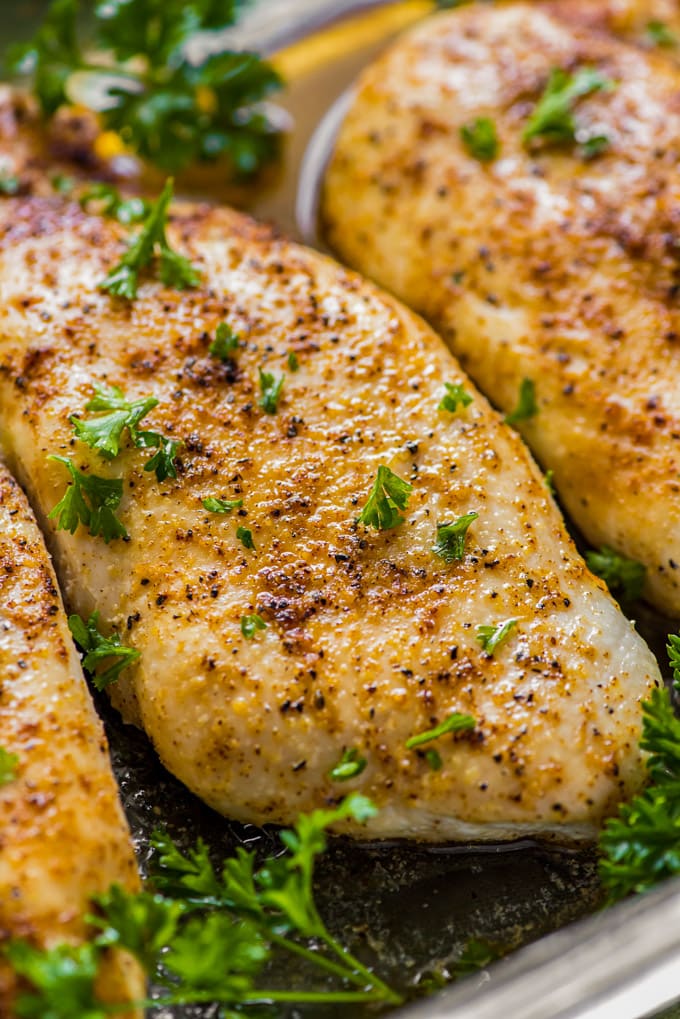 The best way to season chicken, pork or other proteins, is to first rub just a little bit of olive oil on the meat, then rub in the spice blend. This works for a few reasons.
The oil help the spices stick to your meat and also helps to brown the outside and give it a beautiful golden color and crust.
Rubbing the spices helps them the break down and really permeate the meat, as well as blend together for a delicious, savory flavor.
The Best Chicken Seasoning
My signature spice spice blend has:
Kosher salt
Garlic Powder
Onion powder
Paprika
Black pepper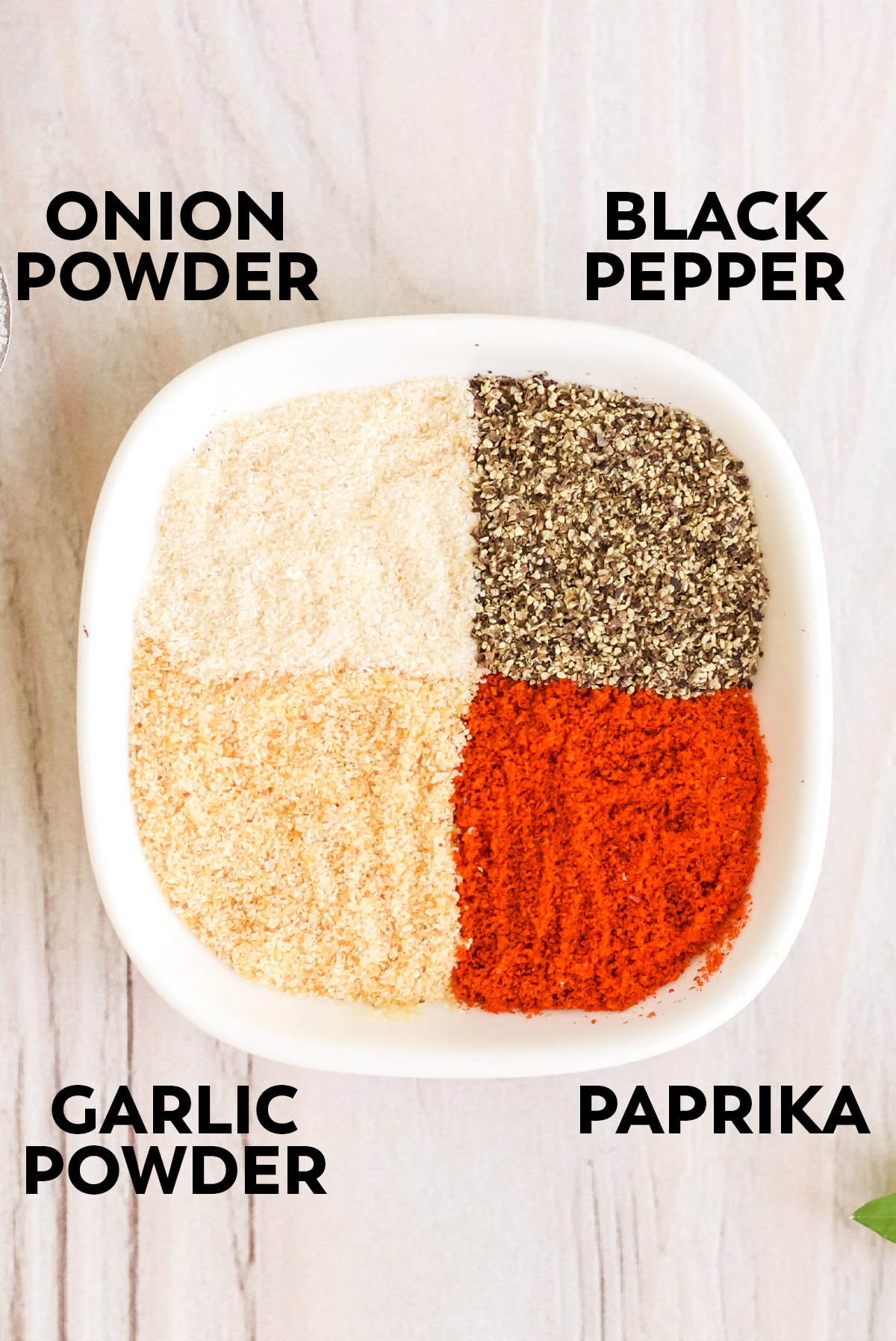 I use even amounts of the garlic, onion, paprika and pepper, and double that amount for the salt. All you do is mix those spices together. You can make just enough for one meal, or if you love it like I do fill a whole jar with it. Keep it on hand for all of your favorite savory chicken recipes; pork and steak, too!
You can easily double or triple this recipe using the slider in the recipe card below. Just hover your mouse over the serving size, then toggle the slider. From your mobile device, just tap the servings and then toggle the slider.
How to Store Spices
Make a big batch of all-purpose chicken seasoning and store it in an airtight container. If you follow these storage tips, your spices will keep fresh for at least a year, often longer!
Use an airtight container like a mason jar with a tight fitting lid or a resealable plastic container. I don't recommend using resealable plastic bags because they it can be hard to get them sealed properly.
Store spices like this chicken seasoning in a cool, dark place, like your pantry, and away from the stove. Heat and light can cause spices to become bland more quickly.
Feel free to play around with the amounts of spices used. Omit the salt if you want to, increase the garlic or turn down the pepper. Make it your own!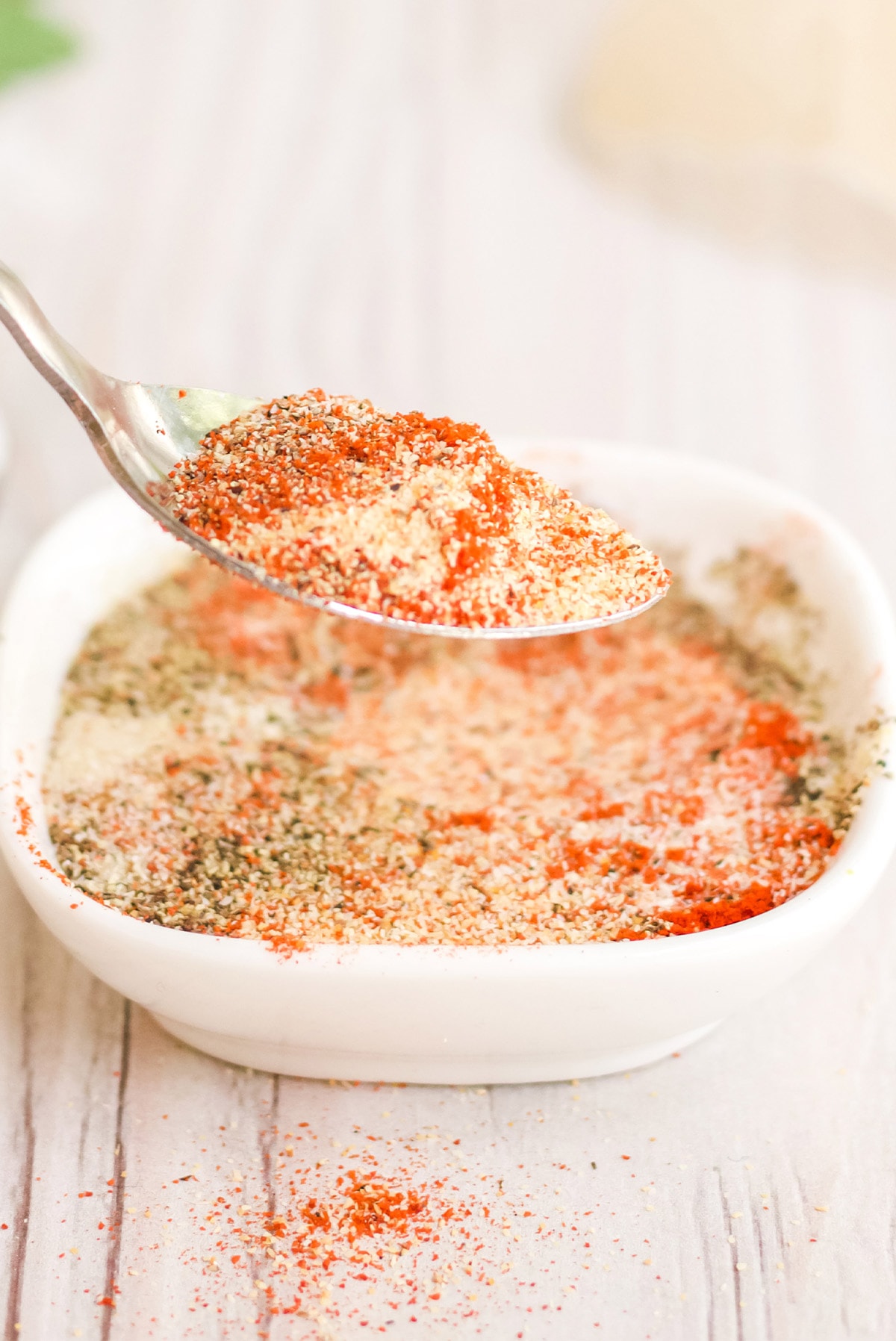 I love making homemade seasonings, like Taco Seasoning and Cajun Seasoning and keeping them in my pantry. Homemade tastes so much better than premixed, and I get to control the flavor and salt.
Recipe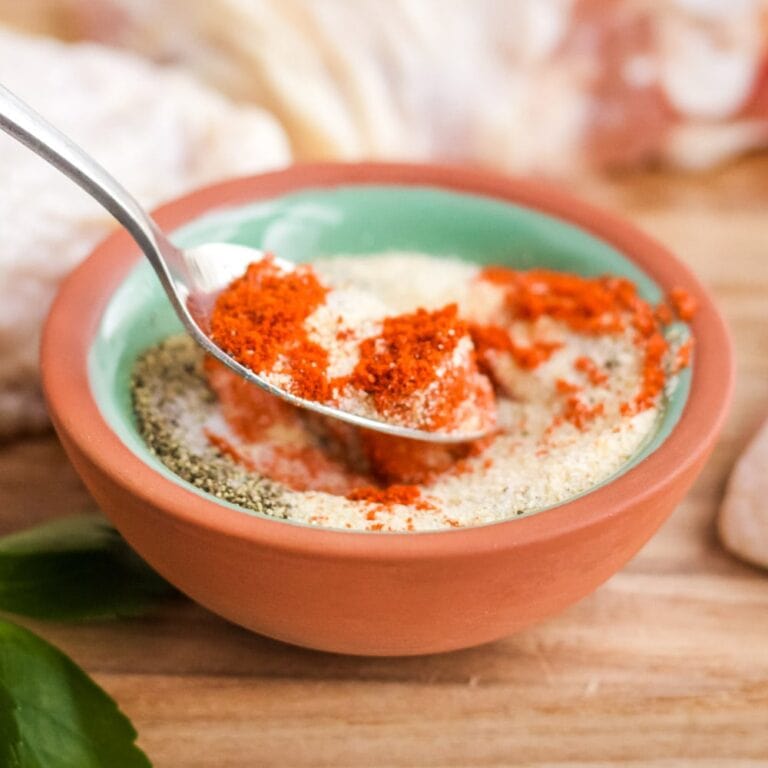 Chicken Seasoning
This chicken seasoning is my go-to, all-purpose seasoning blend for all kinds of chicken. Works great for pork and vegetables too!
Ingredients
2

tablespoons

kosher salt

1

tablespoon

black pepper

1

tablespoon

garlic powder

1

tablespoon

onion powder

1

tablespoon

paprika
Instructions
Combine spices in a small bowl.

Store in an airtight container for up to 2 months for best quality.

Rub in seasoning on your favorite cuts of chicken or pork, or sprinkle on vegetables or potatoes.½
Notes
This recipe will make 6 tablespoons of seasoning. For 2 pounds of meat, you'll need 1-1 ½ tablespoons of seasoning. You will need less for vegetables, so the serving size will vary.
If you are watching your salt intake, feel free to omit it. 
Easily double or triple the recipe using the slider when you hover over the serving size. 
Store in an airtight container in the pantry for up to a year.
Nutrition
Calories:
14
kcal
Carbohydrates:
3
g
Protein:
1
g
Fat:
1
g
Saturated Fat:
1
g
Polyunsaturated Fat:
1
g
Monounsaturated Fat:
1
g
Sodium:
2328
mg
Potassium:
68
mg
Fiber:
1
g
Sugar:
1
g
Vitamin A:
580
IU
Vitamin C:
1
mg
Calcium:
14
mg
Iron:
1
mg