Learn how to Roast Chicken in the oven that is tender and juicy with a flavorful, crispy skin. My easy to follow tips and instructions take the guesswork out of roasting a whole chicken!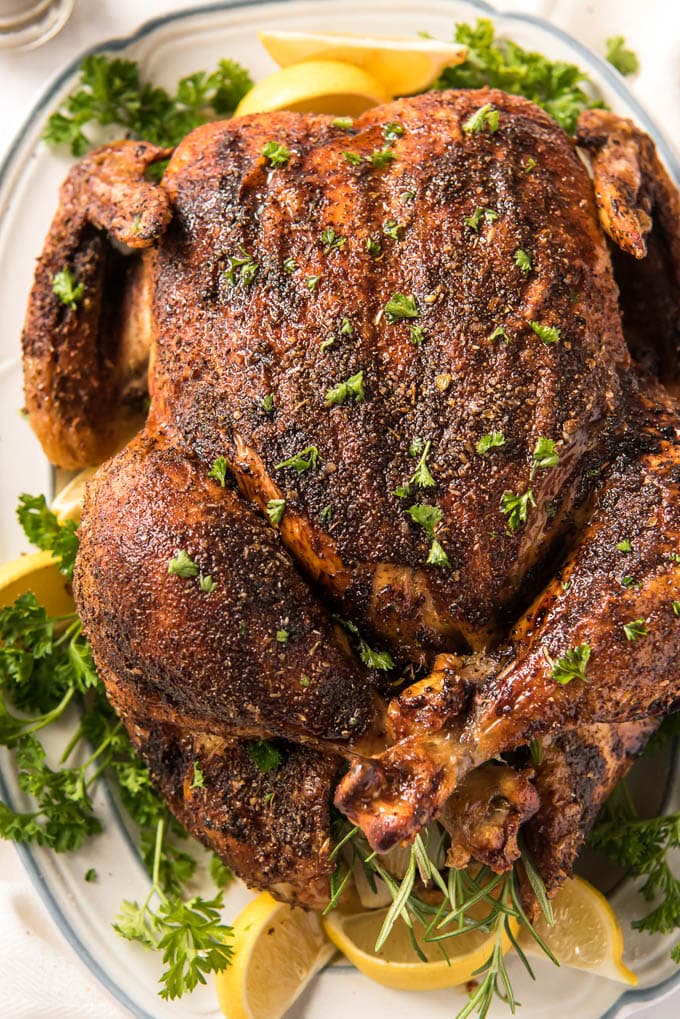 Shortcuts are great, like my Baked Chicken or Stove Top Chicken Breast. Sometimes though, you just crave the homey, comforting flavor that only a whole roasted chicken can give. It tastes way better than the rotisserie you buy at the store and is much easier than you might think!
ROAST CHICKEN RECIPE
I have always been a little afraid of roasting a whole chicken. It always seemed so complicated and then there was the whole touching all the parts of the chicken thing. But after giving it a go I realized just how easy it really is to roast chicken in the oven!
Aside from touching the raw meat, which is just something you just have to get past (I promise, it's really not that bad), it's super easy to prep a whole chicken. Just pat it dry with some paper towels (don't wash it – more about that later), stuff, season, and roast!
Buying a whole chicken is much more economical than buying chicken pieces like breasts or thighs. On average, boneless chicken breasts can cost $3-4 per pound while a whole fryer chicken can often be purchased for under a dollar a pound. Leftovers, if you happen to have any, are great for making soups, sandwiches or meal prepping for the week. And in the interest of zero waste, the chicken carcass can be boiled to make broth.
ROASTED CHICKEN VS ROTISSERIE
Rotisserie cooking uses a roasting spit which spins the chicken slowly over radiant heat (traditionally this was an open flame). Nowadays roasting refers to dry heat cooking that takes place in a oven. Roasting differs from baking which is generally at a lower temperature and refers to foods that change shape as they are cooked, like cakes and breads. Roast chicken with my method will be just as flavorful and juicy with a better texture than rotisserie.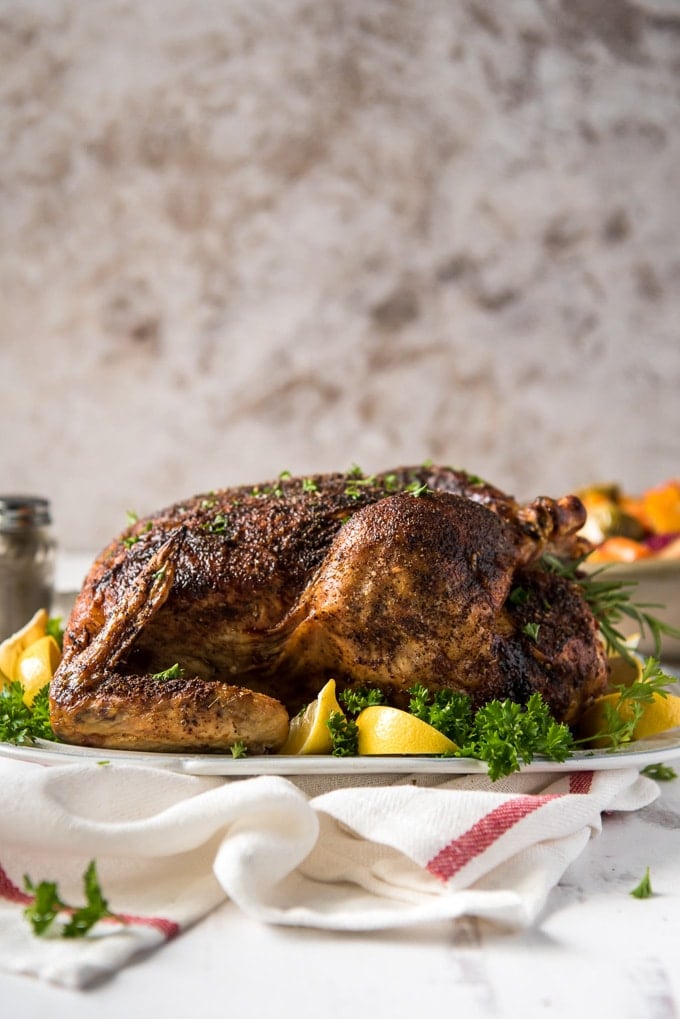 HOW TO ROAST A WHOLE CHICKEN IN THE OVEN
I use a few different methods to make this oven roasted chicken extra flavorful and juicy. The roasting process plus butter rubbed underneath the skin give us that beautifully golden and crispy skin that everyone loves. The butter mixed with a seasoning blend also makes the meat super juicy and full of flavor. Then there are the aromatics that are stuffed inside the cavity of the bird that help give it an incredible flavor throughout. This method is similar to how we roast our Thanksgiving Turkey.
RECIPE PREP
Preheat your oven to 425 degrees F. We start cooking at a very high heat to help render the fat in the skin, then lower the temperature to cook the chicken through while keeping it moist and juicy. Prep your pan – a roasting pan is best but not necessary.
Mix up the seasoning blend. For roast chicken I like to use dried oregano, garlic and onion powders, paprika, salt and pepper. Combine half of the seasoning blend with softened butter and save the rest for seasoning the meat later.
Set the whole chicken on a cutting board. Use a plastic or other non-porous cutting board that can be tossed in the dishwasher or otherwise sanitized. Wood will absorb the juices and can end up spreading harmful bacteria around your kitchen.
Pat chicken dry with paper towels. There is no need to wash your your bird. In fact, the CDC recommends not washing your chicken as it can result in the spread of bacteria to other surfaces and utensils. Cleaning your sink will not rectify the problem – the spread can happen from microscopic splatter.
Prep and season. Remove the neck and giblets from the cavity of the bird if there are any. Discard these or save to freeze for making stock later. Find the openings of the skin and gently slide your fingers underneath to loosen. Don't lift or remove it, you want it to still be intact. Grab a handful of the seasoned butter and rub it into the meat and under the skin on each side. Stretch the skin back in place. TIP – if you are having trouble getting the skin to go back into place, secure it with a toothpick.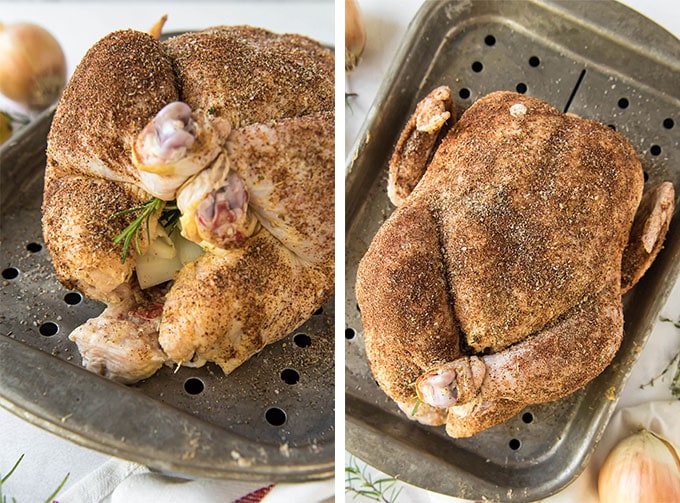 ROAST CHICKEN
Place the chicken, breast sides up, into the roasting pan. Stuff the cavity with sprigs of fresh rosemary and thyme, lemon and onion. Sprinkle all over with the remaining seasoning blend.
Roast uncovered for 15-20 minutes, then turn down the heat to 375 degrees and roast for an additional 10-15 minutes per pound. For our 3 and a half pound bird this took about 45 minutes. Chicken temperature should read 165 degree when an instant read digital thermometer is inserted into the thickest part of the thigh.
Tent your bird with foil to rest and allow the juices to redistribute. Resist the urge to dive in right away, because it's really hot and you'll lose all of those tasty juices. Let it rest for at least 10-15 minutes. Remove and discard the aromatics.
Carve oven roasted chicken with a thin, sharp knife. You can cut into pieces with or without the bone. Garnish with fresh parsley and serve with additional lemon wedges.
How to Cut up a Whole Chicken
Cutting it up can be one of the most scary steps of this whole process. It was for me anyway! Let's take the fear out of carving your chicken by breaking it down into a few simple steps. You can use kitchen shears or a knife – just make sure that whatever you use is nice and sharp.
Place the whole roasted chicken breast side up on a cutting board. Gently pull one of the legs away from the body (the leg is the thigh and drumstick piece together). Cut through the leg meat and skin. Give it a gentle tug until the hip joint is exposed (it looks like a ball at the top of the bone), then cut through it, just between the ball of the joint and the body. Separate the leg and thigh by cutting through the leg. Repeat with the other side.
Make a cut at the breast bone to separate the two breasts, while pulling the breast meat away from the bone. I like to keep some of the skin attached for flavor but that's a personal preference. Set the breast on the cutting board and remove the wing portion. Slice into smaller pieces and arrange on your serving platter with the leg pieces and wings.
When you break it down like that, it's pretty simple right? Depending on how the people you're feeding like their chicken, you could leave the legs in tact and the wings attached to the breast pieces.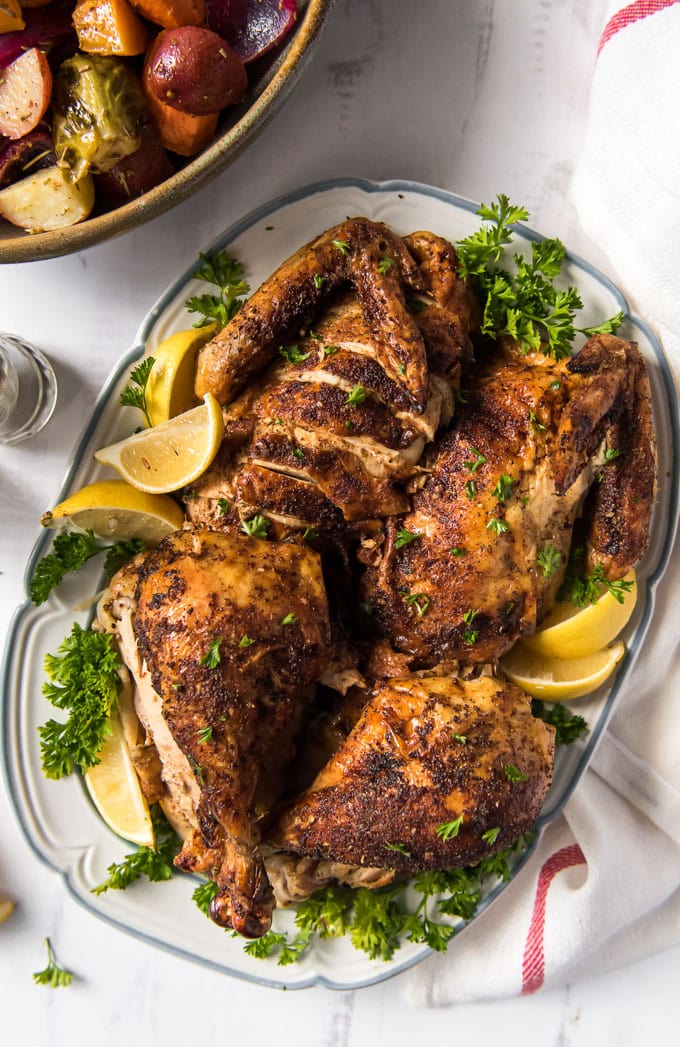 TIPS FOR SUCCESS
Prep your bird ahead of time and cover tightly with foil to avoid cross contamination. Keep refrigerated up to 24 hours and let sit out for 15 minutes to take the chill of before roasting. You may need to add additional cooking time.
Roast chicken does not need to be covered with foil as it cooks. When left uncovered, this gives the skin exposure to become nice and crispy. However if your chicken has not reached a safe temperature and the skin is getting too dark, you can loosely tent it with foil to keep it from burning.
When I find a great deal on whole chicken, I'll buy a few and store them in my freezer. They can be frozen right in their sealed original packaging. If you don't plan to use it within a few months, you should double bag it in a freezer bag. It will last up to a year this way. To defrost a whole chicken, place it in a dish with high sides and on the bottom shelf of your fridge to prevent contamination from leaks and thaw for 24 hours. Cook within 1-2 days of thawing.
This recipe works best in a roasting pan so the air can circulate all the way around the whole chicken, cooking it more evenly. If you don't have a roasting pan, you can crumple up some foil int balls and place it in the bottom of a regular 9×13-inch baking dish. Place the chicken on top. In a pinch though, you can place the chicken directly into the pan and roast it that way. It may take a little longer to cook fully on the bottom, so make sure to utilize the thermometer.
WHAT TO DO WITH LEFTOVERS
A whole roasted chicken has benefits besides just being budget friendly. It makes a lot, which always means leftovers! Depending on the size of your chicken, you could end up with several cups of diced chicken to use in soups, sandwiches or for meal prep.
Storage: Place leftover roast chicken in an airtight container or plastic bag and store in the fridge for 3-4 days.
Freezing: Freeze leftover chicken in an airtight container or freezer bag for up to 3 month. Thaw overnight in the fridge.
Make your own broth: Save the bones and giblets for making broth! Check out this recipe for instructions.
Roast chicken for using later: If you are roasting a chicken for the purpose of shredding the meat to use later, you should be able to get around 1 cup of diced or shredded meat per pound. A 3 pound chicken should yield around 3 cups of meat.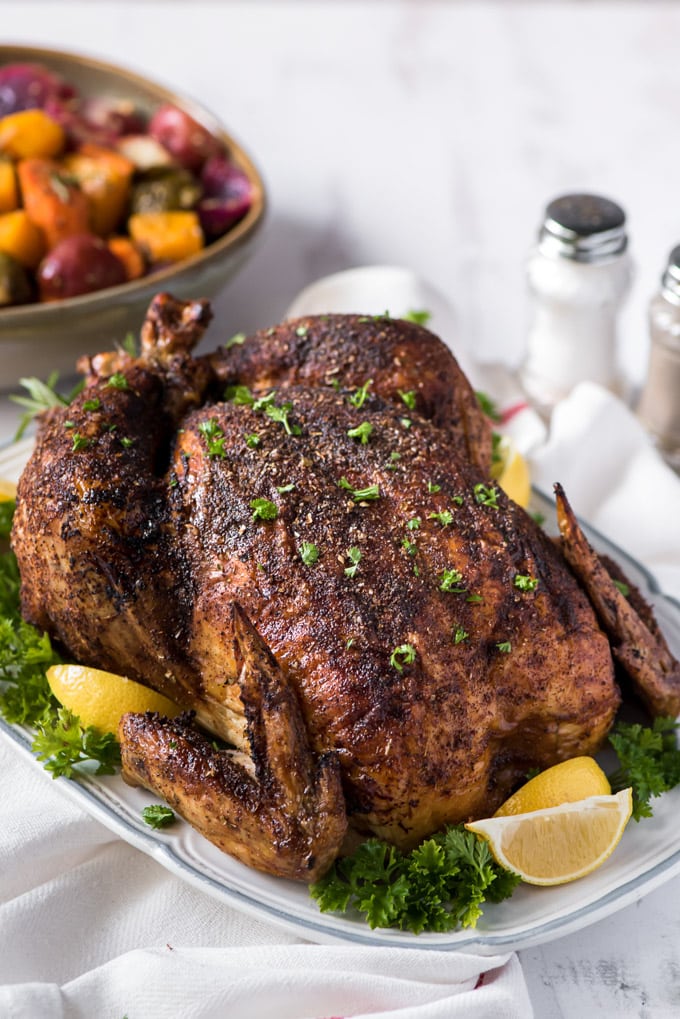 More Chicken Recipes? Yes, please!
Recipe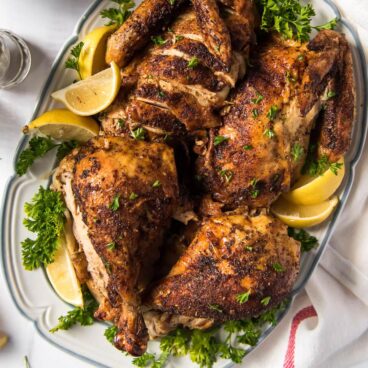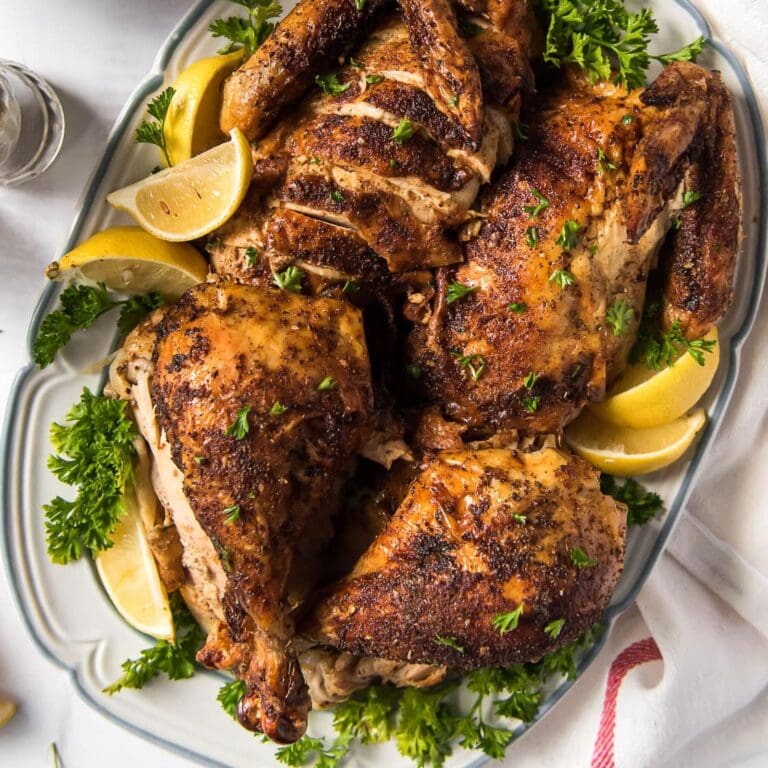 Whole Roasted Chicken
Learn how to Roast Chicken that is tender and juicy with a flavorful, crispy skin. Easy to follow tips take the guesswork out of roasting a whole chicken!
Total Time
1

hour
30

minutes
Ingredients
4

pound

whole fryer chicken

weight will vary, but generally 3-5 pounds will be fine

1/4

cup

salted butter

softened

1

lemon

cut in half or quarters

1

small onion

cut into chunks

2

sprigs fresh rosemary

4

sprigs fresh thyme

Additional lemon wedges for serving

Fresh parsley for garnish
Seasoning blend:
1 1/2

teaspoons

salt

1

teaspoon

garlic powder

1

teaspoon

dried oregano

1

teaspoon

paprika

1/2

teaspoon

onion powder

1/2

teaspoon

black pepper
Instructions
Preheat oven to 425 degrees F.

Mix ingredients for the seasoning blend in a small bowl and set aside. You could also simply use salt and pepper only if you prefer. In a small bowl, mash together the softened butter with half of the seasoning blend.

Remove the giblets and neck from the cavity of the chicken, if included, and discard or save/freeze to make dressing or gravy another time. Pat the chicken dry inside and out with paper towels. Loosen the skin all around the chicken by sliding your fingers beneath the skin and wiggling them around (do not remove the skin or break it loose; gently lift so you can get the seasoning underneath). Rub the butter mixture into the meat under the skin.

Stuff the cavity of the bird with the rosemary, thyme, lemon halves and onion.

Place chicken, breast side up, in a roasting pan and sprinkle the remaining seasoning all over the outside of the chicken.

Roast in the oven for 15-20 minutes. Turn down the heat to 375 degrees F and roast for an additional 40-45 minutes (about 15 minutes per pound) or until juices run clear and a meat thermometer registers 165 degrees when inserted into the thickest part of the thigh.

Remove from the oven and tent with foil for 10-15 minutes. Carve the chicken with a sharp knife and serve with additional lemon wedges. Garnish with fresh minced parsley if desired.
Nutrition
Calories:
298.51
kcal
Carbohydrates:
3.48
g
Protein:
20.79
g
Fat:
22.28
g
Saturated Fat:
8.37
g
Cholesterol:
96.9
mg
Sodium:
564.38
mg
Potassium:
254.63
mg
Fiber:
0.97
g
Sugar:
0.98
g
Vitamin A:
483.88
IU
Vitamin C:
10.71
mg
Calcium:
26.37
mg
Iron:
1.32
mg