Homemade oil and vinegar dressing is a classic vinaigrette that you can easily make at home. With just a few simple ingredients, you can create a delicious and versatile dressing that adds flavor to salads, vegetables, and more. Learn how to make a vinaigrette and elevate your dishes with this easy-to-follow recipe.
Get ready to say goodbye to store-bought dressing and hello to delicious, fresh vinaigrettes all year long! Learn my tips for the best ingredients and methods for assembling this quick and easy oil and vinegar dressing.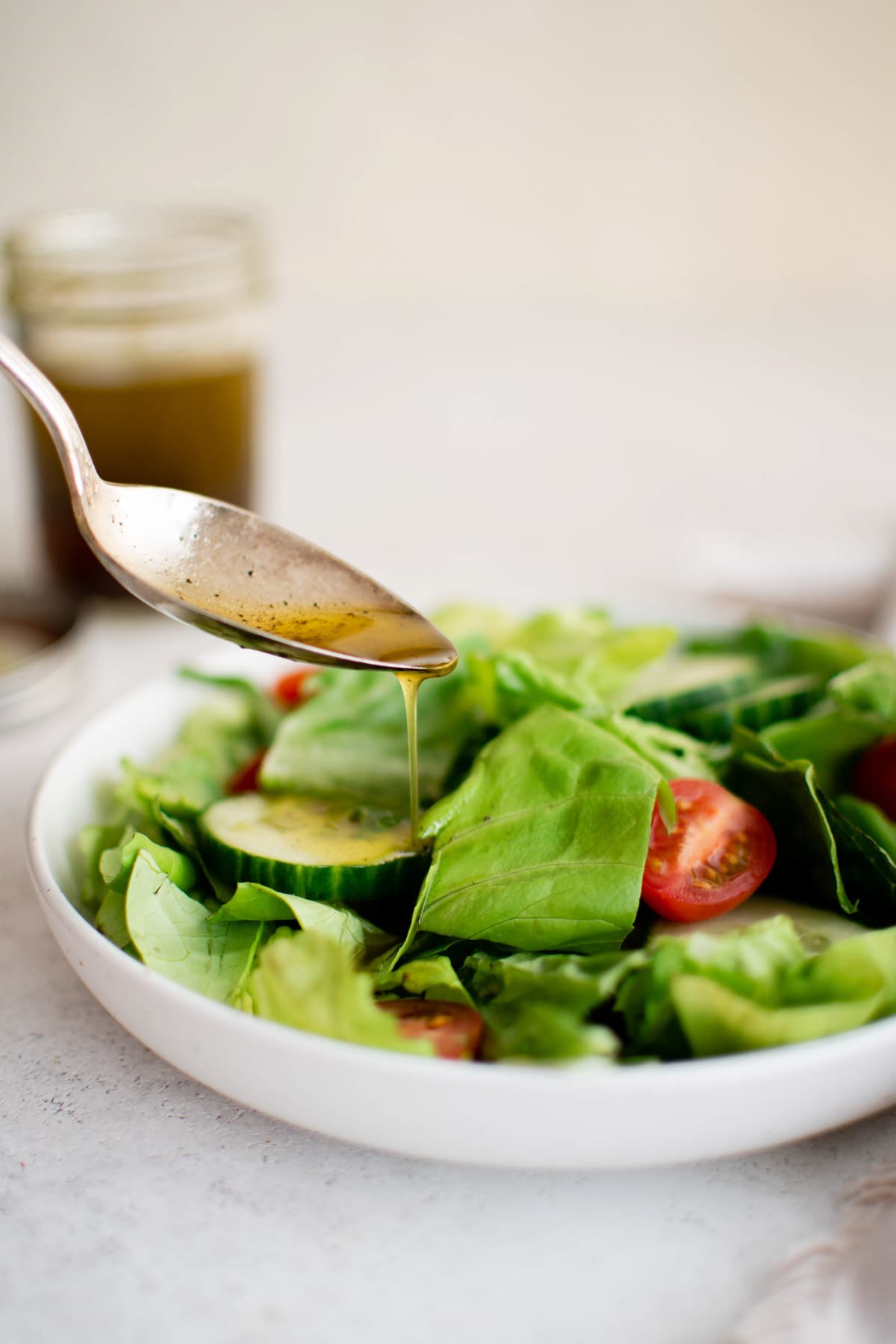 Pin this recipe for later!
Why We Love This Recipe
Adding a homemade vinaigrette takes your salad from good to great, and they couldn't be easier to put together! Unlike other salad dressings, vinaigrettes are much more versatile in the sense that they can be drizzled over a bowl of greens, served as a dip, or used as a marinade for chicken, pork, steak and even veggies.
Making a vinaigrette is a science, but lucky for you we have done all the research. Using a handful of pantry staples and your favorite spices, you can have a fresh, delicious oil and vinegar dressing that will leave your friends and family begging for more.
Homemade Vinaigrettes are:
Quick and Easy – You need just a handful of pantry staples and less than 5 minutes, making them great for when you're in a pinch.
Easy to Store – These dressings can last for a few weeks when stored properly.
Completely Customizable – The possibilities are limitless! From a basic oil and vinegar dressing to a sweet and tangy raspberry vinaigrette to a savory Greek vinaigrette, you can customize the flavor of your dressing to suit your fancy…or the rest of your meal!
The Vinaigrette Formula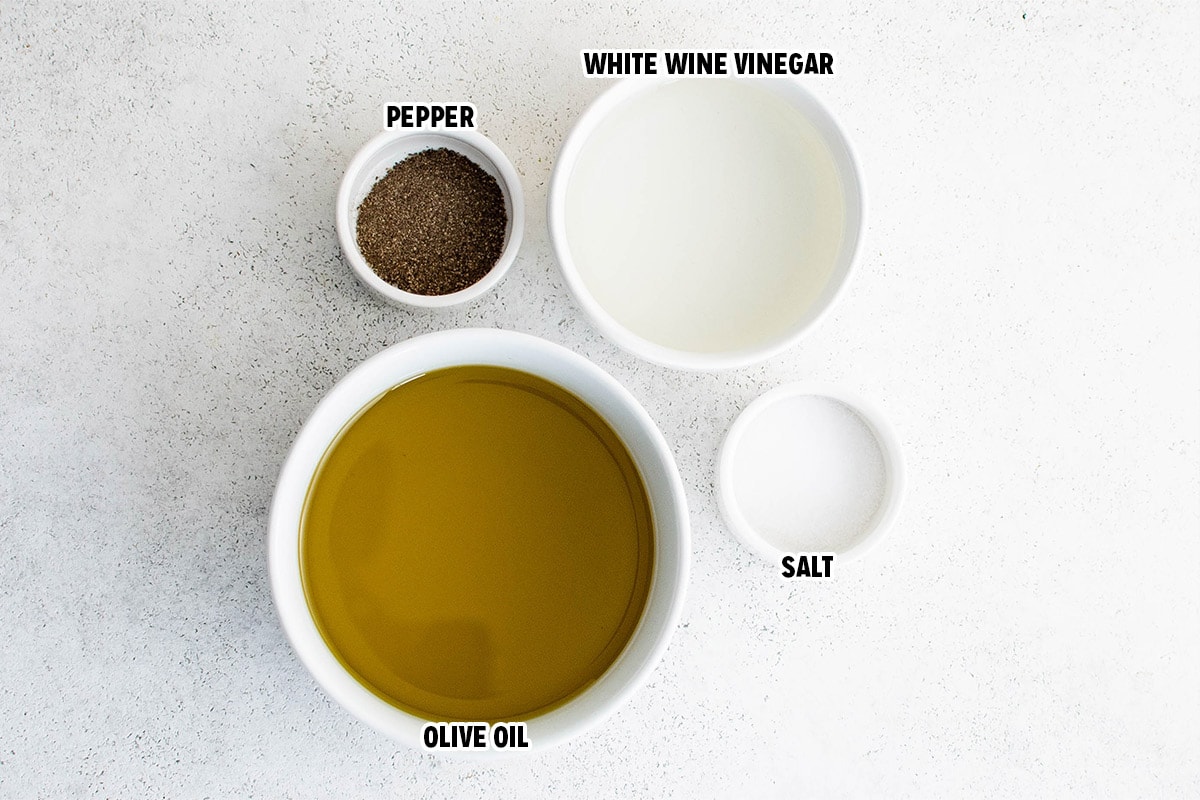 The perfect vinaigrette comprises of two main ingredients.
1 part Vinegar (or citrus)
3-4 parts Oil
Salt and pepper are optional, but recommended to be added by taste.
The vinegar/citrus gives the dressing that classic acidic flavor while the oil helps distribute the flavor of the dressing.
How To Make A Vinaigrette
Get a detailed list of ingredients & instructions in the recipe card below.
There are three main ways in which you can assemble your vinaigrette.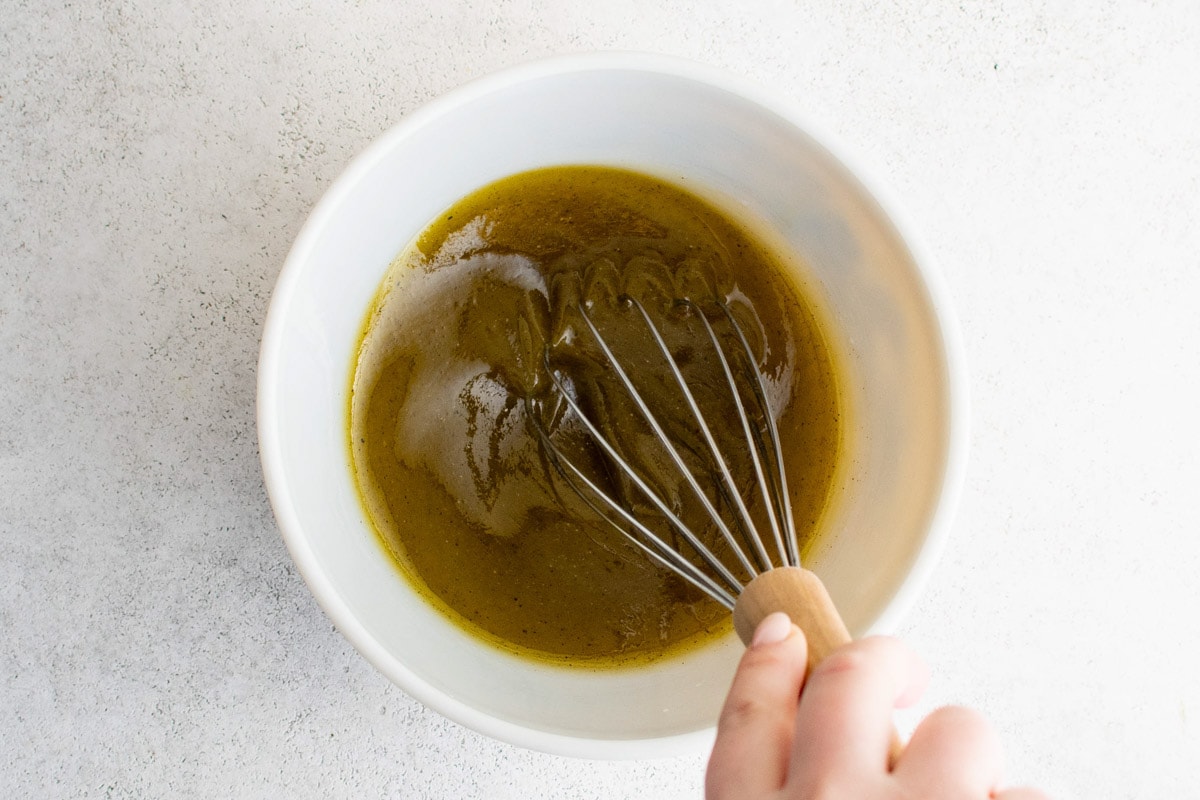 Whisk Together. The most common way is to toss all the ingredients together in a bowl and use a fork to whisk them together.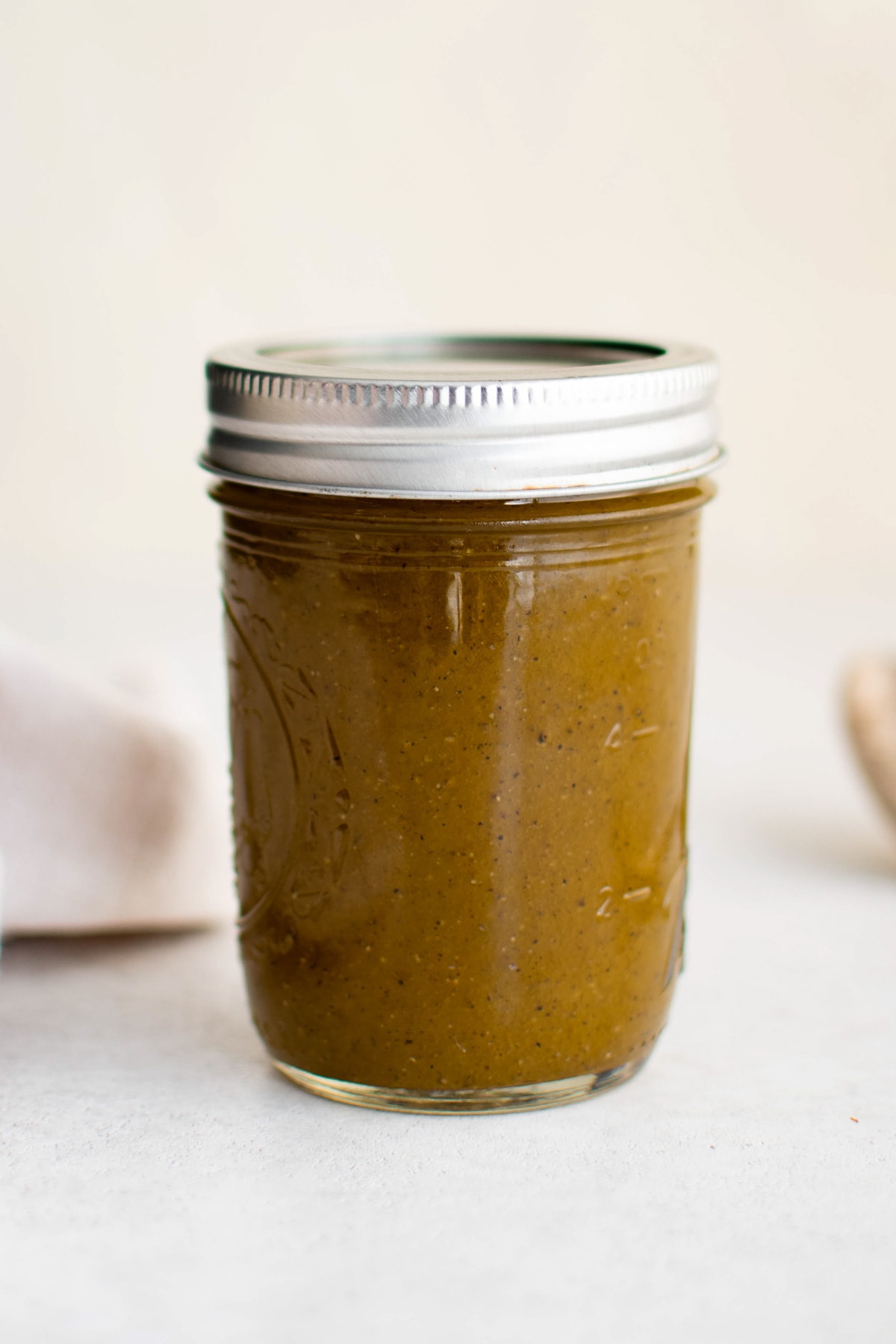 Mason Jar: If you are in a rush, use a mason jar to assemble your dressing. Simply add your ingredients, screw on the lid, and give the jar a few vigorous shakes. (see note below).
Blender. If you have a stand or immersion blender, you can have a fresh vinaigrette whipped up in seconds. These high-powered kitchen tools will emulsify your salad dressing in the blink of an eye!
NOTE – Although a mason jar is a quick method to mix a vinaigrette, it may not fully combine the ingredients, leading to separation. The limited whisking in a mason jar hinders achieving a completely homogenous mixture.
The best way to put your vinaigrette together is to use a combination of methods. I recommend whisking your ingredients together in a small bowl before transferring the dressing to a mason jar and shaking it. Like the blender method, this allows your dressing to become truly homogenous.
Recipe FAQs
What is the best oil for vinaigrettes?
Olive oil is the most common and effective oil used in vinaigrettes. Its distinct flavor pairs wonderfully with a wide array of ingredients.
Why is my vinaigrette so thick?
Thick vinaigrettes can often be attributed to the temperature at which they are stored. When you refrigerate a fully emulsified vinaigrette, the tiny drops of olive oil throughout the dressing cause it to thicken. While you will still be able to pour your dressing, you can also let it sit on the counter for about 10 minutes and it will loosen up.
Which vinegar is best for vinaigrettes?
It really depends on the type of vinaigrette you're making. I recommend using white wine vinegar or red wine vinegar in your dressing. While there are several alternatives you can use, these varieties will give your dressing a delicious tang.
Optional Add-ins
Now that you have the base of your dressing, you are ready to make the flavor unique! While there are countless seasonings and ingredients that you can add to your vinaigrette, here are just a few of our favorites:
Minced Garlic – Adds an aromatic sharpness to your dressing.
Minced Shallots – Bring a delicate sweetness like onions.
Herbs – Dill, rosemary, oregano, etc.
Sweeteners – Honey or agave.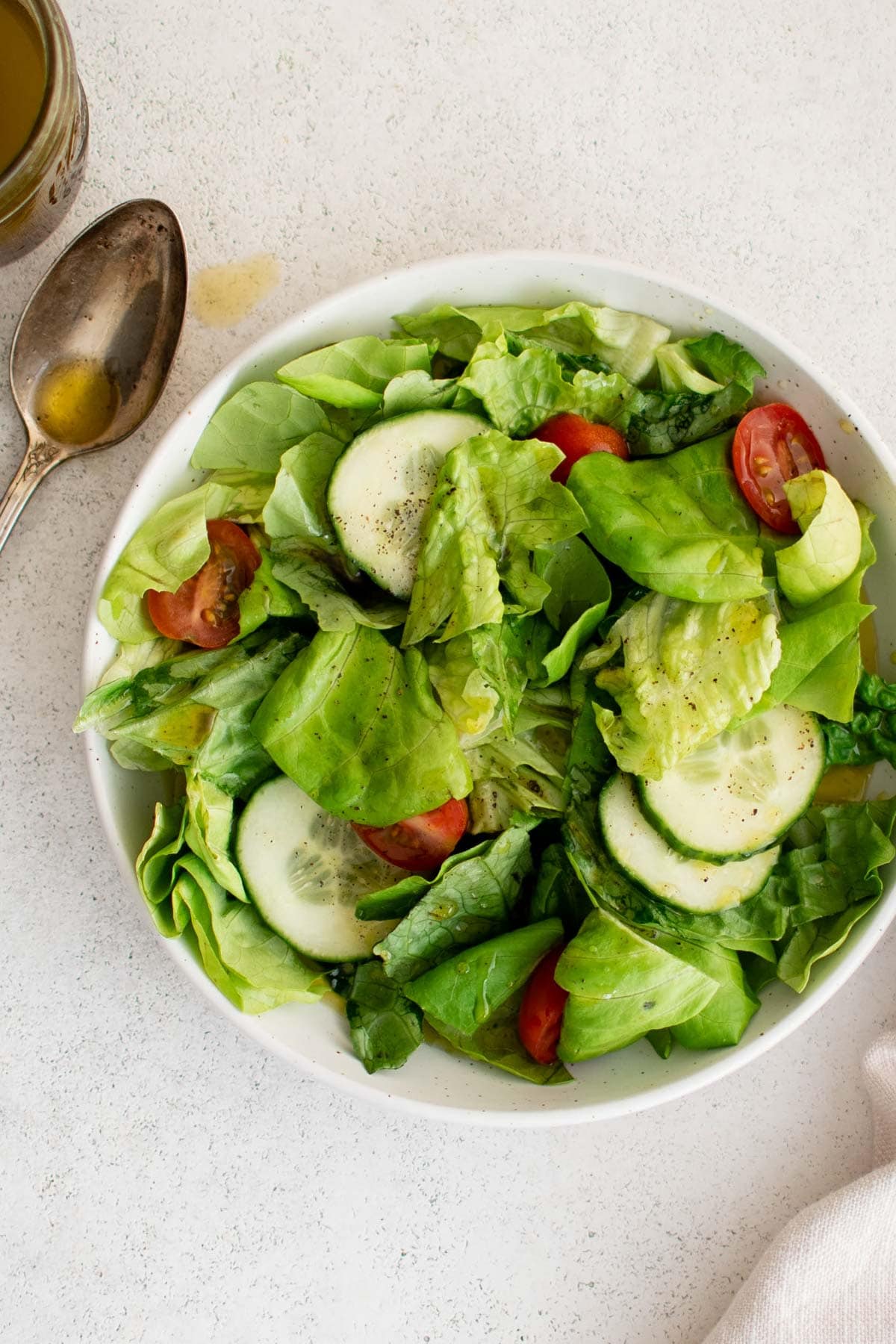 Helpful Tips
Store your vinaigrette in an airtight container to ensure it lasts as long as possible.
Remember to whisk your dressing thoroughly in order to achieve a stable emulsion.
When possible, use high-quality ingredients. Opt for fresh, high-quality oils, vinegars and other ingredients.
Achieve the ideal balance of acidity and sweetness by combining vinegar or citrus juice with a touch of sweetness like honey or maple syrup.
Taste the vinaigrette and adjust the seasoning by adding salt, pepper, herbs, or spices to enhance the flavors.
Add the oil gradually. Slowly drizzle the oil into the vinegar mixture while whisking continuously. This helps in achieving a well-emulsified vinaigrette.
More Salad Dressing Recipes
Recipe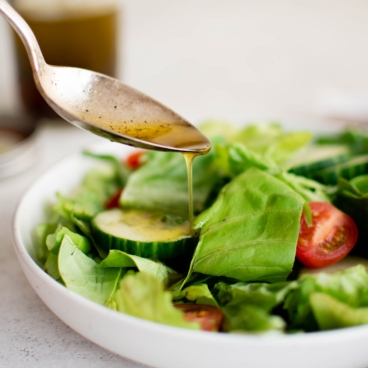 Oil and Vinegar Dressing
Homemade oil and vinegar dressing is a classic. Learn how to make a vinaigrette and elevate your dishes with this easy-to-follow recipe.
Ingredients
¼

cup

white wine vinegar

¾

cup

olive oil

1

teaspoon

kosher salt

½

teaspoon

fresh cracked black pepper
Instructions
Pour the vinegar into a small bowl.

Drizzle the oil into the bowl, whisking to emulsify.

Taste and add additional ingredients, like salt and pepper, as desired.

Store any leftover vinaigrette in a tightly sealed container in the refrigerator for up to a week. Give it a good shake before using it again.
Notes
The servings size may vary depending on what you are dressing. A small side salad will take about 2 tablespoons, while a larger salad may need more.
Nutrition
Serving:
2
tablespoons
Calories:
181
kcal
Carbohydrates:
0.1
g
Protein:
0.02
g
Fat:
20
g
Saturated Fat:
3
g
Polyunsaturated Fat:
2
g
Monounsaturated Fat:
15
g
Sodium:
292
mg
Potassium:
5
mg
Fiber:
0.03
g
Sugar:
0.001
g
Vitamin A:
1
IU
Vitamin C:
0.04
mg
Calcium:
1
mg
Iron:
0.2
mg