Frozen vegetables are one of the most economical, readily available ways to add more veggies to your diet. These simple tips will teach you how to properly season and cook frozen mixed vegetables for the best tasting sides, and how to add them to all sorts of recipes when fresh isn't an option.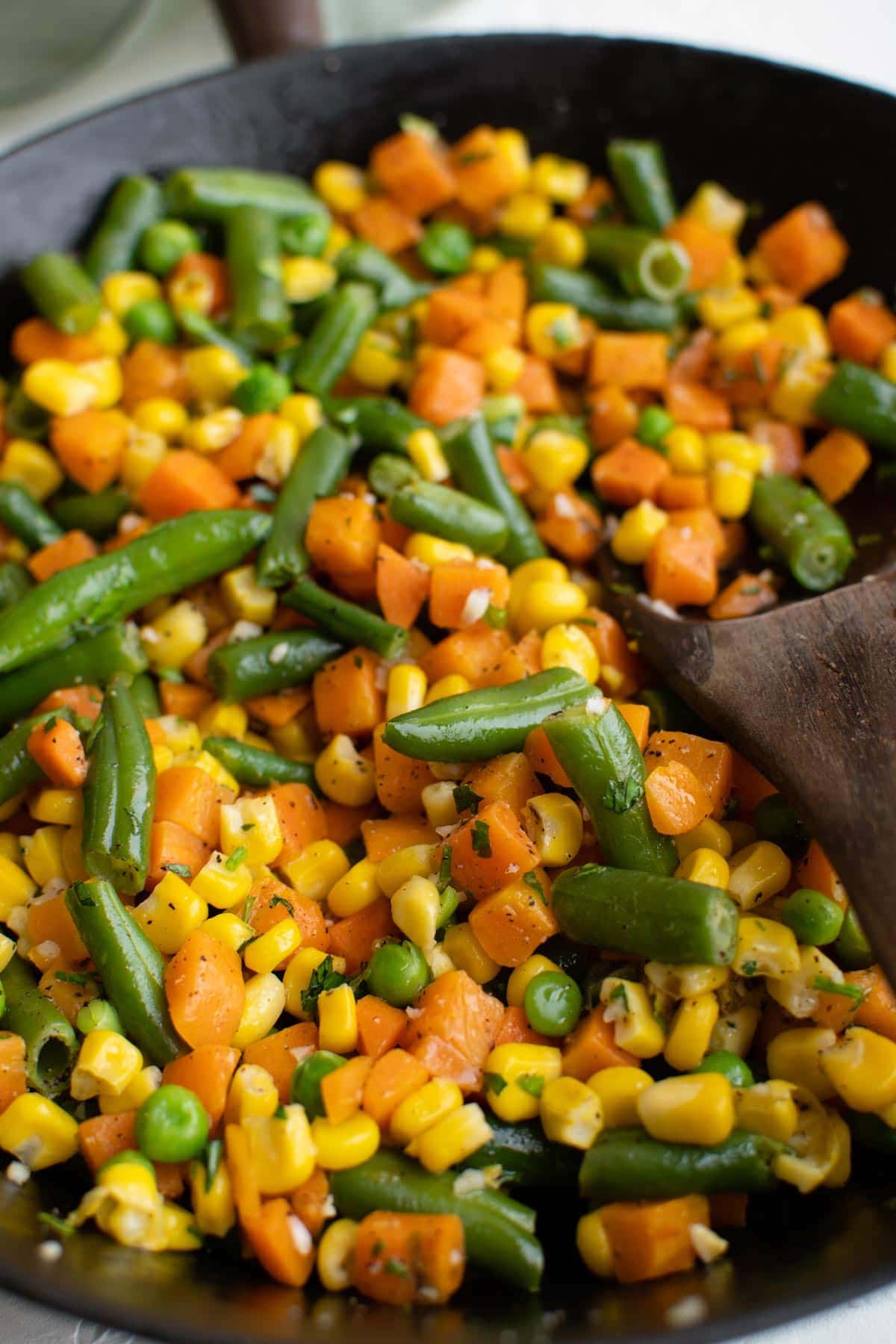 Let's face it, one bad experience with frozen corn can ruin all frozen veggies for you for life. But when you know how to cook frozen vegetables the right way, it makes all the difference. Follow these tips and I'll have you dancing down the freezer aisle at the supermarket in no time!
Why We Love Frozen Veggies
While fresh vegetables are the optimal choice, they're not always the most practical. They can be expensive, the quality can vary and your favorites might be seasonal and hard to find, especially right now. Plus if you rely on delivery services for your groceries, the quality of produce can vary immensely.
Frozen is an excellent alternative, for a variety of reasons which may vary from family to family.
They're Fast – Frozen can often be prepared quickly and with little effort, making them a great option when you're strapped for time. Unlike my roasted vegetables recipe that takes nearly an hour, with frozen you're done in half the time.
Year Round Availability – They are readily available all year round, unlike fresh veggies that are usually seasonal, like butternut squash and brussels sprouts.
Healthy – Vegetables are generally frozen at their peak and immediately after harvesting, so they retain most if not all of their nutrients.
Easy on Your Wallet – Frozen veggies are budget friendly; you can usually get a bag of frozen mixed vegetables for a few dollars, sometimes less.
They Last Longer – They have a longer shelf life, and will remain fresh in your freezer for up to 6 months, sometimes longer.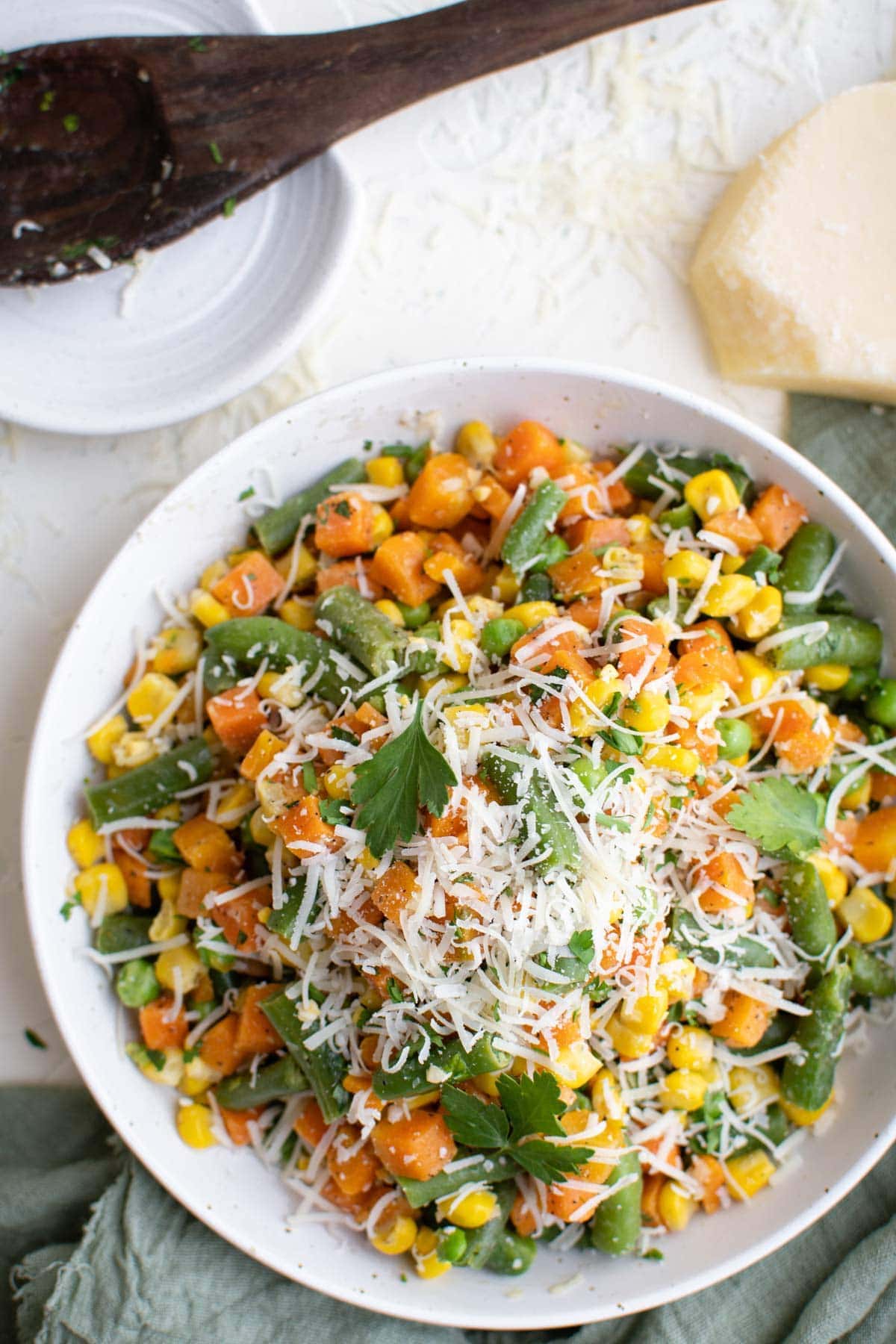 How to Make Frozen Vegetables Taste Better
They can be kind of blah, so here's a little trick I learned for making frozen veggies taste better. This simple hack will yield a great tasting, budget-friendly side dish. Plus, while the recipe below is for a mixed veggie bag, this will work for almost any freezer vegetables you can find.
In a deep skillet or saucepan, boil veggies in chicken broth. This adds extra flavor that boiling in water or steaming in the microwave just won't give you. Drain the liquid out and keep them in the pan.
Add butter and fresh minced garlic. The melted butter coats the vegetables and creates a sort of sauce and the garlic adds another layer of flavor.
Stir in fresh minced parsley and parmesan cheese, and season with salt and pepper!
Once you learn how to cook your veggies like this, you'll never turn your nose up at the freezer aisle again!
FAQs
How long will frozen vegetables last in the freezer?
Generally frozen vegetables will last 8-12 months if properly stored in a sealed, airtight container. Always check for a "use by" date because it can vary by brand or type. They can be refrozen if they defrosted a bit, but they may get ice crystal and clump together and this can affect the quality and flavor.
Are frozen vegetables as healthy as fresh?
Vegetable freezing began as a convenience. Generally, vegetables are frozen at the peak of freshness, immediately after harvesting, so they retain most of their nutrients.
Are frozen vegetables better than canned?
Canned vegetables have additives and preservatives that frozen ones don't, making them the less healthy choice. Frozen packages occasionally do contain extra sugar or salt, so it's important to read the labels and look for the USDA "U.S. Fancy" shield to find the most nutrient-rich products.

Should you thaw frozen veggies?
Most often, thawing is not needed. You can toss them into your pan in their frozen state. If all you want to do is heat them up, use a steamer. Just don't boil – this will add moisture and make your veggies mushy.
What is in a bag of frozen mixed vegetables?
There are definitely a few varieties of mixed veggies, but the most common is just a combo of carrots, peas, corn, and green beans. There are also mixed bags of stir fry veggies and Italian style.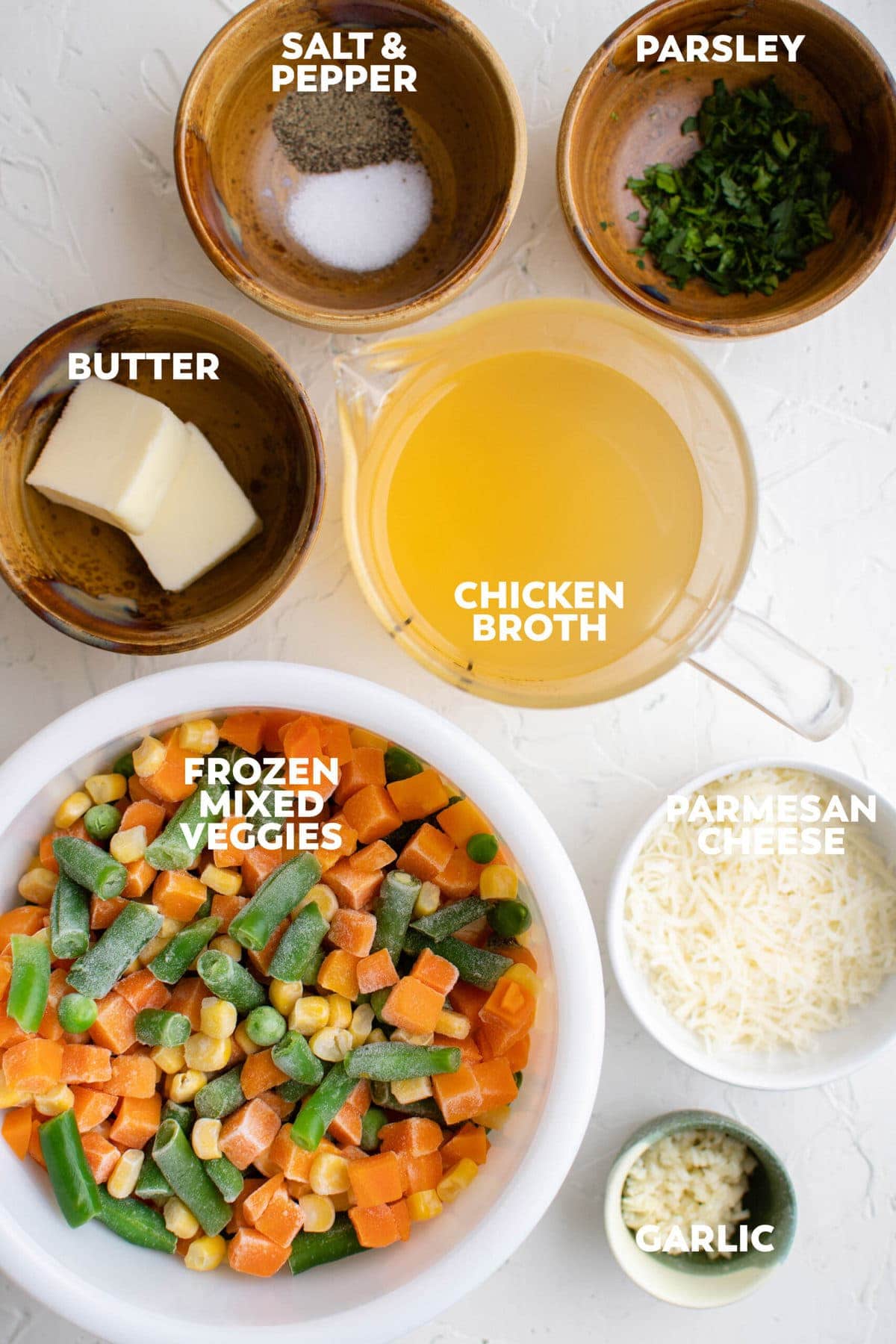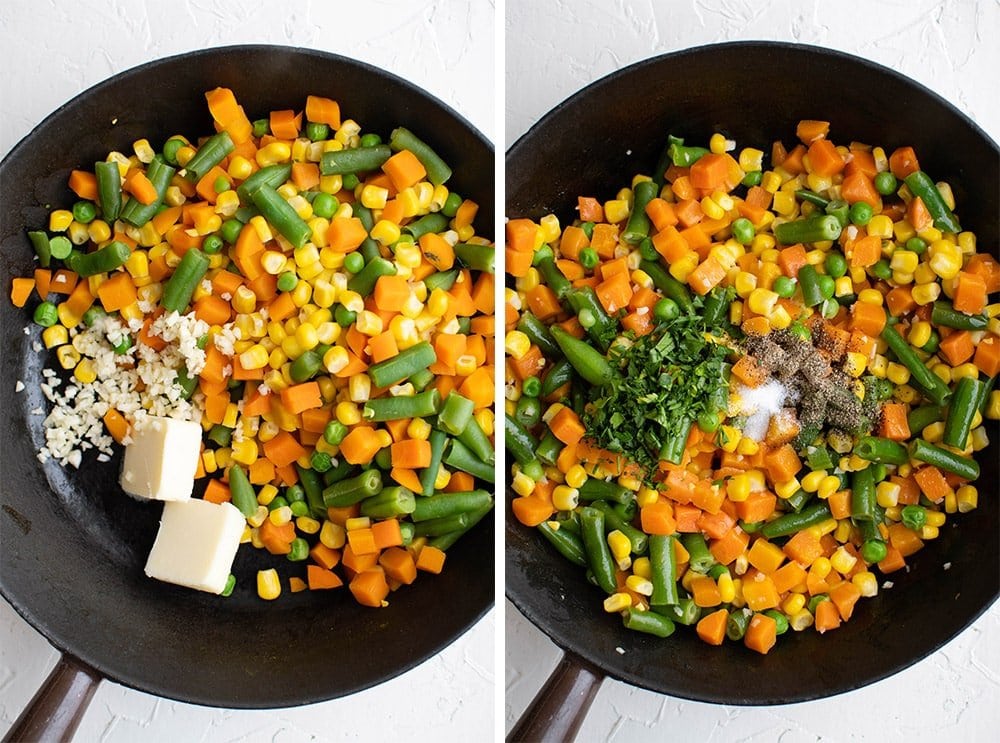 How to use Frozen Vegetables in Recipes
Different vegetables can require different treatments and cooking methods, depending on their flavor, texture, and water content. For example, a lot of vegetables, like frozen broccoli florets, cauliflower, and even zucchini can be roasted straight in the oven or the air fryer. Toss them with some olive oil and seasoning (like salt and pepper), spread them in a single layer on a hot baking sheet pan, and roast at 450 degrees. Roasting times will vary.
Add frozen corn, peas, or mixed veggies to your favorite soup, stew, and smoothies without even thawing them. For casseroles like my Sloppy Joe Tater Tot Casserole, stir fries, and fried rice, thaw in the microwave or in the fridge before adding.
I use frozen veggies in a lot of recipes:
Storage and Reheating
Storage – When storing leftover veggies, it's important to let them cool first. Then store them in an airtight container in the refrigerator for up to 3-4 days.
Freezing – While you technically can refreeze them, I wouldn't recommend it. The texture just won't be as pleasing the second time around.
Reheating – Reheat in the microwave for 30-60 seconds.
Helpful Tips
Add a squeeze of lemon or lime for a burst of freshness.
When you're sauteeing the vegetables, try adding some fresh spinach leaves.
Use whatever fresh herbs you like – chives, rosemary, or thyme are great options.
Make and keep some Homemade Garlic Butter on hand so you can make this recipe at a moment's notice!
Save time on Thanksgiving and use frozen sweet potatoes for Sweet Potato Casserole, frozen green beans for Green Bean Casserole or frozen cauliflower for Cauliflower Gratin.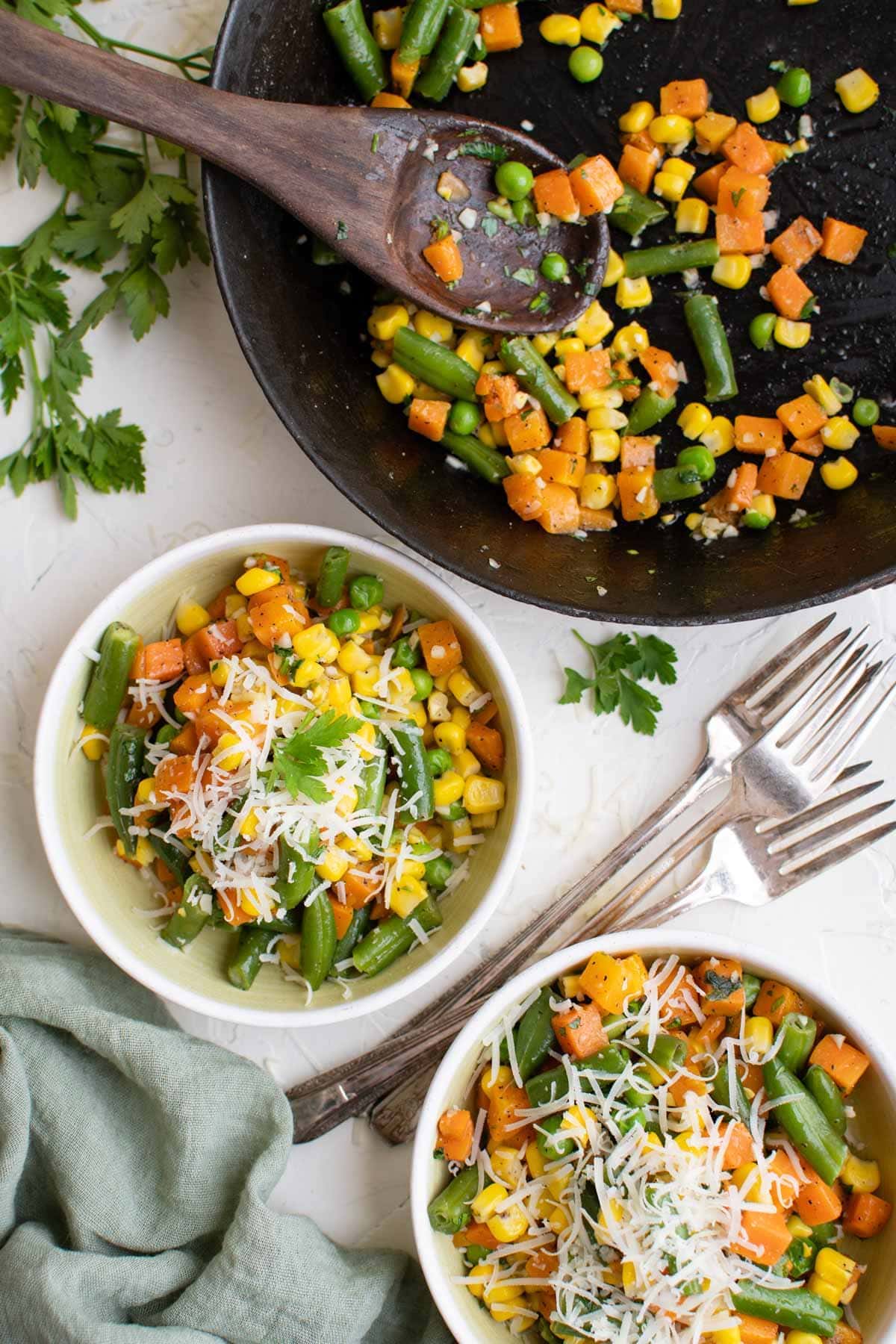 More Tips for Cooking Frozen Foods
Use your Air Fryer!
Recipe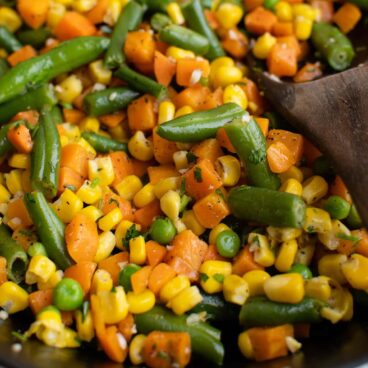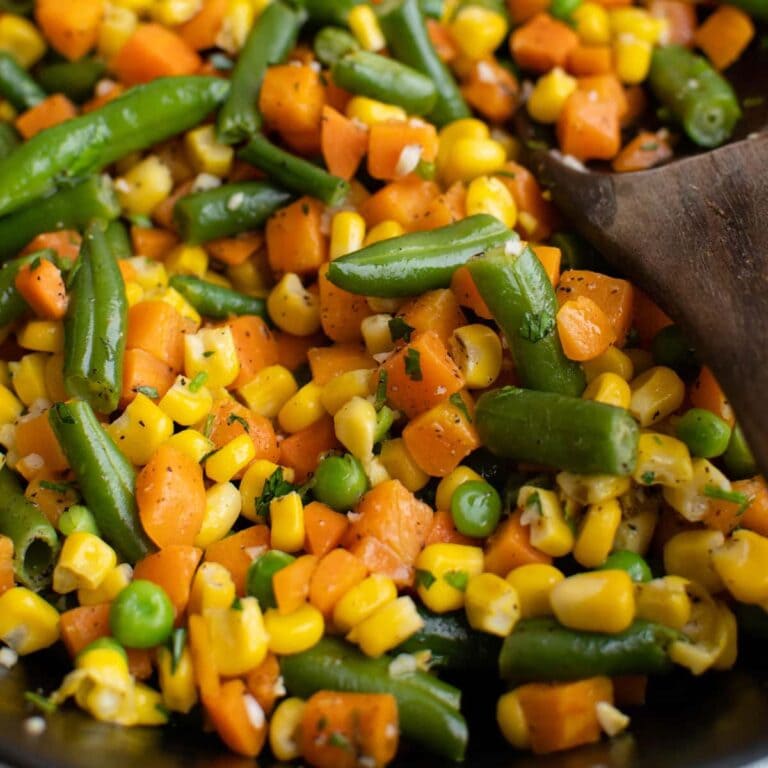 Garlic Butter Frozen Vegetables
Budget friendly frozen vegetables are transformed with a couple of simple, and tasty, tricks!
Ingredients
16

ounce

package frozen mixed vegetables

usually peas, carrots, green beans and corn

1

cup

low sodium chicken broth

2

cloves

garlic

minced (1 teaspoon)

2

tablespoons

butter

2

tablespoons

grated Parmesan cheese

fresh is best but packaged will work

1

tablespoon

fresh minced flat-leaf parsley
Instructions
Heat chicken broth in a medium saucepan or large skillet oven medium heat until simmering. Add vegetables and cook for 5-10 minutes, stirring often, until heated through. Drain and return vegetables to the pan.

Add butter and garlic to the pan and cook over medium heat for several minutes, stirring often, until butter is completely melted and coats the vegetables.

Remove from heat. Season with salt and fresh cracked black pepper if desired, and stir in fresh minced parsley and sprinkle on some Parmesan cheese, if desired.
Notes
Nutritional information is approximate and will vary based on actual ingredients used.
Recipe will feed 4-6 people as a side dish at roughly ½ to ¾ of a cup per serving.
Feel free add other flavorings, like lemon or dill.
Nutrition
Serving:
0.5
cup
Calories:
97
kcal
Carbohydrates:
11
g
Protein:
4
g
Fat:
5
g
Saturated Fat:
3
g
Cholesterol:
12
mg
Sodium:
107
mg
Potassium:
194
mg
Fiber:
3
g
Sugar:
1
g
Vitamin A:
4026
IU
Vitamin C:
9
mg
Calcium:
39
mg
Iron:
1
mg