Air Fryer Fish Sticks are a game changer! Making frozen fish sticks in the air fryer is so easy, and they're finished in about as much time as it takes to preheat your oven!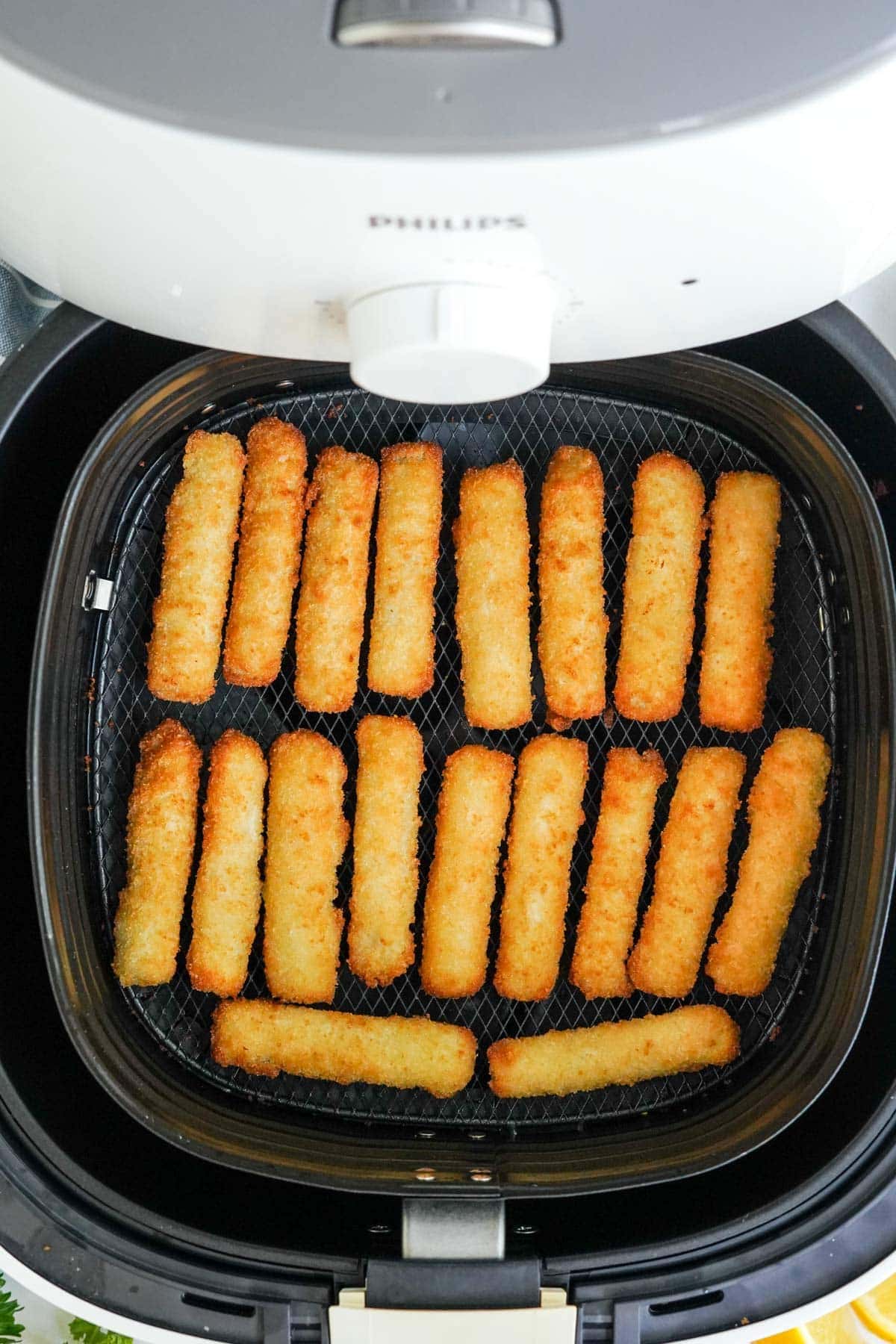 When you have a busy family, getting dinner on the table fast is a priority. Sure it's great if you have time to make a Million Dollar Spaghetti Casserole or Grilled Salmon Kabobs and Roasted Broccoli, but sometimes there's just no time or energy for cooking a whole meal so it's air fryer fish sticks to the rescue.
Air Fryer Fish Sticks Recipe
More like a method than a recipe, but I'm about to blow your mind. You already know the air fryer is an awesome kitchen appliance, but did you realize how much better your food is going to taste?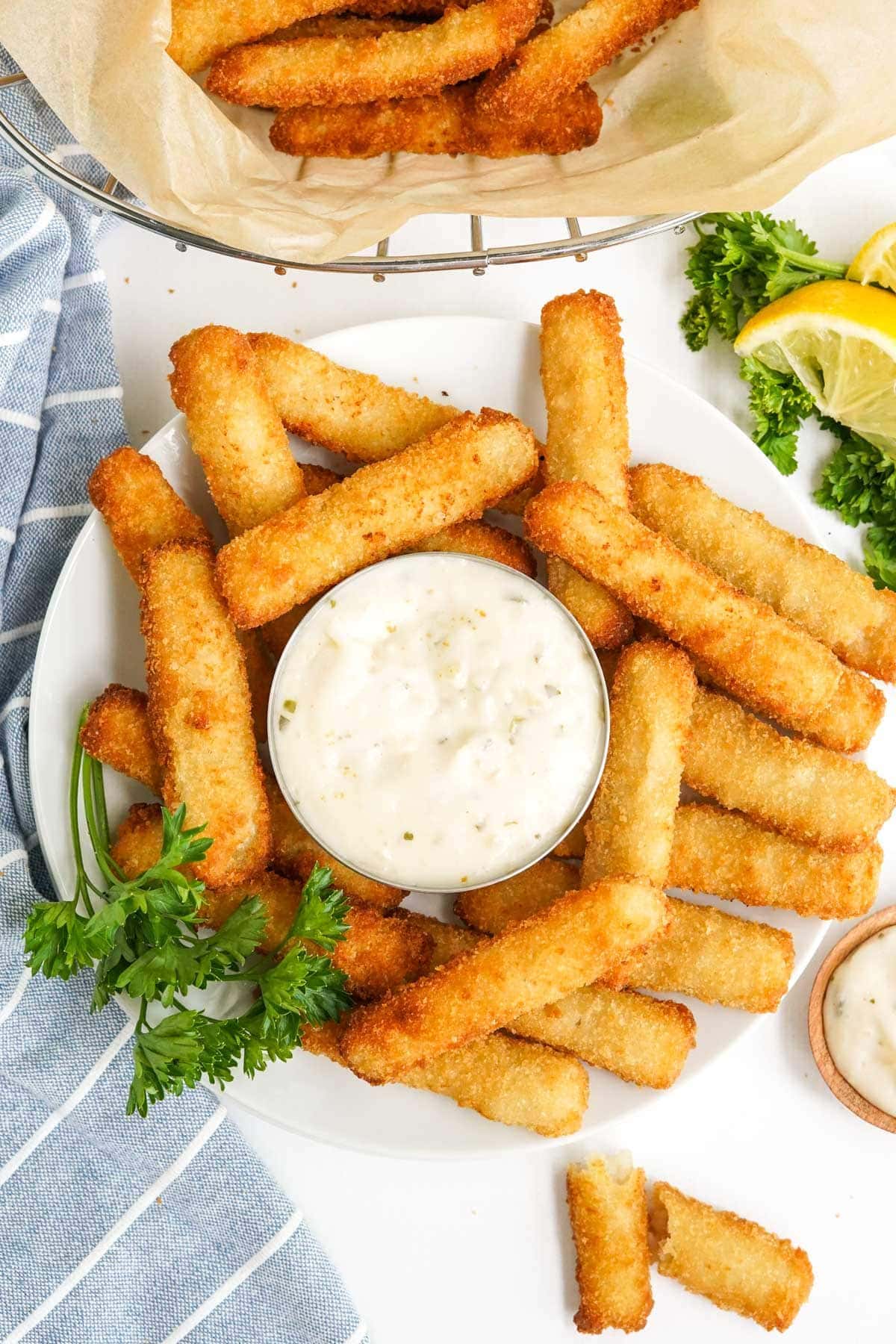 We can cook a few for an after-school snack or make a whole package of fish sticks for dinner. Either way, air fryer fish sticks only take 8 minutes! They come out way better than on a baking sheet in the oven – the outside is super crispy and crunchy and not at all soggy, and they are tender and flaky on the inside.
Be sure to try Air Fryer Tater Tots, Air Fryer Buffalo Chicken Egg Rolls, and Air Fryer Shrimp. And for resources, including my favorite air fryer and loads of tips, check out Air Fryer Recipes.
Ingredients and Equipment
1 package of frozen fish sticks – I prefer the Trader Joe's or Whole Foods brands for the best quality and flavor.
Large Air Fryer – I've linked to one of the best, affordable air fryers. If you have 4 or more people in your family, you want at least a 6-quart (usually labeled as XL or XXL).
No oil or cooking spray is needed – the fish sticks get nice and crispy and golden without any help.
How To Make Air Fryer Fish Sticks
Preheat the air fryer to 400 degree. I recommend doing this even if your unit's manual tells you it's not necessary to preheat. This will provide the quickest, crispiest result and it only takes 2 minutes.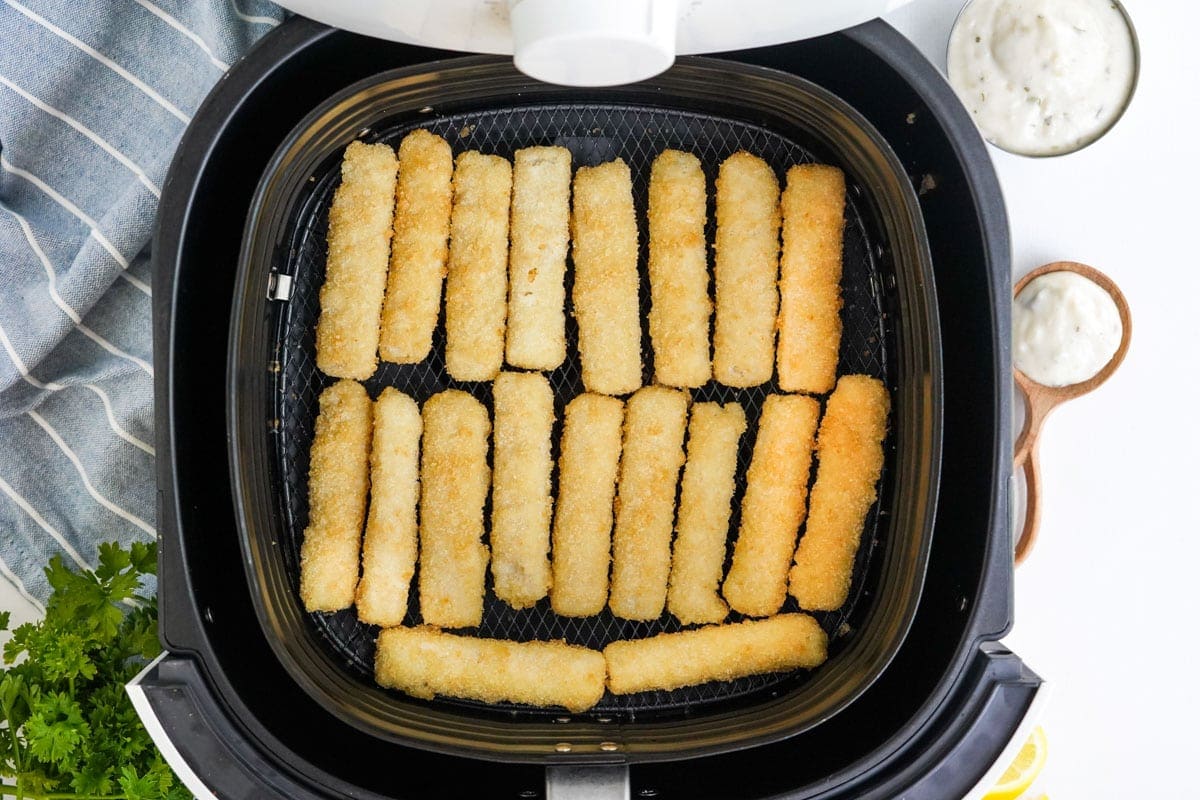 Place frozen fish sticks in an ever layer in the air fryer basket and air fry for 8 minutes per batch. Depending on the size of your unit and the amount you need, you may need to work in batches. An entire 24 ounce package should only take two batches.
Serve fish sticks with your choice of dipping sauce.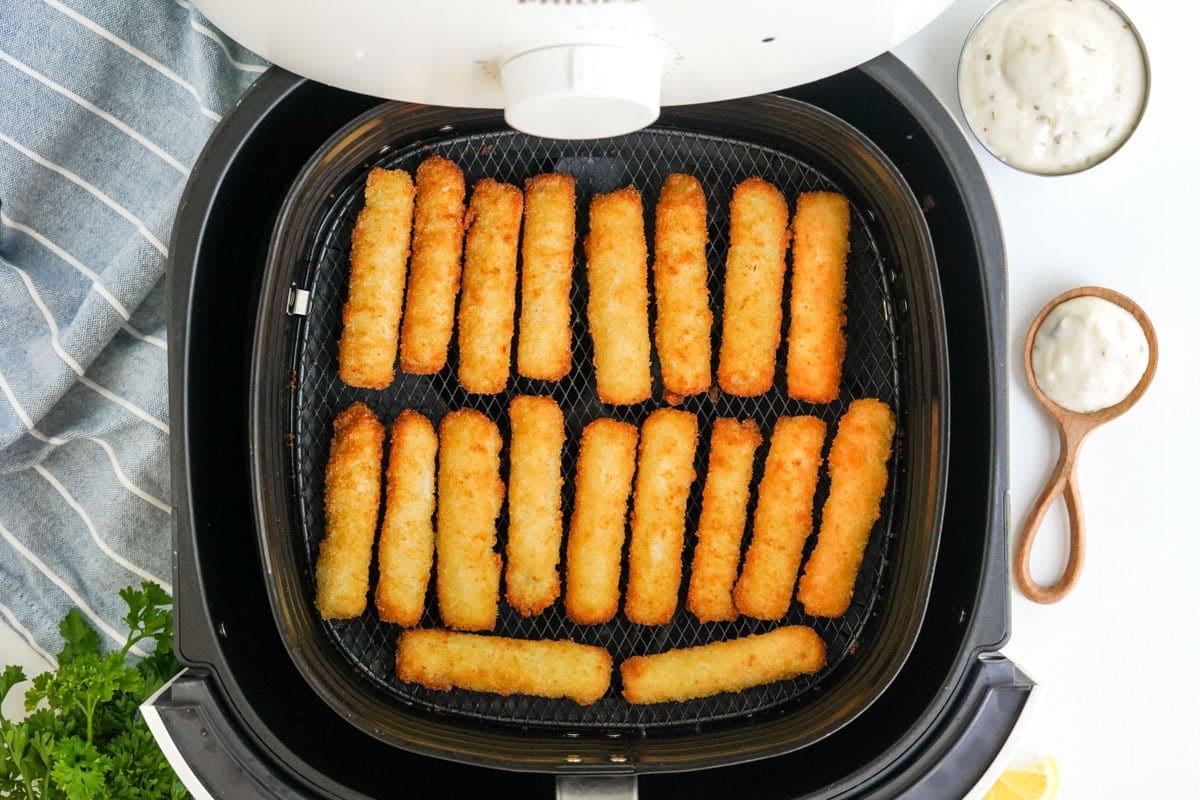 Air Fryer Fish Sticks from Scratch
Looking to make fish sticks from scratch to cook in your air fryer?
You'll need 16 ounces of whitefish like pollock, cod or hake. Thaw completely and pat the fish dry with paper towel.
Put some all-purpose flour into a bowl and mix with a little salt, pepper and garlic powder. Dip the fish in it and shake off excess.
Whisk an egg in a bowl and dip the fish in to coat.
Press regular or panko breadcrumbs into the outside of the fish and air fry for about 5 minutes at 400℉.
Frequently Asked Questions
Can't I just pile everything into the air fryer to make it go faster?
Food cooked in the air fryer needs to be exposed to the hot air on all sides, otherwise, it might not get crunchy. So working in batches is your best option if you need more than what will fit in a single layer.

You can layer the fish sticks in your basket, but you'll need to shake it up a few times during cooking so all sides can cook evenly. You'll also need to add a few minutes to the cook time.
How long do you cook fish sticks in the air fryer?
Each batch of fish sticks takes about 8 minutes to cook. Fish fillets are usually frozen raw, and they take about 12-15 minutes. Be sure to check that the internal temp has reached 145℉.
Are fish sticks real fish?
Most brands use a type of whitefish, like Alaskan pollock, cod, or haddock. Pollock is the most common, and it's the same fish used to make imitation crab. They are either coated with breadcrumbs or a batter.
What are the healthiest fish sticks to buy?
I recommend Trader Joe's or 365 Whole Foods brand of fish sticks for the healthiest and tastiest profile. Fish sticks are high in protein, but some brands add fillers, so I recommend to always read the packaging and look for fish sticks made with whole fish instead of minced fish.
Are fish sticks healthier than chicken nuggets?
This answer is a bit nuanced, because can either of these really be considered "healthy"? Side by side, they are comparable, both having a good amount of protein. The key is going to be the brand that you buy. Fish sticks with whole fish and chicken nuggets with whole chunks of chicken are going to be the best choice.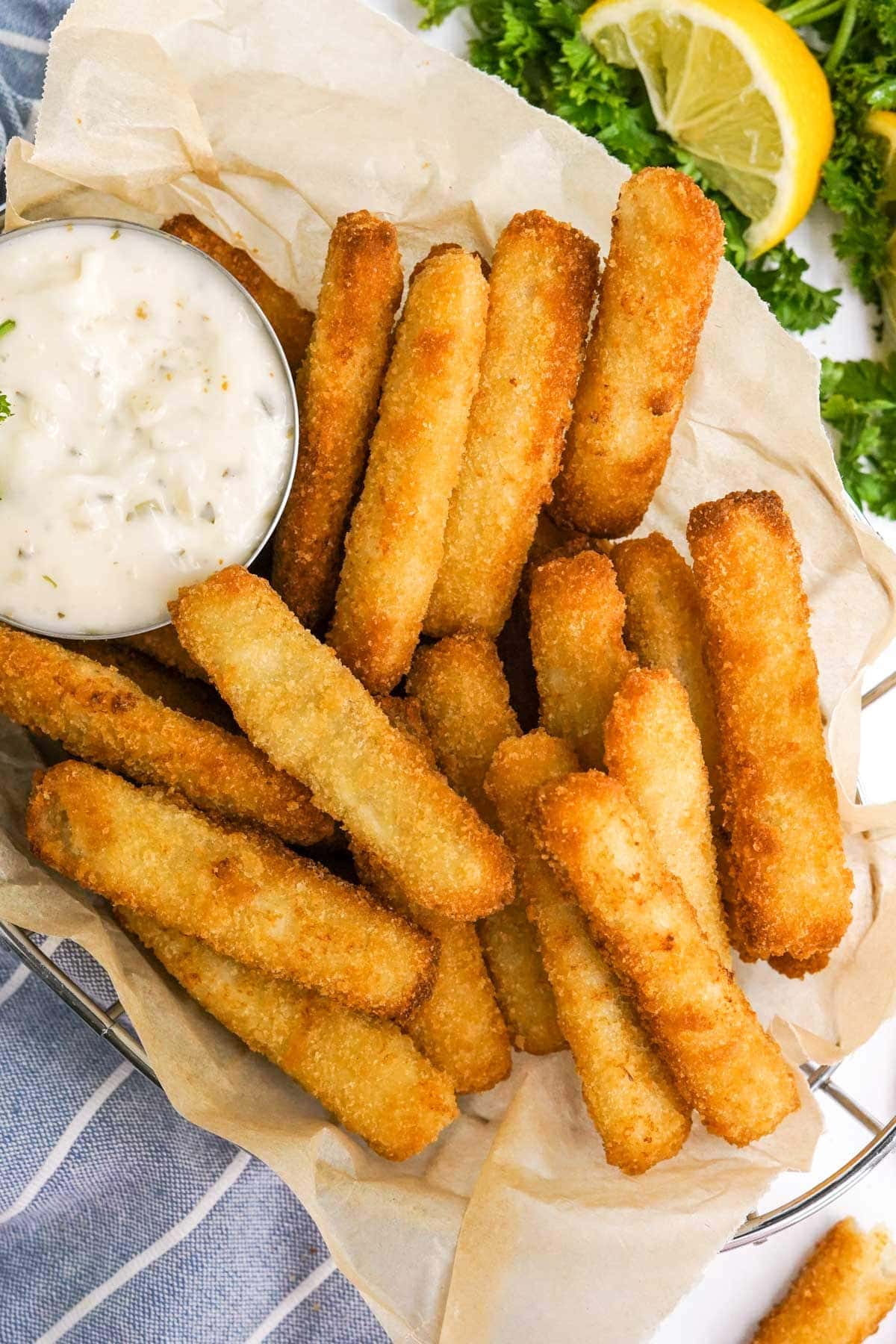 How to Serve
Fish sticks you buy today are a far cry from the wimpy slivers of breaded "fish" you might remember from the school cafeteria. Serve them for lunch or dinner and make them a little fancy if you want. Here are some ideas:
To make these a meal, serve with your favorite vegetables, like Honey Roasted Carrots or Garlic Green Beans and a starch like Roasted Lemon Potatoes.
Serve with your favorite dip, like ketchup, ranch dressing, tartar sauce, cocktail sauce.
Serve them like fish and chips, with some french fries and a side of malt vinegar or lemon wedges. Sprinkle some fresh parsley, black pepper or Old Bay seasoning over the top to be extra fancy.
Stuff them in tortillas and top with cabbage and cotija cheese for an easy fish taco.
Layer them on buns for a delicious fish sandwich.
Storage and Reheating
If you have leftovers, you can store them in an airtight container in the fridge and reheat them in your air fryer. That being said, I recommend only cooking what you think you'll need. Reheating again may not always yield the best results.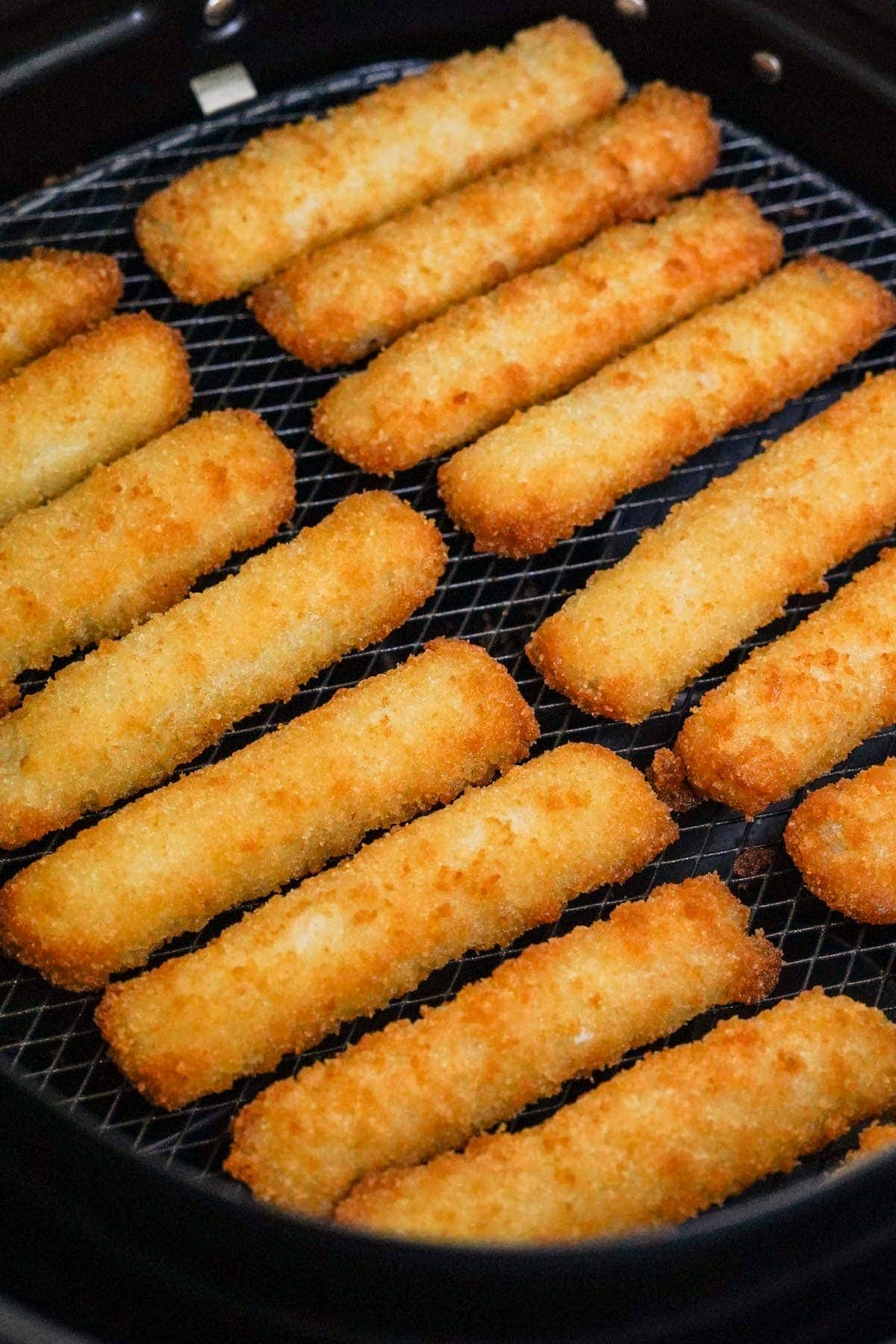 More of the Best Air Fryer Recipes
Recipe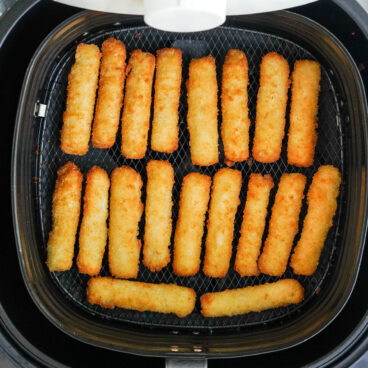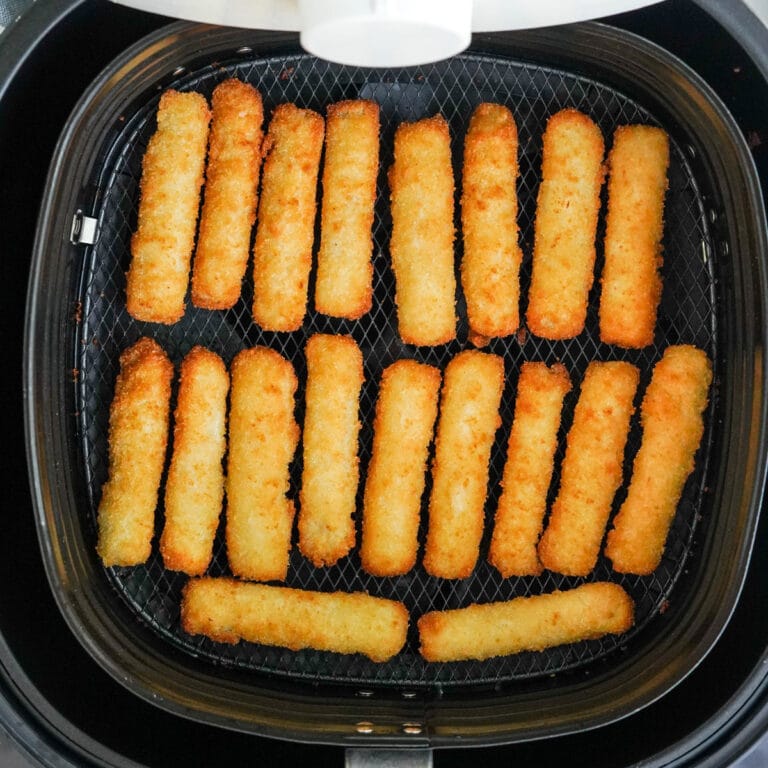 Air Fryer Fish Sticks
Air Fryer Fish Sticks are a game changer! Making frozen fish sticks in the air fryer is so easy, and they are crispy and crunchy every time.
Ingredients
24.5

ounce

package frozen fish sticks

about 45 fish sticks

Optional, for serving – Tartar Sauce, Ketchup, Lemon, Herbs for serving
Instructions
Preheat the air fryer to 400 degrees.

Place the frozen fish sticks in the basket in an even layer. You will need to work in batches depending on the size of your air fryer (see notes). Cook for 8 minutes or until golden brown.

Serve with tartar sauce, ketchup, lemon and herbs if desired.
Notes
Nutritional information – please refer to your package for nutritional content.
There is no need to flip or turn the fish sticks.
For best results, air fry your fish sticks in an even layer. This means you may have to work in batches in order to cook all that you need. You can also cook the entire box at once, but if you do you will need to shake the air fryer basket every couple of minutes and the cooking time may increase by 2-4 minutes.
Nutrition
Serving:
7
g
Calories:
270
kcal