Roasted Lemon Potatoes are crispy on the outside and fluffy on the inside. Tossed in olive and Greek-inspired spices, these roasted potatoes are a completely addictive and truly flavorful side dish.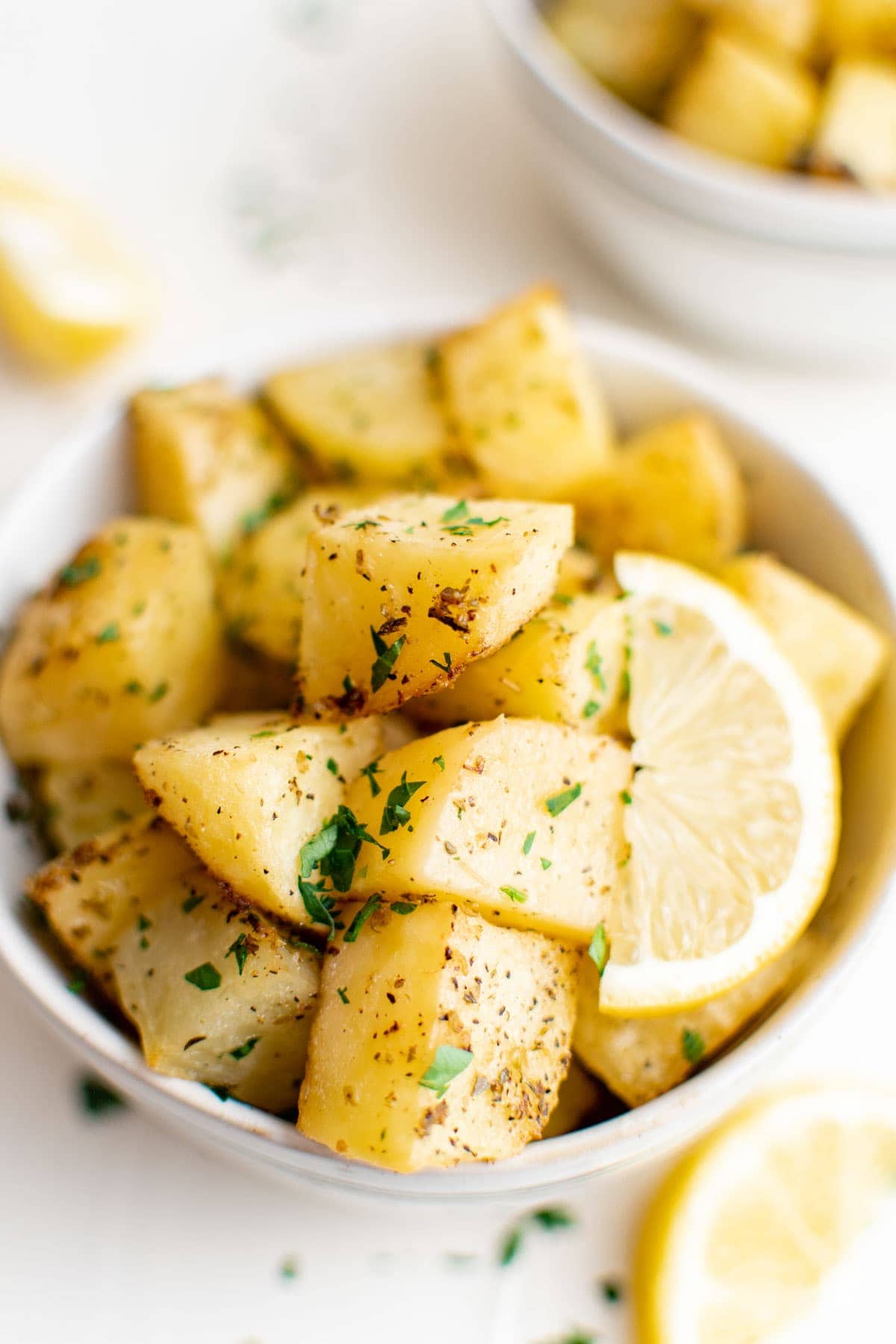 Lemon potatoes are a delicious way to amp up the flavor of your favorite meal. They are perfectly paired with similar flavors like Honey Lemon Roast Chicken, Air Fryer Salmon with lemon butter sauce, and Lemon Pepper Wings. Add a crisp garden salad or some roasted broccoli for a complete meal.
Greek Inspired Lemon Potatoes
Greek lemon potatoes are traditionally baked for over an hour, first soaking in a broth of garlic and lemon, then roasting for a crispy finish. They are delicious, but the time it takes to cook them makes them a little less approachable than I would like.
To shorten the cooking time and make this a quicker side dish, I skipped the broth and just coated the potato chunks in a flavorful marinade of olive oil, lots of lemon, and other spices. Similar to how I roast red potatoes, I spread them out on a lined baking sheet and roast at a high temperature to get them crispy on the outside and tender inside.
The end result is a tangy lemon flavor in about half the time. I finish them off with parsley for a burst of freshness.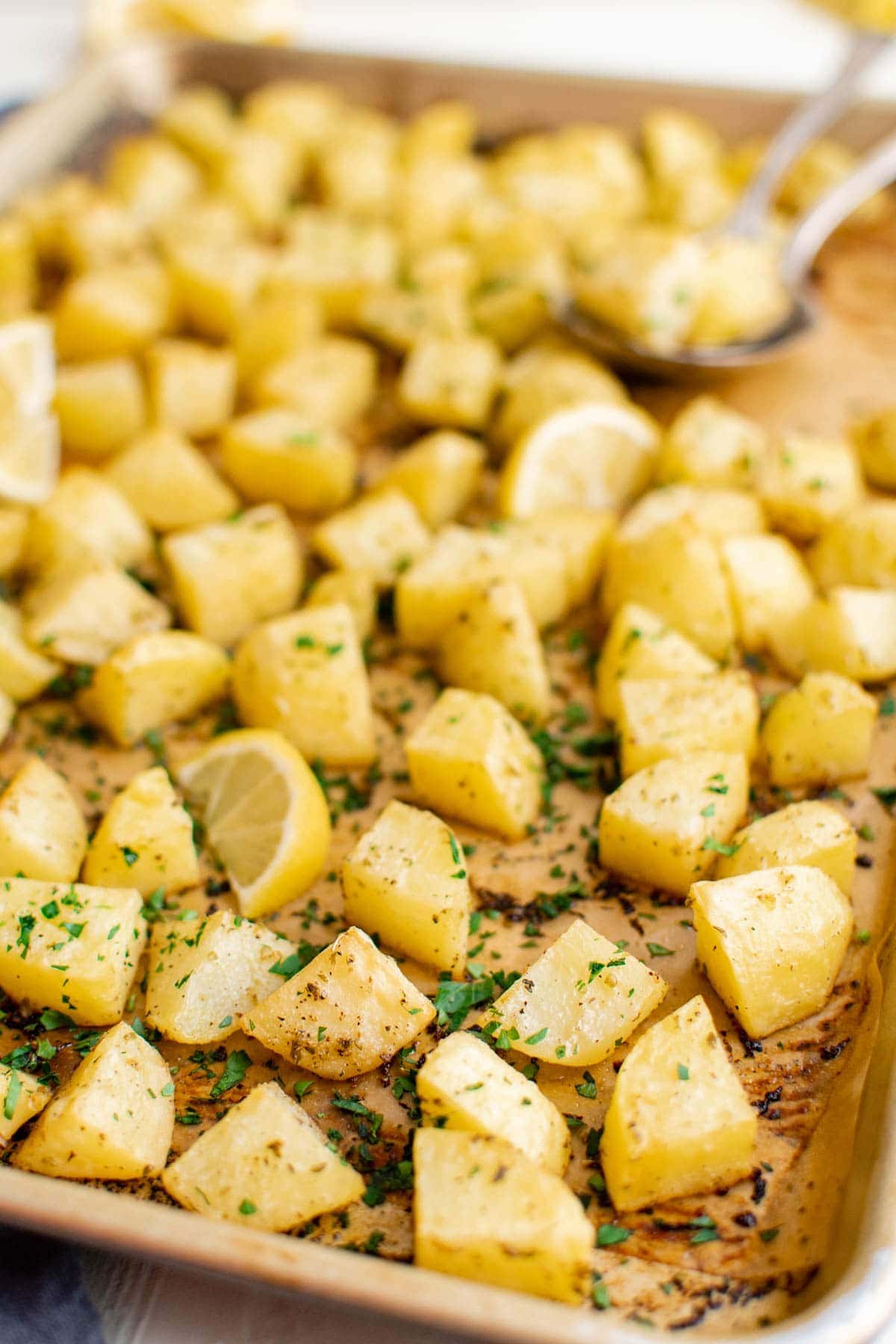 Ingredients and Substitutions
Yukon gold potatoes – These potatoes have a yellow flesh and thin skin that you can either peel or leave as is. They are creamy in texture making them perfect for roasting. You can also make this recipe with red potatoes, fingerling, or even russets, although I recommend peeling the russets.
Salt and pepper
Olive oil – Use a good quality, extra virgin olive oil. It may feel like a lot so just make sure to coat every inch of the potatoes to get that crispy finish.
Garlic powder – Other recipes for lemon potatoes use minced garlic cloves. I have found that fresh garlic tends to burn so I used garlic powder instead.
Ground mustard – This ingredient offers a slight tang that balances the sharpness of the lemon.
Lemon juice and zest – You can't have lemon potatoes without lemon juice. I also added zest for a more intense lemon bite.
Minced parsley – Parsley is the perfect finish for lots of recipes. It adds not only freshness but color.
How to Roast Lemon Potatoes
Cut the potatoes into chunks or wedges. Keeping them even in size is important for even cooking. I usually peel them but it's a personal choice.
Whisk together the sauce and coat the potatoes. Keep stirring until every bit of the potatoes is coated with the oil.
Use a large rimmed baking sheet and cover it with parchment paper or nonstick foil. Use a slotted spoon the arrange the potatoes on the sheet, and keep them in a single layer so the air can circulate around them and they will get nice and crispy.
Roast them at 425 degrees F for about 30-40 minutes. Toss them once to ensure even cooking. They should be golden and crispy on the outside and easily pierced with a fork when they're finished. The cooking time may vary from oven to oven.
Sprinkle with parsley for color and freshness, and add some lemon wedges to the serving plate for a pretty finish.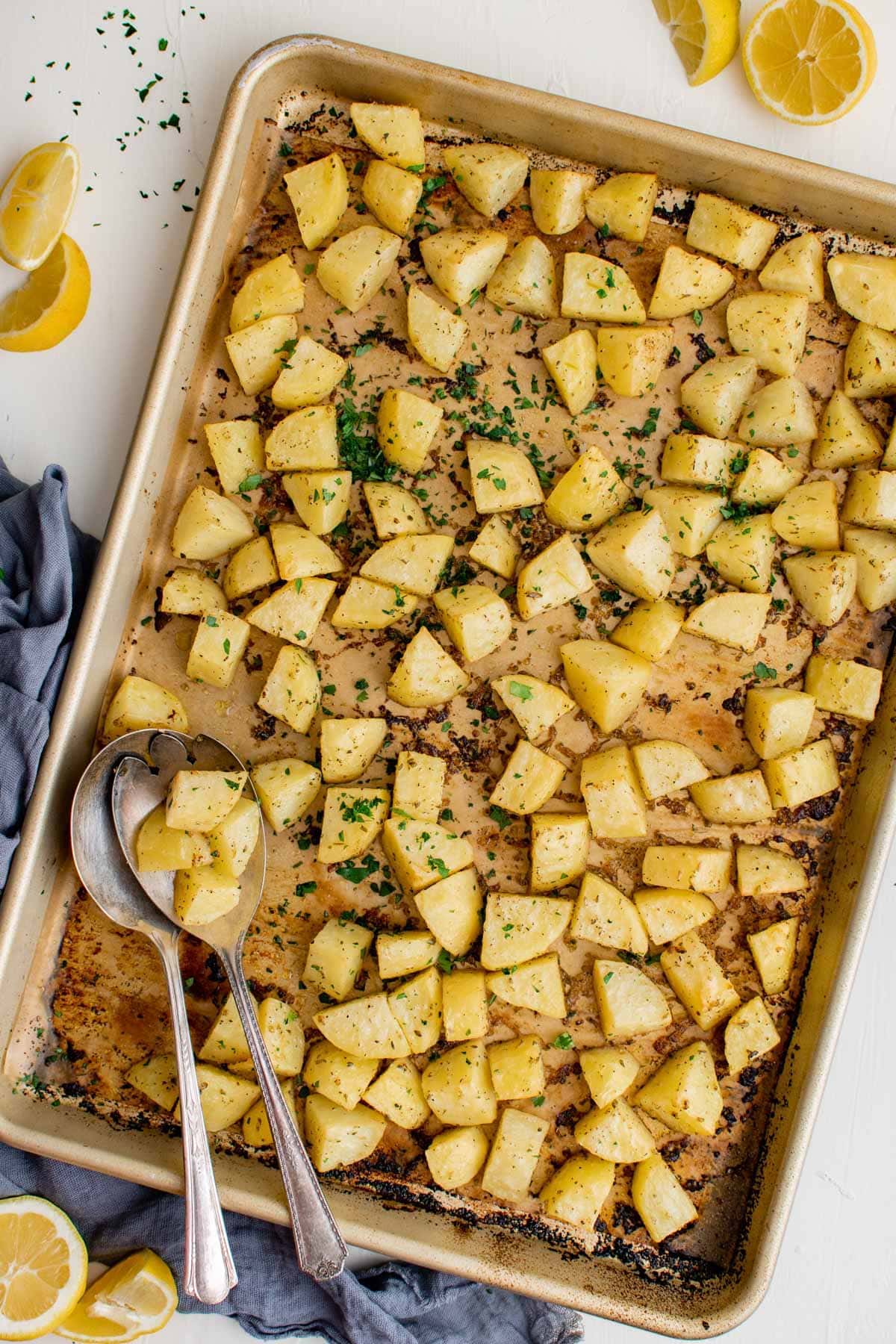 Make Ahead, Storage and Reheating
Make ahead: Did you know you can cut potatoes up to 24 hours in advance? Scrub the potatoes clean, then peel (optional) and cut as desired. Place cut potatoes in an airtight container and cover completely with water. Seal the container and store in the fridge until ready to use. For crispy lemon potatoes, drain the water and lay out the potatoes on a flat surface to dry for at least 30 minutes.
Storage: Store roasted potatoes in an airtight container in the refrigerator for 3-4 days. You can also freeze them for up to 4 months.
Reheating: If frozen, thaw completely, then heat in a skillet with a little bit of olive oil or roast in a 375 degree oven until heated through. They may not get as crispy as they were when fresh, but they will still be delicious.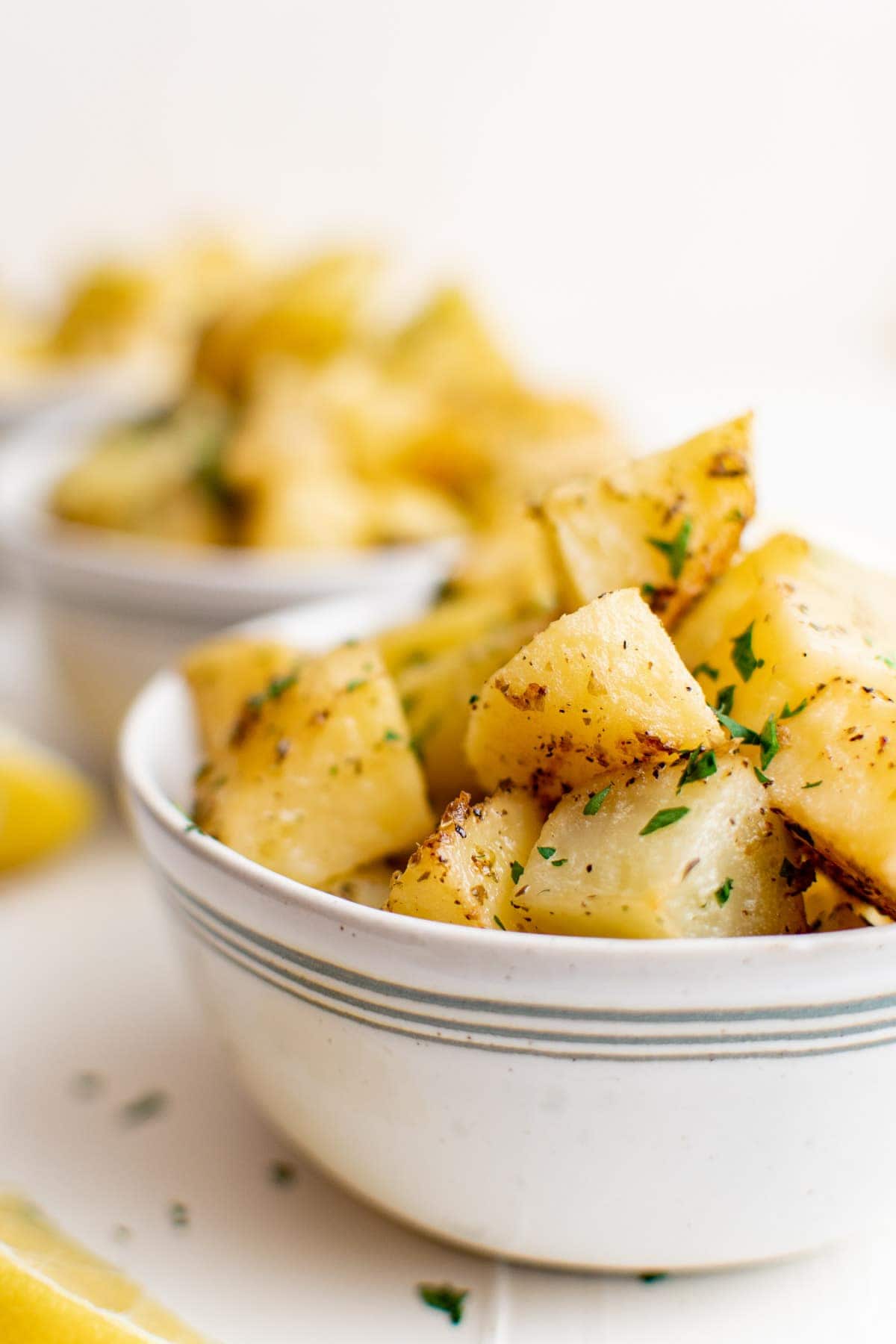 More Potato Recipes to Try
Recipe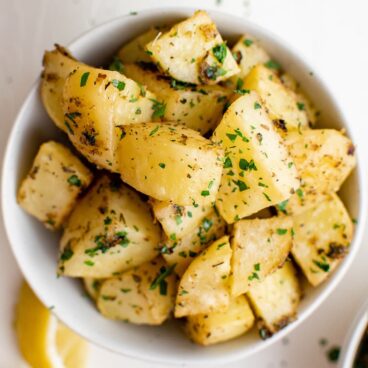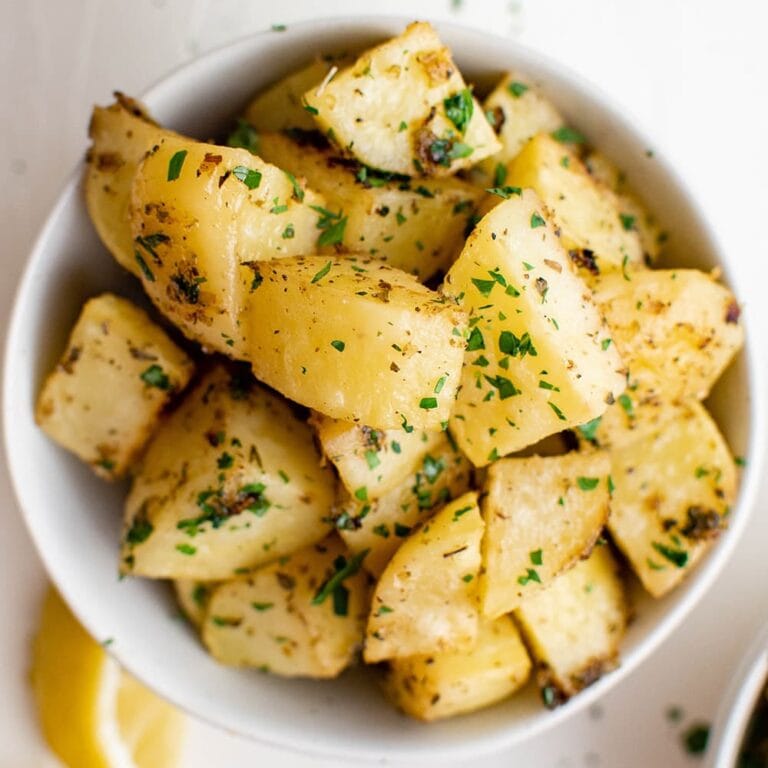 Lemon Potatoes
Roasted Lemon Potatoes are crispy and flavorful, tossed in olive oil and Greek inspired spices then roasted for a truly addictive side dish.
Ingredients
3

pounds

yukon gold potatoes

(other types will work)

⅓

cup

olive oil

2

teaspoons

oregano

1

teaspoon

salt

1

teaspoon

black pepper

1

teaspoon

garlic powder

½

teaspoon

ground mustard

¼

cup

lemon juice

2 lemons

1

teaspoon

lemon zest

1 lemon

2

tablespoons

freshly minced parsley
Instructions
Preheat the oven to 425 degrees F. Line a large rimmed baking sheet with parchment paper.

Wash and peel potatoes, cut them into chunks or wedges, as evenly in size as possible. Place them in a large bowl.

In a small bowl, whisk together olive oil, salt, pepper, garlic powder, oregano, lemon juice and zest. Pour over potatoes and toss to coat.

Arrange potatoes in a single layer on the lined baking sheet. Roast in the preheated 425 degree oven for 40-50 minutes, tossing once to ensure even cooking.

Once the potatoes are crispy, golden and easily pierced with a fork, remove from the oven and sprinkle with fresh minced parsley. Serve immediately.
Nutrition
Calories:
288
kcal
Carbohydrates:
41
g
Protein:
5
g
Fat:
12
g
Saturated Fat:
2
g
Sodium:
402
mg
Potassium:
986
mg
Fiber:
5
g
Sugar:
2
g
Vitamin A:
19
IU
Vitamin C:
49
mg
Calcium:
42
mg
Iron:
2
mg