Grilled potatoes are tender, smoky and so flavorful. You just found your new favorite summer side dish!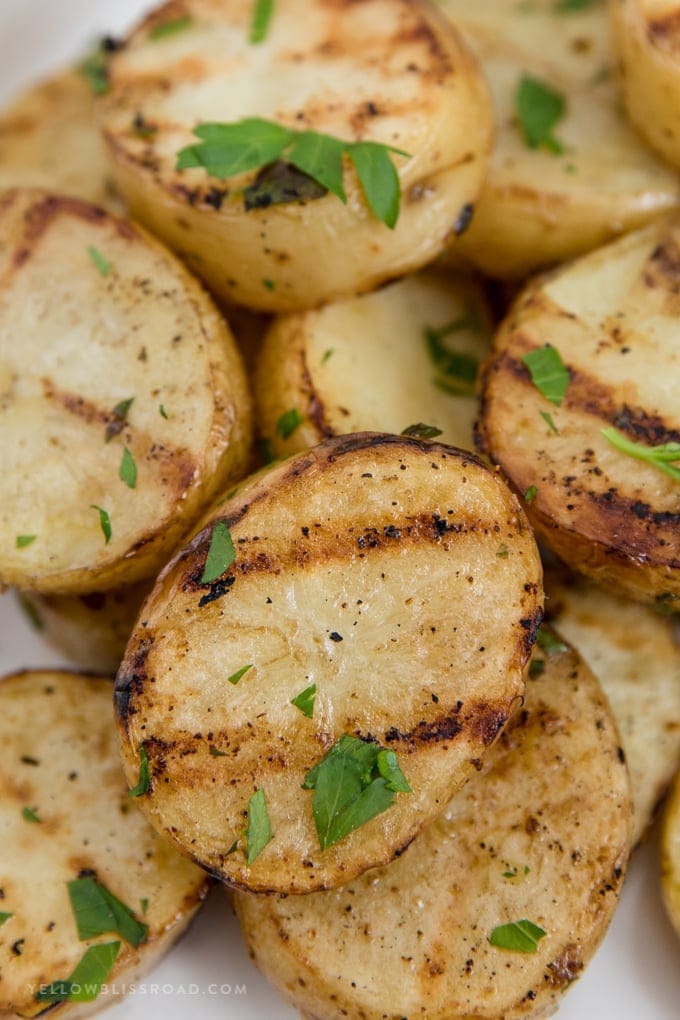 Learn how to grill potatoes in just a few simple steps. These are so easy to make and perfect for serving with Grilled Steak, Grilled Zucchini and Grilled Chicken Thighs. Splash a little lemon on top for a tangy bite.
The simple potato seasoning is easy – just garlic powder, parsley, salt and pepper, mixed with some olive oil or melted butter. This simple sauce is tossed with the finished potatoes to give them loads of flavor. Go a little extra and add some paprika, lemon pepper or a splash of lemon juice!
These grilled potatoes are so tender and fluffy and smoky, you'll need them to be part of your grilling menus from now on!
Pin this recipe for later!
Why We Love This Grilled Potatoes Recipe
Family Friendly – My family went nuts for these potatoes. Kids love them and grown-ups love them!
They Go With Everything! Grilled potatoes make a delicious side dish for pretty much any of your grilled favorites, from chicken to Tri Tip.
Real Smoked Flavor – The grill infuses so much smoky flavor, and that char! Oh my goodness who would've thought that potatoes could char like that but it is so tasty.
Simple Seasonings – Just garlic powder, salt, and pepper, plus some olive oil and parsley, will finish these potatoes off. You really could use other flavors, like taco seasoning or lemon pepper.
Ingredients for Grilled Potatoes
Yukon Gold Potatoes – Boil whole after washing and scrubbing, then slice and grill.
Salt and Pepper – Salt the water generously when boiling the potatoes.
Olive Oil – Help the seasonings stick to the potatoes; you can also try melted butter.
Garlic Powder – for a hint of garlicky flavor.
Black Pepper
Minced Parsley – Fresh or dried (but I prefer fresh).
Optional Variations – Paprika, Oregano, Lemon Juice, Dill, Parmesan Cheese.
How To Grill Potatoes
Grilling potatoes is a simple, three-step process.
Par-boil. We start by slicing the potatoes into half-inch thick rounds. This will give them nice flat sides so they don't roll around on the grill, and will also let the flavor infuse into the flesh. Toss the potato slices into some boiling salted water to soften them and help speed up the cooking process. Because you're going to be throwing them on the grill, you just need them partially cooked so they don't have to stay on the grill for too long and risk burning.
Season. Once the potatoes are parboiled, coat them in some olive oil, garlic, and parsley. The oil will keep the potato flesh from drying out and the garlic and parsley will add much needed flavor. Let the potatoes just chill out like that until you're ready to grill them.
Grill. Grill over medium heat for a few minutes per side. I like to flip them a few times to make sure they cook evenly and get nicely charred on both sides. Once they're done, you can transfer them to a serving platter and garnish with some fresh minced parsley and a few lemon wedges.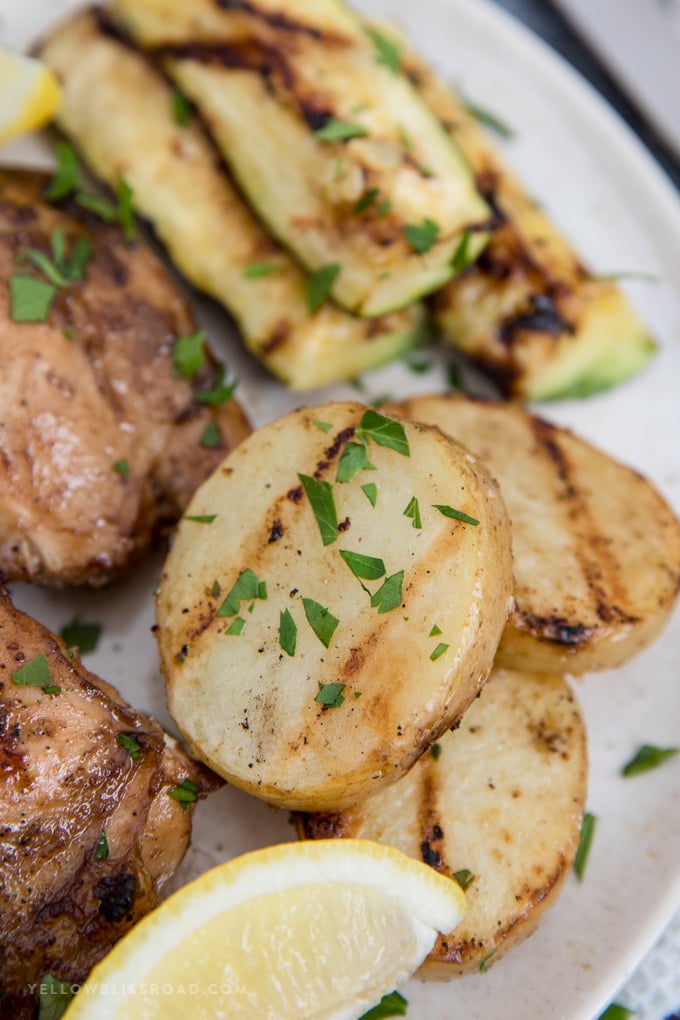 Best Potatoes for Grilling
Yukon Gold Potatoes – I've tried them all, and I've found Yukon Golds to be my favorite potato for grilling. They are ideal for roasting and grilling because they hold their shape well. And no need to peel them!
Red Potatoes – Like the Yukons, these will hold up well to be sliced and diced.
Baby Potatoes are also delicious on the grill, but you'll need to corral them in a grill pan.
Russets are too starchy for grilling. They tend to fall apart a little.
FAQs
Do you need to boil potatoes before grilling?
I choose to par-boil the potatoes because that means less time on the grill and less time for them to burn. Placing potatoes straight on the grill would take about 25-30 minutes, while my method takes about half the time – 10 minutes to par-boil, then about 6 minutes on the grill.
How long does it take to grill potatoes?
If they have been par-boiled, it takes about 3 minutes per side. You can let them go a little longer if you want more char. If you start with raw potatoes, it can take 25-30 minutes.
Can you put potatoes directly on the grill?
Yes! Slice the boil and slice the potatoes and place them directly onto the grates. They will get a nice char and flavor.
Are Potatoes healthy?
Potatoes are a starchy vegetable and also a healthy carb. Their skin is rich in fiber, they are low in calories, and full of vitamins and minerals. It's when you start adding lots of butter and cream or deep frying them that they lose most of their health benefits.
Serving Suggestions
Here are a few ideas for a complete meal on your grill, featuring my favorite potato recipe!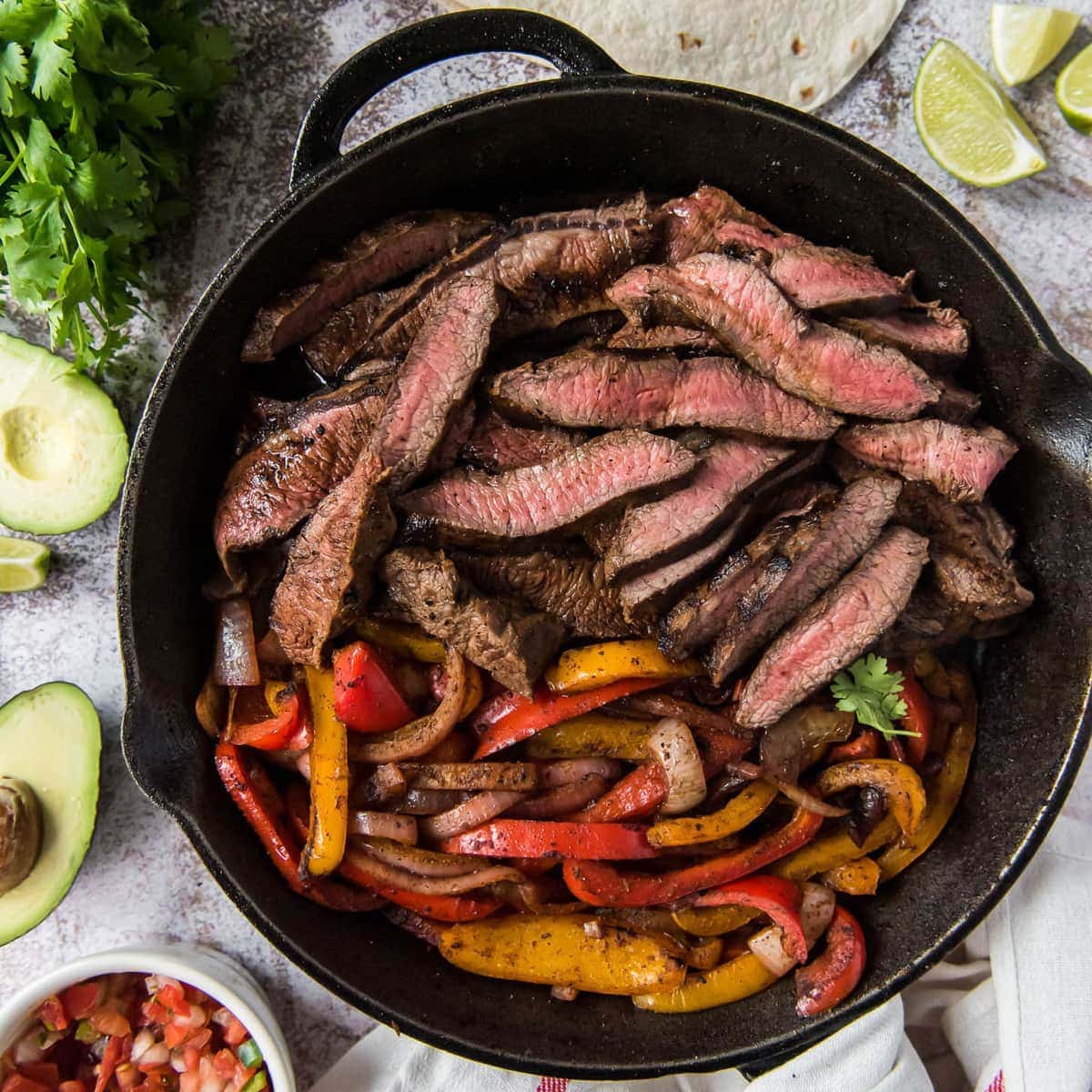 Storing and Reheating Leftovers
Refrigerator Storage – Store leftover potato slices in an airtight container for up to 3 days in the fridge.
Freezing – Arrange them on a baking sheet covered with parchment paper and place them in the freezer for an hour. Once solid, the potato rounds can be store in a resealable plastic freezer bag.
Reheating – I highly recommend reheating in an air fryer if you have one. Otherwise in a hot skillet with a little oil with crispy up the edges.
Ways to Use Leftovers – These potatoes are great for breakfast! Dice and fry them in a skillet to make home fries to serve with eggs and bacon, or stir them into a sausage egg casserole. And wouldn't they be fantastic in a potato salad?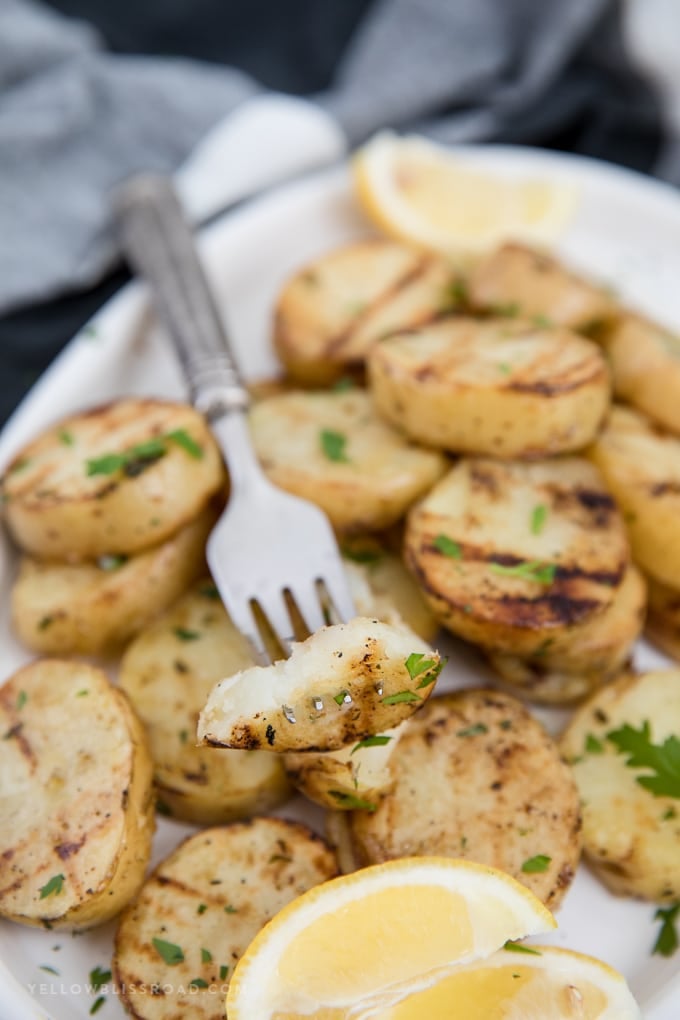 Hot Tips
Cut the potatoes into equal-sized rounds for even cooking.
Brush on olive oil for cooking – it will help keep the potatoes from sticking to the grates, and help keep them from drying out.
Drizzle on a little butter and lemon juice after grilling for extra, unexpected flavor.
If you prefer your spuds extra crispy, skip the par boil or cut the time in half and grill them for longer; up to 10 minutes per side until they have a nice char and crispy edges.
Versatile Potato Recipes
Recipe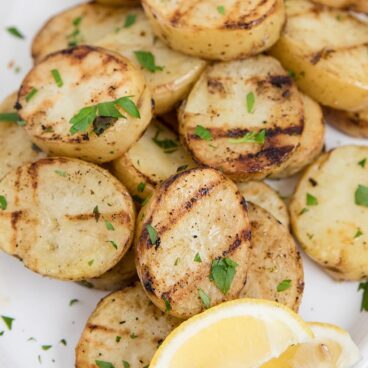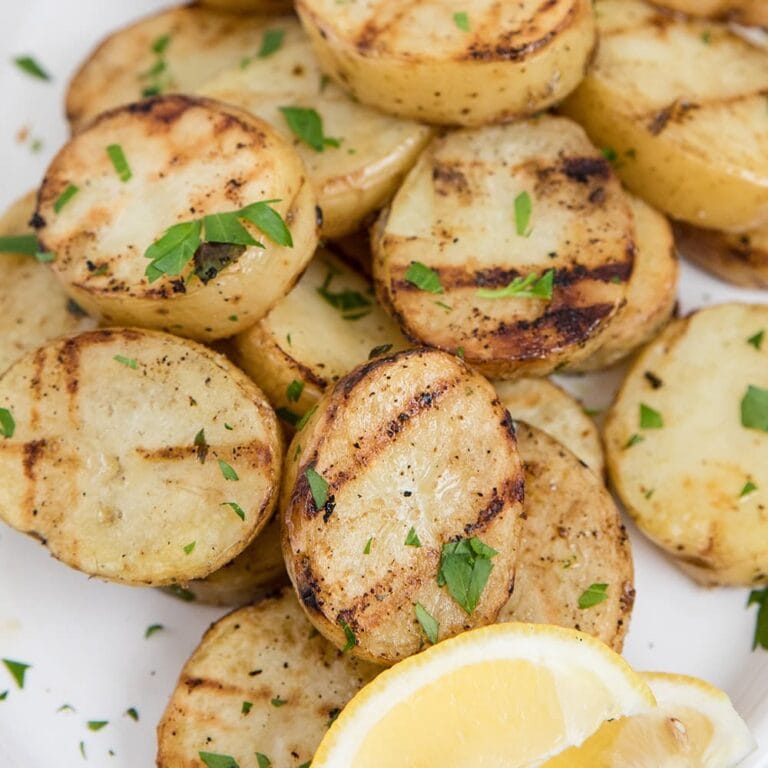 Grilled Potatoes Recipe
Grilled potatoes are tender, smoky and so flavorful. You just found your new favorite summer side dish!
Ingredients
3

pounds

of Yukon gold potatoes

about 8 medium sized potatoes

3

tablespoons

Extra Virgin Olive Oil

½

teaspoon

kosher salt

¼

teaspoon

black pepper

½

teaspoon

garlic powder

1

tablespoon

fresh chopped parsley

plus more for garnish
Instructions
Bring a large pot of water to a boil and add potatoes.

Scrub potatoes clean. Slice into ½-inch thick slices and place into the boiling water and cook over medium heat for about 10 minutes. Potatoes will not be cooked all the way through.

Meanwhile, in a large, shallow dish/pan, whisk together olive oil, parsley, garlic powder, salt and pepper. Pour the olive oil mixture into a shallow dish.

Drain the potatoes well, patting them dry if necessary, and toss them in the olive oil mixture.

Preheat an outdoor grill to medium heat (350-375 degrees F).

Shake excess oil off of each potato slice and place onto the grill 2-3 minutes per side. Transfer potatoes to a plate and tent with foil until ready to serve.

Garnish with fresh parsley and lemon wedges.
Nutrition
Serving:
1
¼ potatoes
Calories:
200
kcal