Nothing makes for a better side dish in the summer than potato salad. This Easy German Potato Salad is a short-cut version that my German grandma used to make for us. It's a vinegar and oil based potato salad that's delicious with fish, brats, pork or just about anything you could think of!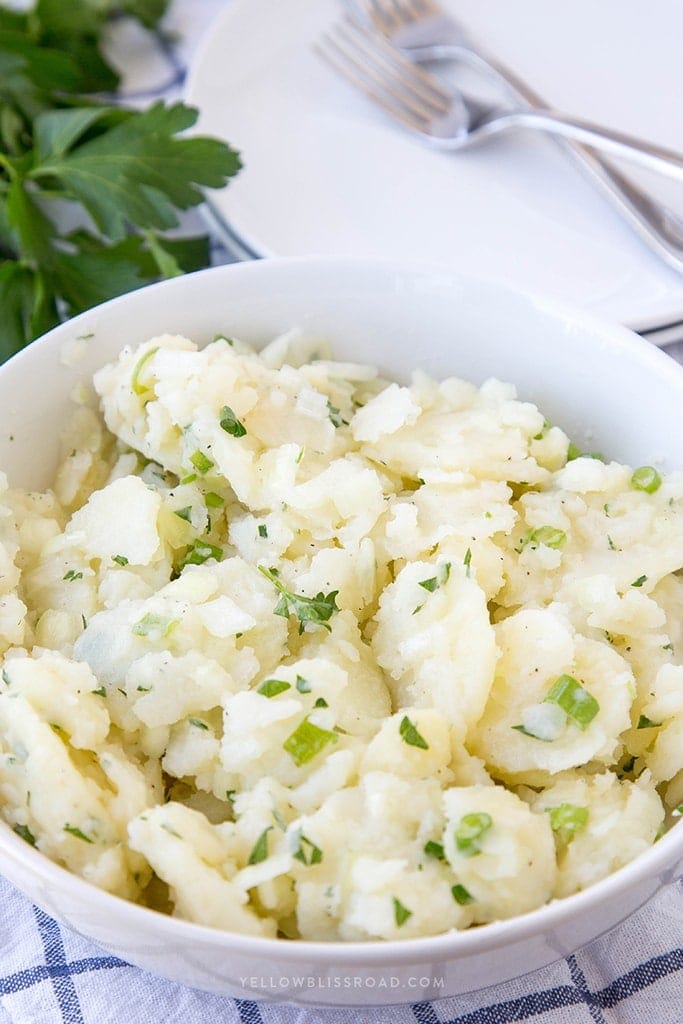 If you were to look up German Potato Salad you would get tons of different versions. Some are made hot with a bacon dressing, some are steeped in chicken or beef broth for flavor. The difference between German potato salad recipes and American potato salad, is that they are vinegar based and don't use mayonnaise like traditional American recipes.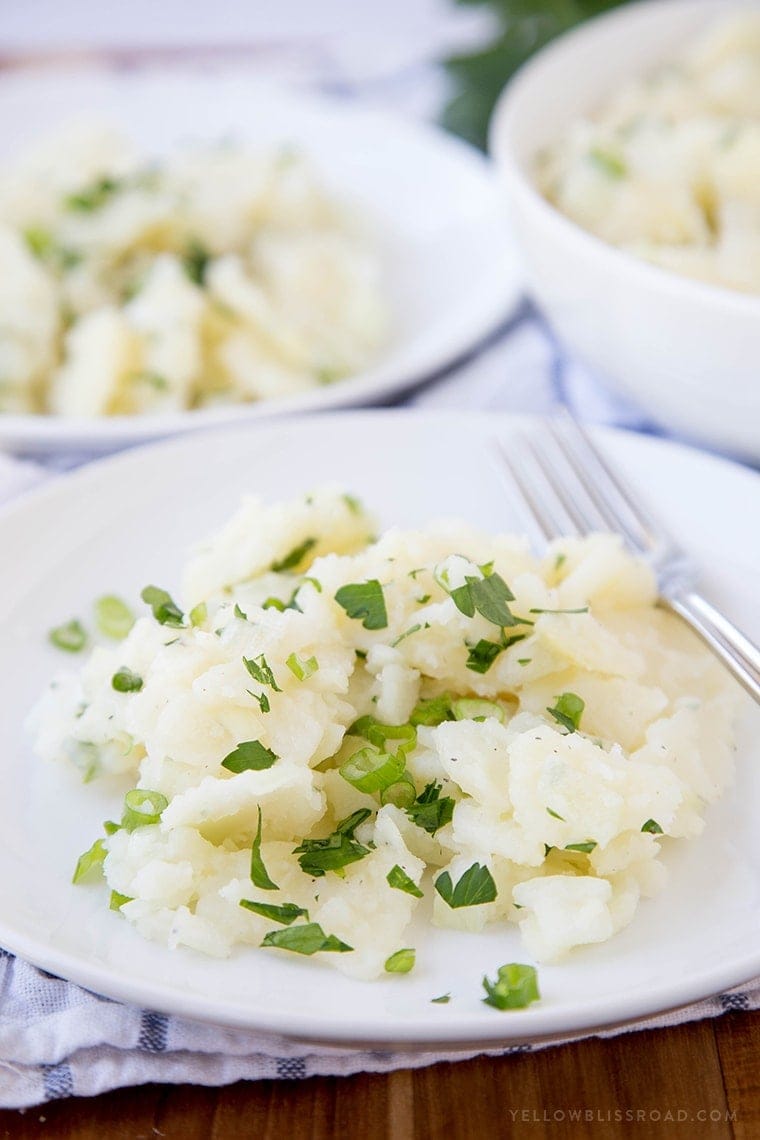 How to Make German Potato Salad
My grandma is from the Southern part of Germany, Swabia, and in that part of the country they make potato salad with oil and vinegar and add beef or chicken broth for flavor. They will even sometime cook the onions and/or the potatoes in the broth. My grandma started out making it that way but then decided to eliminate the broth step, opting to simply use salt and pepper for flavor. Hence the "short-cut" part of the recipe.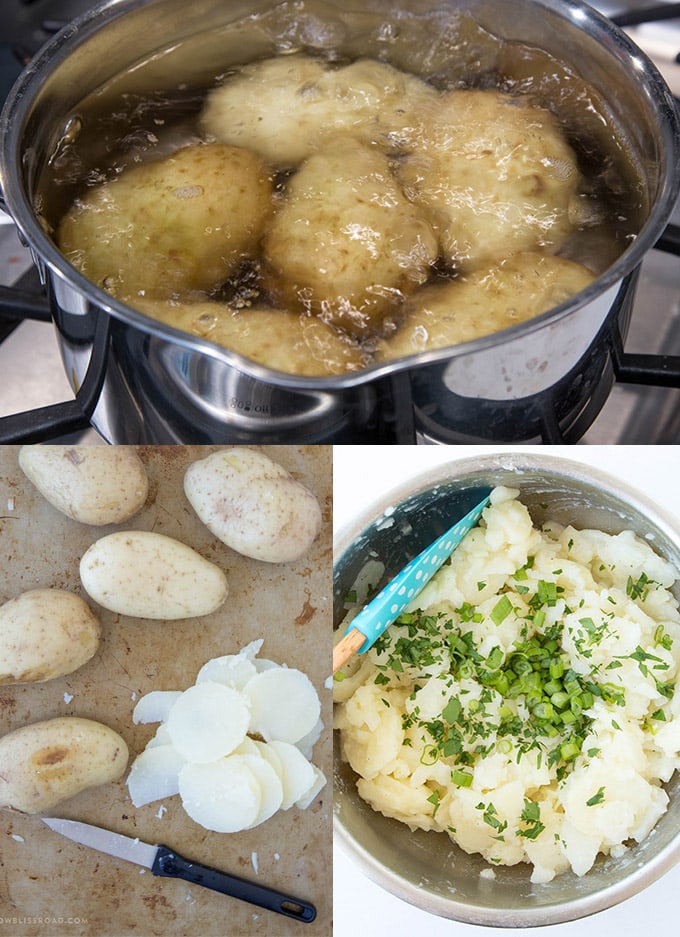 Now as far as the vinegar goes, you can use any light colored vinegar. We use Apple Cider Vinegar but you could also use a white wine or champagne vinegar, or even straight white vinegar. The potatoes are boiled whole and unpeeled. Once cooked and cool enough to handle (but still hot), gently peel them with a thin paring knife (aff) and then thinly slice then directly into the bowl. Stir in salt and pepper, then vinegar, then oil – in that order! If you do the oil first it will interfere with the potatoes soaking up the vinegar flavor.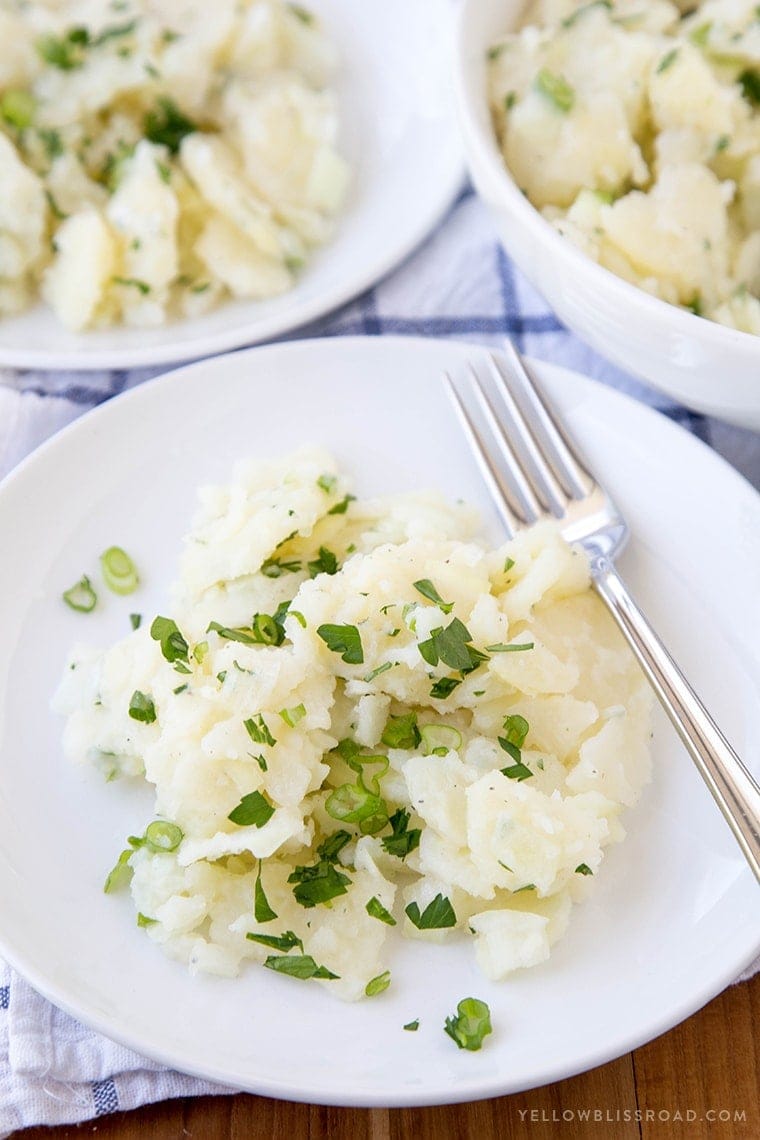 Feel free to play around with the amount of vinegar, salt and pepper until you love it. I added some parsley and green onions for color and a little herb-y freshness, so feel free to swap out the green onions for minced red or white onion. I swear my grandma added green onions because I remember something green but I've been told I'm mistaken. Maybe it was because she always paired it with a green salad. Who knows? Either way though, it's delicious!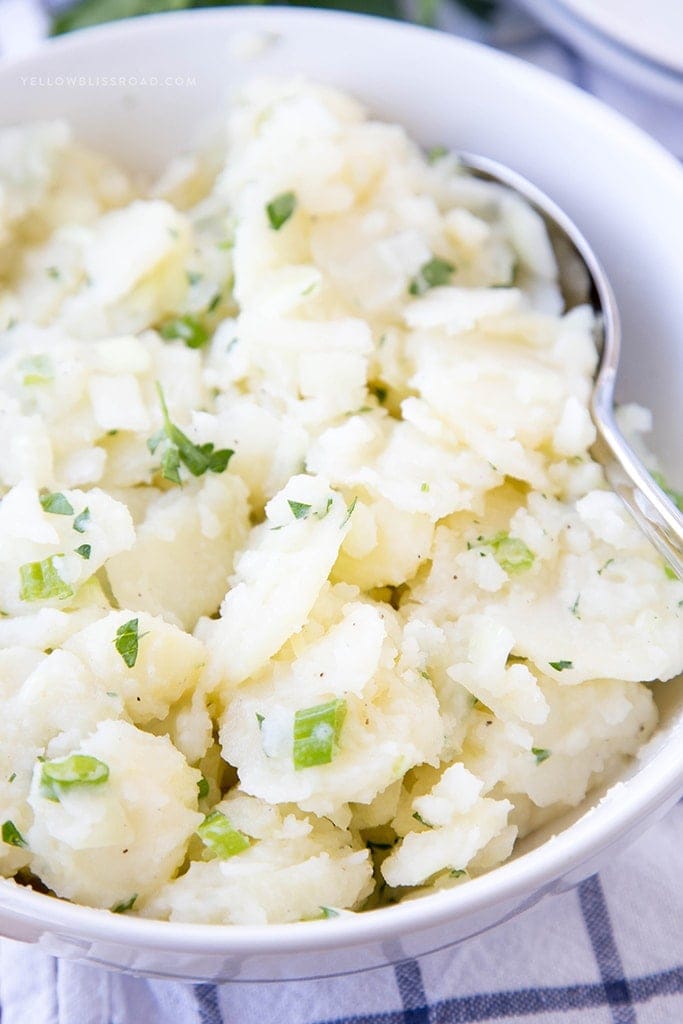 We love serving our German Potato Salad with these yummy dinners:
German Potato Salad is also the perfect side dish for Schnitzel!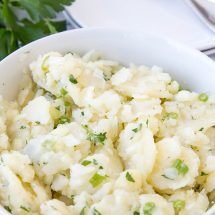 Easy German Potato Salad
Print
Pin
Rate
Prep Time: 10 minutes
Cook Time: 25 minutes
Total Time: 35 minutes
Servings: 4 -6 servings
Ingredients
2 pounds white potatoes
1/3 small white onion finely diced (about 1/2 cup)
3/4 teaspoon salt
1/4 teaspoon pepper
3 tablespoons Apple Cider or White Wine Vinegar
1/4 cup vegetable oil
2 tablespoons chopped parsley and/or chives
Instructions
Boil potatoes whole and unpeeled for about 25 minutes, or until soft (they can easily be pierced with a fork or knife). Depending on the size of the potatoes, this could take a little more or less time. Drain and lay in a single layer on a flat surface to cool slightly.

When potatoes are cool enough to handle but still quite warm, gently peel the skin off with a thin knife (works best) or a potato peeler.

Slice potatoes into very thin discs and place directly into a medium sized bowl. Season with salt and pepper, stirring gently to coat the potatoes. Stir in onions and pour in vinegar and stir. Repeat with the oil. Taste and adjust seasonings as desired.
For more delicious side dishes, try these: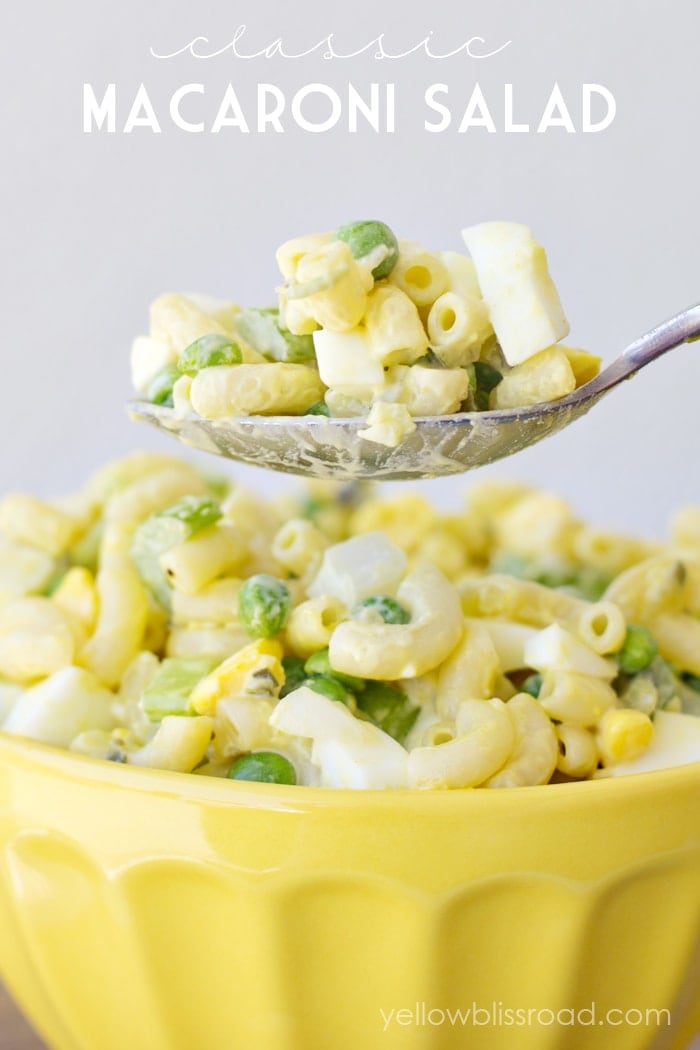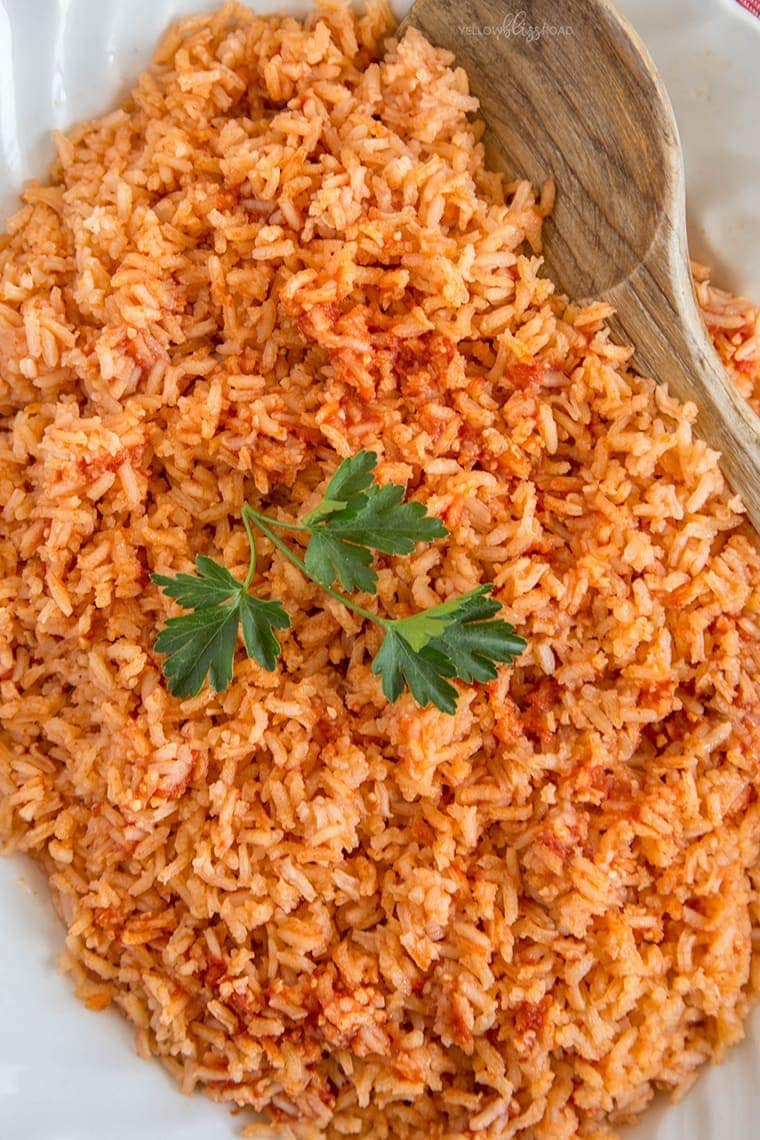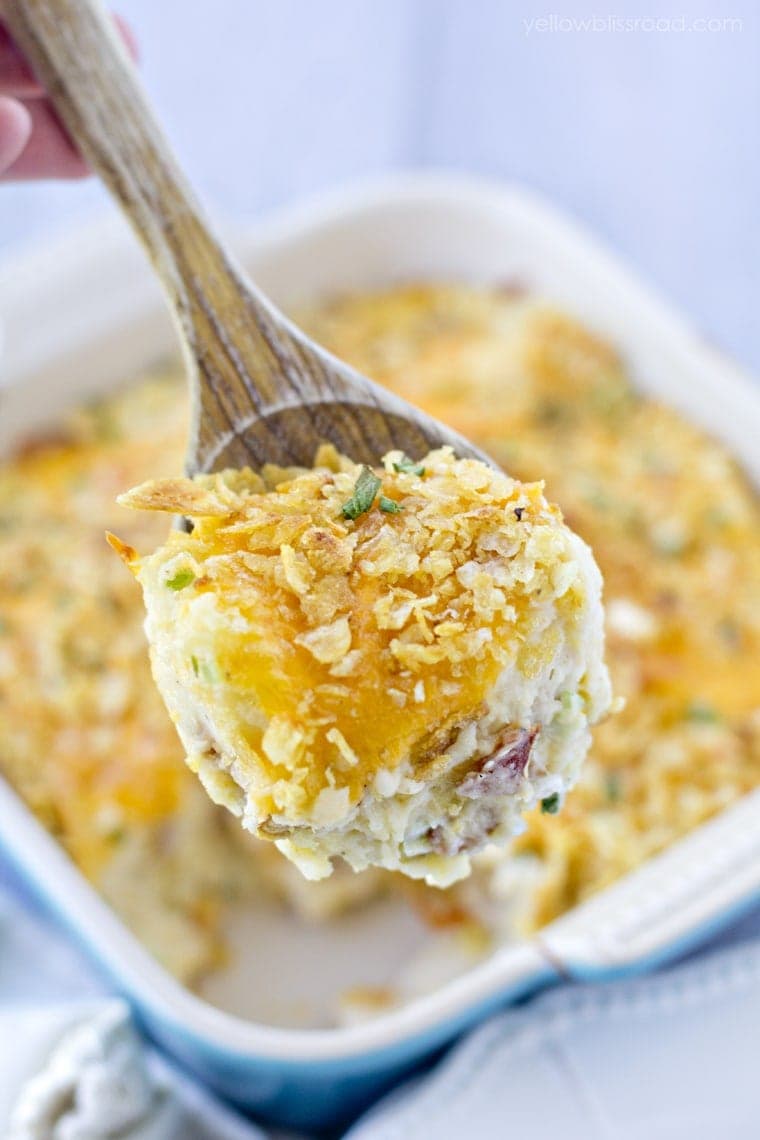 Oven Roasted Garlic & Parmesan Potatoes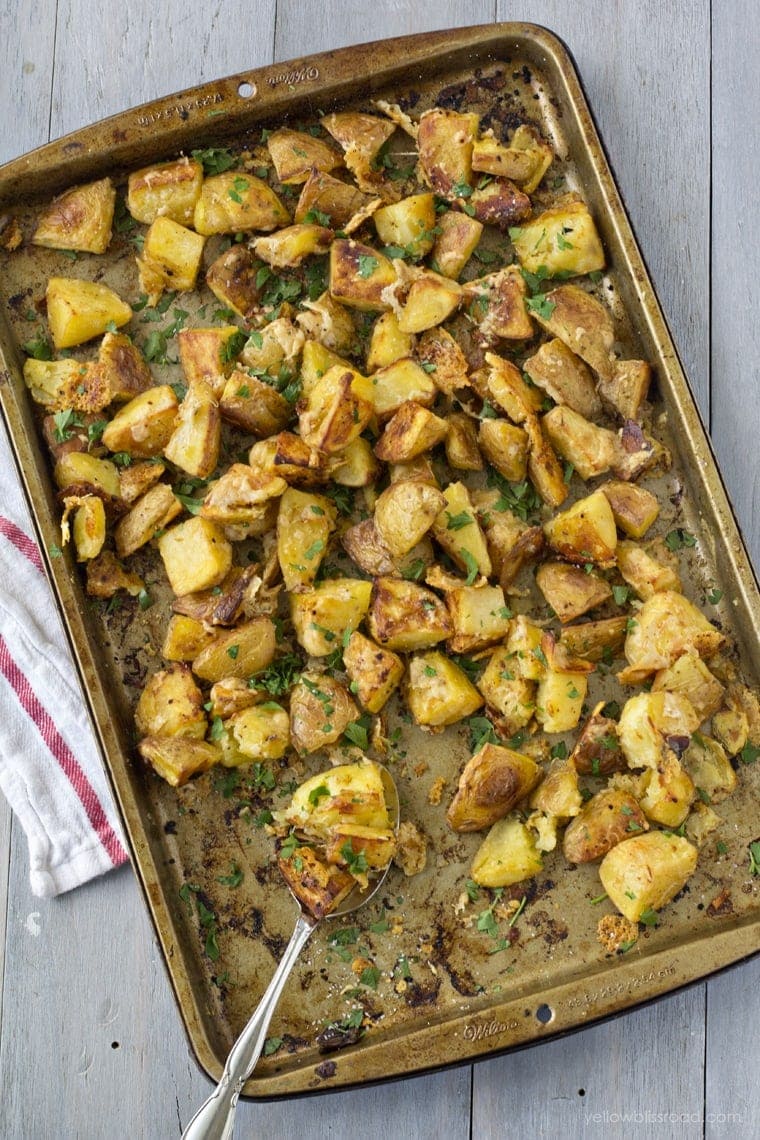 For all side dishes go HERE and for all recipes go HERE.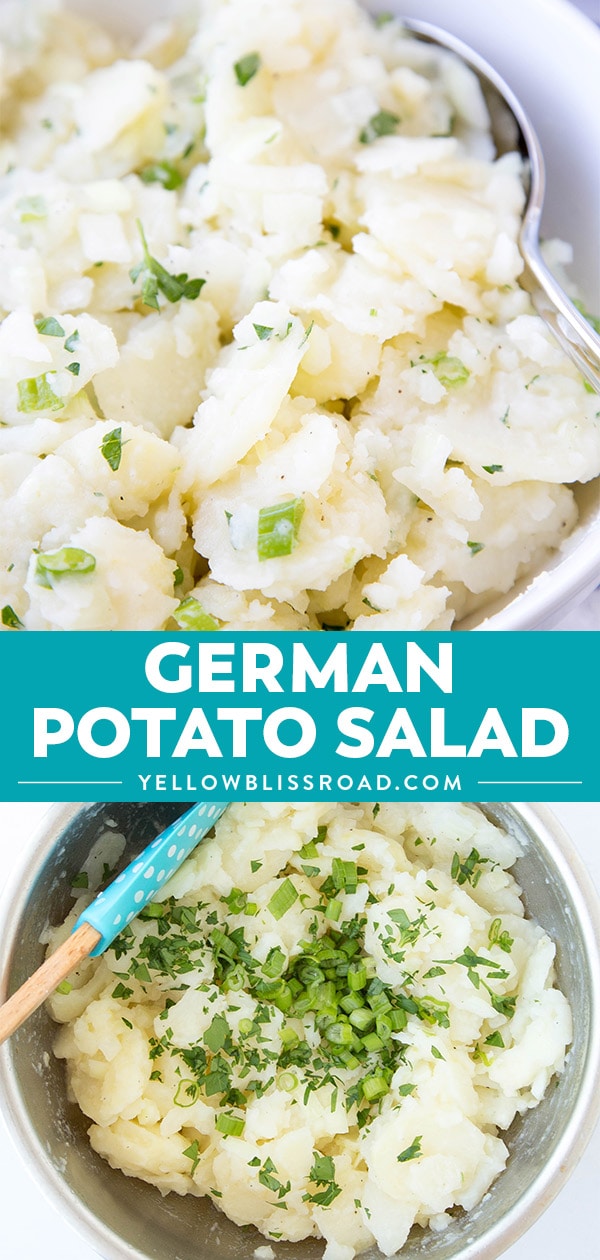 Hi! I'm Kristin, the creative mind behind Yellow Bliss Road where you will be inspired by tons of easy to follow recipes, lots of free printables, and a little sprinkling of life thrown in for good measure.