This Authentic German Potato Salad is made with creamy gold potatoes and a tangy oil and vinegar dressing. It is traditionally served in the Swabian region in the southern part of Germany and this recipe has been passed down in our family for generations.
Nothing makes for a better side dish in the summer than a cool and creamy potato salad. This Easy German Potato Salad is a short-cut version that my German grandma used to make for us. It's a vinegar and oil-based potato salad that's delicious with fish, brats, pork tenderloin, or just about anything you could think of!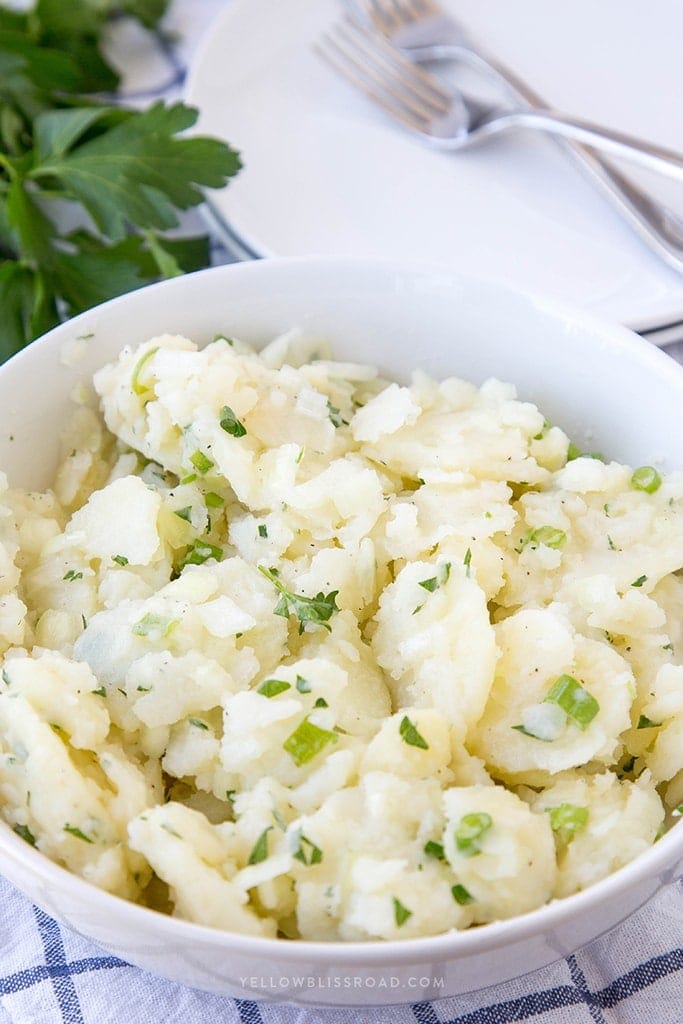 Pin this recipe for later!
Authentic Swabian German Potato Salad Recipe
If you were to look up German Potato Salad you would get tons of different versions. Some are made hot with a bacon dressing, some are steeped in chicken or beef broth for flavor.
The difference between German potato salad recipes and American potato salad is that they are vinegar based and don't use mayonnaise like traditional American recipes.
My grandma is from the Southern part of Germany, a region called Swabia. In that part of the country, they make potato salad with oil and vinegar and add beef or chicken broth for flavor. They will even sometimes cook the onions and/or the potatoes in the broth. My grandma started out making it that way but then decided to eliminate the broth step, opting to simply use salt and pepper for flavor. Hence the "short-cut" part of the recipe.
We love this potato salad recipe with its tangy dressing and spicy bits of onion. It's definitely our go-to over any mayo based potato salad, and is a holiday staple. However, if you are missing that creamy mayo flavor, try my Southern Potato Salad recipe.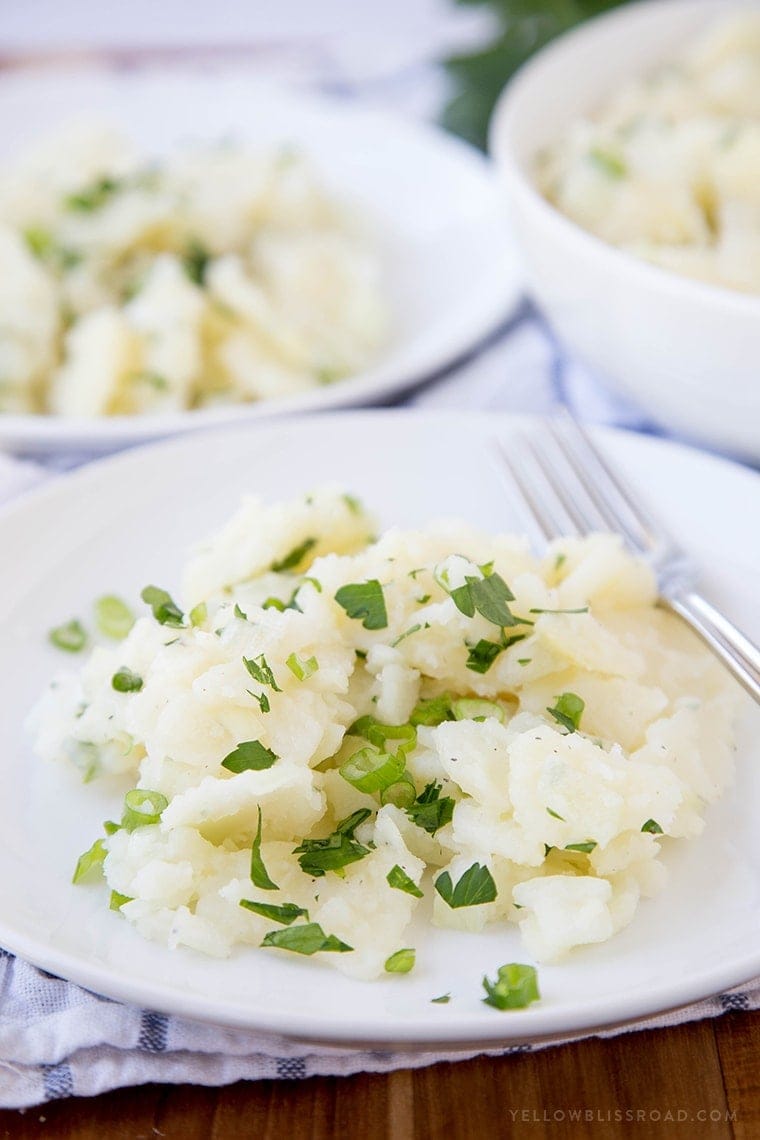 Ingredients
White Potatoes – New potatoes or Yukon Gold potatoes work the best.
Onion – White onion, peeled and diced. Red onions or green onions can also be used.
Apple Cider Vinegar – White vinegar or champagne vinegar can be used as a substitution but will alter the intended flavor. You can use any light colored vinegar, like white wine or champagne vinegar, or even straight white vinegar. We use Heinz Apple Cider Vinegar and find that it works the best; I have tried the raw and unfiltered kind and it just had a little different taste.
Vegetable Oil – A neutral oil like canola oil will also work.
Salt and Pepper
Optional Garnish – Parsley or chives
How To Make German Potato Salad
Start with a pot of salted boiling water and add your whole, unpeeled potatoes. Boil them until they are fully cooked through and soft (pierce one with a fork or a thin knife to test). Set the potatoes aside to dry and cool until you're able to handle them. This can also be done the night before with the potatoes left whole and unpeeled in the fridge for up to 24 hours.
Once cooked and cool enough to handle (but still hot), gently peel the potatoes with a thin paring knife and then thinly slice them directly into the bowl. Sometimes they break apart a bit as you slice them and that's totally fine. They don't need to be perfectly round discs but should have a more rustic look.
Stir in diced onions, salt, and pepper, then vinegar, then oil – in that order! If you do the oil first it will interfere with the potatoes soaking up the vinegar flavor.
Feel free to play around with the amount of vinegar, salt, and pepper until you love it. I added some parsley and green onions for color and a little herb-y freshness, so feel free to swap out the green onions for minced red or white onion.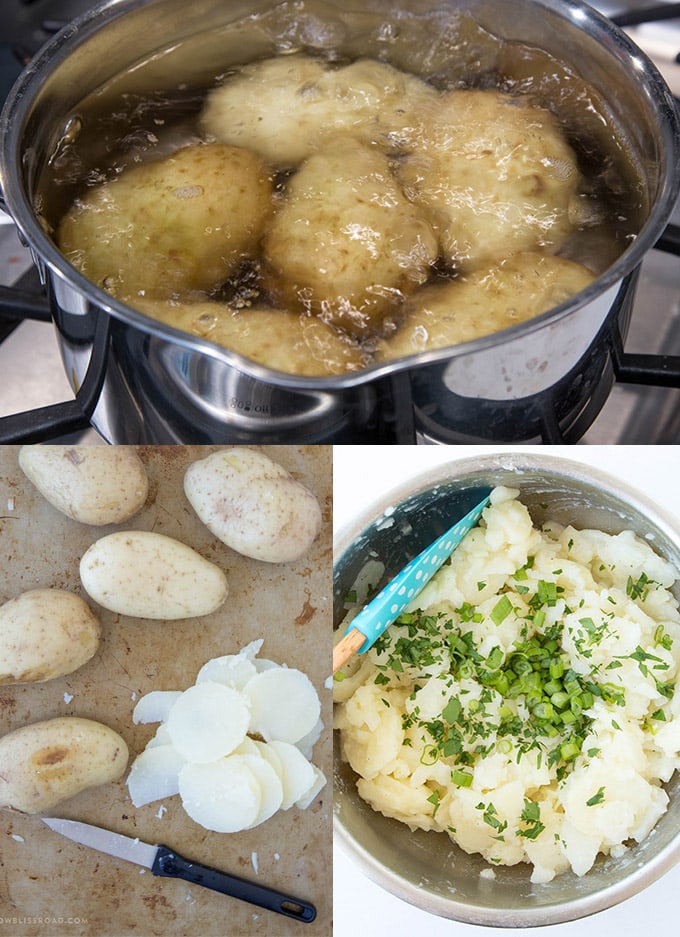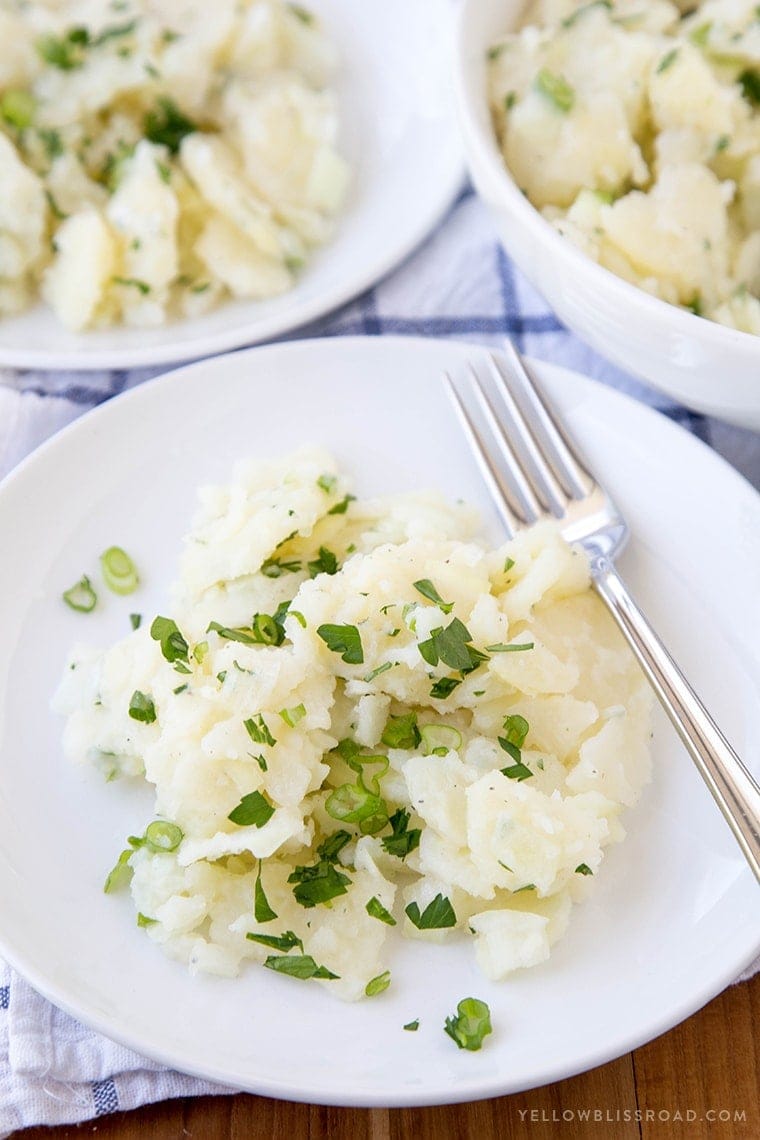 What To Do With Leftovers
Leftovers should be stored in a sealed, airtight container in the refrigerator. It will remain fresh and can be enjoyed for up to 3-5 days.
The potatoes will continue to soak up the oil and vinegar as they sit, so if it seems a little dry just add a slash of oil to moisten before eating.
FAQs
Can You Freeze German Potato Salad?
Since most potato salads are made with creamy based dressings, they cannot be frozen. However, since this Authentic German Potato Salad is made with vinegar and oil it actually can hold up in the freezer. Place leftovers in a freezer bag or airtight container and into the freezer for up to 4-5 months. Thaw thoroughly in the fridge and add a splash of oil to moisten if needed.
Can you serve this potato salad hot?
This particular potato salad can be served at room temperature; it's actually good that way. While it's not typically served warm, it wouldn't hurt it to do so.
Serving Suggestions
Celebrate Oktoberfest with an authentic German meal! Here are some of our favorite German dinners to serve with Bavarian potato salad.
Of course, you can serve it with any dinner recipe that you love, like Chicken Fried Chicken, Baked Chicken Drumsticks, or Crispy Baked Chicken Thighs.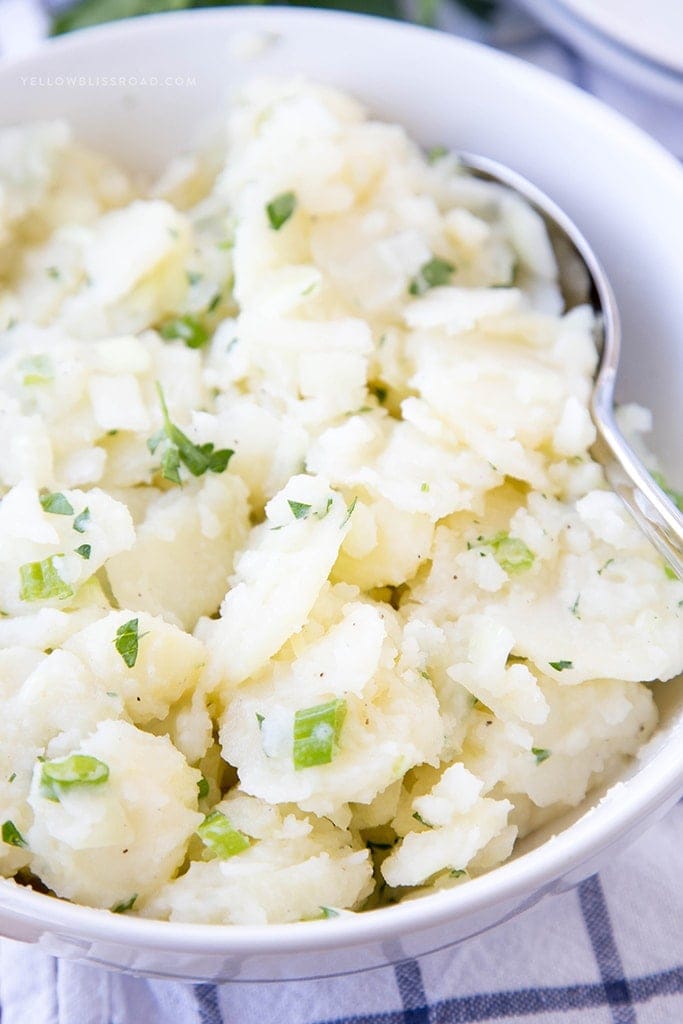 More Side Dish Recipes
Recipe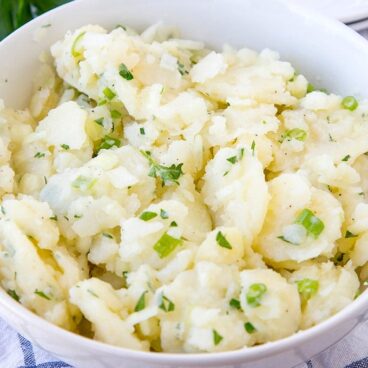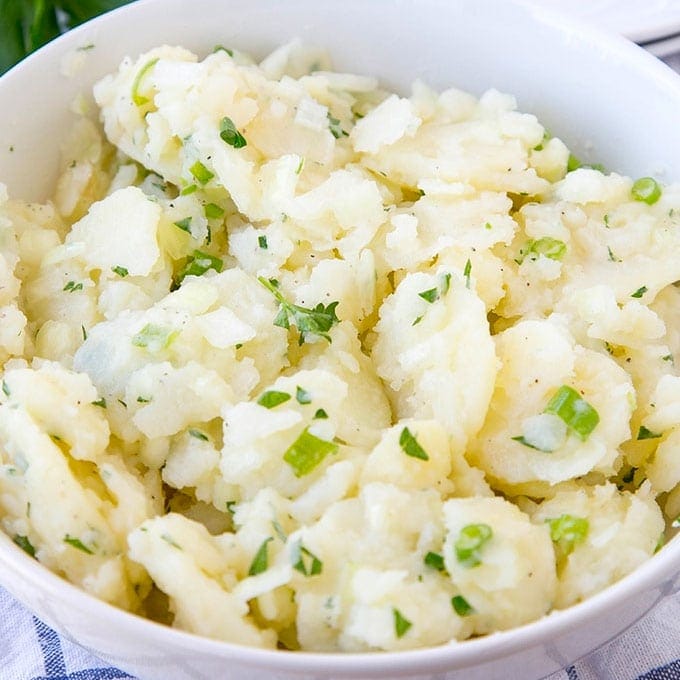 Easy German Potato Salad
Authentic German Potato Salad is a cold salad made with an oil & vinegar dressing that is traditionally served in the Swabian region of Southern Germany.
Ingredients
2

pounds

White (New) or Yukon gold potatoes

1/2

cup

white onion

finely diced (green onions could also be used)

3/4

teaspoon

salt

1/4

teaspoon

pepper

3

tablespoons

Apple Cider or White Wine Vinegar

1/4

cup

vegetable oil

1

tablespoon

minced parsley and/or chives

optional, for garnish
Instructions
Boil potatoes whole and unpeeled for about 25 minutes, or until soft (they can easily be pierced with a fork or knife). Depending on the size of the potatoes, this could take a little more or less time. Drain and lay in a single layer on a flat surface to cool slightly.

When potatoes are cool enough to handle but still quite warm, gently peel the skin off with a thin knife (works best) or a potato peeler.

Slice potatoes into very thin discs and place directly into a medium sized bowl. Season with salt and pepper, stirring gently to coat the potatoes. Stir in onions and pour in vinegar and stir. Repeat with the oil. Taste and adjust seasonings as desired.
Nutrition
Calories:
173
kcal
Carbohydrates:
20
g
Protein:
4
g
Fat:
9
g
Saturated Fat:
7
g
Sodium:
307
mg
Potassium:
644
mg
Fiber:
4
g
Sugar:
1
g
Vitamin C:
18.2
mg
Calcium:
48
mg
Iron:
4.9
mg