Twice Baked Potato Casserole takes the flavors of a loaded mashed potatoes and stuffs them into a delicious casserole. Top it off with crunchy potato chips and you've got a crowd pleasing side dish that will definitely take the spotlight!
Everyone thinks the turkey is the star on Thanksgiving, but I know the truth. It's the sides that are the real star! If you agree, then you're going to love some of our other favorite holiday side dishes, like The Best Homemade Cranberry Orange Sauce, Cheesy Broccoli Casserole and my grandma's Cheesy Scalloped Potatoes.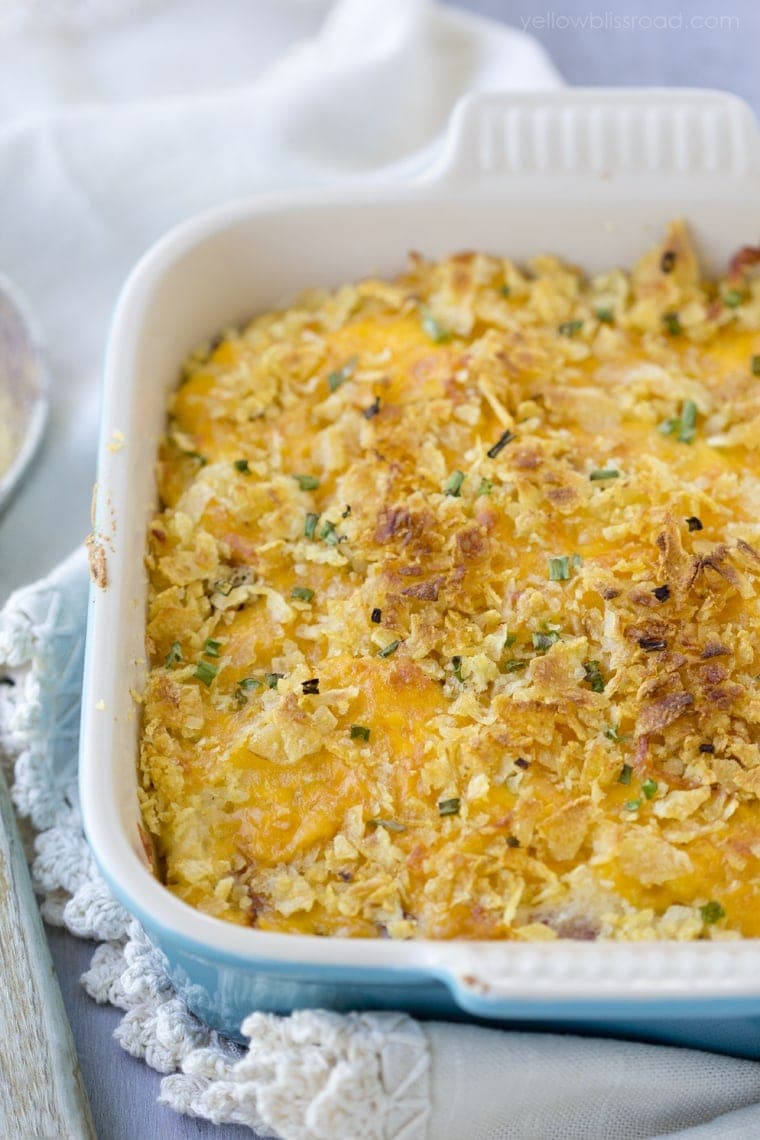 Twice Baked Potato Casserole Recipe
Potatoes are a staple at Thanksgiving and Christmas dinners and this Twice Baked Potato Casserole with a Potato Chip Crust is definitely a winner. The potatoes are creamy and smooth and packed with flavor, and the potato chips topping provides a nice crunchy finish. Everyone will be begging for the recipe!
My mom's twice baked potatoes have been a staple at holiday family get togethers for as long as I can remember. We love them, although we always thought there should be more cheese. I mean, you can't go wrong with more cheese, am I right?
Twice Baked Potatoes aren't super complicated, but they can be a little time consuming when you have to carefully scrape out the potato flesh, preserving the skins, and then filling them all again. Putting this recipe into casserole form clearly was the best decision I ever made. It's all the flavor and half the work. Sounds like the perfect recipe to me.
How to make Twice Baked Potato Casserole
Scrub some russet potatoes with watch and a scrub brush to remove any dirt. Then bake them until tender and the flesh can easily be pierced with a sharp knife. You could also cook them in the microwave for 10-11 minutes (don't forget to poke them a few times with a fork).
Once the potatoes are cool enough to handle, but still warm, slice them in half and scoop out the potato flesh into a large bowl. Use a hand towel to hold the potatoes to keep your hands from burning.
Salt the potatoes and stir them to break up large pieces and evenly distribute the salt. Add milk, sour cream, butter, garlic powder, crumbled bacon, shredded cheddar cheese and sliced green onions. Reserve some of the cheese, bacon and green onions for topping the twice baked potato casserole before it goes into the oven.
Stir the mixture together just until it's all combined. You don't want to over mix the potatoes or they will become starchy, like glue.
Spoon the mixture into an 8×8-inch baking dish sprayed with nonstick cooking spray. Top with the crushed potato chips, then the remaining cheese, bacon and green onions. If you are planning to refrigerate and bake later, leave off the chips so they don't soften and add them just before baking.
Bake for 15-20 minutes then flip on the broiler to brown the potatoes chips and give them a nice, crispy finish.
What to do with leftovers
We all know that mashed potatoes are the most coveted holiday leftover. People in our house fight for them as it it were WWE! So it's important to make sure that you properly store any leftover twice baked potato casserole you may have in an airtight container. You can keep it in the fridge for 3-5 days and reheat in the microwave.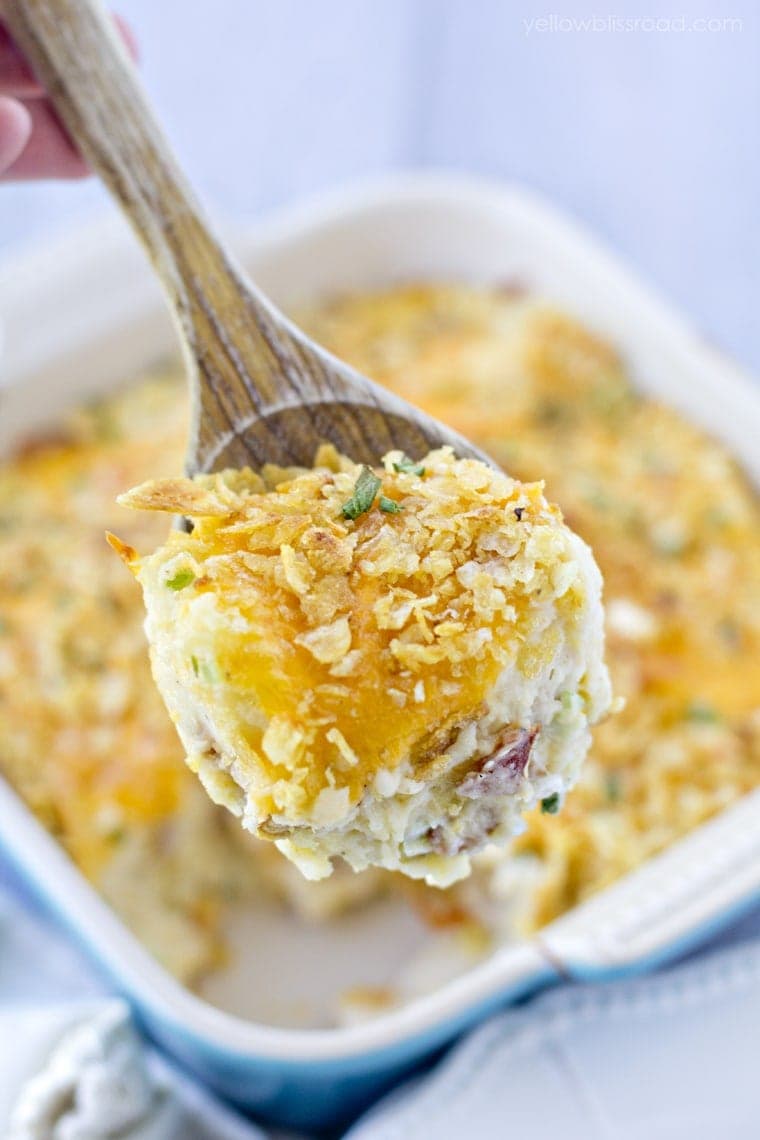 For more delicious side dishes, try these:
For all side dishes go HERE and for all recipes go HERE.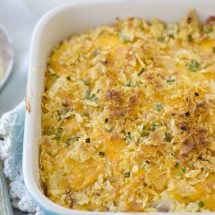 Ingredients
4 medium potatoes about 2 pounds
2 cups freshly shredded cheddar cheese divided
1/2 cup grated Parmesan Cheese
1/4 cup milk
1/4 cup sour cream
1/2 cup 1 stick butter, softened to room temperature (not melted)
1/2 teaspoon garlic powder
6-8 slices bacon
3 green onions
1/2 cup crushed potato chips I prefer Kettle Brand
Salt and pepper to taste
Instructions
Bake potatoes in a 400 degree oven for about 45 minutes. Test doneness by piercing with a fork or sharp knife. (Alternatively, cook potatoes in the microwave - scrub clean and pierce each potato a couple of times with a fork. Microwave on high for 10-11 minutes)

Use a dish towel to handle potatoes, slice in half and scoop the flesh out into a stand mixer (or large bowl).

Salt the potatoes and stir with the whisk attachment to break up large pieces and evenly salt potatoes.

Add milk, sour cream, butter, garlic powder, bacon (reserve a tablespoon for topping), green onions(reserve a tablespoon of greens for topping) and 1 1/4 cup of cheddar cheese. Stir with whisk attachment for 30 seconds just to combine ingredients. Do not over mix or potatoes will become starchy, like glue.

Spoon mixture into an 8" or 9" baking dish. Top with remaining cheddar cheese, potato chips, and reserved bacon and chives.

Bake in preheated 400 degree oven for about 10 minutes or until cheese is completely melted and potatoes are heated through. Turn the broiler to high and broil the top for about 2-3 minutes to brown the potato chip. Watch closely as they can burn quickly.

Serve immediately.
Notes
*This recipe can be prepared the night before and refrigerated. Cooking time will be longer, about 30-40 minutes or until potatoes are warmed through.

Hi! I'm Kristin, the creative mind behind Yellow Bliss Road where you will be inspired by tons of easy to follow recipes, lots of free printables, and a little sprinkling of life thrown in for good measure.