With Thanksgiving just a few days away, and Christmas right around the corner, it's time to plan the menu and make sure you've got everything you need. This sweet and tart Homemade Cranberry Orange Sauce will be the perfect compliment to your turkey…and it makes a fantastic relish for your turkey sandwiches, too!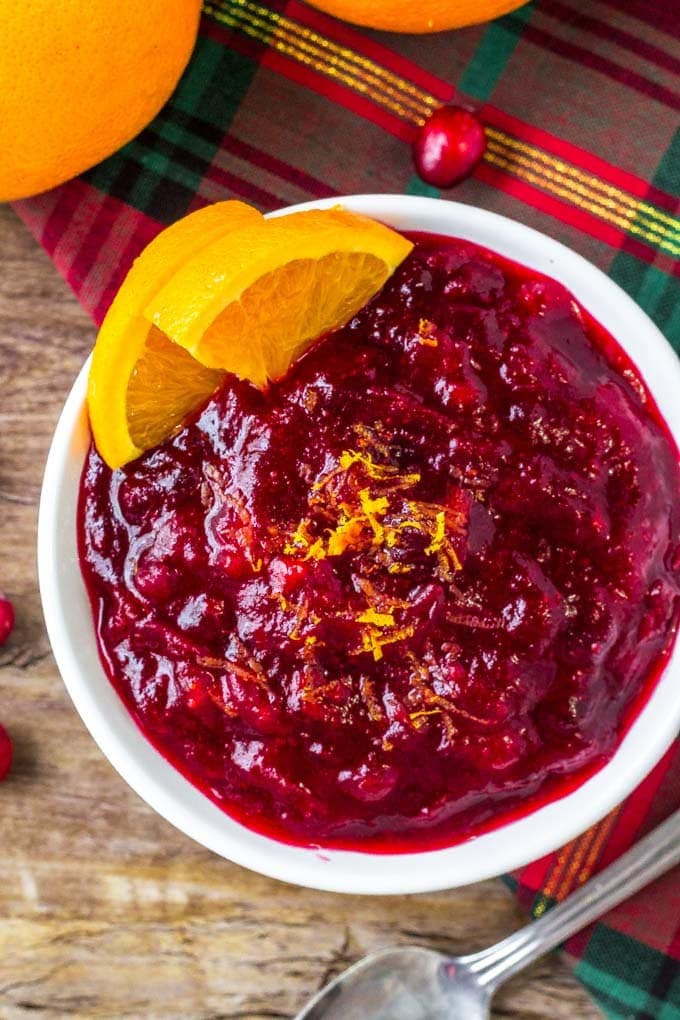 HOW TO MAKE HOMEMADE CRANBERRY SAUCE
Say goodbye to cranberry sauce from a can and hello to this perfectly sweet and tart homemade cranberry sauce. With just a few ingredients and about 15 minutes of cooking time, it's so easy to make at home.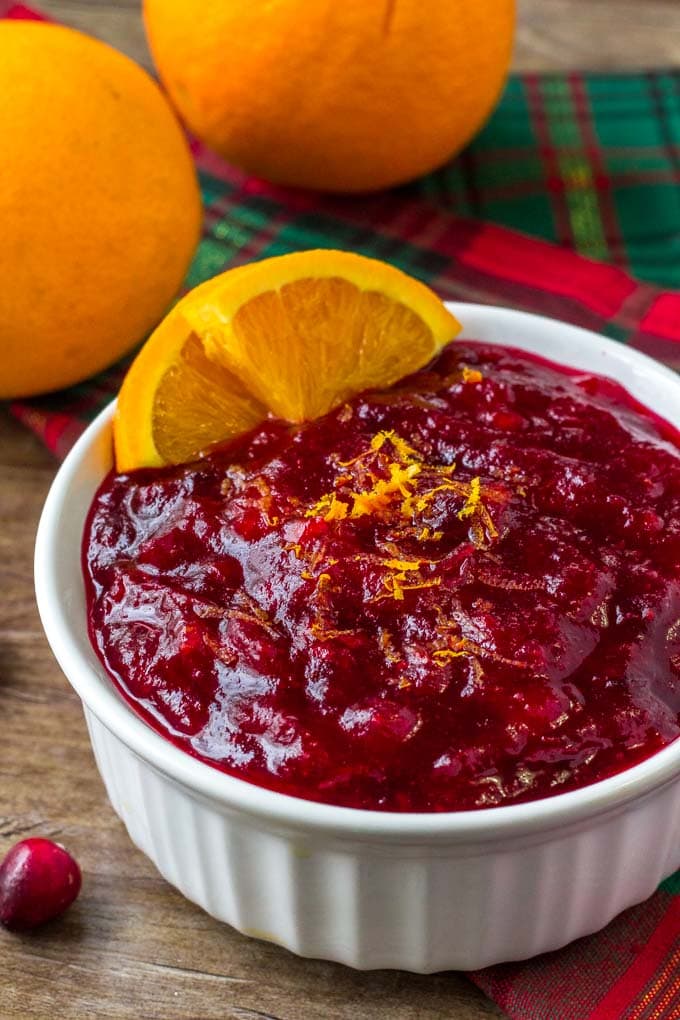 I really don't think there is anything prettier than a bowl of juicy red cranberries. The pops of red just scream holiday to me. If you follow me on Instagram, you saw this gorgeous bowl posted the other day. Well that gorgeous bowl turned into this gorgeous pan. The colors are so vibrant and beautiful, it's simply irresistible.
My Cranberry Sauce Recipe is so easy and you just need 5 ingredients:
Cranberries
Oranges
Water
Sugar
Orange extract
Bring those ingredients to a gentle boil in a pan on the stove and in 15 minutes you'll have those cranberries popping and releasing all of their yummy juices, which will turn that pan of fruit into the most delicious cranberry sauce you've ever tasted. The addition of the orange gives a extra bit of tart and sweet. Most recipes I've seen only call for the juice or a little bit of zest, but I wanted to add extra texture and flavor so I diced up the whole orange and tossed it in with the cranberries as they cooked. Oh my word is it delicious!! I can't wait to serve it on Thanksgiving.
Can you freeze homemade cranberry sauce?
Yes! Homemade cranberry sauce freezes beautifully. Store the cranberry orange sauce in an airtight container, label it, and place it into the freezer for up to 2 months for the best quality. Defrost in the refrigerator overnight and you are ready to roll.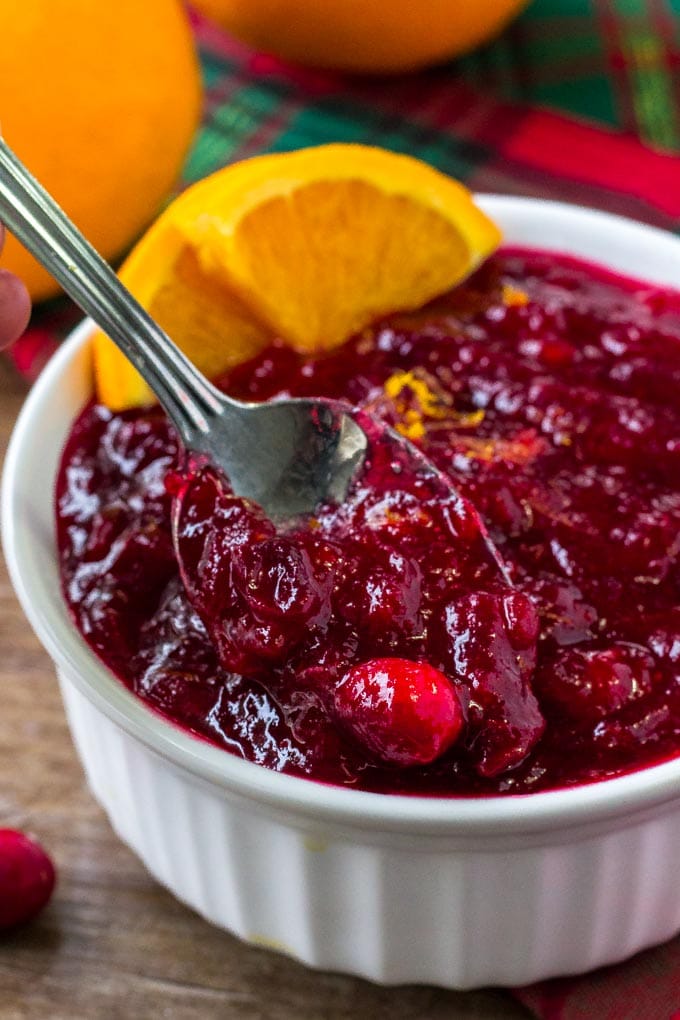 For more delicious holiday side dishes, be sure to check these out:
Here are more cranberry recipes to try:
Try my Homemade Cranberry Orange Sauce recipe for yourself!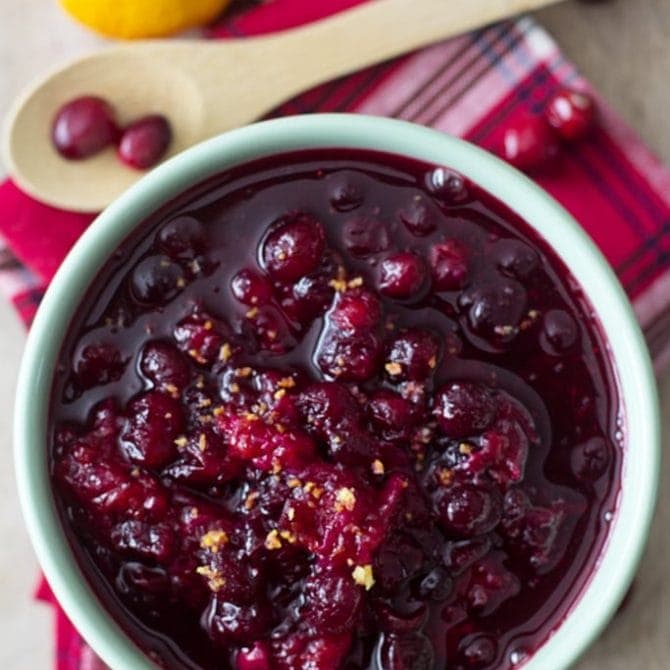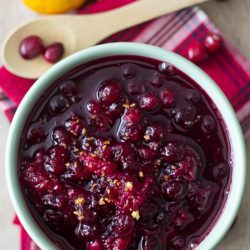 Homemade Cranberry Orange Sauce
Ingredients
1 12 oz. bag fresh Cranberries
2 Sweet Mandarin Oranges peeled and diced
1 cup water
1 cup sugar
1/8 teaspoon orange extract
Instructions
Bring sugar and water to a boil in a medium saucepan.

Add cranberries, oranges and orange extract and boil gently for about 10-15 minutes; until most of the liquid has reduced and cranberries have popped.

Remove from heat and cool completely.

Store in an airtight sealed container in the fridge for up to a week.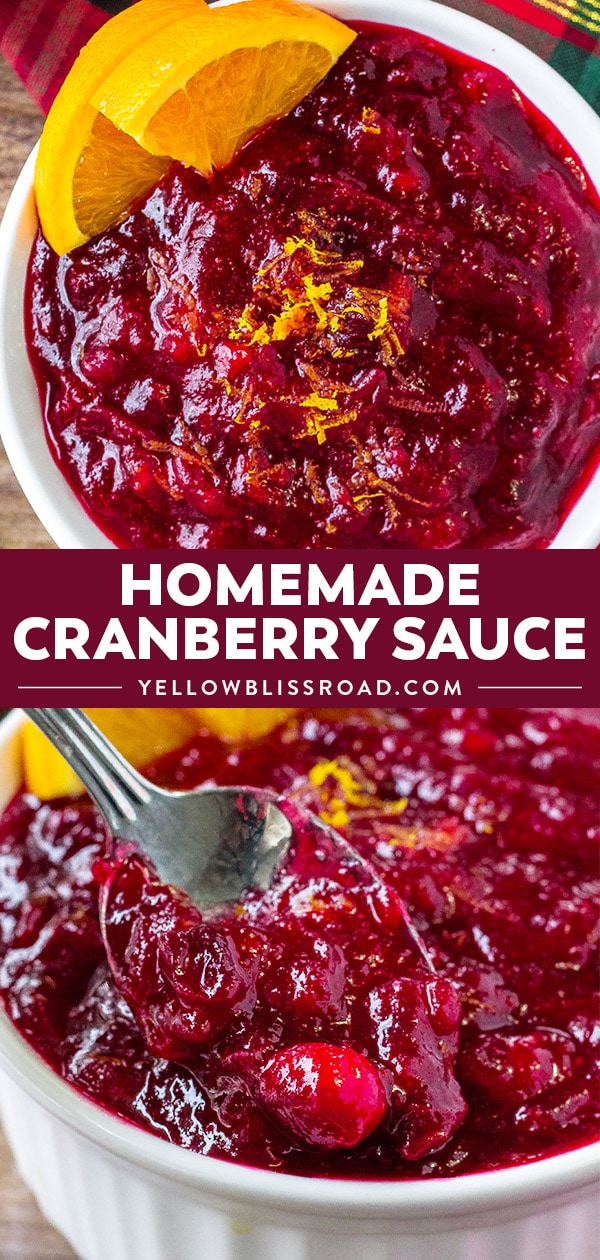 For all Side Dishes, go HERE.
For a complete list of recipes on the site, go HERE.