Sweet Potato Casserole with Marshmallows is a classic Thanksgiving side dish with all the flavors of fall. It's creamy, buttery and rich, made with brown sugar and cinnamon and topped with ooey-gooey marshmallows!
Whether you like your Sweet Potato Casserole with marshmallows or without, it's a must have pairing for your Thanksgiving Turkey, along with the best Thanksgiving Side Dishes like Make Ahead Mashed Potatoes, Slow Cooker Mac and Cheese and Classic Sausage Stuffing.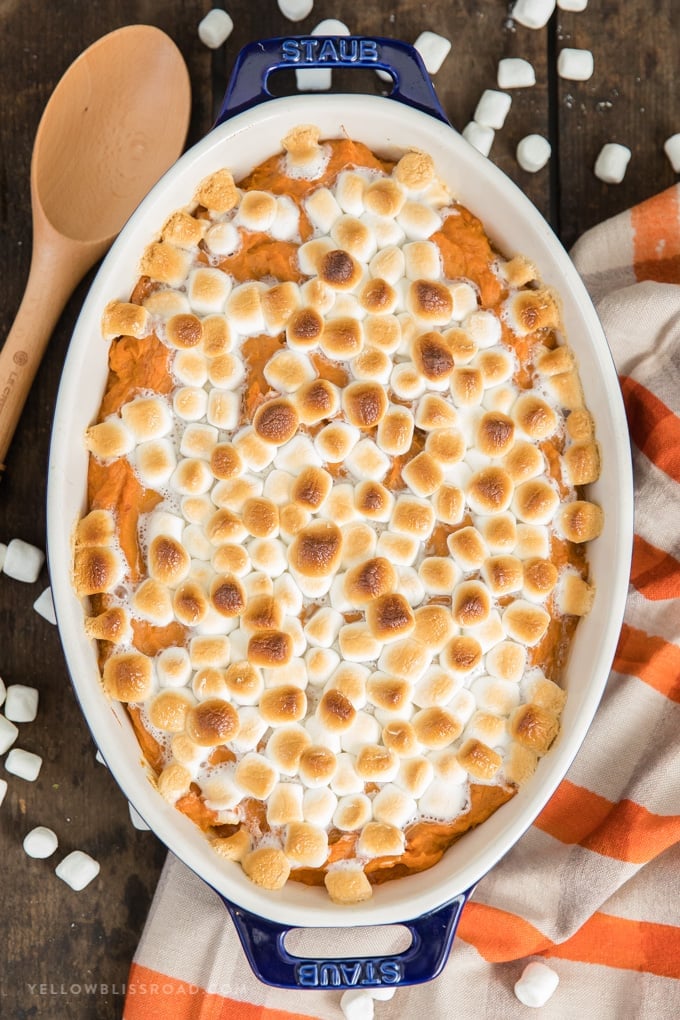 When I was a kid, I couldn't yet appreciate the flavors of a good sweet potato casserole recipe. I would casually pick away the marshmallow topping, but to actually put the orange stuff in my mouth was just not going to happen.
To take that casserole completely over the top, I've added a few things to sweeten it up and make it extra creamy. This is the best Sweet Potato Casserole recipe, and the only one that I will eat!
All About Sweet Potatoes
Sweet Potatoes are available year round in most places, but in abundance during the fall and early winter.
Look for:
Small to medium sized potatoes, which are going to be sweet and creamy.
The skin of the sweet potato should be firm, smooth and even in color. The darker the skin, the richer in flavor the potato will be.
No blemishes or dark spots on the skin.
How To Cook Sweet Potatoes
There are two simple ways to cook sweet potatoes for a casserole: Boil or bake.
Baking: Preheat the oven to 425 ℉. Wash and scrub the sweet potatoes with a vegetable brush to remove any dirt. Use a fork or the point of a sharp knife to poke the potatoes several times and bake them for about 40-50 minutes, or until they are tender and easily pierced with a fork or knife.
Boiling: Wash and scrub the sweet potatoes, then peel and chop into large chunks. Add potatoes to a large pot and bring the water to a boil. Cook the peeled potatoes in boiling water until they're soft and break apart easily with a fork.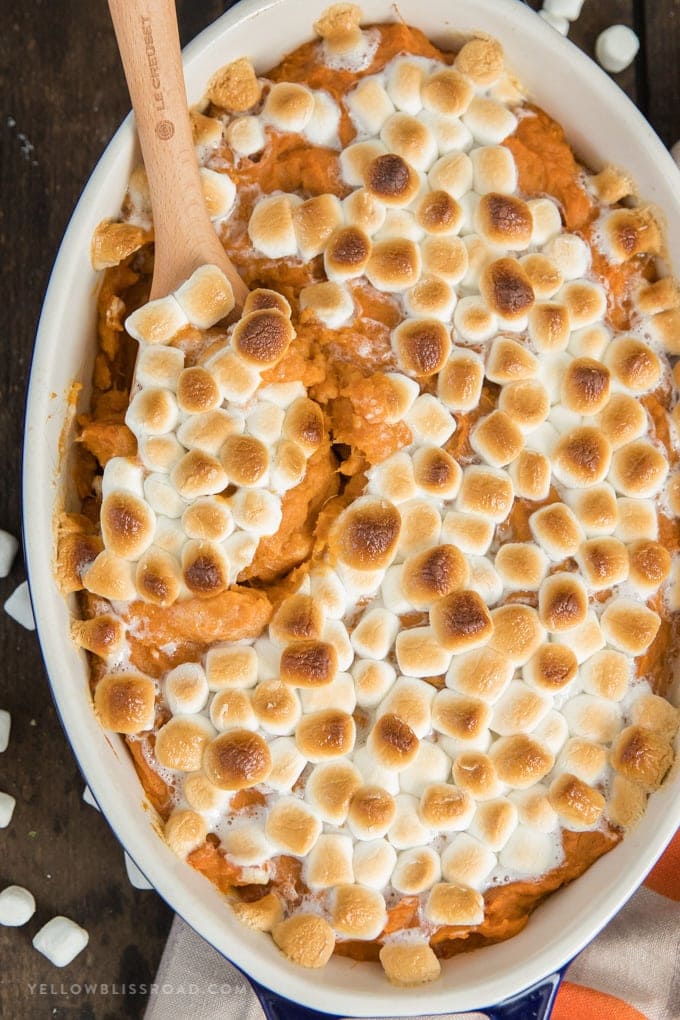 Ingredients For Sweet Potato Casserole
Sweet potatoes – You need 3 pounds of sweet potatoes; there are roughly 2-3 sweet potatoes in a pound.
Brown sugar – Let's sweeten things up a bit, shall we? You can substitute your sweetener of choice, but keep in mind that the addition could loosen up your casserole and make it melt. A little maple syrup or agave can help to sweeten without adding as much sugar.
Melted butter – for a rich flavor; I recommend using unsalted butter.
Ground cinnamon – for warmth. If you like ground nutmeg, that can also be a delicious addition.
Milk – be careful when you add the milk, and add it in small amounts. It's supposed to make your casserole creamy, not soupy.
Mini marshmallows – The recipe calls for 2 cups, which should cover the top of your casserole. But feel free to measure that with your heart and add as much as you want!
Step By Step Instructions
Cook and mash the sweet potatoes. Boil peeled potatoes until they are tender, then drain all of the water. Then mash the sweet potato in the pot or in a large mixing bowl with a potato masher or whip them with a hand mixer, depending on how creamy you want them, I like a little more texture so I just mash them with the masher tool.
Add the flavor. Stir in brown sugar, cinnamon, melted butter, and salt, then add a little bit of milk until you have a consistency that you like. I prefer thicker, so I add just a couple tablespoons of milk to the sweet potato filling.
Bake. You'll want to have your oven preheated to 375 degrees F. Spray a 1.5 quart (about 11″ x 7″) baking dish or with nonstick cooking spray. Spread the sweet potato mixture evenly in the dish and top with marshmallows. You can be skimpy with them or you can go all out. It's your party. Sometimes I'll dot the top with some candied pecans as well for a little texture, or even mix them right into the sweet potato mixture. Bake for 20-25 minutes or until the marshmallow are puffy and golden brown.
Variations: Try sprinkling on a pecan streusel topping, or sprinkle on a chopped candied pecan crumble topping.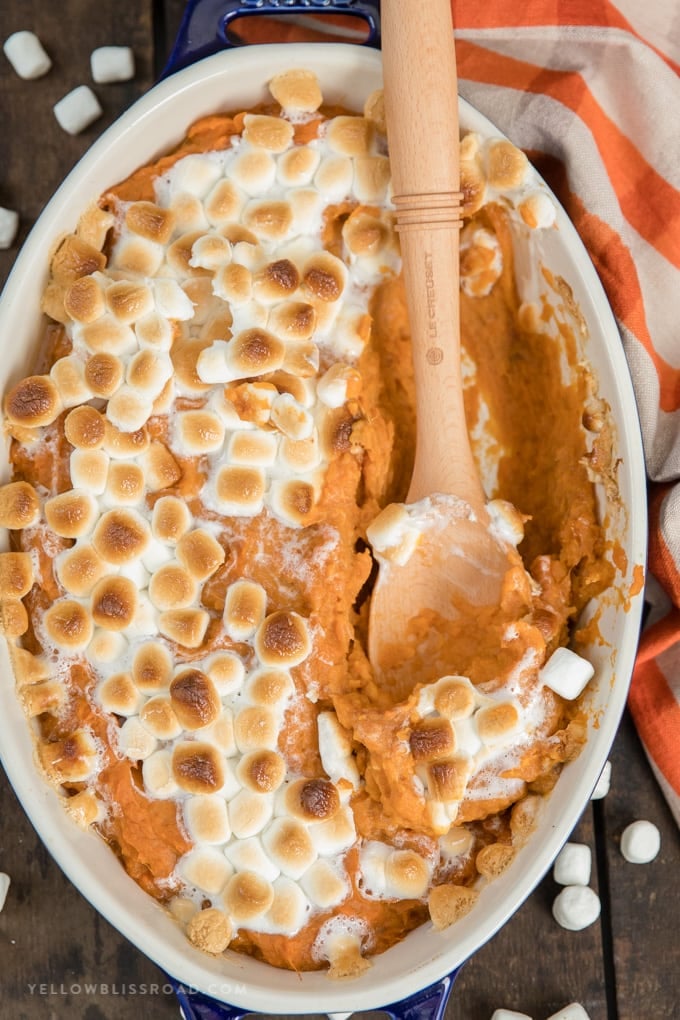 Storage and Reheating
Cool completely, then tightly cover any leftovers with plastic wrap or in an airtight container. Keep in the refrigerator for 3-4 days. Reheat in the microwave or enjoy cold or at room temperature.
FAQ
Are sweet potatoes good for you?
While sweet potatoes have a little more natural sugar than regular potatoes, they are really high in fiber and other nutrients. Sweet potatoes are a good choice for a healthy side dish! They provide essential nutrients and fiber, and they taste good too!
What is the Best Way to Cook a Sweet Potato for a Casserole?
Sweet potatoes are cooked just like a regular russet or other type of potato. For this recipe, you don't need a crispy skin so boiling without the skin is the easiest method to use. They take about 20 minutes and you want to make sure and salt the water.
Can I make Sweet Potato Casserole ahead of time?
This is a great Thanksgiving Dinner make ahead recipe! Spread the casserole mixture into the baking dish, then cover tightly and refrigerate for up to 2 days. and leave off the marshmallows until you're ready to bake. Let the casserole sit out on the counter while your oven is preheating to bring it to room temperature. Add the marshmallow topping over the sweet potato filling and bake as directed.
Can I use canned sweet potatoes for this recipe?
Yes! While I definitely recommend using fresh sweet potatoes for this recipe, you can use canned in a pinch or to save time. You'll need 3 29-ounce cans of cut up sweet potatoes. Drain the liquid out using a mesh strainer to get as much liquid out as possible.

To prepare, mash the sweet potatoes and add butter, cinnamon, and salt. Omit the milk as the canned potatoes are wet enough. Taste and add brown sugar if you want them sweeter. They are canned in syrup so they are sweet already. Bake as directed.

Can you freeze sweet potato casserole?
Freezing after baking is not recommended. However, you can freeze the prepped sweet potato without the topping. Spread the mashed sweet potato in a casserole dish, or even in a freezer bag, and squeeze out as much air as possible. Lay flat and freeze for up to 3 months.
Serving Suggestions
This recipe is on the sweeter side, and can be served as a side dish or as a dessert recipe. It's a must-have Thanksgiving favorite at our house, along with turkey and gravy, vegetables, cranberry sauce, and my homemade stuffing recipe.
We serve it with Glazed Ham for Easter, along with Broccoli Rice Casserole, Deviled Eggs, and Sauteed Asparagus.
Don't forget the turkey!
Get the best roast turkey recipe, plus TONS of tips!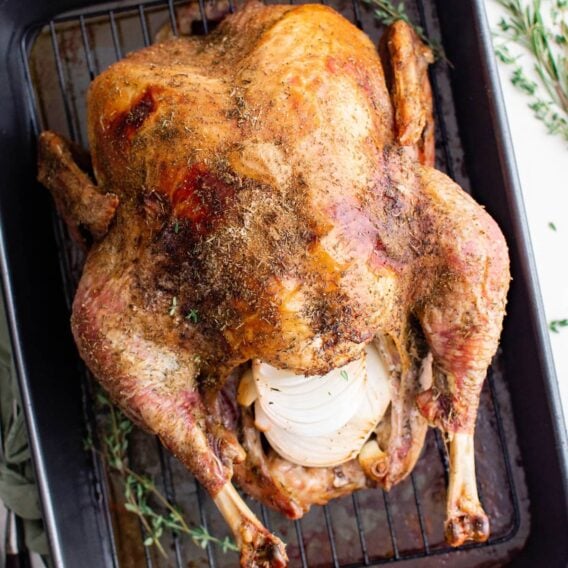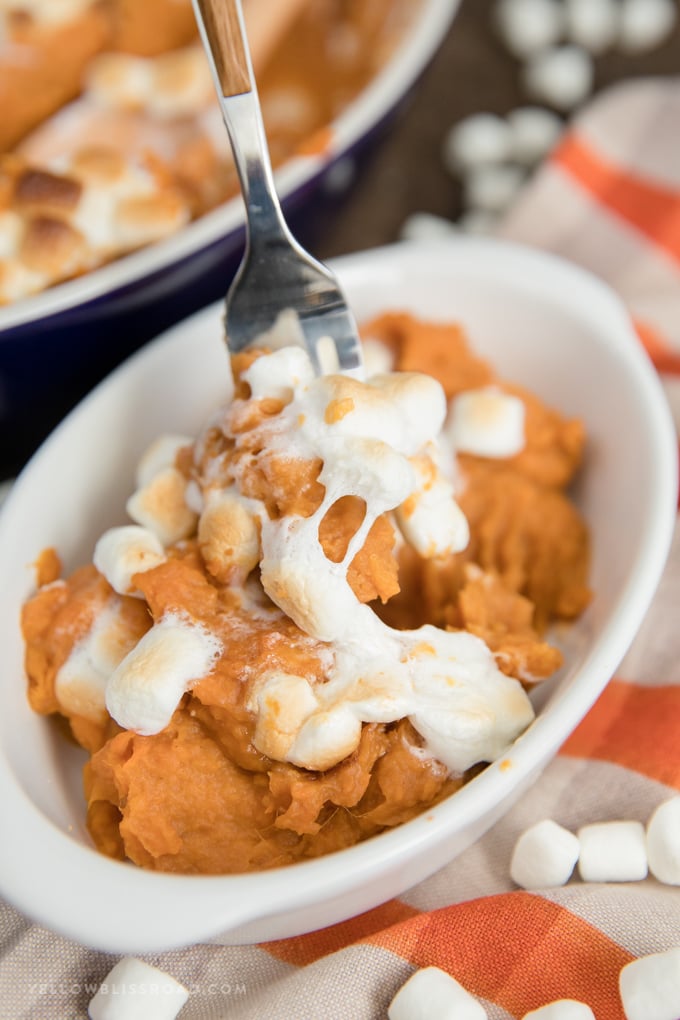 More Sweet Potato Recipes
If you've made this recipe, please come back and leave us a star rating or a comment below. Or, tag us on social media @yellowblissroad or #yellowblissroad for a chance to be featured.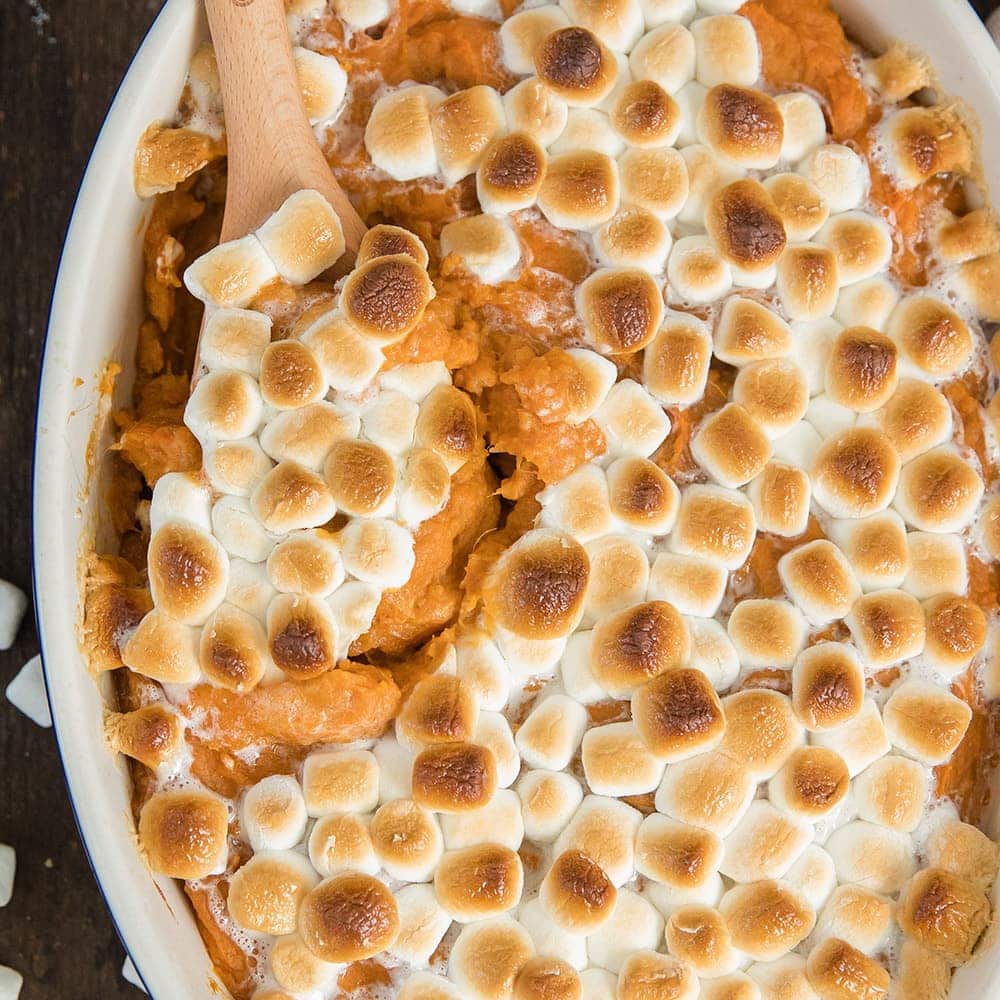 Sweet Potato Casserole
My Sweet Potato Casserole with marshmallows recipe is a classic Thanksgiving side dish with fresh sweet potatoes, brown sugar and cinnamon.
Ingredients
3

pounds

sweet potatoes

peeled and roughly cubed

1

cup

brown sugar

3

tablespoons

butter

melted

1 1/2

teaspoons

cinnamon

1/2

teaspoon

salt

1/4

cup

milk

as up to 1 cup for desired consistency

2

cups

mini marshmallows

Toasted Pecans for garnish

optional
Instructions
Preheat the oven to 375 degrees F. 

Bring a large pot of salted water to a boil. Reduce heat to medium-low and boil sweet potatoes until fork tender; about 20 minutes. Drain.

Mash the sweet potatoes with a potato masher until smooth. (Use a hand mixer if you want absolutely smooth with no lumps).

Stir in brown sugar, butter, cinnamon and salt until well combined. Add the milk a small amount at a time to reach desired consistency.

Spray an 11-inch x 7-inch (medium sized) casserole baking dish with nonstick cooking spray. Spread sweet potatoes evenly in the prepared casserole dish and top with a layer of the marshmallows.

Bake for 20-25 minutes or until marshmallows are golden brown.

Allow to cool for 5-10 minutes before serving. Garnish with toasted pecans.
Notes
If you find the marshmallows are starting to burn, remove the casserole from the oven sooner. You just need the casserole to be hot throughout, so there's no worry about under-cooking anything.
To make this ahead of time: Refrigerate the potato mixture in the casserole dish overnight and leave off the marshmallows until you're ready to bake. Add 5-10 minutes to the baking times and add the marshmallows halfway through the baking to avoid burning.
Freezing after baking is not recommended. However, you can freeze the prepped sweet potato without the topping. Spread the mashed sweet potato in a casserole dish, or even in a freezer bag, and squeeze out as much air as possible. Lay flat and freeze for up to 3 months.
Nutrition
Calories:
340
kcal
Carbohydrates:
73
g
Protein:
4
g
Fat:
4
g
Saturated Fat:
3
g
Cholesterol:
12
mg
Sodium:
307
mg
Potassium:
658
mg
Fiber:
5
g
Sugar:
43
g
Vitamin A:
24325
IU
Vitamin C:
4
mg
Calcium:
116
mg
Iron:
1
mg
Nutrition information provided is an estimate and will vary based on cooking methods and brands of ingredients used.