No need for a box, this homemade stuffing is so easy to make! Dried bread cubes tossed with sauteed celery and onions, fresh herbs and broth, then baked until it's moist and fluffy on the inside with crunchy bits on top.
While I do love a big scoop of buttery mashed potatoes, if I had to choose a favorite this homemade stuffing would be the clear winner. Stuffing isn't just for the holidays either; whip up a batch with some Baked Chicken Breasts or Pan Roasted Pork Tenderloin for a classic comfort food touch.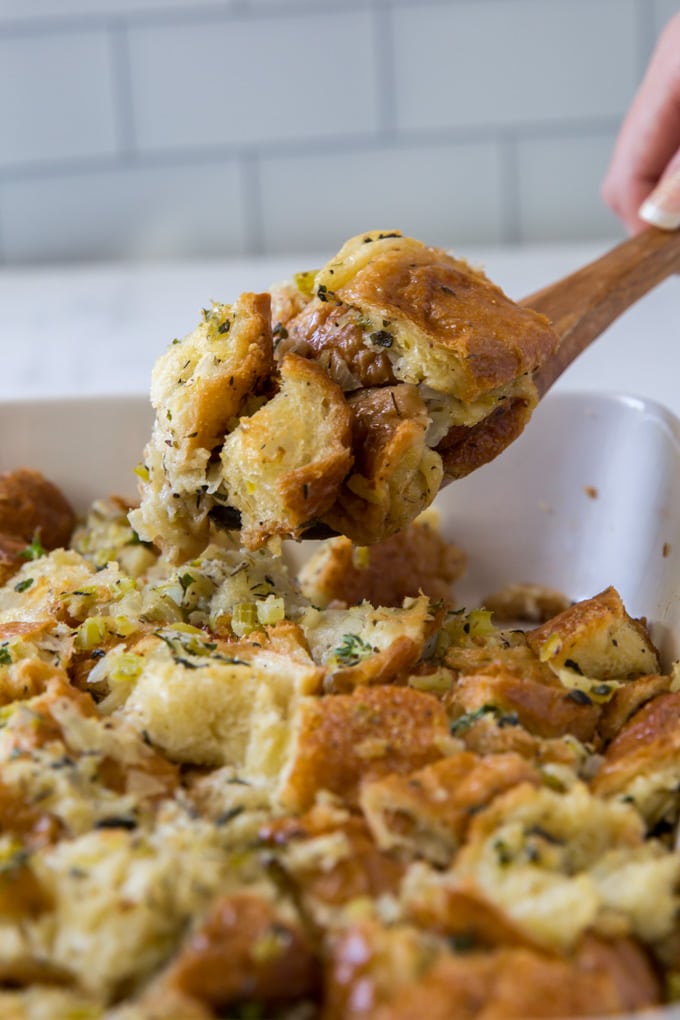 Traditional Stuffing Recipe
Cooking for the holidays can be daunting. With so many shortcuts available in box mixes and canned form, it can be tempting to take the easy route. But this homemade stuffing is surprisingly easy to make and doesn't even require that many steps.
We all know that stuffing is basically a requirement on your Thanksgiving table. It's a necessary side dish along for the Best Thanksgiving Turkey! That tender moist bread casserole with savory spices and herbs tops is definitely one of my top three favorite Thanksgiving sides, right next to Sweet Potato Casserole and Green Bean Casserole and of course.
What is the difference between stuffing and dressing?
Stuffing and dressing are essentially the same thing but the difference is in the way they are cooked. Dressing is cooked in a casserole dish to be served with a turkey. Stuffing is actually stuffed inside the cavity of the turkey and cooks at the same time as the bird and would need to be cooked to a temperature of 165 degrees to be considered safe to eat. Even though this homemade stuffing is technically dressing, but most people just know it as stuffing.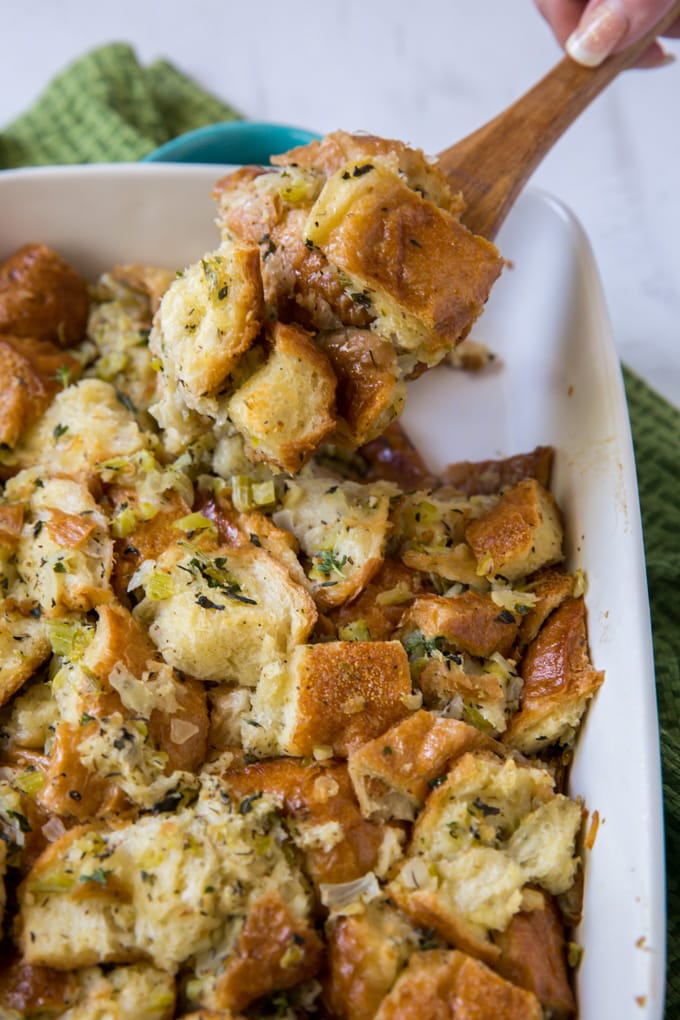 How to Make Homemade Stuffing
It's really easy to make your own stuffing from scratch, with just a few steps. You can use the recommended fresh herbs or you could replace them with a couple teaspoons of poultry seasoning. I definitely recommend fresh though if you can.
The day before you plan to prepare your stuffing, cut up a loaf of french bread into bite-sized cubes. Lay the bread cubes out in a single layer on a cookie sheet overnight so they can dry out. In a pinch, you can use fresh bread but it can end up a little on the mushy side.
When you're ready to bake, start by preheating the oven. This is so important for even cooking.
Melt some butter in a large skillet. Add diced onions and celery and saute them until they are soft and the onions are translucent. Stir in the garlic and cook for another minute or so. Do this just at the end as adding the garlic too soon can cause it to burn.
Stir the vegetables, fresh sage and thyme together with the stale bread in a large bowl. In another bowl, whisk together an egg and some chicken broth, then pour some of it over the bread. Stir until the bread is moist but not mushy and add more of the broth until you're happy with the moisture of the bread.
Pour all of the homemade stuffing mixture into a large baking dish and cover with foil. Bake for about 40 minutes, then remove the foil and bake for an additional 20 minutes. If you want the top to be a little more golden and crispy, flip on the broiler for the last five minutes or so.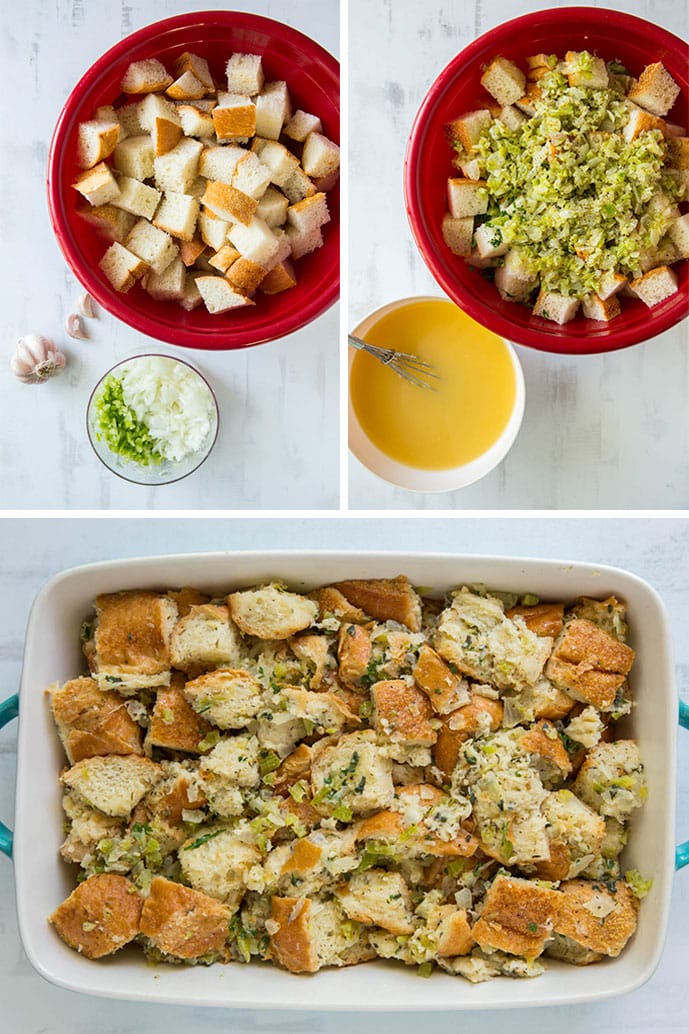 Can I make homemade stuffing ahead of time?
If you want to make your turkey dressing ahead of time, bake it all the way through, let it cool, then cover tightly and store in the fridge. I don't recommend letting it sit too long before baking as the bread can become mushy. Reheat in a 350 degree oven, covered with foil, for about 10-15 minutes.
Do you have to dry out bread for stuffing?
Yes and no. Letting the bread sit out overnight is helpful for adding flavor and texture to your homemade stuffing. It helps control the moisture a bit so you aren't left with mushy or soggy pieces of bread in the center.However it isn't going to ruin your stuffing if you forego this step.
Can I use cook this stuffing inside my turkey?
I typically make my stuffing from scratch in a casserole dish and bake it separately from the turkey. But if you want to stuff your turkey, make sure the stuffing is completely cooled to room temperature or chilled so that the bird won't sit at an unsafe temperature for too long. Remember that the stuffing needs to be cooked to 165 degrees F because it absorbs the drippings from the turkey.
What to do with leftovers
Who doesn't love turkey dinner leftovers? I love to pile turkey, mashed potatoes, homemade stuffing and cranberry sauce all in a bowl and it enjoy it for lunch the next day! But if you end up with a lot leftover, it can be difficult to finish them all. What's great about this homemade stuffing is that it freezes beautifully. It will last 3-4 months in a freezer container.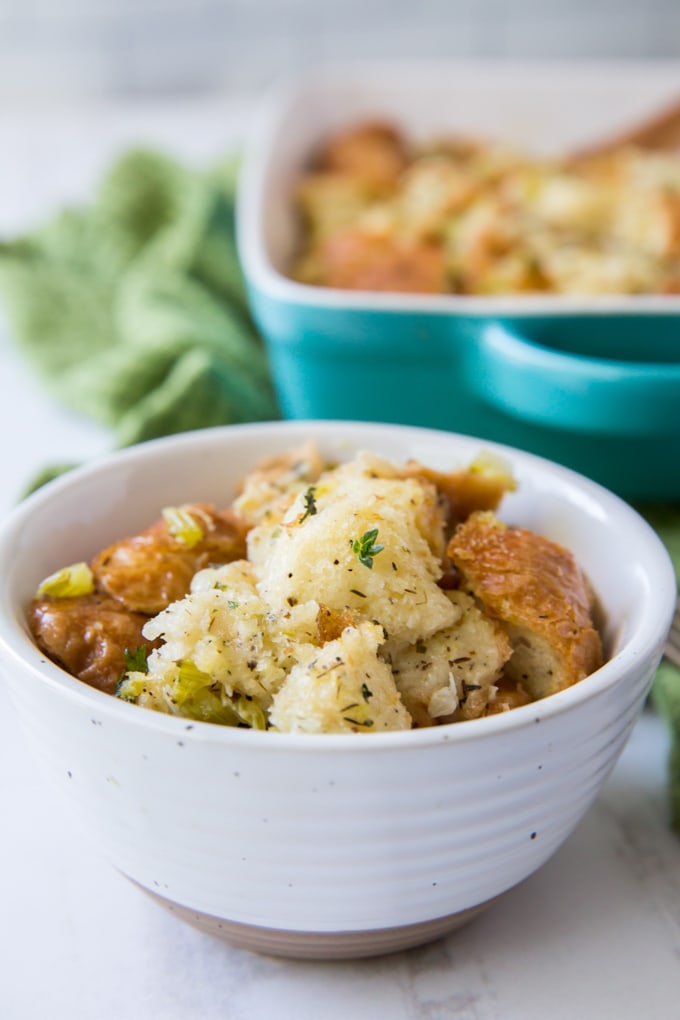 More essential Thanksgiving Side Dishes: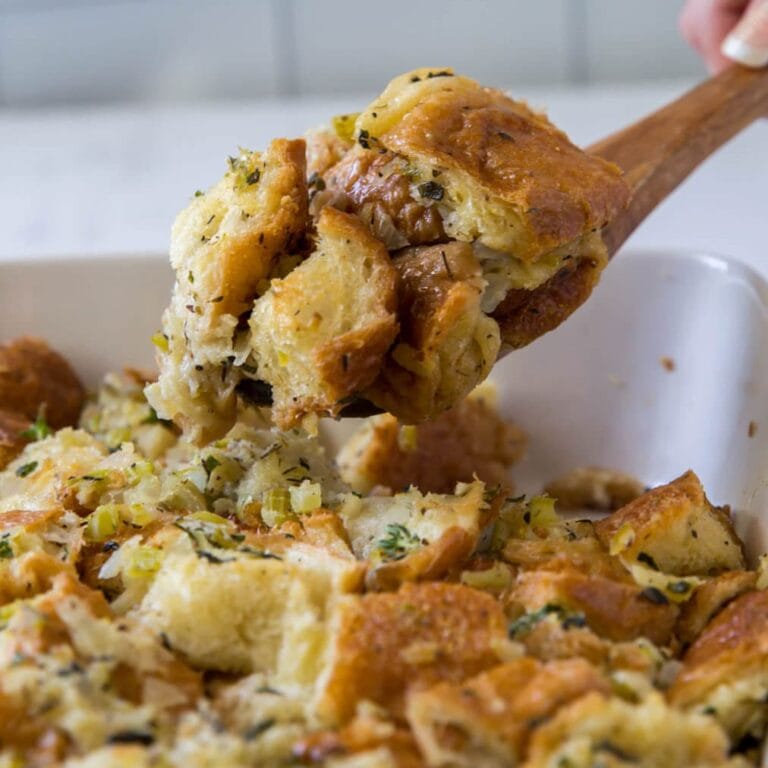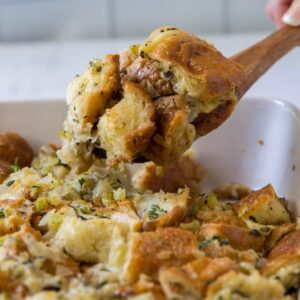 Homemade Stuffing
Homemade Stuffing that's so easy to make! Dried bread tossed with buttery celery and onions, fresh herbs and broth, then baked until it's moist and fluffy.
Ingredients
3/4 cup diced onion
3 celery stalks diced (1/2-3/4 cup)
2 garlic cloves minced
2/3 cup butter
¼ teaspoon black pepper
½ teaspoon salt
12 cups 1-inch stale bread cubes (1 large loaf french bread)
3-4 cups chicken broth
1 egg beaten
¼ cup fresh parsley minced
3 teaspoons fresh thyme leaves minced
3 teaspoons fresh sage minced
Instructions
Arrange the bread cubes on a cookie sheet and let them sit out on the counter overnight to dehydrate them.

Preheat oven to 350 degrees F.

Add bread cubes to a large bowl and set aside.

Melt butter in a large skillet over medium heat and saute onions and celery until soft and translucent; about 5-6 minutes. Stir in garlic and cook for an additional minute.

Add vegetables and fresh herbs to the bowl with the bread and stir.

Whisk egg together with chicken broth, then pour over bread until it's moist but not soggy. You may not need all of the broth. Season with salt and pepper.

Pour bread mixture into a 13x9-inch buttered baking dish. Cover with foil and bake for 40 minutes. Uncover and bake for an additional 15-20 minutes. Watch closely once uncovered so the top doesn't burn.
Nutrition
Calories: 297kcalCarbohydrates: 30gProtein: 7gFat: 17gSaturated Fat: 10gCholesterol: 61mgSodium: 860mgPotassium: 181mgFiber: 2gSugar: 2gVitamin A: 703IUVitamin C: 11mgCalcium: 49mgIron: 2mg