This Roast Turkey Breast recipe is made with a dreamy garlic herb butter for the most flavorful, juicy meat and crispy skin. It's the perfect alternative to a full size turkey.
A roast turkey breast is perfect for a small family Thanksgiving when you don't want to cook a whole turkey, or as a secondary entree for a larger holiday gathering.
It's the perfect addition to your holiday spread, served alongside Make Ahead Mashed Potatoes, Homemade Stuffing, Sweet Potato Casserole Recipe and the best Green Bean Casserole.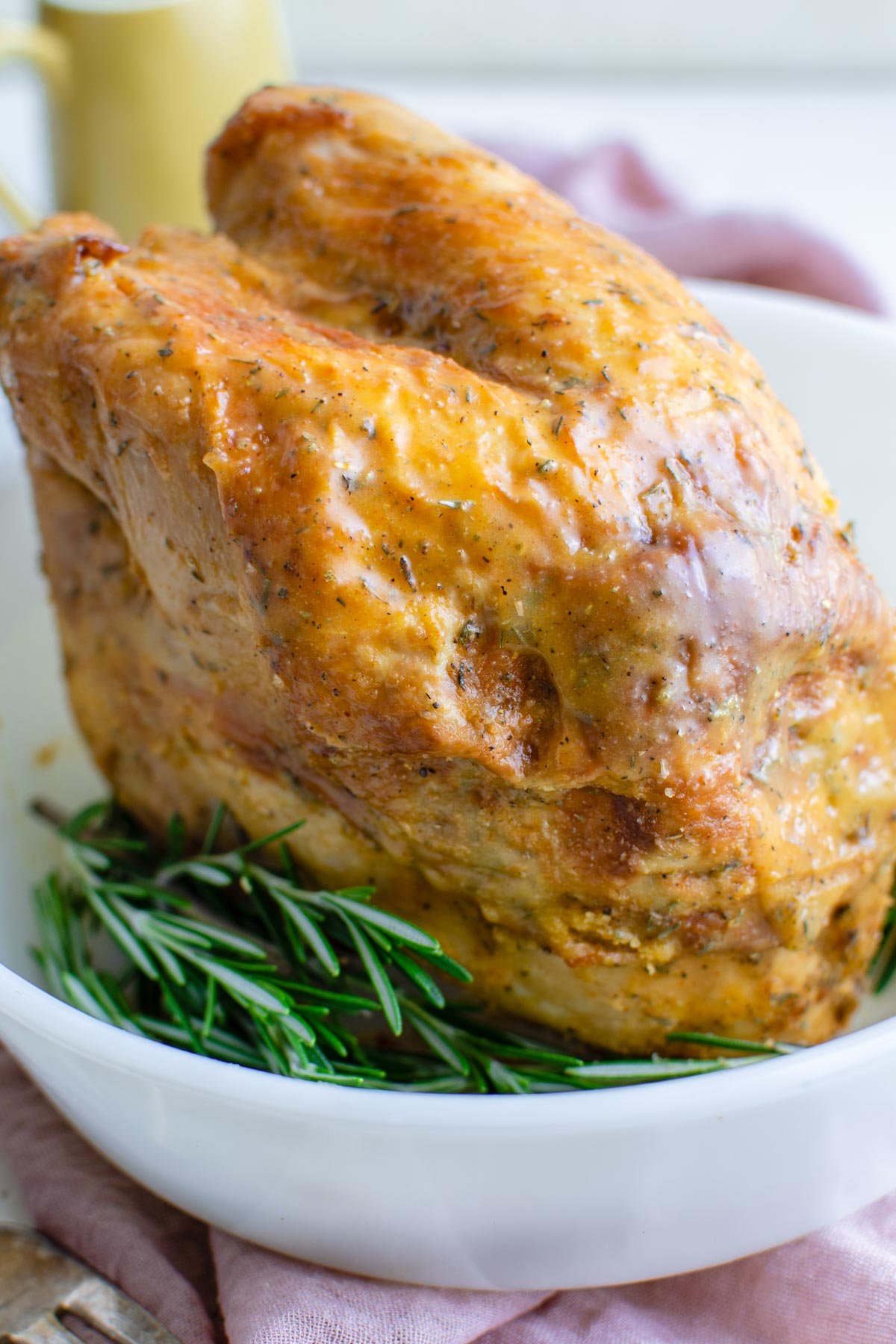 Pin this recipe for later!
Why This Recipe Works
Thanksgiving looks different than it did a few years ago. With smaller gatherings becoming the norm, we're all looking for ways to keep Thanksgiving traditions alive while feeding less people.
If you're wanting to make a whole Thanksgiving turkey, you're might have a ton of leftovers so this roast turkey breast is a perfect compromise. This Roast turkey breast recipe is perfect for my small family of 5!
The holidays can get pretty crazy, so having an extra turkey breast on hand can also feed the extra 5 cousins who showed up last minute.
To flavor the meat and keep it juicy and moist, I made a compound butter with flavorful herbs and seasonings and stuffed it underneath the turkey breast skin. This does two things – adds incredible flavor to the meat and helps to crisp up the skin. It's a trick I learned a while back and I always get amazing results with a Whole Roast Chicken and with my Crispy Baked Chicken Thighs.
If you're lucky, you'll get a lot of juices pouring off so you can make some creamy turkey gravy!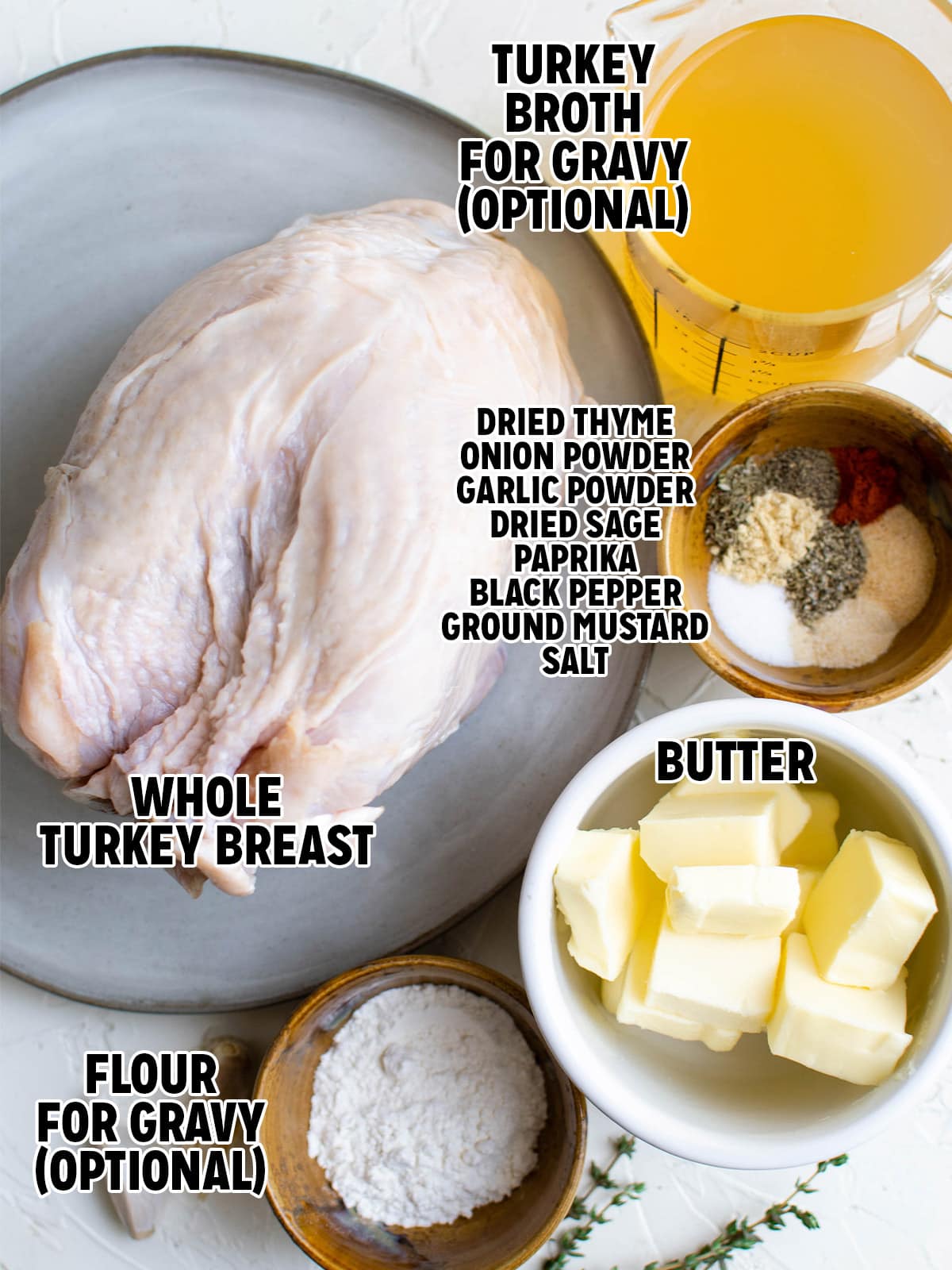 Main Ingredients
Bone-in Turkey Breast – Look for a whole or half breast that is around 4-6 pounds. This recipe will still work with a small or larger breast, but you may need to adjust the amount of butter and seasonings. A half-breast runs around 3-5 pounds and will feed 3-6 people, while a whole turkey breast (two breasts joined at the breast bone) will be about 6-8 pounds and will feed 6-8 people.
Butter – Softened butter rubbed under the skin creates a crispy skin that golden and flavorful.
Herbs and Seasonings – dried thyme, onion powder, garlic powder, dried sage, paprika, black pepper, ground mustard and salt.
How to Roast a Turkey Breast
Some people are intimidated by cooking a turkey (I was one of them!) but once you learn how to roast a turkey breast you'll never fear again!
See recipe card below for ingredient quantities and full instructions.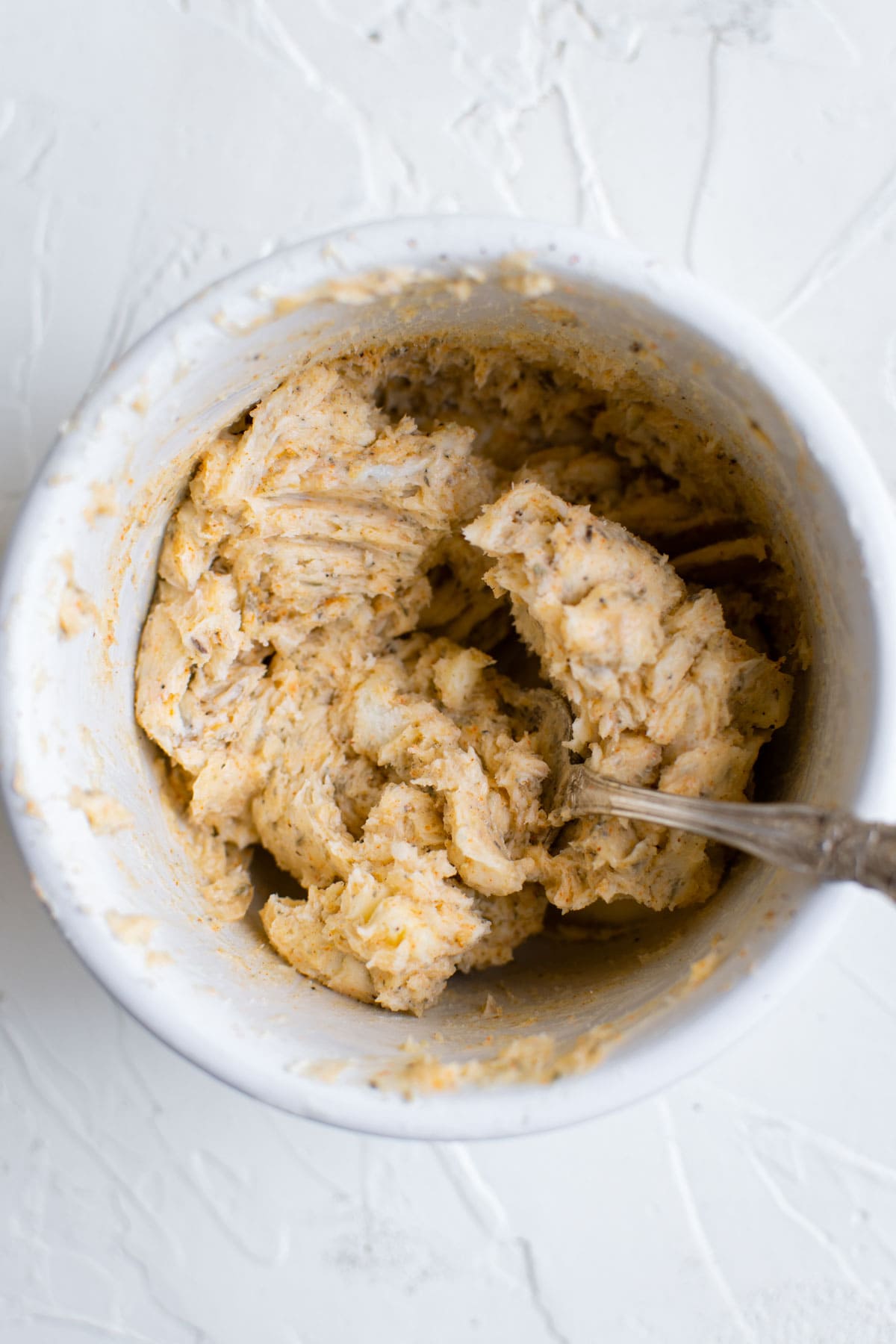 Step 1: Mix softened butter with all of the herbs and seasonings in a small bowl.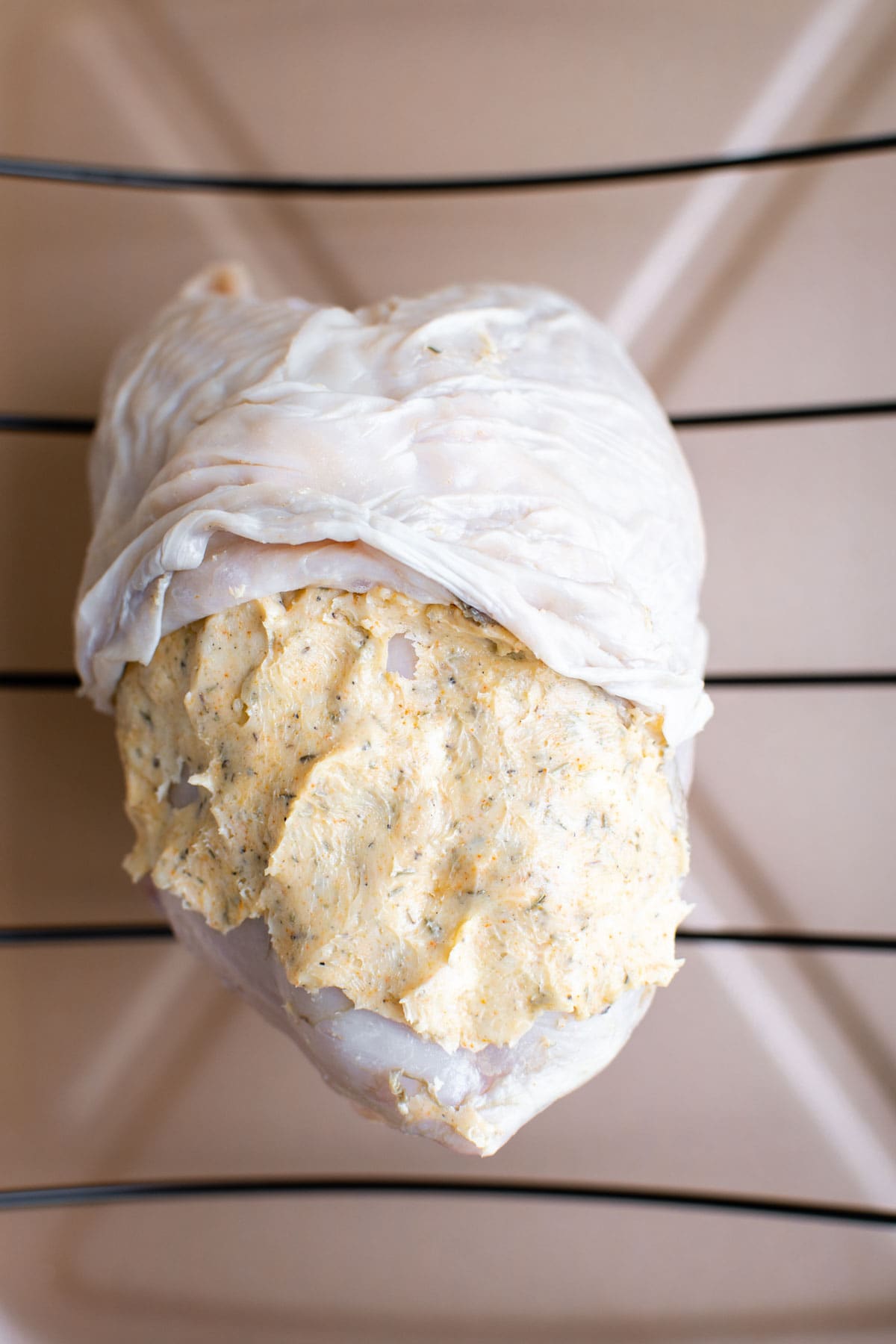 Step 2: Place the turkey breast in the pan skin side up. Gently lift up the skin of the turkey breast, making sure to keep it connected to the meat. I recommend using your fingers for this, but you could also use the back of a spoon. Just remember to be gentle. Rub the butter all over the meat under the skin.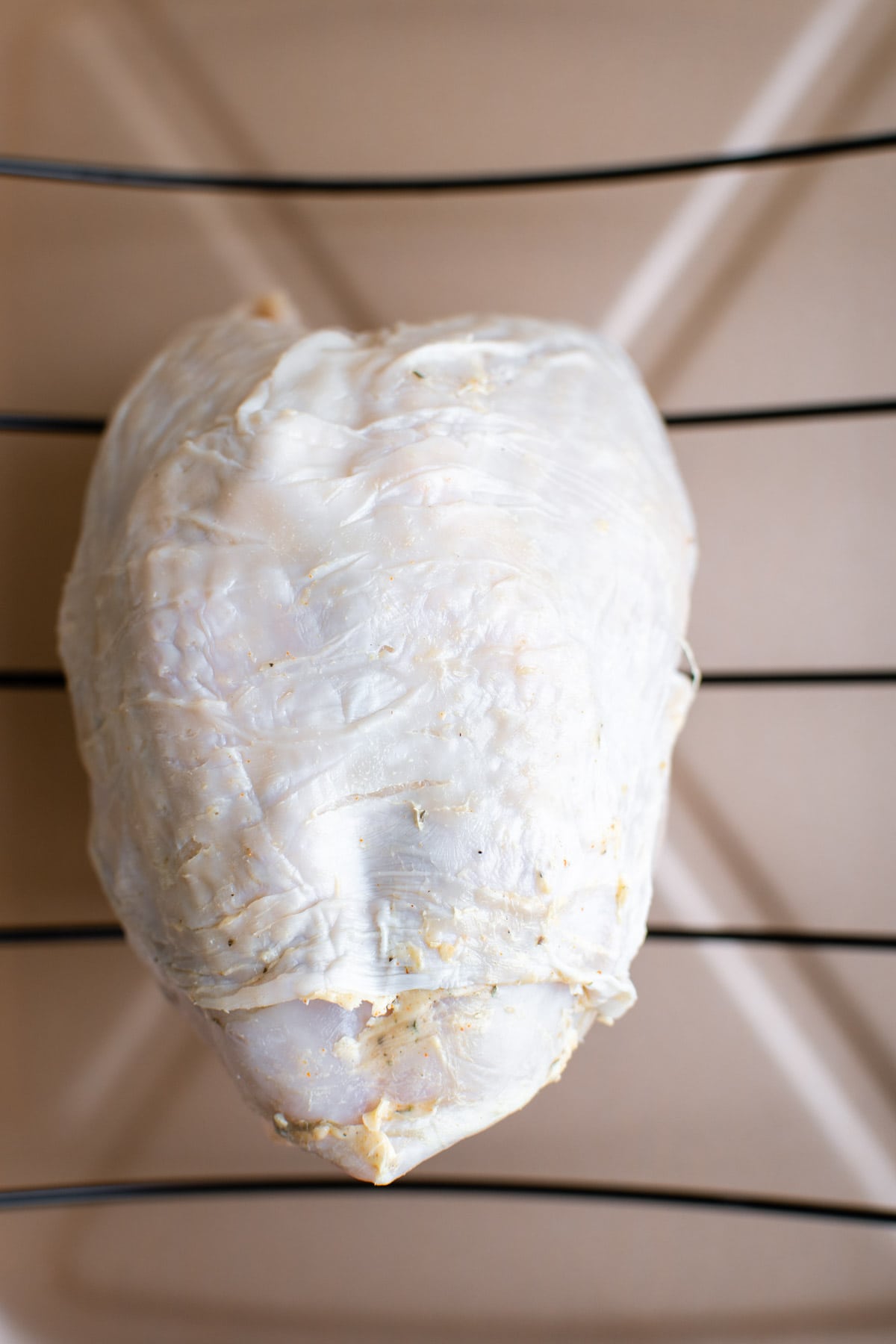 Step 3: Smooth the skin down so the butter doesn't drip out.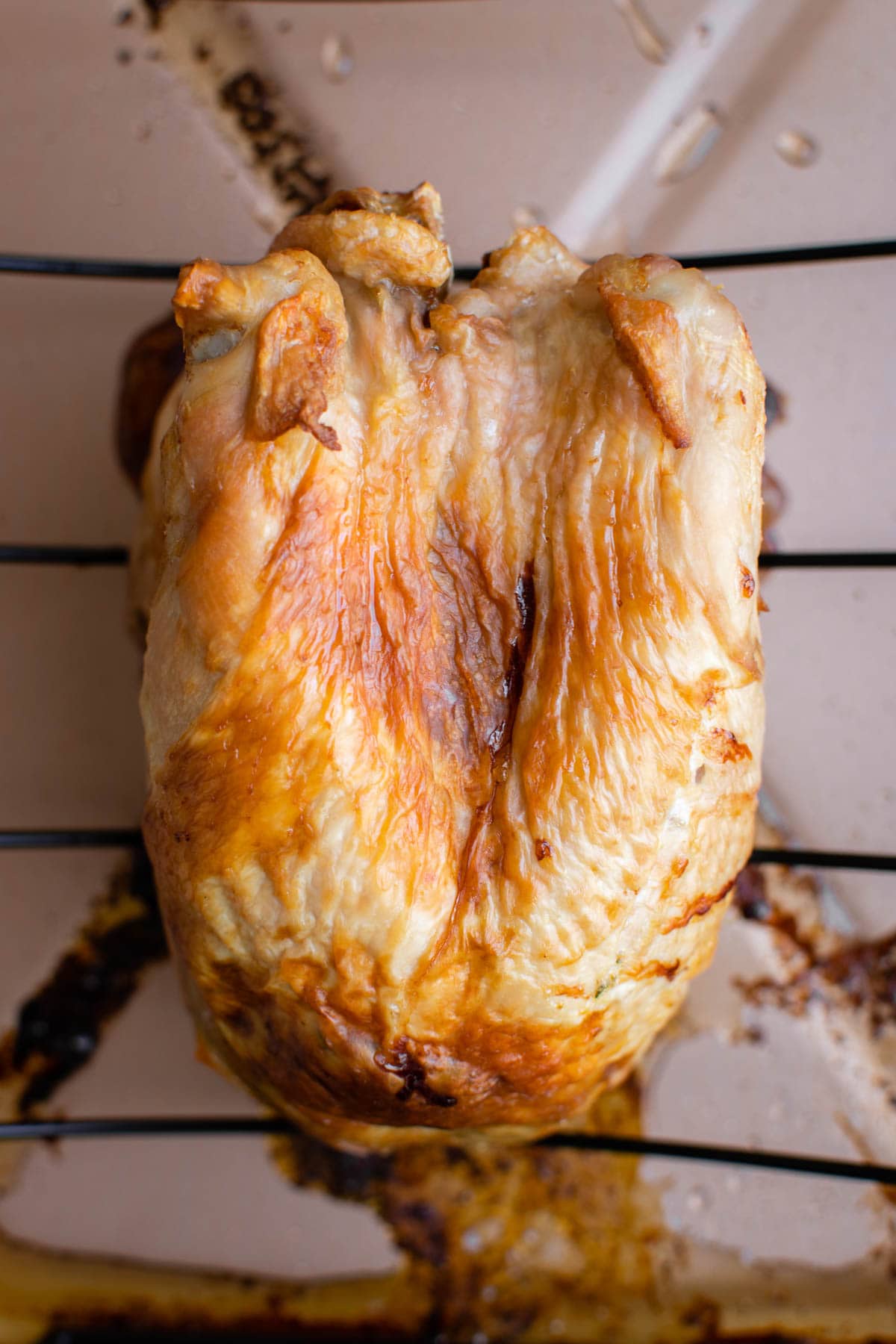 Step 4: Roast in the 325℉ oven, uncovered, for about 20 minutes per pound. A 5-pound breast would roast for about an hour and 40 minutes.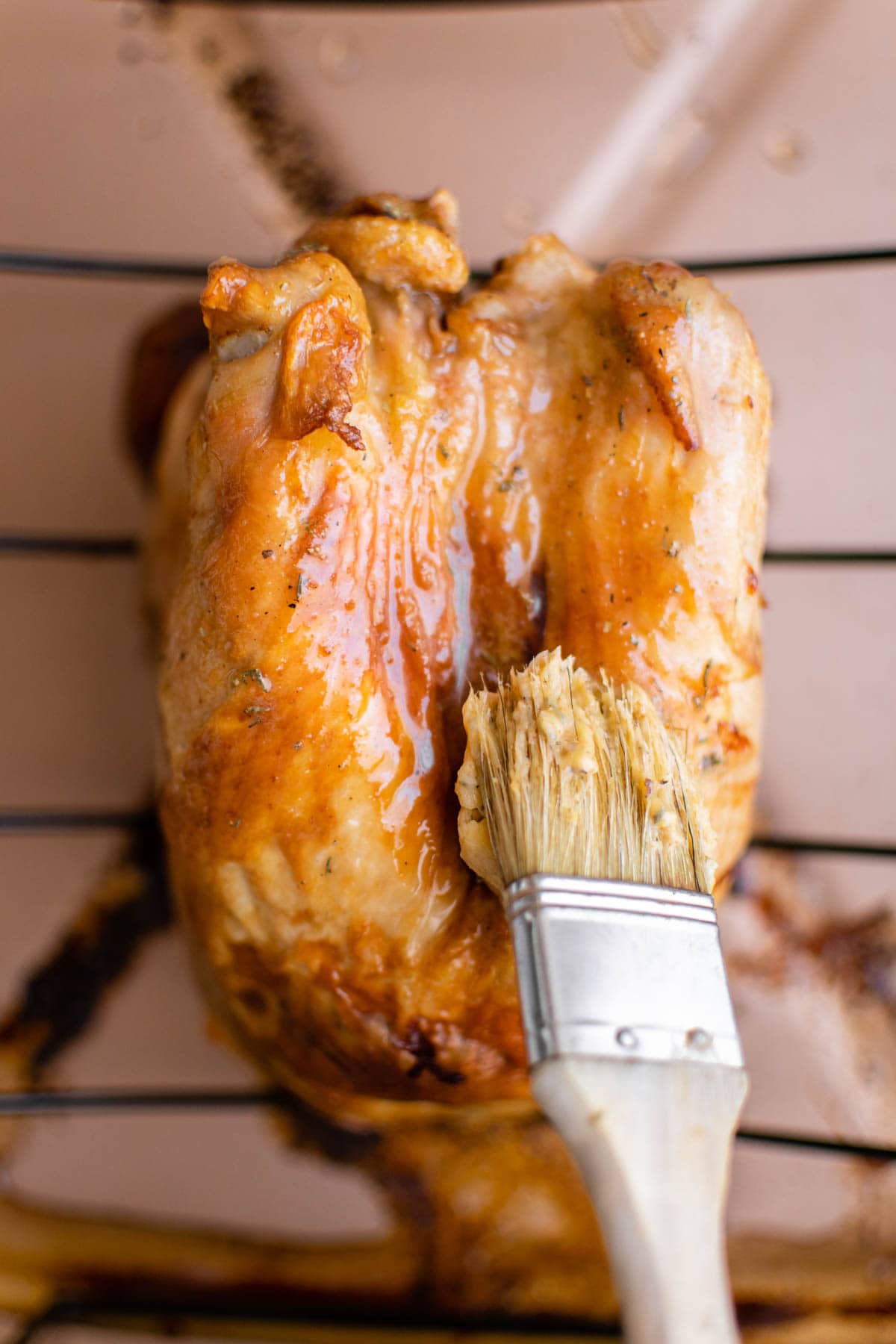 Step 5: Brush the finished turkey breast with more of the seasoned butter. Make sure to use a clean brush to avoid cross-contamination.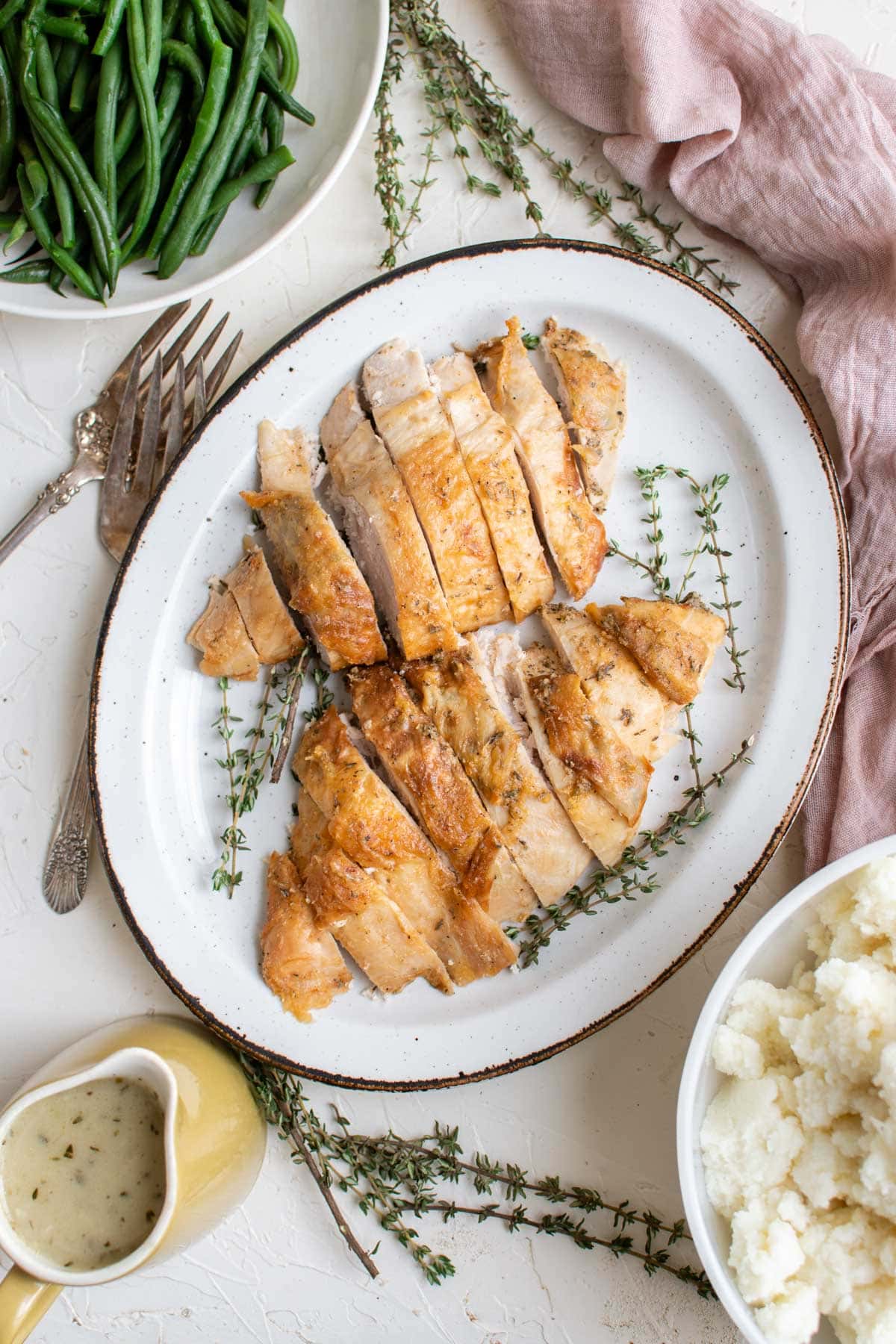 Serve: Slice the turkey breast and arrange on a platter or serve straight from your cutting board. Garnish with fresh herbs and pair with your favorite sides.
Hot Tip
Because oven temps can vary, I recommend checking the meat temp about 20-30 minutes before you think it will be finished just to make sure you don't overcook it.
Recipe FAQs
Is it better to roast a turkey breast up or down?
If you want crispy skin, you're going to roast the turkey breast skin side up. You don't need a special roasting pan; just a regular 9×13″ baking dish. However, having the breast sit on a rack within the pan with help the air circulate and the meat to cook evenly.

When roasting a whole turkey, like my Foolproof Turkey Recipe, you'll want to cover the breast with foil because it's in the oven for twice the amount of time. Since you're only cooking this one for about 90 minutes, leave it uncovered with the breast facing up so the skin will get crispy.
Can I remove the skin?
I always recommend cooking with bone-in skin-on meat. There is so much flavor to be had and that crispy skin is the best part. However if prefer to avoid the excess fat, you can remove the skin before cooking.
Do I need to baste a turkey breast?
The whole point of basting is to moisten the outside of the turkey to keep it juicy. There is no need to continuously baste this turkey breast – all of that butter that you put under the skin will keep the meat moist. Plus, the constant opening of the oven door lets out valuable heat.
What temperature do you roast a turkey breast at?
I've tested this recipe a few different ways and with different times and temps. For the best roast turkey breast, roast at 325℉. You'll get juicy meat and crispy skin with an incredible flavor.

If you need to cook it a little faster, you can raise the temp to 350 degrees and cook for about 15-18 minutes per pound. It should shave about 20 minutes off of the cooking time – use caution with this trick though, it can dry out the meat if you don't watch the temp closely.
What Size Turkey Breast Should I Buy?
Most grocery stores sell turkey breasts year-round, not just at the holidays. It's the perfect size for a week's worth of sandwiches or for adding a few people to the holiday dinner table without having to cook a second turkey.
Determine how much turkey you need by the number of guests, and whether or not you want leftovers. Plan on about ¾ pound of turkey per person (remember this accounts for the bone as well) and 1 pound per person if you want leftovers.
When there are lots of side dishes, people tend to eat less of the meat, so if you want to stretch it a little further make sure you have plenty of Garlic Green Beans and Make Ahead Mashed Potatoes to serve with it.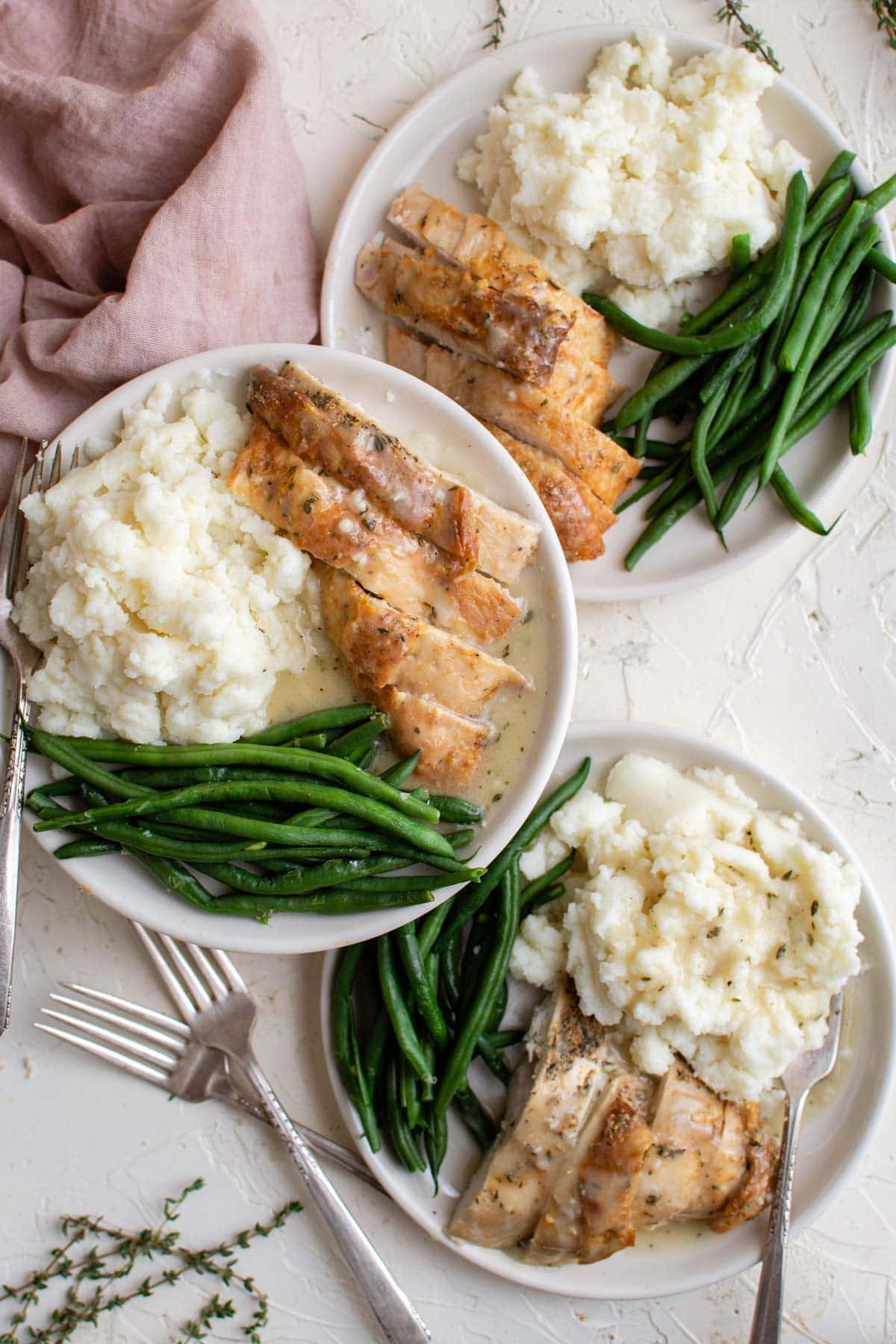 How Many Minutes Per Pound Should You Cook a Turkey Breast?
Coo a turkey breast at 325℉ for 20 minutes per pound. For example, my turkey breast was about 5 pounds, so I cooked it for about an hour and 40 minutes. A boneless turkey breast will take about 5-10 minutes less per pound.
The most important thing is to cook the meat to a safe temperature of 165℉. Use a digital meat thermometer inserted into the thickest part of the meat. I recommend pulling it out of the oven at 160℉ then covering with foil and letting it rest for 10 minutes before carving.
Roast a turkey at 325℉ following the time chart below. Keep in mind these numbers are approximate and could vary by oven.
3 pounds – 60 minutes
4 pounds – 80 minutes
5 pounds – 1 hour, 40 minutes
6 pounds – 2 hours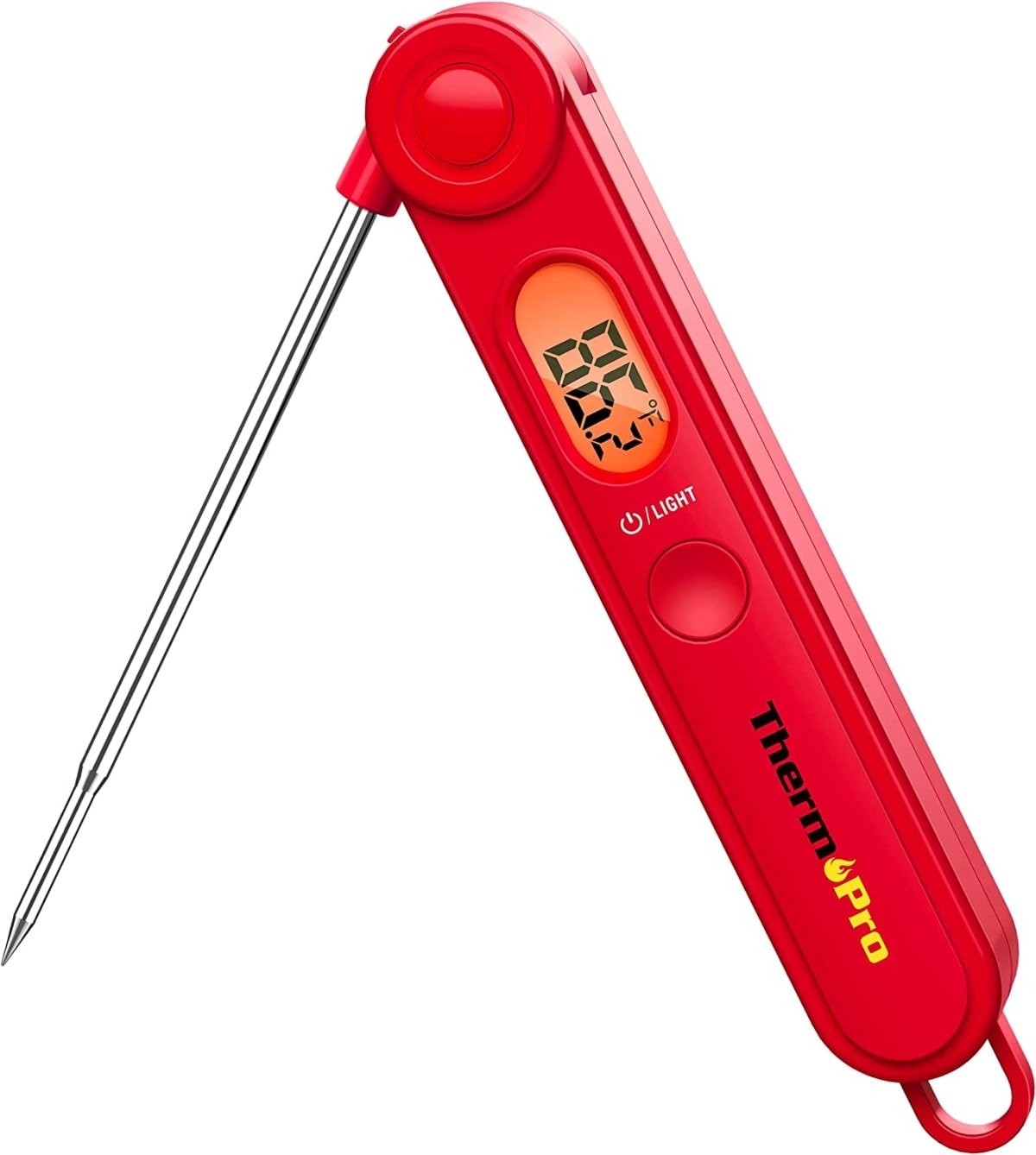 Thermopro Digital Instant Read Meat Thermometer
I highly recommend investing in a meat thermometer for your kitchen. It's ver affordable and often on sale! This is the one I've used for years and it has a hundred thousand positive reviews.
How to Carve a Turkey Breast
Let your bird rest for at least 10-15 minutes for the juices to redistribute. This rings true with any kind of meat. The larger it is, the longer it will need. Chicken breasts and steaks will need 5-10 minutes, while a larger turkey breast needs 12-15. Tent with foil to keep warm.
Place the roast turkey breast on a cutting board. I recommend sharpening your knife first, then use it to remove the turkey breast from the bone by sliding the knife along the bone to separate. Once removed, lay the breast, skin side up, on your cutting board. Slice against the grain using a sharp knife.
If using a boneless turkey breast, still let it rest and use a sharp knife. Simply place the breast skin side up on a cutting board and slice against the grain.
Recipe Notes and Tips
Make sure to fully defrost your turkey breast for at least 24 hours in the fridge before roasting. It can stay in the fridge for 2-3 days before you have to cook it.
Always roast skin side up if you want a nice, crispy skin.
There is no need to cover with foil as it's cooking. Leaving it exposed will encourage that crispy skin that you want.
If the turkey you purchase was brined before being frozen (check the label) you may want to cut the amount of added salt in half so you don't end up with something too salty. You can always add more salt, but you can't take it away.
Feel free to customize the seasonings to your tastes. Spice it up with a cajun seasoning blend, or add some lemon pepper or lemon zest and fresh parsley.
Save the pan dripping to make some homemade turkey gravy!
Make Ahead and Storage
Make Ahead: You can cook your turkey breast 24 hours in advance and store in an airtight container in the fridge. Then simply heat it in the oven for serving. I recommend reheating at 325℉ in a foil-covered pan. Pro Tip: Add a pan of water next to the turkey on the oven to create steam.
Leftovers: Leftover turkey is great for creamy Turkey Salad or BLT Turkey Wraps. Cool completely, then store in an airtight container in the fridge for up to 3-4 days. You can also freeze for up to 4 months. Thaw before reheating.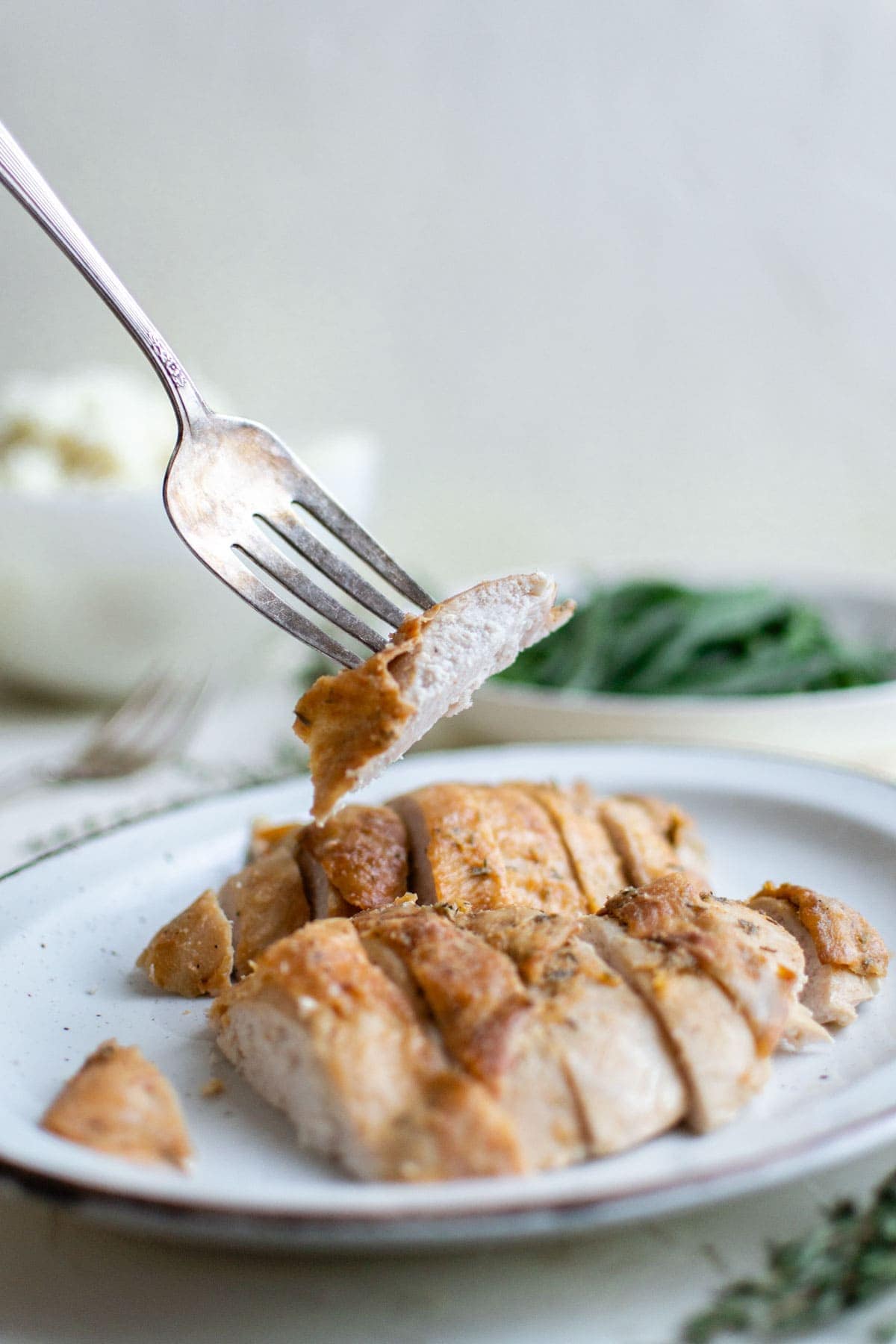 Side Dishes for Turkey
Recipe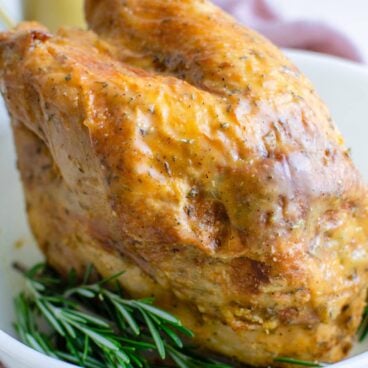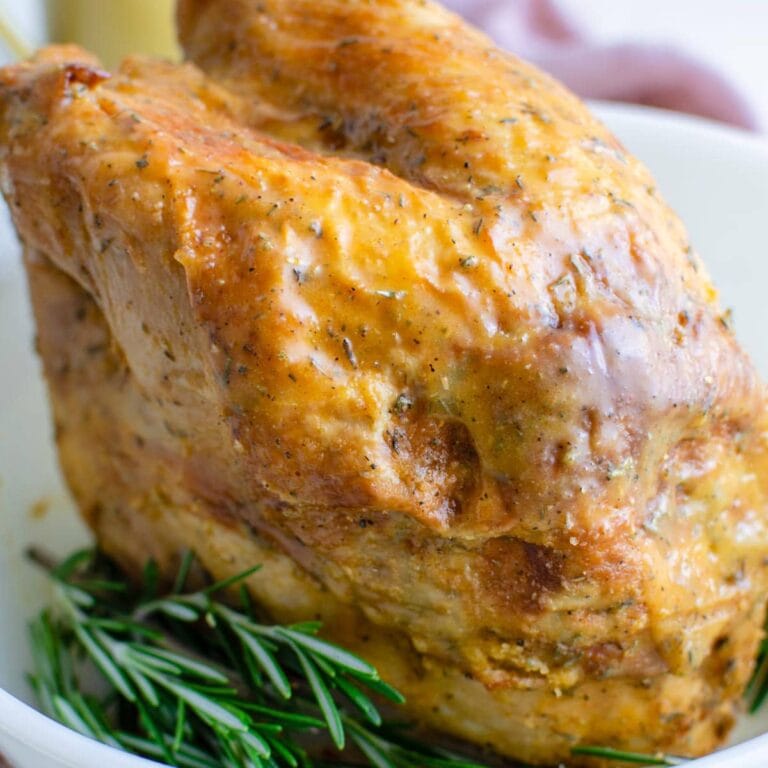 Roast Turkey Breast Recipe
This Roast Turkey Breast has the most flavorful, juicy meat and crispy skin. It's the perfect alternative to a full-size turkey.
Cook Time
1

hour
30

minutes
Total Time
2

hours
5

minutes
Ingredients
1

teaspoon

salt

1

teaspoon

dried thyme

½

teaspoon

Onion powder

½

teaspoon

Garlic powder

½

teaspoon

dried sage

¼

teaspoon

paprika

¼

teaspoon

black pepper

¼

teaspoon

ground mustard

8

tablespoons

butter

1 stick, room temperature

1

bone-in turkey breast

4-5 pounds
Instructions
Preheat the oven to 325 degrees. Remove the top rack so only the bottom rack is left in the oven.

Set turkey breast, skin side up, in a roasting pan or baking dish and pat dry.

In a small bowl, mash butter and seasonings together. Spoon a couple of tablespoons into another bowl and set aside for later.

Gently lift up the skin of the turkey breast using a spoon or your fingers, keeping the sides intact. Rub the remaining herb butter all over the breast under the skin. Smooth the skin down over the butter, careful not to tear the skin or the butter will just drip out.

Roast uncovered for about 90 minutes or until the internal temperature at the thickest part of the breast reaches 165 degrees F.

Top with the remaining herb butter and tent with foil. Rest for 15-20 minutes before carving.
Notes
Serving size will vary and nutritional information is approximate. A 4-5 pound turkey breast will feed 6-8 people.
Be sure to read the accompanying post where I share lots of tips for roasting your turkey breast.
Do not cover the turkey breast. Leave the skin exposed so it gets nice and crispy.

Make Ahead up to 24 hours in advance and store in an airtight container in the fridge. Reheat in the oven at 325℉ in a foil-covered pan.

Pro Tip:

Add a pan of water next to the turkey on the oven to create steam to help keep the meat moist.

Cool leftovers completely, then store in an airtight container in the fridge for up to 3-4 days. You can also freeze for up to 4 months. Thaw before reheating.
Cook Times:
3 pounds – 60 minutes
4 pounds – 80 minutes
5 pounds – 1 hour, 40 minutes
6 pounds – 2 hours
Nutrition
Calories:
556
kcal
Carbohydrates:
3
g
Protein:
67
g
Fat:
32
g
Saturated Fat:
15
g
Cholesterol:
222
mg
Sodium:
1136
mg
Fiber:
1
g
Sugar:
1
g
Vitamin A:
508
IU
Calcium:
8
mg
Iron:
1
mg