These no-bake, pumpkin pie bars are the perfect first bite of Fall.
Hi everyone! Heather here, from The Caterpillar Years. I'm so excited to kick-off the Fall treat season with you!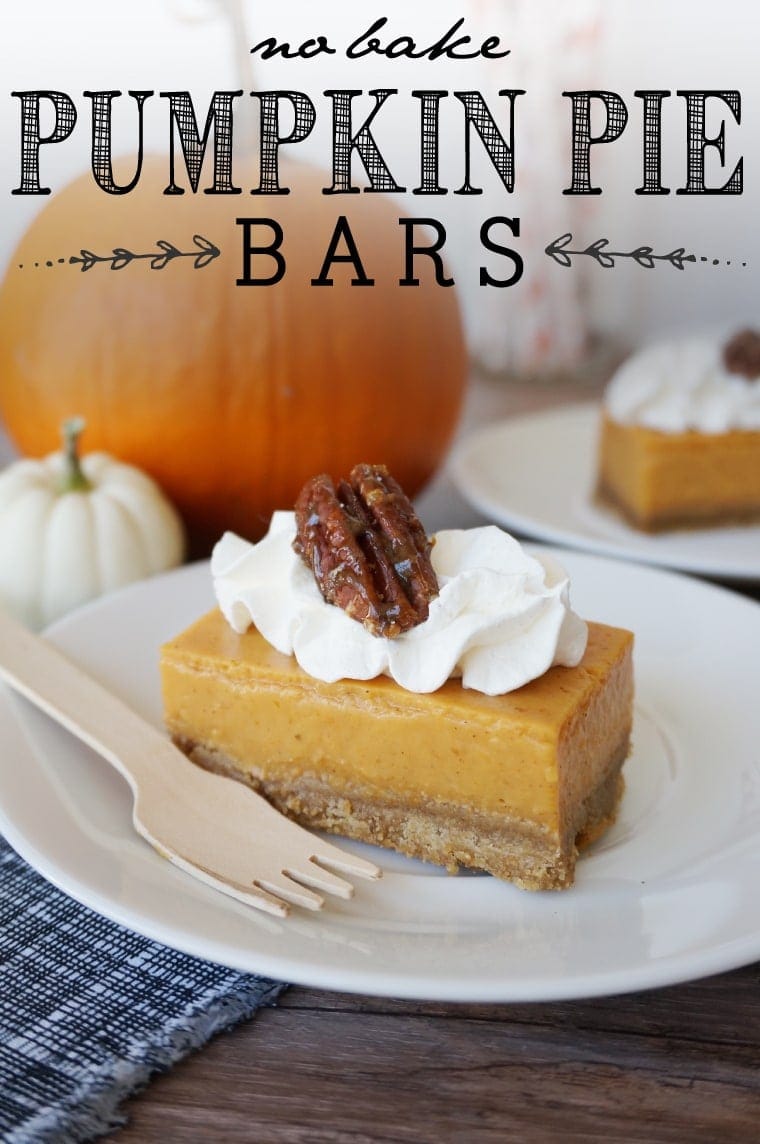 I love making pumpkin pie, but turning on my oven for an hour, when it's still in the 90's outside, just isn't going to happen.
Fortunately, these no-bake, pumpkin pie bars are nearly identical to pumpkin pie, in both texture and taste. They're the perfect way to enjoy pumpkin pie while it's still warm out!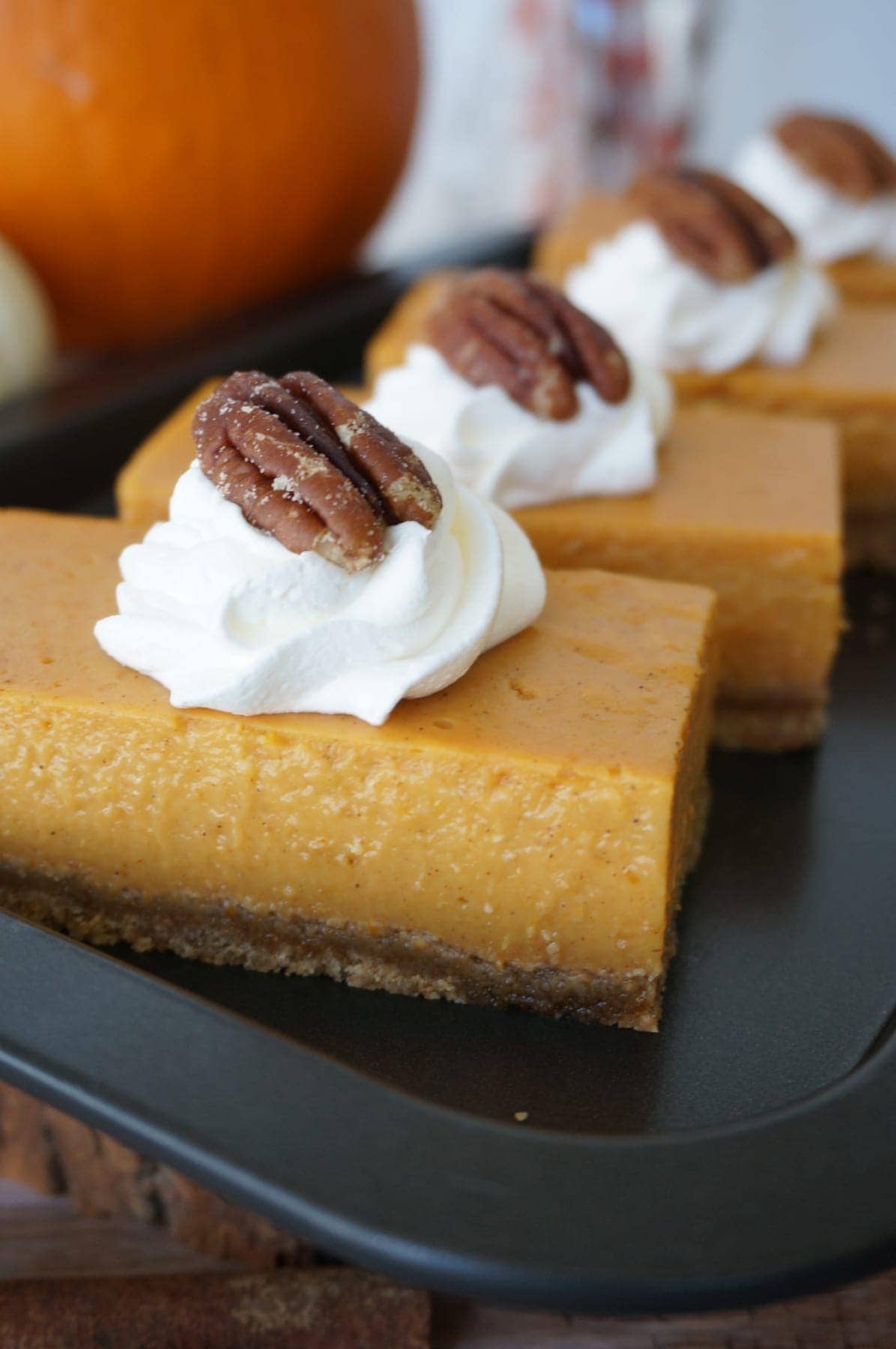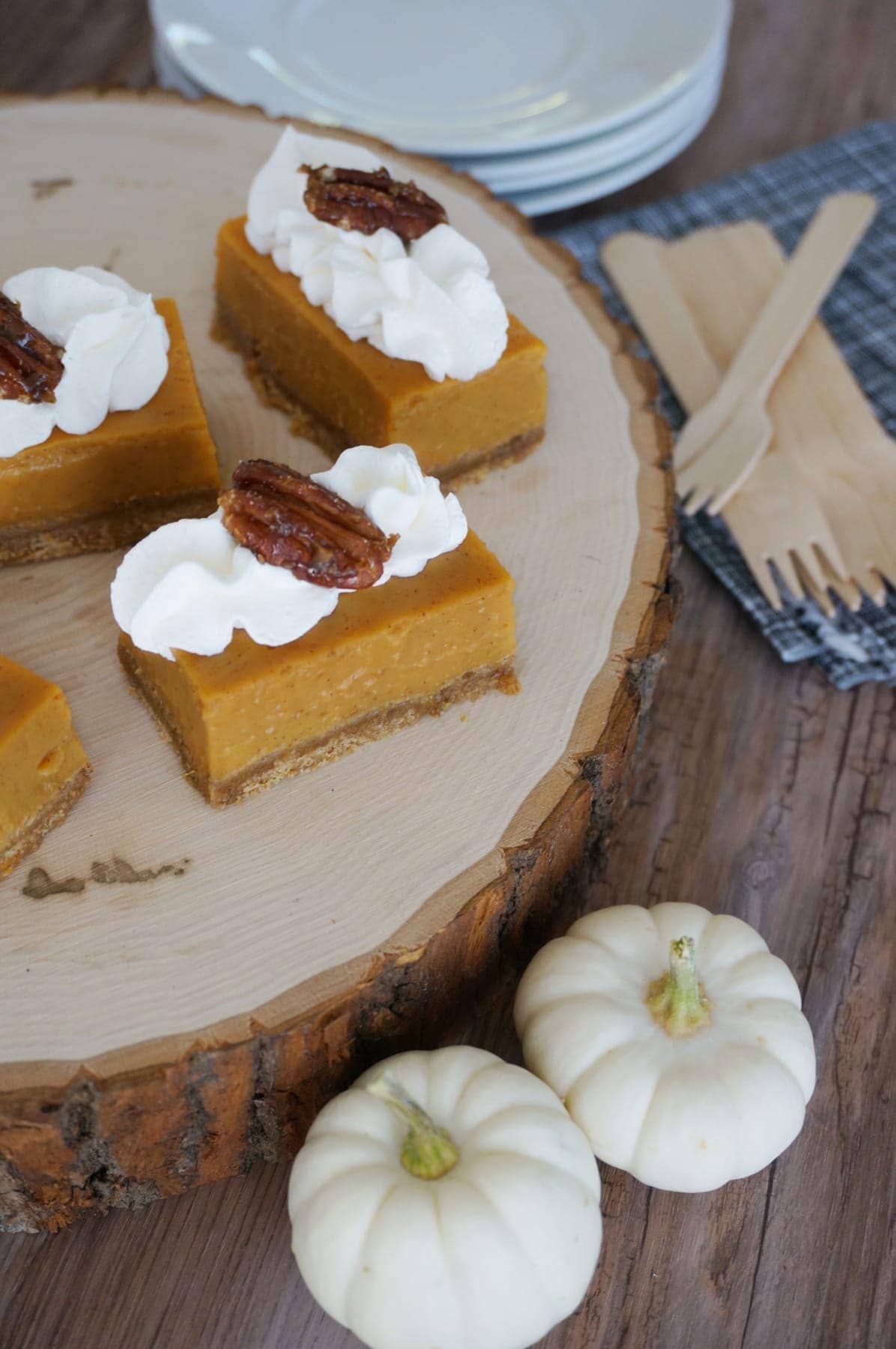 I think these pumpkin pie bars are served best cold, with a little whipped cream and a candied pecan on top. But I don't always have time for all those fancy toppings…
I'll confess, I've made these as a straight pudding, and eaten it as a dip with graham crackers. Please don't judge me! haha!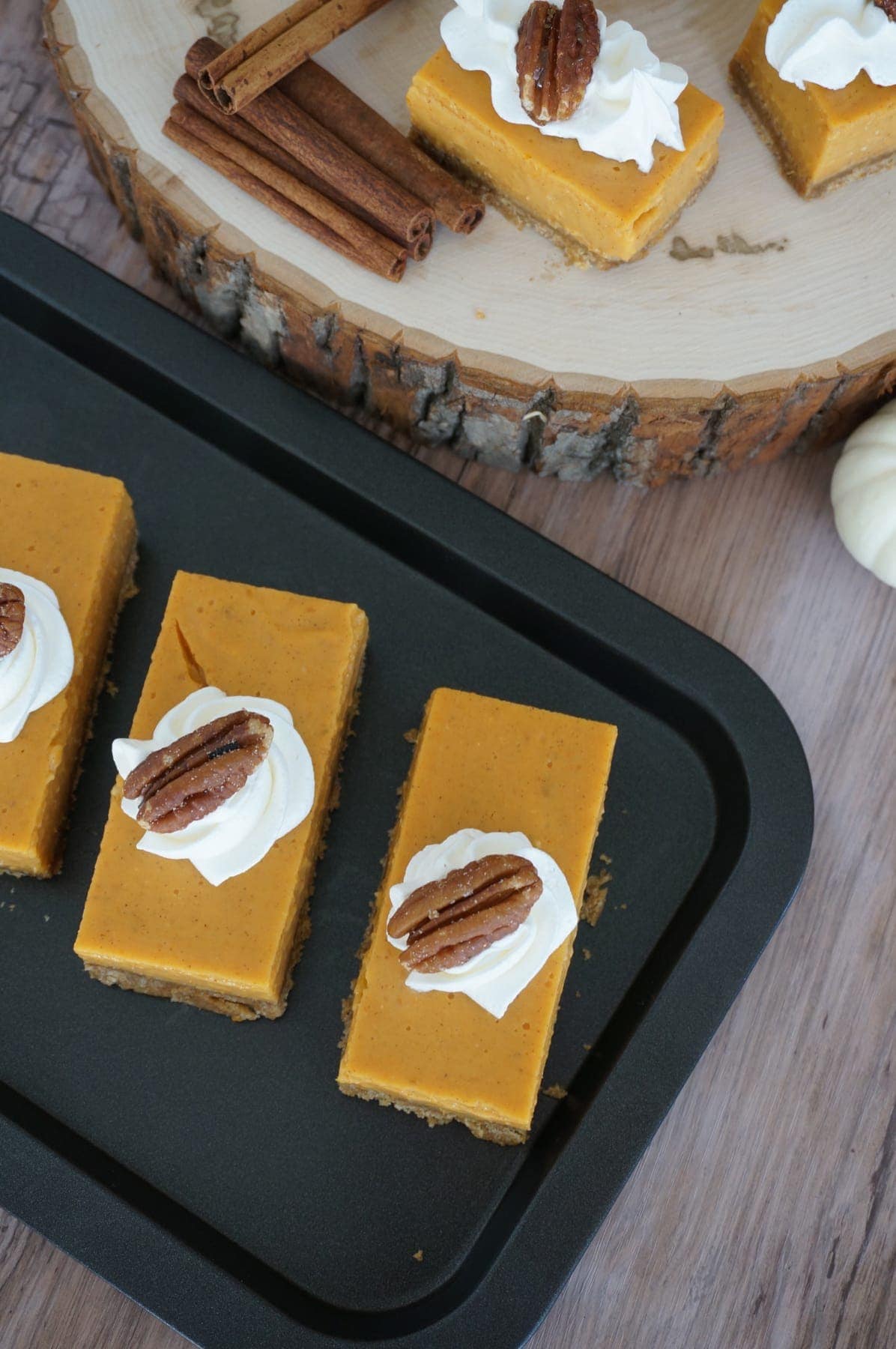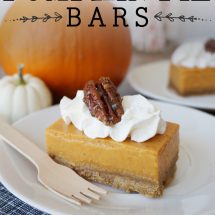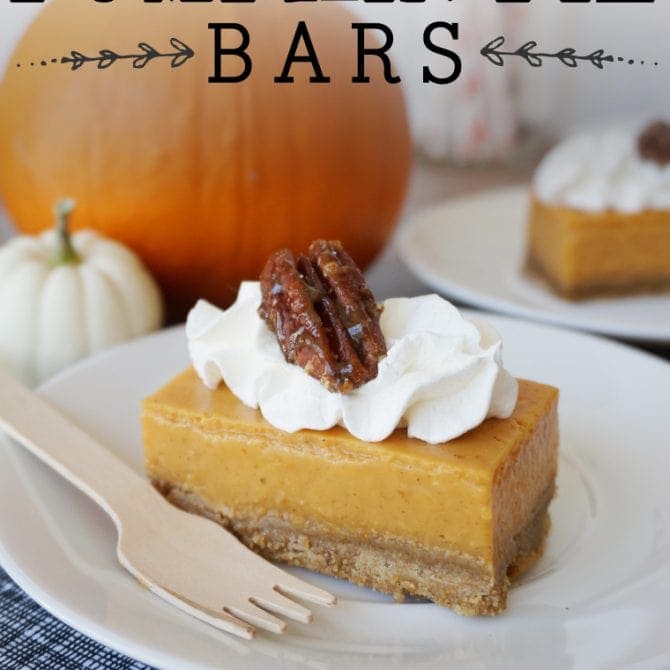 No-Bake, Pumpkin Pie Bars
The perfect way to enjoy pumpkin pie in early fall! Top with your favorite whipped topping, and/or candied pecans! YUM!
Print
Pin
Rate
Servings: 12 bars
Ingredients
Crust
10 whole graham crackers
6 Tbsp butter melted
1/3 Cup brown sugar
Pumpkin Filling
2 Cups whole milk
4.6 oz package vanilla cook-and-serve pudding (the big package)
1 Cup pumpkin purée
1/2 tsp ground cinnamon
1/4 tsp salt
1/4 tsp ground ginger
Dash of ground cloves You really only need a dash. Even an 1/8 tsp is overpowering in this recipe
Instructions
Crust
Crush the graham crackers in a food processor, blender, or plastic baggie with your hands, until you get fine crumbs.

Add the brown sugar and melted butter to the graham cracker crumbs an mix until everything is the consistency of wet sand.

Press the crumb mixture into your chosen dish (I use an 8x8 baking dish).

Chill the crust while you make the pumpkin filling.
Pumpkin Filling
In a medium pot, over medium-high heat, bring milk just to a boil.

Pour in the pudding mix, and stir with a whisk until the mixture thickens and begins to boil.

Turn the heat down to low.

Mix in the pumpkin purée until smooth.

Mix in the cinnamon, salt, ginger and cloves until they are evenly distributed throughout the mixture.

Pour the pumpkin filling on top of the graham cracker crust. Smooth out the top by softly tapping the container, on the counter.

Chill for 3 hours, or until the filling is firm.

Cut into bars, and serve chilled or room temperature.

Optional: Top with your favorite whipped topping and candied pecans.
More fall favorites from The Caterpillar Years
For more pumpkin treats, try these: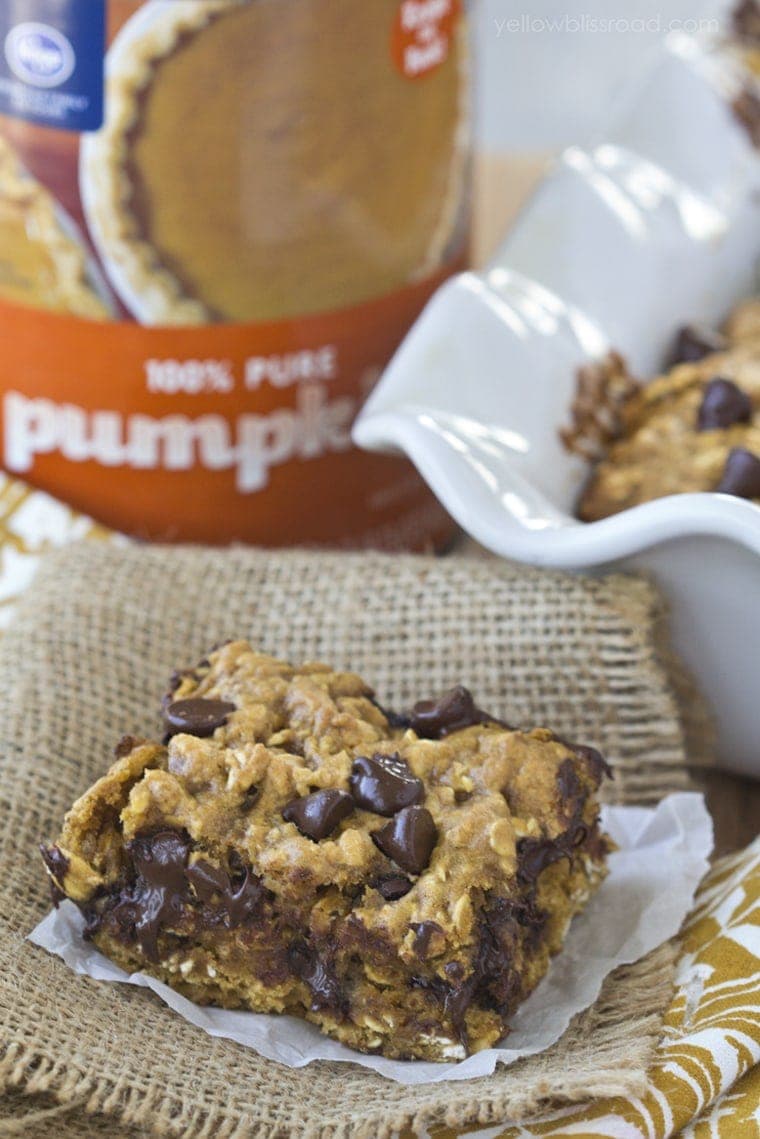 Pumpkin Chocolate Chip Oatmeal Bars
And for even more pumpkin treats, try these:
Hi I'm Heather, a graphic designer turned full-time mom to two little girls, ages six and four. I'm ecstatic to be a contributor here on Yellow Bliss Road, where I'll be writing about DIY projects, free printables and fun crafts to do with the littles in your life. You can find more fun activities on my blog, The Caterpillar Years. Thanks for reading!