Learn how to make the best turkey gravy with just a few simple steps. With my tips, you'll never have to resort to store bought gravy again!
Homemade Turkey Gravy is a must for the best holiday meal. Pour it over your Thanksgiving turkey, drown your Mashed Potatoes in it, drizzle it over Stuffing, and even smear it on leftover turkey sandwiches with a little Cranberry Sauce. It's delicious on everything and once you try this recipe, you'll wonder why you waited so long to give it a try!
The Best Homemade Turkey Gravy Recipe
My kids know that their grandma is the best gravy maker ever. It's not a joke – it's actually her title. Well, given to her by them, but nonetheless, it's a title well earned. Her mom taught her and she taught me, and while I make pretty damn good gravy, hers will always take the win. That's why I'm sharing it with you!
Making turkey gravy from scratch for a big holiday dinner can seem like a daunting task, but I promise you it's really simple. It requires just a few ingredients and a few steps. The ingredients will depend on how much drippings you get from the pan – a larger turkey will give you as much as 4 cups of drippings, while a simple Instant Pot Turkey Breast or Oven Roasted Turkey Breast will yield much less. The recipe below makes about 4 cups of gravy using about 2 ½ cups of liquid, but also has a note to use store-bought turkey stock if you're not able to get enough pan drippings.
How to Make Turkey Gravy
Homemade gravy is a must have Thanksgiving recipe. You can make it completely from scratch using the dripping from your turkey, or use turkey stock. My gravy recipe is infused with herbs that add incredible flavor. Learn how to make it in just a few simple steps.
How to Make Gravy from Pan Drippings
When your turkey is finished cooking and ready to rest, you want to move it to a cutting board, then pour all the pan drippings into a large glass measuring cup. For a nice, smooth turkey gravy, I suggest using a fine mesh sieve to strain out any large pieces. Once you've got about 3 cups of liquid, you can pour the rest into another container to save for soup or just pour it out.
Melt some butter in a skillet or saucepan. Add and saute some garlic and herbs (totally optional but really kicks up the flavor of your gravy).
Whisk in flour and cook for several minutes. It should be bubbly and golden in color. Pour in about 2 ½ cups of the pan drippings and whisk until it's completely combined. Bring it to a boil, then let it simmer at a medium-low heat (small bubbles, not a rolling boil). The gravy will thicken as it simmers in about 5 minutes.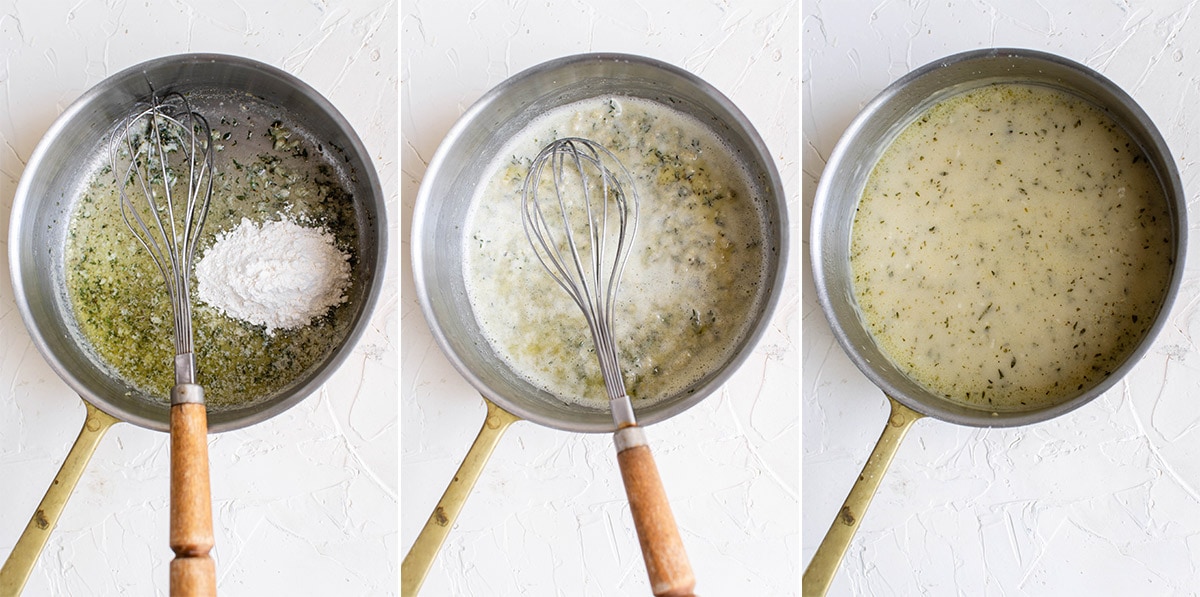 Can you make turkey gravy from scratch without drippings?
Absolutely! While I definitely recommend making homemade turkey gravy from scratch, you can cut that corner and use prepackaged turkey stock. It will still taste amazing and compliment your turkey. Keep in mind that quality matters, so don't skimp if you're buying it premade.
Why is my gravy lumpy?
Gravy is made from a roux, which is just butter and flour. If you don't whisk the flour enough before you add the liquid, you'll end up with lumps of flour. The key is to whisk quickly and whisk a lot. If you still have lumps, keep whisking; they'll work themselves out.
Recipe Notes and Tips
This recipe will work for any type of pan drippings, like from a Whole Roasted Chicken, or with any kind of stock or broth, like beef or even vegetable stock.
How to thicken gravy: If your turkey gravy is too thin, you can quickly and easily thicken it with cornstarch. Whisk together a tablespoon of cornstarch to about 2 tablespoons of the gravy in a small bowl. You can also use water but I prefer to use the mixture I'm adding the slurry to. Pour it into the gravy and whisk until combined, them simmer and stir until thick. Give it at least 5 minutes to thicken up before adding more if needed.
Got leftover turkey and gravy? Use it to make this yummy Turkey and Stuffing Casserole or Turkey Shepherd's Pie.
How long does gravy last? Store leftover gravy in an airtight container and it will be good for up to 2 days. It will last up to 5 days longer if you bring it to a boil again before serving.
If you don't plan on eating the gravy within a week, freeze it! Pour into a freezer container or bag and freeze for up to 4 months. Thaw in the fridge overnight and heat to boiling before serving.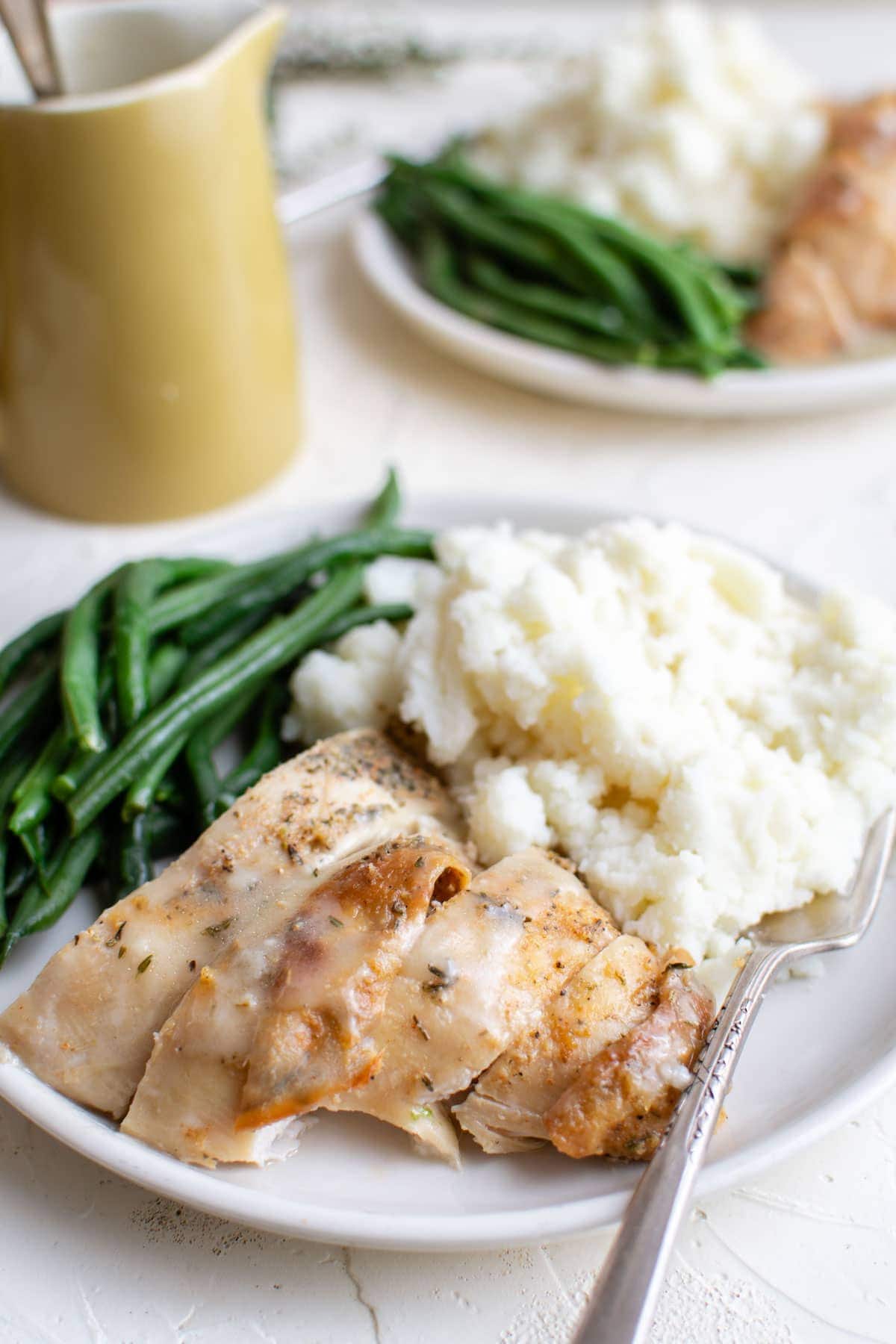 Put Some Gravy On It
If you've made this recipe, please come back and leave us a star rating or a comment below. Or, tag us on social media @yellowblissroad or #yellowblissroad for a chance to be featured.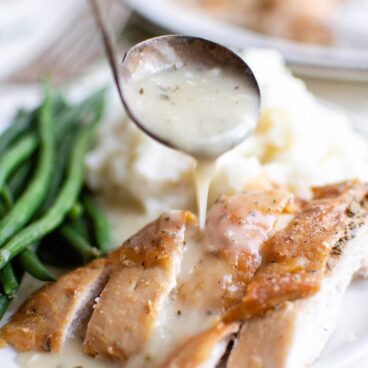 Turkey Gravy
Learn how to make the best homemade turkey gravy from scratch with just a few simple steps. You'll never resort to store bought again!
Ingredients
1/4

cup

butter

1/4

teaspoon

dried sage

2

teaspoons

fresh thyme

minced

1

garlic clove

minced

1/4

cup

all-purpose flour

2 ½

cups

turkey stock

preferably from pan drippings
Instructions
If using pan drippings, strain through a fine mesh sieve and discard solids. Reserve about 2 ½ cups of liquid and set aside. If you don't have enough pan drippings to make 2 ½ cups, turkey or vegetable stock can be substituted.

Melt butter in a 3 quart saucepan over medium heat. Add garlic, sage and thyme and cook for 1 minute, stirring constantly.

Whisk in flour and cook, whisking frequently, for about 2 minutes or until golden.

Gradually whisk in pan drippings or turkey stock. Bring to a boil and simmer, whisking frequently, for 5-7 minutes or until thickened.

Taste and add salt and pepper as desired. Serve immediately.
Nutrition
Calories:
62
kcal
Carbohydrates:
4
g
Protein:
2
g
Fat:
4
g
Saturated Fat:
3
g
Cholesterol:
12
mg
Sodium:
104
mg
Potassium:
52
mg
Fiber:
1
g
Sugar:
1
g
Vitamin A:
134
IU
Vitamin C:
1
mg
Calcium:
4
mg
Iron:
1
mg