Keep this Leftover Turkey Casserole with Stuffing recipe on hand for using up leftover turkey this Thanksgiving! Creamy and flavorful with lots of tender turkey and vegetables with a crispy stuffing topping. It's our favorite leftover turkey recipe!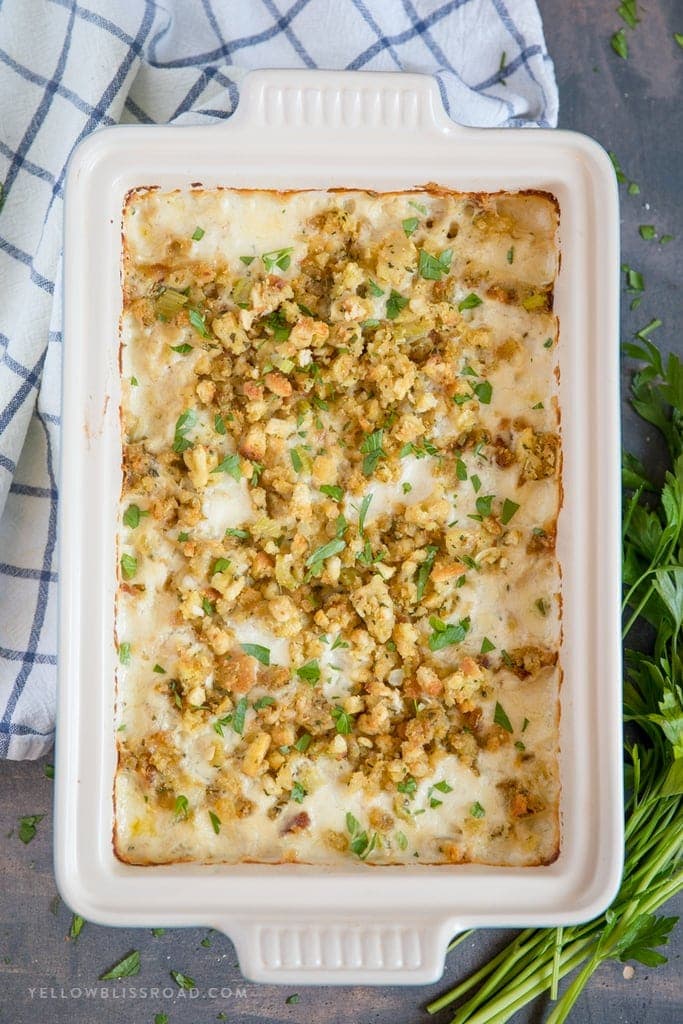 Thanksgiving is on its way and we all know it is THE food holiday of the year. From potatoes to cranberry sauce to that amazing turkey, there are bound to be tons of leftovers. There are usually so many Tupperware containers filled with leftovers that it can be overwhelming! And of course you don't want to let any of that food go to waste.
LEFTOVER TURKEY RECIPE
Since we are a small family, we always have leftovers from Thanksgiving dinner. Seems we've never been able to scale down after years of cooking for 20+ at Thanksgiving. The day after, there are containers filled to the brim with leftover turkey, stuffing, mashed potatoes, green bean casserole and rolls. And don't even get me started on the desserts! Last year I had had enough, so I whipped up this Leftover turkey casserole and my family went nuts. Everyone needs a good leftover turkey recipe in their back pocket, and this is mine.
How to Make Leftover Turkey and Stuffing Casserole
The base of this recipe is of course all that yummy leftover turkey that is sure to be leftover from your holiday feast. Make a creamy sauce from scratch, similar to a pot pie, to coat the turkey and some veggies, pour it all into a baking dish and top with leftover stuffing. You'll never go back to canned soup – making it from scratch is so easy!
The veggies can be a bag of frozen mixed or whatever vegetables you happen to have leftover. Green beans, corn, peas, celery, carrots and broccoli are all good options.
To make the cream sauce you'll first sauté some onions and garlic. To that you'll add some flour and cook for a few minutes until it's nice and golden. Finally pour in some chicken stock and milk and whisk it all together as it comes to a simmer. The sauce will thicken as it simmers.
In a large bowl stir together the diced turkey and veggies. If you don't have any leftover turkey for the casserole, chicken makes an easy substitute. Pour that golden, creamy sauce over the turkey and veggies and stir in some sour cream and just keep stirring until it's all coated well. Pour that into a large, deep baking dish.
Spoon the cold stuffing on top of the turkey mixture, or use your hands, and break it up as you go. You want to cover as much of the turkey mixture as possible, because some of it will sink a little as it cooks. Don't have any leftover stuffing? Leftover mashed potatoes would make a fantastic substitute.
Bake for around 30-35 minutes, or until the top is nice and crispy. Let it sit for just a bit to set and cool down – that sauce it hot! Then scoop your self out a big 'ol portion because this stuff is delish!
I like to garnish my Turkey Casserole with parsley because it adds a fresh element and it just looks pretty but it's not necessary. Dig in and enjoy!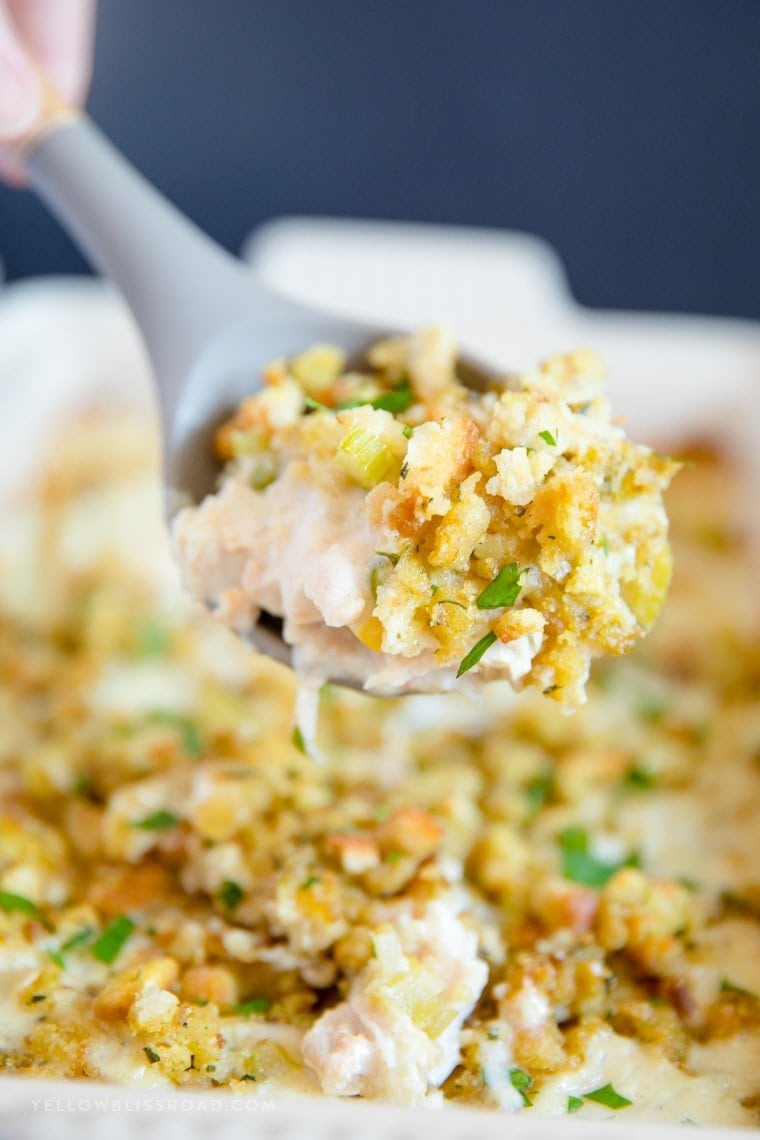 Can I make this recipe with noodles?
Absolutely! If you don't have stuffing, or just prefer pasta, boil some rotini or even macaroni to mix in with the turkey and cream sauce. You might need to double the sauce for this method. Then just bake as directed.
And here are some more leftover turkey recipes (just swap out the chicken for turkey):
Tools used to make this Leftover Turkey recipe: (affiliate links)
Large, deep baking dish – I love this one from Le Creuset because it's perfect for casseroles, like this leftover turkey recipe, with it's deep sides.
3 quart sauce pan – This is my favorite brand of cookware – I've been using it for years and have never had any issues. Plus, they guarantee their product!
Whisk – This is a kitchen staple that everyone should have in their kitchen. Easily whip up sauces and gravy, scramble eggs or sift flour mixtures.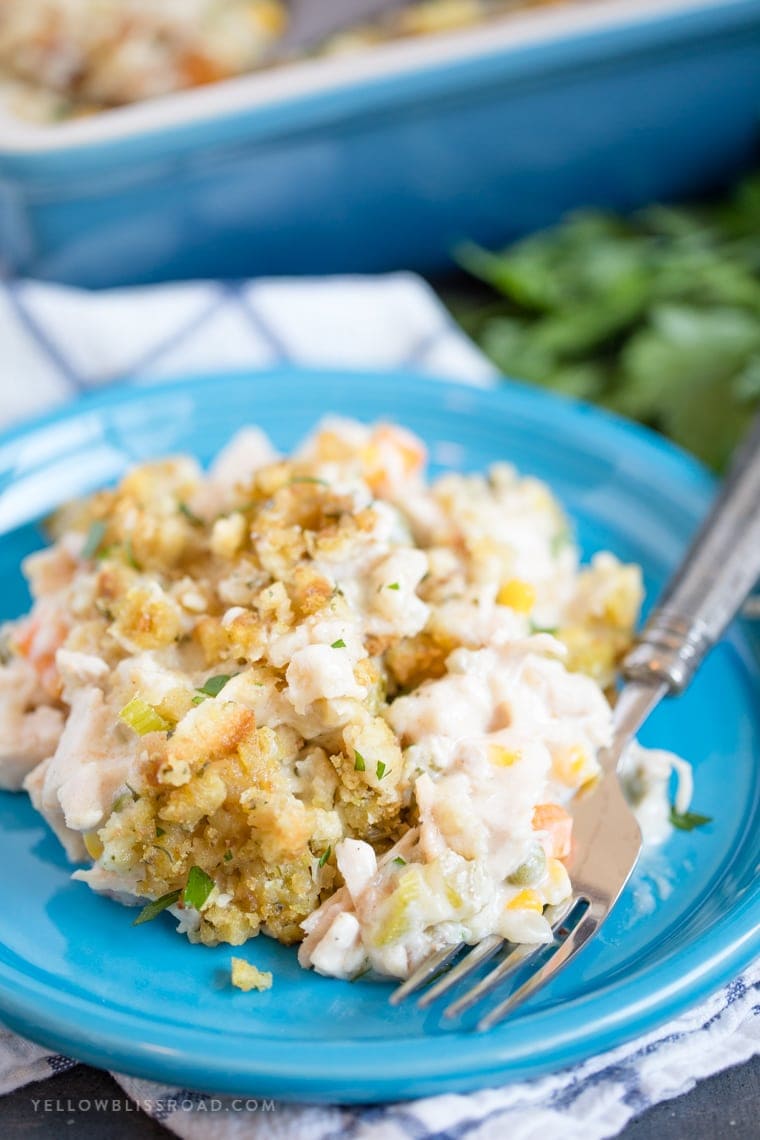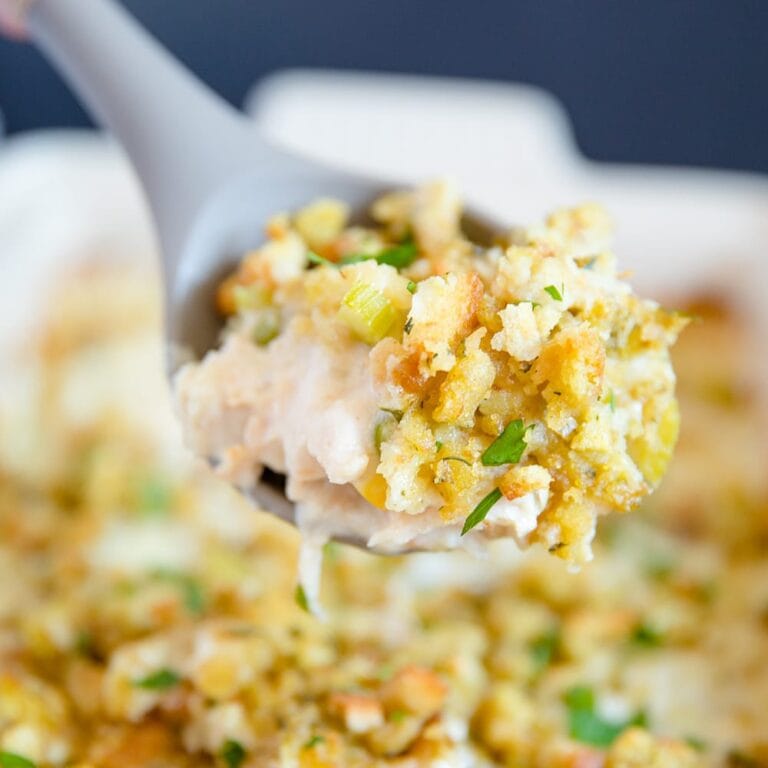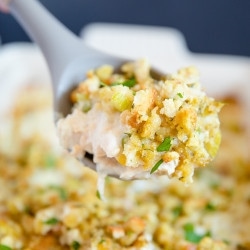 Creamy Turkey & Stuffing Casserole
This Turkey & Stuffing Casserole is the best way to use up those Thanksgiving leftovers!
Ingredients
1/2 cup all-purpose flour
6 tablespoons butter
1/2 cup diced onion
2 garlic cloves minced
2/3 cup milk or cream
2 cups chicken broth
1/2 teaspoon salt
1/4 teaspoon black pepper
1/2 cup sour cream
3 cups diced or shredded turkey
1 ½ cups frozen mixed vegetables thawed (or other leftover veggies)
3-4 cups cooked stuffing
Fresh minced parsley
Instructions
Grease a 13x9-inch rectangular baking dish with nonstick cooking spray and set aside. Preheat oven to 375 degrees F.

In a large saucepan, melt butter over medium-low heat. Add onion and cook for 2-3 minutes or until softened. Stir in garlic for 30 seconds then whisk in flour, salt and pepper and cook, stirring frequently until golden; about 2-3 minutes. Pour in milk and broth and bring to a simmer, stirring frequently, until thickened. Remove from heat and set aside. Taste and adjust seasonings, as desired.

Stir in sour cream, diced turkey and vegetables.

Pour mixture into the prepared baking dish and top evenly with small spoonfuls of leftover stuffing, breaking it up with your fingers if necessary.

Bake at 375 degrees for 30-35 minutes or until bubbly and golden. Allow several minutes to cool and set. 

Garnish with fresh minced parsley and serve immediately.
Nutrition
Calories: 359kcalCarbohydrates: 30gProtein: 14gFat: 21gSaturated Fat: 9gCholesterol: 59mgSodium: 873mgPotassium: 328mgFiber: 4gSugar: 4gVitamin A: 2373IUVitamin C: 9mgCalcium: 85mgIron: 2mg