Ground Turkey Taco Burrito Bowls are loaded with flavorful, cheesy ground turkey taco meat, rice, black beans and a variety of other toppings. This easy recipe will quickly become a dinnertime staple!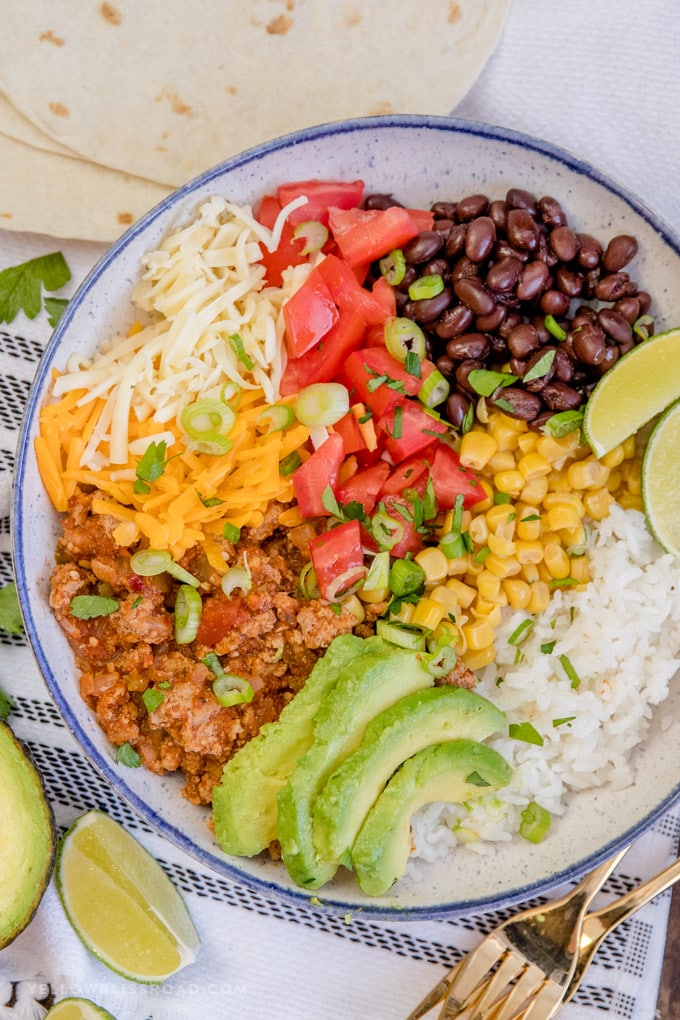 My Burrito Bowl starts with flavor-packed taco meat, made a little lighter with lean ground turkey. It's the same base that I used for my Turkey Taco Pasta earlier this week. The Turkey Taco Meat calls for jarred salsa, which adds a fantastic flavor, but you could also add some additional veggies, like peas and carrots, to round out this dish as a full meal. You can also use this meat for Ground Turkey and Black Bean Baked Tacos. The base of the burrito bowl is white rice, but you could whip up a cilantro lime version or even my popular Mexican Rice if you like.
I love creating ground turkey recipes as an alternative to ground beef. It's tasty and packed with protein, and is much lighter than beef which will save a few calories and fat while still creating a delicious meal.
WHAT IS IN A BURRITO BOWL?
My Turkey Taco Burrito Bowl is packed with delicious flavors, like corn and black beans, creamy avocado, shredded cheese, tomatoes, green onions and rice. Every bite is packed with all the flavors or your favorite loaded burrito without the tortilla. You really can add whatever toppings you like to this recipe!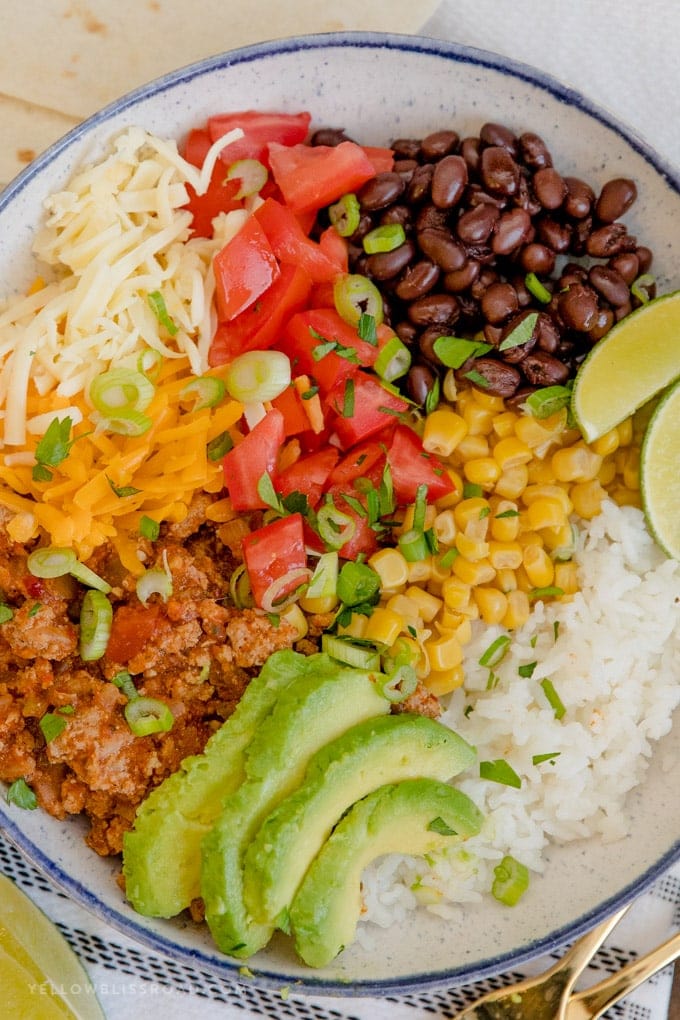 HOW TO MAKE TURKEY TACO BURRITO BOWLS
Making Turkey Taco Burrito Bowls couldn't be easier! Just whip up some taco meat and choose your favorite toppings.
Start by cooking a pound of ground turkey with some onion and garlic. This will add flavor to the meat itself. If your turkey is releasing a lot of liquid during cooking, you may want to drain it before adding anything else.
Next, add some of your favorite salsa, but I do recommend that it be a more blended salsa and not chunky so that it can help to form the sauce a little better. Chunky salsas tend to be more thin and watery. Stir in some taco seasoning and water and let that pot simmer for about 10-15 minutes. The mixture will reduce and thicken a bit, and that's when you'll know it's ready.
While the turkey taco meat is simmering away, prep your burrito bowl toppings. We almost always have some leftover rice in the freezer so I just heat that up, however you could whip up a fresh batch if you like. Toppings can be whatever you enjoy; I will usually put out a variety of options to let every one customize their own burrito bowl.
To serve, place some rice and meat in flat bottomed bowls and let your family go to town choosing their favorite toppings!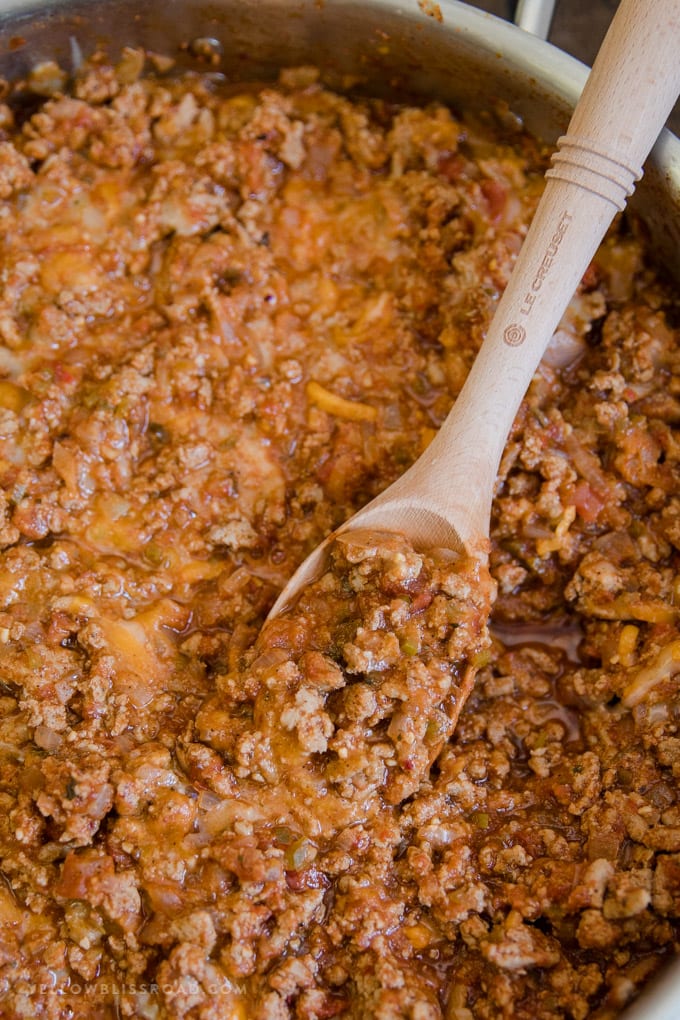 CAN YOU FREEZE LEFTOVER TACO MEAT?
Sometimes I will make a double or even triple batch of the taco meat and yes, it freezes beautifully! Just scoop out the portion you plan to freeze to a separate bowl and let it cool completely. Then transfer it to a freezer bag, label it and freeze for up to 6 months. I do removing the meat before adding the cheese as the recipe calls for.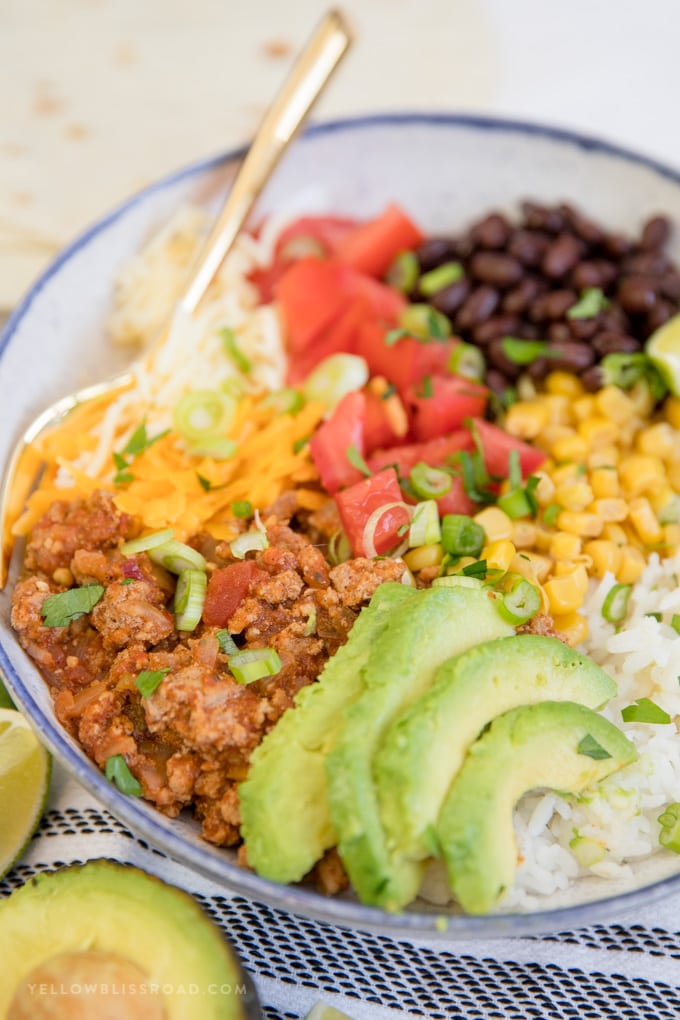 More Taco recipes for Taco Tuesday!
More ground turkey recipes to try: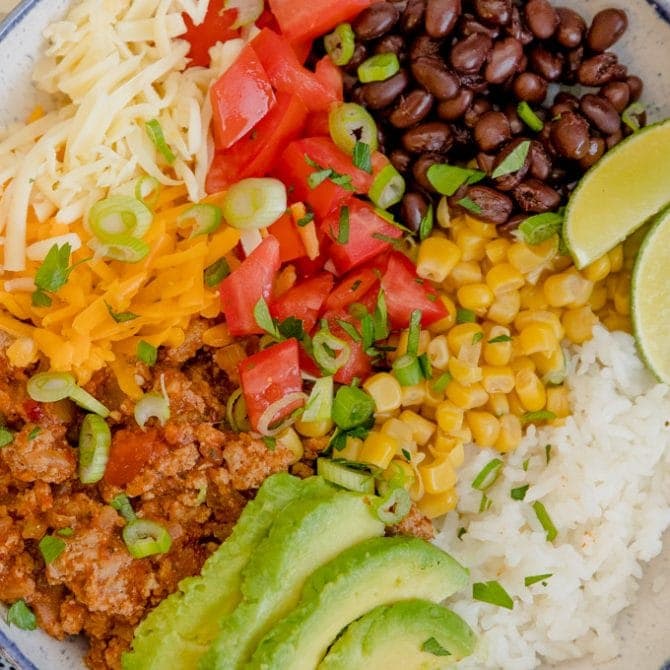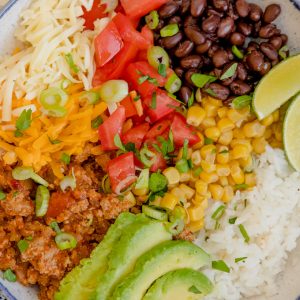 Turkey Taco Burrito Bowl
Ingredients
1 pound ground turkey
3/4 cup diced onion 1 small
2 cloves garlice minced
1 cup salsa not chunky
2 tablespoons taco seasoning
3/4 cup water
2 cups cooked rice
Toppings: Shredded cheese, diced tomatoes, corn, black beans, avocado, green onions, shredded lettuces, lime wedges, cilantro
Instructions
Heat a tablespoon of vegetable oil in a large skillet over medium-high heat until soft; 3-4 minutes. Add ground turkey and garlic and cook until meat is no longer pink; about 5 minutes. Drain any liquid and return meat mixture to the pan.

Stir in salsa, taco seasoning and water. Bring to a boil, then cover and reduce heat to low. Simmer for 10-15 minutes or until sauce is thickened and reduced.

To assemble: Layer cooked rice into the bottom of 4 serving bowls. Top with turkey taco meat and other toppings as desired.