My Dorito Taco Salad Casserole is full of Mexican flavors in a delicious baked casserole with a fresh, crisp salad on top! Layers of taco seasoned ground beef, pinto beans and corn make the base that's then topped with crunchy Doritos chips, shredded cheddar cheese, olives and green onions. We serve this dorito casserole with our favorite taco toppings, like lettuce, tomatoes and sour cream.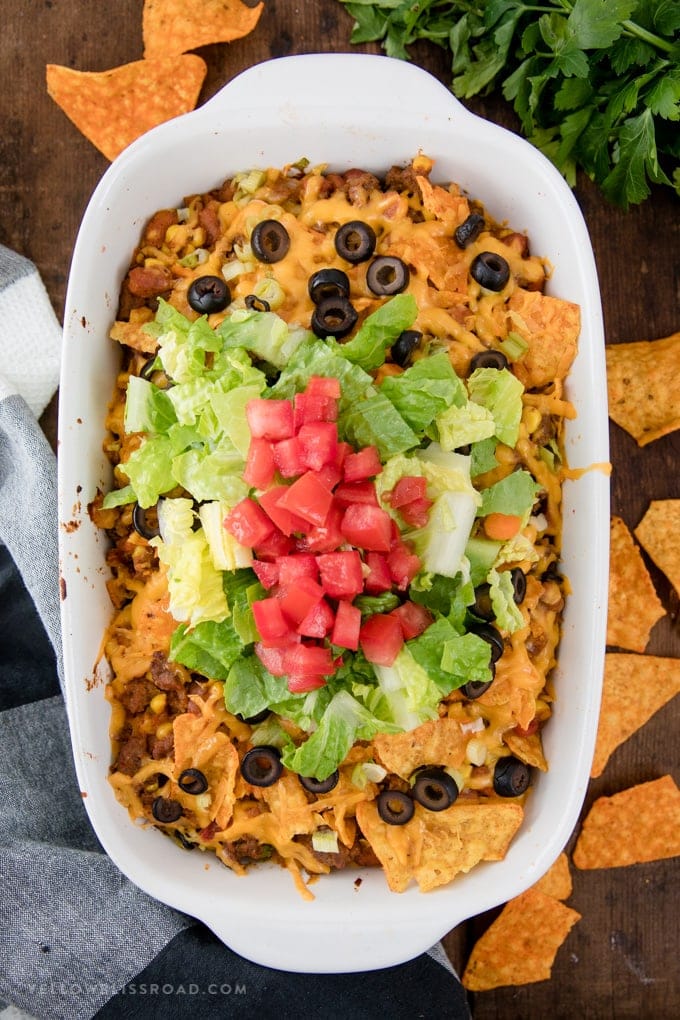 DORITO TACO SALAD CASSEROLE
This Dorito Taco Salad Casserole was delicious! My entire family gobbled it up and asked for seconds. We are big fans of taco salad, and we are equally big fans of Doritos so it was absolutely a match made in heaven. The flavors play together so well and the Doritos chips add that crunch that traditional casseroles are often lacking.
My family adores this recipe, and asks for it all the time. My daughter loves when their are leftover because it means she gets to take it in her school lunch!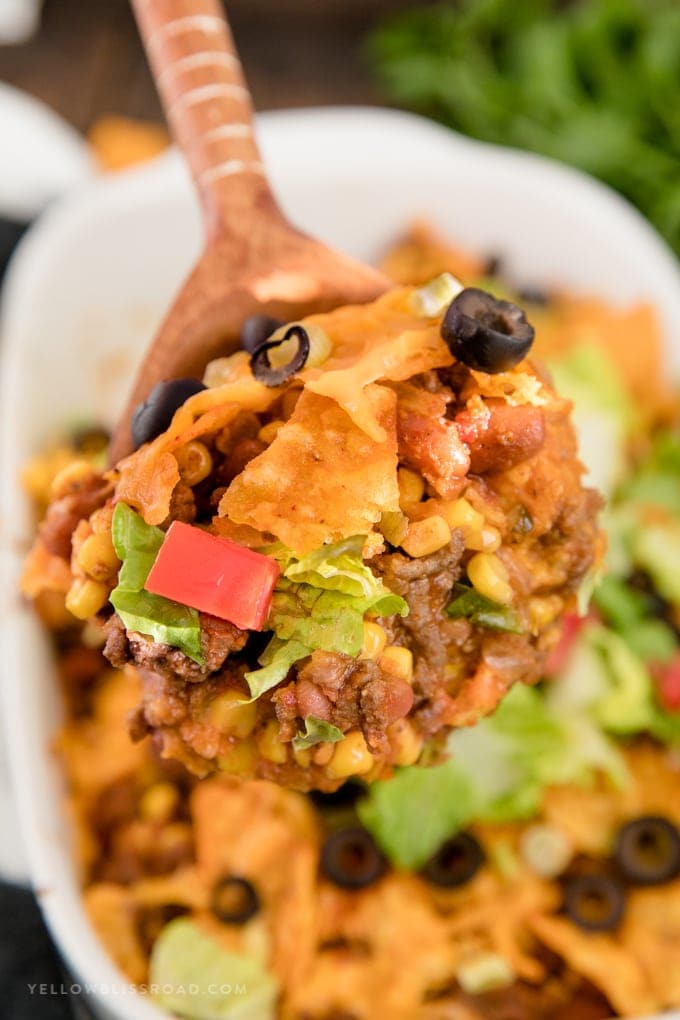 HOW TO MAKE DORITO TACO SALAD CASSEROLE
The great thing about this Dorito Taco Salad Casserole (aside from the incredible flavor) is it's flexibility. The base consists of seasoned ground beef, corn, beans, doritos, cheese and olives. You can spice that up with a cup of salsa if you like, or make it creamy with a cup of sour cream. Serve this Doritos Casserole with your favorite taco toppings. We add a big handful of shredded Romaine lettuce and some diced tomatoes, with a dollop of sour cream for good measure.
This recipe is made with lean ground beef, canned corn and pinto beans, but you could easily swap out ingredients to some healthier favorites:
Replace pinto beans with black beans.
Replace ground beef with lean ground chicken or turkey.
Omit the canned corn and add salsa instead.
You could also switch up the flavor of Doritos (aff) to your favorite – we love the traditional nacho cheese or the taco flavors.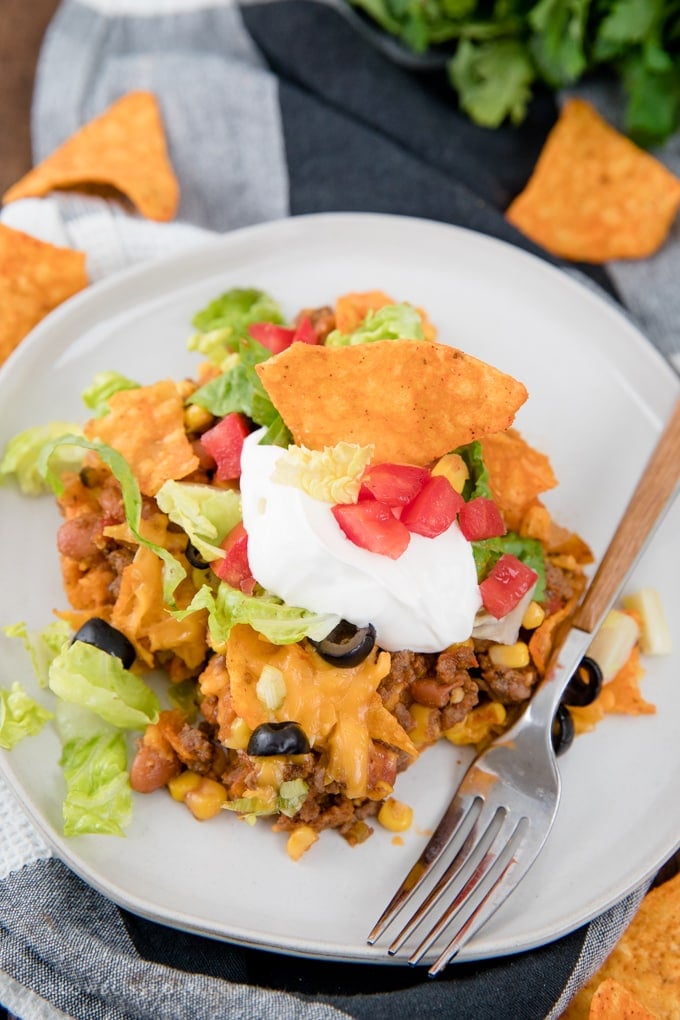 For more delicious Mexican inspired recipes, try these: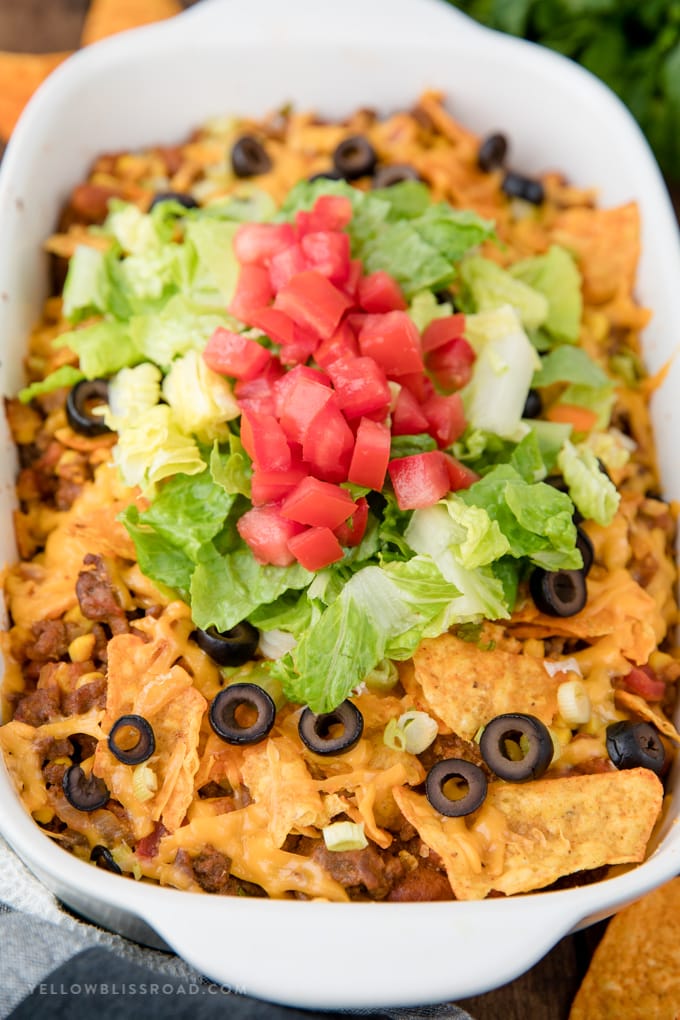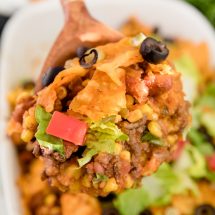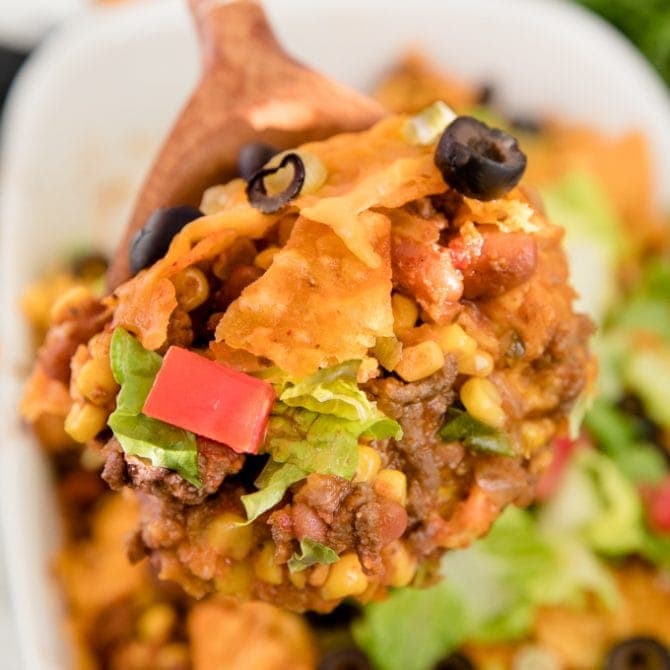 Dorito Taco Salad Casserole
Print
Pin
Rate
Prep Time: 10 minutes
Cook Time: 41 minutes
Total Time: 51 minutes
Servings: 6 servings
Calories: 540kcal
Ingredients
1 small white onion chopped
1 pound ground beef
2 tablespoons taco seasoning
1 can corn drained
1 can pinto beans drained and rinsed
1 10- ounce bag nacho cheese Doritos or any flavor you like
2 cups shredded sharp cheddar cheese
1 can sliced olives
2 green onions
Lettuce
Tomatoes
Sour cream
Instructions
Preheat oven to 375 degrees.

To a large skillet over medium-high heat, add onions, ground beef and 2 tablespoons of taco seasoning. Cook until no longer pink. Drain grease from the skillet. Add salt for flavor if desired. (6 minutes)

Stir in corn and pinto beans. Pour the mixture into a greased 11x7 baking dish. 

Lightly crush the Doritos (you want chunks of chips). Layer Doritos, cheese, olives and green onions over the meat mixture.

Bake in the preheated 375 degree oven for 35 minutes. If it begins to brown too quickly, tent with foil.

Cool slightly, then serve, topped with shredded lettuce, tomatoes, and sour cream.
Nutrition
Serving: 1cup | Calories: 540kcal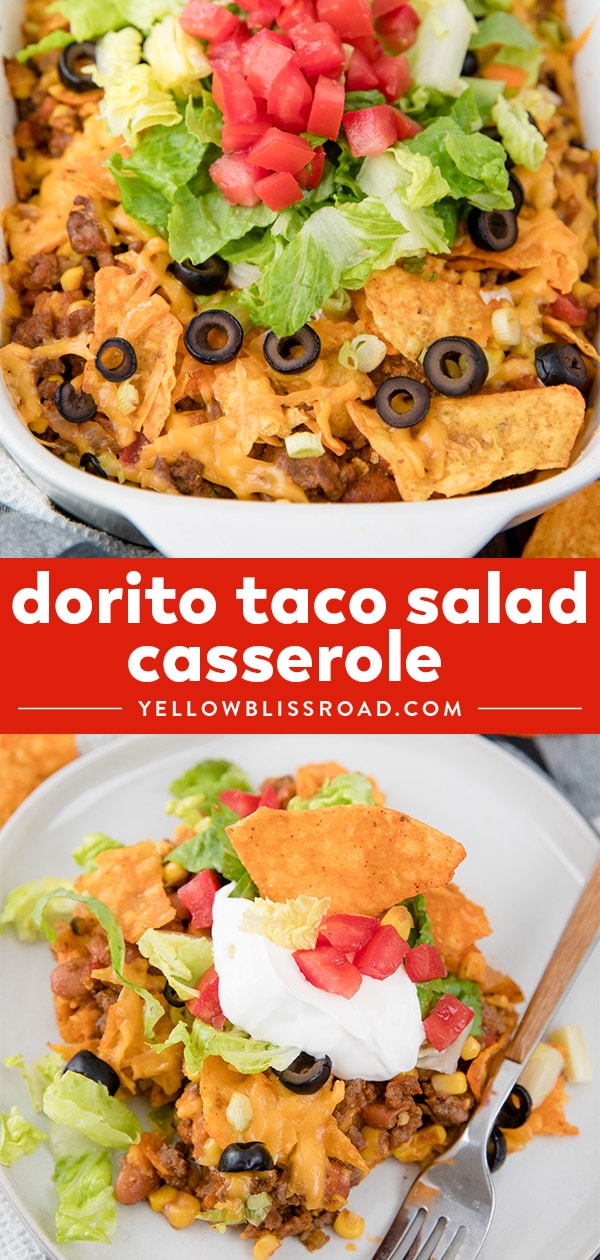 Hi! I'm Kristin, the creative mind behind Yellow Bliss Road where you will be inspired by tons of easy to follow recipes, lots of free printables, and a little sprinkling of life thrown in for good measure.