Spicy Barbecue Grape Jelly Meatballs are a classic appetizer that's been kicked up with spicy barbecue sauce for added heat and flavor. A perfect holiday or game day appetizer or a delicious meal served with a side of rice and veggies.
When it comes to easy appetizers, these grape jelly meatballs top the list. They hold their own against some of our other most popular recipes like Pigs in a Blanket and Crispy Baked Chicken Wings.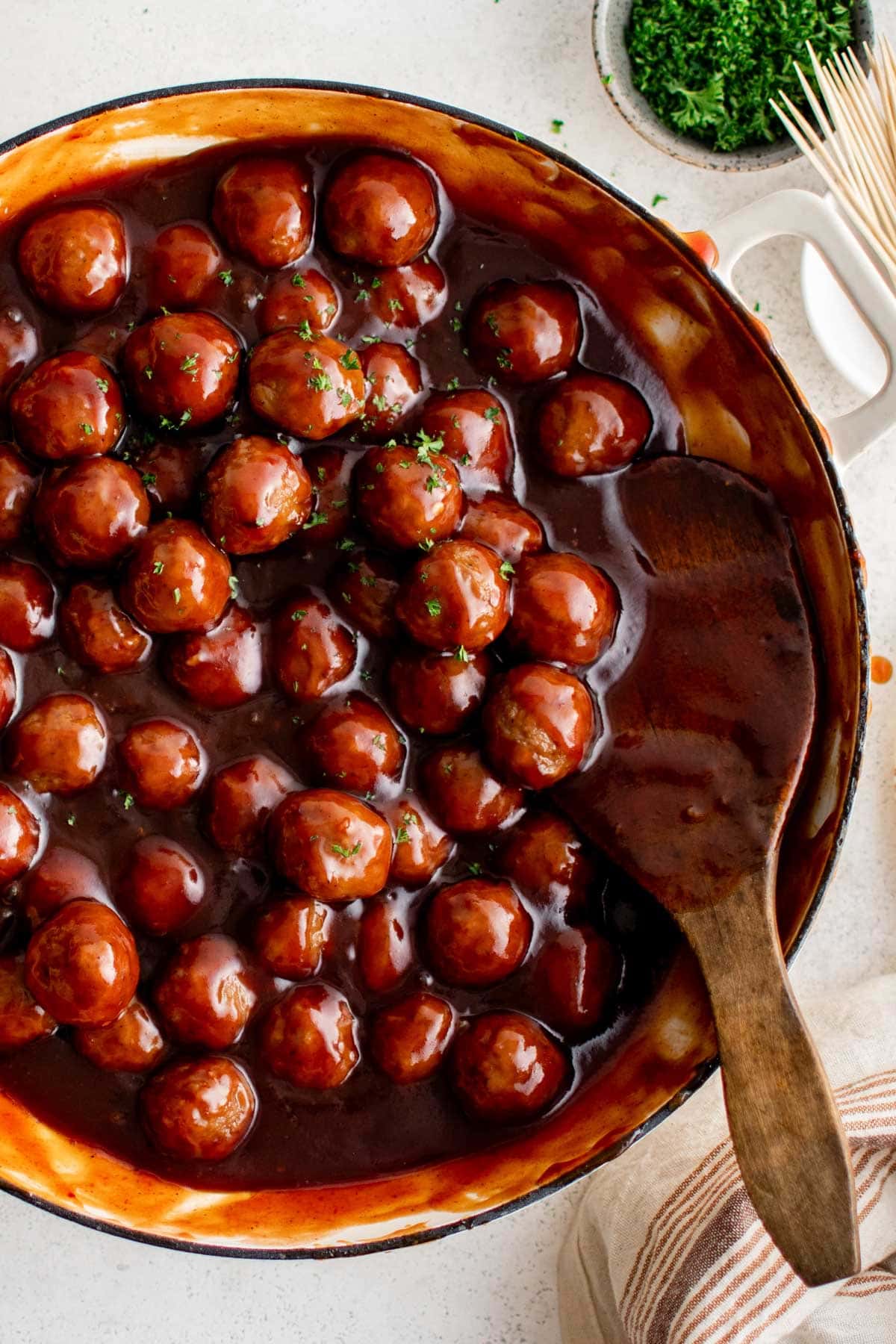 Pin this recipe for later!
Why We Love These Grape Jelly Meatballs
Ok, let's be real here for a minute. Grape Jelly + Meatballs? Sounds a little out there, I know. But let me tell you, the grape jelly mixes with the spicy barbecue for a sweet and spicy sauce that coats the meatballs for snacking perfection.
Meatballs are one of the most popular appetizers, and for good reason:
They are EASY to make – Just 5 simple ingredients and a saucepan or slow cooker is all you need.
They are TASTY – Sweet, savory and spicy, all together in a fabulous bite-sized appetizer.
They are SIMPLE – With ore-cooked meatballs, they only take 15 minutes to make. Just stir everything together and heat. Or, throw everything in the slow cooker and set it to low for a few hours.
These Spicy Barbecue Grape Jelly Meatballs are a perfect sweet and spicy appetizer for game day or any party. My family enjoys them as a meal too, served with a side of rice and veggies, and my daughter has been known to be the hit of the playground after requesting them in her thermos for her school lunch.
As crazy as they sound, I'll bet they'll be a hit at your family's table too!
Ingredients
Let's chat about the ingredients for a moment. I said they are simple, and I mean it!
Meatballs – You could definitely make homemade meatballs if that's your thing. You could even make Baked Chicken Meatballs or Turkey Meatballs. Saving time is also my thing so I usually just use frozen meatballs. Let's face it, we're gonna slather them in grape jelly so does it really matter?
Grape Jelly – I would probably never put grape jelly on my toast, but it's actually quite delicious. It's not chunky like jams and spread, but rather it's very smooth, like jello. Any brand is fine. Currant jelly or apple jelly would be a suitable replacement. Orange marmalade would also work.
BBQ Sauce – You can definitely use your own favorite here, but I love Sweet Baby Ray's BBQ Sauce. This particular version I linked to has no sugar added and since the jelly is so sweet, it's a great option. Chili sauce is sometimes used but I love the richness of the bbq sauce.
Red Pepper Flakes – I love this dish with a spicy flair, so I add chile flakes. Feel free to adjust the amount of heat or omit it completely. You could also use a little cayenne pepper or hot sauce in place of the flakes.
Cornstarch – The sauce is thick, but not as thick as I'd like it so I add a little bit of a cornstarch slurry (cornstarch and water) to thicken it. Again, totally optional.
How To Make Grape Jelly Meatballs
There are literally just 5 ingredients, or 3 depending on how spicy you like it. You can easily double or even triple the recipe as long as they will all fit in your pot.
You can easily cook them on the stovetop in about 20 minutes, or you can toss it all in your slow cooker and let it do the work. I like to make them on the stovetop because it's so easy and then I can use my slow cooker to make some amazing Asian Style Chicken Drumsticks or BBQ Ribs for my party spread.
Slow Cooker Method – To make them in your crockpot, add the meatballs then mix the sauce up in another bowl and pour over the meatballs. Cover and set to low. Cook for 3-4 hours and give them a stir before serving. Add a cornstarch slurry during the last 15 minutes if needed.
Stovetop Method – To make them on the stovetop, combine the barbecue sauce and grape jelly in a medium-sized saucepan over medium heat. You can toss in some red pepper flakes, cayenne pepper, or hot sauce for even more heat, but that's totally optional. Once the sauce is simmering, add the thawed meatballs and toss them around in the sauce to coat completely. Cover it and let it simmer for several minutes until the meatballs are heated through.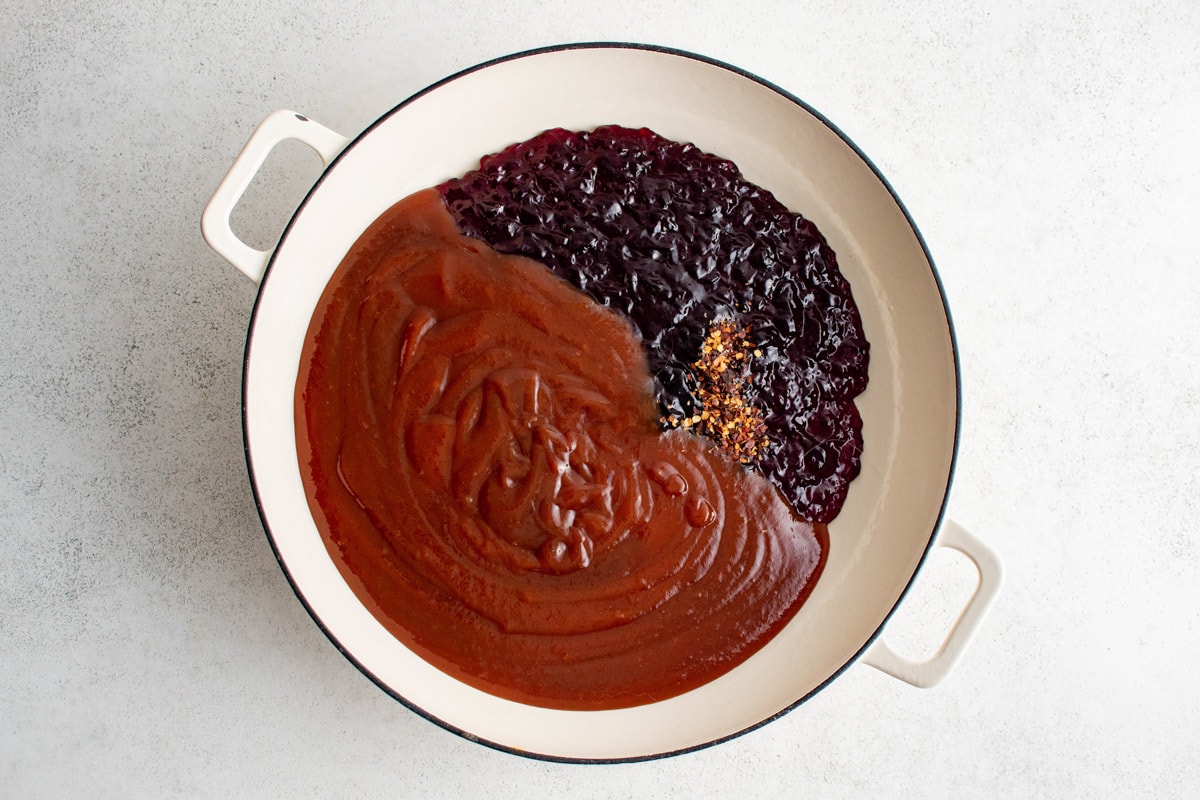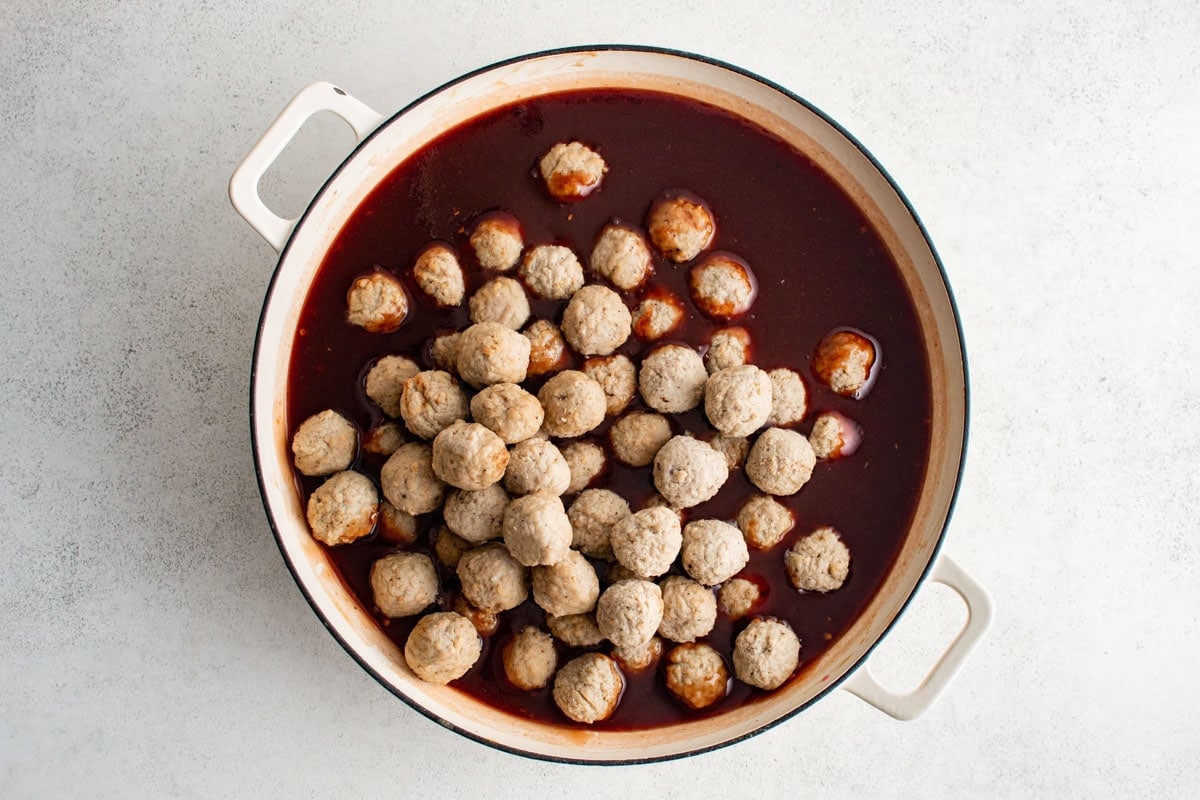 FAQs
Where did grape jelly meatballs come from?
They were originally found in a 1960s cookbook when potlucks and appetizer parties were becoming increasingly popular.
What can I substitute for grape jelly?
Strawberry jam or another fruit spread without seeds would work. Or try with cranberry sauce, like my Spicy Cranberry Meatballs.
Can you freeze this recipe?
You can! Let the meatballs cool completely, then transfer to a freezer bag or freezer safe container and freeze for up to 3 months. Thaw overnight in the refrigerator and reheat in a saucepan on the stovetop.
How To Serve
Serve as part of an epic appetizer spread. Serve them next to Crispy Baked Chicken Wings, Chicken Crack Dip, and Greek Salad Pinwheels.
Or make them for dinner, with steamed white or brown rice and a copycat Olive Garden Salad. I sprinkle parsley on top or sometimes sliced green onions just for a little added color.
Storage
Store leftover meatballs in an airtight container in the fridge for 4-5 days. Reheat on low in a saucepan on the stovetop or in the microwave.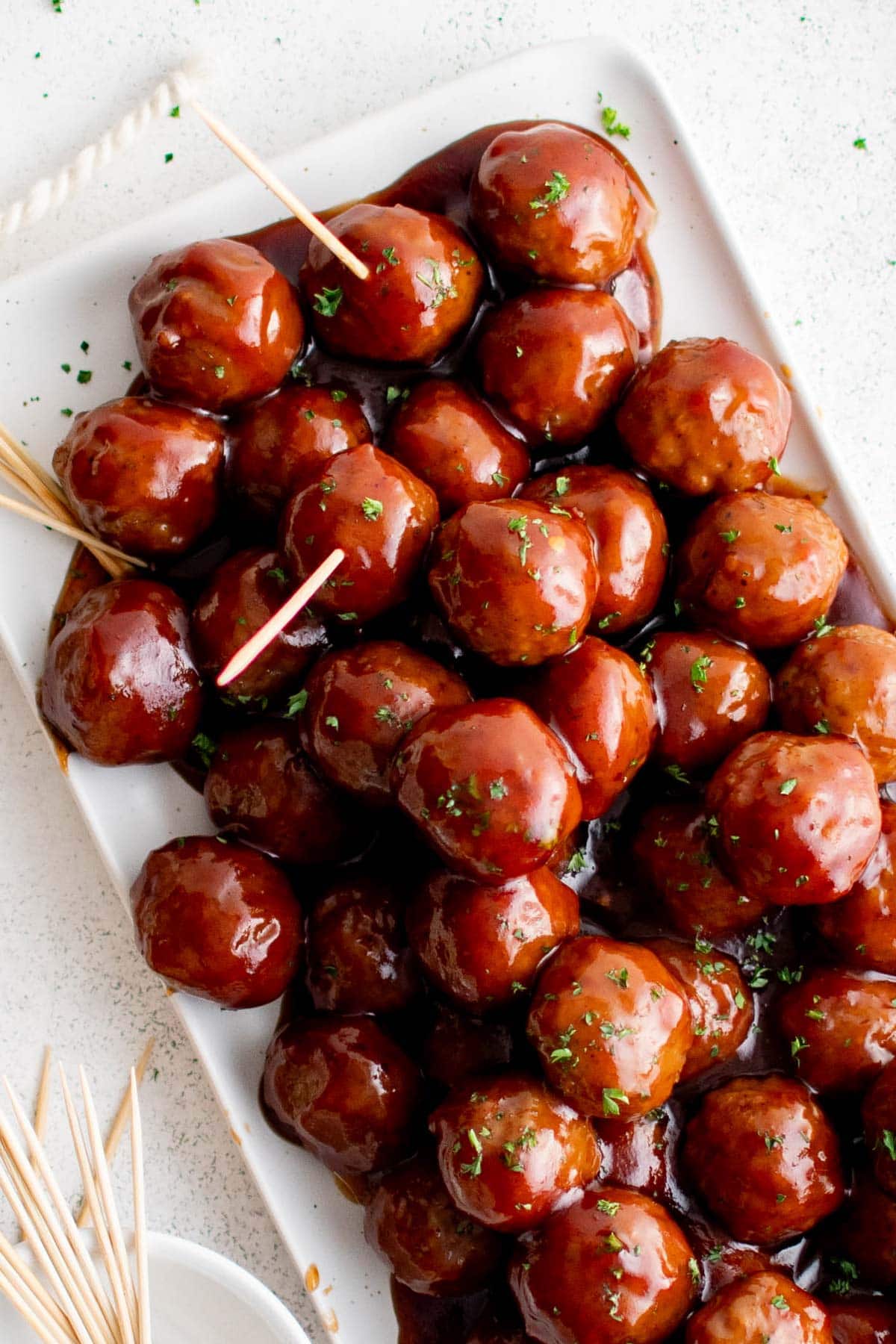 Helpful Tips
Be sure to thaw frozen cooked meatballs overnight first.
Save yourself some time and go with frozen meatballs. They are so much easier and you can't taste much difference with all the sauce.
Or try with homemade meatballs (omit the Parmesan cheese).
More Meatball Recipes
Recipe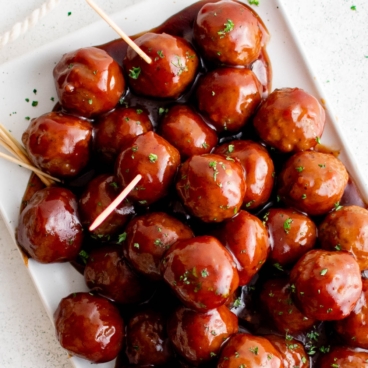 Spicy Barbecue Grape Jelly Meatballs
Easy, spicy BBQ Grape Jelly Meatballs made on the stovetop or in your slow cooker.
Ingredients
36

meatballs

fresh or frozen (thawed)

1 ½

cups

grape jelly

3

cups

Spicy Barbecue Sauce

1/4

teaspoon

red pepper flakes

or a few dashes of hot sauce

1

tablespoon

cornstarch

whisked with 1 tablespoon water
Instructions
Stovetop
In a large deep skillet or saute pan over medium heat, combine grape jelly, spicy barbecue sauce and red chili flakes. Cook, stirring often, until bubbly.

Stir in thawed or fresh cooked meatballs and coat completely with the sauce. Reduce heat to medium-low, cover and cook for about 15 minutes, or until meatballs are heated through. Stir a couple of times to avoid scorching the bottom.

If sauce needs thickening, stir in the cornstarch mixture (slurry) and stir to completely incorporate and until sauce is thickened. Let simmer for a couple of minutes, and add another portion of the slurry if desired.

Serve immediately. Garnish with fresh parsley or green onions if desired.
Slow Cooker
Combine grape jelly, barbecue sauce and red pepper flakes in the pot of your slow cooker. Add thawed or fresh cooked meatballs and stir to coat.

Cover and cook for 3-4 hours on low. Stir before serving. If thickening is needed, add the cornstarch mixture and stir to combine. Continue to cook on low for 15-30 minutes, or until sauce is thickened.
Notes
Serving size will vary depending on whether meatballs are served as an appetizer or a meal. Nutritional calculations are approximate and factored per meatball.
Store leftover grape jelly meatballs in an airtight container in the fridge for 4-5 days. Reheat on low in a saucepan on the stovetop or in the microwave.
Nutrition
Calories:
89
kcal
Carbohydrates:
15
g
Protein:
2
g
Fat:
2
g
Saturated Fat:
1
g
Cholesterol:
8
mg
Sodium:
193
mg
Potassium:
80
mg
Fiber:
1
g
Sugar:
11
g
Vitamin A:
43
IU
Vitamin C:
1
mg
Calcium:
9
mg
Iron:
1
mg