These Spicy Honey Garlic Meatballs are coated in a sweet honey glaze with a punch of garlic. Perfect as a holiday appetizer or serve as a meal over rice.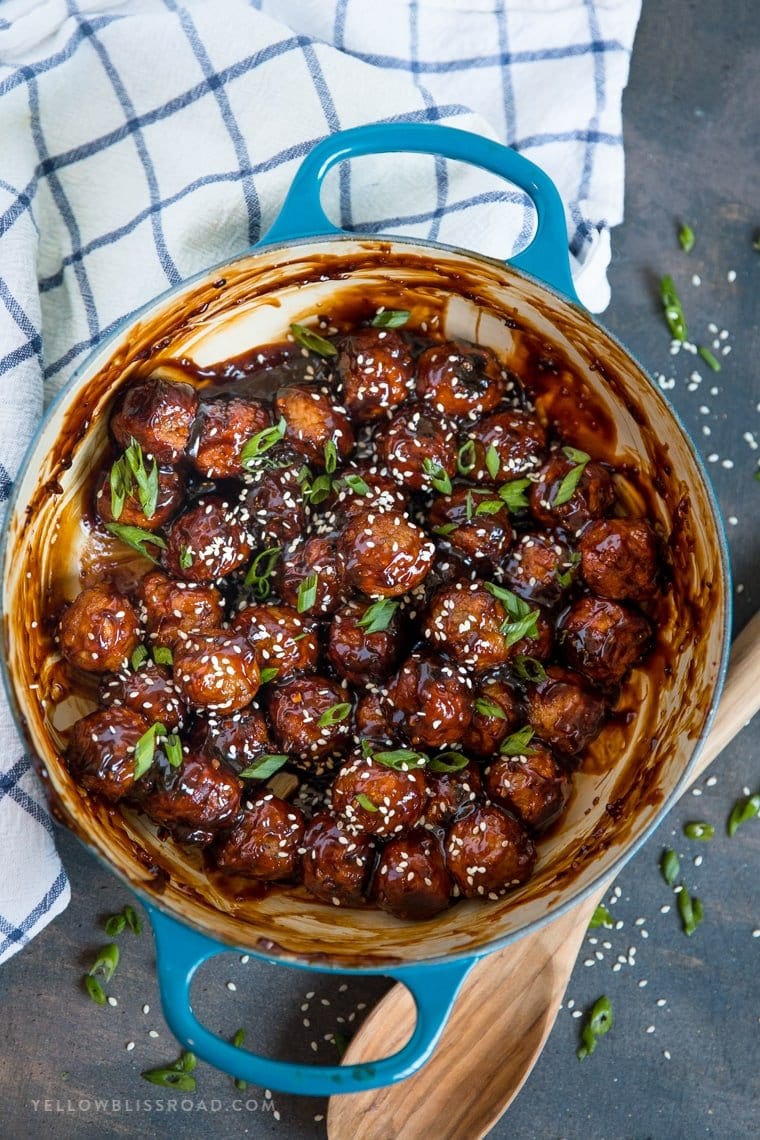 When it comes to easy appetizers for the holidays, meatballs are such an easy go-to. They can be coated in a variety of sauces, like these Cranberry Barbecue Meatballs, and they are bite-sized making them easy to grab with a toothpick or mini fork and just pop in your mouth.
I love garlic in just about everything; I mean, if I could find a way to put garlic in a dessert I would totally rock that! Sweet flavors mesh so well with garlic because they tone it down a bit while still allowing the spiciness to shine through.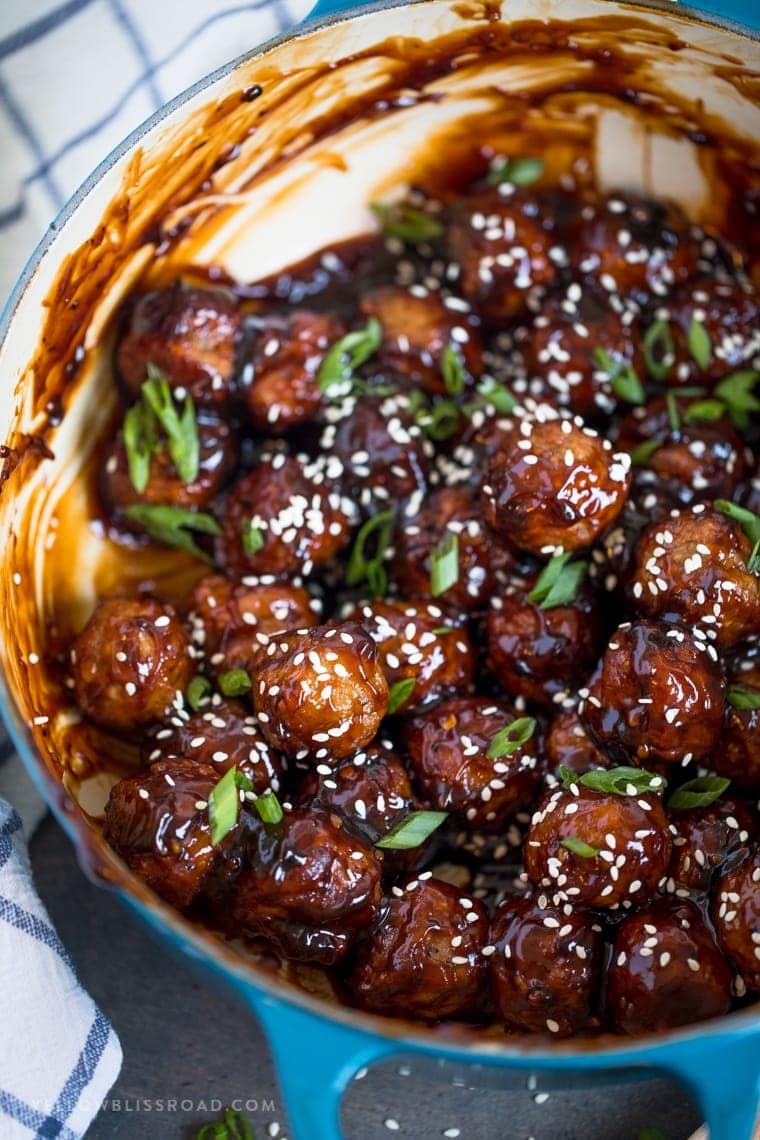 How to Make Spicy Honey Garlic Meatballs
This Honey Garlic Meatball Recipe is so easy, you're going to be adding it to your holiday menus AND your weekly dinner rotation! The glaze is a simple sauce of garlic, honey, soy sauce, ketchup and brown sugar. These five ingredients are whisked together in a pot on the stove until they are nice and smooth and start to bubble. I also added some red pepper flakes and ground ginger for a spicy kick.
The sauce is pretty thin at this point and you want it to be nice and thick so it coats the meatballs and sticks. I made a slurry with a equal parts of the sauce and cornstarch in a bowl. You could also do this with water, but I didn't want to take away from the flavor.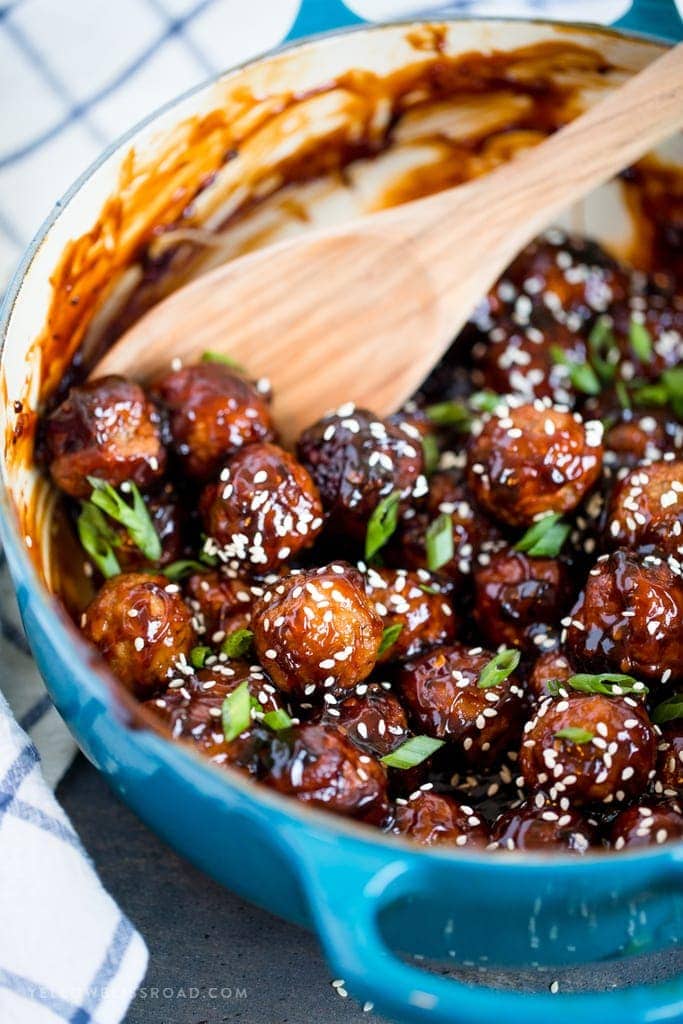 Once the slurry is added to the pot it doesn't take long for it to thicken. Once the sauce is nice and thick and shiny, you can add the meatballs. Now, you can make some easy homemade meatballs, or you can use frozen. I personally prefer homemade, but in a pinch the frozen meatballs will do just fine (and they will save you a ton of time). The key here is to have the meatballs fully cooked and defrosted. Putting frozen meatballs in the warm sauce takes too long to bring them up to temperature and the sauce may burn. (affiliate link)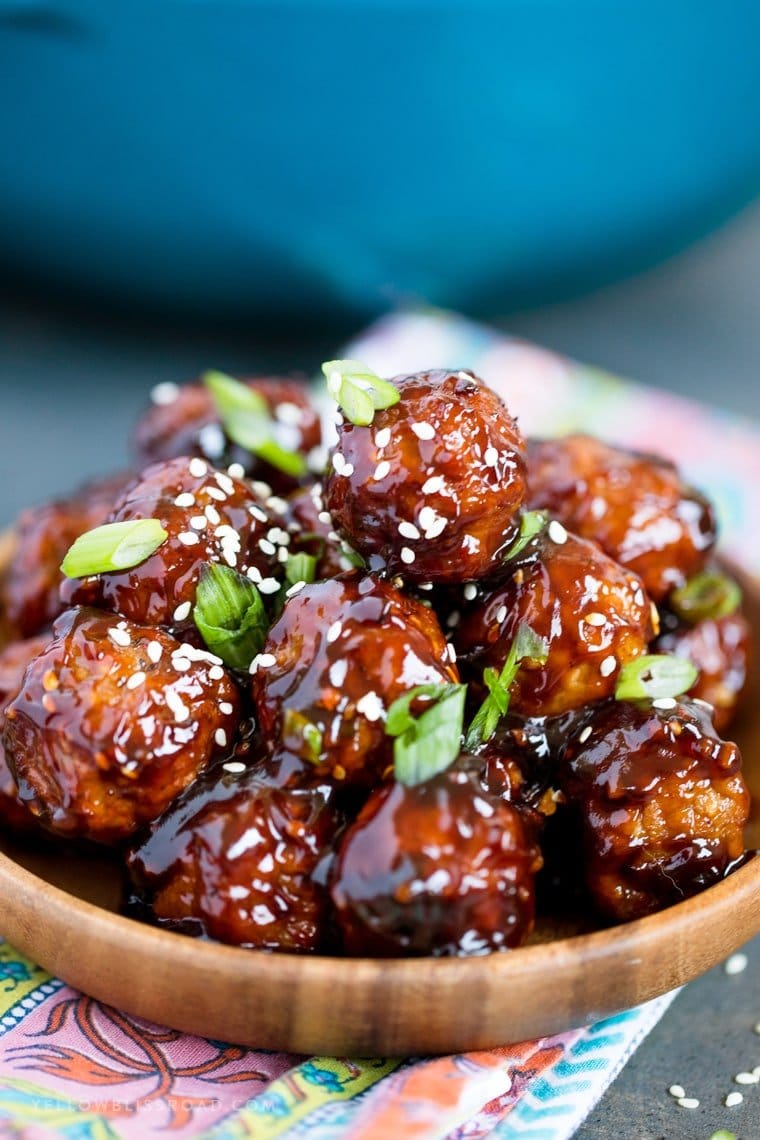 Recipe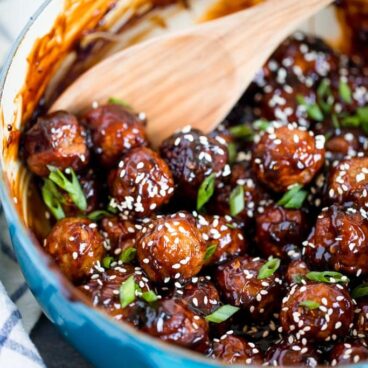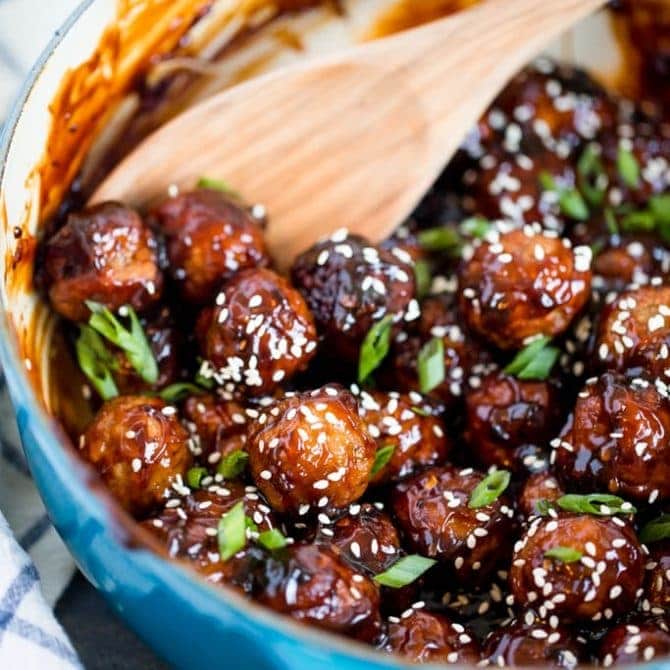 Spicy Honey Garlic Meatballs
These Easy Honey Garlic Meatballs are coated in a sweet honey glaze with a punch of garlic. Perfect as a holiday appetizer or serve a a meal over rice.
Ingredients
1/2

cup

honey

1/2

cup

low sodium soy sauce

1/2

cup

ketchup

2

tablespoons

brown sugar

4

cloves

garlic

minced

1

teaspoon

ground ginger

1/2

teaspoon

red pepper flakes

Cornstarch

40

small meatballs

cooked

1

green onion

sliced, for garnish

Sesame seeds

for garnish
Instructions
Add honey, soy sauce, ketchup, brown sugar, garlic, ginger and red pepper flakes to a large pan over medium-low heat. Gently whisk ingredients together until smooth. Heat through until small bubble start to form around the edge. You want a simmer, not a boil; about 2-3 minutes.

Pour about 2 tablespoons of cornstarch into a bowl and add 2 tablespoons of the simmering mixture. Whisk to combine until smooth. Whisk the cornstarch mixture into the saucepan. Continue to whisk until completely incorporated. 

Cook over medium-low heat for several minutes or until thickened. Add the cooked meatballs to the sauce and toss to coat. Continue to stir over medium-low heat until meatballs are heated through and completely coated with the sauce.

As an appetizer, serve immediately, or transfer to a slow cooker to keep warm. Or serve as a main dish with rice or pasta. Garnish with sliced green onions and sesame seeds before serving if desired.

Store in a tightly sealed container for several days in the refrigerator.

*Slow Cooker version: Add frozen (or cooked) meatballs to the slow cooker. Whisk remaining ingredients (except cornstarch) in a bowl and pour over the meatballs. Cook on low for about 3 hours. To thicken, add 2 tablespoons of the sauce from the slow cooker to a small bowl and whisk in 2 tablespoons of cornstarch until completely smooth. Pour into the slow cooker and stir to combine. Cover and cook on low for an additional 30 minutes to thicken.
Notes
This recipe will serve 8 people as an appetizer (5 meatballs per person) and 6 people as a main course (6-7 meatballs per person).
Nutritional information is for appetizer servings.
Nutrition
Calories:
289.06
kcal
Carbohydrates:
26.54
g
Protein:
13.06
g
Fat:
14.91
g
Saturated Fat:
5.53
g
Cholesterol:
50.4
mg
Sodium:
710.75
mg
Potassium:
293.87
mg
Fiber:
0.36
g
Sugar:
23.9
g
Vitamin A:
128.97
IU
Vitamin C:
1.96
mg
Calcium:
21.39
mg
Iron:
1.16
mg
Here is another favorite meatball appetizer we love:
Spicy Pineapple Barbecue Turkey Meatballs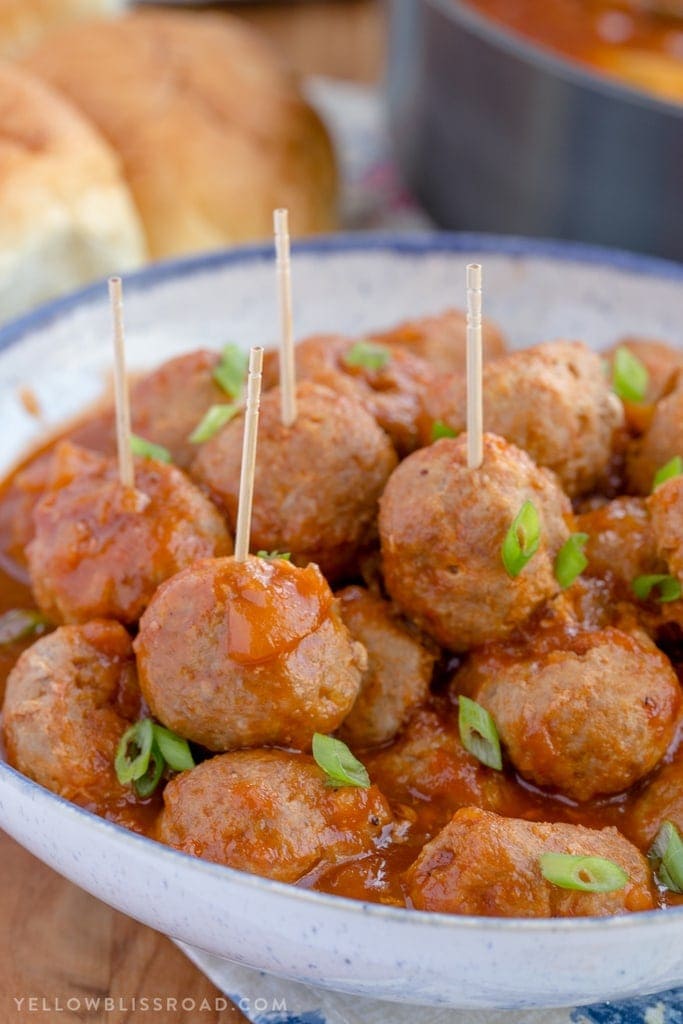 And here are some more delicious meatball appetizers: