This easy homemade meatballs recipe is so simple, you'll never eat store-bought meatballs again!
Until recently, I had always thought that it was much easier to just grab a bag of frozen meatballs from the grocery store rather than try to make them myself. Then my son and I made this amazing Turkey Meatball Soup, and I remember how easy AND fun it is to make homemade meatballs! They are a great starter recipe for young chefs, too. My kids loved learning how to make homemade meatballs; mixing, scooping and rolling them out is the best part!

MY LATEST VIDEOS
I always make at least one extra batch of meatballs, since it's incredibly easy to double or even triple this recipe. They freeze really well and it's super easy to defrost them in sauce on the stove or quickly in the microwave, depending on what you're making.
To ensure that they cook evenly, I use a cookie scoop to divide the meat into balls, then place them fairly close together on a foil lined cookie sheet. They can be even closer together than this, as long as they're not touching.
And because he's too cute for words, I had to share this photo of the kitten we adopted just before Christmas. He's made my food photography job just a little more difficult!
Anyway, back to the meatballs…this recipe lends itself to any kind of sauce you like, from traditional pasta sauce, to sweet sauces like in these Cranberry Barbecue Meatballs. What will you use them in?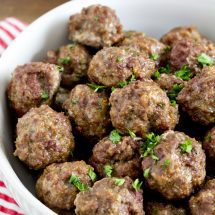 Easy Homemade Meatballs
Print
Pin
Rate
Prep Time: 15 minutes
Cook Time: 10 minutes
Total Time: 25 minutes
Servings: 48 meatballs
Ingredients
2 pounds ground beef I use 85/15
2 eggs
1 cup milk
2 tablespoons grated parmesan cheese
½ cup plain breadcrumbs
1 teaspoon garlic powder
1 teaspoon onion powder
1 teaspoon kosher salt
½ teaspoon black pepper
Instructions
Preheat oven to 450 degrees F. Line 2 rimmed baking sheets (baking pans will work if you don't have rimmed cookie sheets) with foil and set aside.

Place all ingredients into a large bowl and gently mix together with your hands, careful not to over-mix. Just squish it all together a few times to combine.

Using a cookie scoop or your hands, divide meat mixture into desired size meatballs. As long as they are uniform, they can be as large or small as you like.

Bake in the preheated oven for 10-14 minutes, depending on the size. Be sure to check for doneness. Serve hot with your favorite sauce.

TO FREEZE: Allow meatballs to cool completely on the baking sheets. Once cool, scrape the fat away from the meatballs and seal tightly in a freezer safe bag or air tight container and place in the freezer.
Here's another favorite homemade meatball recipe: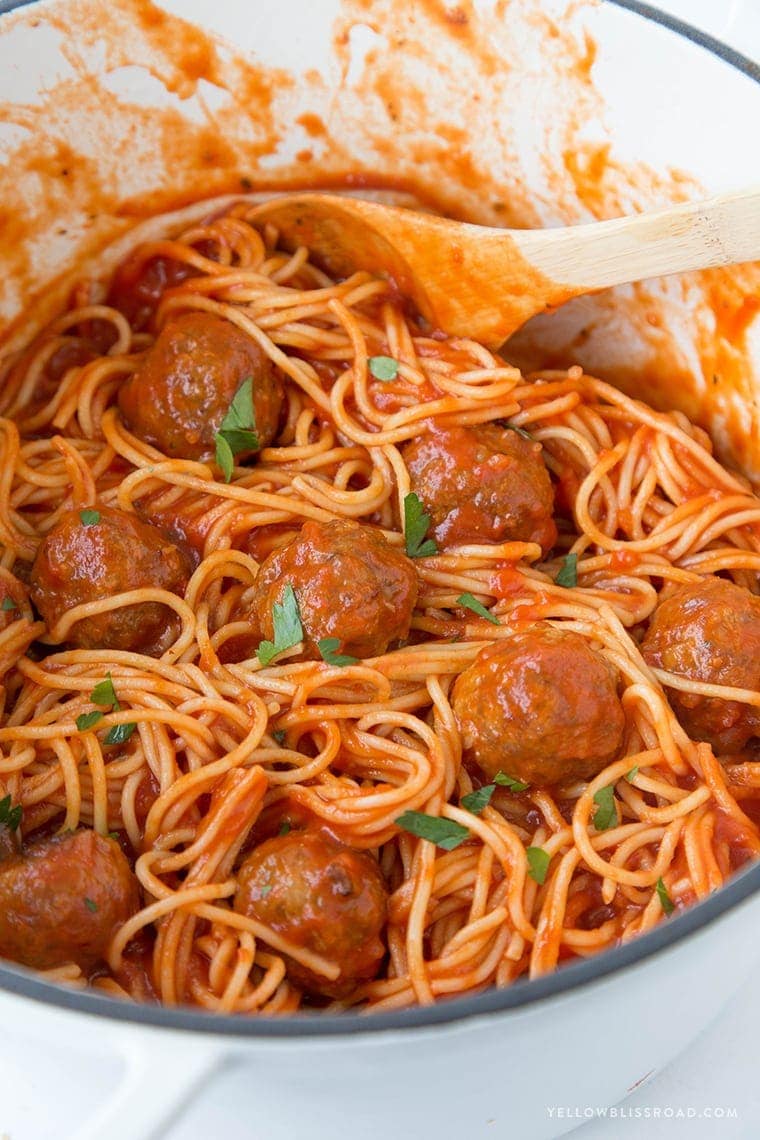 Here are some more delicious and easy meatball recipes
Chicken Parmesan Meatball Casserole
Hi! I'm Kristin, the creative mind behind Yellow Bliss Road where you will be inspired by tons of easy to follow recipes, lots of free printables, and a little sprinkling of life thrown in for good measure.