Round out any meal with this simple and delicious homemade Garlic Bread recipe. With fresh, homemade garlic butter and Parmesan cheese, this is your new go-to recipe!
We are a family of bread lovers. In our home bread, and quite often garlic bread, is served with just about anything from Homemade Spaghetti Sauce to Baked Chicken Breasts.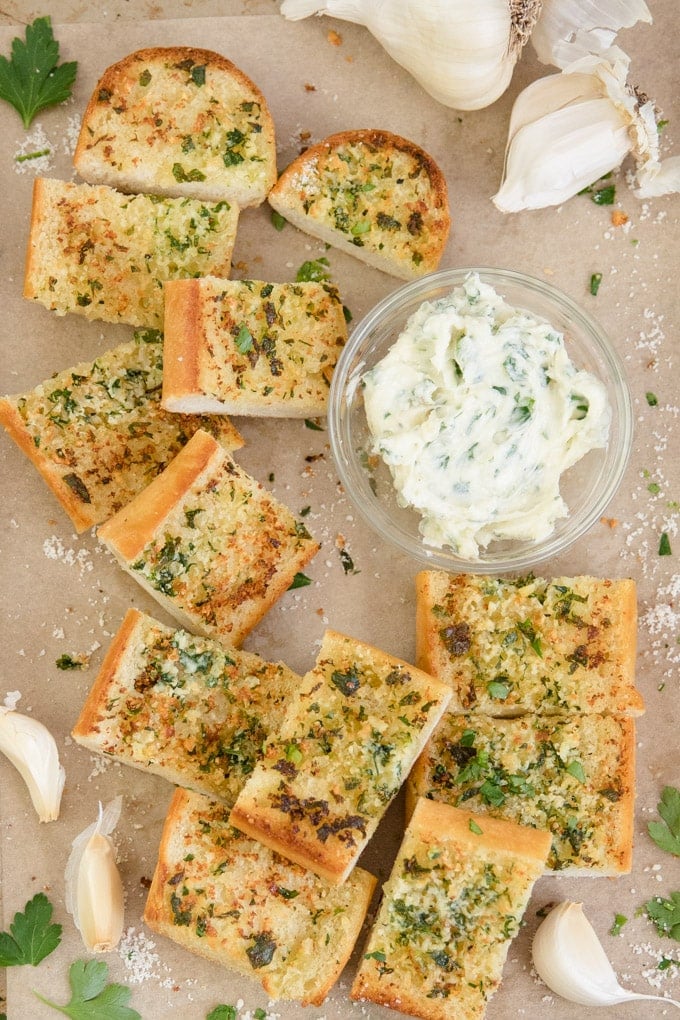 How to Make Garlic Bread
Bread is probably the easiest side dish there is. Especially in the summertime, bread, especially garlic bread, is the only carb we need served up alongside some grilled chicken or steak, watermelon and fresh corn on the cob.
Garlic bread sounds simple enough. Bread, butter and garlic salt. But with a few extras thrown in plus my tips that I'll share below I promise you the most glorious piece of garlic bread that is ready in just 15 minutes.
For another version, try my Cheesy Garlic Bread! And get all the great flavors of garlic and cheese in my ultimate Cheesy Baked Garlic Dip.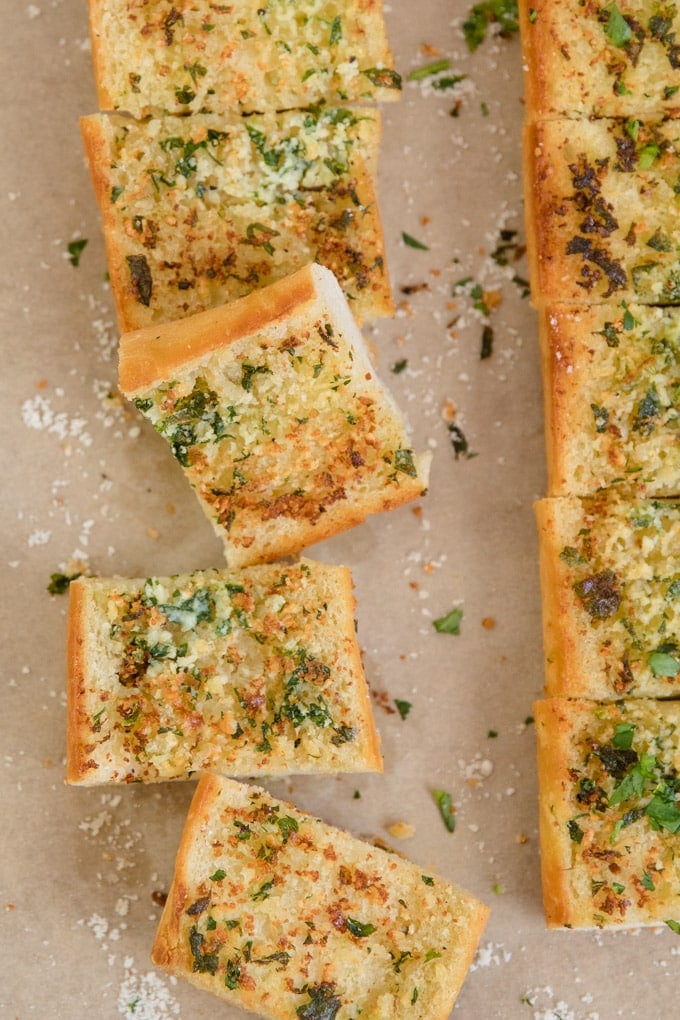 How To Make The Best Garlic Bread Recipe
Slice a loaf of french bread in half lengthwise then lay those halves flat on a baking sheet. You can use a regular bakery loaf or a baguette, or even slices of bread to make your garlic bread.
Make the garlic butter. If you haven't yet tried my homemade garlic butter you are in for a treat! You'll make the garlic butter recipe and add some Parmesan cheese, then spread that all over the bread. I like to sprinkle some chopped parsley on for color, but that's a step you can skip if you want.
Bake the garlic bread in the oven for about 8 minutes, then turn on the broiler to brown the tops for about 2-3 minutes.
Let the bread cool slightly, then slice into 1-2″ pieces and serve immediately.
Tips and Tricks
Line a sheet pan with foil or parchment paper or silicone mats. This isn't a necessary step, but it will keep your pan nice and clean.
When slicing the bread, go slowly and cut the loaf in half as evenly as possible. This will help with even baking and broiling. If the top half tilts too much to the side when it's resting on the baking sheet, shave a little off of the bottom to even it out.
Slather the garlic butter evenly from edge to edge for garlicky flavor in every bite.
If you want to cut your time down even more, skip the baking and just broil the bread for 5-6 minutes. The bottom won't be crispy, but the tops will and that's perfectly fine.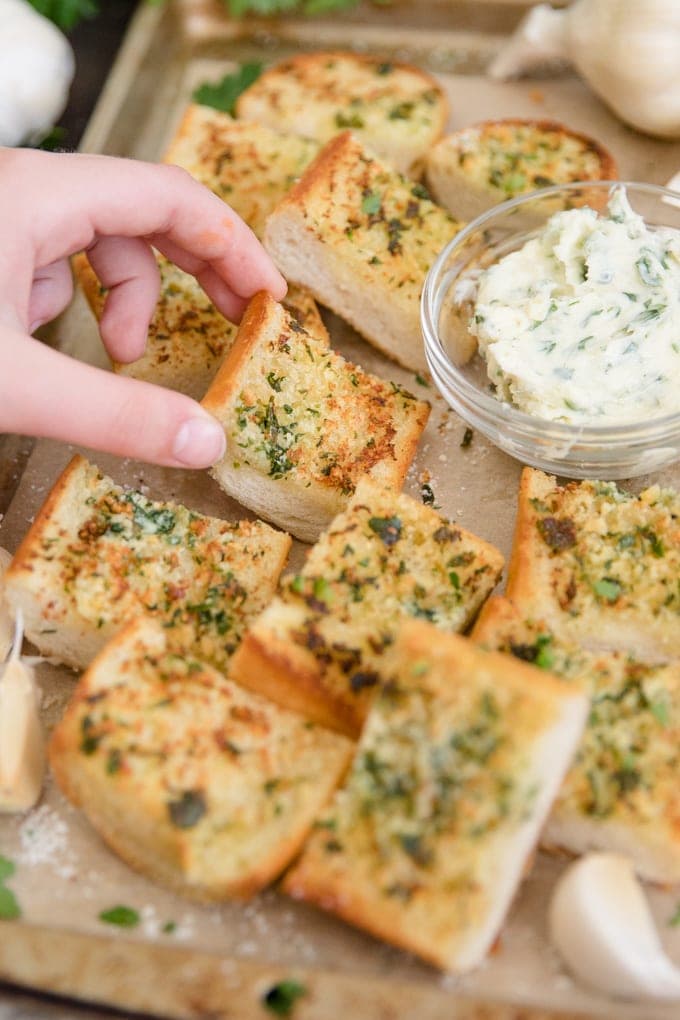 Ever wondered why pasta is always served with bread?
In Italy, bread is on the table at every meal. If pasta is being served, the bread can be used to mop up any sauce leftover at the end of the meal. Sometimes garlic is added and the bread toasted for extra flavor.
Can you freeze garlic bread?
Absolutely! You can freeze this garlic bread before or after baking. I'll explain both methods below.
To freeze before baking, place the buttered bread on a sheet pan in the freezer. Once its frozen, wrap in foil or wax paper. This will keep the butter from sticking to the paper. Place the wrapped garlic bread in an airtight container or freezer bag. Freeze for up to 6 months. To bake, remove the wrapping and place bread on a baking sheet. Bake as directed, adding 5 minutes to the baking time before broiling.
For leftovers, wrap individual slices in foil or wax paper and place into an airtight container or freezer bag. Freeze for up to 6 months. To bake, remove the wrapping and place on a baking sheet. Bake at 350 degrees until hot and crispy.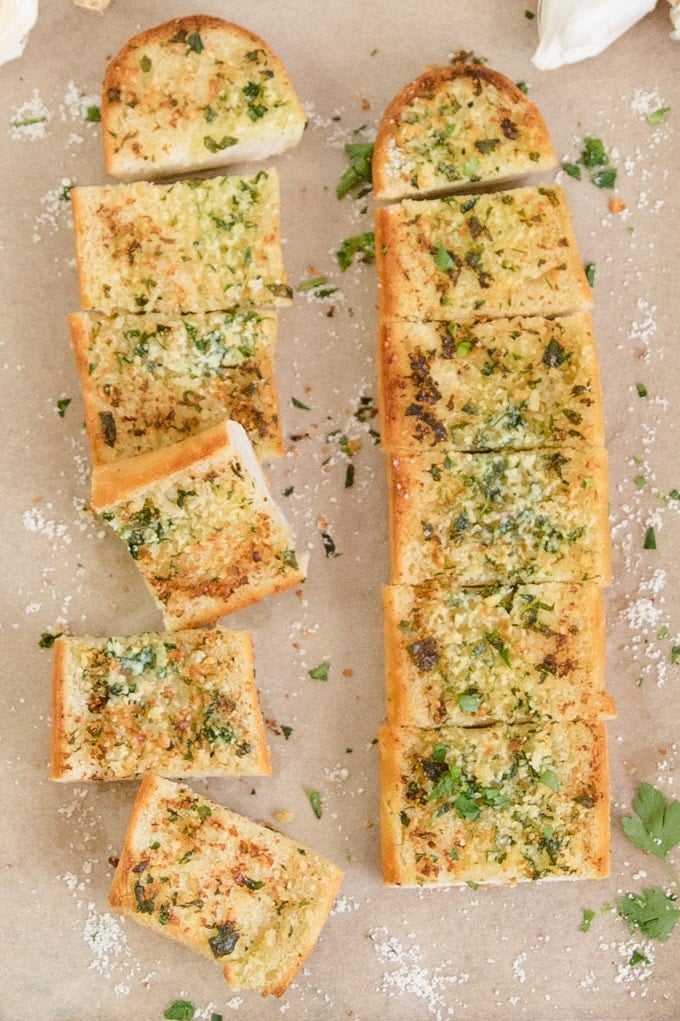 What To Serve With Garlic Bread
Recipe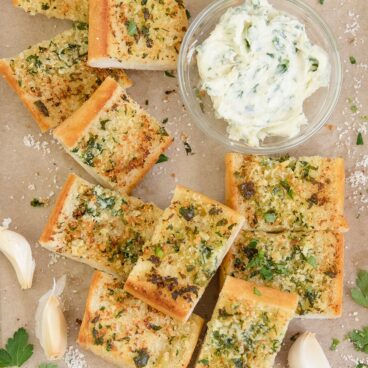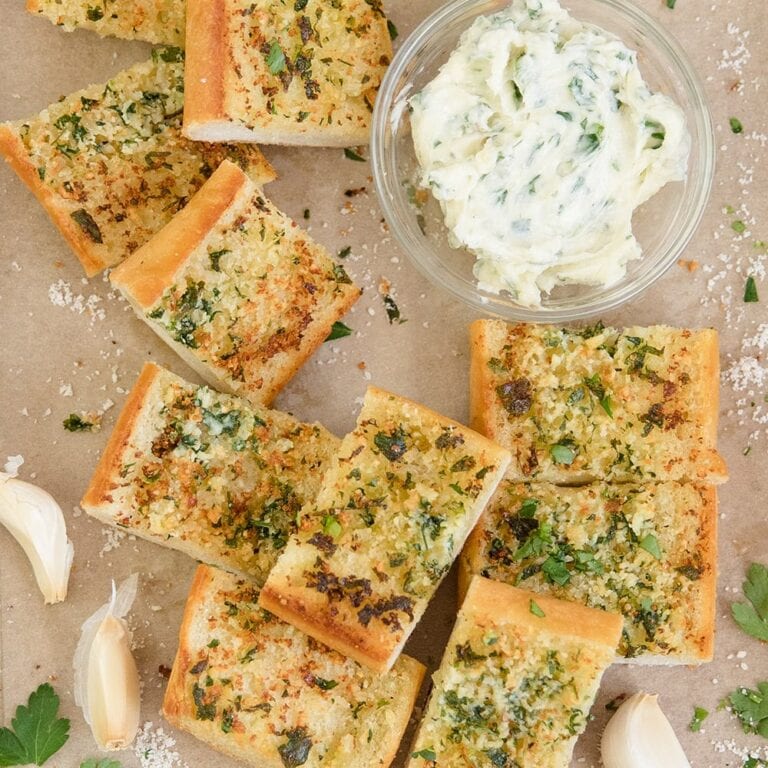 Garlic Bread
Round out any meal with this homemade Garlic Bread recipe, with homemade garlic butter and Parmesan cheese. This is how to make garlic bread the easy way.
Ingredients
2/3

cup

garlic butter

1

loaf

french bread

1/4

cup

grated Parmesan cheese
Instructions
Preheat oven to 400 degrees F.

Combine garlic butter and parmesan cheese. Spread evenly on french bread halves.

Place french bread halves on a baking sheet and and into the oven for 10-12 minutes. For a crispy, browned top, turn on the broiler for the last couple of minutes.

Allow bread to cool slightly after removing it from the oven. Transfer to a cutting board and cut into 2-inch thick slices.
Nutrition
Serving:
2
slices
Calories:
293
kcal
Carbohydrates:
28
g
Protein:
7
g
Fat:
17
g
Saturated Fat:
10
g
Cholesterol:
43
mg
Sodium:
439
mg
Potassium:
68
mg
Fiber:
1
g
Sugar:
1
g
Vitamin A:
500
IU
Calcium:
61
mg
Iron:
1.8
mg