This Homemade Chicken Soup recipe is one that my kids beg for almost on a daily basis. It's fresh and warm and comforting, and made almost completely from scratch!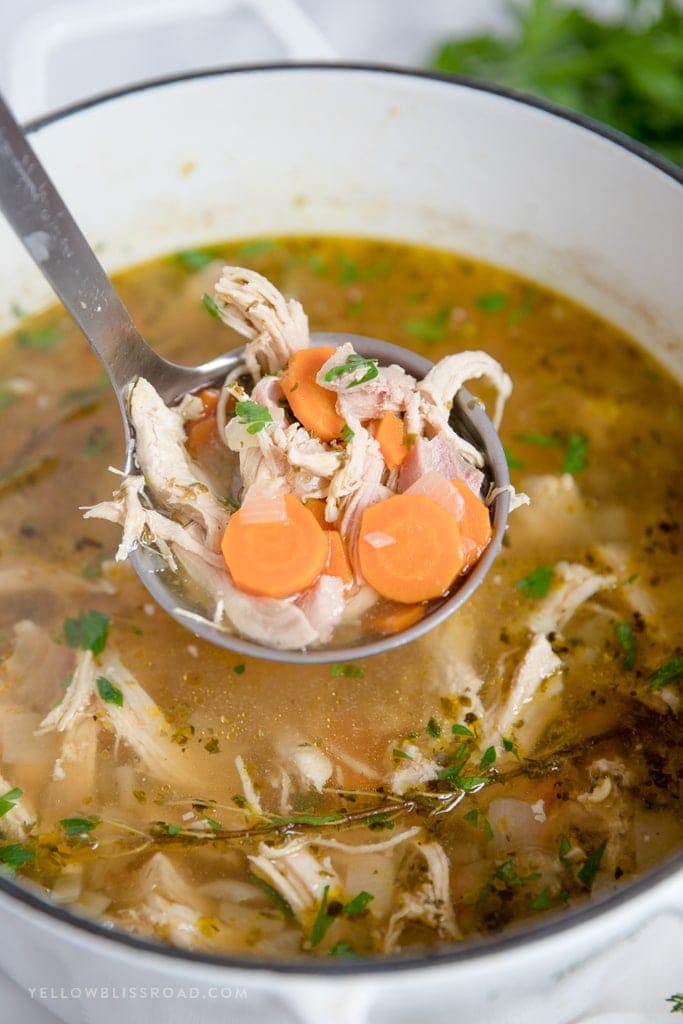 There really is nothing more comforting than homemade chicken soup. It cures the common cold – the warm broth soothes a sore throat and the anti-inflammatory properties in the broth have been known to reduce congestion. Plus it just makes you feel GOOD.
Chicken broth is naturally low in calories and easy to digest, plus it's nutritious and the added chicken provides a good dose of protein.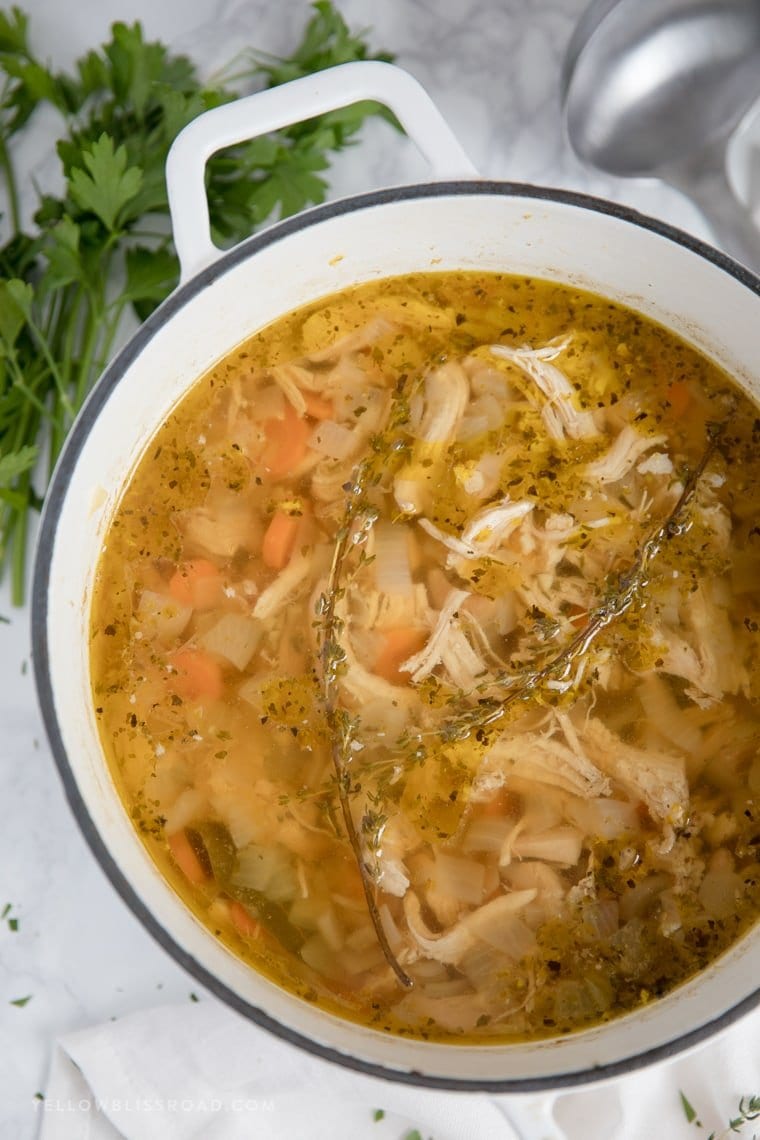 Chicken soup is often the "prescription" most people offer when you're not feeling well. It's comforting and soothing and sentimental. There are plenty of canned options out there when you need a quick chicken soup fix, but my preferred method is this from scratch chicken soup recipe you can make at home in under an hour.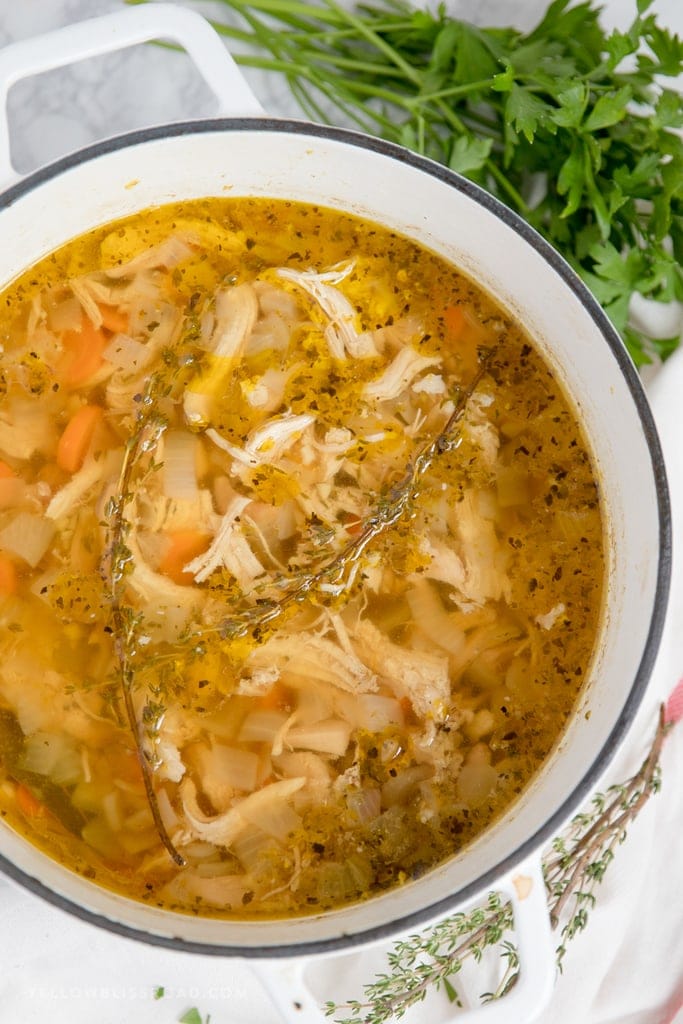 My secret shortcut is to cook whole chicken breasts in chicken stock. This helps to flavor the chicken without so much! You could definitely make your own chicken stock if you have the time, but I never think that far ahead. I do however always have chicken stock or chicken broth on hand. I cook the chicken in equal parts chicken stock and salted water, then shred the chicken into large chunks. I strain any chicken pieces or fat out of the the leftover stock so I just have the liquid, then set it aside.
I always cook the veggies and herbs in a little olive oil before for a few minutes to soften them before adding the leftover stock (plus more). The veggies, chicken and herbs simmer together in the chicken stock for about 20 minutes (or longer for an even richer flavor), and then you're ready to serve! If you like, you can add some cooked pasta or rice but I don't think it's always necessary. If you do, be sure to cook the pasta or rice first and don't just dump it all in the soup – store it separately or it will get mushy as it soaks up broth as it sits.
All in all it takes about an hour and you've got fresh, hearty, homemade chicken soup that will cure whatever ails you.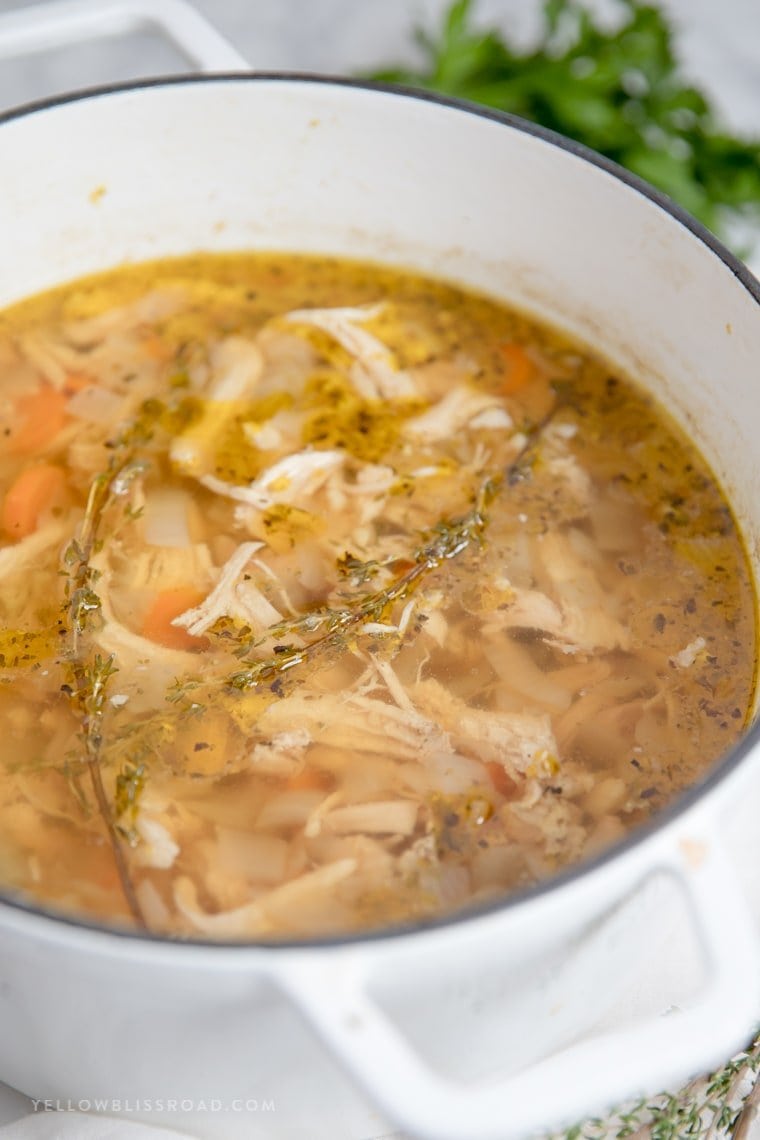 Homemade Chicken Soup Recipe: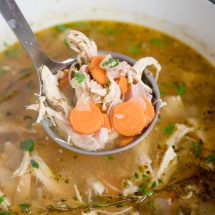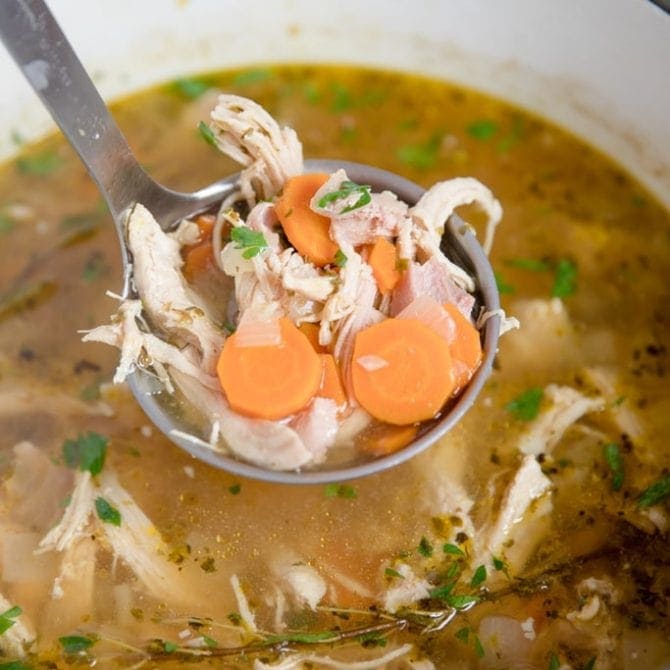 Homemade Chicken Soup
This Homemade Chicken Soup is fresh and hearty and flavorful - it's the cure for the common cold and will heal whatever ails you.
Print
Pin
Rate
Prep Time: 10 minutes
Cook Time: 50 minutes
Total Time: 1 hour
Ingredients
2 chicken breasts
3 chicken thighs boneless, skinless
32 ounces chicken stock
4 cups water
Salt
1 medium onion diced
2-3 large carrots peeled and sliced into bite sized pieces
3 cloves garlic
3 sprigs fresh thyme
1 teaspoon dried oregano
2 bay leaves
32 ounces chicken broth or stock
2 tablespoons minced fresh parsley
3 cups cooked small pasta or 2 cups cooked rice if desired
Instructions
First, cook the chicken. In a large soup pot, bring 32 ounces of chicken stock and 4 cups of water to a boil. Add a couple teaspoons of salt and the chicken. You can cut the breasts in half if you want them to cook a little faster. Cover slightly (leave pot lid open so steam can escape) and turn heat to medium (or a little lower depending on your stove - you want it bubbling a little, but not so much that it overflows).

Continue to cook until chicken is tender and cooked through and shreds easily; 20-30 minutes, or up to one hour. The longer it cooks, the more tender the chicken.

Remove chicken from the pot and shred or cut into large, bite sized pieces with two forks. Pour the leftover stock through a strainer into a large bowl. Set both aside.

Return the empty pot to the stove over medium heat. Add a tablespoon of olive oil or butter and the chopped onion and carrots. You can also add some diced celery if desired. Season with a pinch of salt and cook, stirring frequently until they start to become tender; about 4 minutes.

Stir in minced garlic, thyme, oregano and bay leaves and cook for about a minute. Pour in leftover chicken stock and 32 ounces more chicken broth or stock and the chicken. Bring to a boil. over, reduce heat to low and simmer for 20 minutes. Carefully taste (it will be very hot!) and add salt as desired.

Stir in fresh chopped parsley and serve hot.

*Optional: while the soup is simmering, cook 1-2 cups small pasta or rice to add to the soup when you serve it.
Notes
I like my chicken soup with LOTS of chicken. If you prefer, you can use less.
Here's another favorite chicken soup recipe:
Creamy Chicken and Wild Rice Soup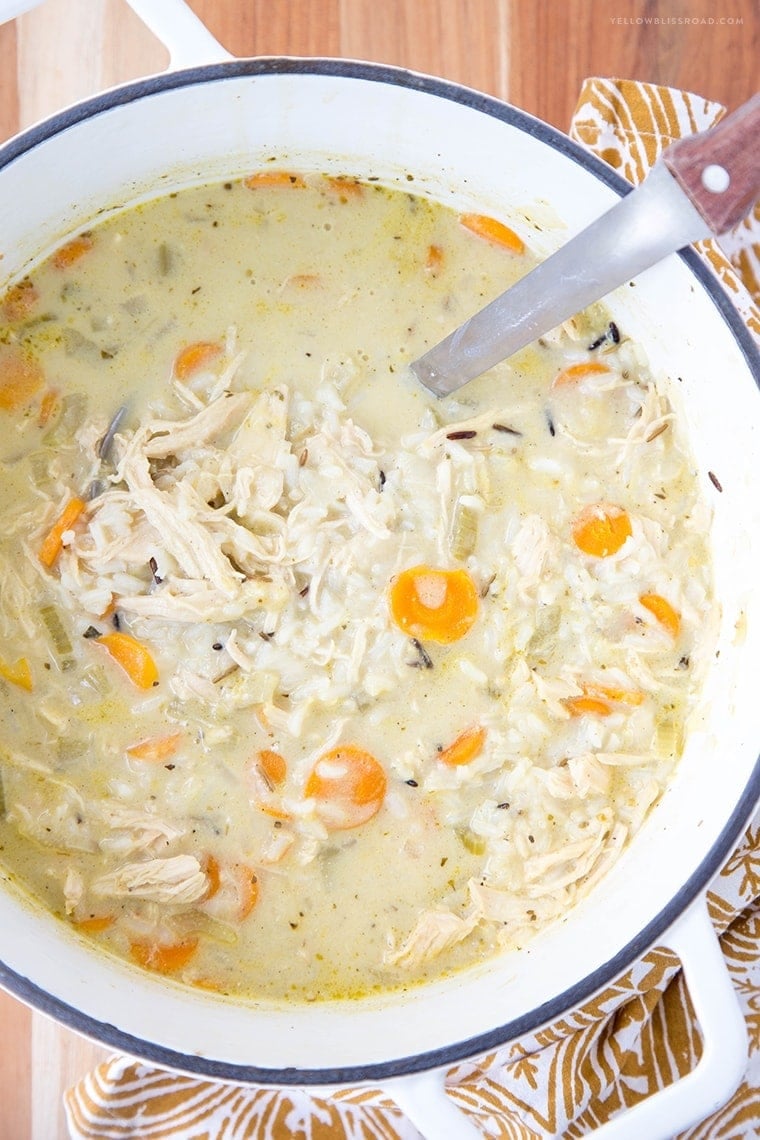 And for more delicious chicken soup recipes, try these: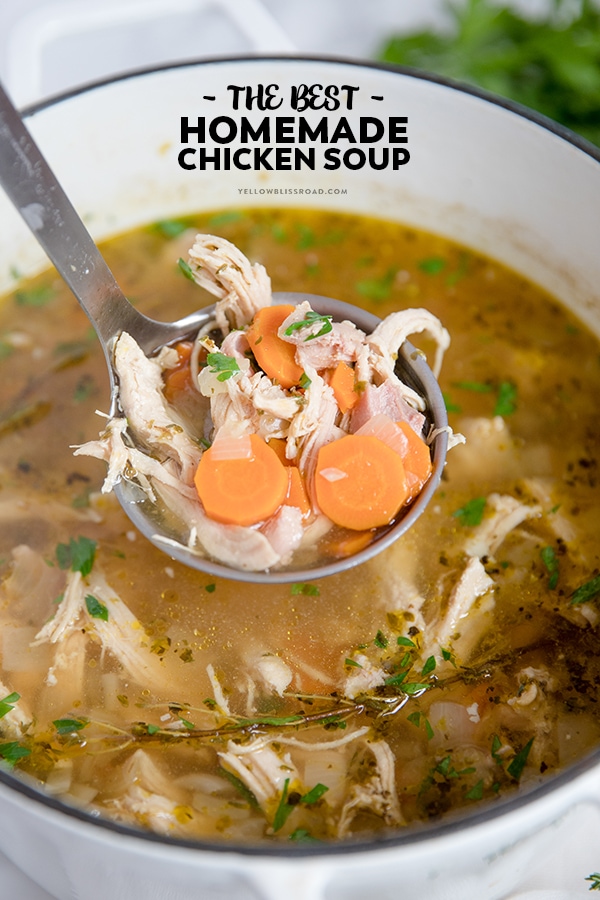 Hi! I'm Kristin, the creative mind behind Yellow Bliss Road where you will be inspired by tons of easy to follow recipes, lots of free printables, and a little sprinkling of life thrown in for good measure.