Homemade Chicken Soup is full of chicken, veggies and herbs in a flavorful semi-homemade broth. My grandma's Chicken Soup Recipe is nostalgic comfort food that's warm and soothing and ready in about an hour.
We are huge fans of soup in our house. I have 4 or 5 that I make on at least a monthly basis, like my Turkey, Kale and Rice Soup, Hamburger Soup Easy Crockpot Chicken Noodle Soup and my grandma's Homemade Chicken Soup recipe.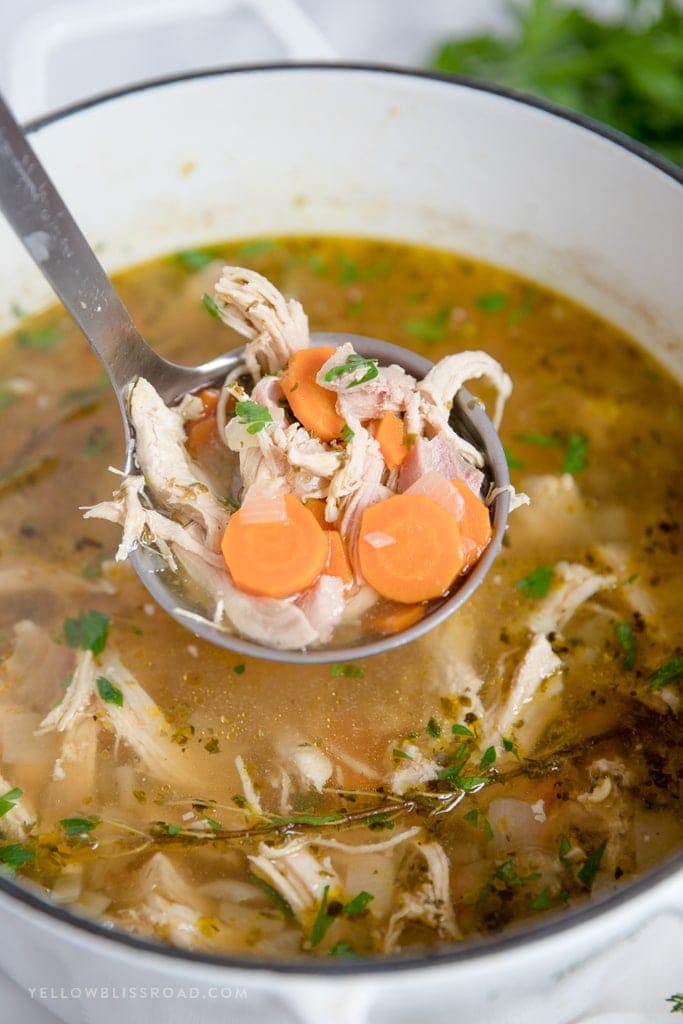 Easy Homemade Chicken Soup Recipe
Chicken soup is often the "prescription" most people offer when you're not feeling well. It's comforting and soothing and sentimental. There are plenty of canned options out there when you need a quick soup fix, but my preferred method is this from scratch chicken soup recipe you can make at home in under an hour.
My grandma's chicken soup recipe was almost always accompanied by Matzo Balls, and was always made from scratch. These days, when I make her recipe, I take a few liberties purely to save a little time, but the results are just as delicious.
My secret shortcut when I make my grandma's recipe from scratch is to cook boneless, skinless chicken breasts and thighs in store-bought chicken stock. This helps to flavor the chicken without taking as much time or effort. No hours of simmering, no deboning! You could definitely make your own chicken stock if you have the time, but I never think that far ahead. I do however always have chicken stock or chicken broth on hand.
Ingredients for the Best Chicken Soup
Boneless, skinless chicken breasts/thighs – you can use bone-in chicken if you like, it will just need to be cooked longer, and then the meat picked off the bones.
Chicken stock/broth – I cook the chicken in a mixture of 4 cups broth and 4 cups of water, then use this broth for the base of the soup, adding more boxed broth as needed.
Salt – Normally I don't add salt to the ingredients list since it's such a common ingredient, but it's so important for the flavor of your soup.
Veggies – Onions and carrots, both peeled and chopped. Sometimes I add celery and you can add other veggies like peas or mushrooms.
Garlic
Herbs – Fresh thyme sprigs (dried also works; about 1-2 teaspoons), dried oregano, bay leaves and fresh parsley for the finishing touch.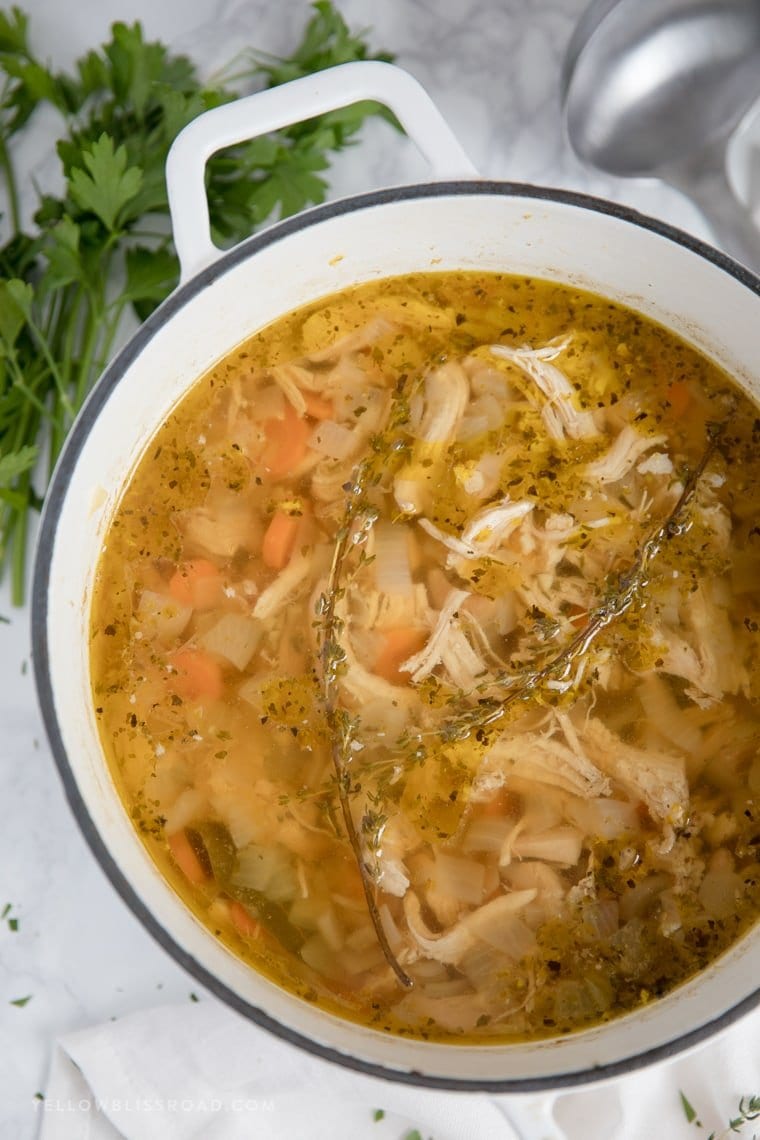 How to Make Chicken Soup (Almost) from Scratch
When I say almost from scratch, I use fresh ingredients but I use a store-bought chicken stock to save a little time. There aren't a ton of preservatives in the store-bought box stuff so I don't worry about feeding it to my family.
Saute the vegetables. I always cook the veggies and herbs in a little olive oil before for a few minutes to soften them and bring out their flavor before adding the leftover stock.
Simmer. The veggies, chicken and herbs simmer together in the chicken stock for about 20 minutes (or longer for an even richer flavor), and then you're ready to serve! Simmer on high heat to bring it to a boil, then cover and reduce to low.
Shred chicken. Once the chicken is cooked, shred it and add it back to the soup.
Final ingredients. Stir in fresh chopped parsley and lemon juice and serve.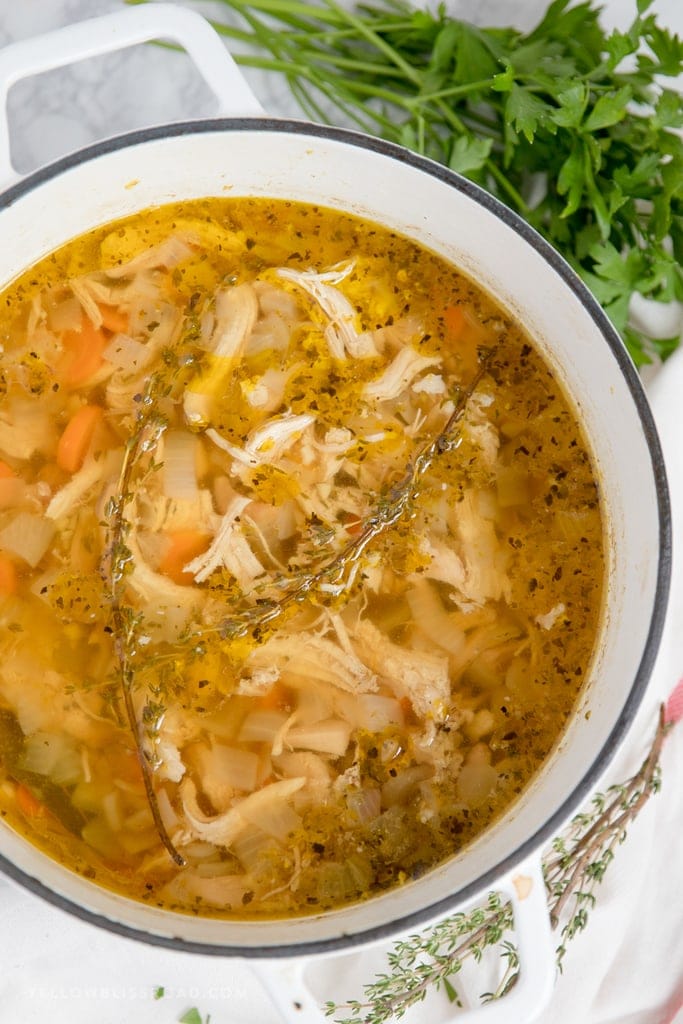 Flavoring Your Soup
The herbs that you use are what is going to really impart the most flavor to your soup. That, and salt. I used fresh thyme and parsley, dried oregano, bay leaves, garlic and black pepper. Salt is also an important component to the flavor profile, as it will heighten the flavor. I tend to not add much salt until the soup is finished to avoid over-salting it.
If you have access to fresh herbs, use them! You can leave them whole and pick them out before serving.
How to Store Your Chicken Soup
Leftovers should be stored in an airtight container in your refrigerator and eaten within 3-4 days. In the freezer, it will remain fresh for 4-6 months.
Reheat soup on the stovetop. If you add rice or pasta to your soup, store it separately if possible to avoid mushy soup.
Expert Tips and Storage
I always use low sodium chicken broth so I can control the saltiness of the soup. While I often choose what's on sale, I avoid the generic brands. Swanson is an all-around great stand by.
For the ultimate shortcut, use leftover chicken or rotisserie chicken, shredded or chopped, for a super simple soup that only takes 20 minutes.
For a burst of freshness, try adding a squeeze of lemon juice to the finished soup.
Chicken Noodle Soup or Chicken Rice Soup: You can add some cooked pasta or rice but I don't think it's always necessary. If you do, be sure to cook the pasta or rice first and don't just dump it all uncooked into the soup. If you have leftovers, store the soup and the pasta or rice separately or it will get mushy and soak up the broth as it sits. As the pasta or rice releases starch, it will also thicken the soup which you probably don't want.
What chicken is best for soup?
Chicken thighs offer the best flavor, but chicken breasts cook quicker and are better for you. Bone-in chicken will add a little more flavor wile boneless is a lot faster, and cooked in broth will still have great flavor.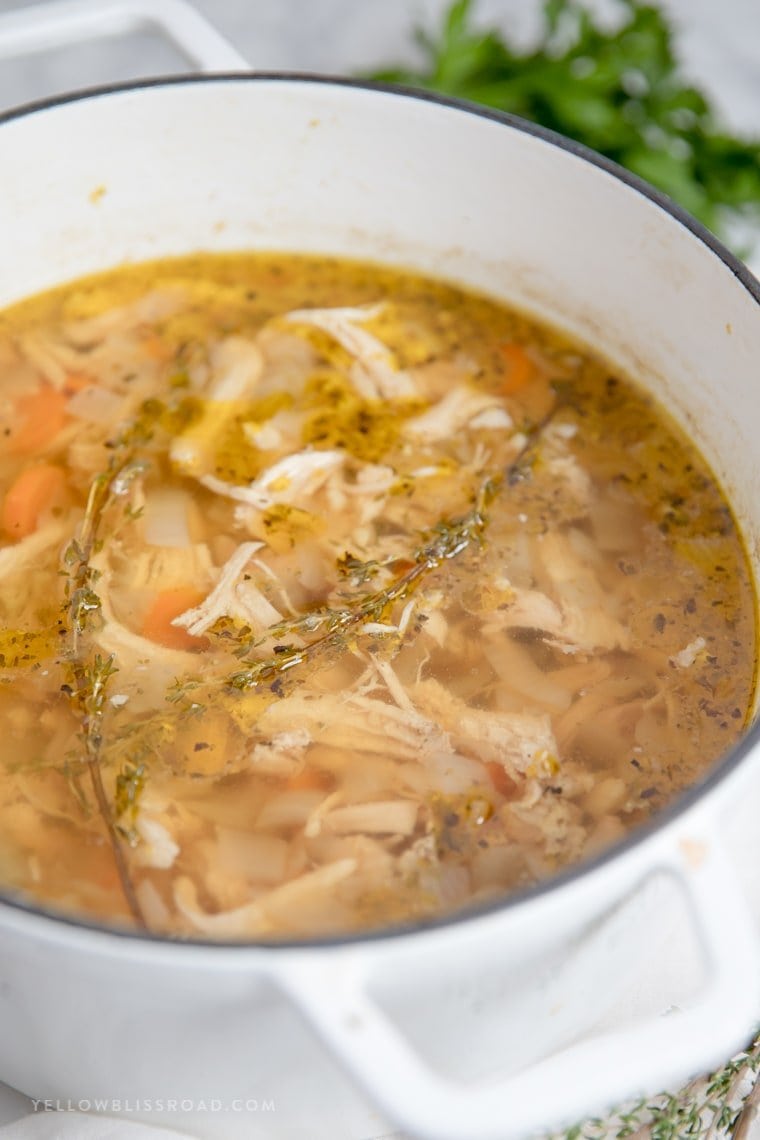 More Chicken Soup Recipes You'll Love
Recipe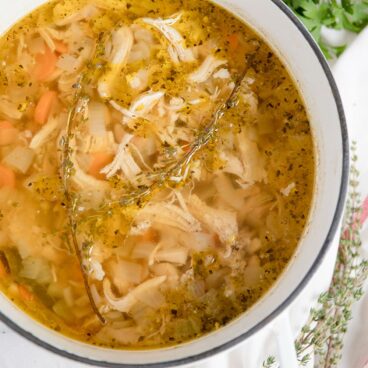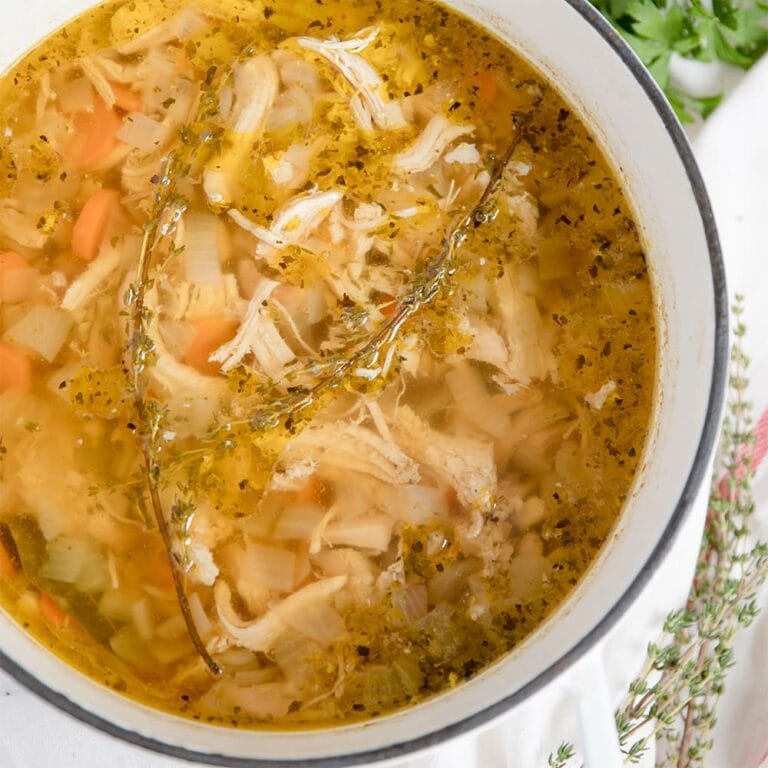 Homemade Chicken Soup
This Homemade Chicken Soup is fresh and hearty and flavorful – it's the cure for the common cold and will heal whatever ails you.
Ingredients
1

tablespoon

olive oil

1

tablespoon

butter

1

small onion

diced

3

medium carrots

peeled and sliced into bite sized pieces

3

celery stalks

sliced

3

garlic cloves

minced

1

teaspoon

dried thyme leaves

1

teaspoon

dried oregano

2

bay leaves

2

pounds

boneless, skinless chicken breasts or thighs

I like to use a pound of each

2

quarts

chicken broth or water

Salt

juice of one lemon

2

tablespoons

minced fresh parsley
Optional:
cooked egg noodles or rice

if desired
Instructions
Heat olive oil and butter in a 5-quart stock pot or dutch oven over medium heat.

Add the onion, carrots and celery to the pot and saute, stirring frequently, until softened; about 5 minutes. Season with a pinch of salt.

Stir in minced garlic, dried oregano, dried thyme leaves and bay leaves and saute for 1 minute.

Pour in chicken broth and bring to a simmer. Add 1 teaspoon of salt and the chicken. Bring back to a boil, cover and reduce heat to low.

Simmer for about 20 minutes, or util chicken is cooked through and shreds easily. Pro tip – keep a meat thermometer handy so the breasts don't overcook.

Remove chicken from the pot and transfer to a cutting board. Shred with two forks or cut into large, bite sized pieces. Skim off any foam or bits of fat from the broth and return the chicken to the pot.

Stir in fresh chopped parsley and lemon juice and serve hot.

*Optional: while the soup is simmering, cook 1-2 cups small pasta or rice in a separate pot to add to the soup when you serve it. Store rice or pasta separate from the soup.
Notes
I like my chicken soup with LOTS of chicken. If you prefer, you can use less.
If you want to skip cooking the chicken altogether, use a rotisserie chicken. Simmer the chicken and veggies in stock for at least 10-12 minutes. 
Nutrition
Calories:
254
kcal
Carbohydrates:
10
g
Protein:
34
g
Fat:
8
g
Saturated Fat:
2
g
Cholesterol:
148
mg
Sodium:
375
mg
Potassium:
634
mg
Fiber:
1
g
Sugar:
4
g
Vitamin A:
3569
IU
Vitamin C:
6
mg
Calcium:
46
mg
Iron:
2
mg