Oven Grilled Cheese is the best way to make this nostalgic favorite. This no-fuss technique will make 6 sandwiches at once that are melty on the inside, crispy and golden on the outside.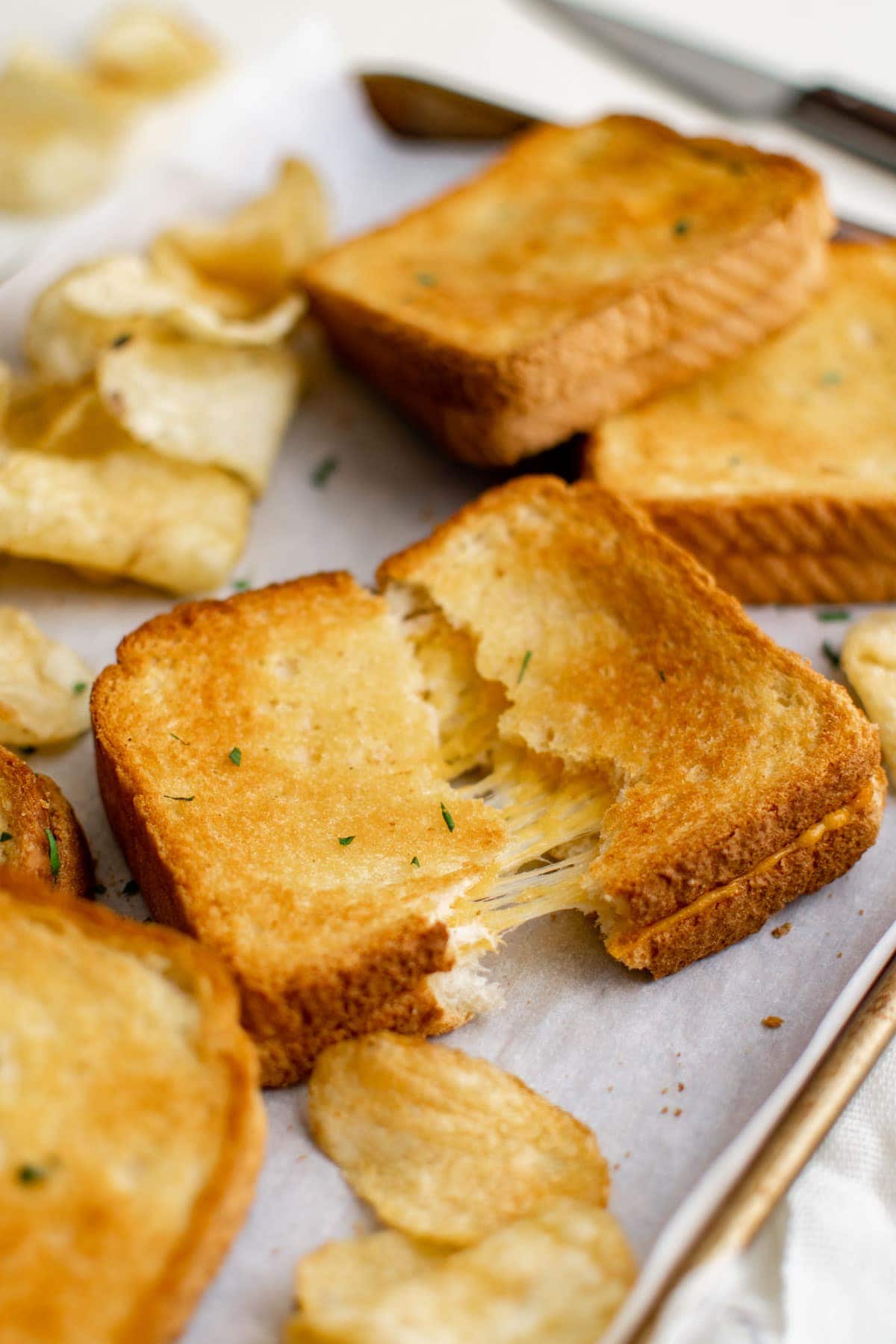 A tasty grilled cheese sandwich is the ultimate in simple comfort food. With layers of melted cheese and a hint of garlic on the toasted bread, what's not to love? Serve these oven grilled cheese sandwiches with simple sides like potato chips, pickle spears, Macaroni Salad, or Fresh Corn Salad.
Everyone should know how to make a grilled cheese sandwich. Take two pieces of bread, spread them with butter and slap some cheese in the middle, then fry them in a skillet. You can usually fit one at a time, maybe 2 if you're lucky, and just hope that the bread grills up golden instead of getting soggy and the first one doesn't get cold while you finish cooking the batch.
Or, you can make grilled cheese in the oven, a foolproof method that produces the perfect amount of crunch every time.
What Cheese is Best for Grilled Cheese?
The best cheese for a grilled cheese sandwich is a creamy and melty cheese, like Cheddar or Monterey Jack. American cheese is always a classic choice, but Pepper Jack or Mozzarella are also good.
If you're a fan of blue cheese or goat cheese, they will add a delicious tang to your sandwich.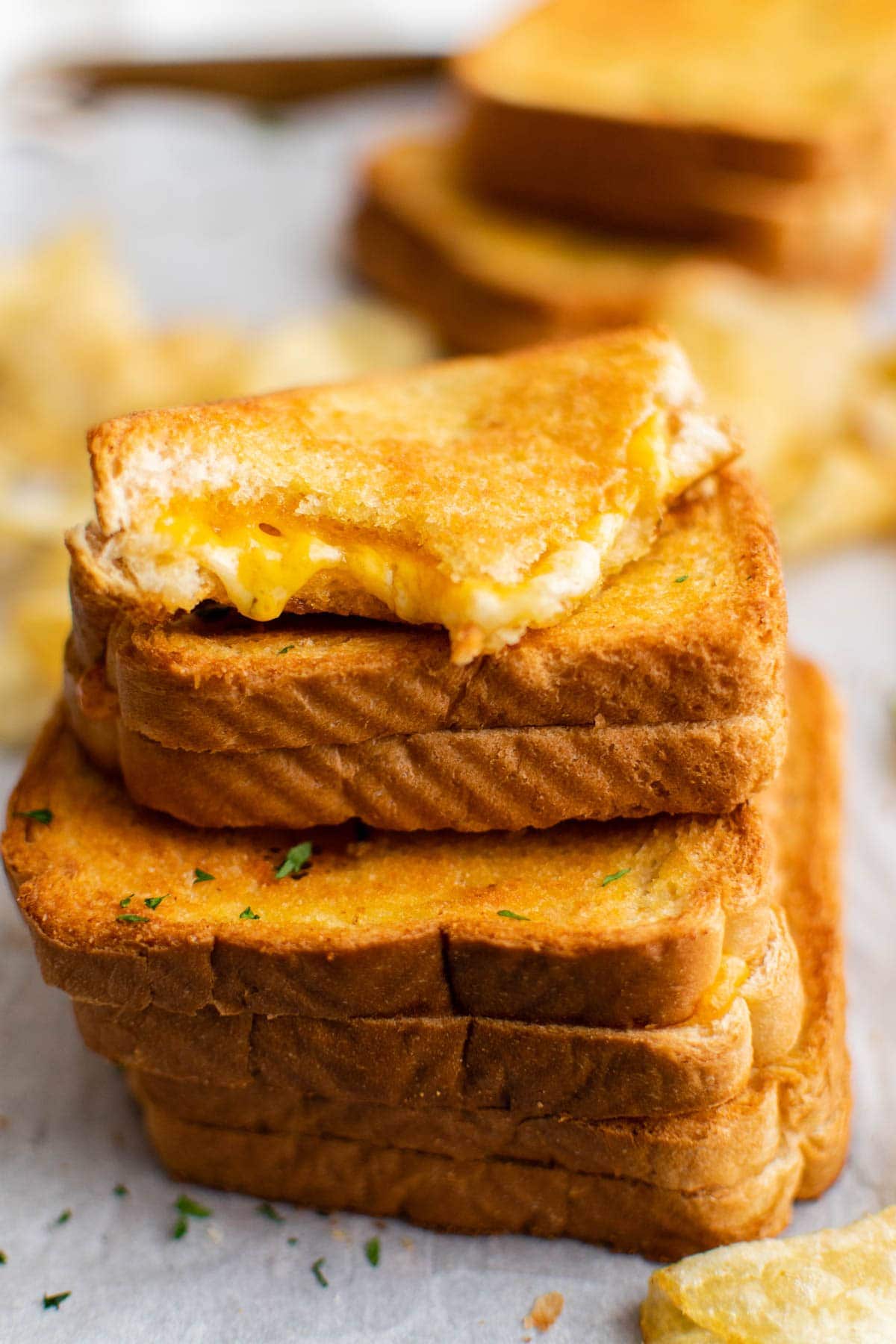 Ingredients and Substitutions
Bread – White bread is traditional, but I prefer something that will hold its shape a little better like sourdough or Texas toast. You can use just about any sliced bread that you like.
Butter – Go with the salted or unsalted, whatever your personal choice is.
Garlic salt – I always add a sprinkle of garlic salt to the outside of my oven grilled cheese. A little goes a long way but it really adds a ton of flavor.
Cheese – Go simple with classic American, or get more creative like I did with the cheddar and pepper jack. The sky's the limit!
How to Make Grilled Cheese in the Oven
Spread butter on one side of 12 slices of bread. For the best flavor, make sure to spread the butter all the way to the edges. Sprinkle a little garlic salt on top of the butter.
Cover a sheet pan with foil. I've tried parchment and you just don't get the same crispiness, but it can be used. Lay 6 of the buttered bread slices, butter side down, onto the sheet pan.
Top each piece of bread with cheese. Thin slices, use two and thicker slices you may only need one. Top with another slice of bread, butter side up.
Bake for about 5-7 minutes, then flip and bake until both sides are golden and crispy. Ovens vary, and even the pan you use can make a difference. Mine usually takes about 12 minutes total.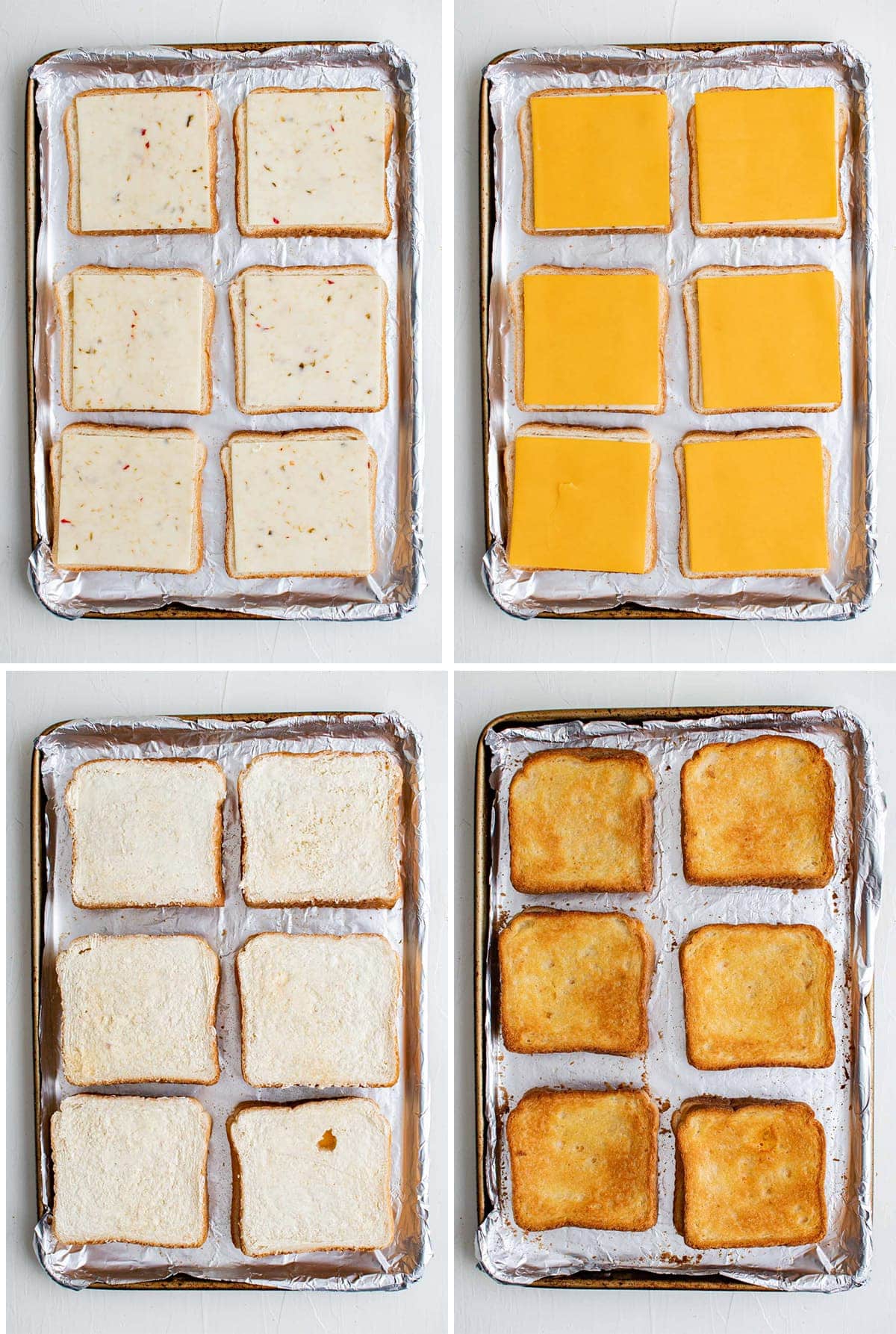 Oven Grilled Cheese Variations
Of course, you have your classic cheese on toasted bread, but what if you want to jazz it up a bit? Try these special sandwich variations:
Italian: Add ham and salami or other Italian meats and mozzarella cheese. Serve with pepperoncinis.
Bacon + Blue Cheese: Add some sliced bacon and crumbled blue cheese in between slices of mozzarella of jack cheese.
Brie, Apples, and Jam: For a sweeter sandwich, add sliced brie cheese, thinly sliced apples, and fig jam. A peppery arugula salad would help to cut the sweetness.
Sun-Dried Tomato and Basil
Recipe Notes and Tips
Spread the butter from crust to crust. This is a trick I learned a long time ago and it makes a huge difference! You want every millimeter of your sandwich coated with butter because butter is what makes the crust golden and crispy.
Let your oven grilled cheese rest. I cannot stress this enough. Let your sandwich sit for at least 5 minutes to cool and so the cheese can set before cutting. Otherwise, you'll end up with cheese spilling out all over the cutting board instead of into your belly.
Use thicker slices of bread that can hold up to the melted butter, and to your bite. No wimpy white bread allowed!
You can use salted or unsalted butter. Use garlic salt with unsalted butter and garlic powder with salted butter.
Serve with pickles on the side for a classic diner feel. Or, try my Cheddar & Dill Pickle Pasta Salad which would pair perfectly.
If you want leftover sandwiches, you wrap them up and place them in the fridge for a couple of days. Reheat in a skillet or even in the toaster oven or air fryer.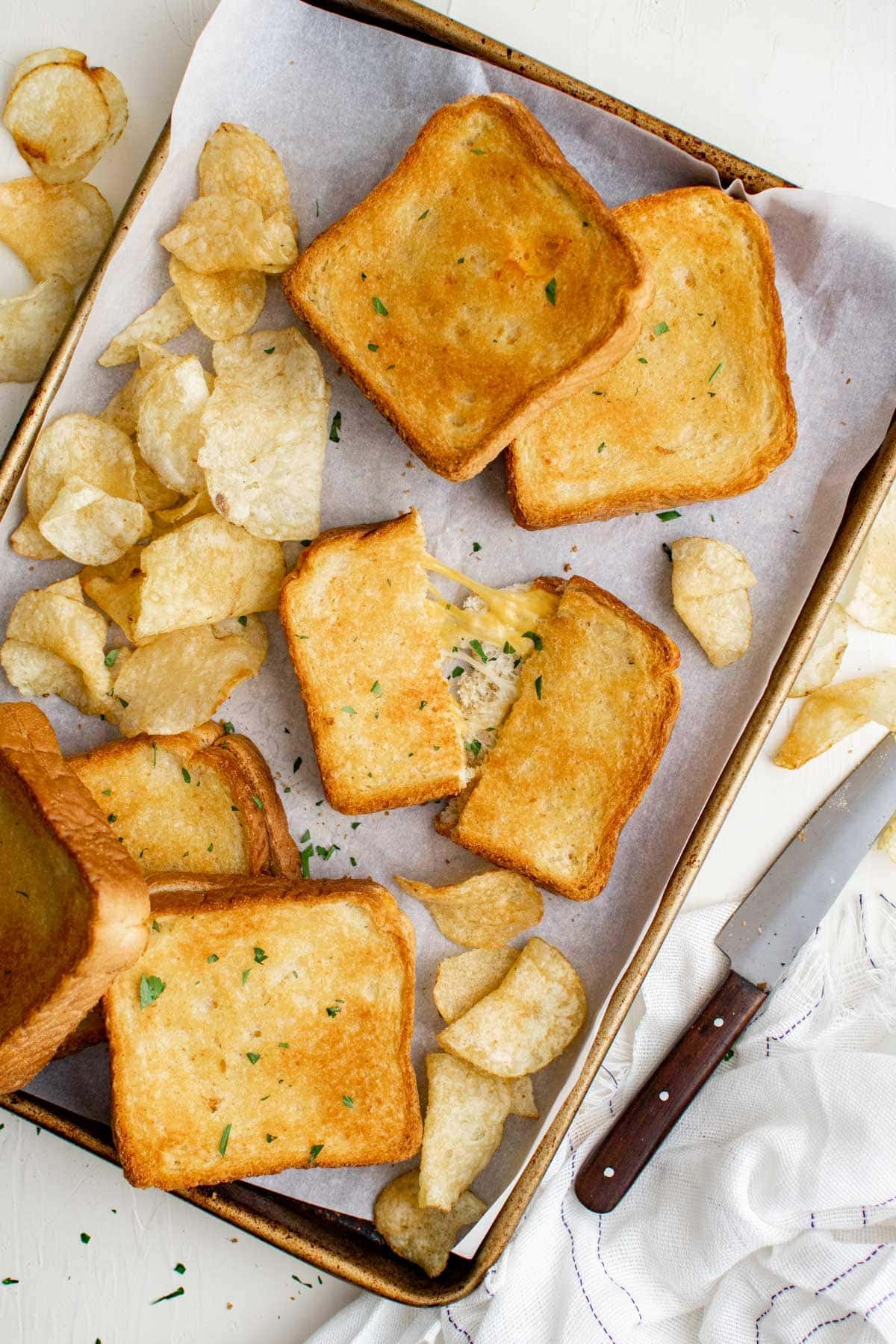 More Sandwiches You'll Love
Recipe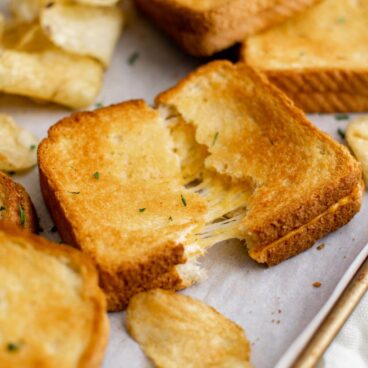 Oven Grilled Cheese
Oven Grilled Cheese is a nostalgic favorite made easier. Make 6 sandwiches at once that are melty on the inside, crispy on the outside.
Ingredients
12

slices

of sandwich bread

Butter

softened and spreadable

12

slices

cheese

Cheddar, Mozzarella, Pepper Jack, American

Garlic powder or salt

optional
Instructions
Preheat oven to 400 degrees F. Line a large baking sheet with nonstick foil.

Spread butter thinly and to the edges of one side of each slice of bread. Sprinkle a little garlic salt on each piece if desired.

Place 6 slices of bread butter side down on the baking sheet. Top with sliced cheese, then with another slice of bread, butter side up. Sprinkle with a little more garlic salt.

Bake in the preheated 400 degree oven for 7-10 minutes, then flip each sandwich over to brown the other side.

Let cool on the baking sheet for about 5 minutes before slicing and serving.
Notes
Nutritional information is offered for informational purposes only. Since ingredients may vary widely, what's provided is only an estimate.
You can use salted or unsalted butter. If you use unsalted butter, use garlic salt. Use garlic powder with salted butter.
Nutrition
Calories:
358
kcal
Carbohydrates:
25
g
Protein:
19
g
Fat:
20
g
Saturated Fat:
12
g
Trans Fat:
1
g
Cholesterol:
59
mg
Sodium:
593
mg
Potassium:
112
mg
Fiber:
1
g
Sugar:
3
g
Vitamin A:
562
IU
Calcium:
534
mg
Iron:
2
mg