Skip the drive thru line and learn how to make the best crispy chicken sandwich at home! Crispy baked or fried chicken seasoned with dill and piled high with lettuce and crunchy dill pickles, topped with a creamy Greek Yogurt Ranch sauce. It's the perfect picnic sandwich!
Serve crispy chicken sandwiches for lunch or dinner, or fry them up for your next picnic with some Homemade Baked French Fries, Macaroni Salad or Fruit Salad.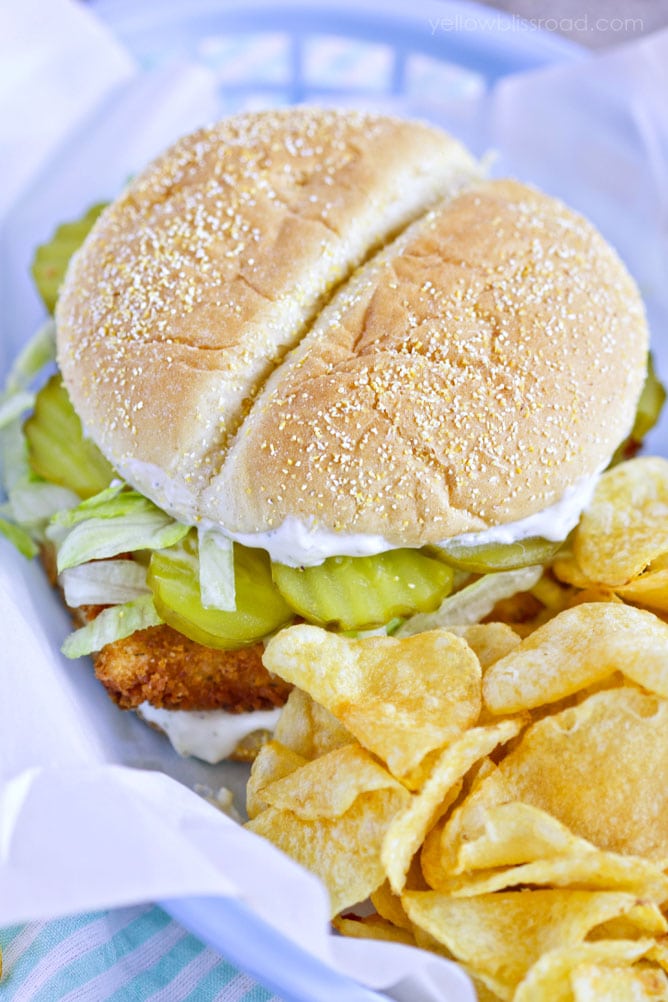 Crispy Chicken Sandwich with Dill
I'm not usually one to run out and try something new when I see a commercial for it, but I recently saw an ad for Wendy's new Crispy Dill Chicken Sandwich. I'm a sucker for a crispy chicken sandwich and combined with the dill sauce and pickles, it sounded so good! I usually love Wendy's sandwiches because the chicken is real chicken – not pressed together to form chicken. Imagine my surprise when I discovered that this sandwich wasn't the big juicy chicken I expected, but rather a thin pressed meat patty. Boo!
As disappointed as I was, I decided I could probably make this sandwich myself, and that it would be even better than fast food! Since my kids could eat pickles by the fistfuls, and they are total Ranch addicts, I knew this crispy chicken sandwich would be one that they would love just as much as I did.
How to Make the best Crispy Dill Chicken Sandwich
The flavor and texture combo of this chicken sandwich is just out of this world. Crispy on the outside and juicy on the inside chicken breast filets with a creamy dill pickle ranch sauce, loads of dill pickle slices and fresh lettuce all nestled in a thick sandwich bun.
The chicken for the sandwich can be fried if you're feeling adventurous, or baked if you'd like to save a few more calories. I used a cornmeal dusted burger bun, but you could use your favorite. Just be sure to pile on the pickles!
Prep the chicken. Pat the chicken dry to prepare it for adding the breading. You want to pound thicker chicken breasts down a bit so they're between 1/2-3/4 inch thick so they'll cook evenly. If they are really large (like double the size of your sandwich buns), cut them in half. Dredge the chicken in dill seasoned flour, then a milk egg mixture and finally panko breadcrumbs. Press the crumbs onto the chicken to help them stick.

Bake or Fry. Fry breaded chicken in hot oil for several minutes per side. Or bake on a foil lined baking sheet topped with a baking rack. Whichever method you use, you'll want to flip them about halfway through to ensure they cook evenly on both sides.
Rest. Give the chicken time to cool a bit and redistribute the juices before serving. 5- 10 minutes is plenty. I don't recommend covering the hot chicken as this would cause moisture to build up that would soften the breading.
Assembly. To assemble the crispy chicken sandwiches, heat buns in the microwave for 30 seconds or under the broiler of your oven for a couple of minutes. Spread a tablespoon of the dill pickle sauce sauce on the bottom bun, then top with crispy chicken, shredded lettuce and sliced pickles. Spread more of the sauce on the top bun and place on top of the sandwich. Serve them immediately, while they're still hot.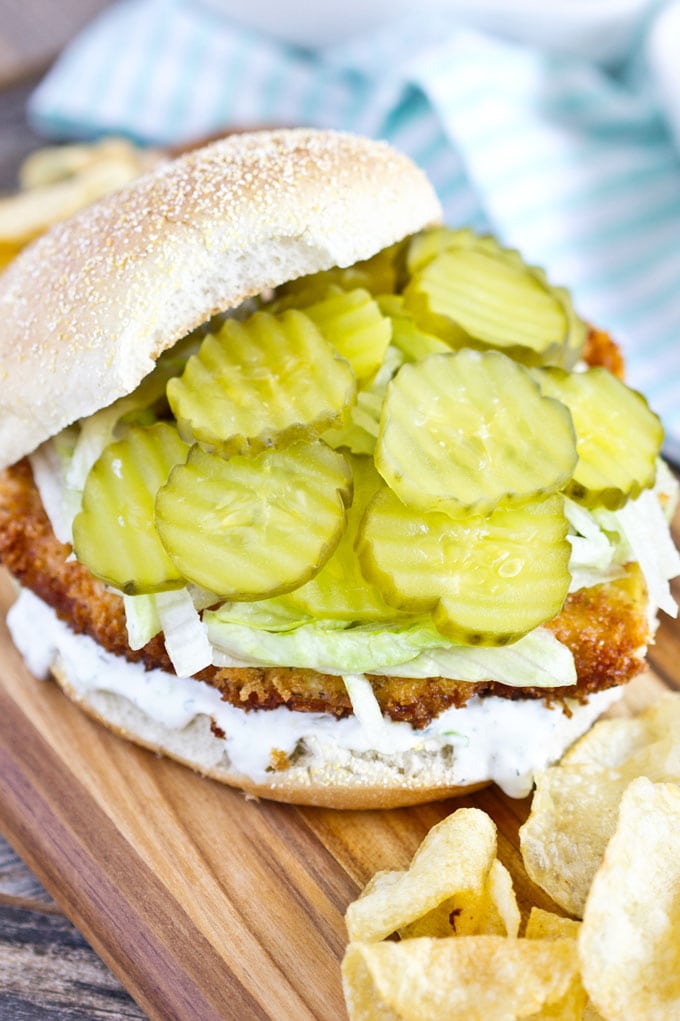 Dill Pickle Ranch Sauce
I made the ranch sauce with Greek yogurt and ranch seasoning mix. To go along with the dill pickle theme, I added some chopped up dill pickles and a couple spoonfuls of the brine to the mix for flavor and to thin the sauce a bit, spread on both the top and bottom buns of my chicken sandwich for maximum flavor explosion.
Here's what you'll need for the sauce:
Greek yogurt – you could also use sour cream, but the yogurt is healthier and you really can't taste the difference one the sauce is mixed up.
Ranch seasoning – The flavor is perfect for this sandwich!
Dill pickles – chopped up real fine, like for pickle relish. Adds a nice crunch and delicious tang.
Dried dill – you could also use fresh, just double the amount.
Pickle juice – might as well just carry that briney, tangy flavor throughout, right?
Mix everything together and save it in the fridge until your ready to assemble your chicken sandwiches. It also makes a delicious dip for potato chips and fries!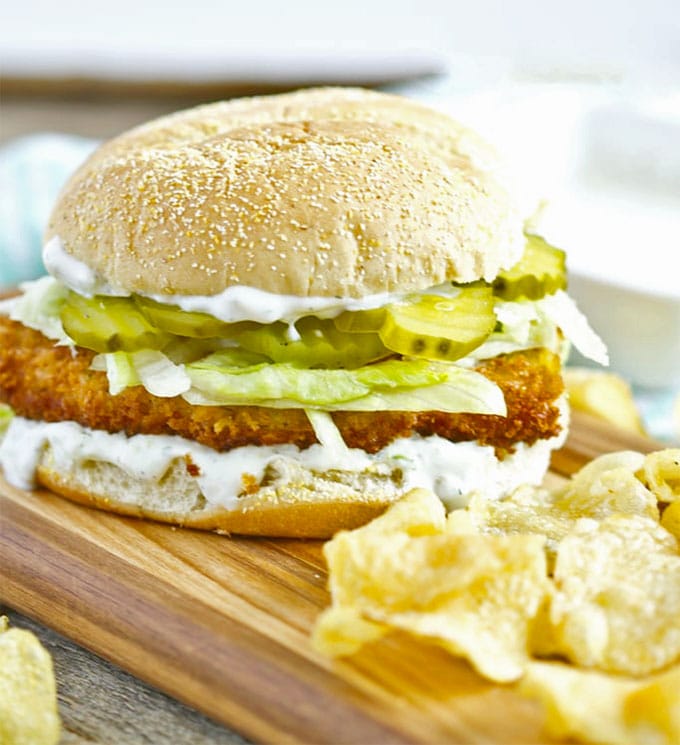 What goes with chicken sandwiches?
A perfectly crispy chicken sandwich needs some perfect picnic sides! You could serve with something simple, like potato chips and veggie sticks or fruit or something a little more substantial like Bacon Ranch Red Potato Salad, Grilled Balsamic Veggies or Summer Spaghetti Salad.
More chicken recipes to try:
Love sandwiches? Try these: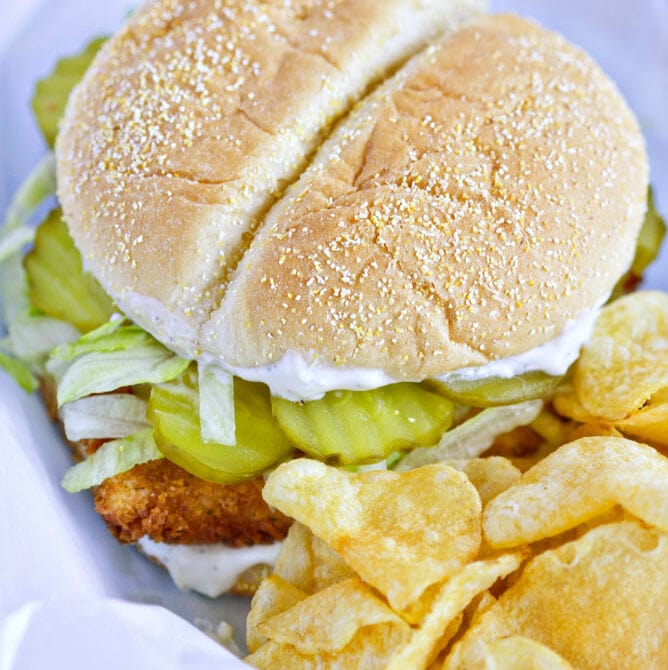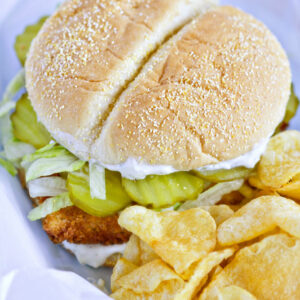 Crispy Dill Chicken Sandwich
A crispy chicken sandwich that can be baked or fried, topped with a dill pickle ranch sauce and loads of pickles.
Ingredients
Dill Pickle Ranch Sauce
1 tablespoon ranch seasoning mix half of a packet
6 ounces Greek Yogurt or sour cream
1 teaspoon dried dill or 2 teaspoons fresh
8 sliced dill pickles
2 teaspoons pickle juice
Chicken Sandwich
1/2 pound chicken breast (2 small breasts) pounded to 1/2-inch thick
1/2 cup Panko breadcrumbs
1 large egg
1 tablespoon milk
1/2 cup all-purpose flour
1 teaspoon dried dill
Salt and pepper to taste
2 large sandwich buns
1 cup shredded iceberg lettuce
16 sliced dill pickles
Instructions
Dill Pickle Ranch Sauce
Combine all ingredients in a small bowl. Cover and place in the refrigerator for at least 30 minutes. (Can be used right away if necessary, but flavor only gets better with time). Store leftovers in an airtight container in the fridge for up to 4-5 days.
Crispy Chicken Sandwiches
Pat chicken dry with paper towels. If using full sized chicken breasts, pound to a uniform thickness, about 1/2 inch or so to ensure even cooking. Cut larger pieces in half if necessary so they'll fit on the sandwich buns.

Prepare three shallow containers (like pie pans) as follows: Flour and dried dill whisked to combine in the first pan, eggs and milk whisked to combine in the second pan, Panko breadcrumbs in the third pan.

Dip 1 piece of chicken into flour mixture until completely covered, shaking off any excess. Then dip into egg mixture, and then Panko, making sure to press crumbs into the chicken. Set aside and repeat with second chicken breast.

For frying, heat about 1/2 cup vegetable oil in a cast iron skillet over medium high heat. Carefully place room temperature chicken in the hot oil and fry for about 3-4 minutes per side, until chicken is no longer pink. Transfer to paper towel lined plate to drain.

For baking, preheat oven to 400 degrees. Line a rimmed baking sheet with foil, top with a baking rack if you have it, and spray with nonstick cooking spray. Place chicken on the sheet and bake for 15-20 minutes, flipping once after about 10 minutes to ensure even crisping on both sides. If chicken doesn't brown enough, broil for a couple of minutes. Spraying the chicken with a butter flavored cooking spray before baking can also help with crisping.

Allow chicken to rest and cool slightly before assembling sandwiches.
Sandwich Assembly
Heat buns in the microwave or under the broiler of your oven. Spread a tablespoon of the Greek Yogurt sauce on the bottom bun, then top with crispy chicken, shredded lettuce sliced pickles. Spread more of the sauce on the top bun and place on top of the sandwich. Serve immediately.
Notes
You can prep the chicken up to the breading step ahead of time. Cover and refrigerate up to overnight. Let sit out 30 minutes before baking or frying.
Nutrition
Calories: 595kcalCarbohydrates: 77gProtein: 48gFat: 9gSaturated Fat: 2gCholesterol: 159mgSodium: 1994mgPotassium: 822mgFiber: 4gSugar: 7gVitamin A: 546IUVitamin C: 3mgCalcium: 261mgIron: 6mg