Crispy baked or fried chicken seasoned with dill and piled high with lettuce and crunchy dill pickles, topped with a creamy Greek Yogurt Ranch sauce. It's the perfect picnic sandwich!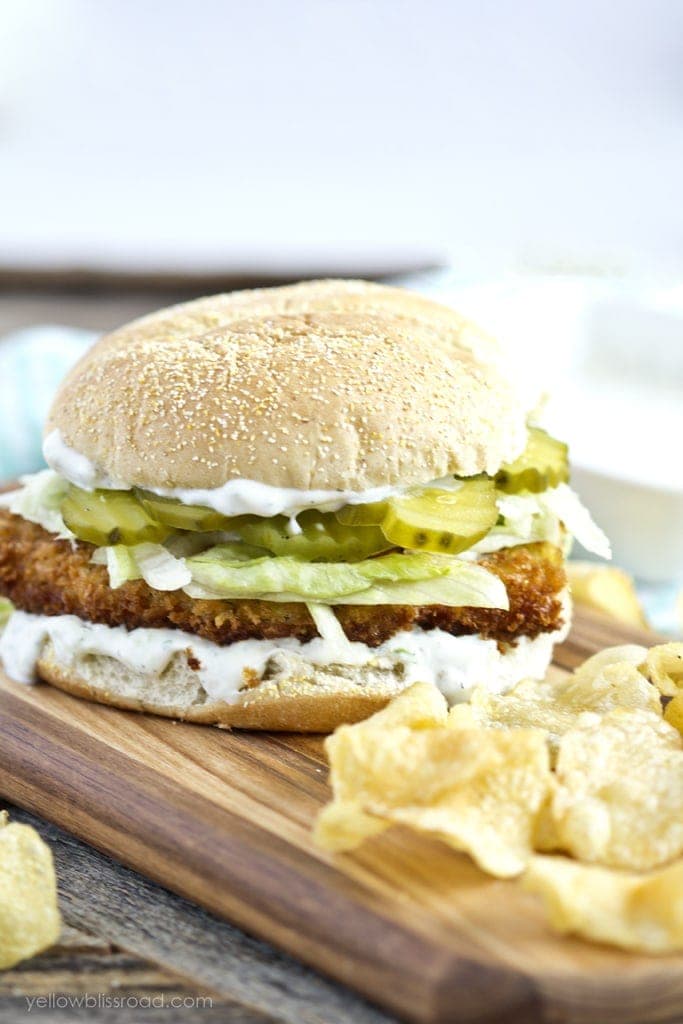 I'm not usually one to run out and try something new when I see a commercial for it, but I recently saw an ad for Wendy's new Crispy Dill Chicken Sandwich. I'm a sucker for a crispy chicken sandwich and combined with the dill sauce and pickles, it sounded so good! I usually love Wendy's sandwiches because the chicken is real chicken – not pressed together to form chicken. Imagine my surprise when I discovered that this sandwich wasn't the big juicy chicken I expected, but rather a thin pressed meat patty. Boo!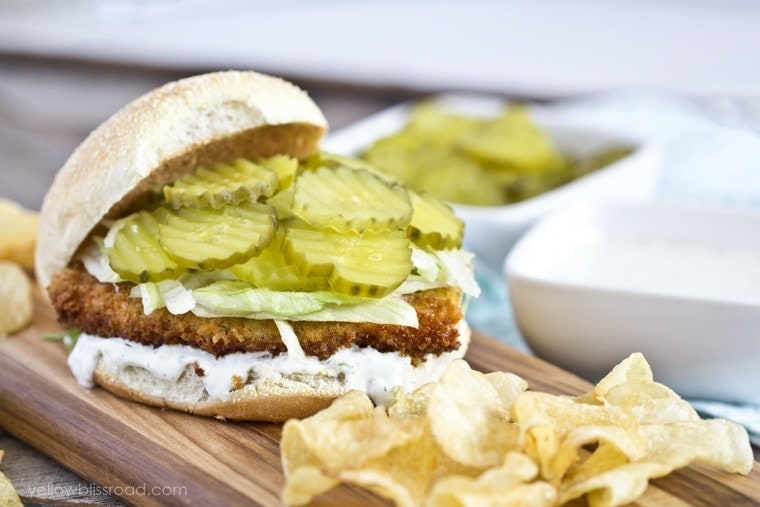 As disappointed as I was, I decided I could probably make this sandwich myself, and that it would be even better than fast food! I knew this was the perfect opportunity to try out the new Hidden Valley ® Greek Yogurt Ranch mix made especially for use with Greek Yogurt. Since my kids could eat pickles by the fistfuls, and they are total Ranch addicts, I knew this would be a sandwich they would love just as much as I did.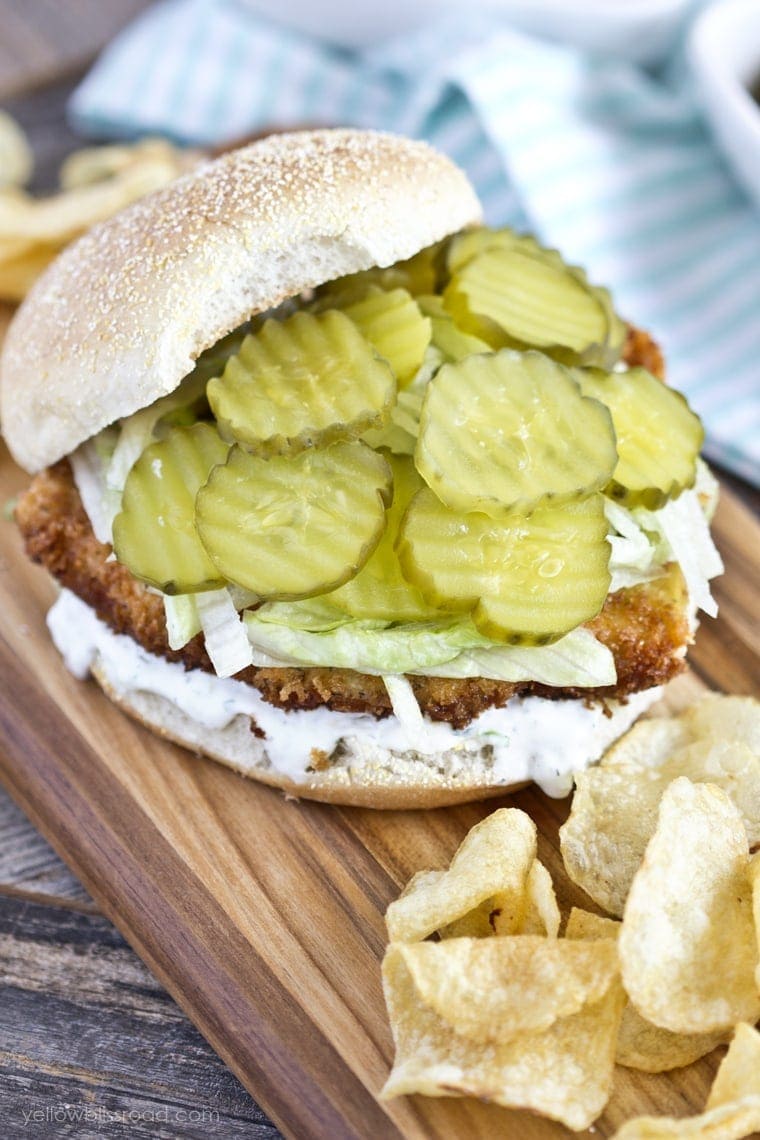 Hidden Valley ® Greek Yogurt Ranch has 98% less fat and 67% fewer calories than it's traditional sour cream based cousin, making this dip a healthier alternative for your summer snacking. My kids love it because it tastes delicious, too! They loved it on the sandwich, as well as a dip on the side for chips and veggies.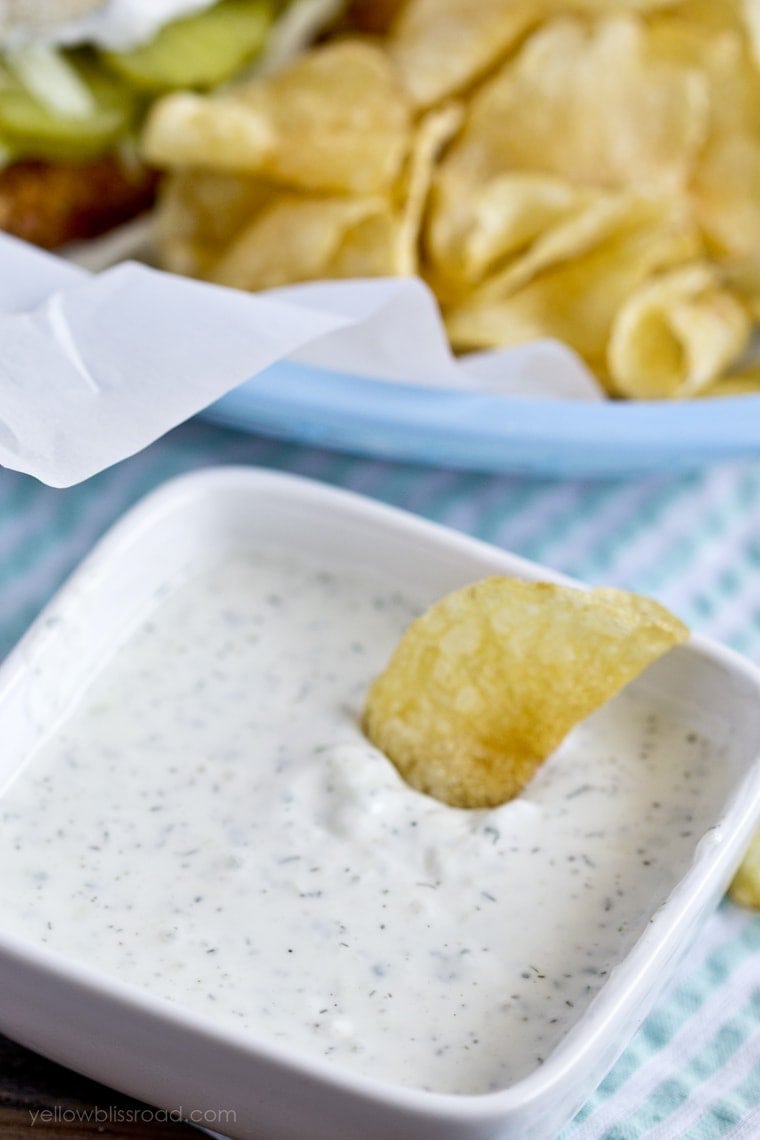 To go along with the dill pickle theme, I added some chopped up pickles and a couple spoonfuls of the brine to the mix, in place of the milk. The chicken for the sandwich can be fried if you're feeling adventurous, or baked if you'd like to save a few more calories. I used a cornmeal dusted burger bun, but you could use your favorite. The Hidden Valley Greek Yogurt Ranch with Dill is spread on both the top and bottom buns for maximum flavor explosion.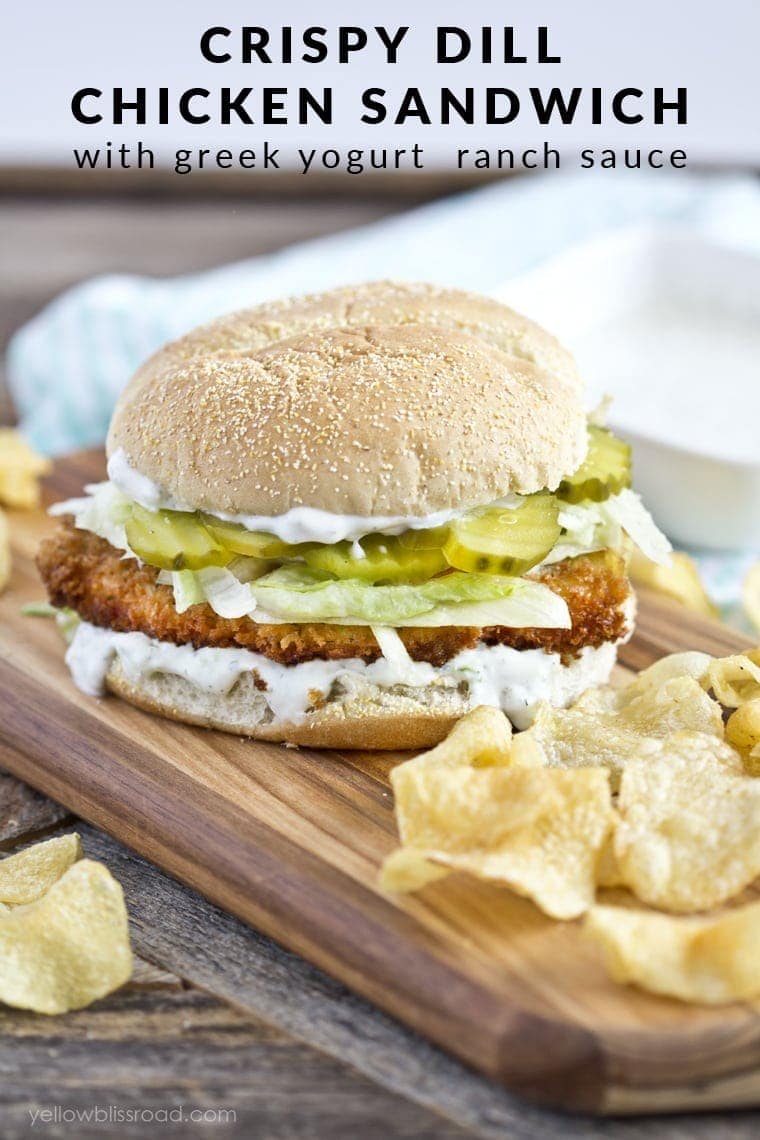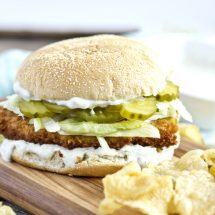 Ingredients
2 chicken breast cutlets about 1 pound
1/2 cup Panko breadcrumbs
1 eggs
1 tablespoon milk
1/2 cup flour
1 teaspoon dried dill
Salt and pepper to taste
1/2 packet about 1 tablespoon Hidden Valley Greek Yogurt Dressing Mix
6 oz. Greek Yogurt
1 teaspoon dried dill
2 Sandwich buns
Shredded iceberg lettuce
1 jar sliced dill pickles
Instructions
Prepare Greek Yogurt Ranch sauce by combining, Greek yogurt, Hidden Valley Greek Yogurt Dressing mix, 2 tablespoons chopped dill pickles (optional), 1 teaspoon dried dill and 2 teaspoons of the pickle brine (juice from the jar). Cover and place in the refrigerator for at least 30 minutes. (Can be used right away if necessary, but flavor only gets better with time).

Rinse chicken and pat dry. If using full sized chicken breasts, pound to a uniform thickness, about 1/2 inch or so to ensure even cooking.

Prepare three shallow containers (like pie pans) as follows

Flour and dried dill whisked to combine in the first pan, eggs and milk whisked to combine in the second pan, Panko breadcrumbs in the third pan.

Dip 1 piece of chicken into flour until completely covered, shaking off any excess. Then dip into egg mixture, and then Panko, making sure to press crumbs onto chicken. Set aside and repeat with second chicken breast.

For baking, preheat oven to 400 degrees. Line a baking sheet (with sides) with foil and spray with cooking spray. Place chicken on the sheet and bake for 15-20 minutes, flipping once after about 10 minutes to ensure even crisping on both sides.

For frying, heat about 1/2 cup vegetable oil in a cast iron skillet over medium high heat. Carefully place chicken in the hot oil and fry for about 3-4 minutes per side, until chicken is no longer pink.

Allow chicken to cool slightly before assembling sandwiches.

To assemble the sandwiches, heat buns in the microwave or under the broiler of your oven. Spread a tablespoon of the Greek Yogurt sauce on the bottom bun, then top with crispy chicken, shredded lettuce sliced pickles. Spread more of the sauce on the top bun and place on top of the sandwich.

Serve immediately.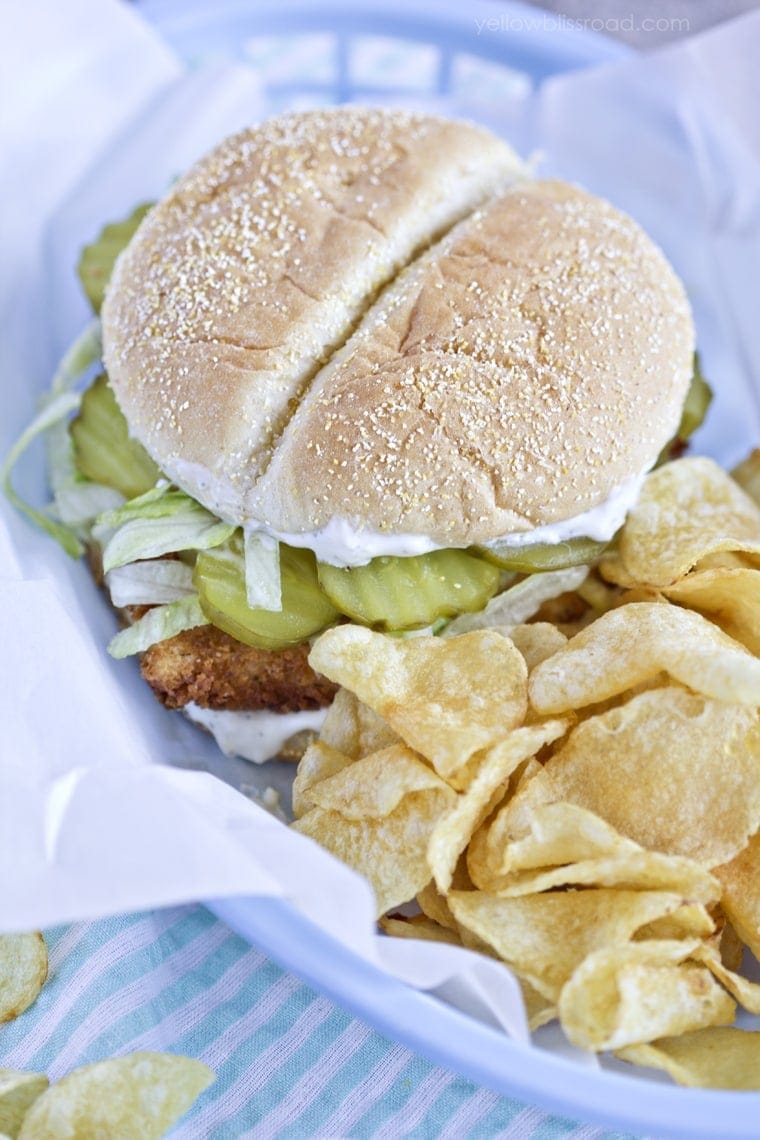 Looking for some more great summer picnic ideas? Try these: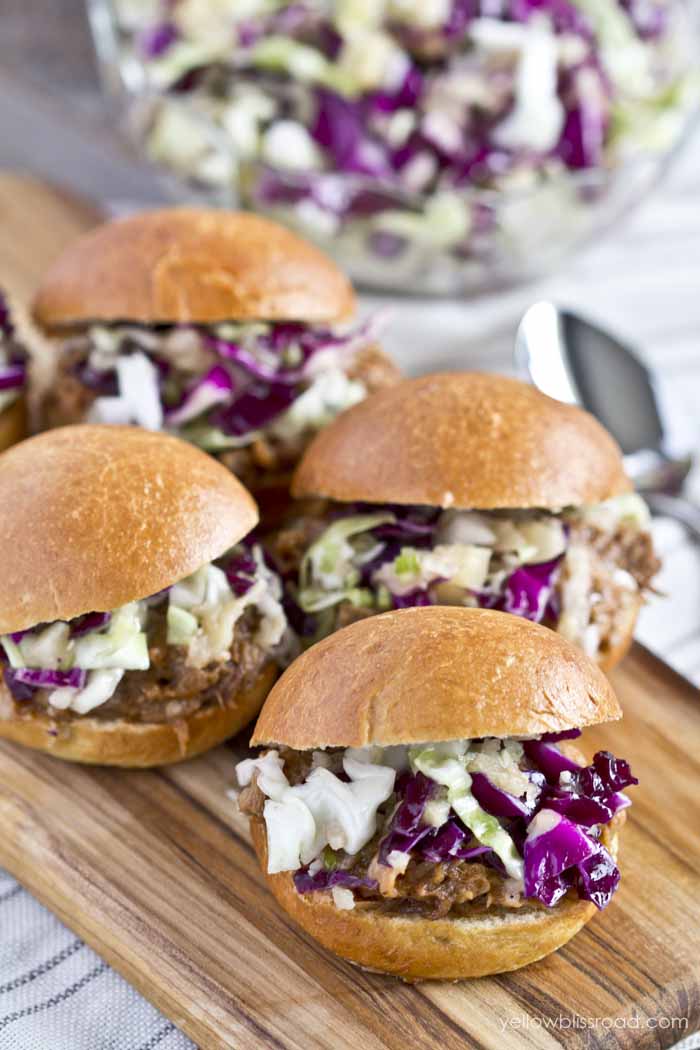 Slow Cooker Pulled Pork Sliders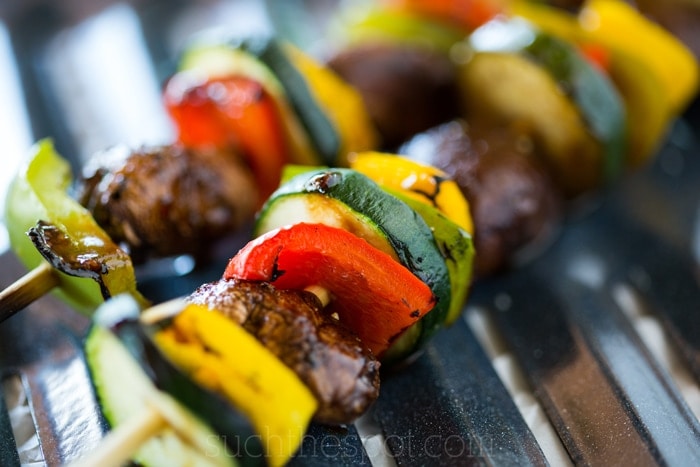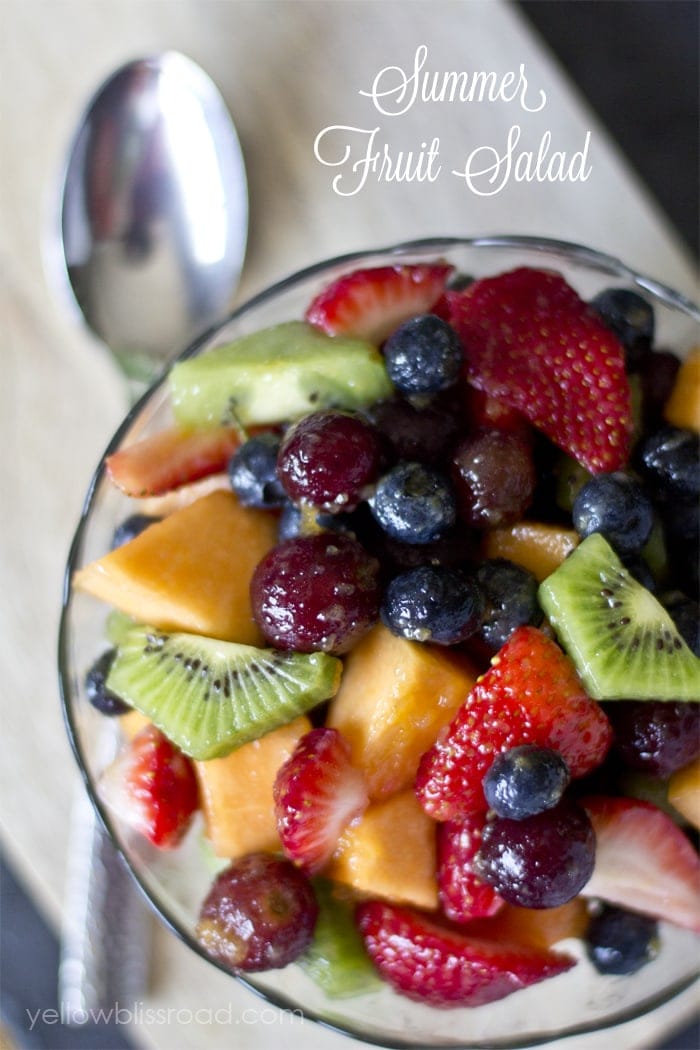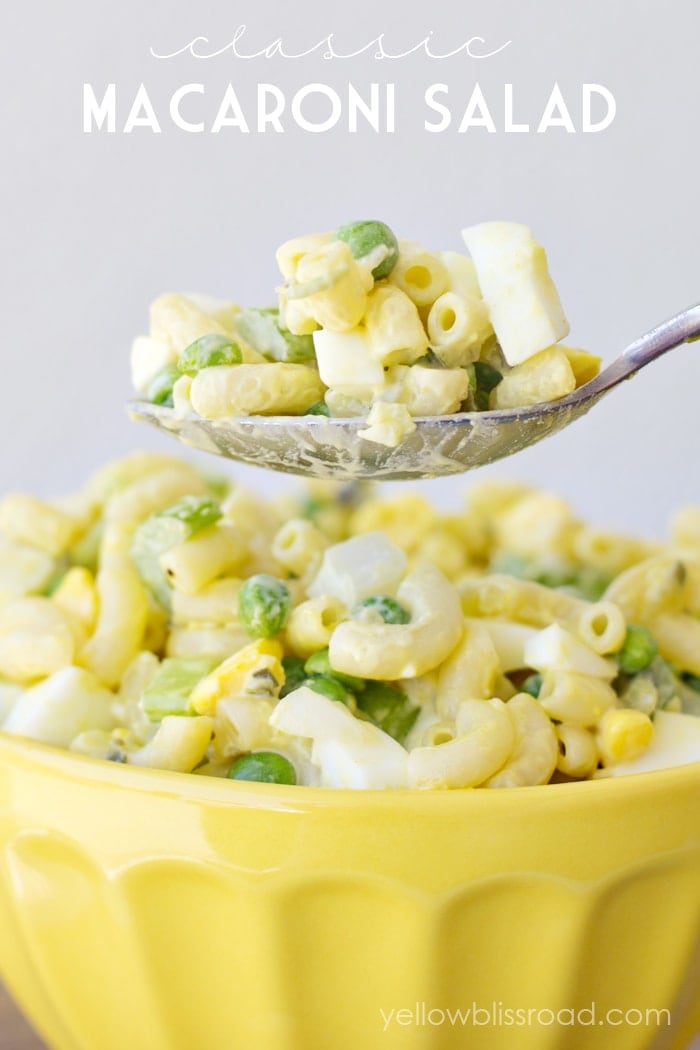 For all recipes on the site, go HERE.

This is a sponsored conversation written by me on behalf of Hidden Valley – Greek. The opinions and text are all mine.