Tender, flaky biscuits brushed with a garlic herb butter and filled with tender barbecue chicken and a creamy, tangy coleslaw. These Barbecue Chicken Biscuit Sandwiches are a fun dinner to make any night of the week and are a great summer meal option.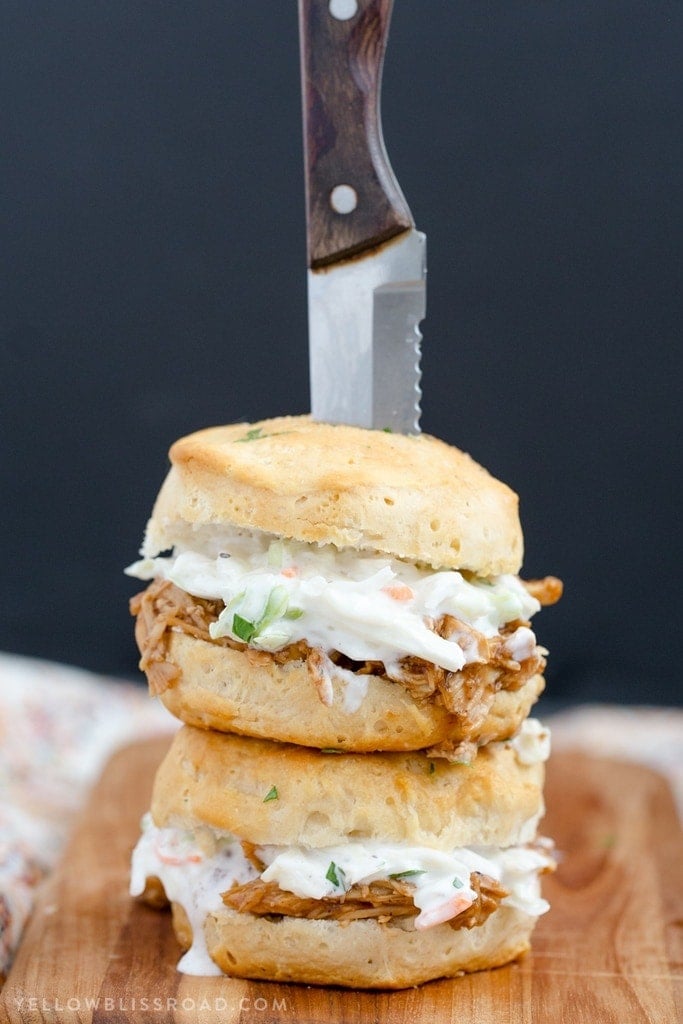 Sandwiches are a perfect meal for any night of the week, but they are especially delicious in the summertime. They take less than 30 minutes to prepare from start to finish, using some already prepared ingredients like pre-cooked chicken (I use my slow cooker shredded chicken), canned biscuits and packaged coleslaw mix.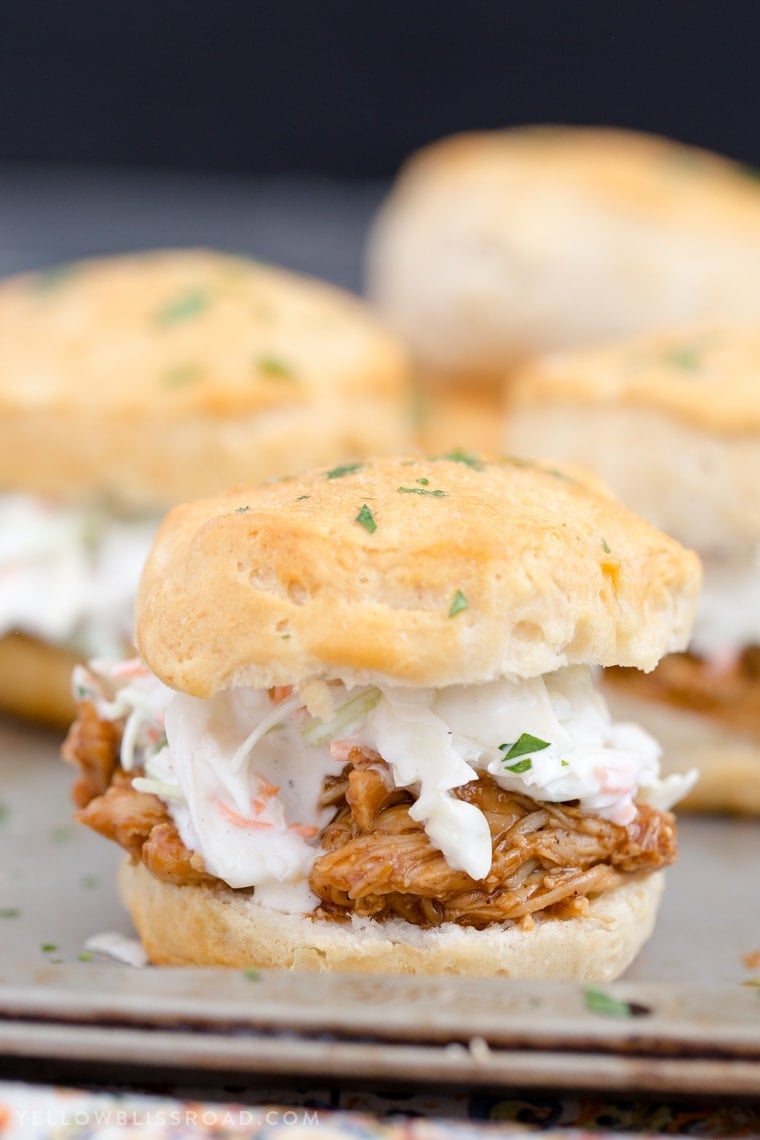 The chicken is mixed with barbecue sauce and heated while the biscuits are baking. When the biscuits are finished just brush them with some yummy garlic herb butter to give them a nice flavor and some color.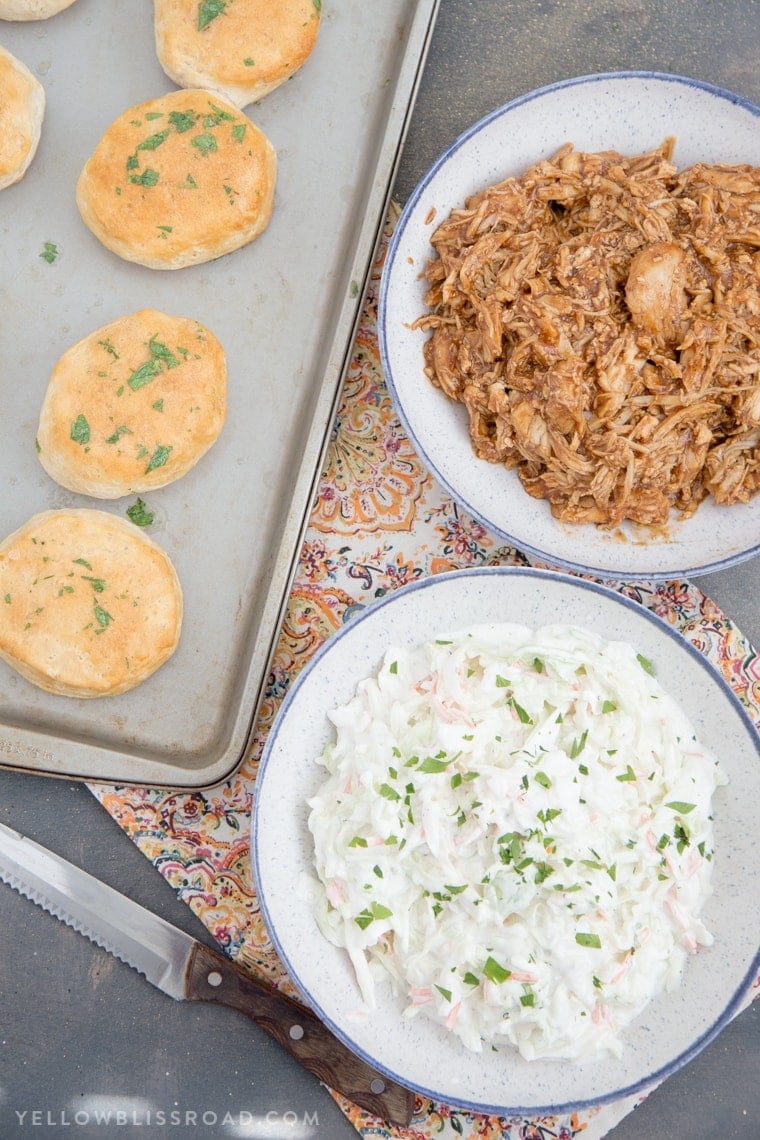 I have been trying to come up with a coleslaw recipe that come close to KFC and for us this recipe came pretty close. Packaged coleslaw mix is the base, and the sauce is just mayo and sour cream plus some apple cider vinegar dijon mustard and garlic. It's super creamy with a slight tang which is just awesome. I like to make it a few hours before we're planning on eating to give the flavors some time to blend and it still has a nice crunch to it.
We loved these sandwiches and plan to be making them again soon!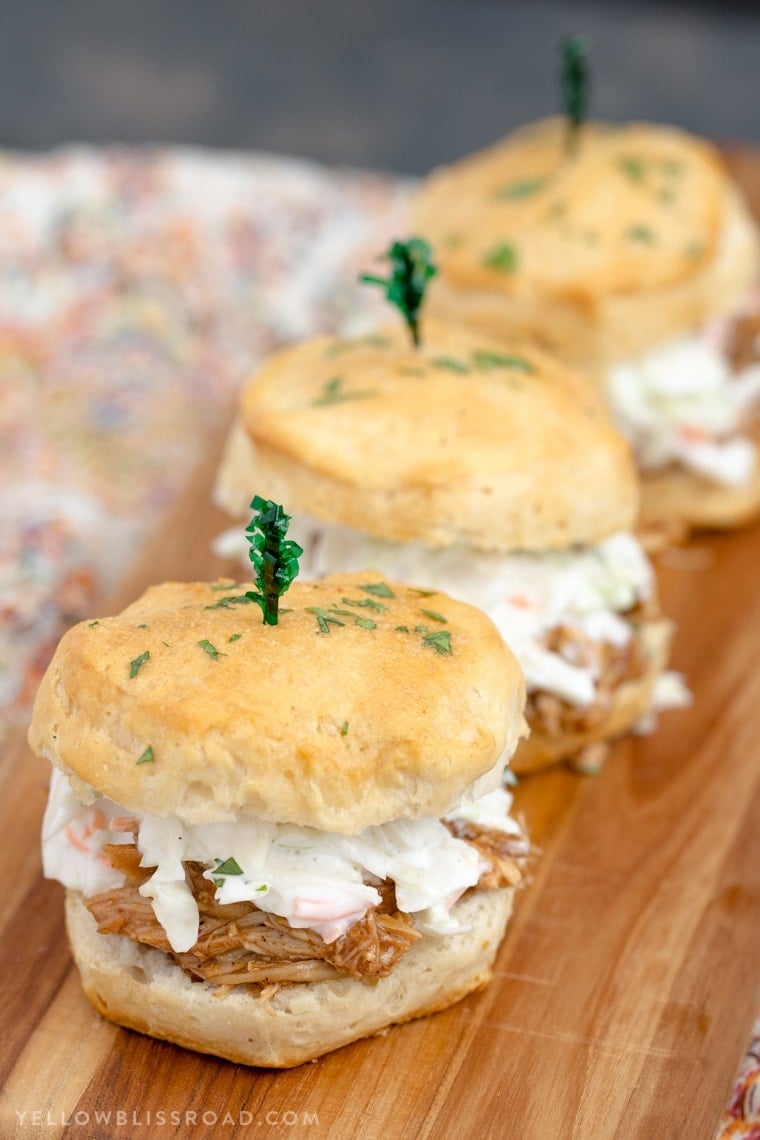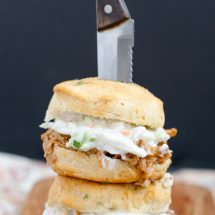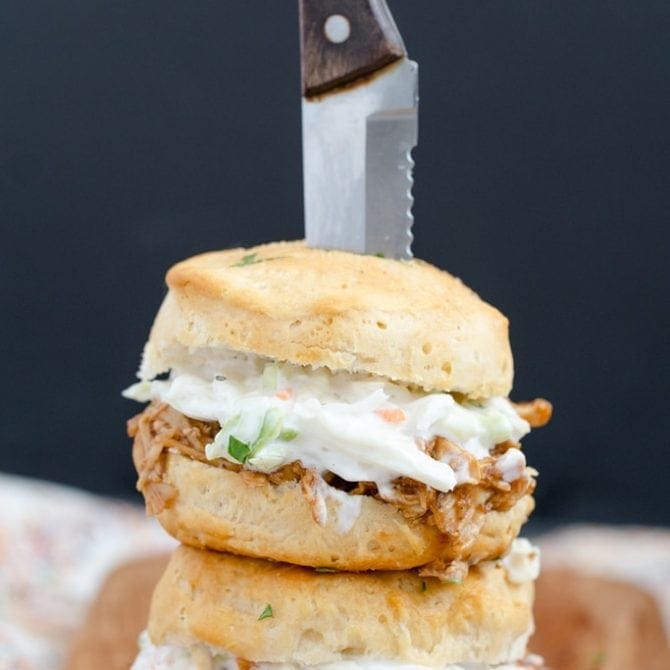 Barbecue Chicken Biscuit Sandwiches
Barbecue Chicken Biscuit Sandwiches - Tender, flaky biscuits brushed with garlic butter and filled with tender BBQ chicken and a creamy, tangy coleslaw.
Print
Pin
Rate
Prep Time: 15 minutes
Cook Time: 20 minutes
Total Time: 35 minutes
Servings: 8 sandwiches
Ingredients
Creamy Coleslaw
1 package coleslaw mix
¼ cup mayonnaise
¼ cup Greek yogurt Or sour cream
1 tablespoon honey or more to taste
2 tablespoons red wine vinegar
1 tablespoon Dijon mustard
Sandwiches
1 can Pillsbury biscuits or your favorite from scratch recipe
1 tablespoon butter melted
1/2 teaspoon garlic powder
1  teaspoon fresh chopped parsley
2 cups shredded cooked chicken breast
1 cup of your favorite barbecue sauce
Instructions
Bake biscuits according to package directions or recipe. 

In a small bowl, combine melted butter, garlic powder and parsley. Brush butter mixture onto warm biscuits.

Meanwhile, heat barbecue sauce on the stove in a medium saucepan. Add chicken and stir to coat. Continue to cook over medium-low heat until heated through. Cover and set aside.

In a medium mixing bowl, whisk together mayo, Greek yogurt, honey, vinegar and mustard. Add coleslaw mix and stir to coat. Set aside.

Split biscuits and divide the chicken mixture among the biscuit bottoms. Top with coleslaw mixture, then replace the biscuits tops. Secure with a decorative toothpick, if desired.

Serve immediately, with remaining coleslaw on the side.
Love these Barbecue Chicken Biscuit Sandwiches? Try these other delicious sandwich recipes:
Shredded Chicken Parmesan Sandwiches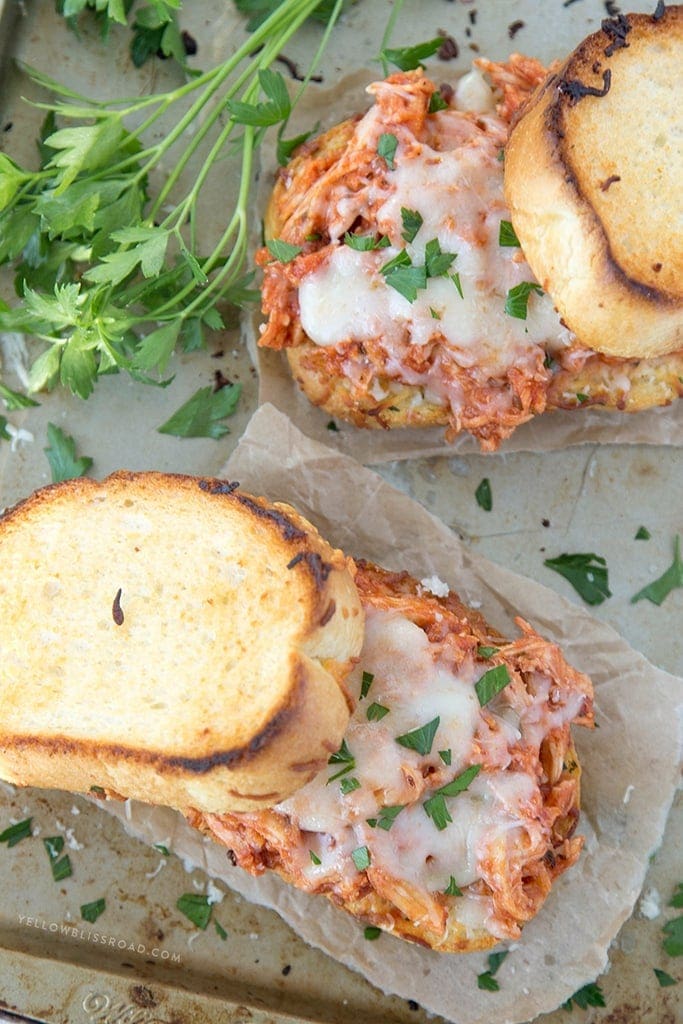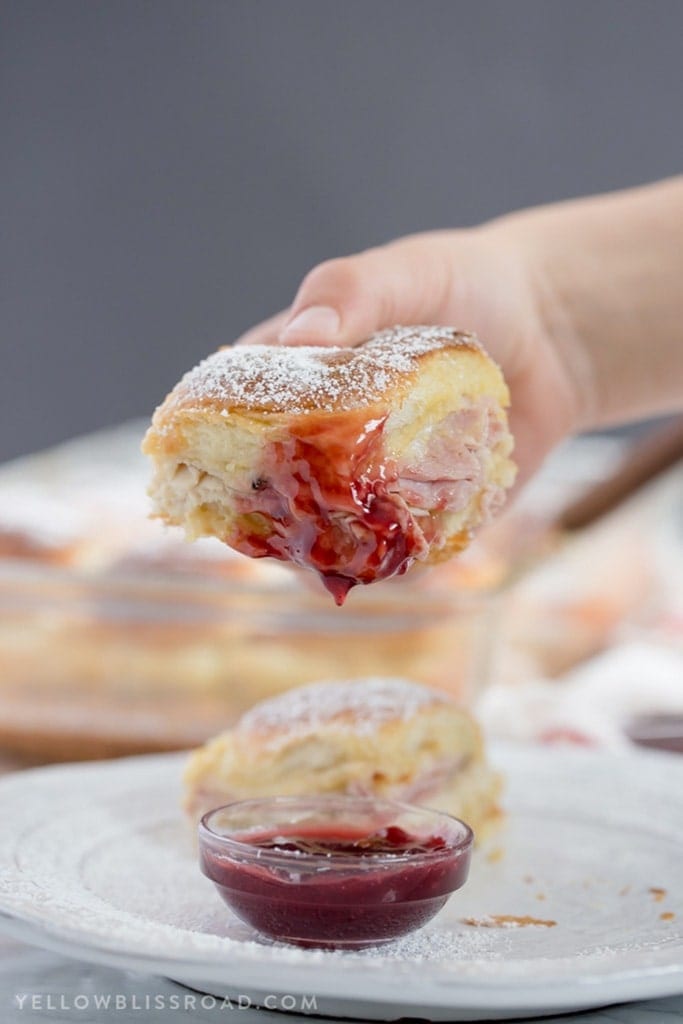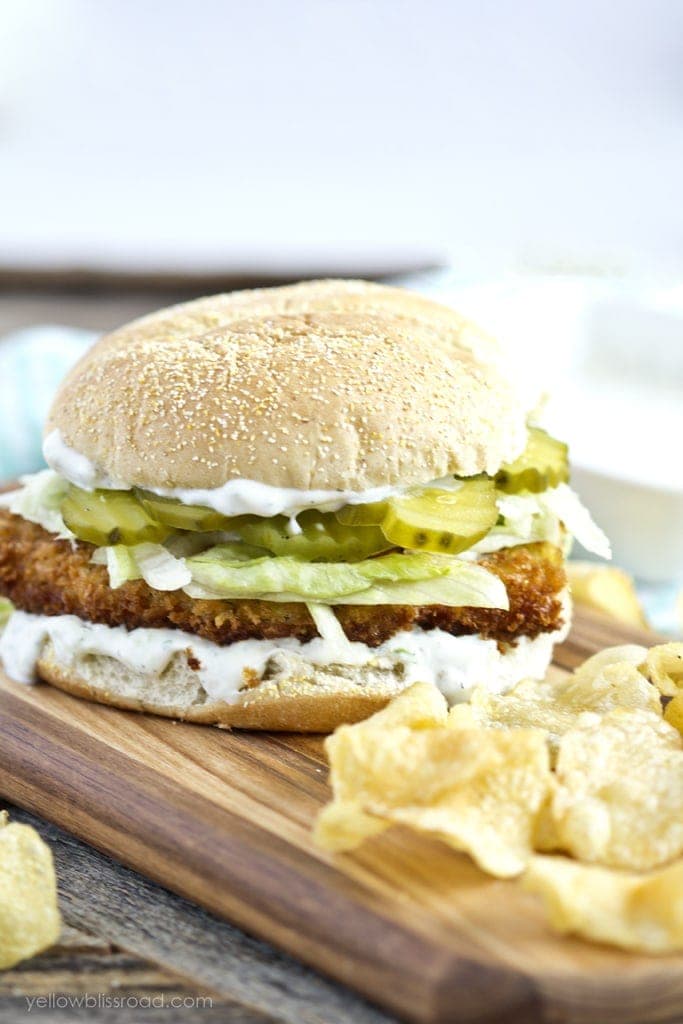 For all sandwiches go HERE, for all entrees go HERE and for the Recipe Index go HERE.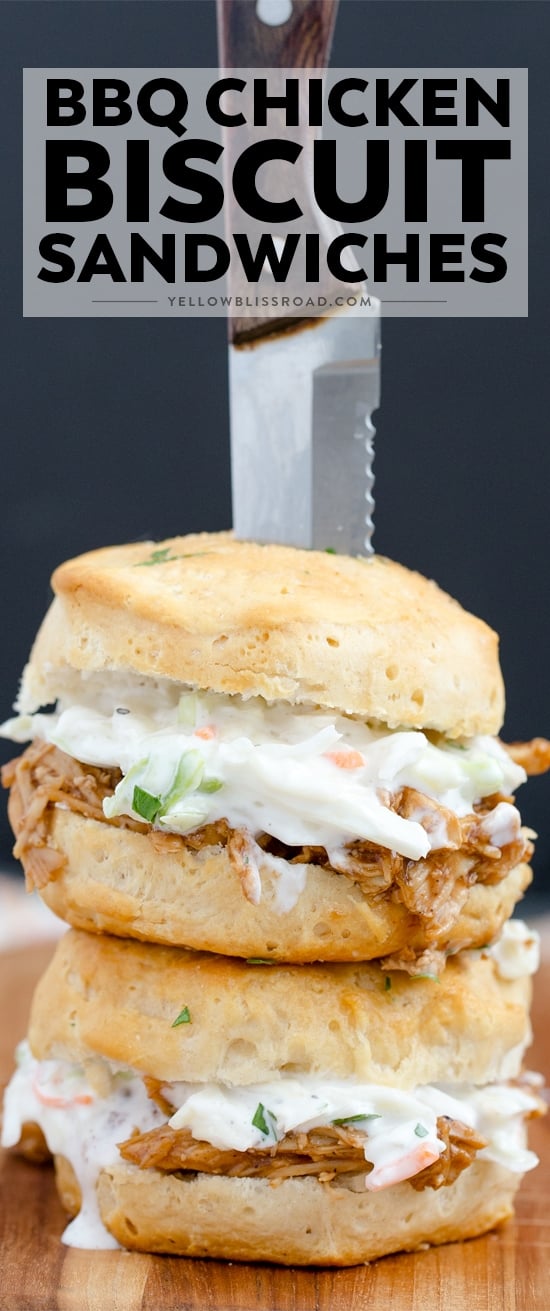 Hi! I'm Kristin, the creative mind behind Yellow Bliss Road where you will be inspired by tons of easy to follow recipes, lots of free printables, and a little sprinkling of life thrown in for good measure.