Caldo de Pollo (Mexican Chicken Soup)
Caldo de Pollo is a simple, rustic Mexican chicken soup. From the rich and flavorful broth, to the tender chunks of chicken and veggies, every bite will warm your belly and warm your soul.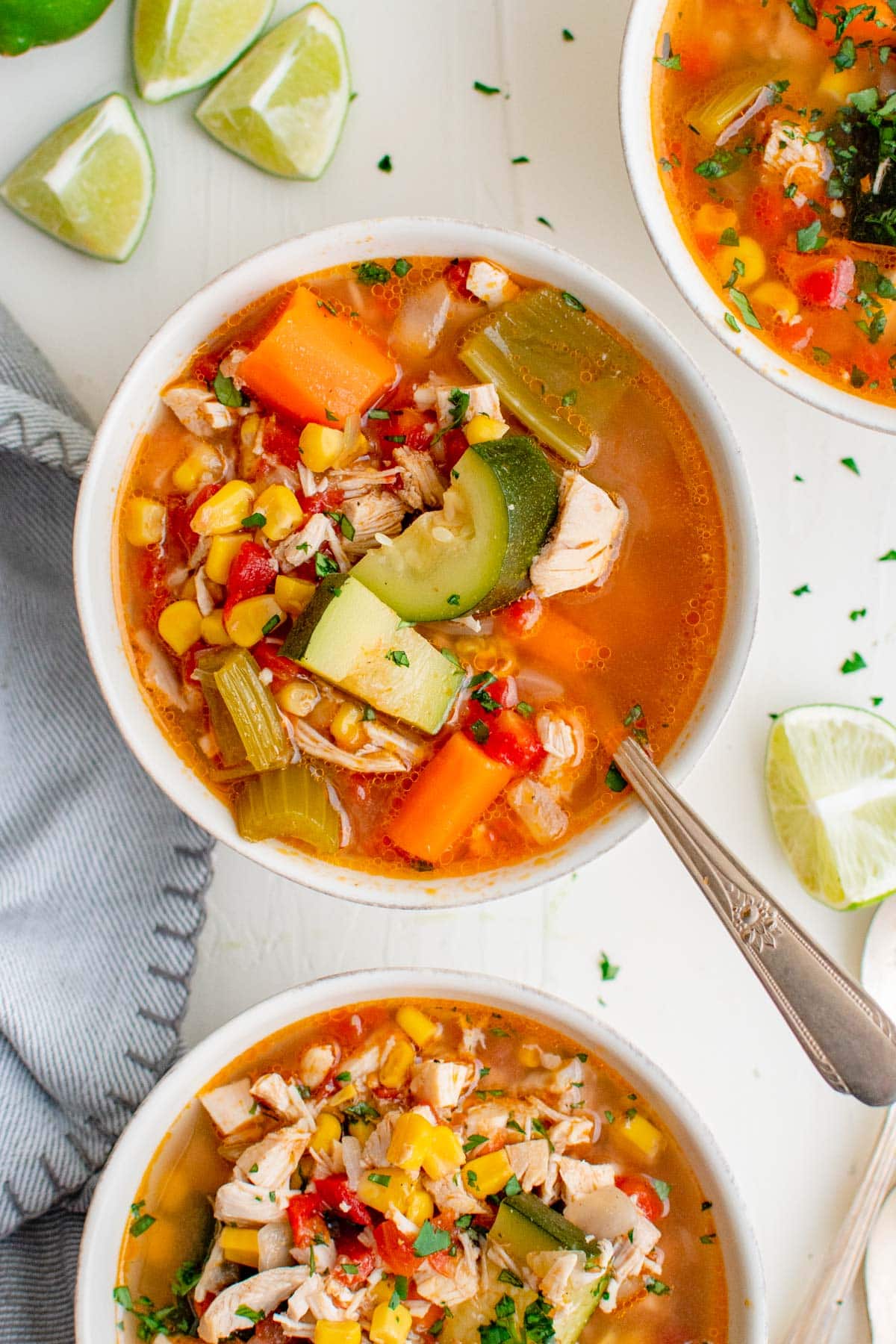 This Mexican inspired soup can be a satisfying meal on it's own, or as the starter for your favorite Mexican recipes. Serve with Homemade Flour Tortillas, Air Fryer Tortilla Chips, or as a first course before Taco Stuffed Peppers.
What is Caldo de Pollo?
Caldo de Pollo is a traditional Mexican chicken soup with chicken, veggies, rice and spices. Simply put, caldo is spanish for "soup" and pollo is spanish for "chicken." The actual recipe can vary greatly from region to region and even family to family.
For my version, I kept most of the authentic ingredients and added my own methods for getting great flavor. This soup is just a great big bowl of comfort food.
Healthy Mexican Chicken Soup
There is nothing more comforting than homemade chicken soup. It cures the common cold – the warm broth soothes a sore throat and the anti-inflammatory properties in the broth have been known to reduce congestion.
Chicken broth is naturally low in calories and low in fat. It's packed full of nutritious veggies and the added chicken provides a good dose of protein. Plus it just makes you feel good.
Ingredients and Substitutions
The main ingredients are probably already in your kitchen. That's how easy it is!
Vegetables: This soup is packed with veggies like onions, carrots, celery, corn, tomatoes and zucchini. I used canned tomatoes and canned corn, both for ease and simplicity. The juice from the canned tomatoes adds another dimension of flavor to the broth and the corn, a slight sweetness. All the veggies and cut into large chunks, adding to the rustic feel of the homemade chicken soup. You can substitute fresh tomatoes for the canned (about 2 cups, diced) and fresh or frozen corn.
Spices and other flavorings: fresh garlic, ground cumin, bay leaf, salt and pepper. Keeping it simple, I just wanted a few spices, but you could add additional like dried oregano or even cilantro, or some red pepper flakes for heat.
Boneless, skinless chicken thighs: I used boneless chicken, because it just cooks faster. This is where it gets a little controversial, because you can get a ton of flavor from simmering the bones. But, like I mentioned earlier, I was going for simplicity as well as flavor so I used boneless. You can also use boneless chicken breast, but you may want to use more broth than water.
Chicken broth + water: Because I used boneless chicken, I needed to richen the broth. I used half and half because cooking the chicken in the water and broth will add flavor but not quite enough. You could absolutely use bone-in chicken and then use just water if you want the most authentic flavor.
Cooked Mexican rice or white rice: Some recipes call for beans, some for potatoes, but I absolutely love rice in chicken soup. It gives a nice texture without being overpowering in size. Any type of rice will work, you just want it to be cooked first.
Fresh cilantro and lime wedges for serving
How to Make Caldo de Pollo
Like traditional chicken soup starts with a mirepoix, my Caldo de Pollo starts with sofrito, which is the vegetable and spice base for soups, stews and other hearty dishes. Saute onions, carrots and celery in some canola oil until they start to soften, then add the garlic, then the cumin, bay leaf, black pepper and kosher salt.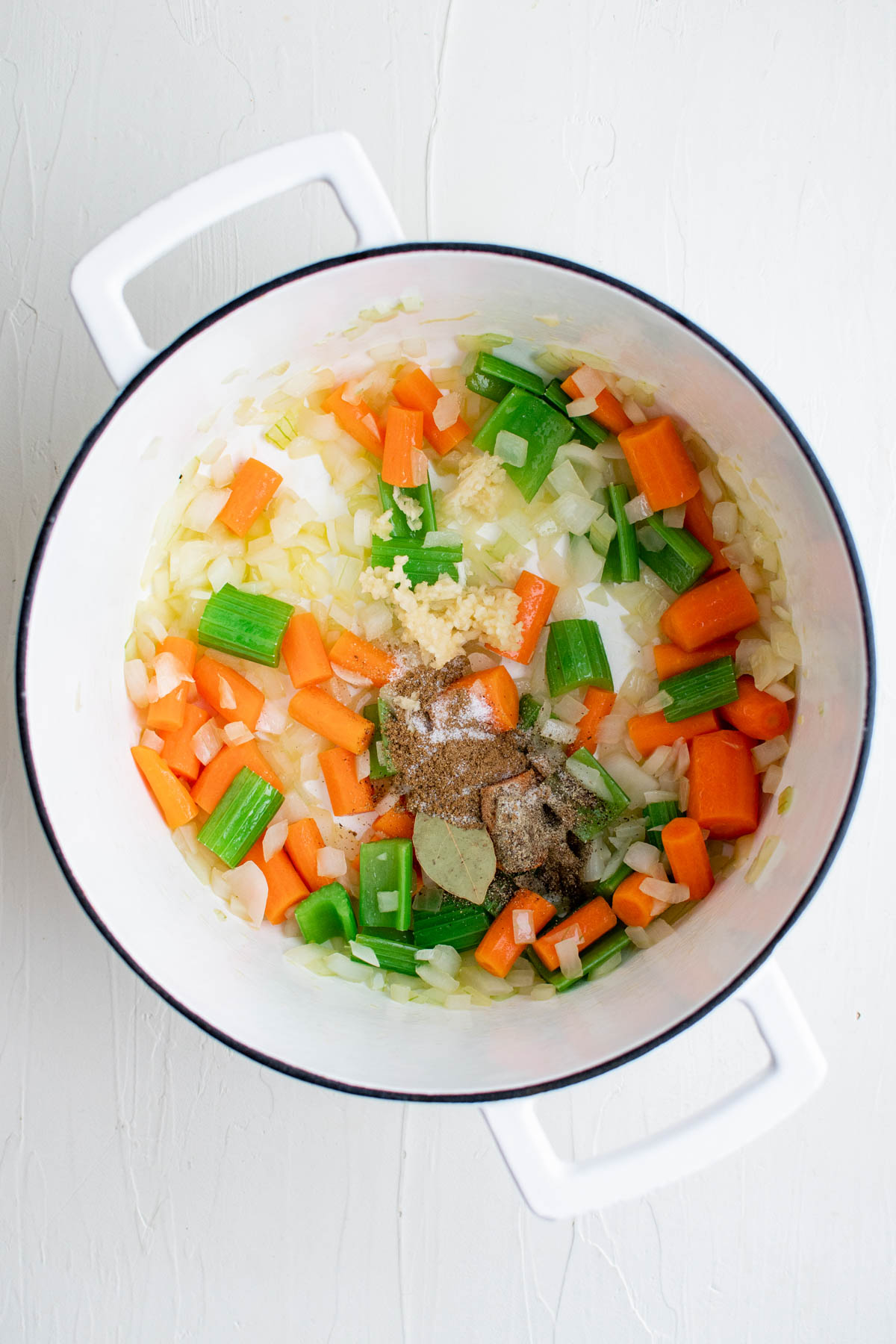 Next add the chicken, undrained diced tomatoes, drained corn, chicken broth and water. You can cut the chicken in smaller pieces but I find it's easier to remove if they are left whole, plus it won't really save you time. Bring the soup to a boil, then let it simmer for about 30 minutes. If you need to cut this time down a little bit you can – just make sure that the chicken is thoroughly cooked and the veggies are tender.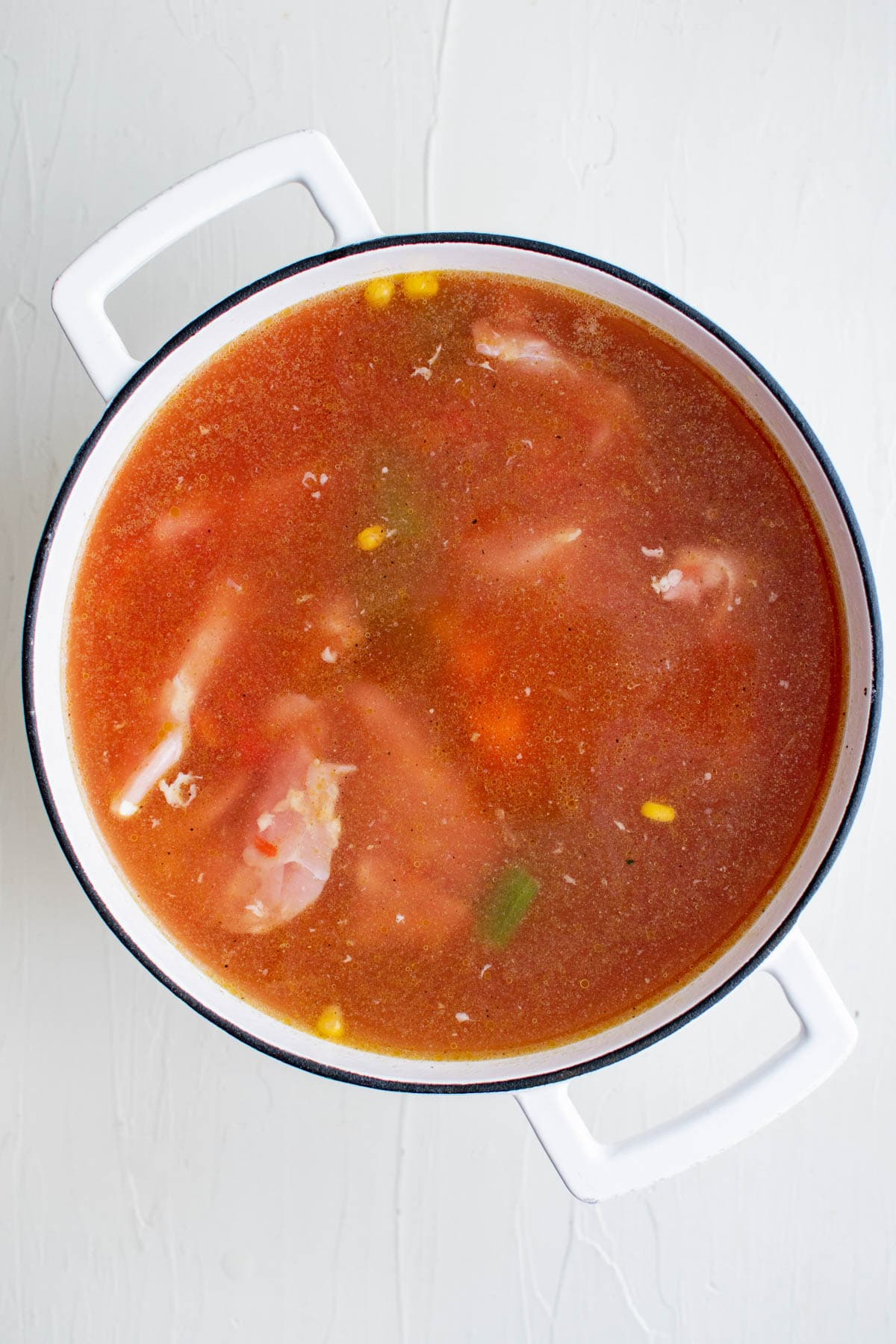 Remove the chicken and place it on a cutting board. Keep the soup simmering and add the chopped zucchini. Again we're going for large (but still bite sized) chunks. Zucchini cooks pretty quickly, in about 5-10 minutes, so I saved it to add at the end while I'm chopping up the cooked chicken. Roughly chop or shred the chicken and add it back to the pot. The zucchini should be tender, but not at all mushy.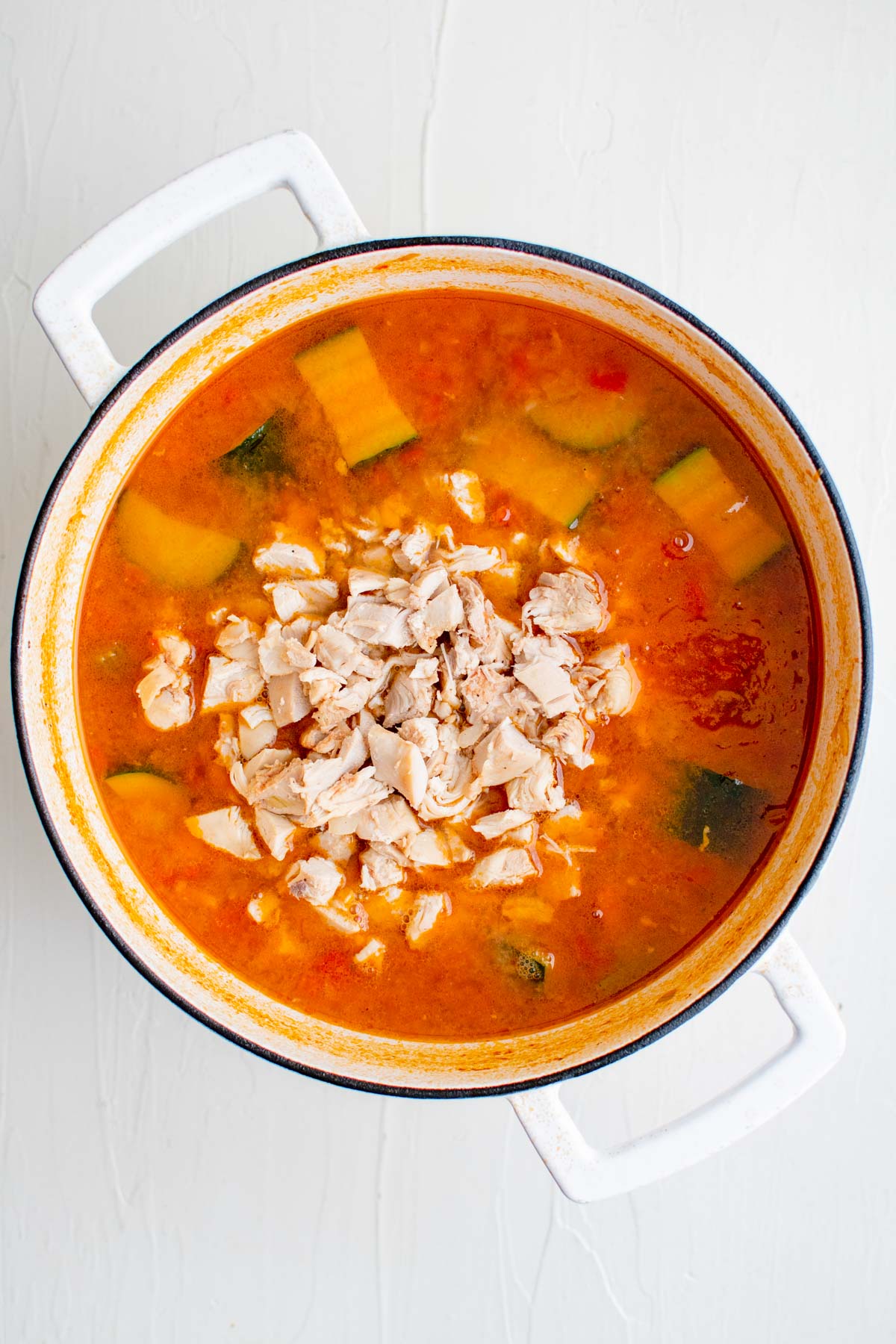 Serving Suggestions
Add some rice into bowls, and serve Caldo de pollo topped with some chopped cilantro and a squeeze of fresh lime. Sometimes I'll add tortilla strips, crumbled cotija cheese or diced avocado. If you like them, sliced radishes are as delicious in this soup as they are in Pozole and add a nice crunch.
If you want to serve something on the side, flour or Homemade Corn Tortillas are good for dipping, and Elote (Mexican Corn) would be a delicious side dish.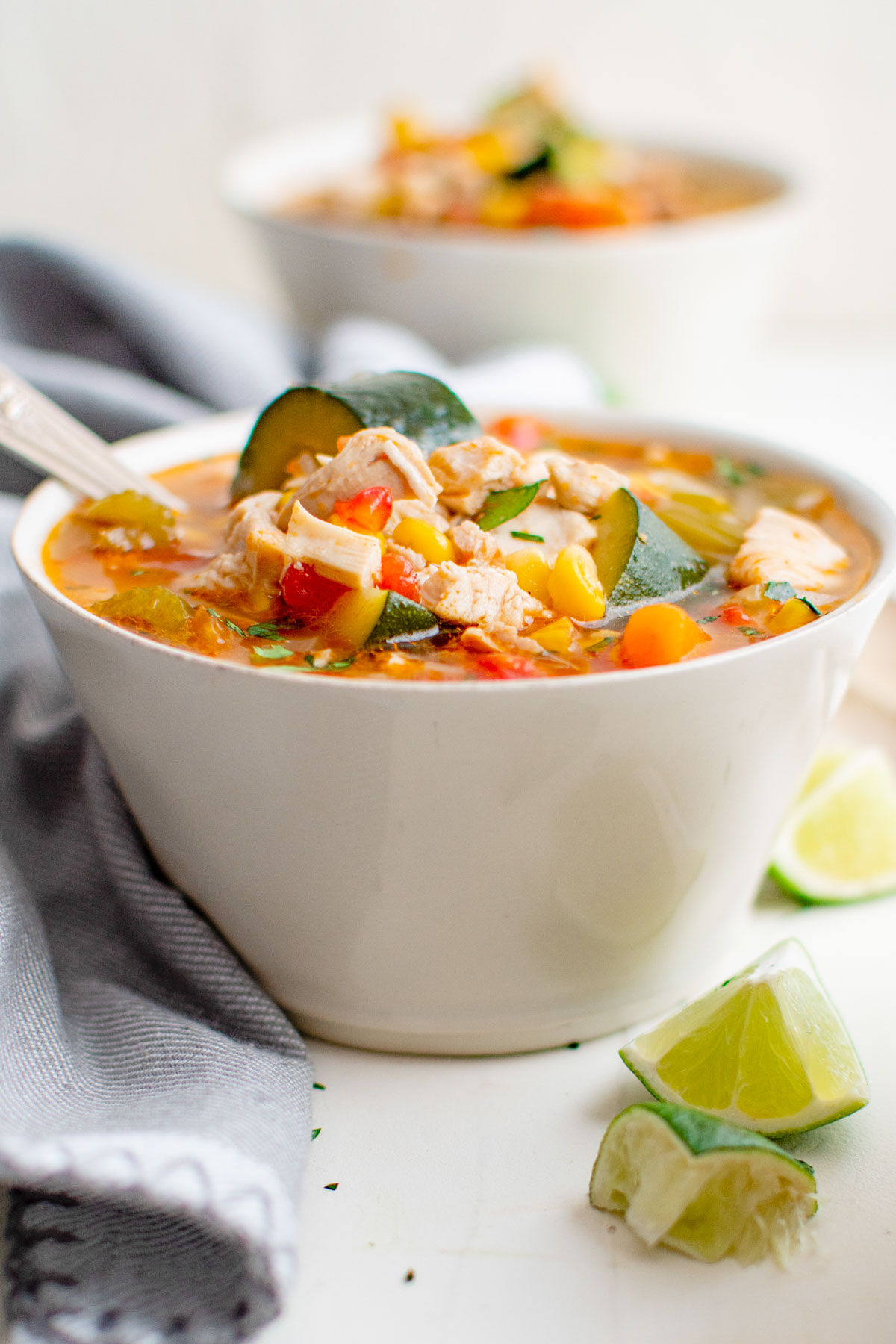 Storage and Reheating
Storage: Caldo de Pollo makes amazing leftovers! Store the rice separately because it will get mushy and thicken the soup if stored together. Keep in an airtight container in the fridge for up to 4-5 days or in the freezer for up to 3-4 months. Note that zucchini does not freeze well, so recommend removing it before freezing. The other veggies should be just fine.
Reheating: If frozen, thaw completely, then reheat in a saucepan on the stove. Microwaving will work, too. We always keep a few servings of cooked rice in the freezer so that would be good to add.
Recipe Notes and Tips
Cut all of your veggies into large, but still bite-size pieces. The larger size adds to the rustic feel of this Mexican Chicken Soup.
Feel free to make ingredient swaps with your favorite veggies or toppings. My son loves his with sour cream, and my daughter loves to put shredded cheddar cheese in hers.
For the best results, don't add the zucchini until the end. Cooking it to long will make it mushy.
If you want to use bone-in chicken, double the weight (use 3-4 pounds bone-in versus 2 pounds of boneless). The bones will account for a lot of weight and you'll be removing them. You want to make sure you have enough chicken.
If you want to cut down on carbs, you can omit the rice, or use cooked, drained and rinsed pinto beans or black beans instead.
Use a nice big dutch oven or stock pot. I love my enameled cast iron dutch oven.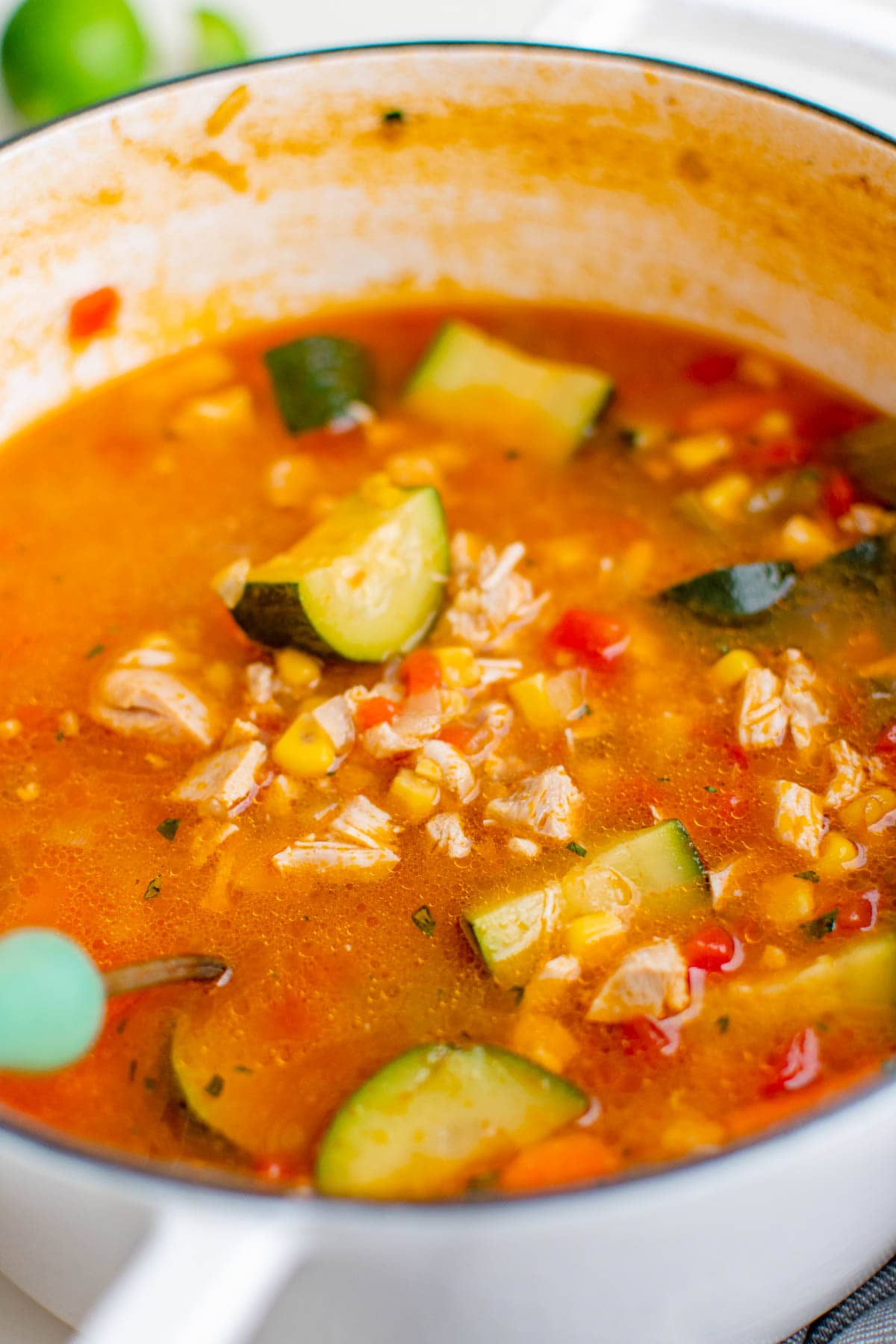 More Mexican Soup Recipes
If you've made this recipe, please come back and leave us a star rating or a comment below. Or, tag us on social media @yellowblissroad or #yellowblissroad for a chance to be featured.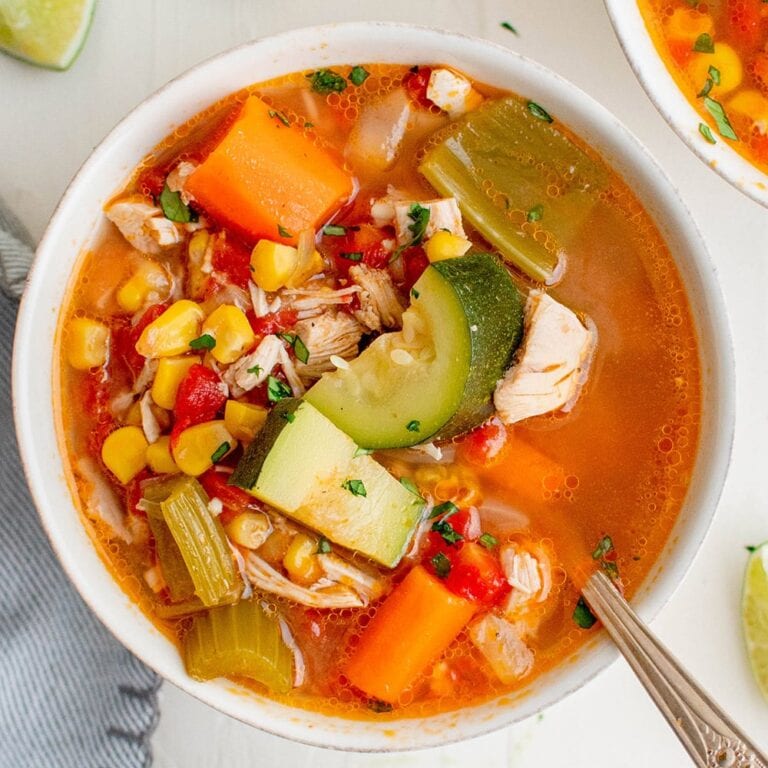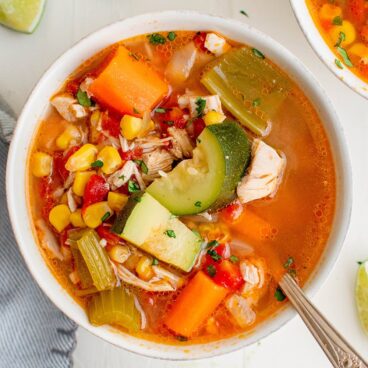 Caldo de Pollo
Caldo de Pollo is a simple and rustic Mexican chicken soup with a rich and flavorful broth, and tender chunks of chicken and vegetables.
Ingredients
1

tablespoon

cooking oil

like olive, canola or avocado

1

medium onion

diced

3

medium carrots

peeled and cut into 1-inch chunks

3

stalks celery

cut into 1-inch chunks

2

garlic cloves

minced

1

teaspoon

ground cumin

1

Bay leaf

Kosher salt

to taste

Black pepper

to taste

2

cups

water

32

ounces

low-sodium chicken broth

2

pounds

boneless skinless chicken thighs

15

ounces

canned corn

drained

15

ounces

canned diced tomatoes

with the juice

1

medium zucchini

cut in half lengthwise, then sliced into 1-inch chunks

1 ½

cups

cooked Mexican rice or white rice

Cilantro and lime wedges

for serving
Instructions
Melt 1 tablespoon olive oil in a dutch oven over medium heat. Add diced onion, celery and carrots. Cook, stirring frequently, until vegetables are beginning to soften; 3-4 minutes. Add minced garlic, cumin, bay leaf, ½ teaspoon of black pepper and a teaspoon of kosher salt. Cook, stirring frequently, for 1-2 minutes.

Add chicken, corn, tomatoes (undrained), water and broth. Bring to a boil, then cover and simmer for 20-30 minutes, or until chicken is cooked through and vegetables are tender.

Remove chicken and transfer to a cutting board. Add zucchini and continue to simmer, uncovered for 5-10 minutes, or until zucchini is tender. Meanwhile, chop or shred the chicken and add back to the soup.

Remove from heat, and prepare to serve. Add about ¼ cup of cooked rice to each serving bowl, then ladle in soup. Garnish with cilantro and serve with lime wedges
Nutrition
Calories:
369
kcal
Carbohydrates:
31
g
Protein:
36
g
Fat:
11
g
Saturated Fat:
2
g
Trans Fat:
1
g
Cholesterol:
144
mg
Sodium:
428
mg
Potassium:
955
mg
Fiber:
2
g
Sugar:
5
g
Vitamin A:
5295
IU
Vitamin C:
17
mg
Calcium:
75
mg
Iron:
3
mg