Spaghetti and Meatballs is a classic family meal that everyone can enjoy. But it can get boring after a while! Try this Spaghetti and Meatball Soup – it's sure to spice up boring old spaghetti night!
If there's one thing I know I can always get my kids to eat, it's soup. In soup, they'l (almost) always eat the vegetables. This Spaghetti and Meatball Soup is no exception.
It's fun, it's savory and it's perfect comfort food. The broth is basically spaghetti sauce and beef broth, with some added seasonings to amp up the flavor. I made a huge batch of homemade meatballs the other day and they were delicious in this soup. Of course you can also use store bought meatballs if you prefer, to make it even easier.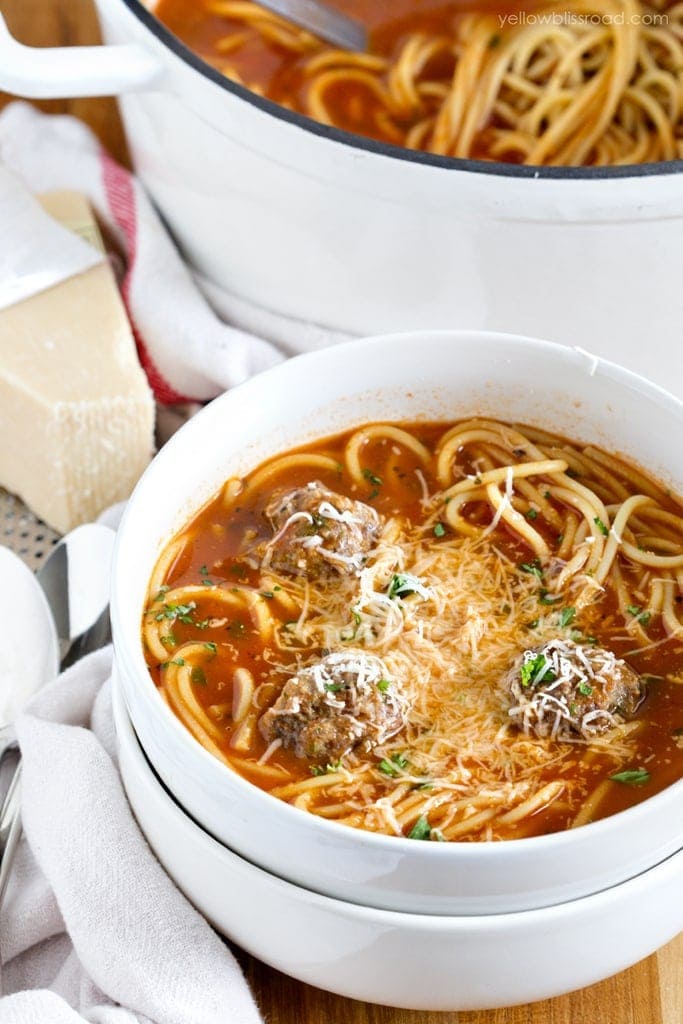 You can use traditional spaghetti noodles (I did cut them up before serving to make it easier), or any kind of small pasta, like rotini, or even those little wagon wheels that kids love. The key with any kind of soup that calls for pasta it to cook the pasta separately, NOT in the soup, and add it to the soup just before serving. If it cooks in the soup, it tends to get a little mushy, and no one wants mushy pasta!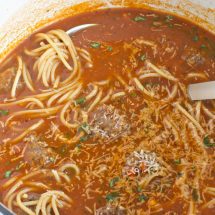 Spaghetti and Meatball Soup
Print
Pin
Rate
Prep Time: 5 minutes
Cook Time: 30 minutes
Total Time: 35 minutes
Servings: 4 -6 servings
Ingredients
1-24 ounce jar spaghetti sauce
1-28 ounce package beef broth about 3-4 cups
1 teaspoon dried basil
1 teaspoon dried oregano
1 garlic clove minced
1 bay leaf
1/2 teaspoon crushed red pepper
15 cooked meatballs
8 ounces dry spaghetti
Parmesan cheese optional
Fresh chopped parsley
Instructions
In a 5 quart pot, stir together spaghetti sauce, beef broth, basil, oregano, garlic, bay leaf and crushed red pepper. Add fully cooked meatballs. Bring to a boil over medium-high heat, stirring occasionally. Turn heat down to low, cover and simmer for at least 20 minutes. *If using frozen meatballs, increase the time as needed.

In the meantime, cook pasta according to package directions. Drain and set aside. If using spaghetti, cut into bite-sized pieces (optional).

To serve, add about a some pasta to each bowl and ladle soup over. Top with freshly grated Parmesan cheese and chopped parsley.
Fore more comforting soup recipes, try these:
Tortellini & Sausage Tomato Soup
For all soup recipes go HERE and for all recipes go HERE.
Hi! I'm Kristin, the creative mind behind Yellow Bliss Road where you will be inspired by tons of easy to follow recipes, lots of free printables, and a little sprinkling of life thrown in for good measure.