This is our favorite soup recipe – a hearty Chicken Soup full of vegetables and diced chicken breast. The soup is then ladled over cooked pasta for a perfect 30 minute meal (that tastes like it cooked forever!).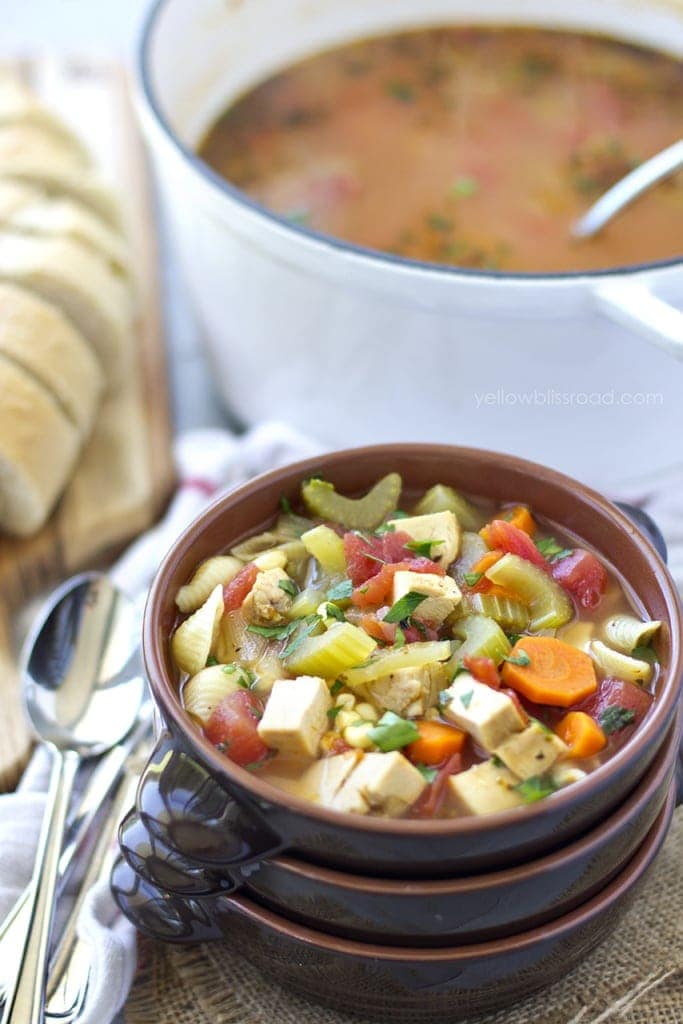 If there's one thing I can always get my kids to eat, it's soup. Soup is the ultimate comfort food. It's full of all kinds of goods stuff, and not a lot of "bad" stuff. For me, it's the easiest way to get my kids to eat their vegetables! It's also a great way to use the easy Baked Chicken Breasts I shared the other day.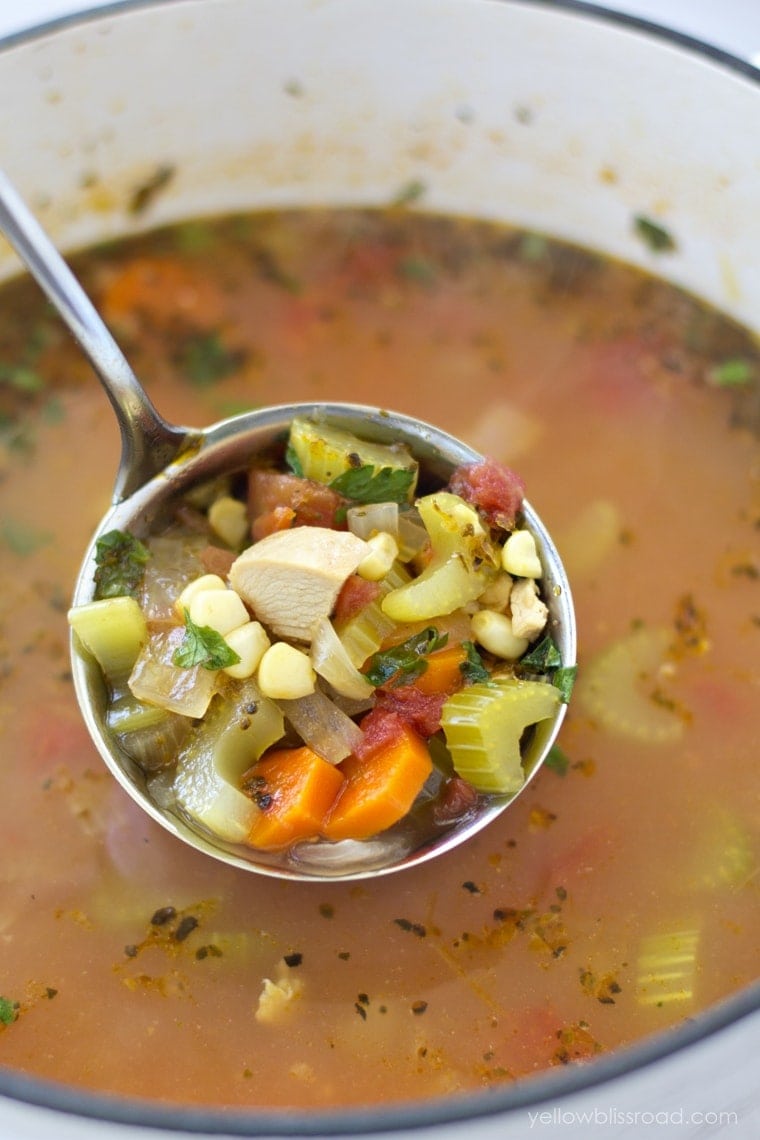 And I use a lot of vegetables in my soup, there's usually twice as many veggies as there is meat. One of the best things about making soup is it's so versatile and completely customizable. The basis of this soup is chicken stock, canned diced tomatoes, canned (or in this case, fresh) carrots, celery, onion and seasonings.
Let's talk for a minute about the pasta. There are two schools of thought on this – 1) Cook the pasta/noodles in the soup, and 2) Cook the pasta separately and add to each bowl. You can see which side I'm on.
The best way to make chicken noodle soup, especially if you're going to save leftovers, is to cook that pasta in a separate pot. This give you control over the texture of the pasta, and enable you to cook it just to al dente. Cooking the pasta in the soup can and will result in inevitably mushy pasta. And no one likes mushy pasta.
Also, with this method you can control how much pasta each person gets, and if you are watching your carbs or need it to be gluten free, you can leave the pasta out.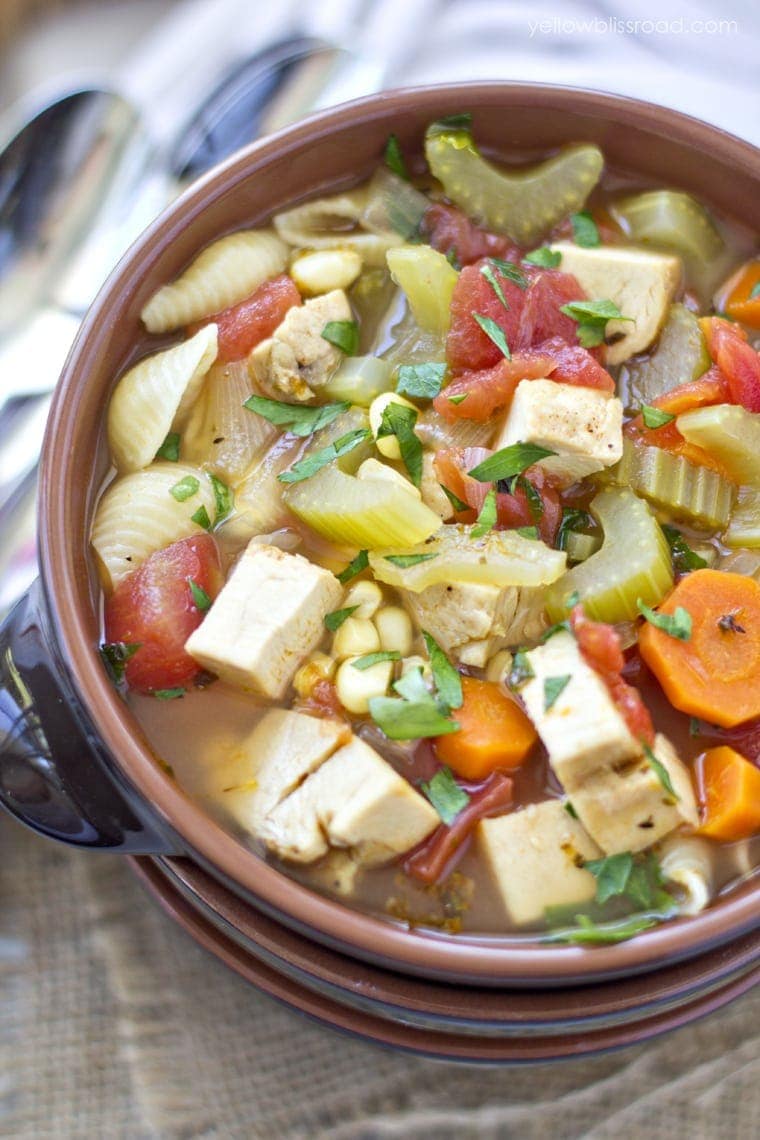 If you've made this recipe, please come back and leave us a star rating or a comment below. Or, tag us on social media @yellowblissroad or #yellowblissroad for a chance to be featured.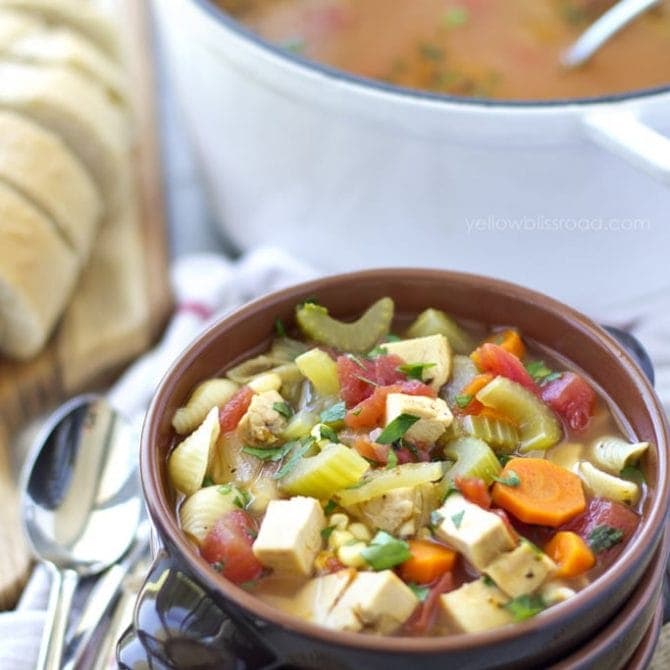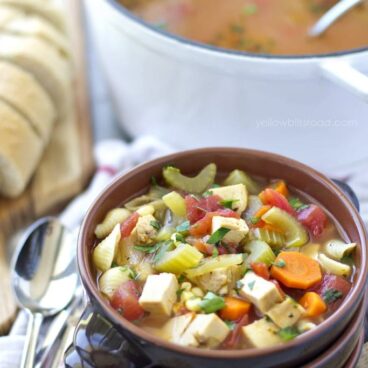 Hearty Chicken Soup
Ingredients
2

tablespoons

extra virgin olive oil

1

cup

each diced carrots

celery and brown onion

8

cups

64 ounces low sodium chicken stock

1

cup

corn

fresh or canned, drained

1-15

ounce

can diced tomatoes

with the juice

1

tablespoon

dried oregano

1

tablespoon

minced garlic

1

bay leaf

2

cups

diced

cooked chicken

2

tablespoons

chopped fresh parsley

2

cups

small pasta or noodles

cooked to package

Salt and pepper to taste
Instructions
In a 5 quart heavy bottomed pot, heat the olive oil for 1 minute over medium-high heat. Add onions, carrots and celery. Add a pinch of salt to the vegetables and cook until they begin to soften; about 5 minutes.

Add garlic, oregano, bay leaf and a pinch of black pepper. Cook for 1 minute.

Stir in remaining ingredients. Bring soup to a boil, then reduce heat to low. Cover and simmer for at least 20 minutes, or up to an hour. Stir in freshly chopped parsley just before serving.

About 10 minutes before serving, boil a pot of water for the pasta and cook to al dente. Drain and set aside.

To serve, spoon desired amount of pasta in each bowl and ladle soup over the pasta. Garnish with chopped parsley and grated Parmesan cheese, if desired.
If you liked this soup recipe, you should try these, too!
Tortellini Soup with Italian Sausage and Spinach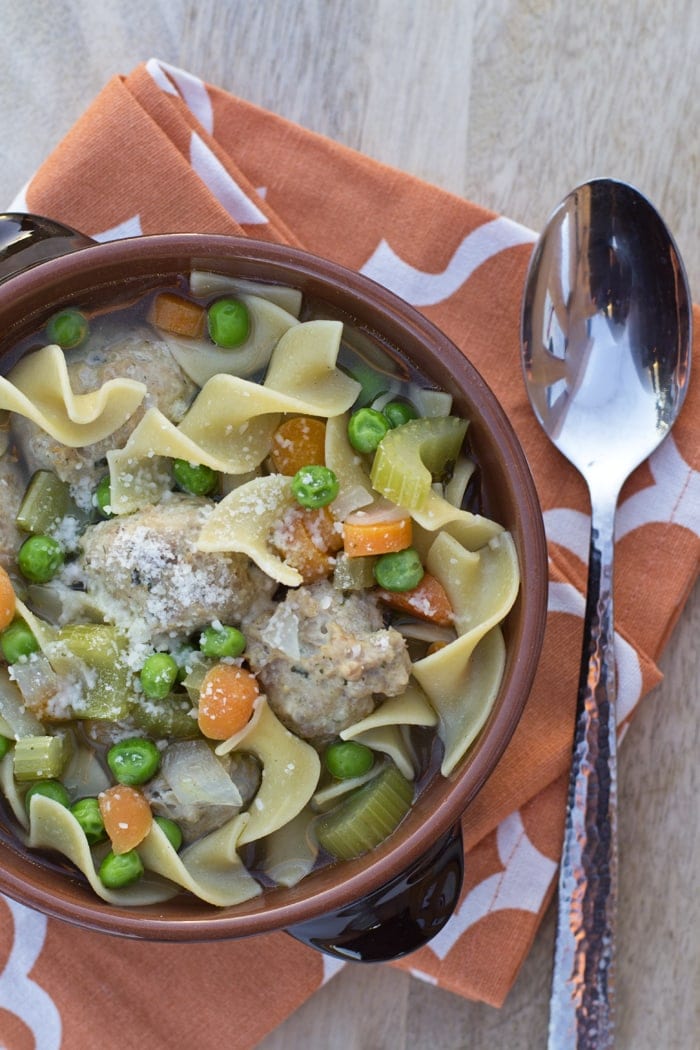 Turkey Meatball Soup (Plus how to teach kids to cook)