Easy Crock Pot Mashed Potatoes (Slow Cooker)
Crock Pot Mashed Potatoes are so easy, creamy and delicious, and with just 5 ingredients, this slow cooker recipe will change your life. Perfect for freeing up cooking time this Thanksgiving.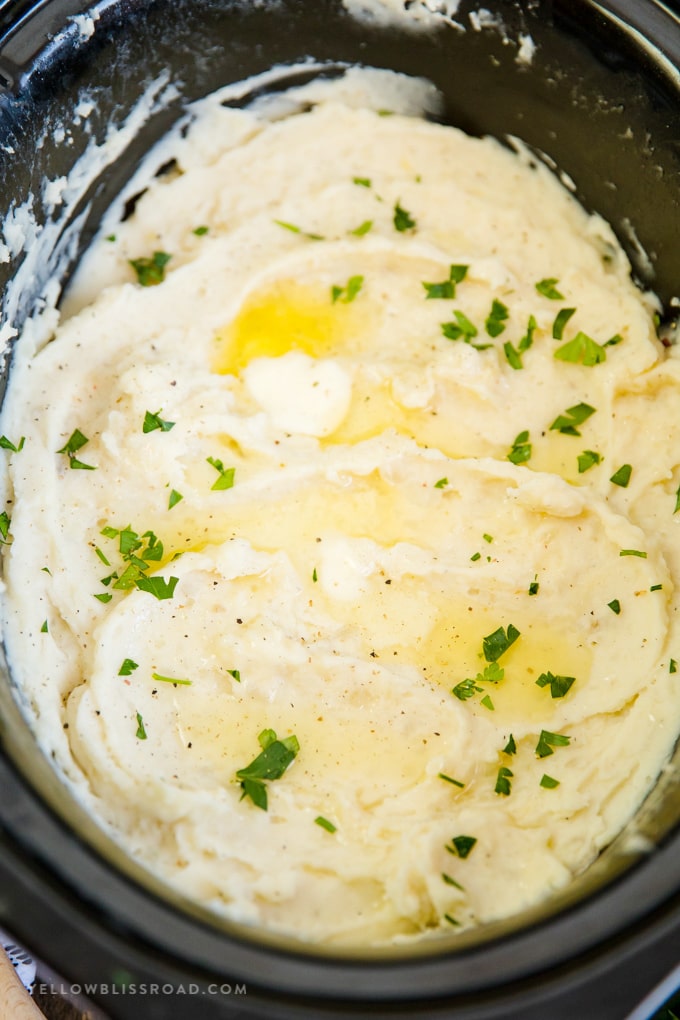 Have you ever wondered if you could make mashed potatoes without having to go through the process of boiling them? I'm about to rock your world, because I'm here to tell you that yes you can! My Slow Cooker Mashed Potatoes recipe is super easy and the results are so creamy, flavorful and completely customizable.
HOW TO MAKE CROCK POT MASHED POTATOES
Start by peeling and dicing your potatoes. Chop the potatoes into around 1-2 inches pieces and try to get them as close as you can to the same size because it will help the cook evenly.
Toss the potato chunks into your slow cooker with a little half & half or chicken/vegetable broth, season with salt and pepper and give them a stir. Cover the slow cooker and set to high for about 4 hours. Depending on the heat settings of your particular appliance, the time could vary. Leave the lid on during the cooking time, testing at about 3 ⅓ hours. After about 4 hours the potatoes should be fall apart tender when pierced with a fork.
Once the potatoes are tender, it's time to start going to town with your potato masher. Mash the potatoes until you are satisfied with the consistency, then add ½ cup of melted butter and more cream as desired. Taste the potatoes, and add any additional seasonings like salt and pepper.
You can leave the slow cooker mashed potatoes on the warm setting for up to 4 hours, making this the perfect recipe to round out your Thanksgiving feast. Save that time for the stuffing!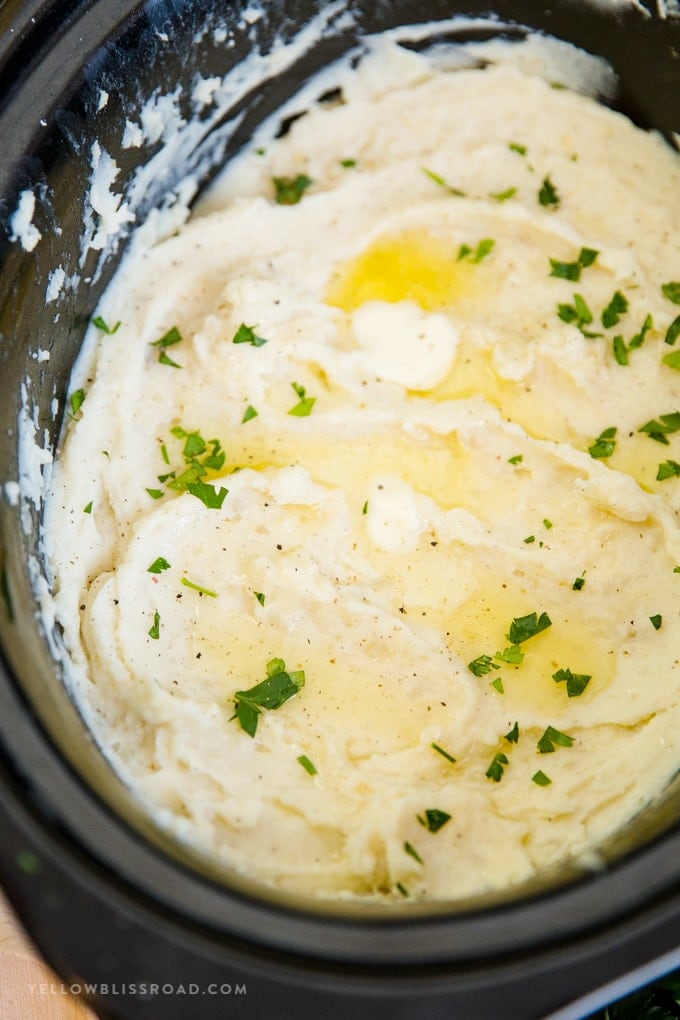 What are the best potatoes for Crock Pot Mashed Potatoes?
We prefer russet potatoes when making mashed potatoes. Gold yukons are also a good option, and the peel could be left on or off. I wouldn't recommend red or white potatoes as they tend to be more waxy and require more mashing which can leave you with gummy mashed potatoes. And nobody wants that.
How many potatoes do you need per person for Mashed Potatoes?
The general rule of thumb is about half a pound of potatoes per person. So if you are serving 4 people, you'll need about 2 pounds of potatoes. For 10 people, you'll need 5 pounds. However, if you want leftovers, I suggest doubling the recommended amount.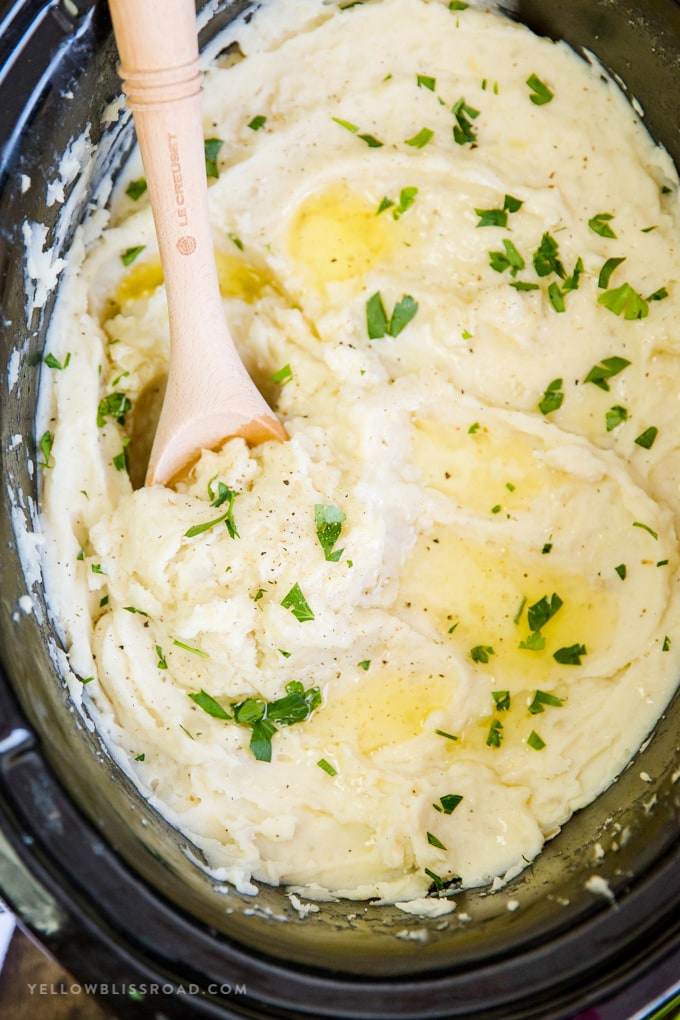 Can you freeze Crock Pot Mashed Potatoes?
Absolutely! Let the potatoes cool completely, them place them into a freezer bag or airtight container. Mashed Potatoes will last up to 6 months in the freezer or 3 days in the fridge. To reheat, microwave on high for a few minutes, adding a little cream or butter to make them creamy again.
SLOW COOKER MASHED POTATOES RECIPE NOTES:
We have tested this recipe with two types of dairy:
Nonfat milk with heavy cream
Half & half which is a combination whole fat milk and heavy cream
The nonfat milk tends to curdle while the whole fat options hold up to the high heat much better. While still edible, curdling can alter the taste so we recommend using either half & half or all heavy cream. Or, you can avoid dairy in the slow cooker altogether and go with a chicken or vegetable broth, however it will alter the taste.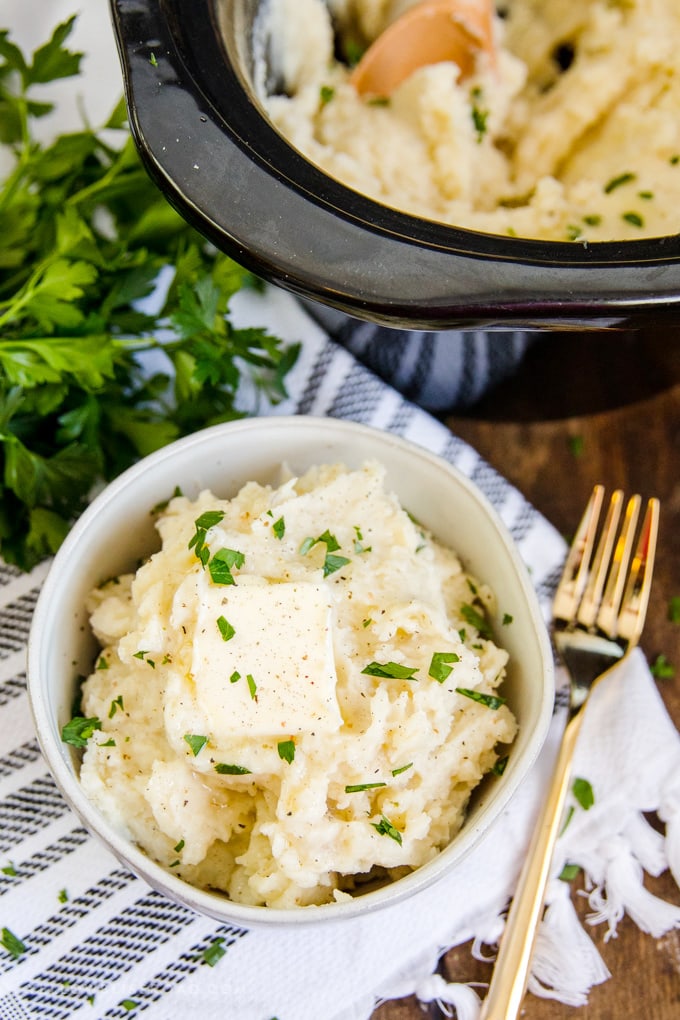 More Mashed Potatoes recipes to try:
And for more potato recipes, try these:
Tools used to make Slow Cooker Mashed Potatoes
Crock Pot Slow Cooker – This 6-1/2-quart slow cooker has a touchscreen control panel with programmable cooking time and an auto keep-warm function.
Potato Masher – Great for mashing potatoes and other root vegetables, or even when cooking ground beef. The nonslip handle is a plus!
If you've made this recipe, please come back and leave us a star rating or a comment below. Or, tag us on social media @yellowblissroad or #yellowblissroad for a chance to be featured.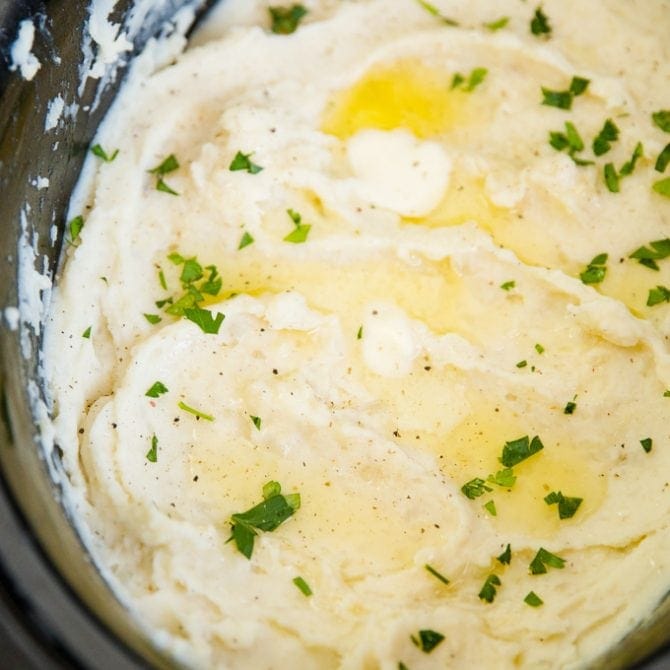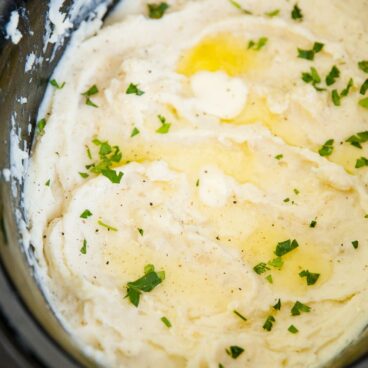 Crock Pot Mashed Potatoes
Ingredients
5

pounds

Russet Potatoes

1 1/2

cups

half and half

or all cream or whole fat milk

½

cup

butter

1 stick

Salt & pepper to taste

Fresh minced parsley

optional, for garnish
Instructions
Wash and peel the potatoes. Cut into small chunks (1-2 inches; the smaller the pieces the faster they will cook).

Spray the slow cooker with nonstick cooking spray. Place the potatoes into the slow cooker. Sprinkle with in 1 teaspoon salt and ½ teaspoon black pepper; stir to coat. Pour milk and cream and give the potatoes a quick stir.

Cook on high for 3-4 hours, until the potatoes are very tender. Switch the slow cooker to the warm setting.

Melt butter and set aside.

If there are any brown bits on the sides of the slow cooker, scrape them off with a spoon and discard. Mash the potatoes with a potato masher, or for a very smooth consistency, use a hand mixer.

Slowly stir in the melted butter. Potatoes will be thick and creamy. For a thinner consistency, add another ½ cup of milk or cream. Taste, and add more salt and pepper as desired.

Keep mashed potatoes in the slow cooker on the warm setting until ready to serve; up to 4 hours.
Notes
If you don't wish to use milk in the slow cooker, add 1 ½ cups or chicken or vegetable broth for cooking, then add desired amount of heavy cream when the potatoes are mashed.
You can also use all milk if you like, or any mixture of milk and cream, or half & half. My preference is half nonfat milk and half heavy cream. You can add more or less liquid depending on your consistency preference.