This Instant Pot Turkey Breast recipe is a total game changer! The bone-in turkey breast comes out tender and juicy, in a fraction of the time it would take to roast in the oven. You can even make your own gravy right in the Instant Pot!
Turkey isn't just for Thanksgiving! We crave that delicious turkey with Cranberry Sauce and Mashed Potatoes year round, but who has time for roasting a whole turkey on a busy weeknight? Instant Pot to the rescue!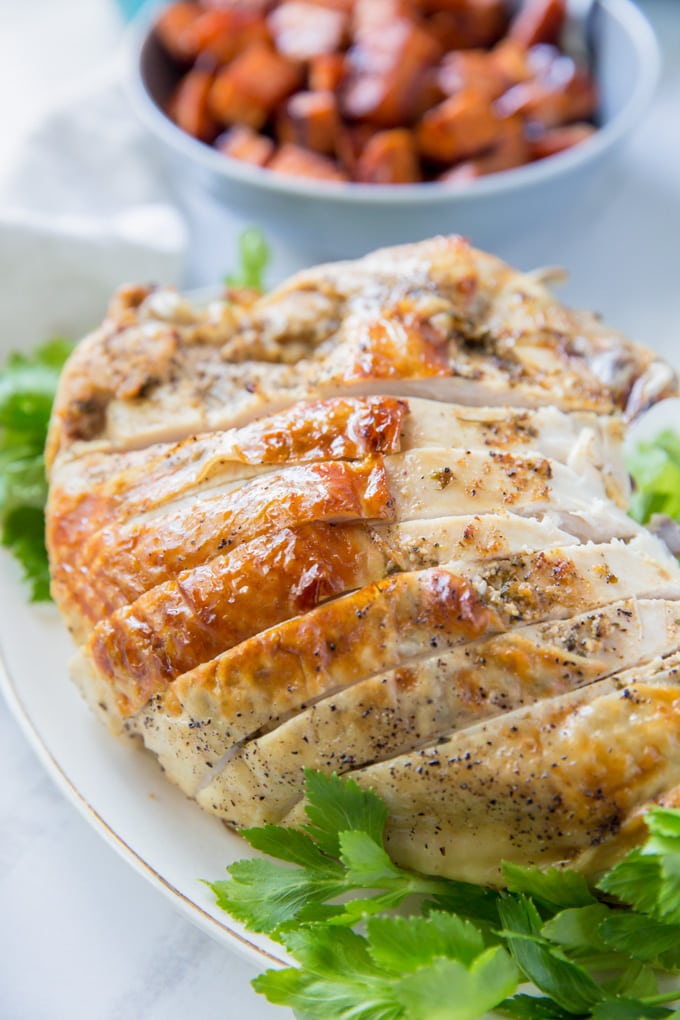 Instant Pot Turkey Breast
I love turkey, but I am definitely more partial to turkey breast over dark meat. For Thanksgiving I'd much rather roast a small turkey and cook an additional turkey breast in the instant pot. Plus this way there is lots of leftover turkey for making Turkey Tetrazzini, Turkey Shepherd's Pie and Turkey and Stuffing Casserole!
Cooking a turkey breast in your pressure cooker is so much easier then roasting a whole turkey. It will feed 6-10 depending on the size, so it's perfect for a small family gathering or when you need to add an extra entree. Plus it's ready in under an hour AND you can make turkey gravy right there in the pot.
Why you'll love this time-saving recipe
Cooking the turkey breast in the instant pot frees up your oven for cooking side dishes, like Classic Sausage Stuffing and Sweet Potato Casserole.
Breast meat is better for you than dark meat.
Feeding a crowd? You can roast your whole turkey in the oven and cook an extra breast in the pressure cooker!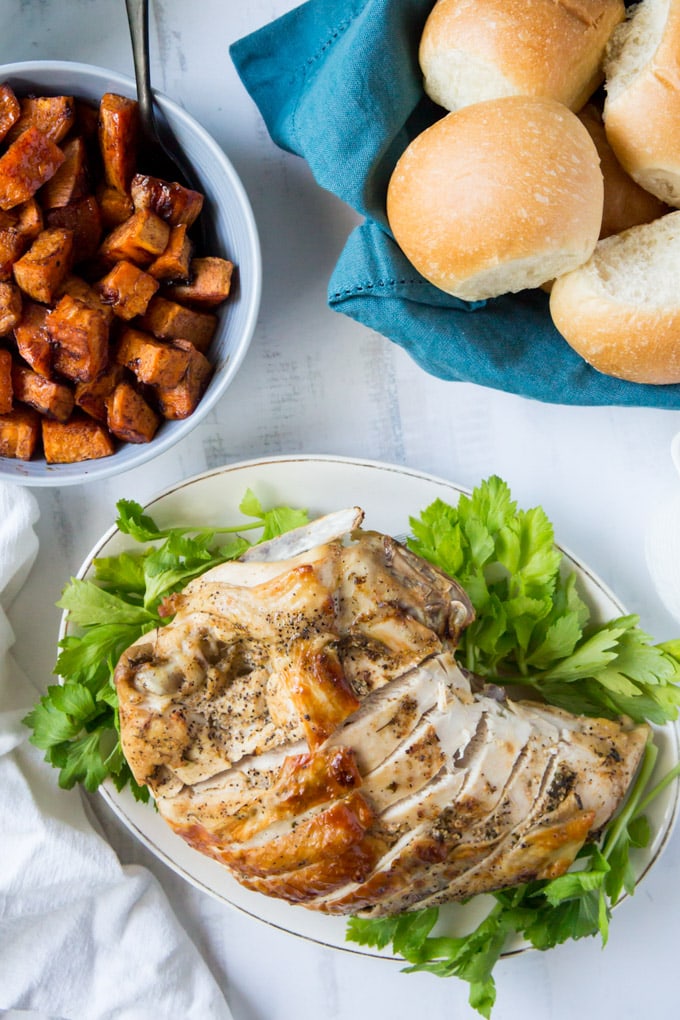 How to make a Turkey Breast in the Instant Pot
Before you even think about making this recipe, make sure your turkey breast will fit in your instant pot! A 6-quart pot will hold roughly up to a 5 pound turkey breast, while an 8-quart pot will hold a 7-8 pounder. Of course, you can always cook a smaller breast, but when you're making your purchase, consider the size you have to work with.
Let some butter soften on the counter for an hour, unwrapped, then combine it with some poultry seasoning, fresh parsley, salt and pepper. Don't soften the butter in the microwave because it will melt. Unwrapping the stick of butter will help it soften faster.
Loosen the skin on the turkey breast and massage the butter mixture into the meat beneath the skin. Don't rub the butter on top of the skin or it will burn while cooking. Sprinkle with salt and pepper.
Pour chicken broth into the instant pot or pressure cooker, then place the turkey meat/skin side down. The bone releases a lot of moisture and this way the juices will drip down into the breast making it super juicy and flavorful. Put some onion and celery in the cavity of the breast.
Close and lock the lid and set the vent to sealed. Cook on high pressure using the manual button for about 6 minutes per pound. So for a 4 pound breast you'll cook for 24 minutes, a 5 pound breast for 30 minutes, etc.
Release the pressure naturally for 10 minutes, then manually release any remaining pressure. Use an instant read digital thermometer to check that the temperature of the turkey is at least 160 degrees F. Follow the steps for browning if you desire.
Let the cooked turkey breast rest on a cutting board, tented with foil, for 10-15 minutes. Remove the bone to make cutting easy, and cut into 1/2-inch thick slices.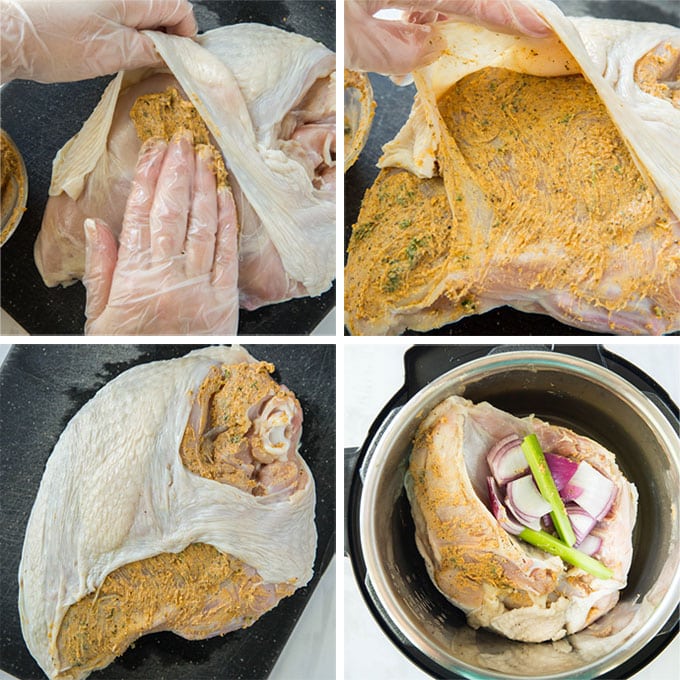 How to Brown the Skin
My Instant Pot Turkey Breast recipe yields a delicious piece of meat but it won't brown the skin and that's not always very pretty. You could remove it if you prefer, but I like to brown it in the oven to get it a little crispy and golden brown.
Grab a baking sheet with sides and cover it with foil and place the turkey breast on it, skin side up.
Place the rack in the middle of your oven and turn on your broiler.
Broil the turkey breast for about 5-6 minutes or until it's browned all over. Be sure to watch it closely so it doesn't burn. Set the turkey on a cutting board to rest.
How to make turkey gravy
One of the best things about cooking Instant Pot Turkey Breast is that it practically makes its own gravy!
Strain the liquid from the pot through a metal strainer and into a large glass measuring cup. Discard any bits left in the strainer. You'll need about 1 1/2 cups, so if you don't get enough from the pot you can add some canned chicken or turkey stock.
Return the inner pot to the pressure cook and turn it to saute. Melt some butter and whisk in flour to form a roux. Slowly whisk in some of the reserved turkey stock and continue whisking as it thickens. Add more broth until you have a consistency you're happy with.
Pour the gravy into a pretty little gravy boat for serving. If you're wanting extra for your mashed potatoes, feel free to double the recipe and add more broth.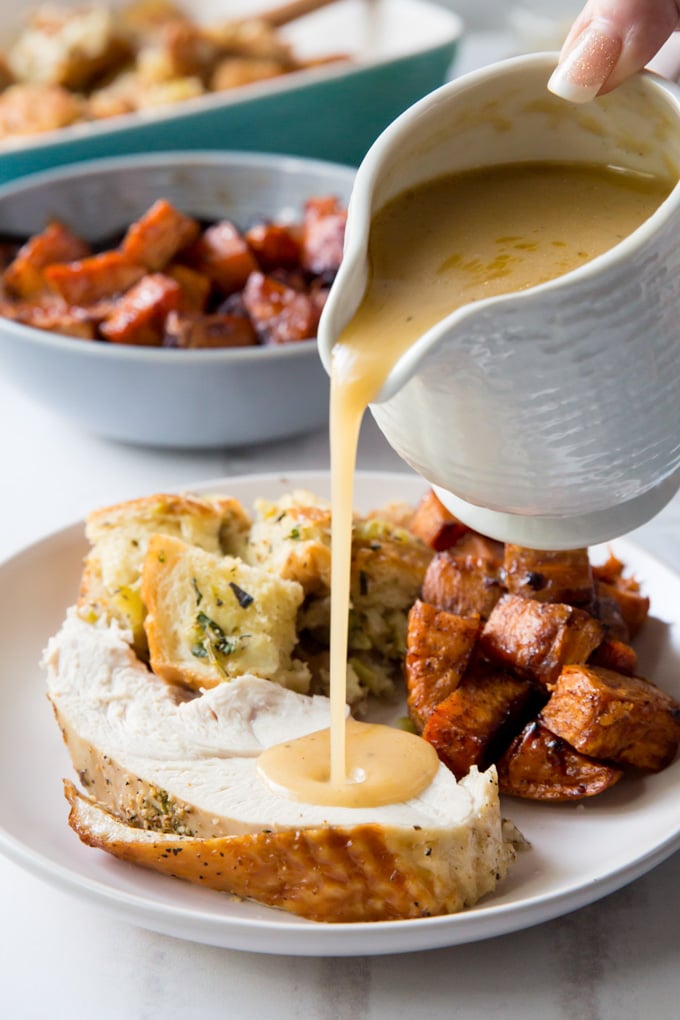 What to serve with instant pot turkey breast
It may not be Thanksgiving when you're serving up this Instant Pot Turkey Breast, but that doesn't mean you can't have some traditional sides! Your oven will be available for cooking up a Green Bean Casserole or some homemade rolls.
What to do with leftovers
Who doesn't love leftover turkey?! If you have leftovers you plan to eat soon, store the cooked turkey breast in an airtight container for up to 4-5 days.
If you want to freeze the turkey for using later, wrap it tightly in foil or wax paper, then place that into a freezer container or bag. Don't forget to label it with the date. It will stay fresh in the freezer for 4-6 months.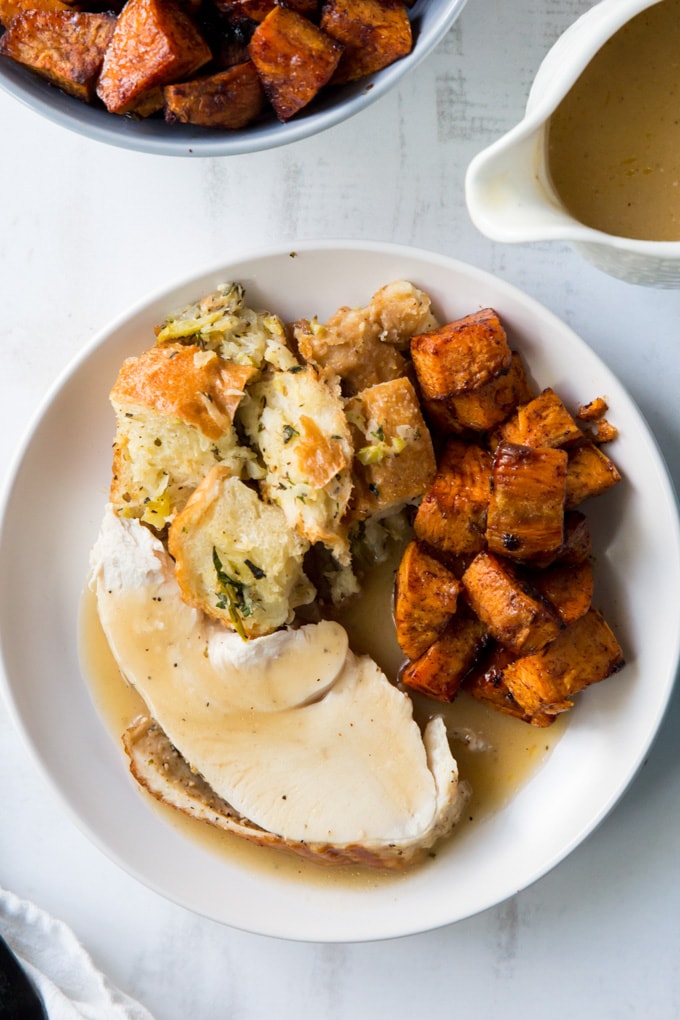 Want more holiday ideas?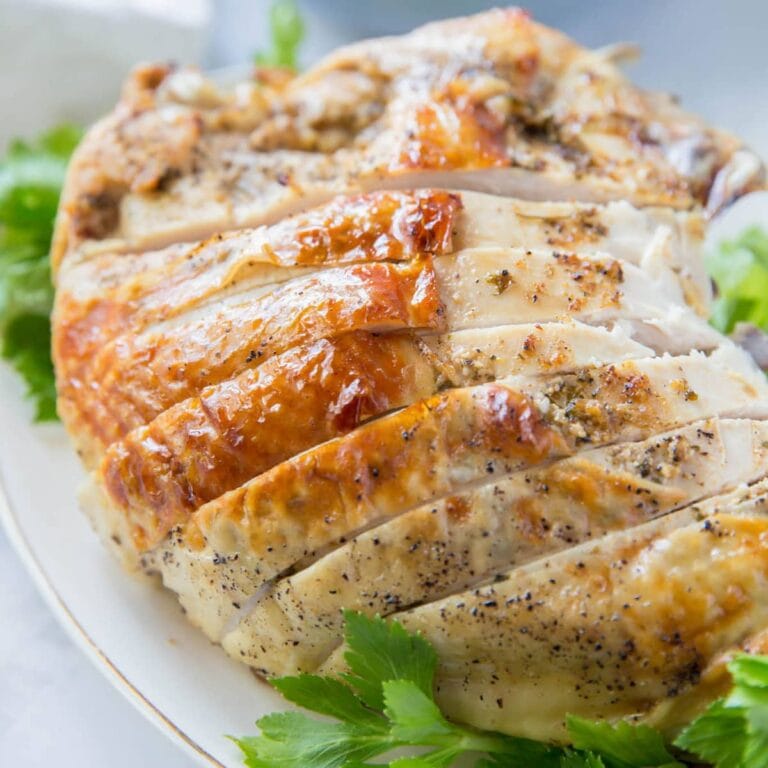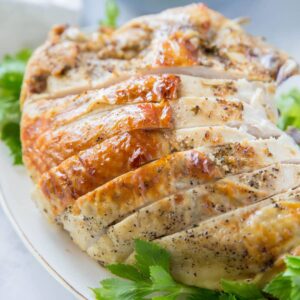 Instant Pot Turkey Breast
This fast and easy Instant Pot Turkey Breast cooks in a fraction of the time and is so tender and juicy every time. Make your own gravy in the pot, too!
Ingredients
Turkey Breast
1 cup turkey stock or chicken stock may be substituted
4-5 pound bone-in turkey breast
¼ cup butter softened
3 teaspoons poultry seasoning
2 teaspoons fresh minced parsley
Kosher salt and black pepper
1 small onion quartered
1 stalk celery cut in half
For the Gravy
2 tablespoons butter
2 tablespoons all-purpose flour
1 1/2 cups turkey drippings use additional broth if needed
salt and pepper to taste
Instructions
Instant Pot Turkey Breast
Mix together butter with poultry seasoning, parsley, 1 teaspoon salt and 1/2 teaspoon pepper.

With clean hands, loosen the skin on the turkey breast. Massage butter mixture into the turkey breast beneath the skin. Do not rub on top of the skin as this could result in burning inside pressure cooker. Sprinkle the skin with additional kosher salt and black pepper.

Pour 1 cup broth into the inner pot or pressure cooker.

Place turkey inside the pressure cooker, meat side down. Place onion and celery stick in cavity of turkey breast.

Close lid on pressure cooker. Set vent knob to sealed. Cook on high pressure, using manual button, for 6 minutes per pound.

Release pressure naturally for 10 minutes, then manually release any remaining pressure.

Turkey should register at least 160 degrees on a digital thermometer inserted into the center of the thickest part of the breast.

The skin will be cooked, but not browned. To brown the skin, place on a sheet pan and broil for 5-6 minutes. Watch closely to avoid burning. (optional)

Transfer turkey to a cutting board and tent with foil to rest for 10-15 minutes. Remove the bone for easy cutting, and slice into portions with a sharp knife.

Strain the liquid from the pot through a metal strainer and set aside. Discard any bits that may remain in the strainer.

Return the inner pot to the pressure cooker and turn to saute function.
Turkey Gravy (optional)
While the meat is resting, make the gravy.

Once heated, add melt the butter in the pot. Whisk in flour to form a roux. Cook for 1-2 minutes or until golden. Slowly whisk in 1 cup of the strained turkey broth. Cook for several minutes, whisking often, and adding more broth as needed until desired consistency is reached. Season with salt and pepper as desired. NOTE - you may not need all the broth called for in this recipe, depending on your desired thickness, so I recommend adding additional broth a little at a time.
Notes
This recipe will work with a small turkey breast (3 lbs) or larger (6-7 lbs). You may need to slightly tweak the amount of ingredients.
Nutrition
Calories: 383kcalCarbohydrates: 6gProtein: 46gFat: 20gSaturated Fat: 9gCholesterol: 145mgSodium: 690mgPotassium: 92mgFiber: 1gSugar: 1gVitamin A: 284IUVitamin C: 4mgCalcium: 15mgIron: 1mg
Reader Interactions