Classic Sausage Stuffing is a must-make recipe for your Thanksgiving dinner! This savory combination of ingredients will bring your dinner together and leave everyone satisfied!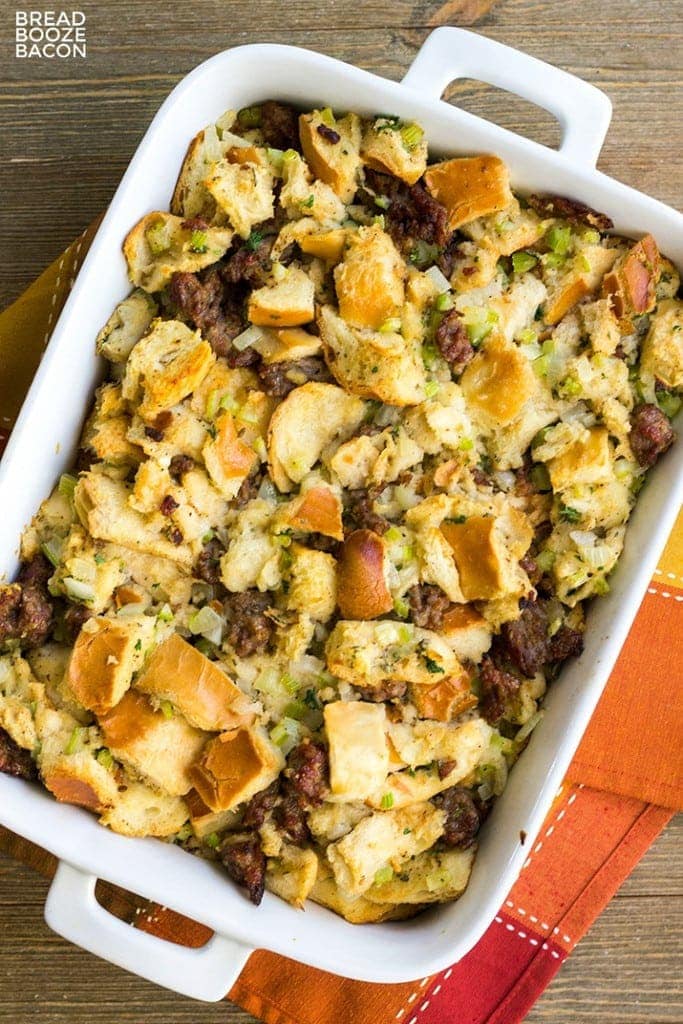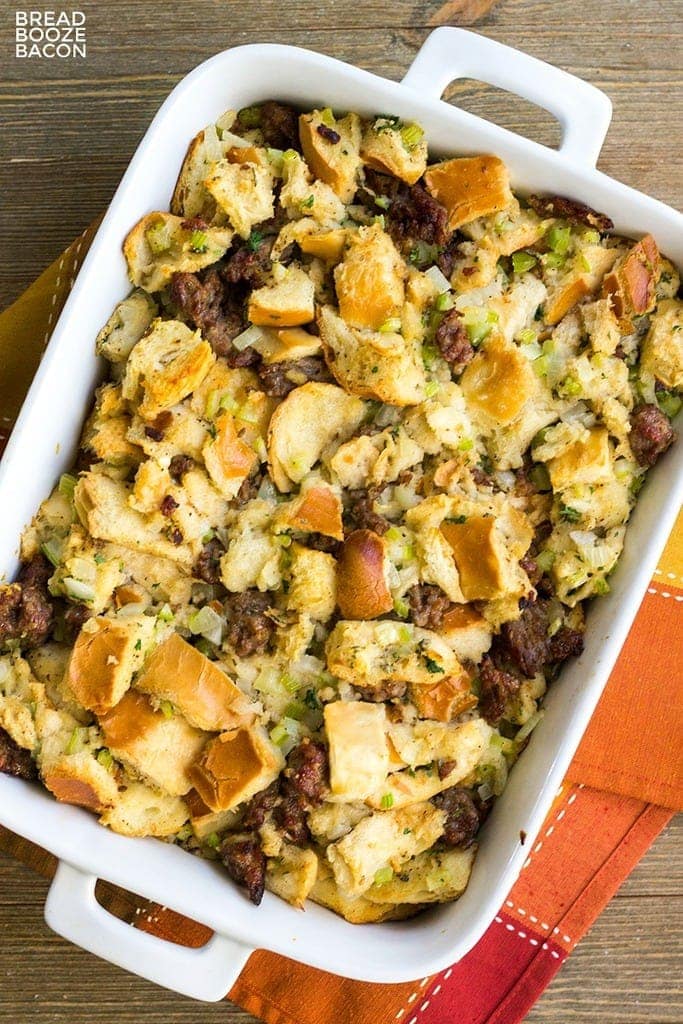 I'm a planning girl. From work to our family to the holidays, I like to have a plan or some idea of what's going on. With Thanksgiving is just around the corner I'm already thinking about and planning our holiday dinner. We'll definitely have the Best Thanksgiving Turkey & pumpkin pie which just leaves the side dishes up for grabs. Stuffing is a must have for Thanksgiving and this year I'm going super traditional with this classic sausage stuffing recipe. It's easy to make and will leave your house smelling awesome!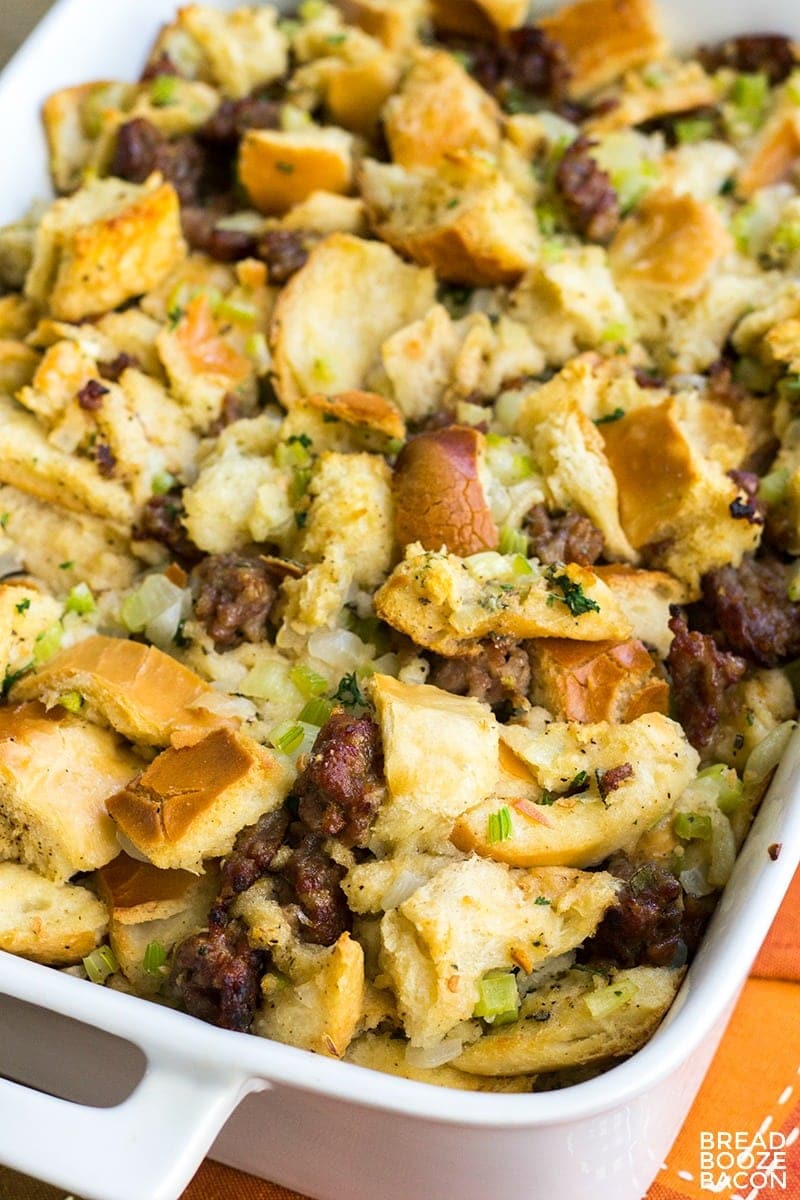 Now there's one thing I need to address and it's the whole stuffing/dressing thing. I call this a stuffing because that's the general term for this type of side dish, but at my house it's all called dressing. It dresses your plate. Stuffing is stuffed inside the bird and not baked on its own. You call it what you want, but don't get weird-ed out if you hear me say it's dressing. Moving on!
This stuffing recipe is super easy to make and has all those classic Thanksgiving flavors. Onion and celery for aromatics, flavorful Italian sausage for meatiness and yummy pork fat, and sage & parsley for an aroma no one can resist. I like to use French bread for this recipe so there are bigger hunks of bread and it feels more rustic. Just let your bread sit out for a day or two on the counter to get a little stale and you're ready to get started! This recipe is the perfect side for your turkey, and is so good it'll become a regular at your holiday table.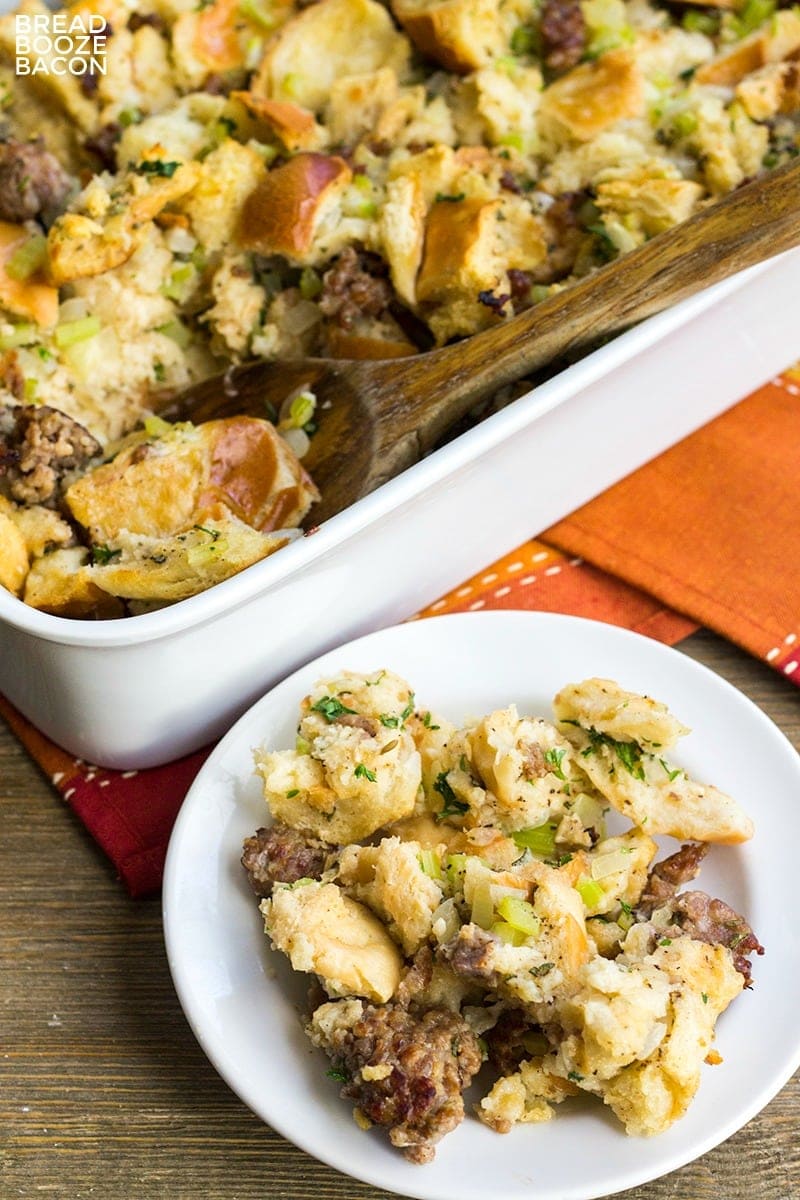 Hungry for More?

Caramelized Onion & Cornbread Dressing | Creamed Spinach with Bacon | French Onion Sour Cream Biscuits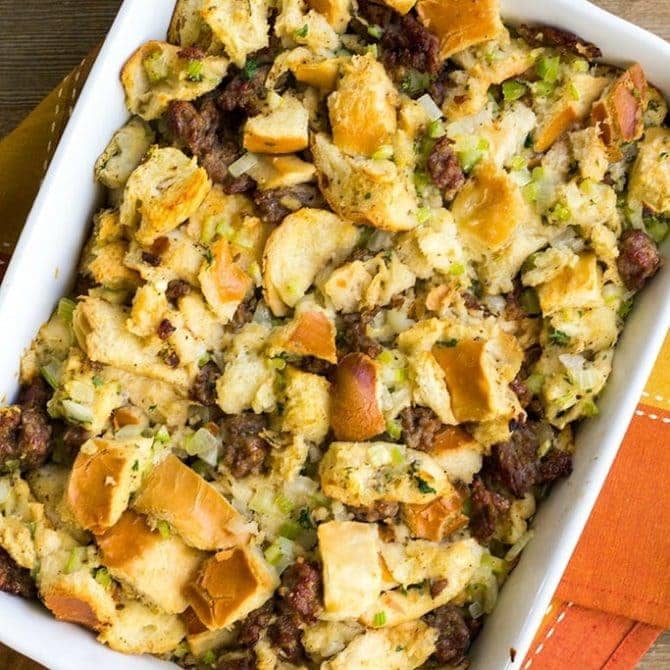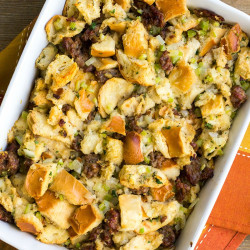 Classic Sausage Stuffing
Classic Sausage Stuffing is a must-make recipe for your Thanksgiving dinner! This savory combination of ingredients will bring your dinner together and leave everyone satisfied!
Ingredients
2 pounds mild Italian sausage
8 tablespoons unsalted butter divided
4 ribs celery diced
1 yellow onion diced
4 cloves garlic minced
1 1/2 loaves french bread cut into 1-inch pieces (about 12 cups)
28 ounces low-sodium chicken broth
2 eggs
1 1/2 teaspoons salt
1 teaspoon pepper
2 tablespoons fresh sage finely chopped
1/4 cup fresh parsley finely chopped
Instructions
Preheat your oven to 350 degrees F.

Place a large skillet over medium-high heat. Cook the Italian sausage until browned and no longer pink, about 8 minutes. Transfer the sausage to a bowl and set aside. Leave the grease in the skillet.

Add 2 tablespoons of butter to the same skillet. Once the butter has melted, add the celery and onions. Stir to coat the veggies in the fats and cook for 3 to 5 minutes until the onions are softened. Add garlic, stir and cook for 2 more minutes. Remove from heat and set aside.

Place the bread in a very large mixing bowl. Pour the celery mixture over the bread. Add the chicken broth, eggs, salt, pepper, sage, and parsley to the bowl. Mix gently until combined. Add the sausage and mix once more.

Coat a 9-inch x 13-inch baking dish with non-stick cooking spray. Transfer the stuffing to the baking dish and spread into an even layer. Dot the top of the stuffing with the remaining butter.

Bake for 45 to 50 minutes or until the top is crisp and golden. Carefully remove from the oven. Serve immediately (it'll be HOT!) or let sit for 5 to 10 minutes for serving.
Notes
Buy your french bread ahead of time and leave it on the counter for 1 to 2 days to get a bit hard. This will help give the stuffing more texture. Or you can cut the bread and toast it in a 300  degrees oven on a baking sheet for 8-10 minutes. I have not made this recipe with the store-bought stuffing mixes. You can try this substitution if you like, but the number of servings will vary.
Here's another Thanksgiving Stuffing recipe that we love: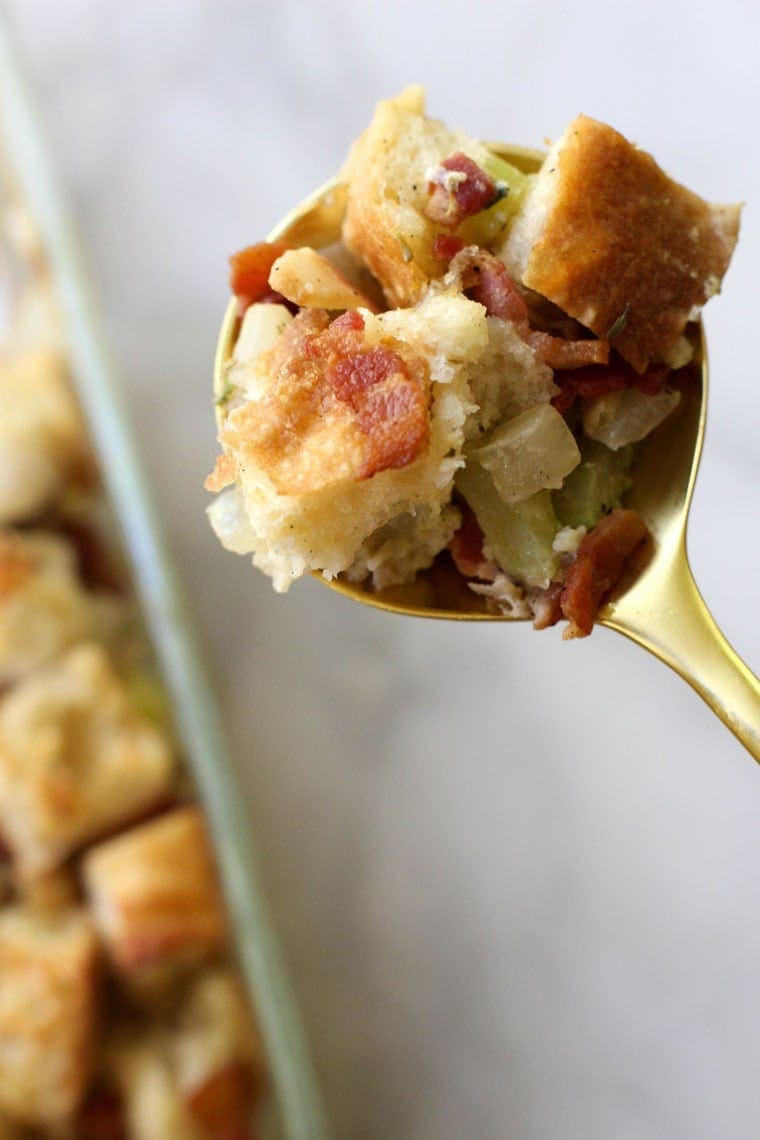 And here are some more Thanksgiving side dishes to try: