Honey Roasted Sweet Potatoes are glazed with a sweet cinnamon honey sauce and roasted in the oven. The edges become crispy and caramelized, the insides soft and tender and the flavor – incredible! This easy, healthy side dish will surely steal the show!
Roasted sweet potatoes make an excellent healthy side dish for the holidays, and look beautiful next to your Thanksgiving Turkey and Homemade Stuffing!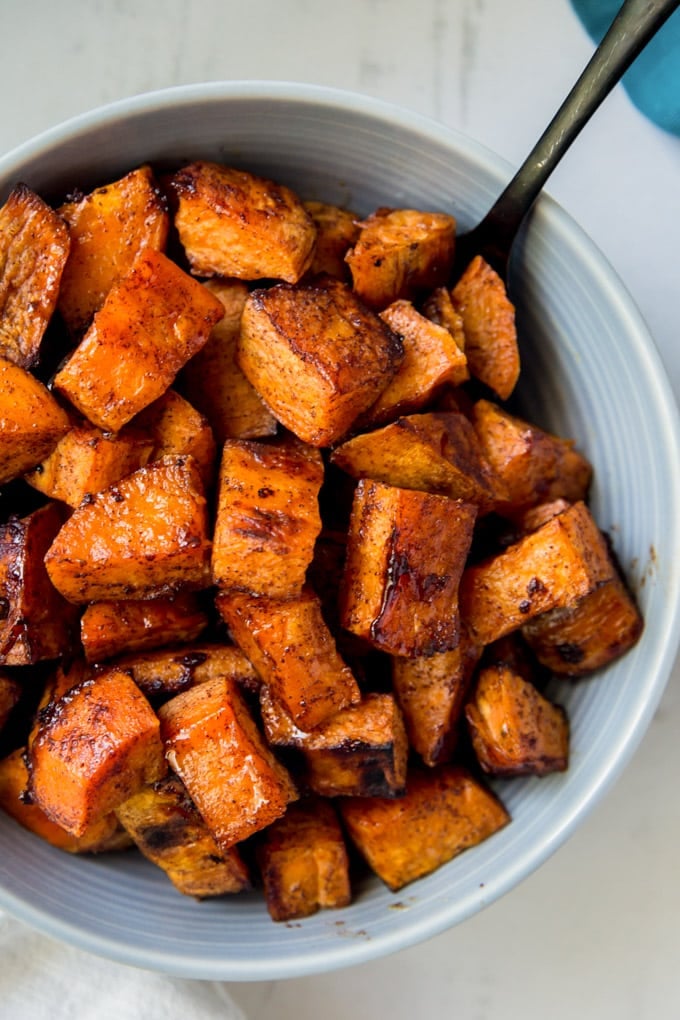 Oven Roasted Sweet Potatoes
As a kid, the only way I would eat sweet potatoes is if they accidentally got stuck to the roasted marshmallow I was pulling off the top of my mom's Sweet Potato Casserole. Now that I'm older and have kids of my own who like to pick off the marshmallows, I've realized the true value and beauty of the illustrious sweet potato.
These Honey Roasted Sweet Potatoes are tender on the inside, crispy on the outside with a sweet cinnamon flavor that everyone loves. They are fast and quick so you can enjoy them any time, not just around the holidays!
Why we love roasted sweet potatoes
They are so good for you!
My kids think they're full of sugar so they actually want to eat them.
Roasting adds so much depth of flavor when they get those crispy golden bits of caramelization.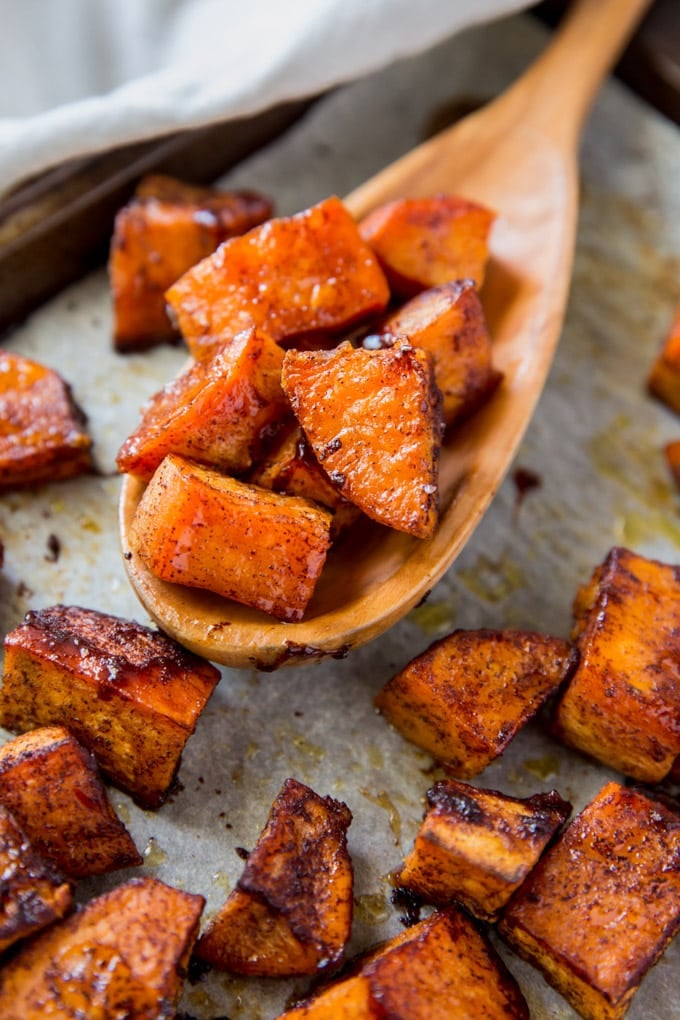 Do you have to peel sweet potatoes?
The skin on a sweet potato is edible, but because of it's thick and fibrous texture, I usually opt to peel the skins off. If you want, you can leave the skin on. It's got a lot of nutritional value and can be a time-saver to skip peeling.
What flavors go well with sweet potatoes?
Roasted sweet potatoes with honey and cinnamon are my favorite, but there are other warm fall flavors that go as well. Any of these seasonings and spices could be swapped out for the cinnamon in this roasted sweet potato recipe.
chili powder
cilantro
coconut
garlic
ginger
nutmeg
rosemary
thyme
allspice
clove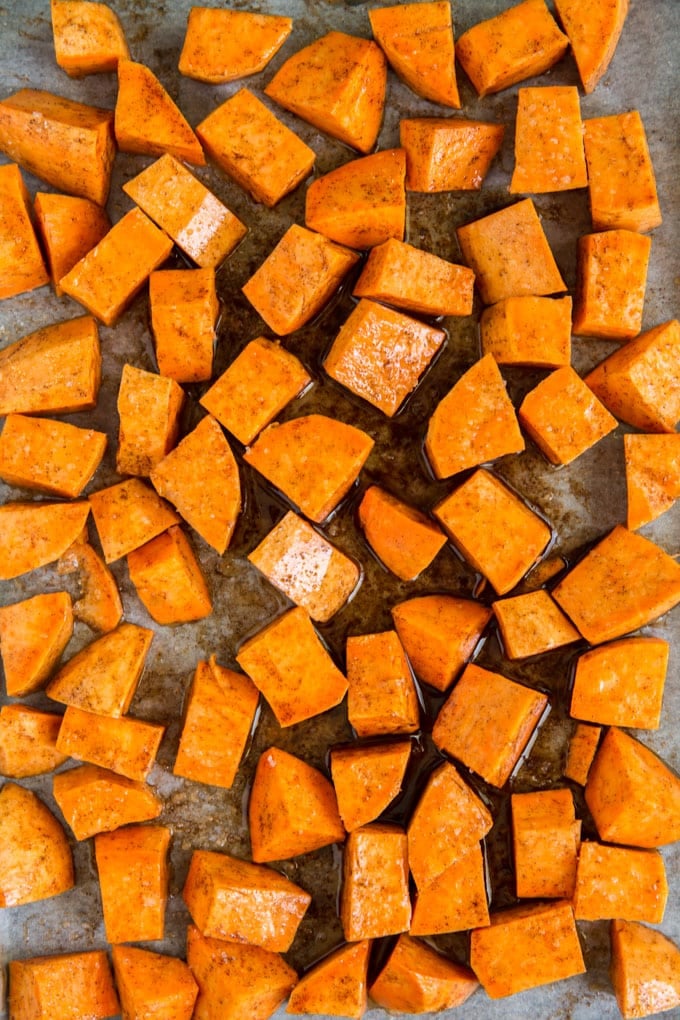 How to Roast Sweet Potatoes
Roasted Sweet Potatoes take just a short amount of prep and about 40 minutes to roast. Most of the time this recipe takes is cooking time, so you're free to prep the rest of your meal.
Preheat your oven to 425 degrees F. If your oven has a roast function, use that. Line a large rimmed baking sheet with parchment paper and set it aside.
Scrub the sweet potatoes clean and peel the skins off. Feel free to leave bits of skin on for texture if you like. Chop the potatoes into chunks, getting them as even in size as possible for even cooking. Place the sweet potatoes in a large bowl.
In a small bowl, whisk together olive oil, honey, lemon juice and cinnamon. Pour the mixture over the sweet potato chunks and use a spatula or large spoon to stir them up.
Arrange the potatoes on the baking sheet, slightly space apart to allow air to circulate, then sprinkle with salt.
Roast sweet potatoes in the oven for 20 minutes, then flip them over and roast for another 15-20 minutes or until they are nice and soft. When they reach a tenderness you're happy with, pull them out of the oven and let them rest for several minutes before serving.
Serving Suggestions
Of course Roasted Sweet Potatoes are the perfect addition to your Thanksgiving table, next to the Best Make Ahead Mashed Potatoes, From Scratch Green Bean Casserole and One Hour Dinner Rolls. They are also a simple side dish for weeknight favorites like Baked Chicken Breasts or Easy Oven Baked Chicken Drumsticks.
What to do with leftovers
Leftovers should be stored in an airtight container in the fridge and eaten within 3-4 days. Reheat the roasted sweet potatoes in a 400 degree oven for 5-10 minutes or until heated through and crispy. Freezing is not recommended.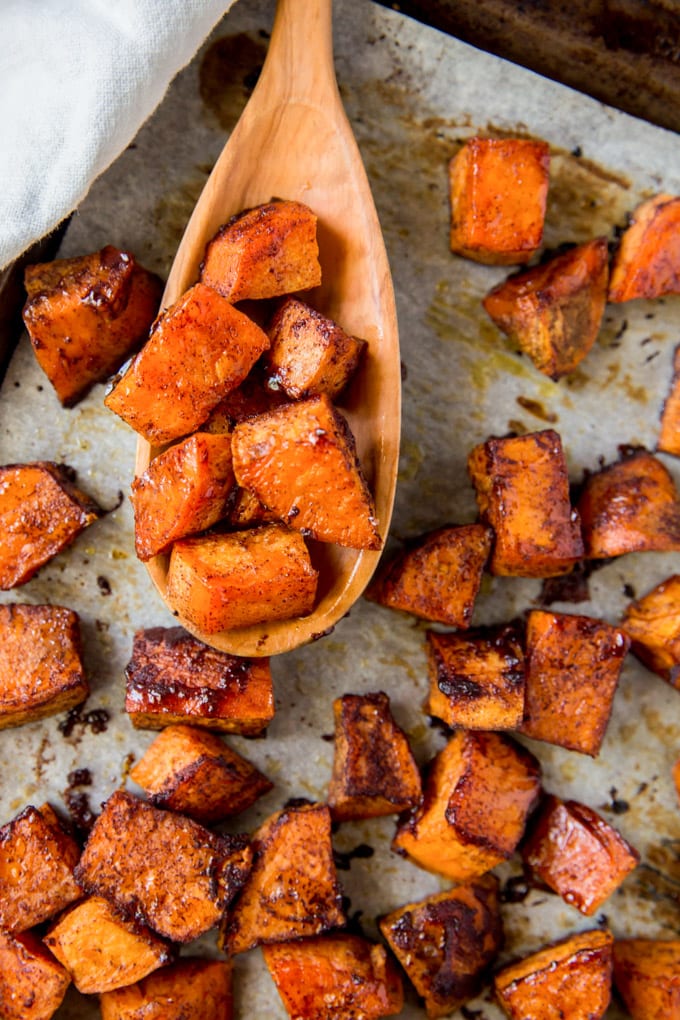 More potato dishes to try: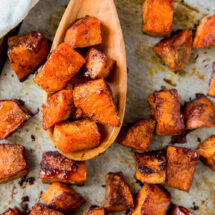 Ingredients
2 pounds red-skinned sweet potatoes
2 tablespoons olive oil
2 tablespoons honey
1 teaspoon fresh lemon juice
1 teaspoon cinnamon
1/2 teaspoon salt
Instructions
Preheat oven to 425 degrees F.

Line a large rimmed baking sheet with parchment paper and set aside.

Peel sweet potatoes and cut into 1-inch chunks, then place in a large bowl.

In a small bowl, whisk together olive oil, honey, lemon juice and cinnamon. Pour over sweet potatoes and toss to coat completely.

Arrange sweet potatoes on the prepared baking sheet and sprinkle with salt.

Roast in the preheated oven for about 20 minutes, then flip pieces over and roast for an additional 15-20 minutes, or until potatoes reach your desired tenderness.

Let stand for 5 minutes before serving.
Nutrition
Calories: 150kcal | Carbohydrates: 28g | Protein: 2g | Fat: 4g | Saturated Fat: 1g | Sodium: 186mg | Potassium: 539mg | Fiber: 4g | Sugar: 12g | Vitamin A: 21793IU | Vitamin C: 22mg | Calcium: 46mg | Iron: 1mg
Hi! I'm Kristin, the creative mind behind Yellow Bliss Road where you will be inspired by tons of easy to follow recipes, lots of free printables, and a little sprinkling of life thrown in for good measure.