Sweet and Savory Mashed Sweet Potatoes are creamy, buttery and loaded with crispy bacon and warm brown sugar. This is the perfect unique side dish for your holiday meal.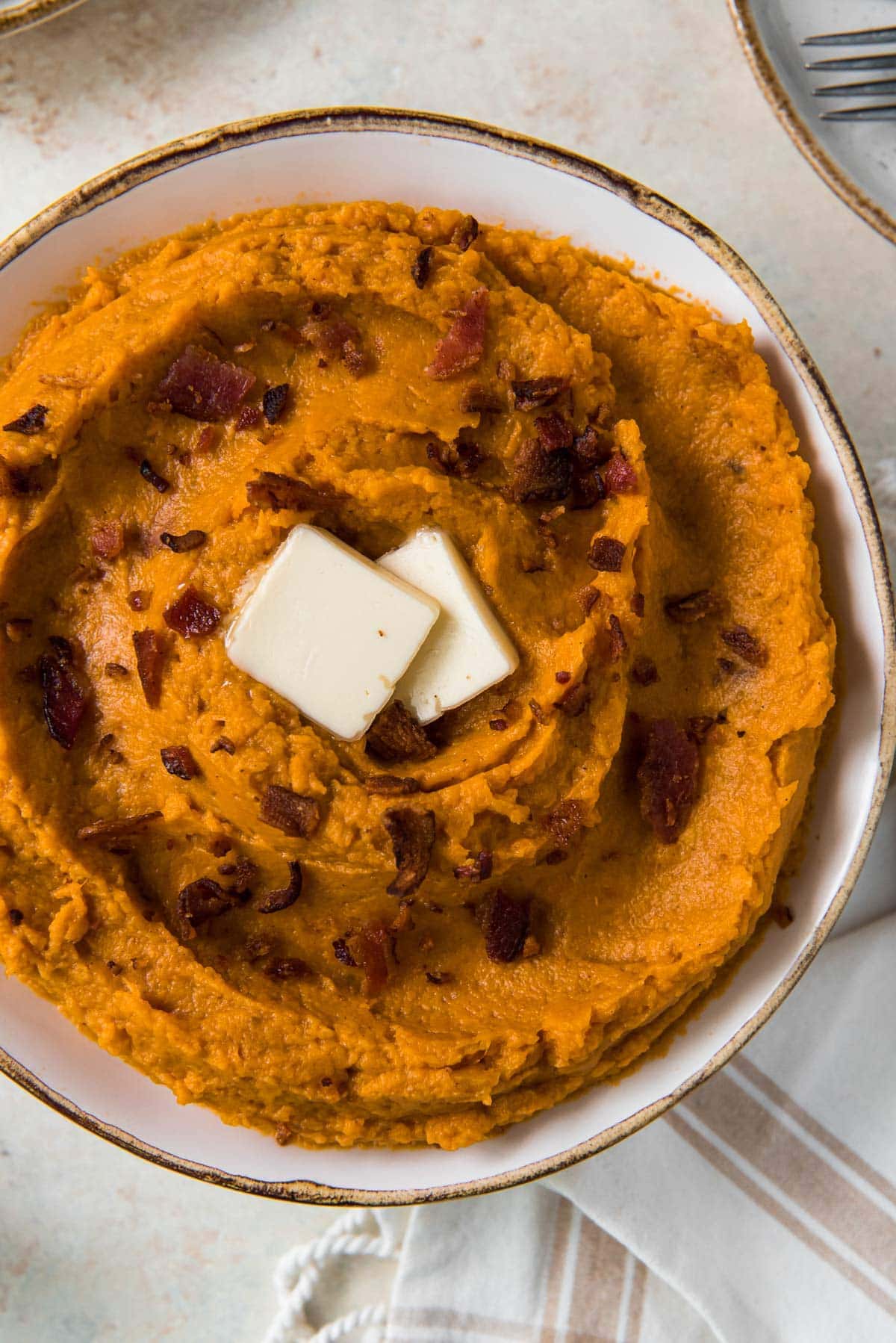 I have made it my mission to stock this site with tons of easy Thanksgiving recipes from the best Thanksgiving Turkey Recipe to Homemade Stuffing and apple pie for dessert.
Sweet and Savory Mashed Sweet Potatoes
If I'm being totally honest with you, I've never been a huge fan of sweet potatoes. I don't know why, maybe it was the way they were prepared or the mushy texture. Until I learned how to make sweet potatoes the right way, then everything changed.
Savory Mashed Sweet Potatoes are a simple side dish that's classy enough for a holiday meal, and easy enough to serve with roast chicken or Baked Pork Chops on a busy weeknight. To really crank up the savoriness, I added bacon to the mix along with brown sugar for a little sweetness and balance. You obviously don't have to add those things, but sweet potatoes are so good for you why not step up the flavor to make this dish totally out of this world delicious.
If you're looking for more ways to cook sweet potatoes, try our Twice Baked Sweet Potatoes and Sweet Potato Casserole Recipe.
How to Make Mashed Sweet Potatoes
Cook the sweet potatoes using your preferred method (see below for my favorites). You want to make sure they are nice and soft so they'll be easy to mash.
Cook bacon until crispy. Pro tip: Use kitchen shears to cut the bacon directly into the pan, then just scoop it out with a slotted spoon once the fat is rendered and the bacon is crispy. Or try my tips for How to Cook Bacon in the Oven.
Melt some butter with milk and brown sugar.
Drain and mash the potatoes and stir in the butter mixture and bacon.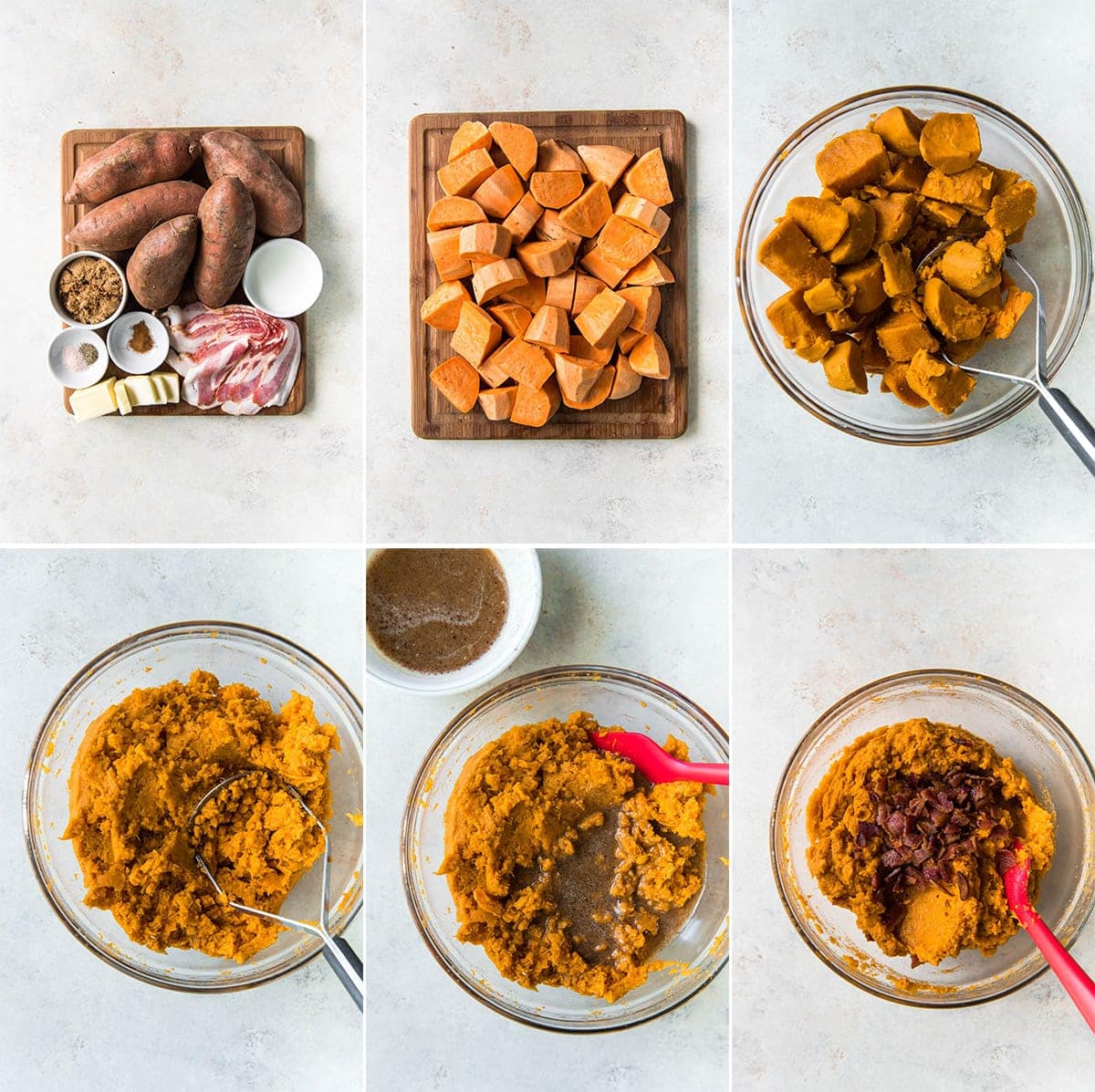 Is it better to boil or bake sweet potatoes?
Boiling sweet potatoes retains more beta-carotene (which converts to vitamin A) than roasting or baking. It's much easier to mash sweet potatoes that have been boiled because they're already peeled and they come out nice and soft. But you can use whichever method you prefer as described below.
How long do you boil sweet potatoes?
Scrub the sweet potatoes clean, then peel them and chop into chunks just like you would for regular make ahead mashed potatoes. Boil a large pot of salted water, then cook the sweet potato chunks for about 20-30 minutes, or until they can easily be pierced with a fork. They should have very little resistance and almost break apart when you poke them. Drain them and let the water evaporate completely before making your mashed sweet potatoes.
How long do you bake sweet potatoes?
For whole baked sweet potatoes, pierce them several times with a fork or knife, place them on a baking sheet and bake for about an hour at 375 degrees. When pierced with a fork or knife there should be little resistance. Once cool enough to handle, peel and chop and you're ready to mash. You can also peel and chop and then bake for 20-30 minutes.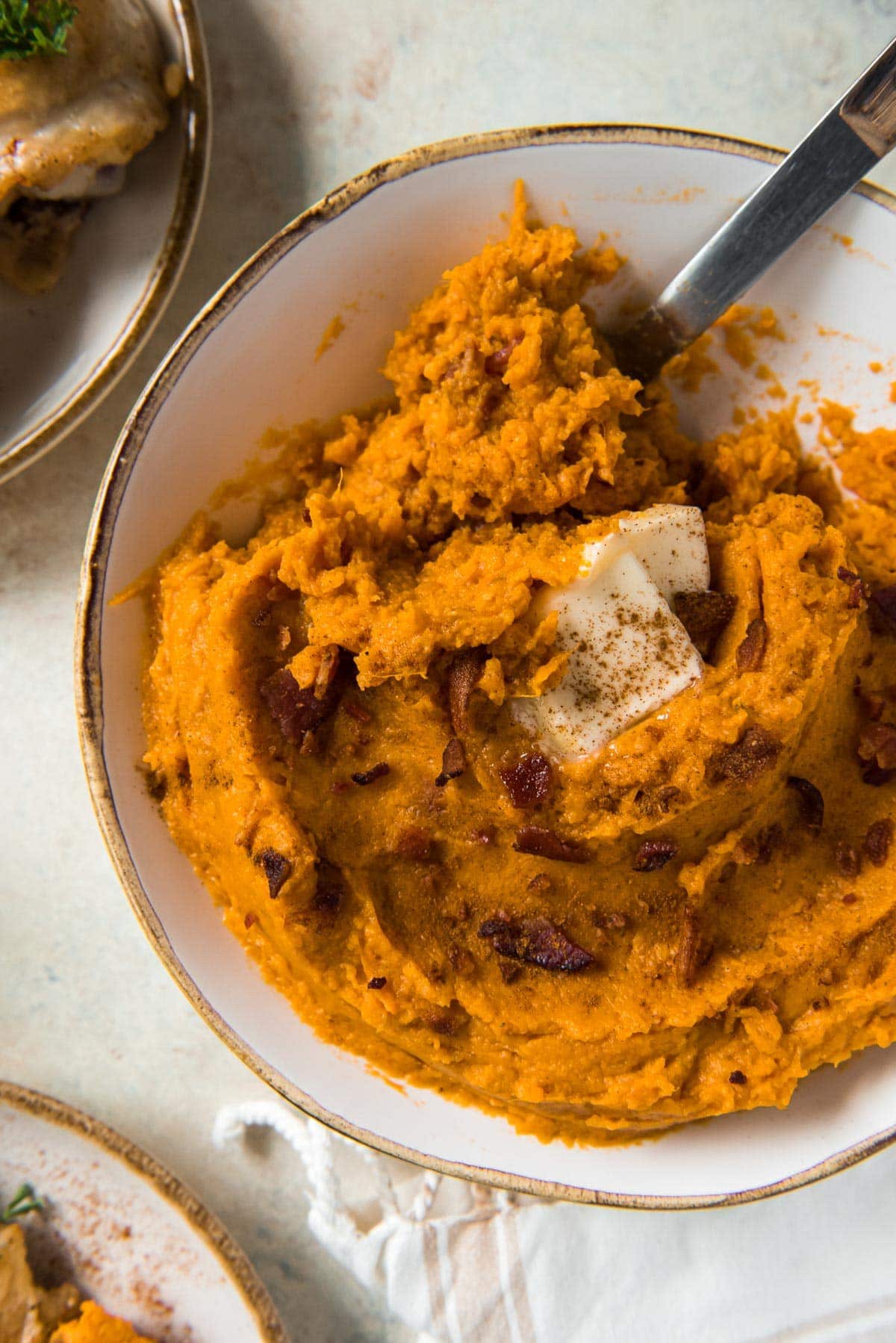 Are Mashed Sweet Potatoes Healthy?
Sweet potatoes are full of beta carotene for eye health, and rich in vitamin C and vitamin B6, which is important for brain and nervous system health. They're also a great source of heart healthy magnesium and potassium which helps to regulate blood pressure.
Mashed Sweet Potatoes usually have added butter, and in this savory version, bacon and brown sugar. In moderation that's fine but you wouldn't want to eat them like this everyday – it's definitely a treat!
Recipe Notes and Tips
How long are mashed sweet potatoes good for? They will last 3-5 days in the fridge if properly stored in an airtight container.
Do mashed sweet potatoes freeze? Absolutely! Allow the potatoes to cool completely, then place in freezer bags and freeze for up to 6 months. Thaw in the fridge and reheat in the microwave or on the stovetop. A little milk or butter may be added to help with the consistency.
This recipe makes about 8 servings, which is a lot for a small family. You are free to cut the recipe in half to feed a smaller crowd.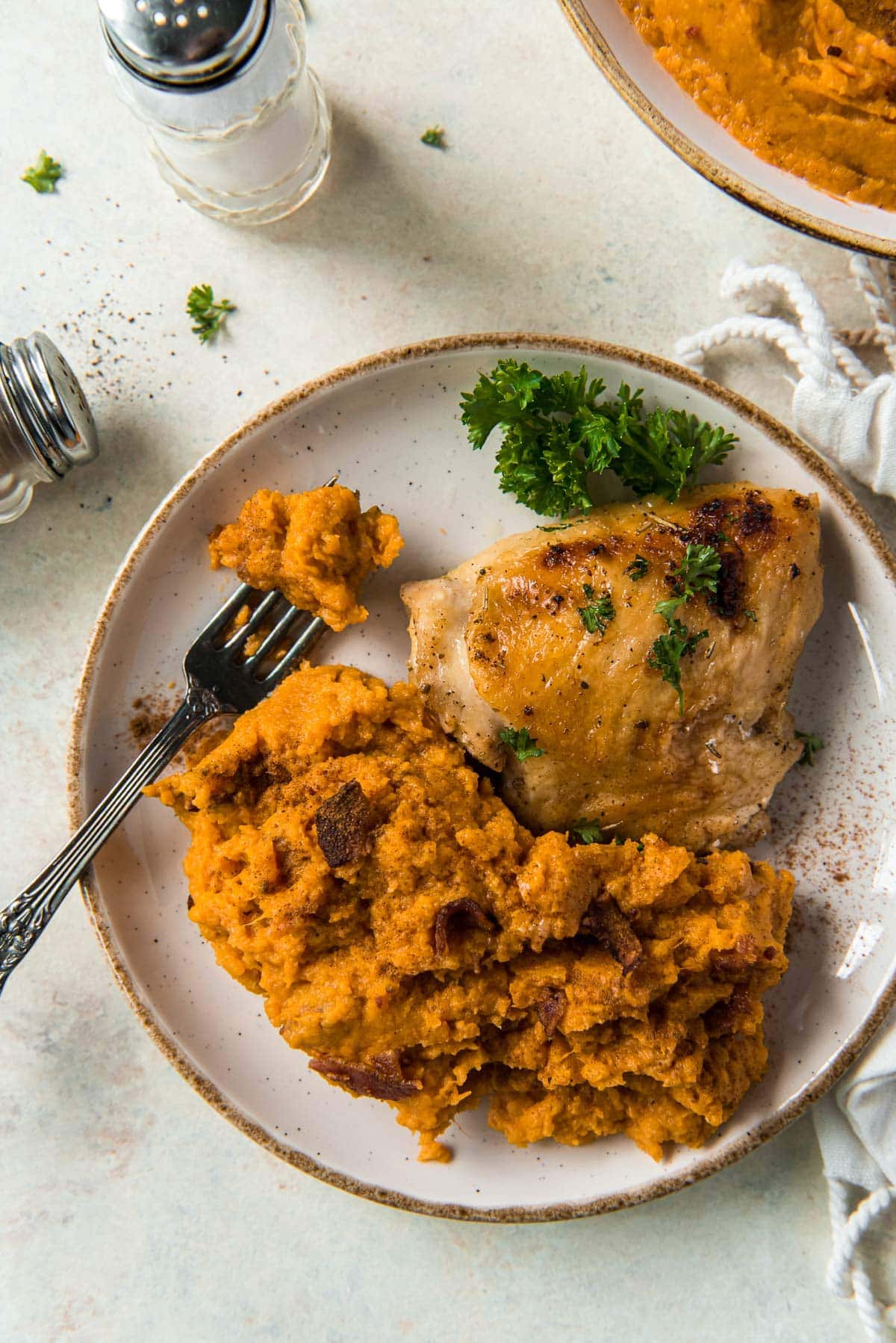 Thanksgiving Sides that Go with Mashed Sweet Potatoes
Serving these mashed sweet potatoes for Thanksgiving or another holiday meal? Round out your spread with these other great sides:
Recipe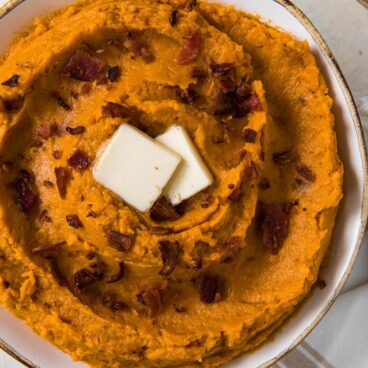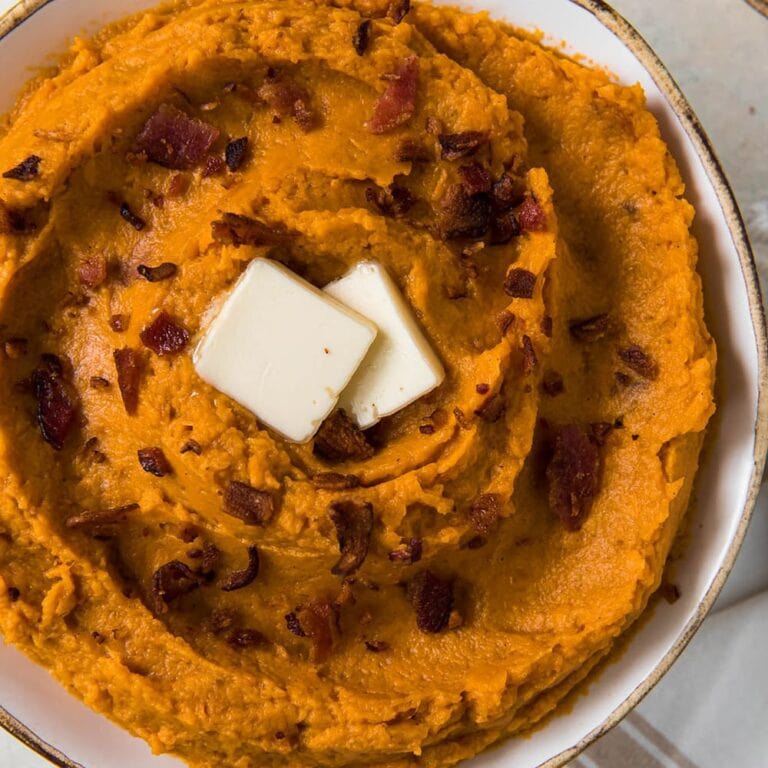 Brown Sugar and Bacon Mashed Sweet Potatoes
Mashed Sweet Potatoes are creamy, buttery and loaded with bacon and warm brown sugar. They are the perfect side dish for your holiday meal.
Ingredients
3

pounds

sweet potatoes

about 4-5 medium to large potatoes

1/3

cup

milk

6

tablespoons

butter

¼

cup

brown sugar

or more to taste

½

pound

bacon

½

teaspoon

ground cinnamon

optional

Kosher salt & black pepper to taste
Instructions
Set a large pot of water on the stove to boil.

While the water is coming to a boil, peel the sweet potatoes and dice into 2-inch chunks.

Once the water is boiling, add a teaspoon of salt and the potatoes. Boil uncovered, until potatoes can easily be pierced with a fork; 20-30 minutes. Drain well and place potatoes back into the pot. Let sit for a couple of minutes to make sure all of the water has evaporated, then mash to desired consistency.

While the potatoes are boiling, cook bacon in a skillet. Cook until crisp, drain on paper towels, then chop into small pieces.

Add milk and butter to a microwave-safe dish and microwave until butter is melted. Stir in brown sugar and cinnamon.

Pour half of the mixture into the mashed sweet potatoes and stir until combined. Continue adding the milk/butter mixture until you are happy with the consistency. Stir in bacon, reserving a small amount for garnish. Season with salt and pepper to taste.

Garnish with the remaining bacon and a dash of cinnamon. Add a pat or two of butter to the top if desired.
Notes
Store leftovers in an airtight container in the fridge for up to 3-5 days or in the freezer for up to 6 months. Reheat in the microwave or on the stovetop.
Nutrition
Calories:
298
kcal
Carbohydrates:
34
g
Protein:
5
g
Fat:
16
g
Saturated Fat:
8
g
Cholesterol:
34
mg
Sodium:
290
mg
Potassium:
522
mg
Fiber:
4
g
Sugar:
11
g
Vitamin A:
19537
IU
Vitamin C:
3
mg
Calcium:
58
mg
Iron:
1
mg