This Cheesy Broccoli Casserole has tender broccoli smothered in a rich and creamy homemade cheddar cheese sauce. The cheesy, cracker crumb topping adds a crispy finish to this delicious side dish.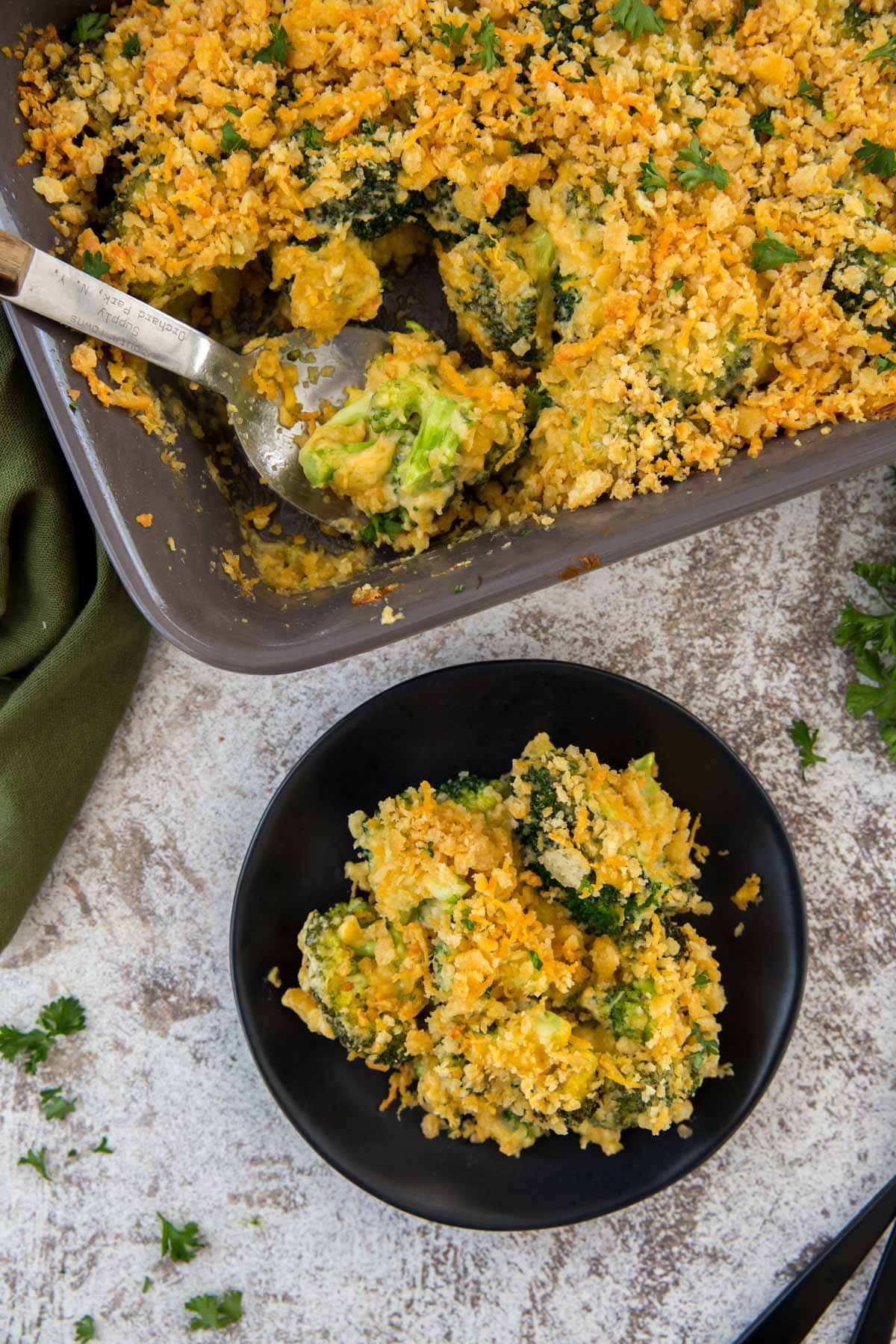 Comfort food is king and creamy casseroles like this one top this list! It goes perfectly with our Thanksgiving Turkey, Easy Baked Glazed Ham or even my dad's Classic Meatloaf Recipe!
Cheesy Broccoli Casserole Recipe
When I was a kid, smothered in cheese sauce is literally the only way I would eat broccoli. I'm pretty sure that what actually ended up in my mouth was way more cheese than broccoli. I'm also fairly certain that if the words broccoli casserole ever crossed my mother's lips, I'd run from the table. My kids aren't fans of cooked broccoli either, and I realized that I had never showed them my mom's method to get me to eat it.
With Thanksgiving coming up, it's a perfect time to be sharing casseroles and hearty side dishes like this one. My Broccoli Cheese Casserole is full of cheesy goodness with a crispy crunchy topping that people go nuts for. I have to refrain myself from picking off that yummy topping while I'm waiting for the rest of dinner to be ready!
Why We Love It
It's cheesy – I use a made from scratch cheese sauce that is super easy and so tasty.
That crunchy cracker topping though – I am pretty much a sucker for a crispy, crunchy topping and the buttery ritz crackers crushed on top are so yummy.
Did I mention it's so cheesy?
If you love cheese like my family, you should check out my Cheesy Scalloped Potatoes, Cheese and Ranch Potatoes, Ham & Cheese Biscuits and the best Homemade Alfredo Sauce.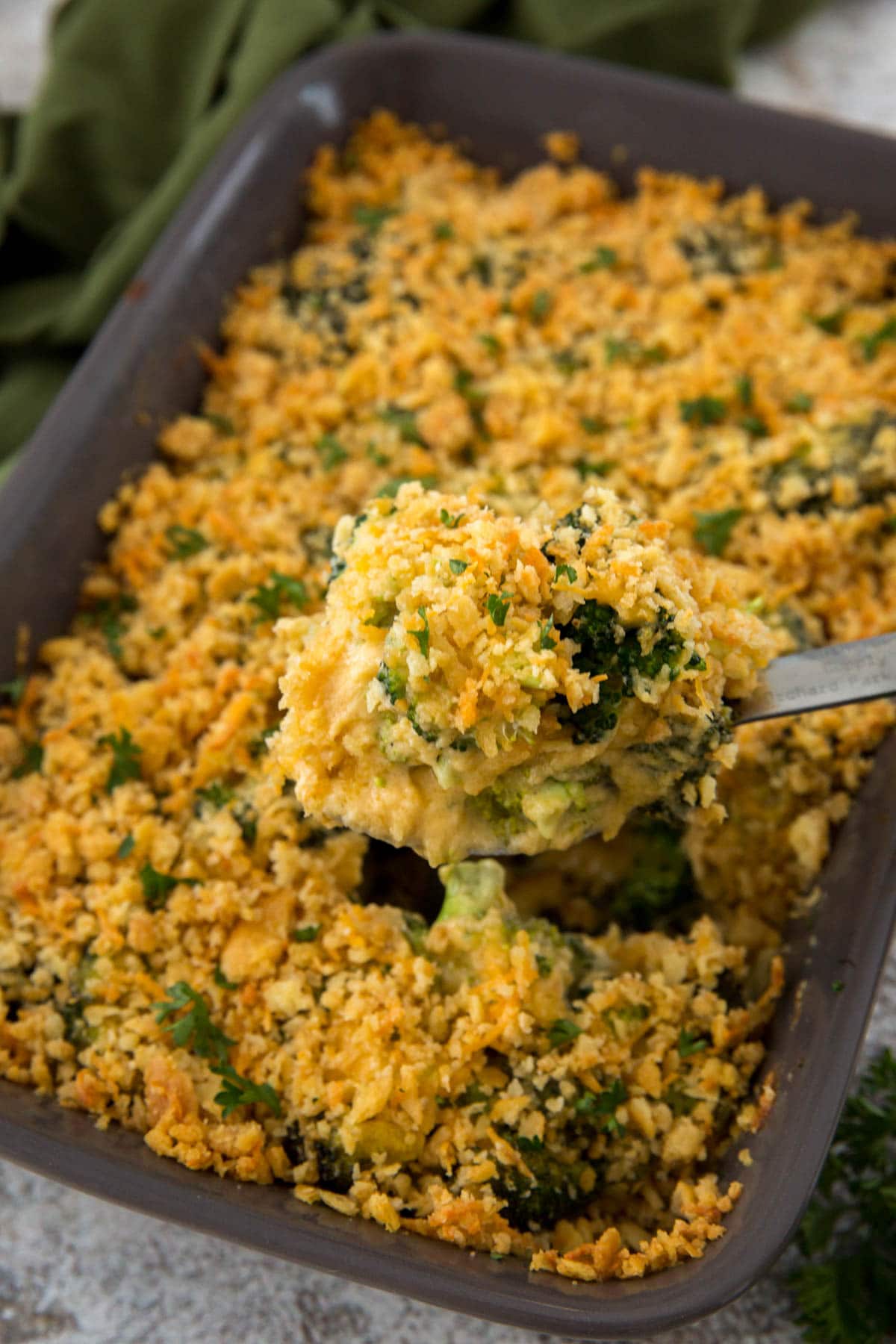 How to Make Broccoli Casserole
This Broccoli Cheese Casserole couldn't be easier to make! The cheese sauce is made with a simple roux, just like my Stovetop Macaroni and Cheese. I've been making this from-scratch cheese sauce since I was a kid – it's one of the first things I learned how to cook and since then I've become a pro.
Blanch the broccoli in boiling water for a few minutes to get the cooking process started. It will finish cooking in the oven.
Make the creamy cheese sauce. The sauce is just a roux of flour, butter and milk (or half & half) and lots of shredded cheddar cheese.
The topping is just crushed up butter crackers (like Ritz) and melted butter with a little more shredded cheddar thrown in for good measure. Because you can't have too much cheese in a broccoli casserole.
Toss the broccoli with the cheese sauce, pour it in the baking dish, top it with the crushed crackers and bake in the oven for about 20 minutes. The top will get nice and golden and the cheese sauce will be bubbling up on the sides. It will look and smell amazing and that's how you'll know it's finished!
If it's not brown enough for you, flip on the broiler for a few minutes until it's golden.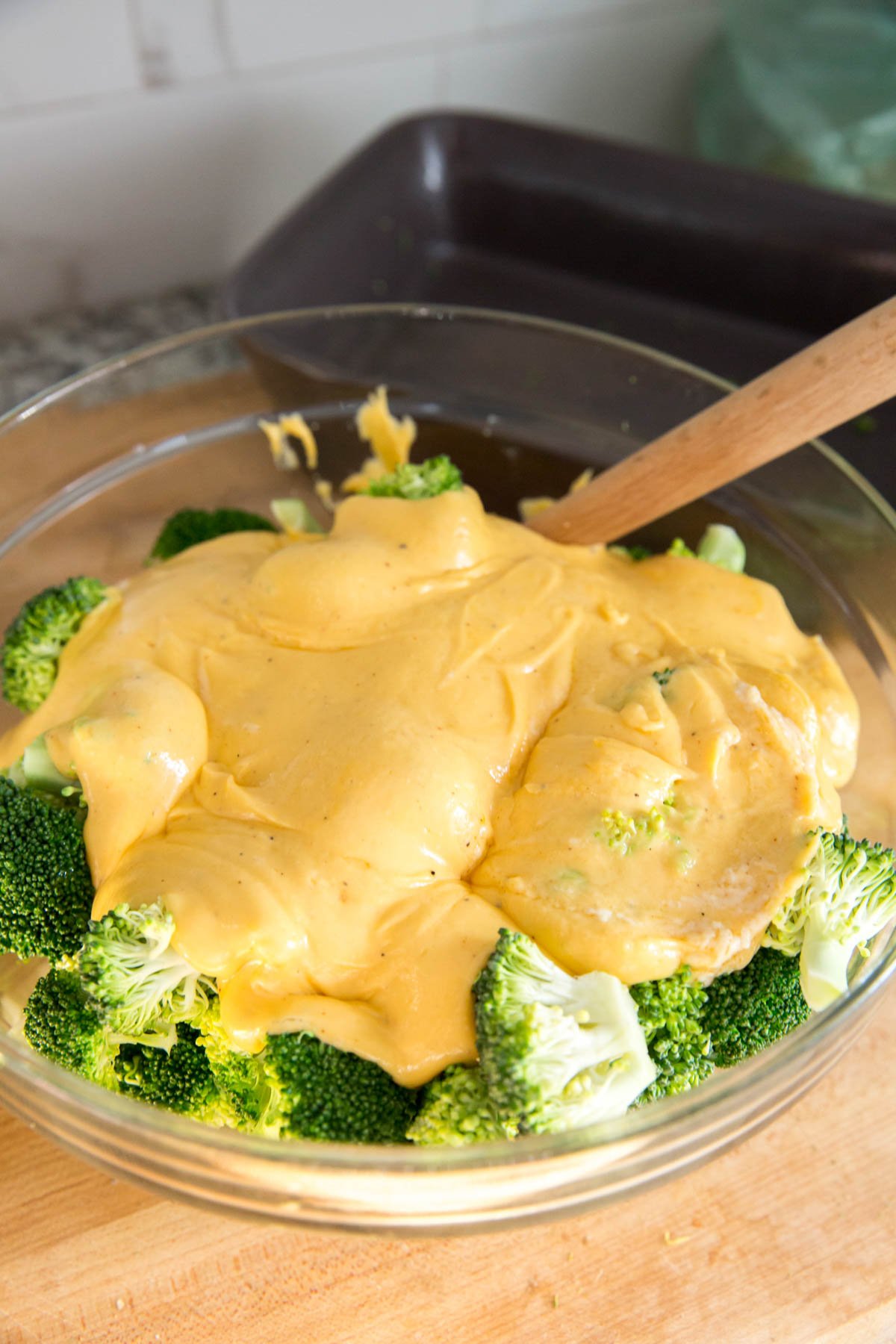 Seasoning
Broccoli and cheese has a pretty strong flavor on it's own, so I have found that a bunch of seasonings and spices aren't necessary. I prefer the pure cheese flavor of the sauce. If you want, you can add a little garlic powder, nutmeg, dry mustard or paprika to the cheese sauce to kick it up a little and call it good. I included some of that in the recipe below.
Can I use Frozen Broccoli?
Absolutely! If you don't have any fresh broccoli, you can use frozen. Let it thaw and drain any excess water out. You could also steam it in the bag and add it to the cheese sauce hot; it would cut down on the cooking time a little.
Can a Broccoli Cheese Casserole be Frozen?
Absolutely! Here are some tips for freezing your broccoli casserole.
Bake the casserole and let it cool completely. Putting a warm casserole in the freezer will encourage condensation to form inside the dish resulting in a soggy and inedible mess when thawing.
Cover tightly. Wrap the cooled dish with plastic wrap, then tightly with foil. You could even slide the dish into a resealable freezer bag for an extra layer of protection.
To thaw, place in the refrigerator overnight. Bake the thawed, uncovered broccoli casserole in a 350 degree oven for 20 minutes, or until it's hot in the center. If it needs longer and starts to get too brown on top, cover it with foil and continue baking.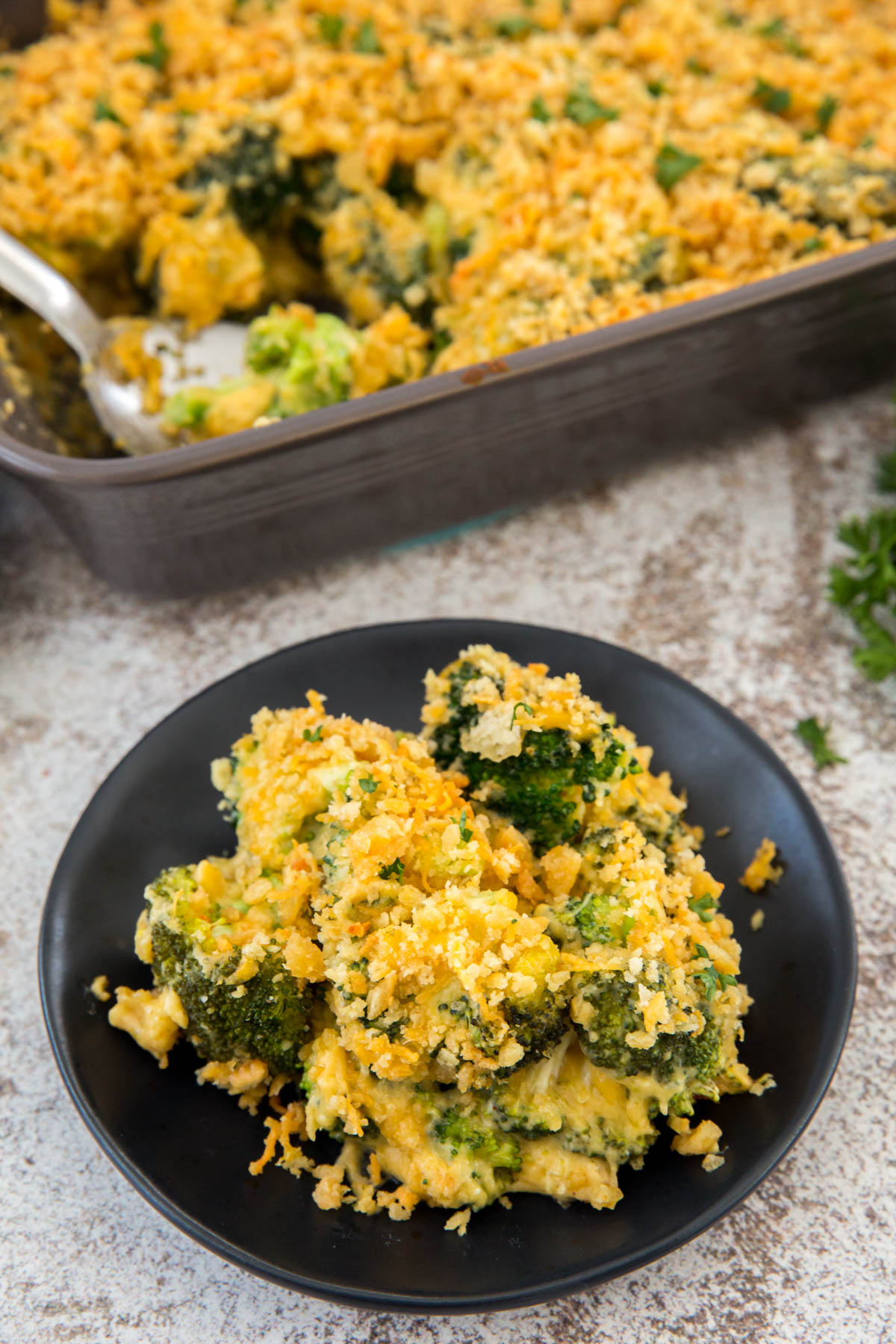 To Make This Broccoli Casserole Ahead:
If you want to make this casserole a day in advance you can definitely do that. There are two options that will work equally well.
Make and bake the casserole a day ahead. Cool, cover tightly with foil, and store in the fridge. Reheat, covered, at the recipe provided temperature until hot and bubbly.
Prepare the casserole and refrigerate until you are ready to bake. Bake at the recommended temperature and add 5-10 minutes.
How long will the casserole last in the fridge?
Store cooled casserole in the refrigerator, tightly covered, for about 3-4 days. You can reheat in the microwave at 50% power, stirring every 30-45 seconds.
Best cheeses to use in a casserole
Sharp cheddar is the king of cheeses when it comes to a good, creamy cheese sauce for broccoli casserole. However you could also use a milder cheese like Mozzarella, Monterey Jack or a sharper cheese like Fontina, Parmesan of Blue Cheese. It helps to know what cheese pair best with what flavors. Adding a little Parmesan is never a bad call.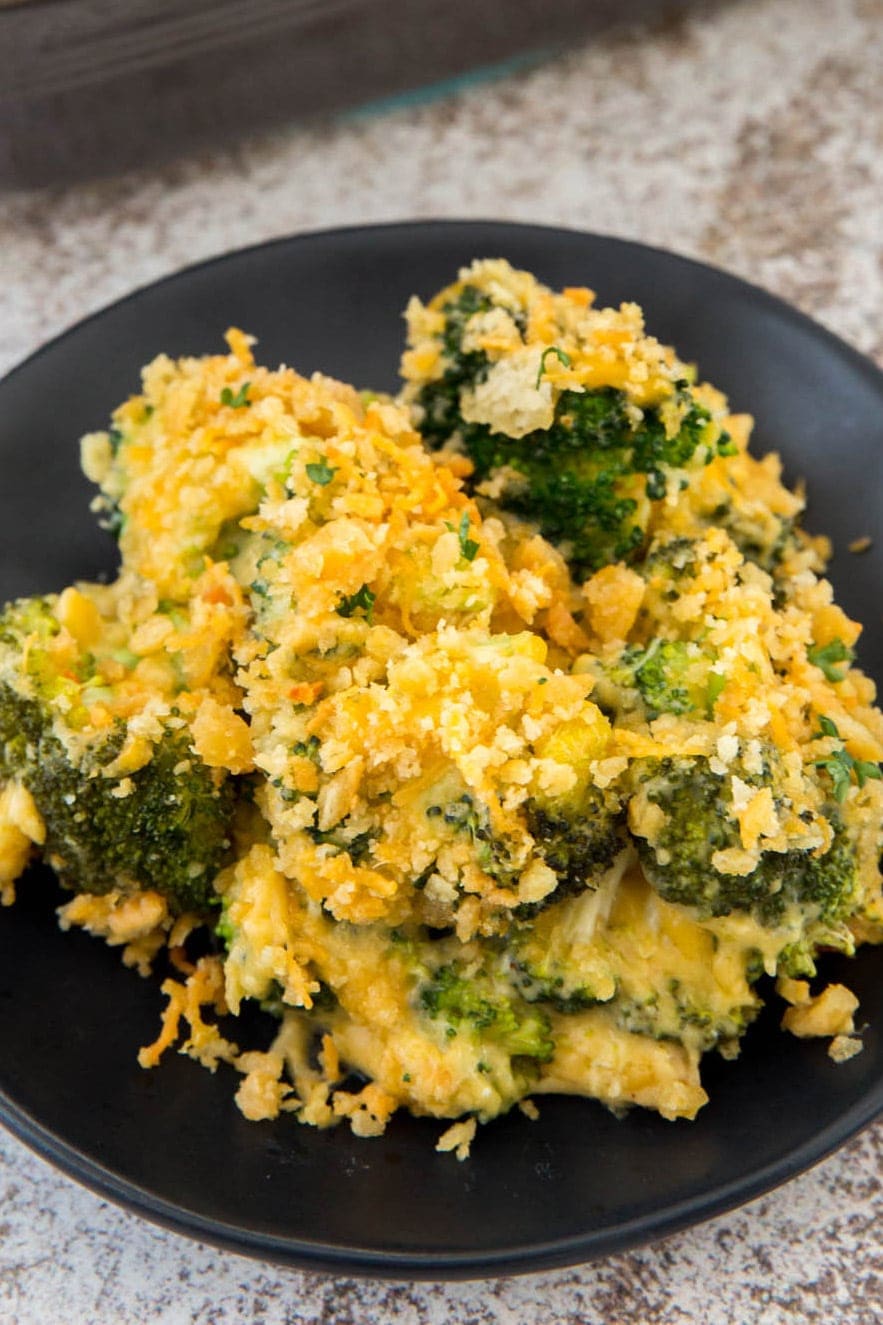 Everybody loves this delicious broccoli cheese casserole, and I bet your family will too!
Must Try Broccoli Recipes
Recipe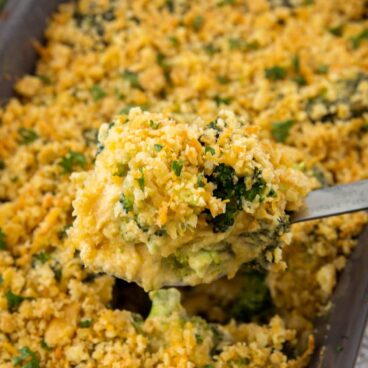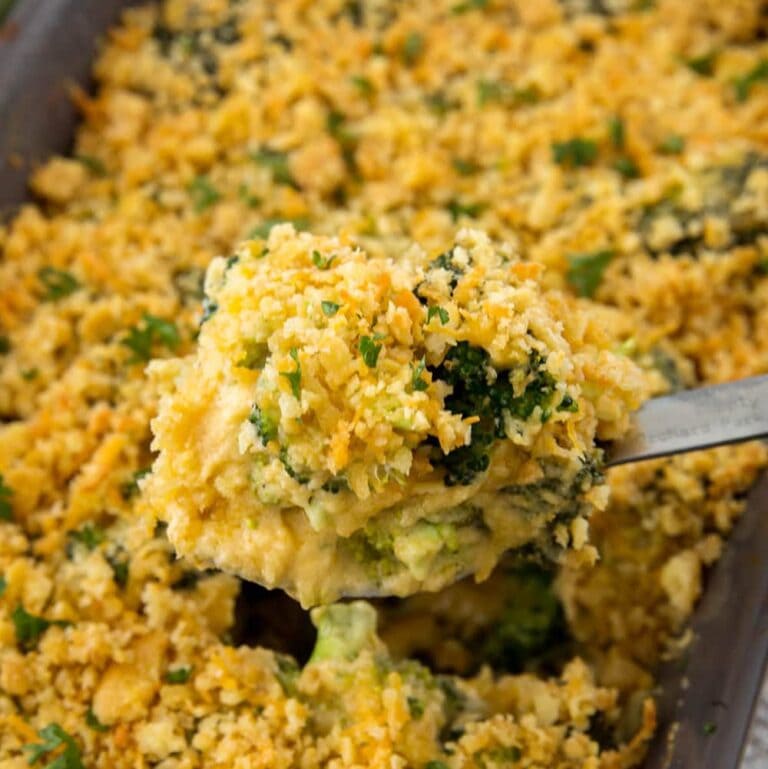 Easy Cheesy Broccoli Casserole
Cheesy Broccoli Casserole with tender broccoli, a homemade cheddar cheese sauce and finishes with a crispy, buttery cracker crumb topping.
Ingredients
2

pounds

broccoli florets

roughly chopped (about 8 cups)

¼

cup

flour

¼

cup

butter

1 ¾

cups

half & half

8

ounces

about 2 ¼ cups freshly shredded sharp cheddar cheese (divided)

½

teaspoon

kosher salt

½

teaspoon

garlic powder

½

teaspoon

paprika

¼

teaspoon

black pepper

1

sleeve butter crackers

like Ritz, about 30

¼

cup

butter

melted
Instructions
Preheat the oven to 350 degrees F. Spray a medium sized rectangle baking dish (about 11x7) with cooking spray and set aside.

Bring a large pot of water to boil. Add broccoli and boil for 3-4 minutes. Drain and set aside.

In a medium saucepan, melt butter over medium heat. Whisk in flour, garlic powder and paprika and cook for several minutes until golden. Add half & half and bring to a simmer until thickened. Remove from heat and stir in cheese (reserve ¼ cup for topping). Stir in salt and black pepper. Taste and add salt as desired.

Pour cheese sauce over the broccoli and gently stir to coat. Pour into the baking dish.

In a small bowl, combine crushed crackers with melted butter and stir in the remaining cheese. Sprinkle cracker mixture evenly over the casserole.

Bake uncovered at 350 degrees for about 20-25 minutes, or until sauce is bubbly and topping is browned. If topping isn't browned enough, place under the broiler for a few minutes.

Let stand 10 minutes before serving.

To freeze, bake and cool casserole completely, then cover tightly with plastic wrap and foil. Thaw in the refrigerator, then bake as directed in step 6.
Nutrition
Calories:
350
kcal
Carbohydrates:
15
g
Protein:
13
g
Fat:
27
g
Saturated Fat:
17
g
Cholesterol:
79
mg
Sodium:
494
mg
Potassium:
544
mg
Fiber:
3
g
Sugar:
2
g
Vitamin A:
1770
IU
Vitamin C:
126.9
mg
Calcium:
330
mg
Iron:
1.5
mg