This Broccoli Tortellini Alfredo is rich and creamy and comes together in less than 15 minutes! It's a great lunch or dinner for when you need to get a complete meal on the table in a hurry.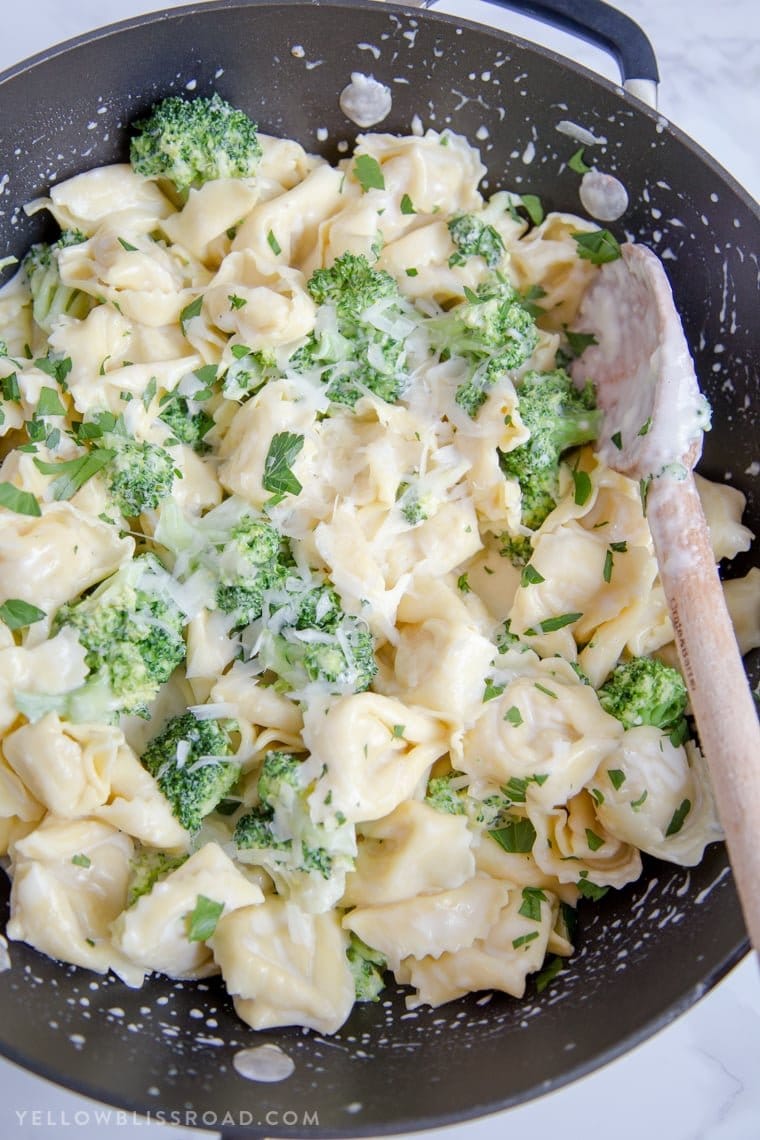 Broccoli Tortellini Alfredo is one of my favorite go-to meals. My kids love it and I love that it is incredibly easy to make. It literally takes just minutes from start to finish and dinner is on the table. It's a complete meal in itself with all the cheesy goodness of the tortellini and you get a good shot of veggies from the broccoli.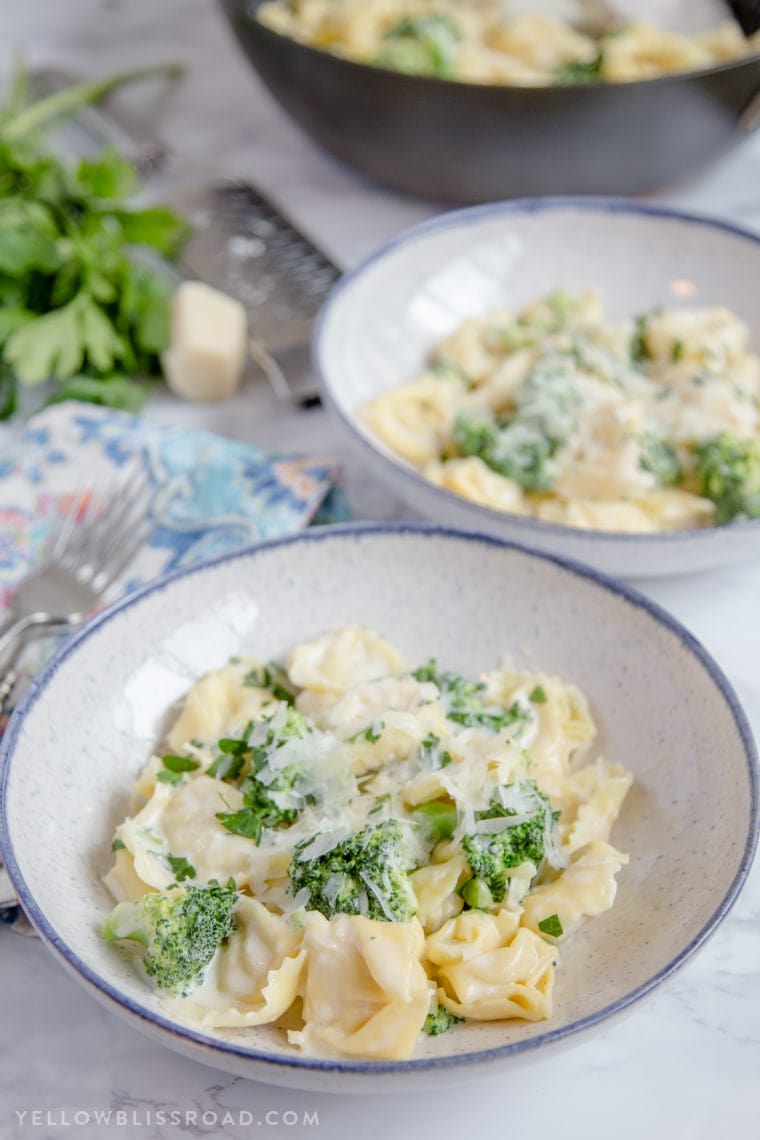 MY LATEST VIDEOS
If you've never made Alfredo Sauce, it can seem intimidating. But the reality is it is truly one of the easiest sauces to make. It's all about timing. There are only 4 ingredients – butter, heavy cream, garlic and Parmesan cheese. The butter is melted slowly over a medium-low heat, then the garlic is stirred in the cook and add flavor. Careful to only cook the garlic for 30 seconds or so before adding the cream – the garlic can burn fast and it will ruin the whole sauce. The cream is whisked in with the butter until it's combined and starts to gently simmer. No boiling here – you'll be adding the cheese soon and if it's too hot the sauce will break (divide the fat and protein) and that's not tasty. Finally remove the sauce from the heat and stir in the Parmesan Cheese until it's completely melted.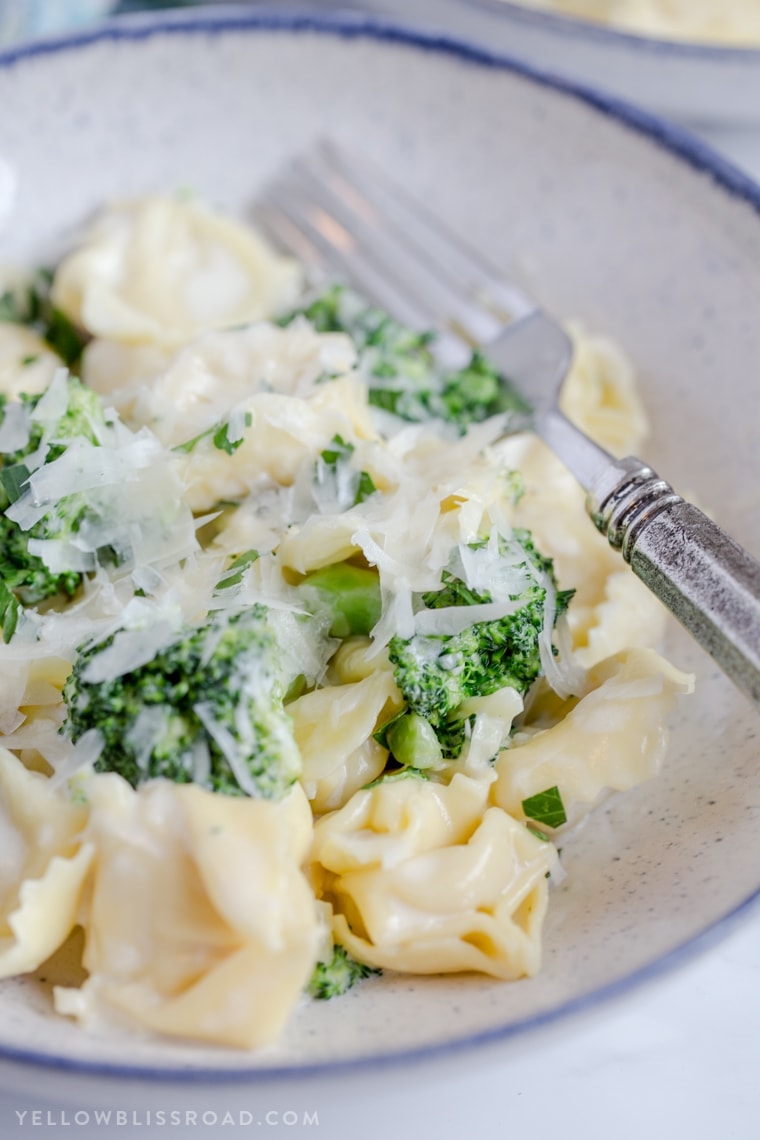 While the sauce is cooking, you'll want to boil a large pot of salted water. I buy my Tortellini in the big 20 ounce packs from Costco, but you can use two of the 9-ounce packages from the grocery store too. You'll want to follow the package instructions to see how long to cook the tortellini, but the Costco one only takes 2 minutes so I add the tortellini and broccoli at the same time. The broccoli only need about 2 minutes, so manage that time accordingly.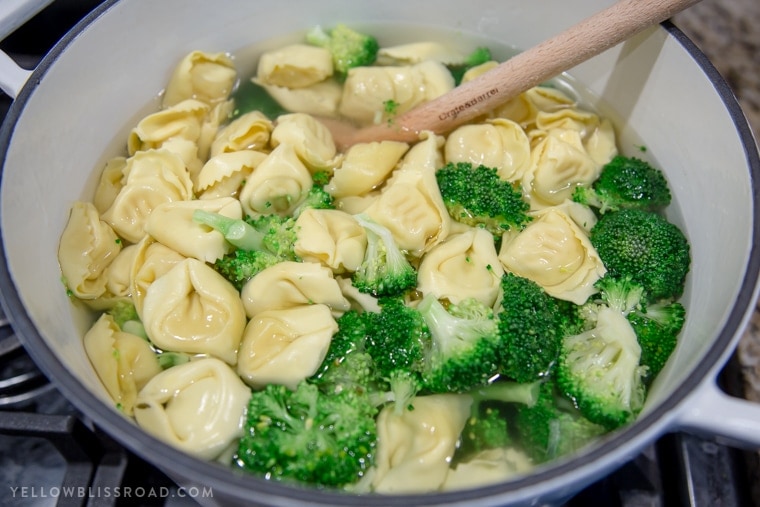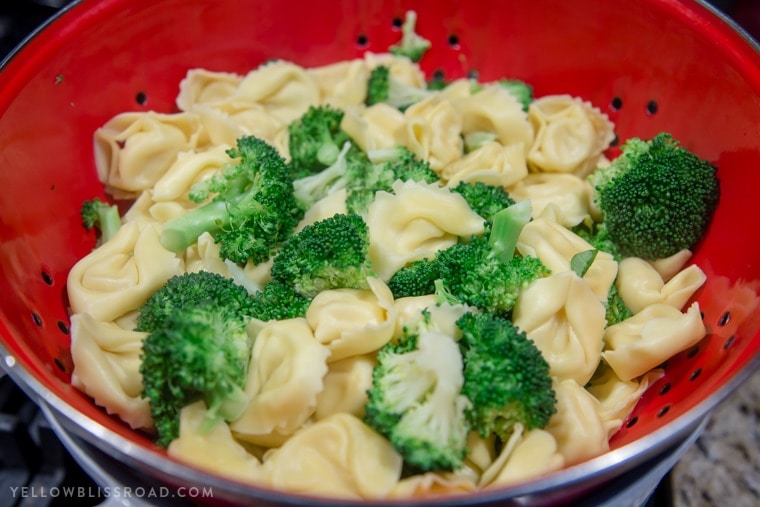 Finally, add the tortellini and broccoli to the Alfredo sauce. It will thicken a little as it sits. This recipe makes just enough to coat the tortellini and broccoli, but you could make a little more sauce if you want it on the saucier side.
My family just gobbles this Broccoli Tortellini Alfredo up, and they always ask for seconds. I hope your family enjoys it as much as mine does!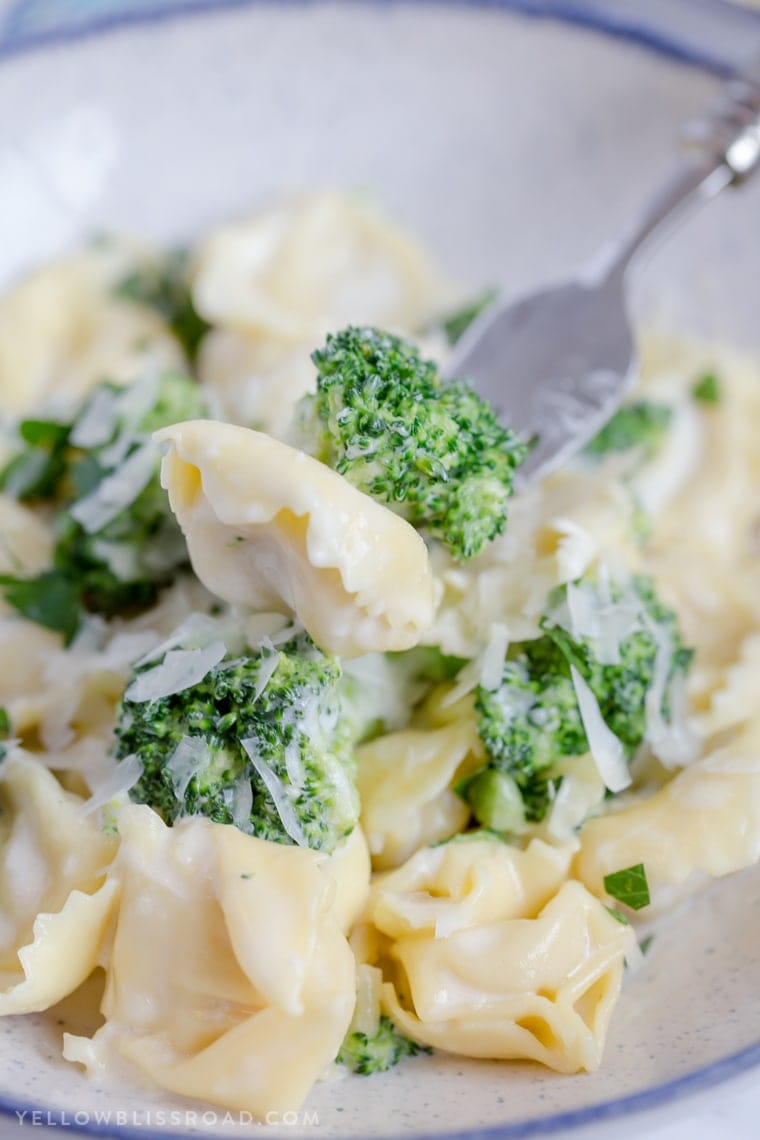 Tortellini & Broccoli Alfredo
Prep
Cook
Total
Yield 4 servings
Ingredients
1 cup heavy cream or milk (I used ½ cup nonfat milk and ½ cup heavy cream)
½ cup butter (1 stick)
1 teaspoon minced garlic (about 2 cloves)
1 cup *fresh Parmesan cheese, finely shredded
1 20-ounce package of cheese tortellini
4 cups broccoli florets
Italian flat-leaf parsley
Instructions
Bring a large pot of salted water to a boil over medium-high heat. Add tortellini and cook to package instructions. Add the broccoli during the last 2-3 minutes of cooking time. Drain and set aside.
In a large pan or skillet over medium-low heat melt the butter. Stir in garlic and cook for 1 minute. Stir in the milk/heavy cream. Bring to a simmer (small bubbles are starting to form around the edges - do not boil), then turn off heat and add in the Parmesan cheese, stirring until melted. Taste and add salt and pepper as desired.
Add the tortellini and broccoli to the sauce and toss to coat. Sprinkle with fresh chopped parsley and additional shredded Parmesan, if desired. Serve immediately.
Notes
Fresh Parmesan is best - the pre-shredded kind has a coating that helps it to hold it's shape in the bag, but also prevents it from melting smoothly. Always use fresh cheese when possible.
For more easy weeknight meals, try these: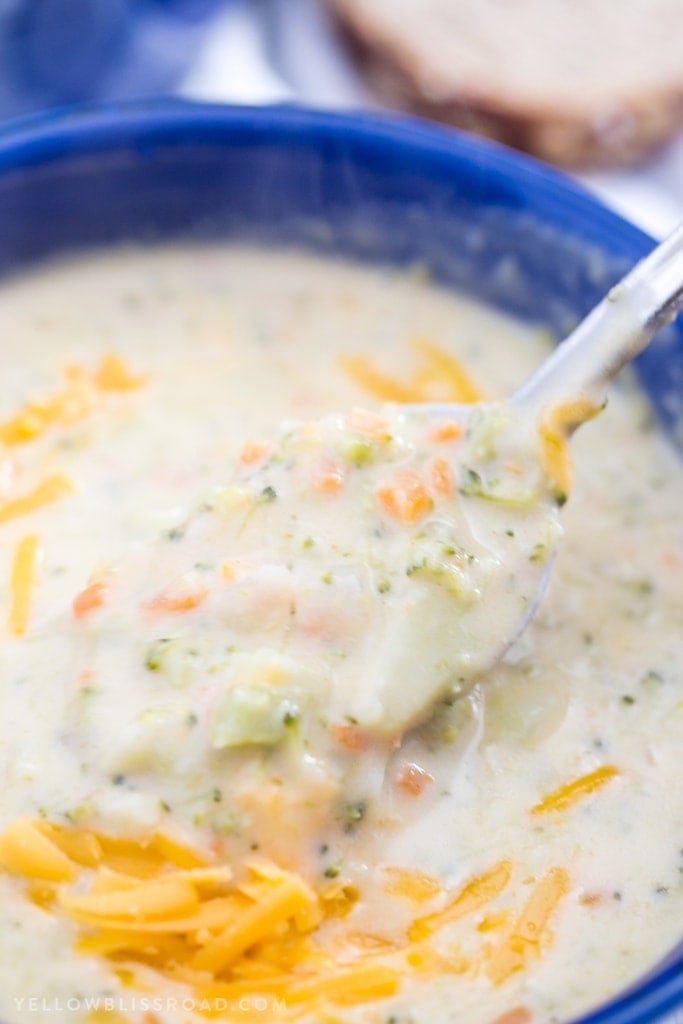 Chicken, Bacon and Blue Cheese Mac & Cheese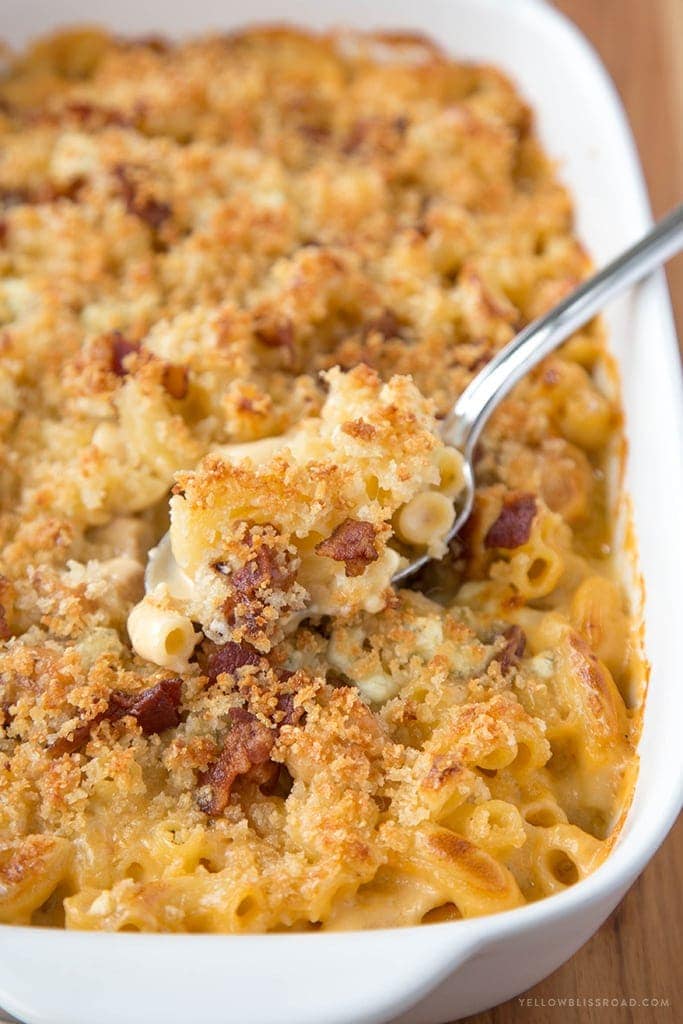 Shredded Chicken Parmesan Sandwich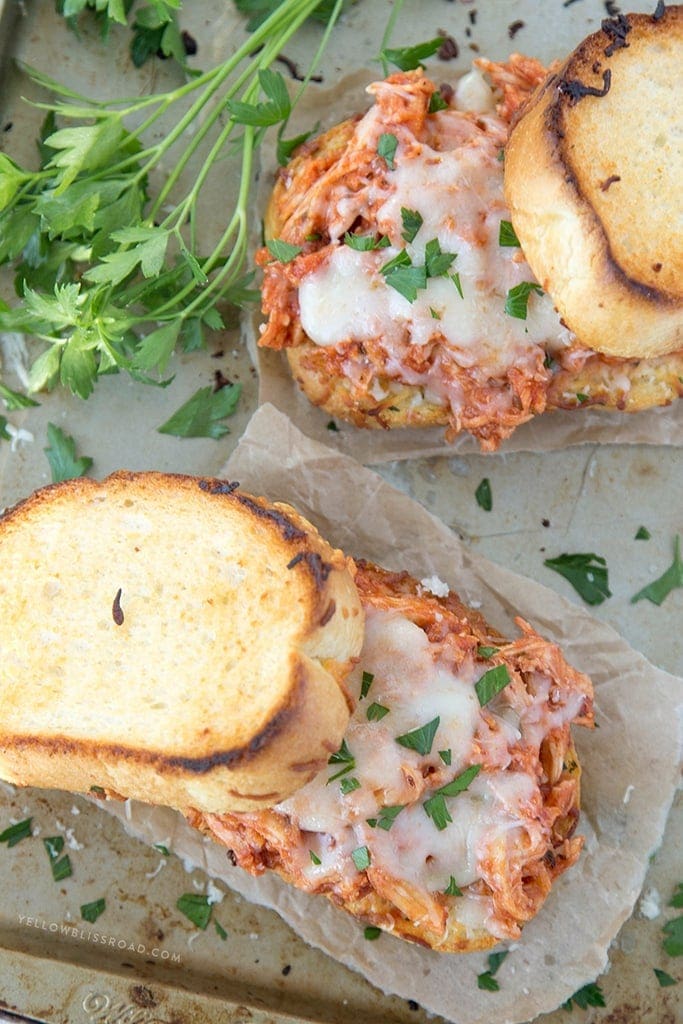 One Pan Lemon Chicken Picatta Pasta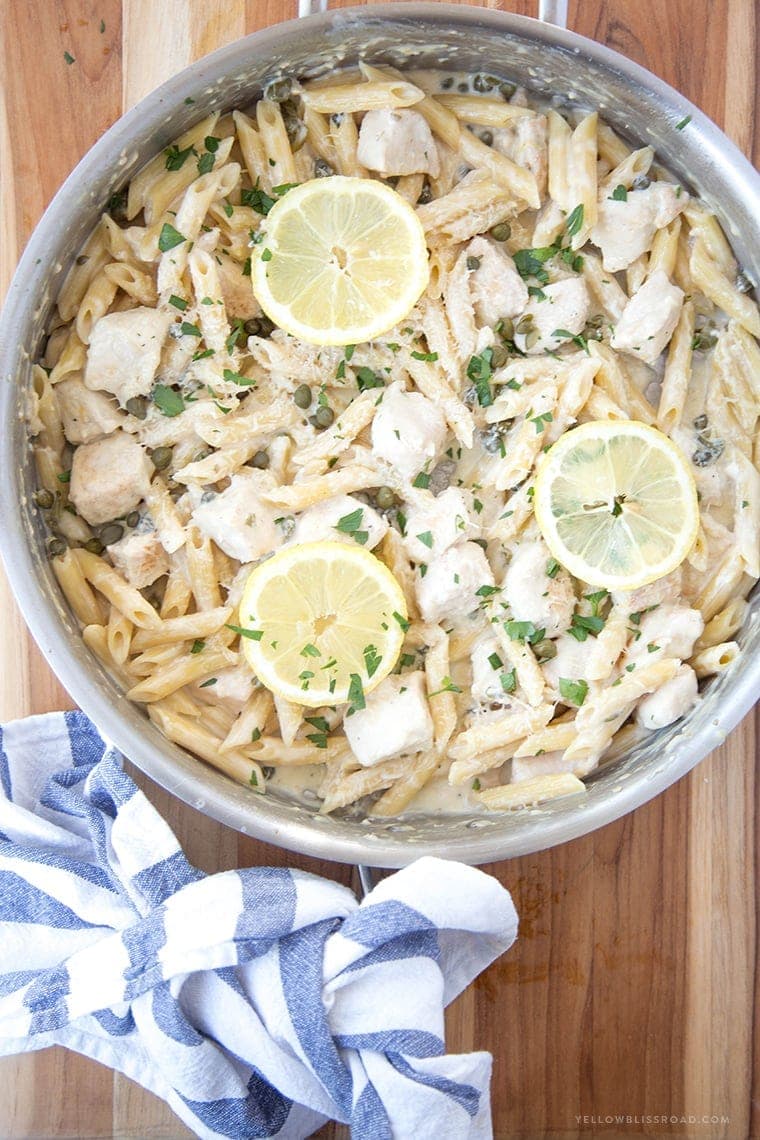 For all pasta dishes go HERE, for all main dishes go HERE and for the recipe index go HERE.